This Whole30 chicken zoodle soup is made with zucchini noodles. It's a delicious, low-carb soup recipe that is quick to make.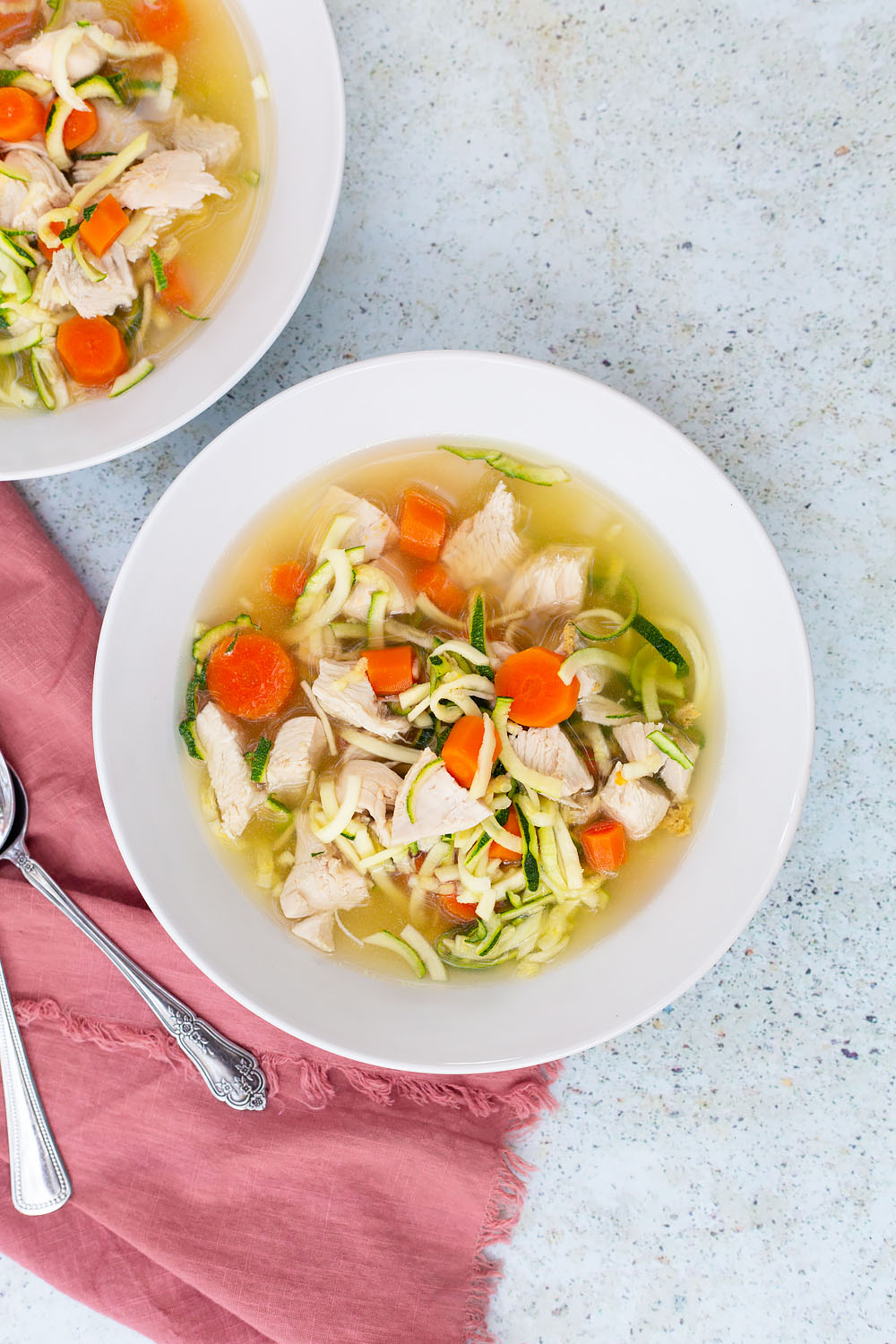 This post contains some affiliate links, which means that I make a small commission off items you purchase at no additional cost to you.
It's starting to get to be soup season! Honestly, any time of year in my house is soup season. Why not? Soups are so easy to make, flavorful, and usually make leftovers! Which means some to eat the next night or take to work the next day (or both)! This Whole30 chicken zoodle soup is one of my favorites.
I made this soup several times this summer, and every time it was such a treat. It's low-carb thanks to using zucchini noodles instead of actual noodles, and otherwise is pretty simple with just some chicken, carrots, and broth. It's also Whole30-compliant, as long as you're using a compliant chicken broth/stock that doesn't have any added sugars. (I use the Organic Kirkland brand from Costco).
One additional benefit is that this recipe makes a lot of chicken zoodle soup! So it makes a nice amount of leftovers for later (or feeds a family). I always love recipes that can make enough for multiple nights so that way we do less dishes!
Ingredients
Chicken breasts
Chicken broth/stock
Water
Carrots
Zucchini
Salt
Pepper
Tips for making this Chicken Zoodle Soup:
There are a lot of different ways to make zucchini noodles! You can of course buy them already spiralized if you're short on time or don't have a spiralizer. You can also spiralize them yourself. You can go with a fancy spiralizer like this or go with something smaller that can fit in your drawer. Here's what I use.
Once you spiralize the noodles, I like to give them a quick chop. I don't like my noodles to be too long, as I find it's hard to eat with a spoon that way. So I go through several times with a knife to make them shorter. You can see in the photo below how I've done a rough chop.
Can you use pre-cooked chicken breast in the soup?
Absolutely! You can use pre-cooked chicken breast you've bought from the store, or from a rotisserie chicken. If doing that, I just tend to add it into the soup at the same time as the zucchini noodles instead of with the carrots.
Can you add extra veggies to the soup?
Yes. Some spinach or kale is delicious in this chicken zoodle soup. Just take note of the cook time of any vegetables and test them for tenderness. If you're adding something like butternut squash, you'd want to add it in a similar time to the carrots. But if you're adding in something like spinach or kale, then you can add it at the very end.
Just test to make sure any vegetable you add to the soup is cooked before you turn off the soup and serve it.
How to make the soup
This soup really is so easy and requires minimal prep work. Peel the carrots, then give them a chop.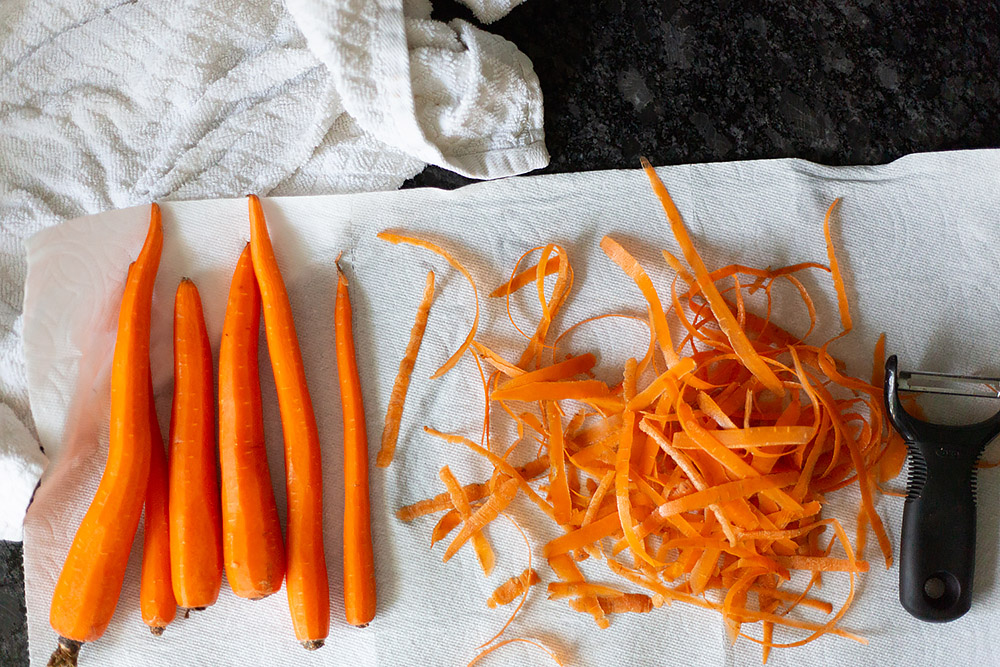 Spiralize the zucchini, then give it a rough chop. And that's pretty much the prep work! You just add stuff to a pot to cook after that.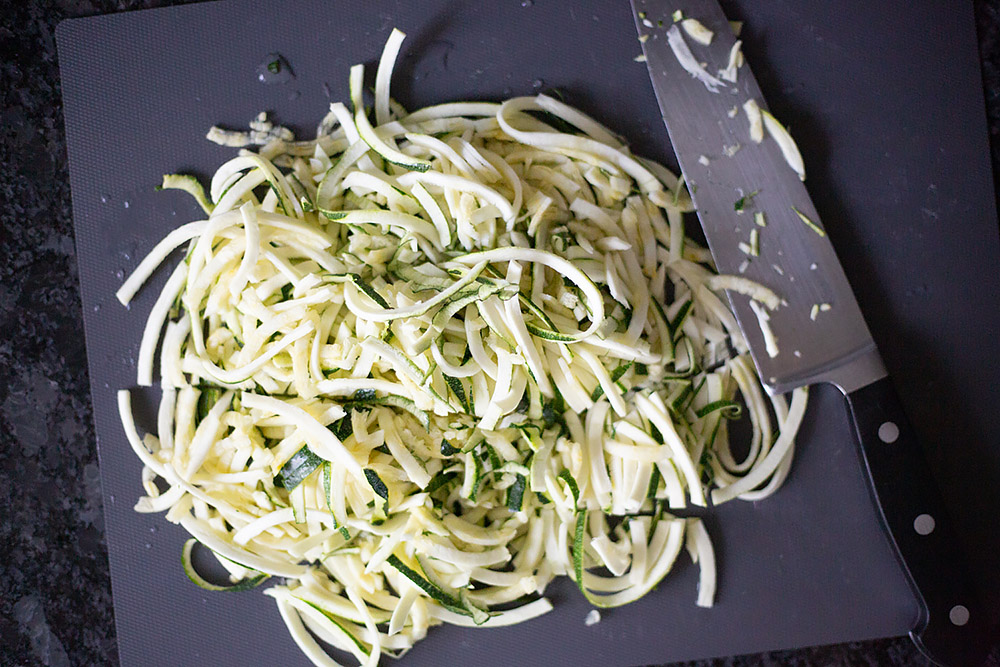 And then you wind up with a healthy, delicious, flavorful chicken zoodle soup. Looking for more Whole30 recipes? Find more here!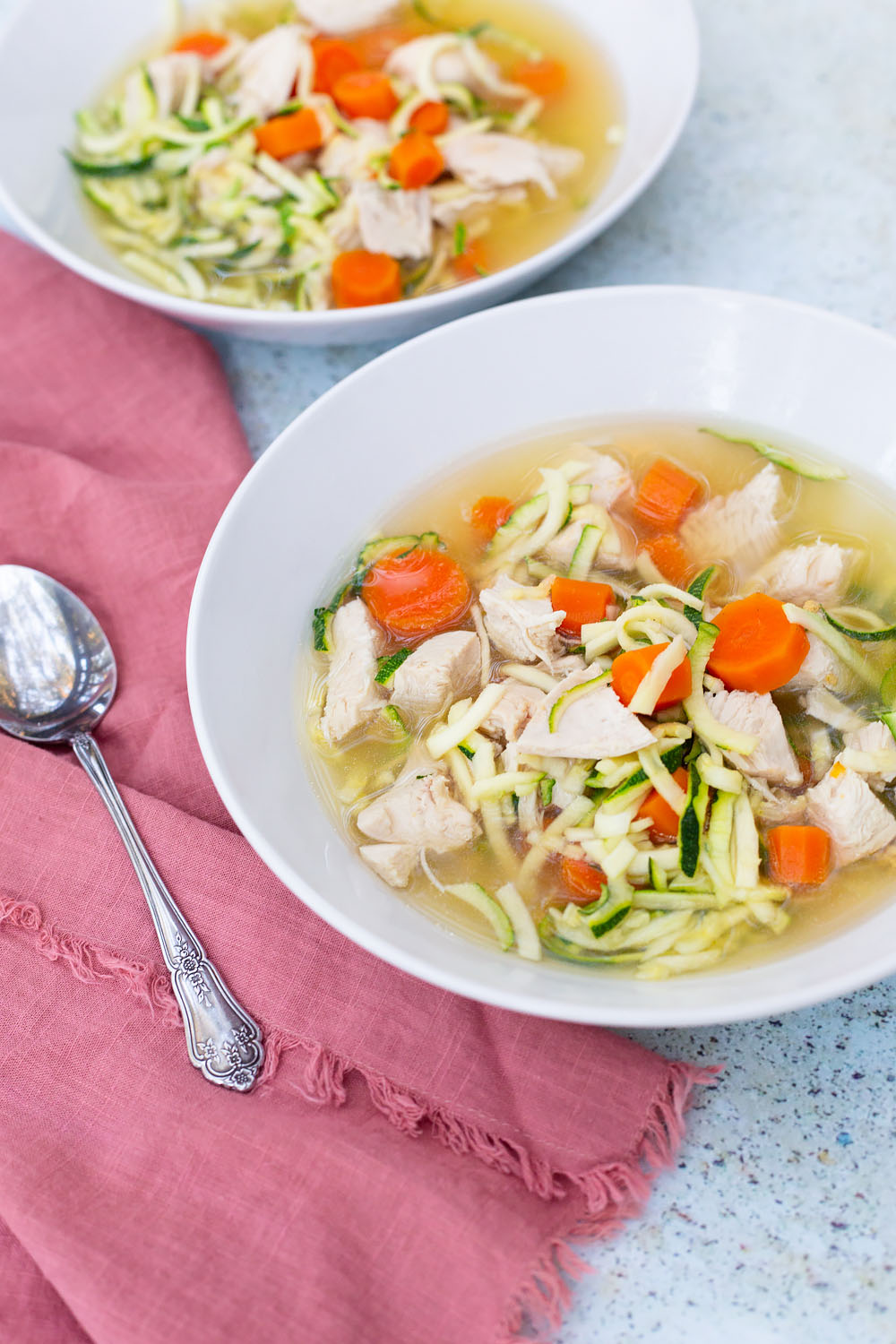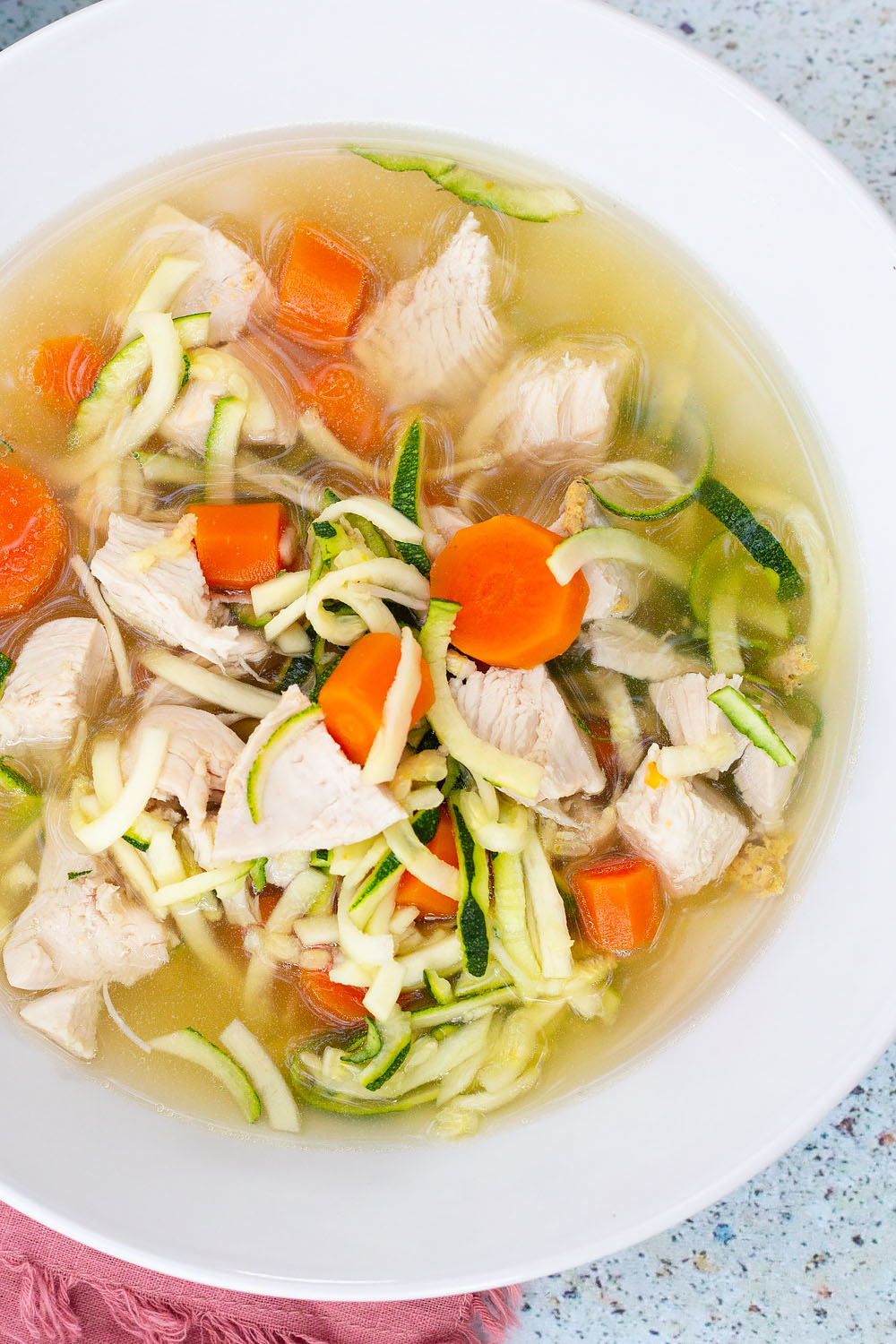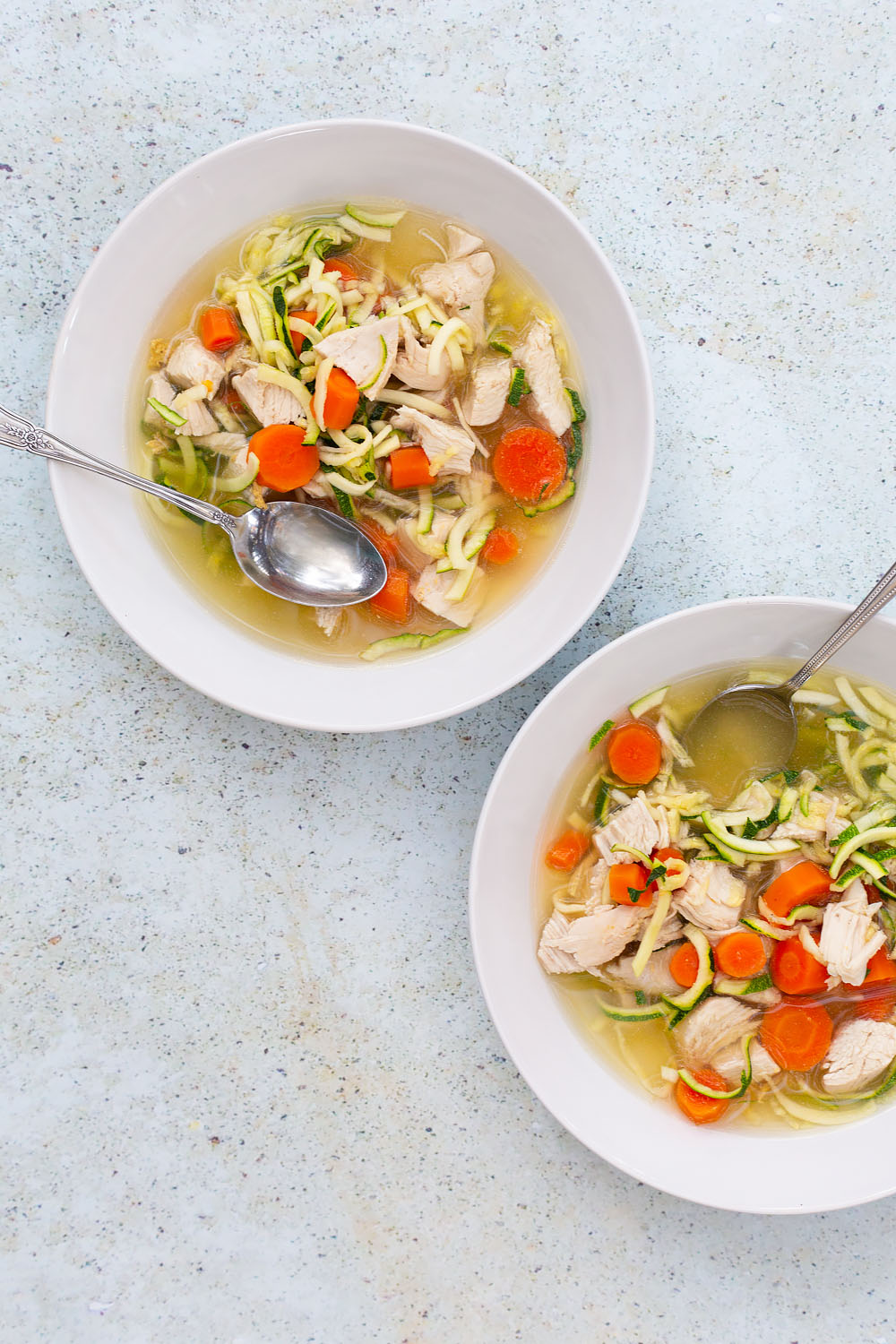 Looking for more soup recipes? Try these!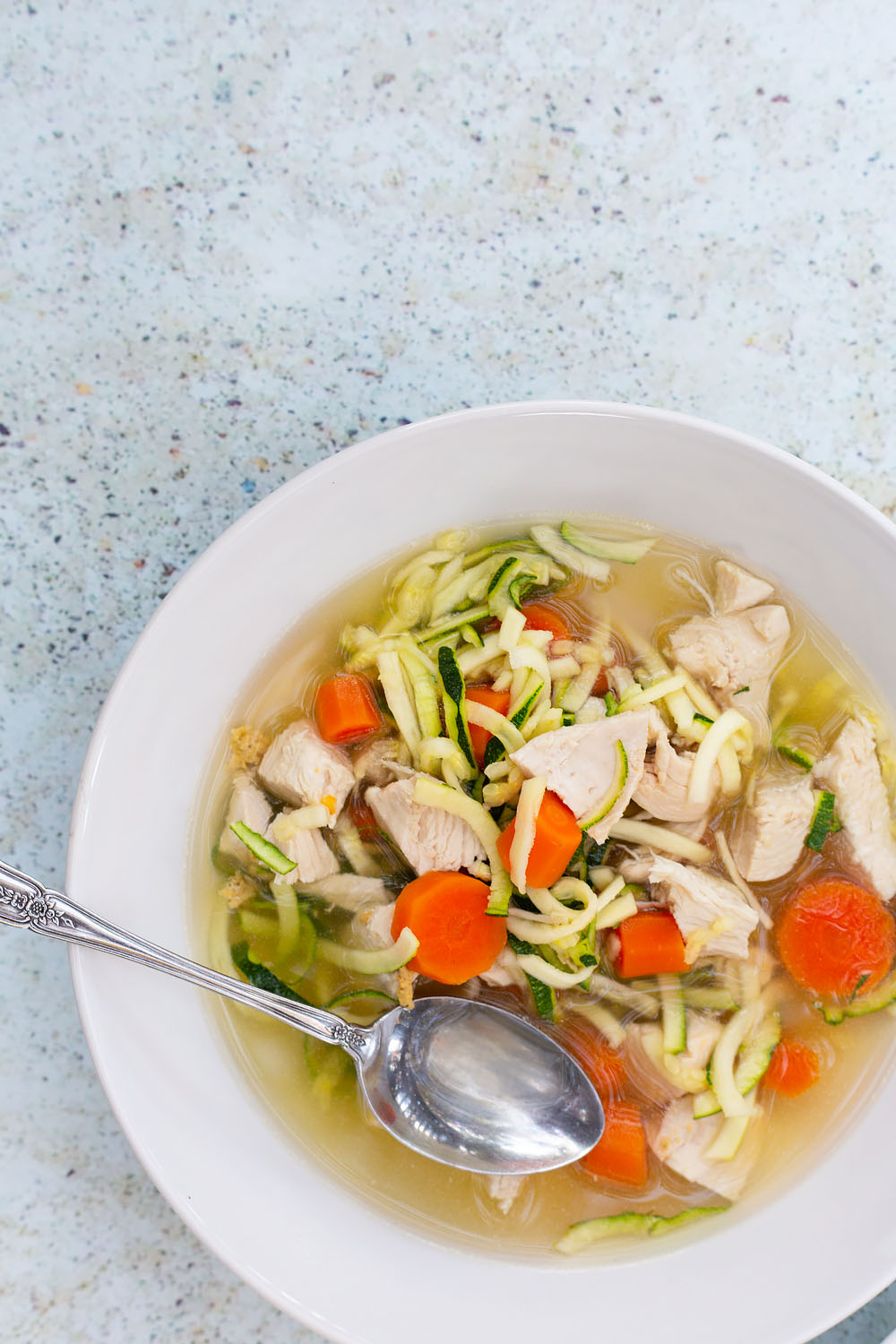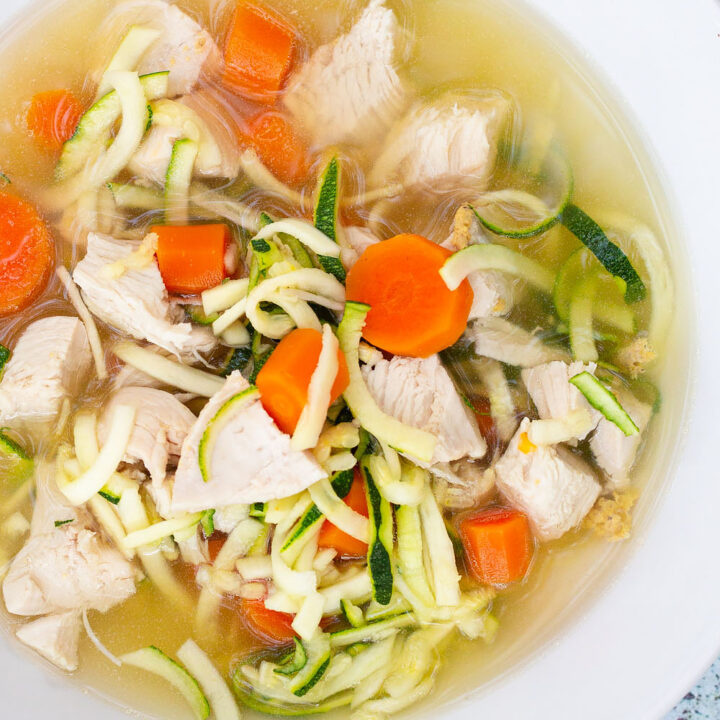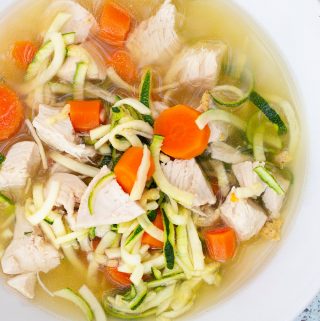 Chicken Zoodle Soup
This Whole30 chicken zoodle soup is made with zucchini noodles. It's a delicious, low-carb soup recipe that is quick to make.
Ingredients
1.5

lbs

chicken breasts

6

cups

chicken stock

2

cups

water

6

carrots

3

zucchini

salt

pepper
Instructions
Peel the carrots and cut into chunks.

Spiralize the zucchini to make noodles, give a rough chop, and set aside.

In a large stew/soup pot, add the chicken stock and the water. Heat to boiling.

Add the chicken breast and the carrots and reduce heat to medium/low. Simmer for 20 minutes.

After 20 minutes are up, check to ensure chicken is cooked through, then remove from the pot and shred. Return to the pot, add the zucchini noodles, and cook for 5-7 minutes.

Season as needed with salt and pepper and serve.
Tried this recipe?
Tag @foodbanjo on Instagram and share your photos!