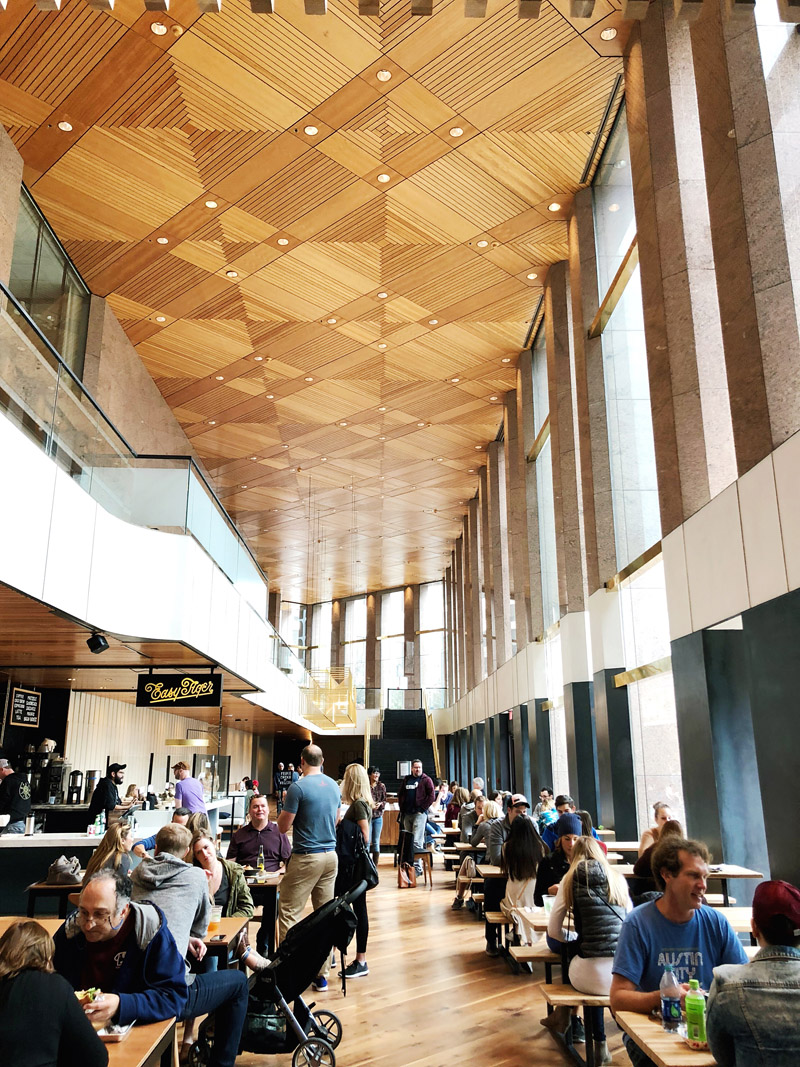 Recently, we stopped by Austin's first food hall - Fareground. We had been eagerly awaiting its opening since we first heard about it. On a nice Austin day (read: not blisteringly hot), it's a lovely walk from our house. Fareground is located right on the corner of Cesar Chavez and Congress, which is an easy stroll from South Congress, downtown, or the hike and bike trail.
I love the concept of the food hall -- everyone can order what they want, and then come together at a shared table. If someone is in the mood for sushi, and someone else wants a cheese plate, no problem! And all the restaurants at this one are FANTASTIC. You can find a list of them here. And then there is a bar where you can order beer, wine, and even cocktails like a Pineapple Mezcal Punch.

So, what did we try and love?
Well, first we walked around to all the restaurants to see what they were offering. I was REALLY in the mood for sushi, since I hadn't had any since before I was pregnant, so we wound up getting a sushi/sashimi plate from Ni-Kome that was fantastic (perfectly paired with a couple of beers from the central bar). Next, we had to get the tempura green beans from Contigo. I LOVE that we are able to get those now in downtown Austin with the opening of Fareground!
Finally, we were sitting right by the Easy Tiger location, and I kept eyeing their breads and offerings, trying to decide what to try. We wound up getting a pastrami pierogi that was incredible. I could eat that every day. We also picked up a fresh loaf of sourdough bread from them for dinner that night.
I cannot wait to go back and try more from all the other restaurants! And take in more of these delicious views of the location. They did such an exceptional job with the space. I see us eating here many spring and summer evenings and enjoying the outdoor areas.