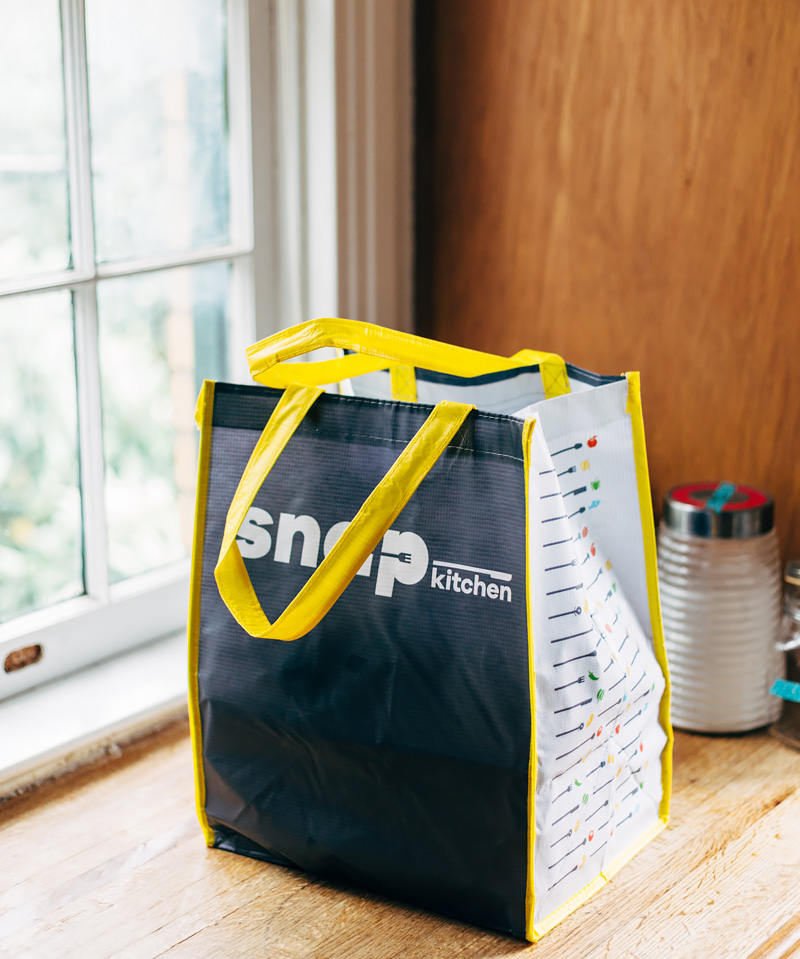 Snap Kitchen invited us to try out their new meal plan option, and the timing could not have been better! (Hi almost 10-month old daughter! We love you, but you're exhausting). This past weekend, we chose a list of things we wanted to pick up, and then grabbed them and had meals for three days all ready! If you want to try their meal plan too for the first time, get $20 off your first meal plan by clicking here and use promo code SNP-2482. 
We apparently chose the right weekend to order some of these, because it was a rough weekend with the baby. Zara was teething and fussy. We spent our days trying to keep her happy, and after putting her to bed in the evenings, all I wanted to do was open a bottle of wine and relax in front of the tv. I did not want to think about making dinner and doing a ton of dishes.

We had our Snap Kitchen meals in the fridge that allowed us to have an easy dinner (and breakfast and lunch!) with minimal dishes. Even better? These meals were flavorful and healthy! I definitely see us using Snap Kitchen very frequently. I try to meal plan every week, and I know being able to incorporate these into my plan is going to make our lives so much easier.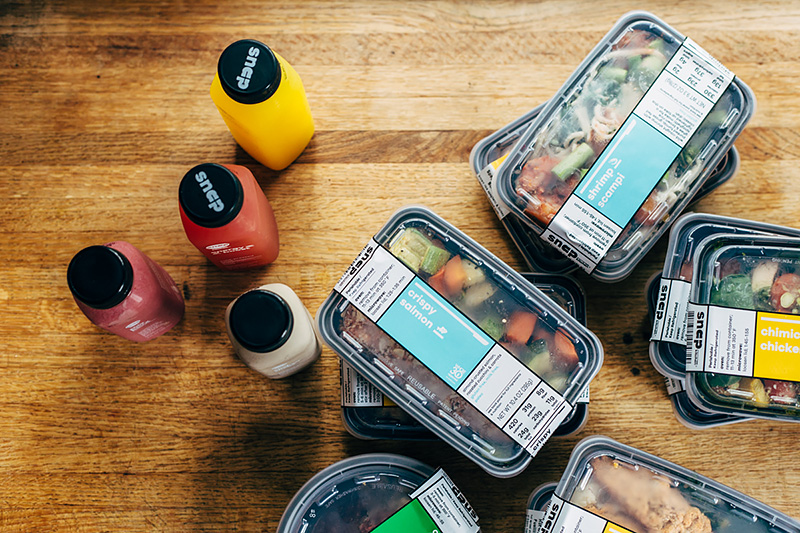 So let's talk about the experience. You can really tell they've thought this through. When I ordered our Snap Kitchen meals, I chose the 3 day option. (You can choose 3, 5, or 7 days per week). You also select what your focus is. I chose "balance," but there are options like whole30, paleo, high protein, etc. After choosing your focus, you can decide which meals you want provided (breakfast, lunch, dinner, snacks). Then you can add or subtract as needed! I chose a mix, so some days I knew I had breakfast plans, so I skipped that one. I love the customization it allows for!
Something else that you can customize? Which meals you actually get sent/pick up. Based on your focus, Snap Kitchen comes up with suggested meals for you to receive, but if you look through the list and you're just not feeling something, you can swap it out for another meal on the menu.
There are two things that are great about such a variety of meals. First, it's a great way to try new flavors and dishes you wouldn't normally make! (Hello chimichurri chicken! I've never had you before, but you were delicious!) Second, if you and your partner have different tastes, you can each order your own meal and you don't have to eat the same thing. Josh and I wound up ordering different meals from each other, just so we could try more things!
You can easily have meals delivered to you if you're in the delivery area, but we swung over to their Clarksville store to pick ours up, and it was so easy. Josh waited in the car with Zara, and I ran in and grabbed them in less than a minute. They have them all bagged up for you and prepared. How delicious does that turmeric tonic sound? (Spoiler alert: it was!)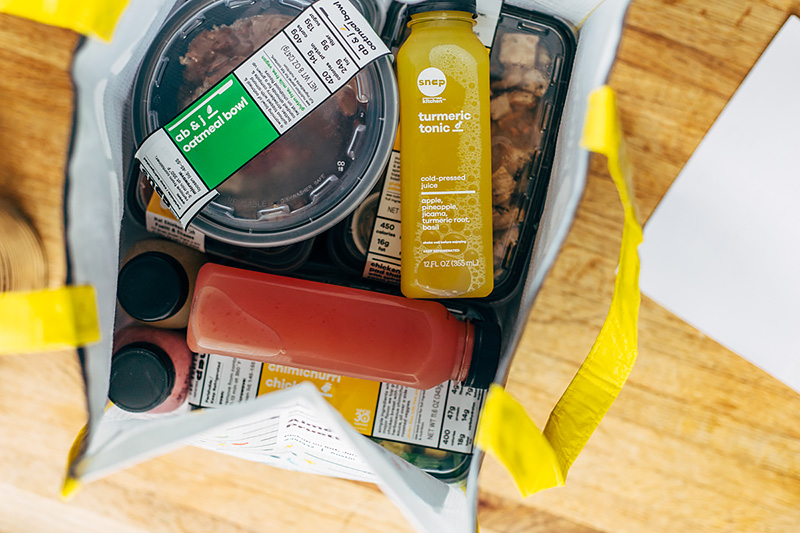 Okay, let's talk about the meals themselves. I LOVE how they have both oven and microwave directions on each meal. When at home, I prefer to use the oven (unless I'm pressed for time or really don't want to use extra dishes), but the microwave option is perfect for when I'm at work.
All the items we got also had calorie counts listed, and even the juices talked about if they were paleo, vegan, etc.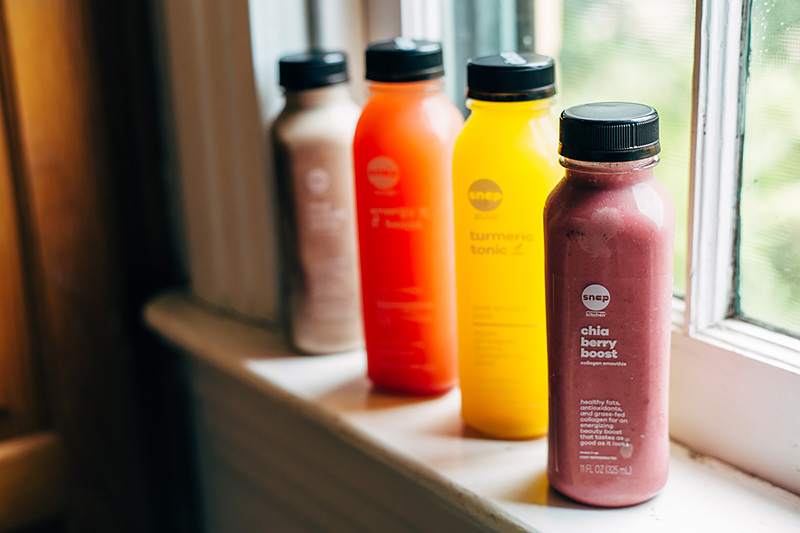 So what were our favorite things we tried?
Chimichurri chicken with roasted veggies - This was SO flavorful and delicious. I loved how tasty and healthy it was.

Chicken pad thai with spiralized sweet potato - Again, this was super-flavorful and it had a nice spicy kick to it.

AB&J oatmeal bowl - Josh had this for breakfast, and I tried some and it was delicious! I loved the berry compote, and the quinoa in the bowl added a nice texture. So did the candied almonds. Yum! And it was so filling! He wound up not even eating lunch that day because this filled him up so much (in a good way).

Banana pancakes - I had this for breakfast, and thought I would need to also have some eggs or something to fill me up. Nope! Same as the AB&J bowl, this wound up being super-filling and delicious. The banana flavor was perfect. It makes me also want to try the almond butter pancakes to see if they are just as delicious!

Oven baked chicken tenders with turnip mash - Have you ever had turnip mash before? I hadn't. It was so creamy. The perfect accompaniment to the chicken and greens.

Crispy salmon with roasted zucchini and carrots - This was so good. I had it for lunch, and it was exactly what I needed that day. I loved the almond crusted salmon.

Chia berry boost smoothie - This has collagen peptides, which are all the rage now, and the smoothie was delicious! I love me a healthy smoothie, and even better when I don't have to make it myself.
Things I want to try:
BBQ brisket plate - I've heard great things, and am definitely ordering this on our next meal plan.

Bison quinoa hash - I'm a huge fan of quinoa, and bison is so lean and flavorful.

Buffalo style chicken bowl - I'm a huge fan of buffalo sauce. Josh isn't, but that's fine. He can choose a different meal for himself that night!
And again, if you want to try their meals, get $20 off your first meal plan by clicking here and use promo code SNP-2482
We hope you love everything as much as we did!