Looking for things to do in Lisbon with kids? Here are some ideas for places to go and ways to make your trip fun for kids and adults.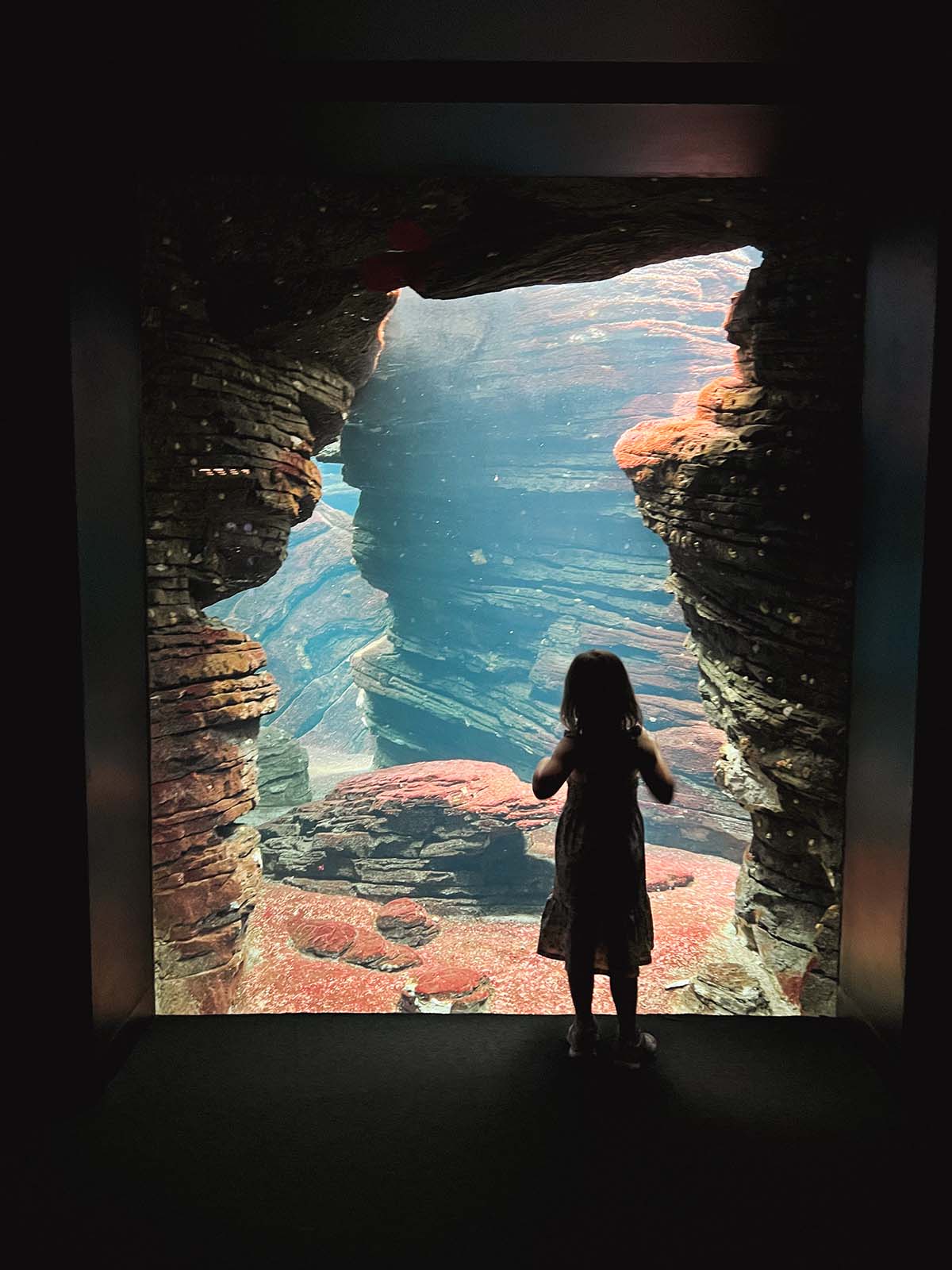 We recently returned from a trip to Lisbon with our kids, and found so many fun things to do with them!
Initially we were a bit worried, as we thought they might get bored on the trip. There are a ton of blog posts about places to go as an adult in Lisbon.... but not as much information out there about what to do when you're traveling with a 3 and 5 year old.
Luckily, we found so much to do and didn't even wind up getting to do all the stuff with the kids we planned, so now we have a list already for our next trip!
If you're looking for things to do in Lisbon with kids or toddlers, hopefully this list is helpful!
Find playgrounds
My kids are 3 and 5, and they LOVED the playgrounds in Lisbon, and most of them are great for toddlers too. I would say some of the larger ones are also great for older kids!
It seemed like everywhere we went, we would happen amongst at least a small one, and my kids would always stop and play. It was a great chance for them to play with other kids, have some fun, and get some energy out.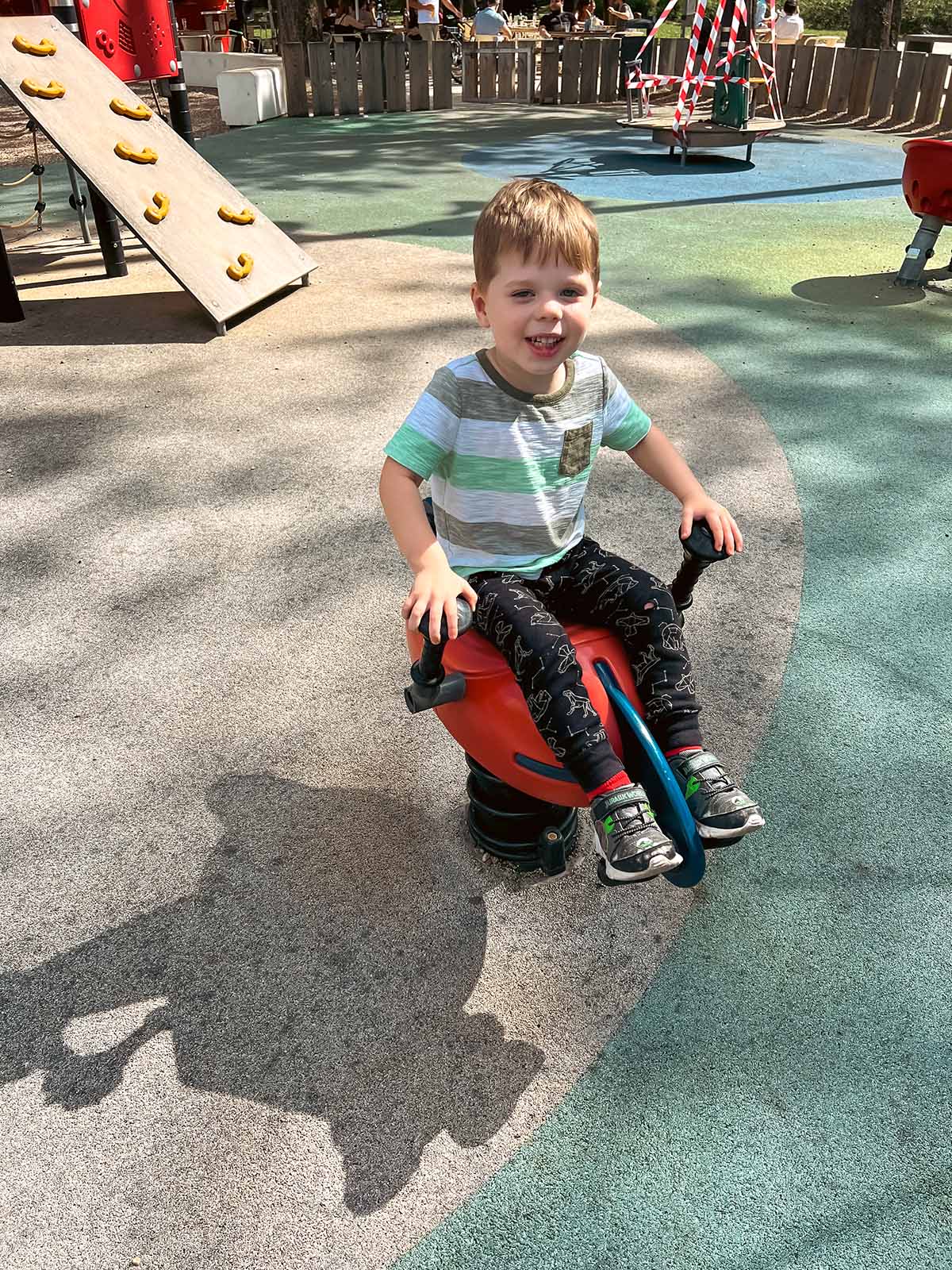 We especially found it helpful to let them play on a playground before they were having to sit still at a restaurant afterwards.
A bonus is that many playgrounds are also right next to quiosques aka kiosks (small bars with outdoor seating that have food and drinks) or restaurants. This means in some cases you can enjoy a bite or drink while your kids play!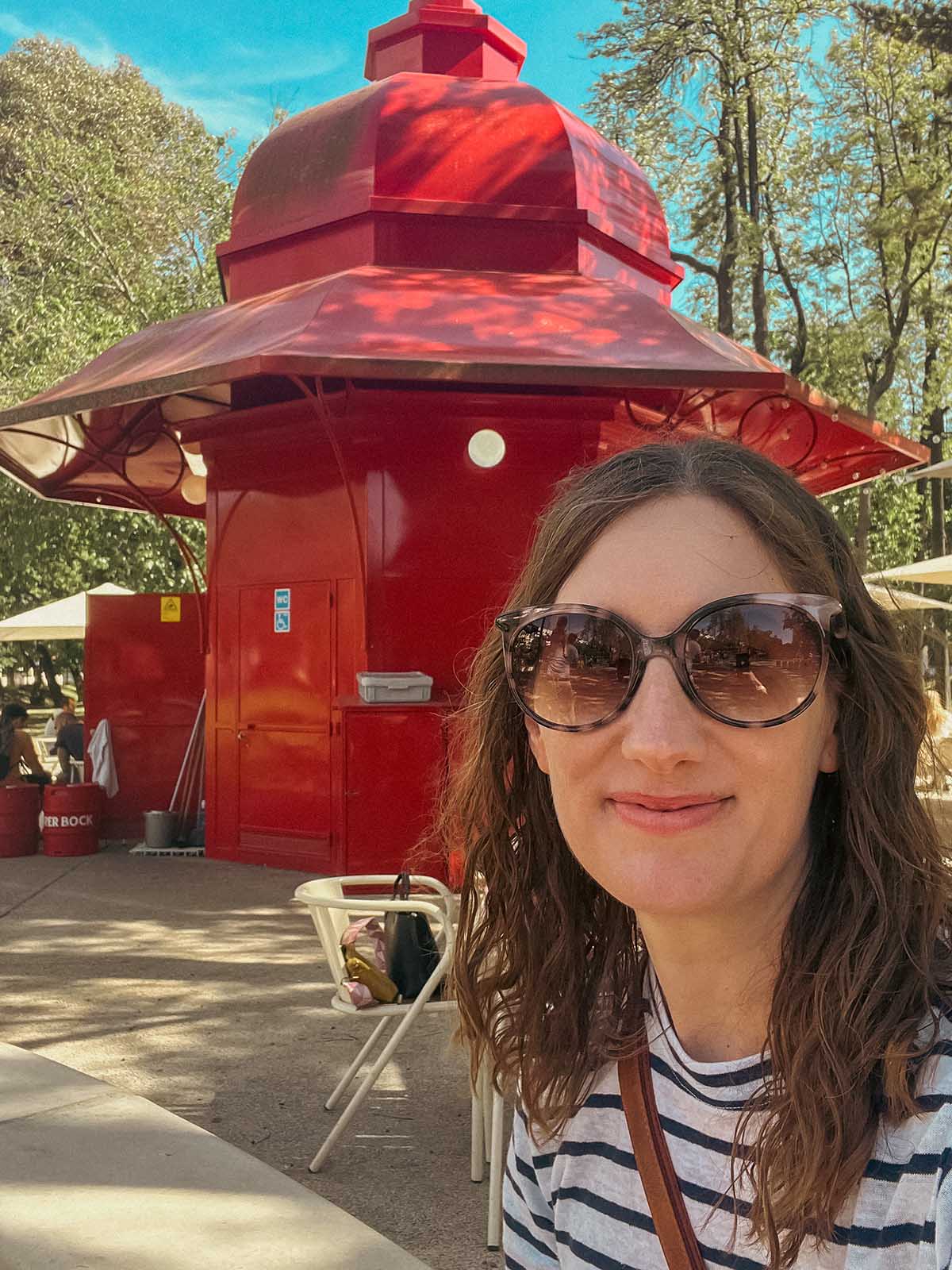 Ride public transportation
Okay, so our kids loved the metro. Any time we told them they got to go on the subway, they got so excited, and they became such pros at finding seats and navigating the elevators, stairs, and escalators.
One thing you will always want to watch out for kids though is their safety. We made sure to hold our kids hands and keep them away from the subway platform when we were in the metro stations.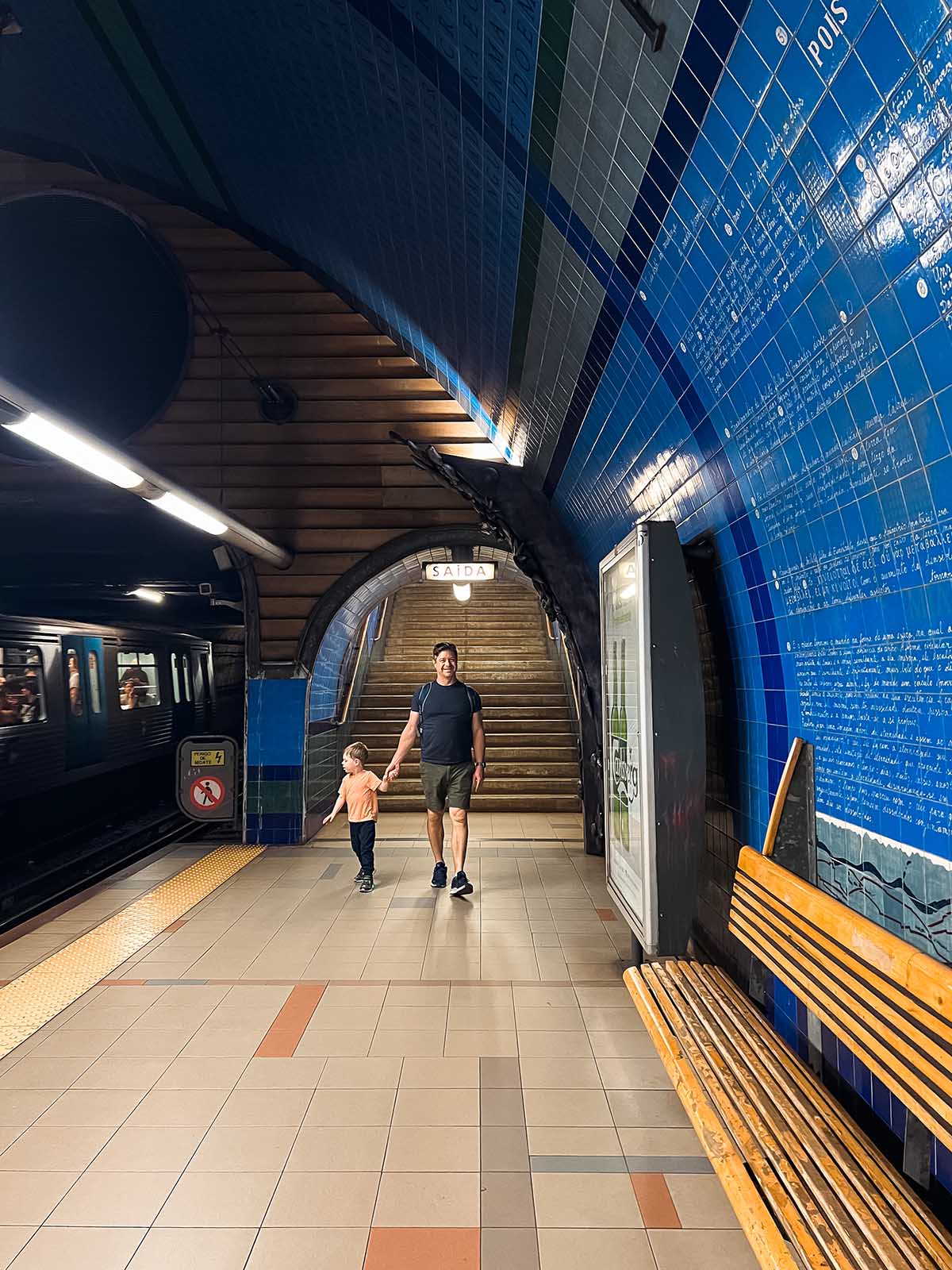 They also loved riding the buses, trams, and funiculars! All such a fun part of the trip.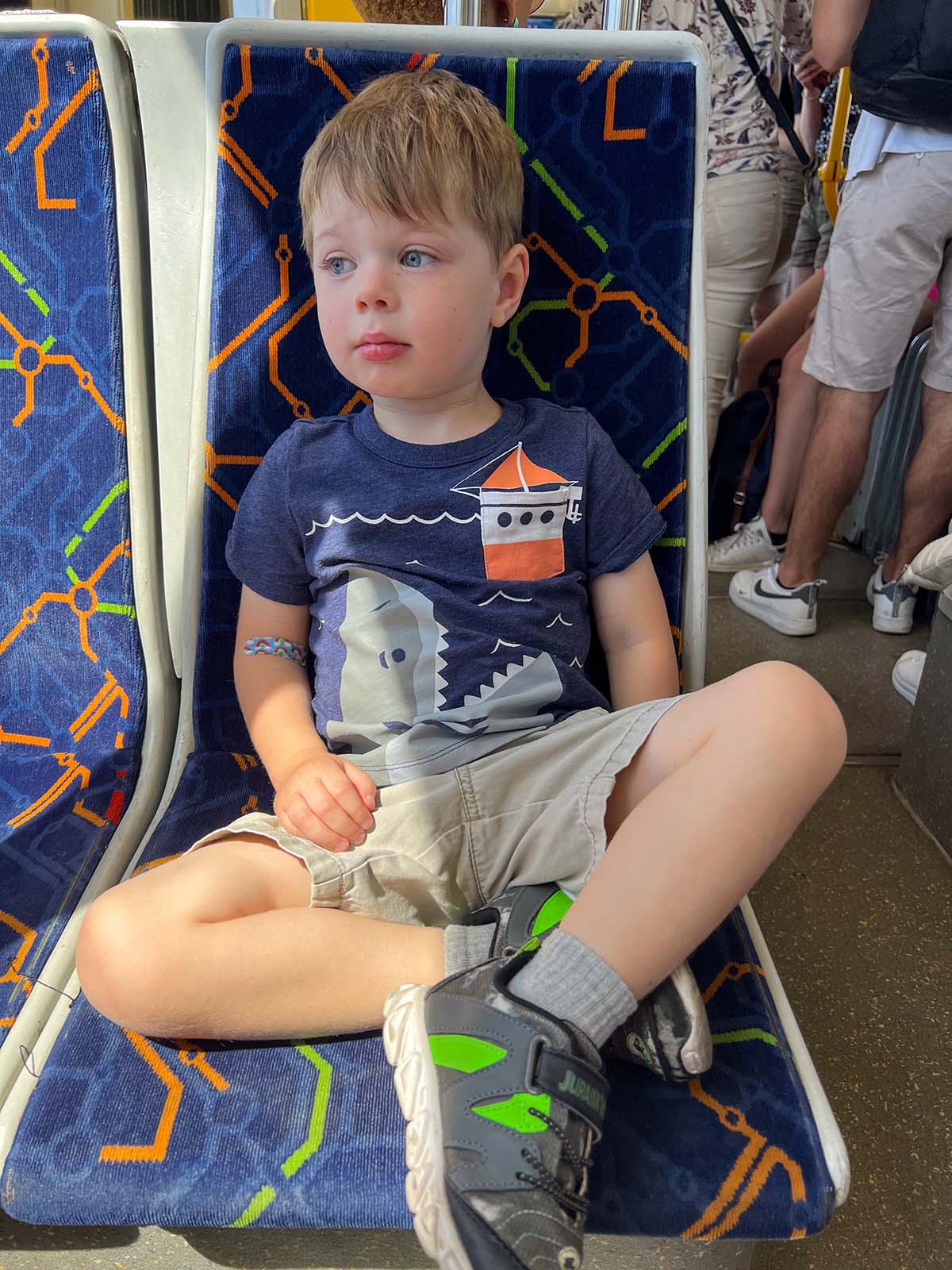 Visit the Oceanário de Lisboa
The Oceanarium in Lisbon opened in 1998 after the World's Fair in Lisbon.
It's one of the largest aquariums in Europe and is fun for kids and adults! We had fun walking all around and seeing sharks, jellyfish, and so many different colors and species of sea life.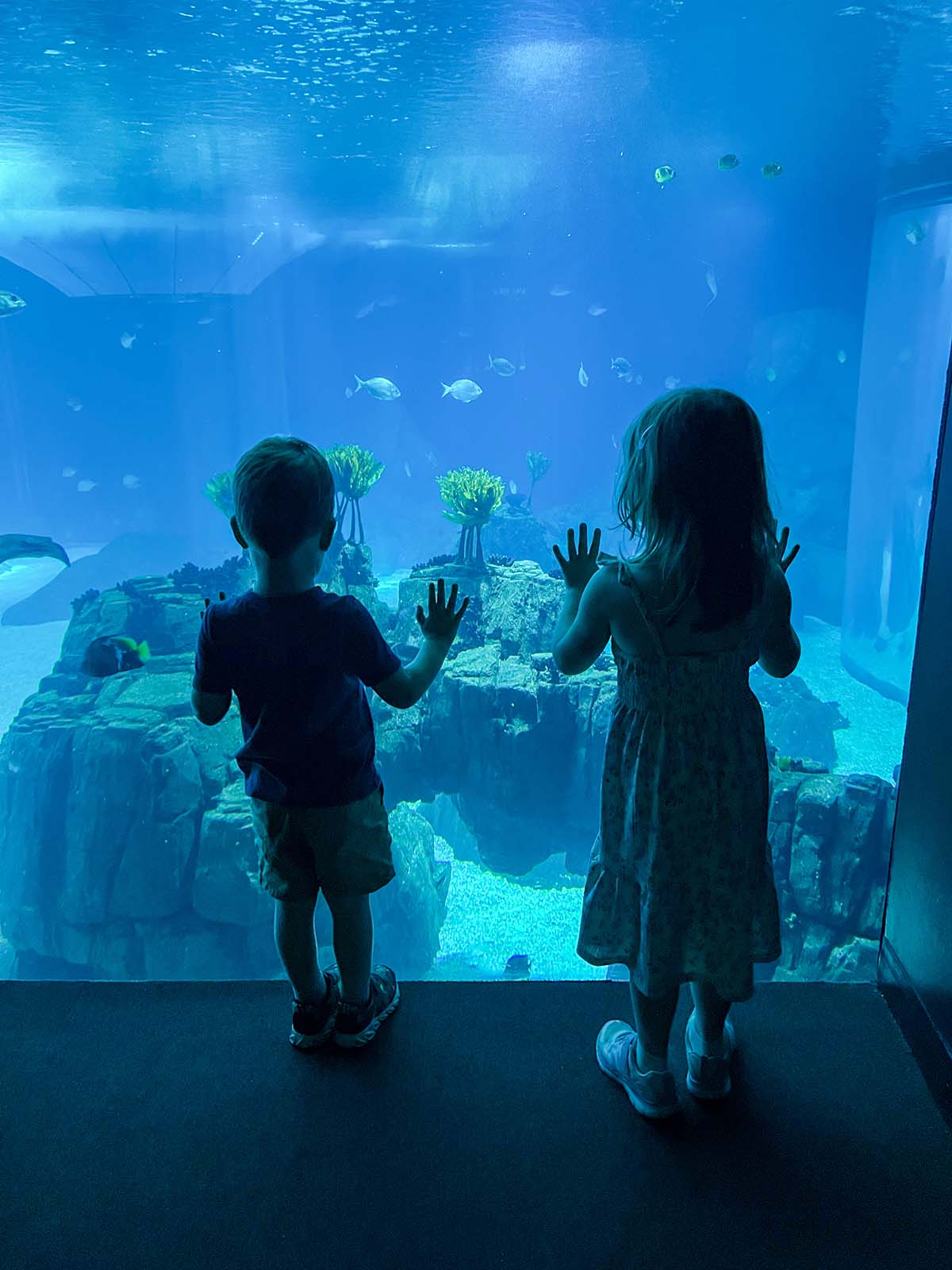 It's in a fun area of of Lisbon, the Parque das Nações area, which is a newer area of Lisbon and is fun for kids just to walk around.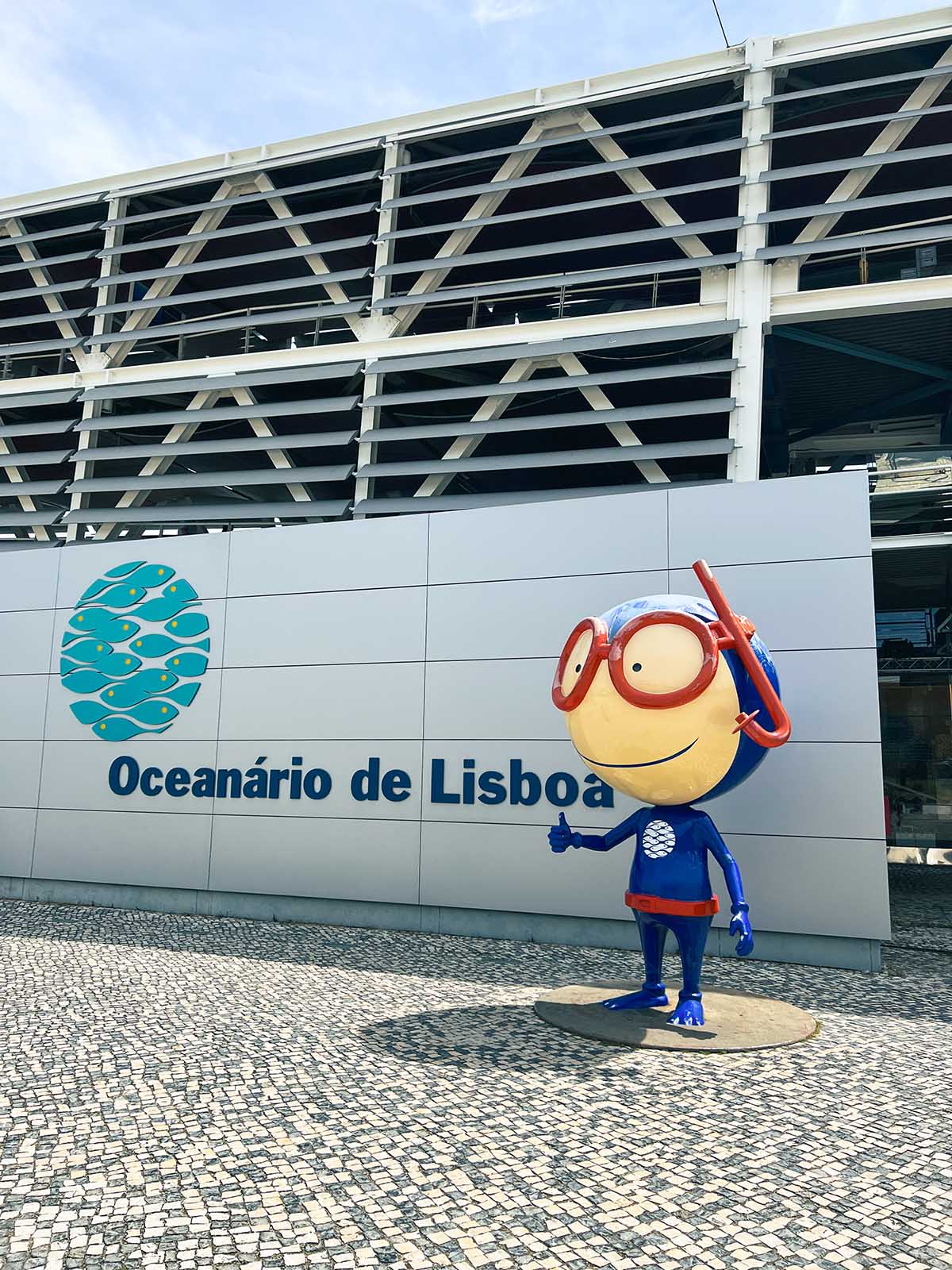 Speaking of the area... next door to the Ocenarium is...
Visit the Science Museum
The science museum!
I wish we had been able to visit this on our trip, but we didn't have time. We should have made time though, because my kids would have loved it.
It looks very interactive and made for kids! Lots of things to do and areas to climb and play. A must-visit on our next trip to Lisbon.
Ride Telecabine de Lisboa
Also in the Parque das Nações area is the Telecabine de Lisboa. It's a cable car that takes you through the air along the water.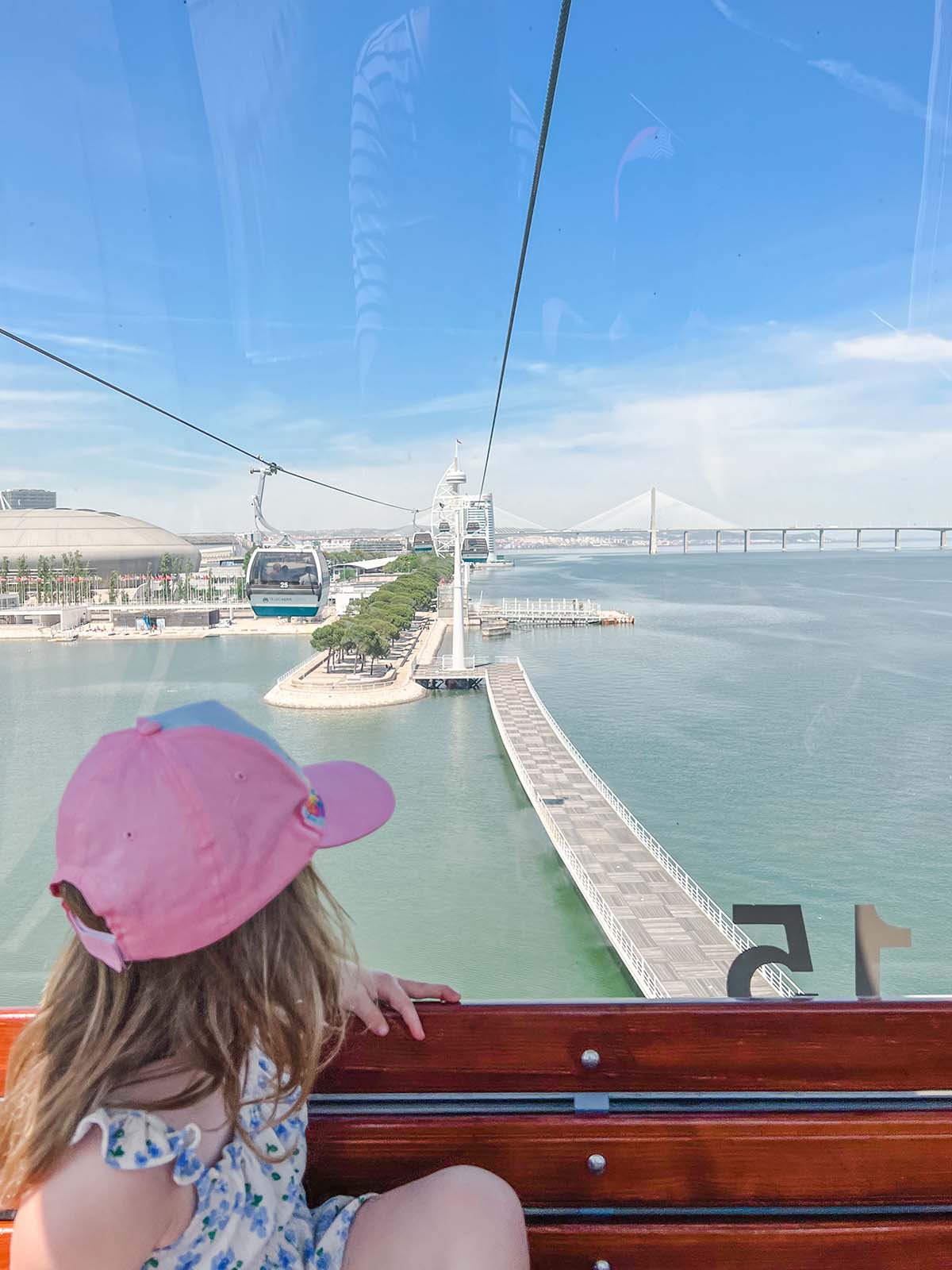 My kids have so much fun on these. It's fun to get on and off of for them, and make them feel like they are flying in the air! I love these cable cars too, so I'm never disappointed when my kids want to ride them.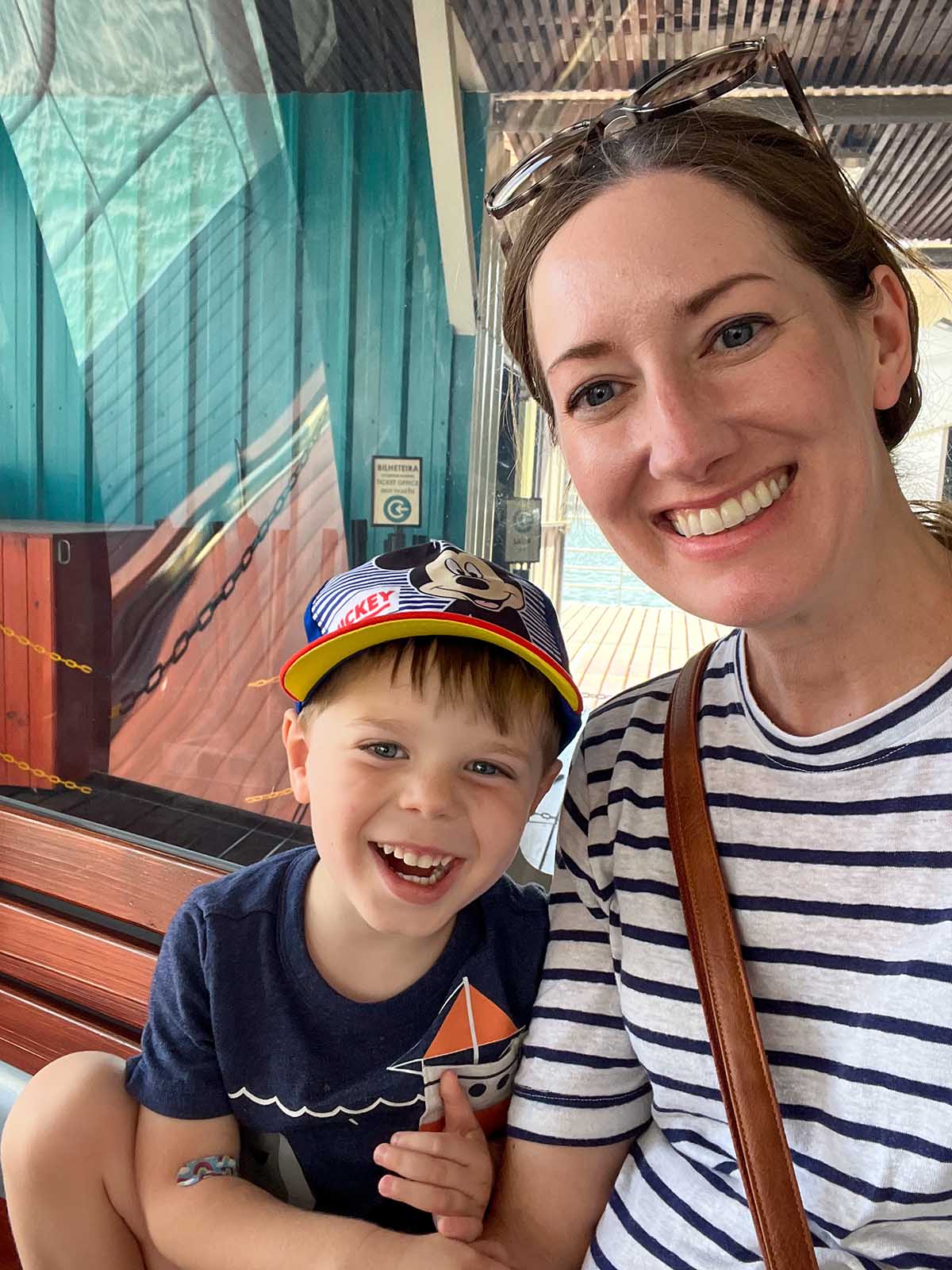 Tasty treats and fancy drinks
What kid doesn't love treats (and sugar) and fancy drinks? My kids certainly do.
Whenever we felt they were getting a little bored or hungry, we promised snacks. Many times that was pastries, ice cream, or fresh fruit (yum!) and sometimes a bubbly drink.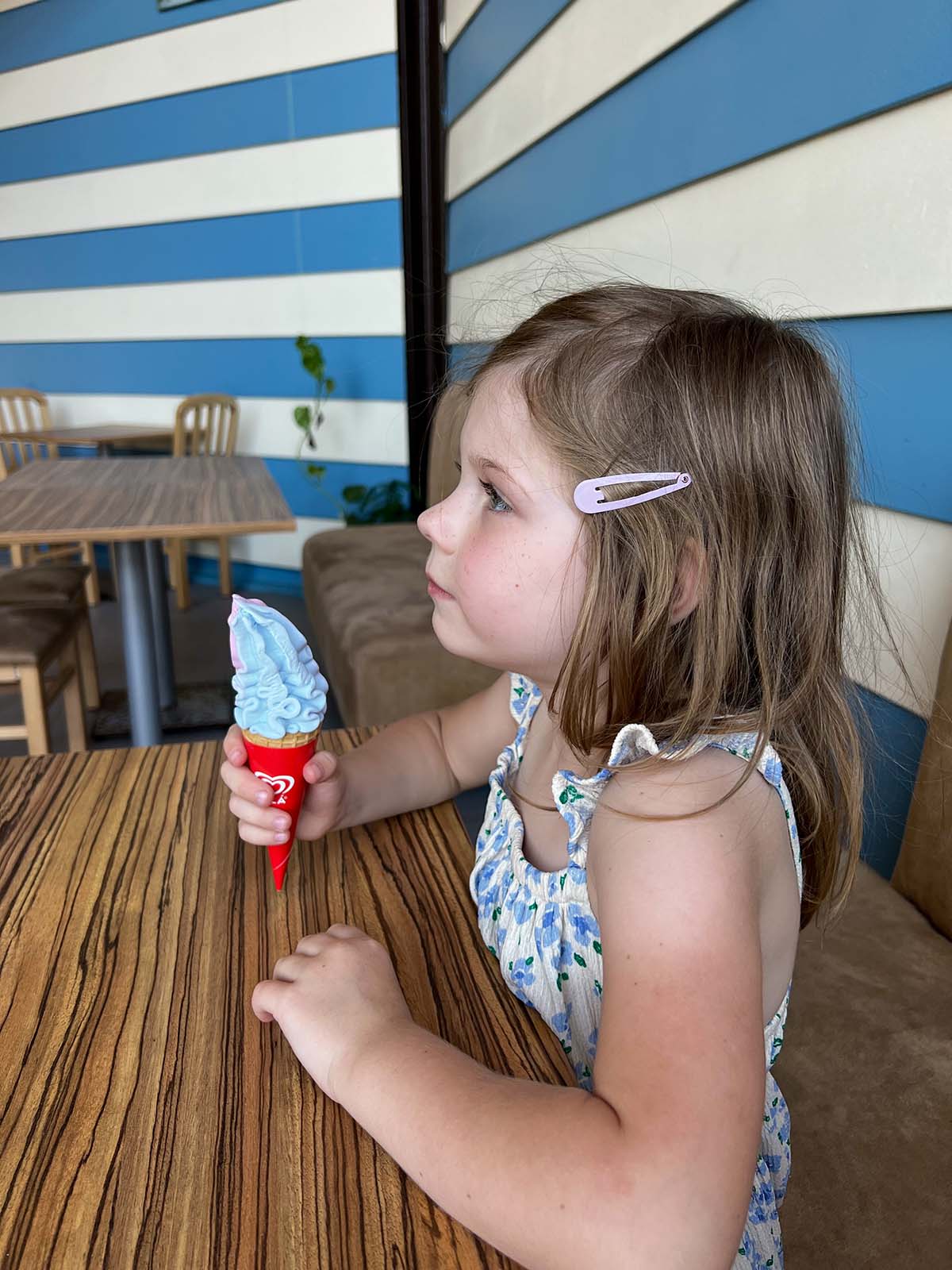 Of course we had pastel de nata, many many pastries, and we would let the kids have a fancy drink like freshly squeezed orange juice with a touch of sparkling water.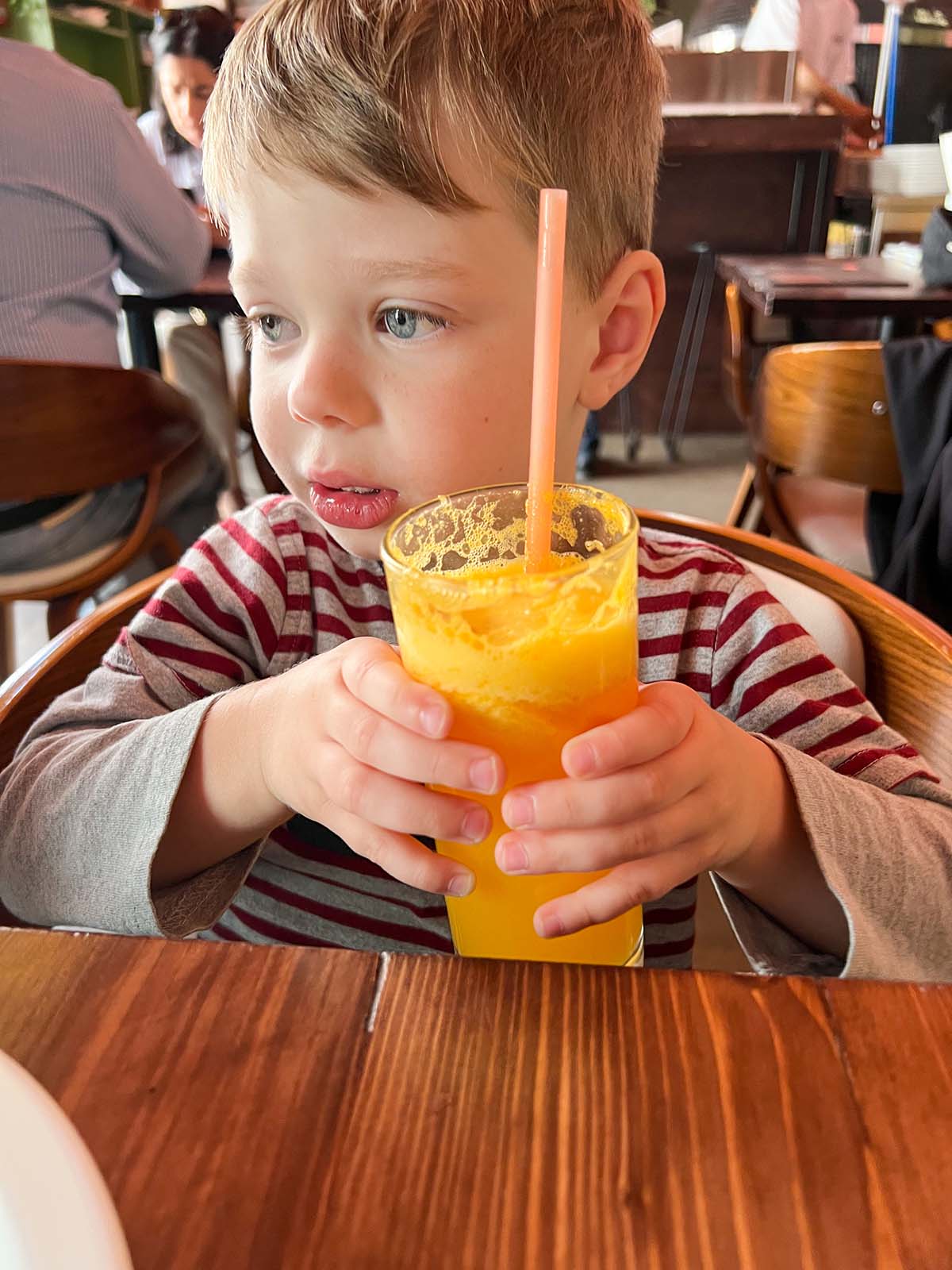 The kids loved feeling like they were drinking something special.
Visit Belem
Belem has so many fun things to do for kids! Museums, amazing architecture, and an area that has a tiny beach in front of the Belem Tower.
My kids had so much fun getting in the water and playing with the sand. We didn't bring swimsuits, but did bring a change of clothes thank goodness.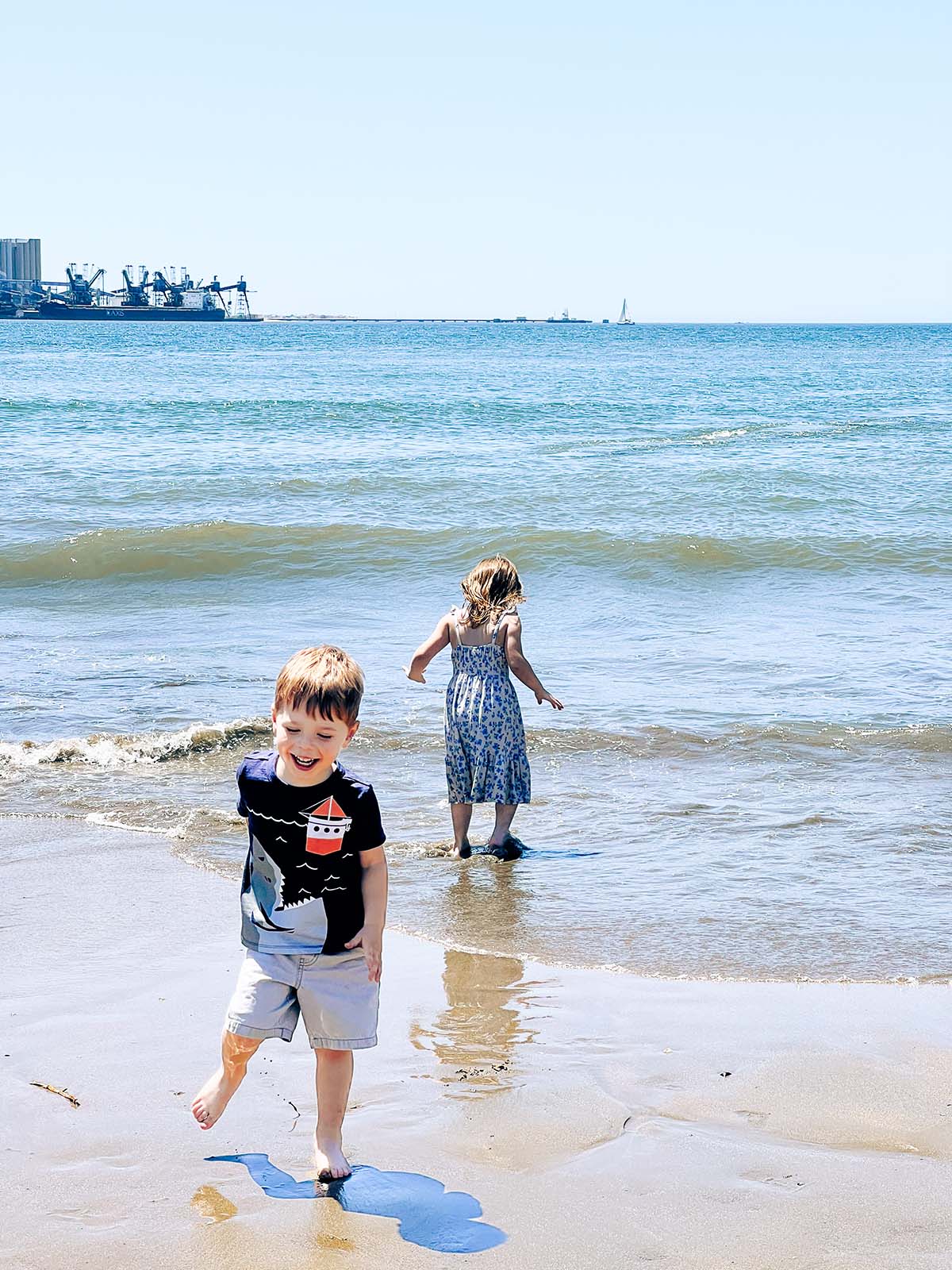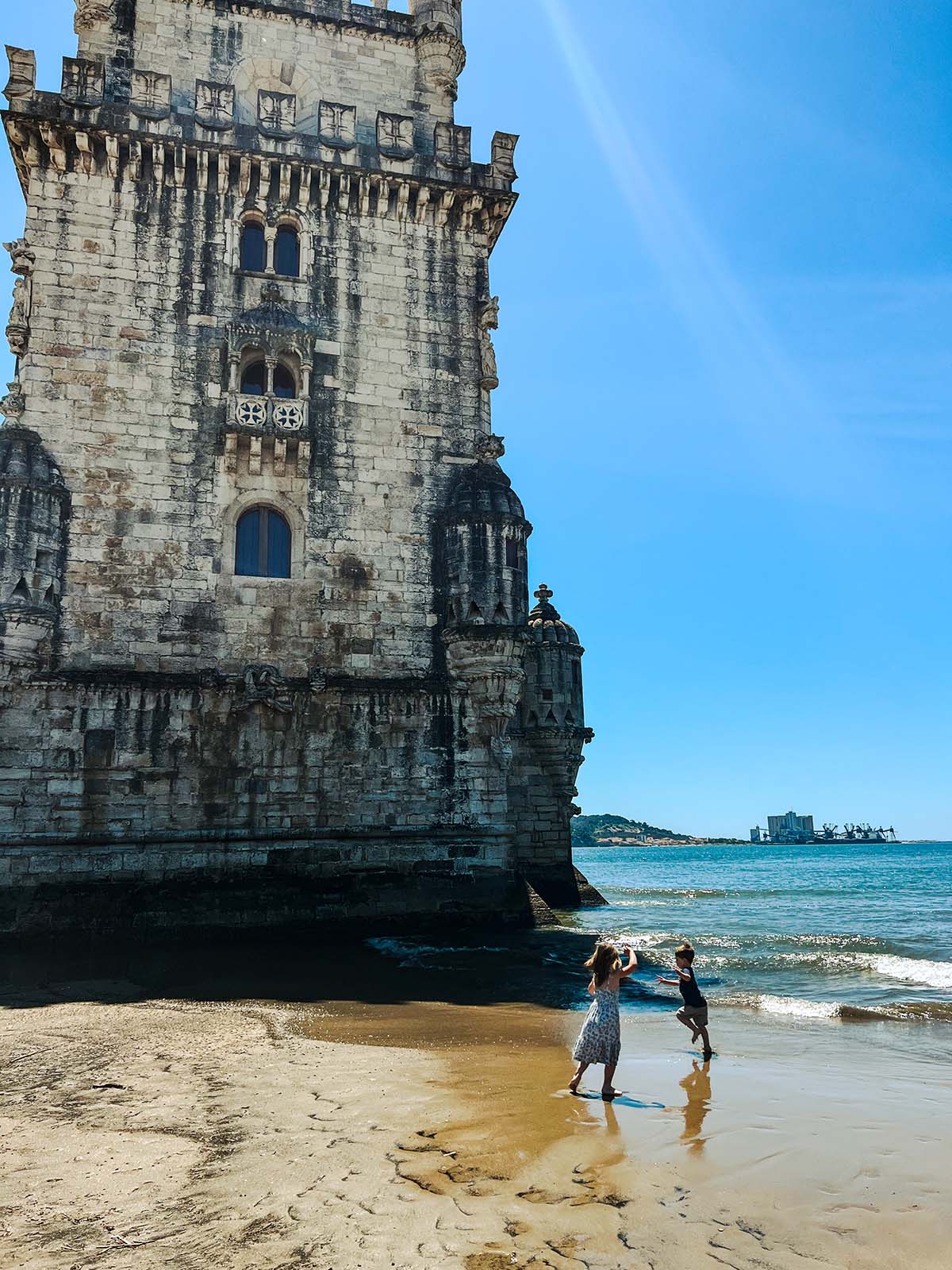 This was one of their favorite things we did in Lisbon. If you have more time or your kids are older, a daytrip or afternoon trip out to Cascias or Estoril (both easily accessible by train) may be a good option, but we weren't ready to venture out that far!
To get to Belem, take the 15E tram from central Lisbon for an easy and enjoyable ride. It makes a lot of stops throughout Belem so you can hop on and hop off as you need to! (Recommend a metro day pass if you're planning on doing that).
Visit some of the cool street art or places like Pink Street
My daughter's favorite color is pink, and so when I saw we were close to Pink Street, I knew we should swing by and see what her reaction was.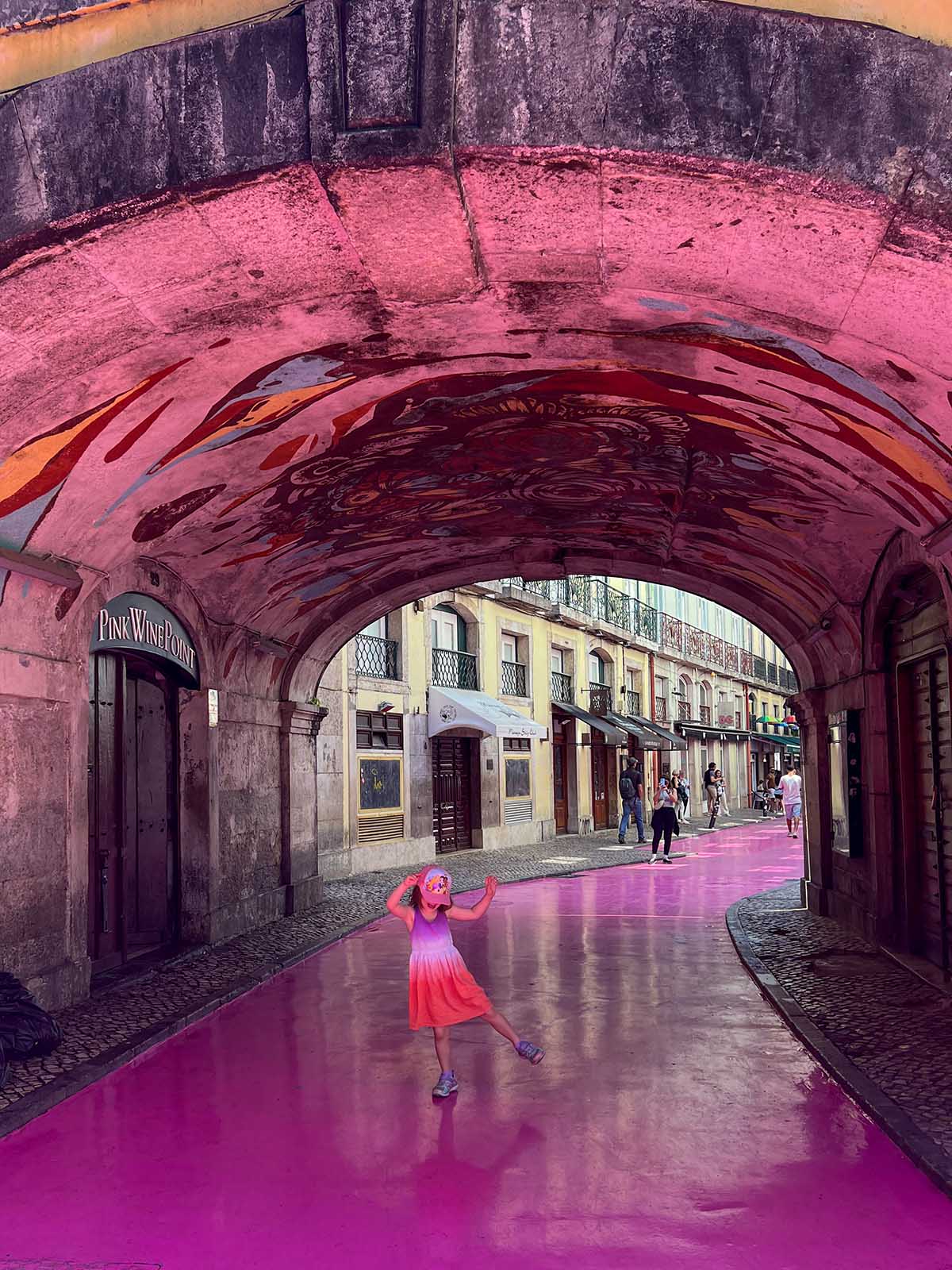 She loved it so much, she made us walk up and down the street several times. So fun for her, and it was a delight to see her enjoy it so much.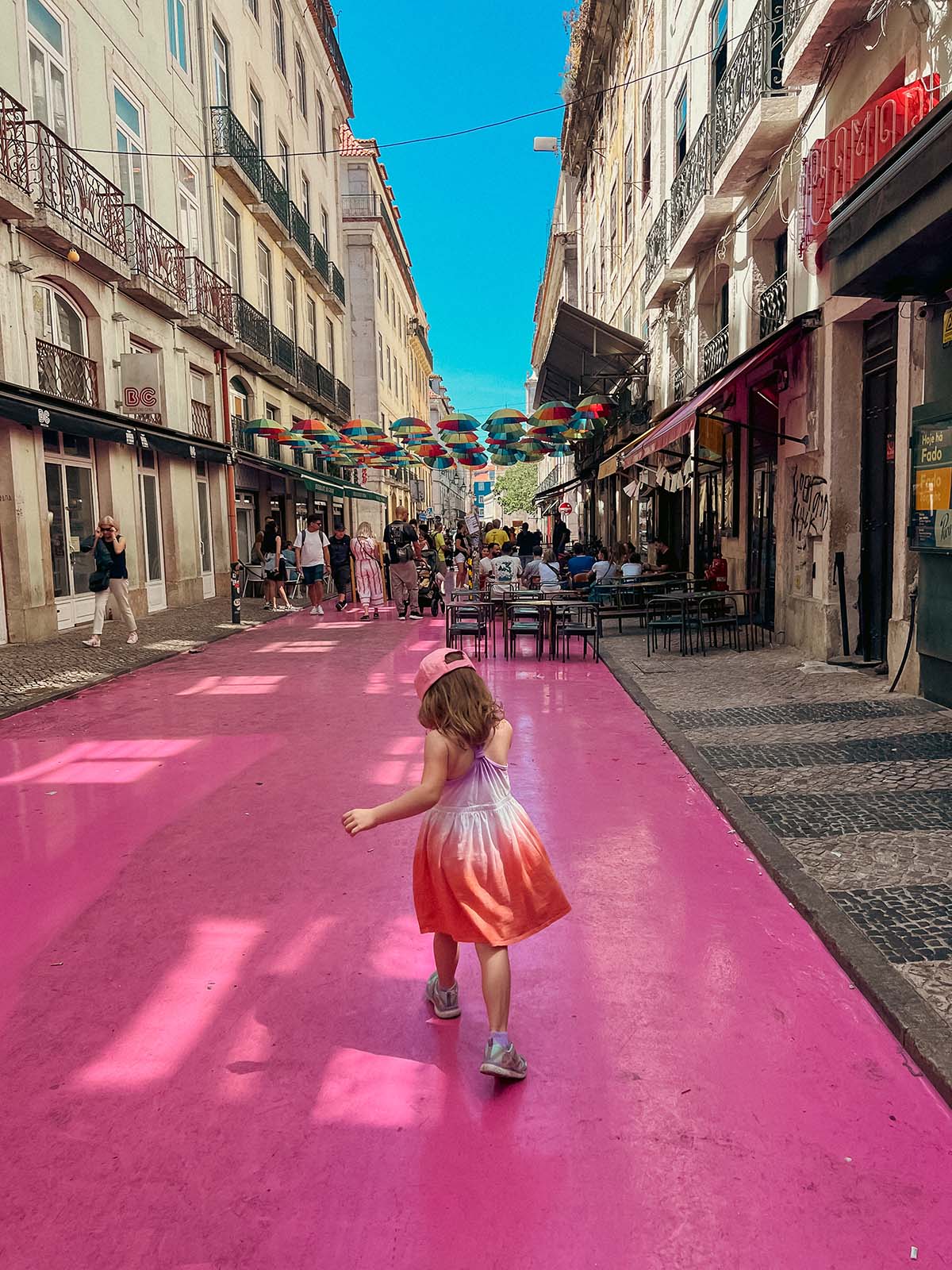 Visit the Lisbon Zoo
This is another place that was on my list that we didn't get to, but I hear the Lisbon Zoo is a great place to take kids.
I hear that there are daily dolphin shows, and some research shows me there is a carousel at the zoo, which I know my kids would have wanted to ride 10 times.
Let them enjoy the little things
And finally, let your kids enjoy the little things. We let them chase birds in parks, put their hands in fountains, and just be kids.
It can be hard to be on vacation if you're little and not used to it. Walking around a city (especially one like Lisbon with lots of hills) can be tiring for a child.
So letting them stop and rest or chase birds or pop into a store or get a treat is so important.
Letting kids be kids and also seeing things through their eyes can be one of the great things about vacation.
Have you been to Lisbon before? What are your favorite things to do with kids? What did we miss?