Hello, I'm Aimee! Welcome to my Austin, Texas kitchen.
On Food Banjo, you'll find mostly easy recipes that are big on flavor. Sometimes that's from a bold spice or condiment, or sometimes that's from a healthy squeeze of lemon juice.
You'll also find some of my family favorites like my Grandma's chess bars and her no-bake lemonade pie.
I also LOVE making things in my air fryer, so you'll find a lot of air fryer recipes here too!
I basically try to make flavorful food that's easy to make and doesn't take a lot of time. Bonus points if it's healthy!
Why Food Banjo? What's it mean?
Good question! My husband and I came up with the name back in 2012 on a whim when we launched a food magazine. We wanted something simple, but fun. And decided Food Banjo fit the bill! We turned it into a blog in 2016.
Fun fact - shortly after we decided on the name, we were walking through our neighborhood park and there was a guy playing the banjo.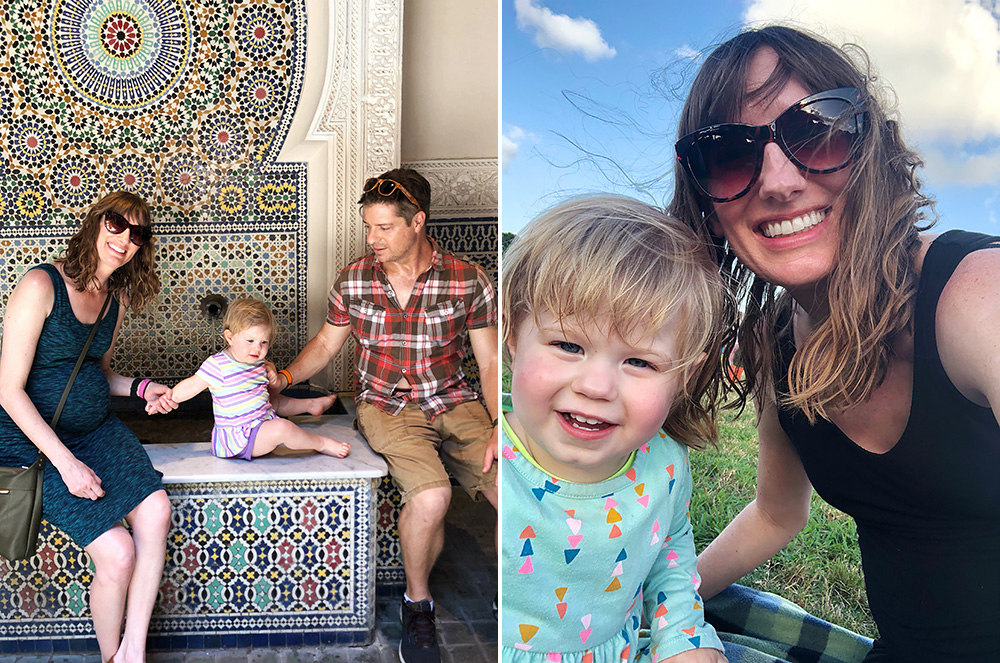 About Aimee
I've lived in Texas most of my life except for 2 years spent in Seattle. I grew up as a very picky child, but my love of food and trying new flavors blossomed over the years as I got more adventurous trying amazing dishes at Austin restaurants.
I also love trying food around the world. I've eaten schnitzel in Vienna, pasta in Florence, sourdough in San Francisco, fish & chips in London, paella in Barcelona, croque madame in Paris, pastel de nata in Lisbon, and delicious seafood on the Croatian coast.
Overall though, I love using a bunch of spices and herbs in my food. I don't like my food to be boring, I want it to be something I love and crave eating.
I used to be a freelance food photographer, taking photos for local restaurants, magazines, and lifestyle brands. Now I channel my love of food into creating recipes. I have two kids who keep me on my toes while cooking and always want to "help" in the kitchen.
I was recently a guest on the Eat Blog Talk podcast talking about food blogging. Listen to the episode here.
I also have a Master of Science degree in marketing and have worked for years (over 15 years!) in the online marketing space doing email marketing, search advertising, SEO, content creation, analytics, and consulting.
Follow Us!
Don't forget to follow us on social media channels!
Facebook - Like Food Banjo on Facebook!
Pinterest - @foodbanjo on Pinterest
Instagram - Follow @foodbanjo on Instagram!
Can I use one of your photos or recipes?
Do not reproduce any text, recipes, or photographs without my prior written consent.
I'm interested in a brand partnership. How do I reach out?
I do select brand work when available. If you are interested in partnering with me for recipe development or other activities for your brand, please reach out at foodbanjo (at) gmail (dot) com.
Disclosure and Disclaimers
We sometimes post about products/restaurant visits we're getting paid for or receive for free. If that happens, we will ALWAYS disclose it in a post.
You can also find our privacy policy here where we talk about how we use cookies (not the yummy kind!) and gather information.
Many recipes on the site contain nutrition information alongside the recipe. These are estimates, and for the most accurate nutritional information, please use your ingredients to calculate yourself. Read our nutrition policy here.