This Texas banana pudding is a creamy, cool dessert. It's easy to layer up and store in the refrigerator and the sweet crumble topping takes this Southern homestyle recipe to the next level!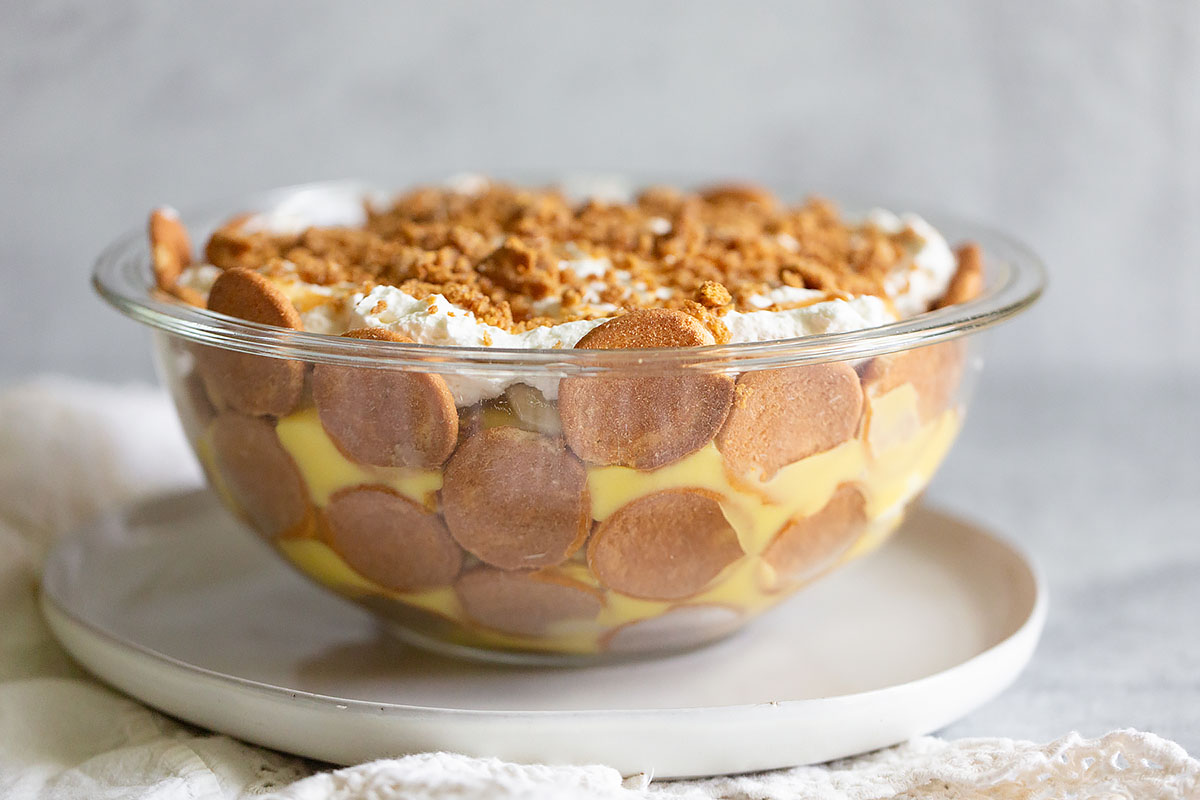 Banana pudding has become one of my favorite desserts. It's the type of dessert you can layer up, make a big bowl of, and bring to a party. We actually bring this to a family gathering almost every year. And it's perfect for a summer bbq.
Or you can layer it up, make a big bowl of it, and eat all the banana pudding yourself at your house. Which is what we recently did, because yum. My waistline hates me for this, but my tastebuds are SO SO happy. It's worth the extra cardio.
I happen to think this is the BEST banana pudding recipe ever. Texas style or not. Just in general. It makes me think of the banana pudding I can get at Rudy's BBQ, but it's even better. Josh has spent years perfecting this recipe.
This southern banana pudding consists of layers of vanilla wafers, vanilla pudding, sliced bananas, freshly whipped cream, caramel drizzle, and a graham cracker crumble topping. It's all delicious, but that crumble topping just takes it to the next level.
Let's talk a little more about those layers!
Layers of banana pudding:
Vanilla wafers - The perfect base. I love how they start out crispy, but then soften up over time. They take on a bit of a cake-like texture that pairs perfectly with the other layers.
Pudding - We use vanilla for this, but for extra banana flavor, you can use banana pudding.
Bananas - Slice 'em up! We like our bananas to be pretty ripe for this.
Whipped cream - For this layer, we use freshly whipped cream that is slightly sweetened. We don't want it too sweet, since we have a lot of other sweet ingredients in the banana pudding.
Caramel drizzle - This is optional, but it adds a nice flavor. And when you drizzle it on top, it makes the banana pudding look so pretty!
Graham cracker topping - This is made from crushed graham crackers, melted butter, and sugar. It's stirred together then baked in the oven to get caramelized and delicious.
Repeat the layers one more time, adding more vanilla wafers up the side of the bowl as you go.
Dish and plating options:
Big glass bowl - This will allow you to see the layers, and it's an easy way to make and store the banana pudding!
Disposable aluminum pan or rectangular cake pan - This won't allow you to see the gorgeous layers, but it is easy to take to a gathering this way. If you make the banana pudding this way, I'd suggest only doing one layer of each ingredient instead of two. You may also want to add more vanilla wafers on top of the pudding.
Individual servings - If you're getting fancy, you can make individual servings of banana pudding. We rarely do this, because it's more work and we're not really trying to impress anyone. We just want to eat delicious banana pudding.
How to serve:
Honestly, we just take a big spoon and scoop this Texas-style out of the bowl. And onto plates or into bowls. We usually have some of the crumble topping leftover, so we toss a little more on top and add a few more vanilla wafers once it's plated.
How to layer banana pudding:
Once you have all your ingredients prepped and ready, it's time to layer banana pudding!
Layer one... the vanilla wafers. You'll take out a big, glass bowl and start to add some to the bowl. You don't add them all up the sides, because they wont stay properly at this point. So you start with about how many you see below.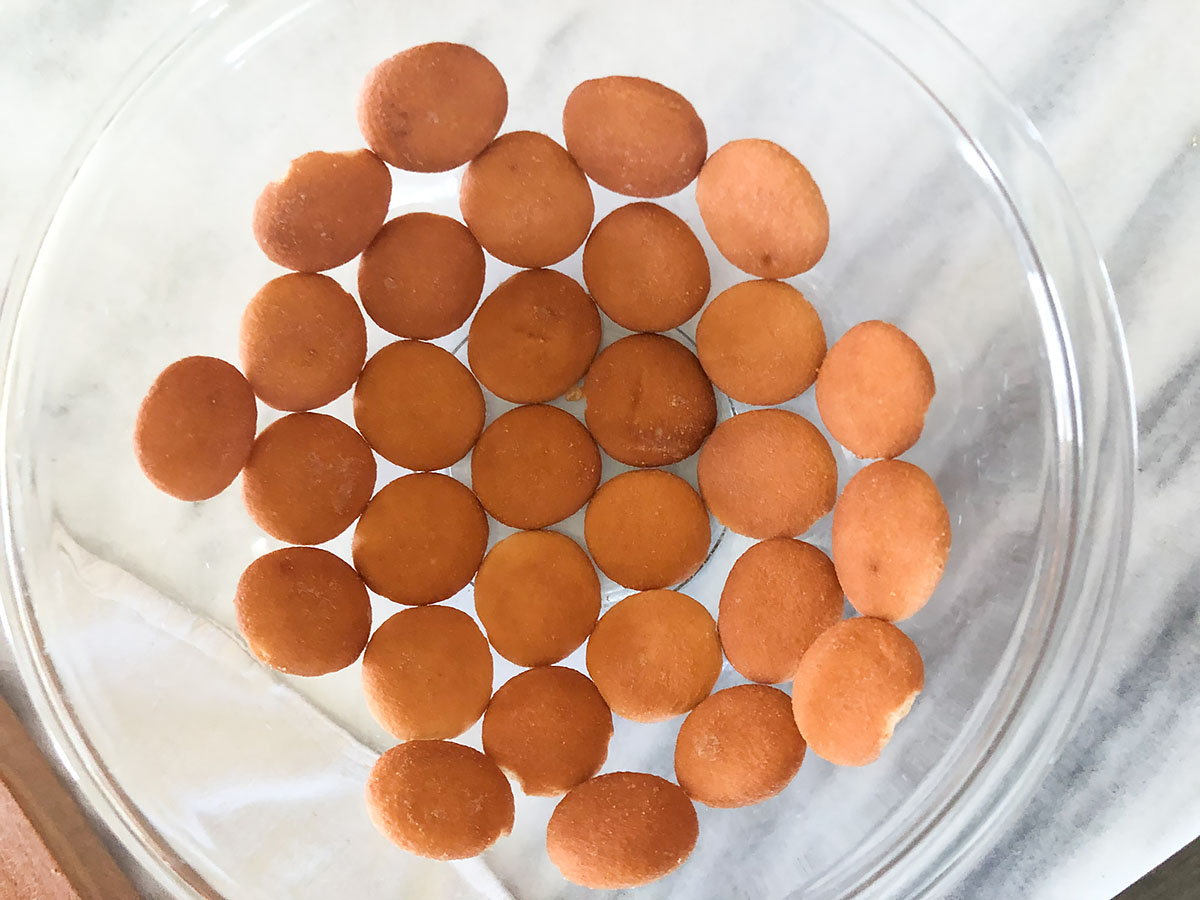 Then, you slice up your bananas.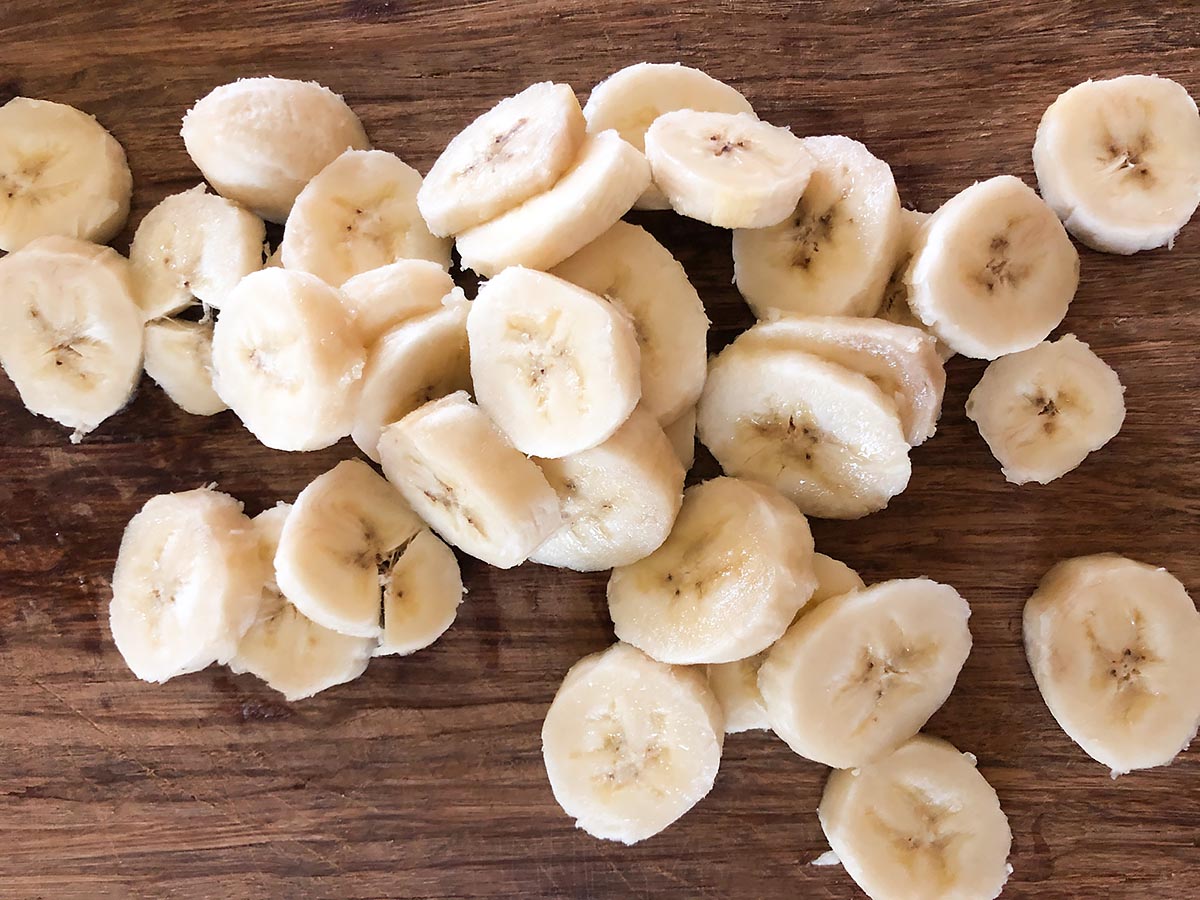 Next, you add about ⅓ of the pudding to the bowl and ⅓ of the banana slices to layer.
Note - Even though you're layering this up two times, you only do a third of the mixture to start, because of course the bottom of the bowl is smaller than the top. So you'll use the remaining ⅔ for the top layer.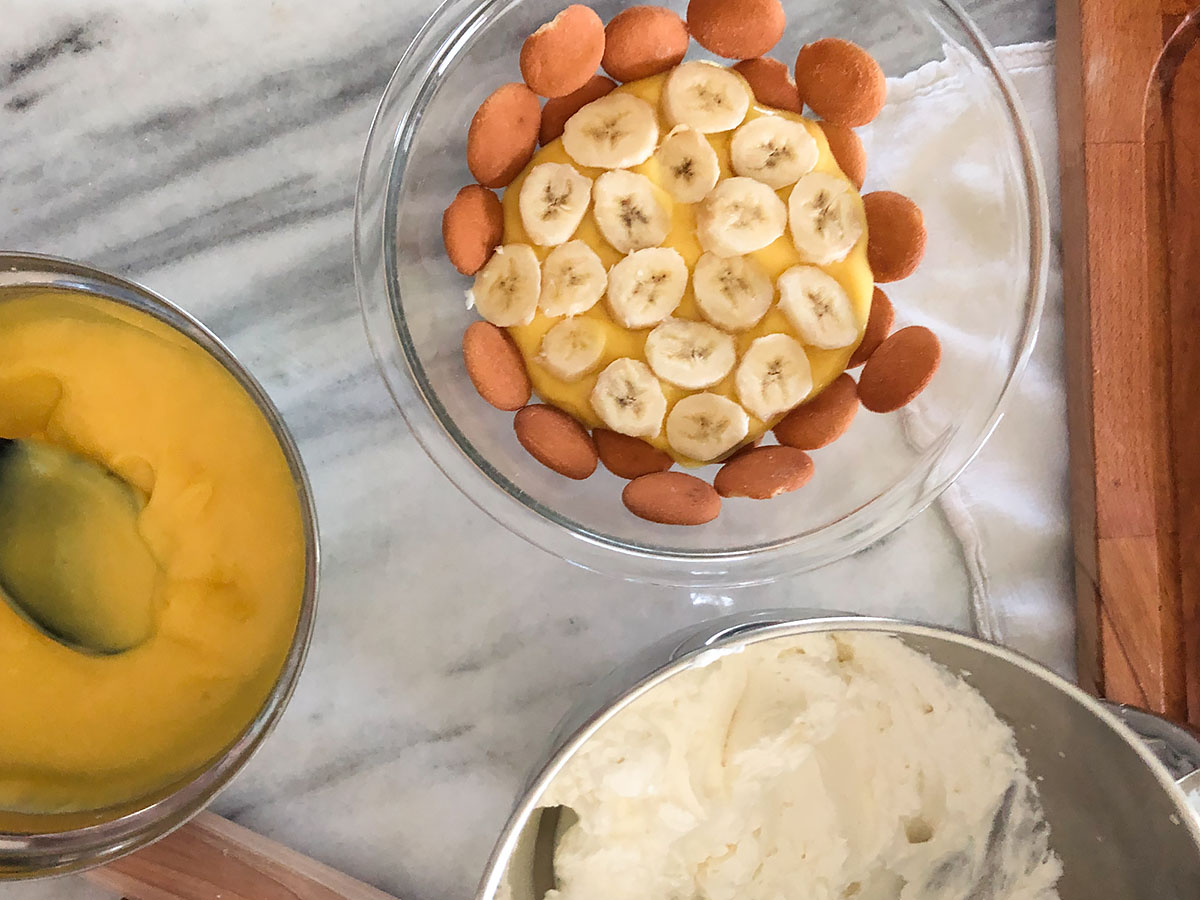 After the banana, and ⅓ of the whipped cream.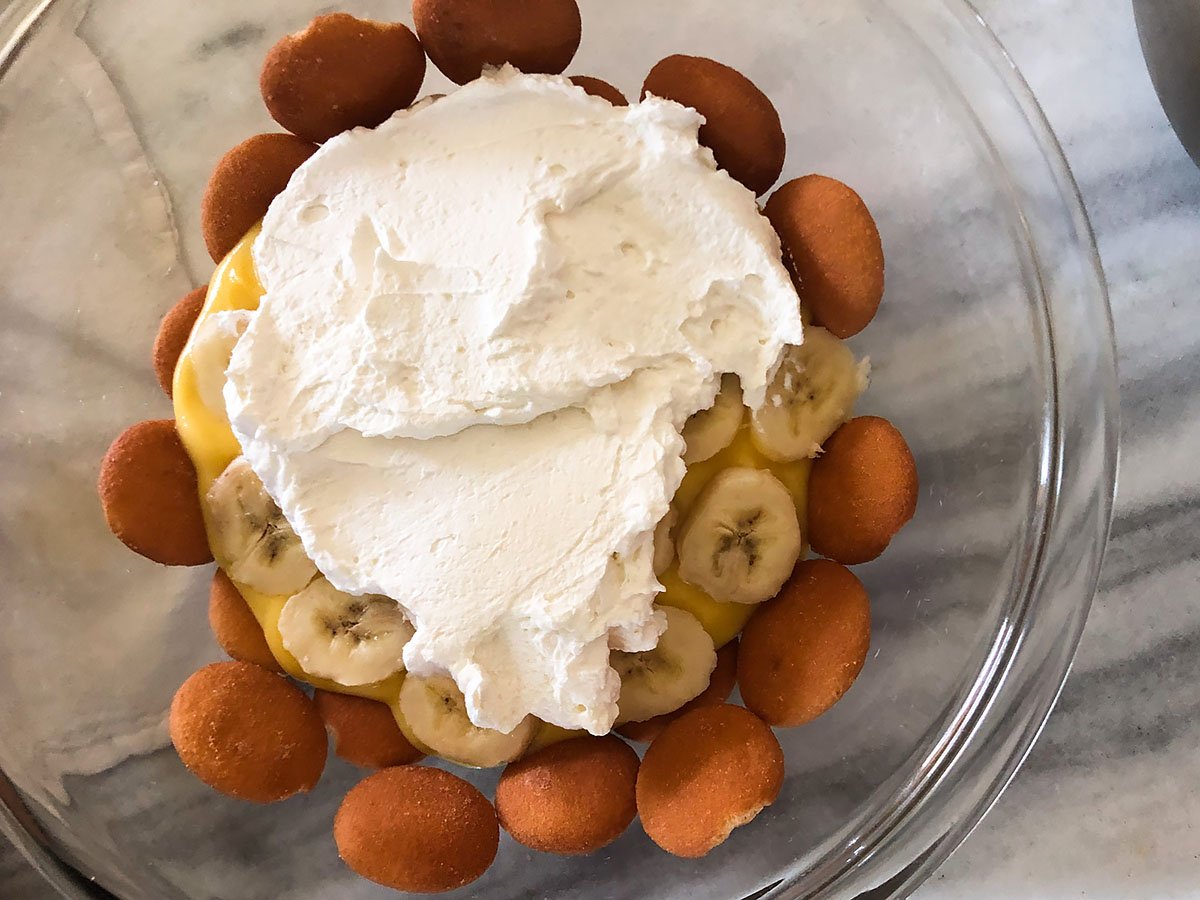 Next, drizzle on the caramel sauce in a criss-cross pattern. Then you'll add half of the crumble topping, and then start to layer again!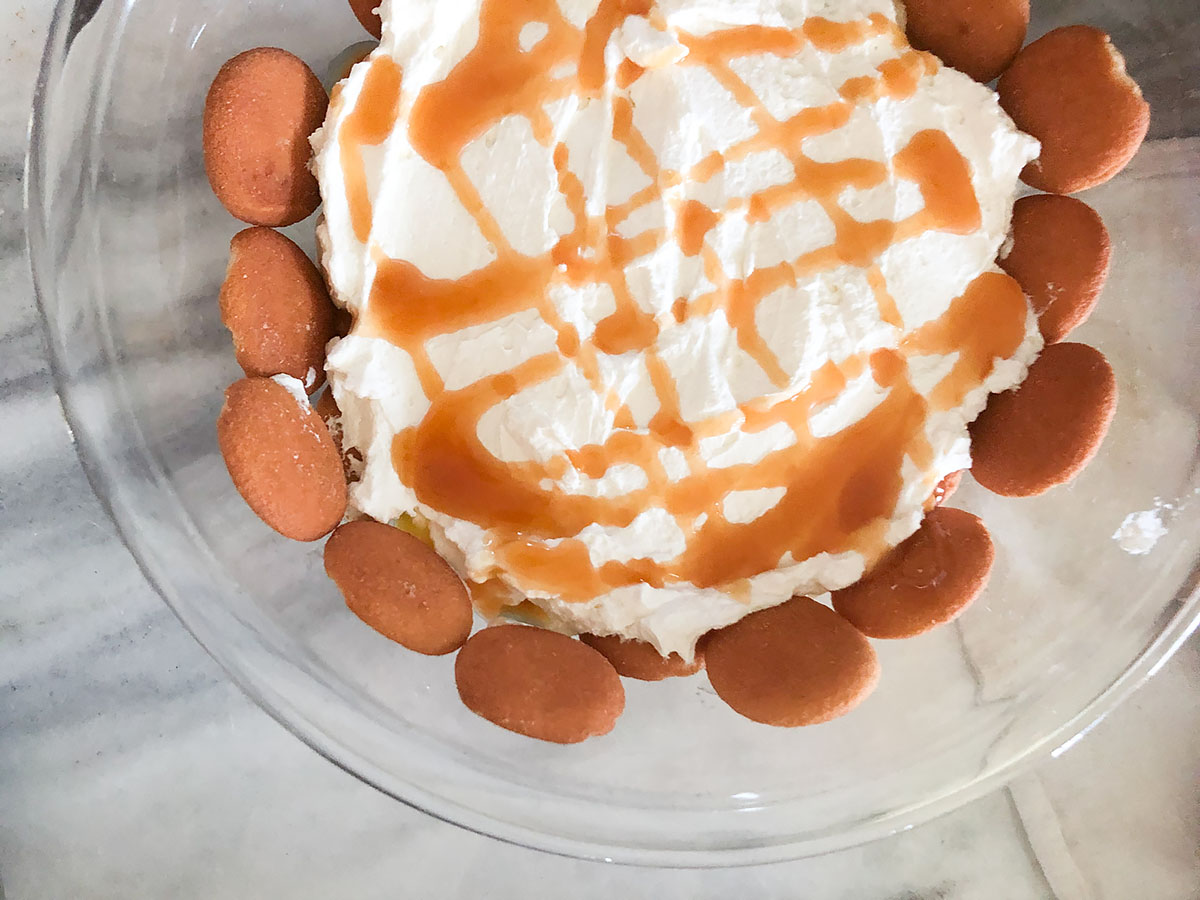 Add another layer of the pudding and another layer of bananas, adding more vanilla wafers to the sides as you go.
Top with the rest of the whipped cream and more caramel drizzle.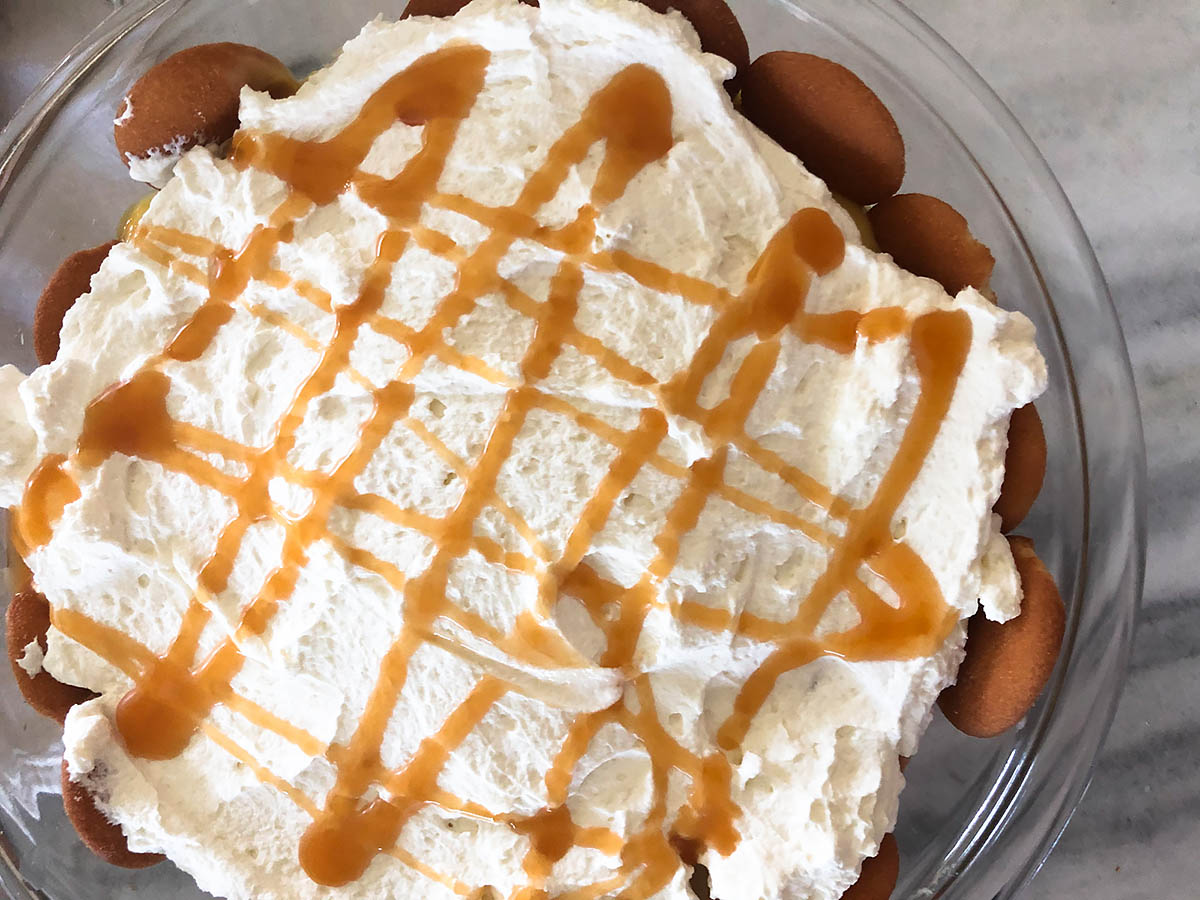 And then finally, add the crumble!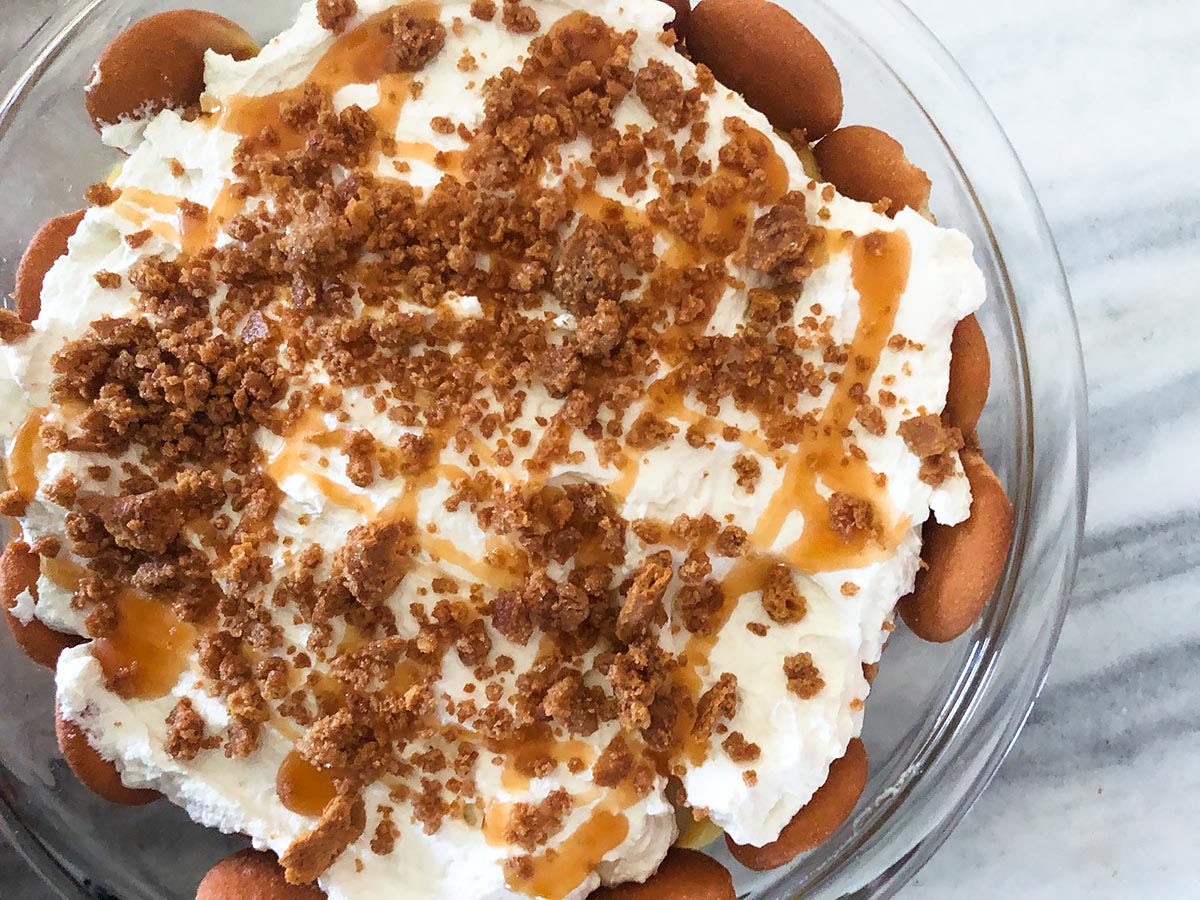 At this point, refrigerate it for at least and hour to firm up! Cover with saran/plastic wrap to store and keep leftovers in the refrigerator.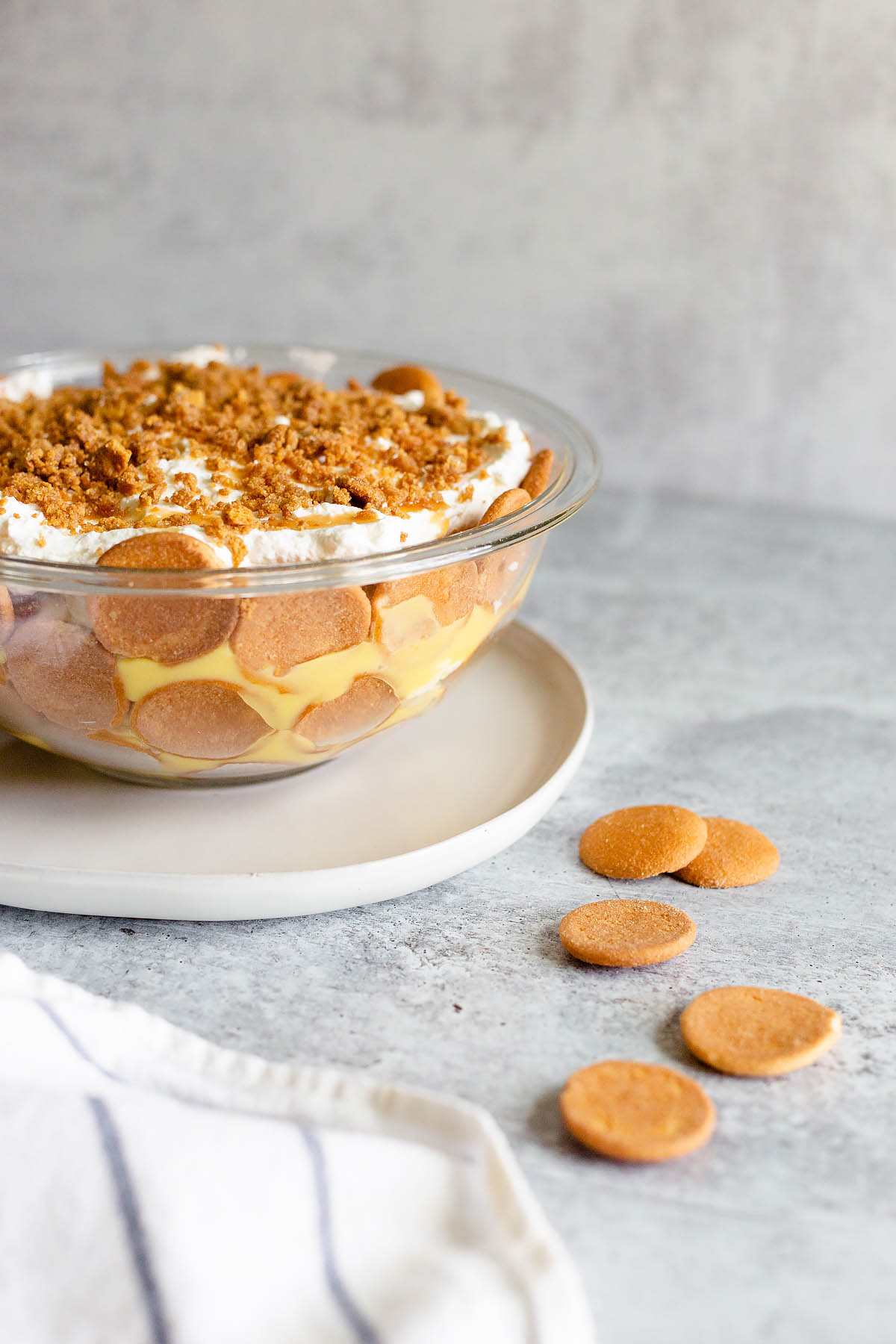 How long will the banana pudding keep in the fridge?
Less than a day because you'll eat it so quickly!
Seriously though, the banana pudding should keep for 2-3 days in the fridge. Just make sure to cover it with plastic wrap.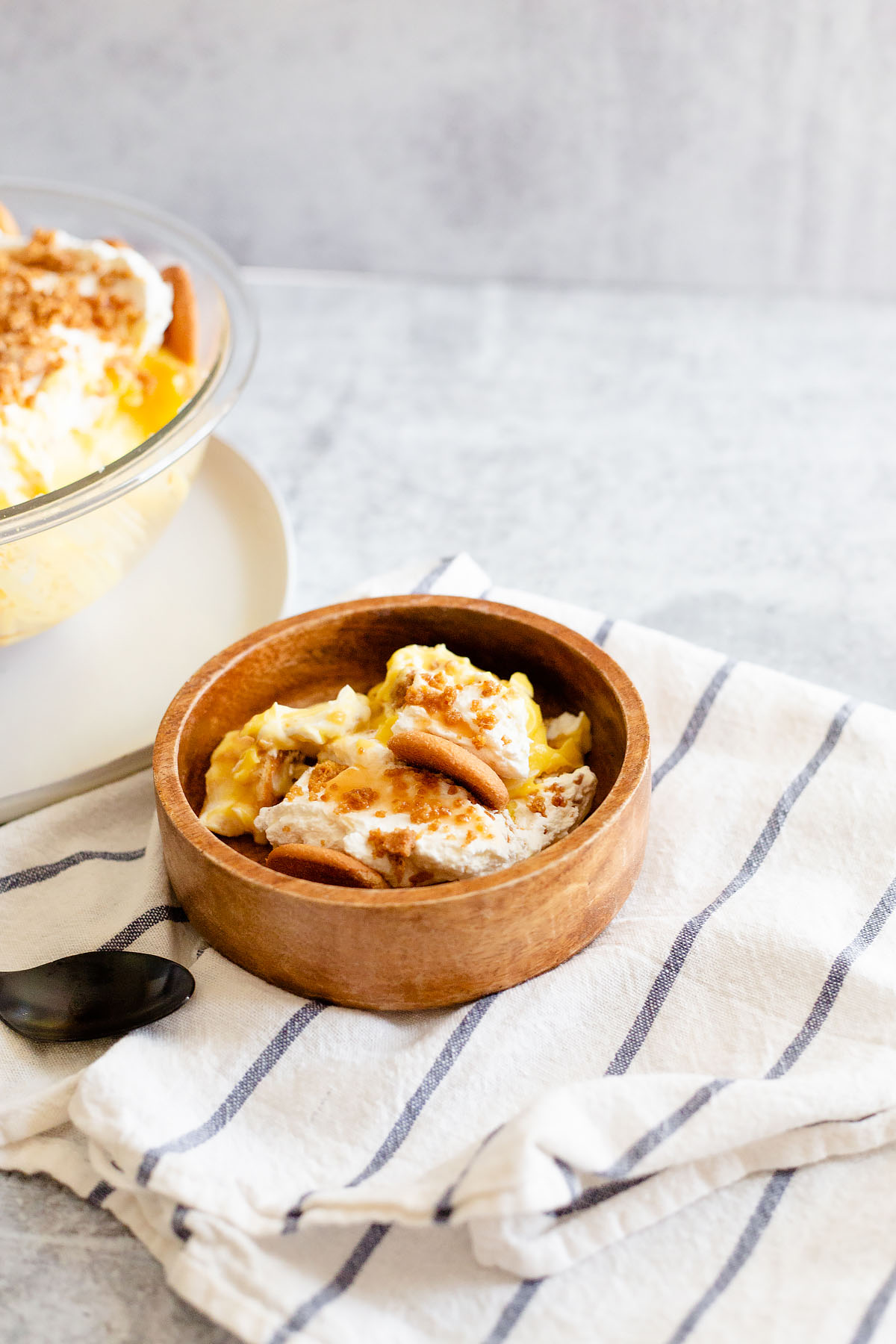 Like this recipe? Try these!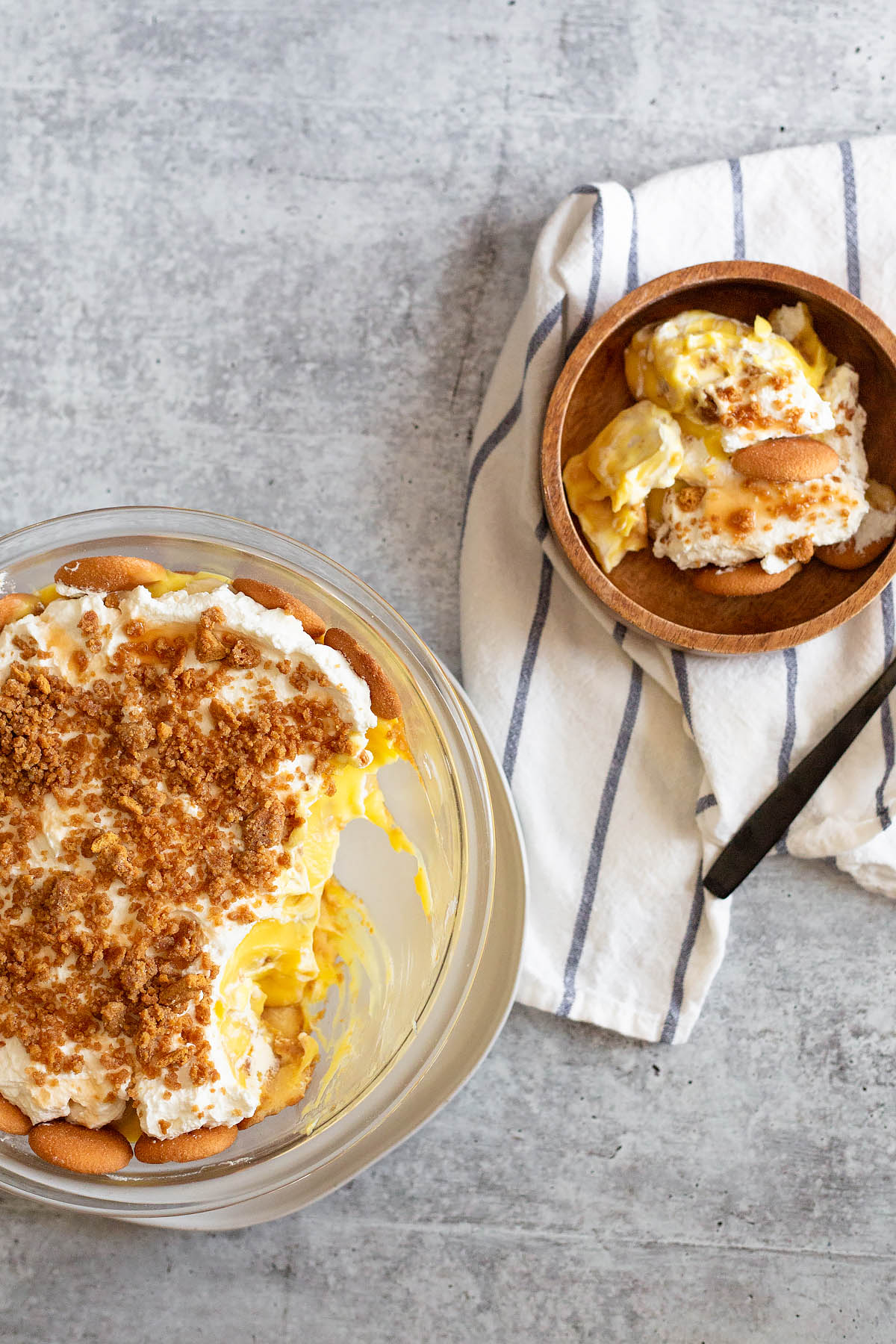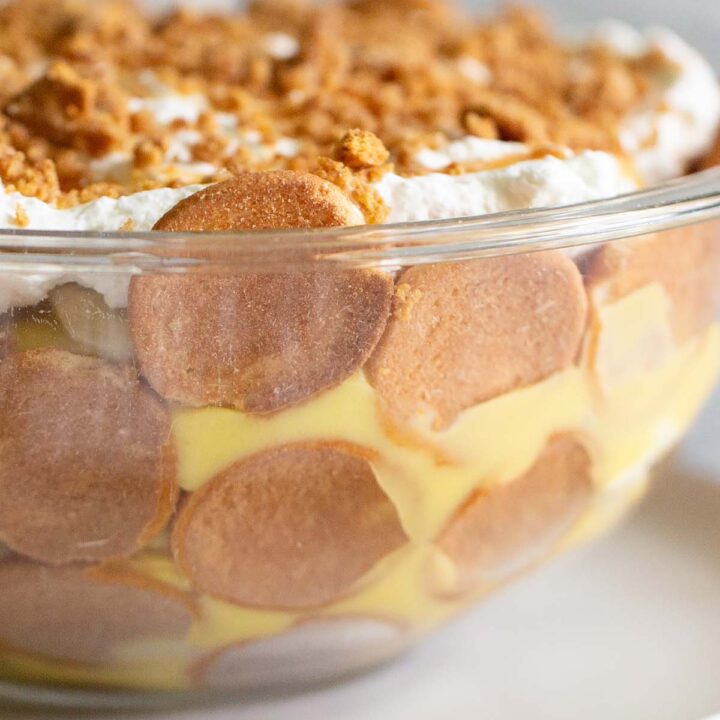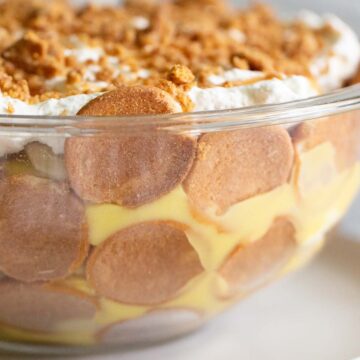 Texas Banana Pudding
This Texas banana pudding is a creamy, cool dessert. It's easy to layer up and store in the refrigerator and the sweet crumble topping takes this Southern homestyle recipe to the next level!
Ingredients
5

graham crackers

½

cup

sugar, divided

4

tablespoon

butter, melted

2

boxes

French vanilla pudding, 3.4 oz each

4

cups

whole milk

2

cups

heavy whipping cream

1

teaspoon

vanilla extract

1

box

vanilla wafers

3

ripe bananas, sliced

caramel topping or caramel sauce (for drizzling)
Instructions
Set the oven to 300 degrees and line a cookie sheet with aluminum foil.

Place the graham crackers in a large sealable plastic bag and smoosh with a rolling pin until most of it is pulverized, or pulse in a food processor for just a few seconds before you end up with a coarse sand-like quality.

Mix the graham cracker in a bowl with the melted butter and ¼ cup of sugar. Spread out on the cookie sheet and put in the oven for 10 minutes. Remove from the oven, stir and let cool on the cookie sheet.

Make the pudding as directed on the package and chill. (This usually means mixing the pudding mix with the milk).

Pour the cream, ¼ cup sugar and vanilla into a large bowl and mix until you have whipped cream (about 3 minutes).

To assemble, line a bowl with the Vanilla wafers, flat side down. Spread in one-third of the pudding. Place a layer of the sliced bananas on top of the pudding. Top with one-third of the whipped cream. Drizzle the sundae topping onto the whipped cream and then sprinkle half of the graham cracker bits on top of that.

Repeat the layers one more time with the rest of the ingredients, adding Nilla wafers to the side of the bowl as you go.

Cover in saran/plastic wrap and chill for an hour before serving.
Notes
See post for other options in terms of dishes to use and how to layer.
If nutrition info is shown, values are based on an online calculator and are estimates. Please verify using your own data.
Tried this recipe?
Tag @foodbanjo on Instagram and share your photos!