When Trader Joe's Portuguese Custard Tarts are in season, grab a box... or five. But what is the best way to cook them? Is air fryer or oven the best way to cook the tarts?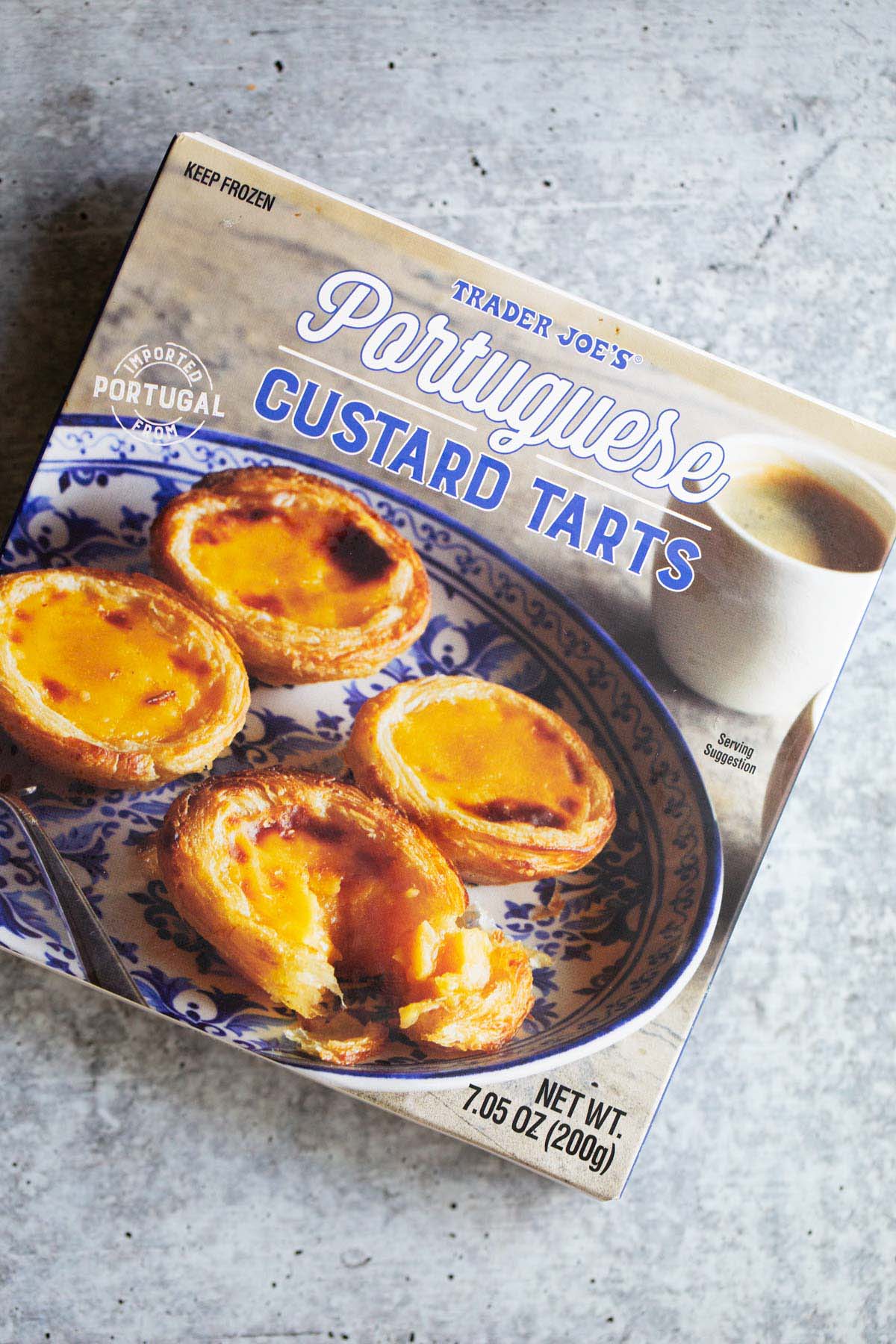 Have you had Trader Joe's Portuguese Custard Tarts? I've been wanting to try them for years, and finally was able to snag a box. Ahem, maybe 4 boxes.
They're only $2.99 for a box of 4 tarts! A steal, if you ask me.
If you haven't had them before, they are a take on the popular Portuguese pasteis de nata custard tart (thanks to a commenter on this post, I found that it's called a pastel de nata tart if you're just talking about a single tart).
You can find Pasteis de nata tarts if you visit Portugal, of course, but they are a lot harder to find in the United States.
And they are delicious.
Which is why, I'm not surprised that when Trader Joe's rolls them out every year, they are a very popular item! So flaky and delicious. And a good way to pretend like you're in Portugal.
If you're ACTUALLY in Portugal, I recommend checking out Pasteis de Belem in Lisbon or Fabrica da Nata (in Lisbon, Porto, and Sintra) for some authentic pasteis de nata!
When are Trader Joe's Portuguese Custard Tarts in season?
The Portuguese Custard Tarts are usually in season from March through April. So a very short window.
I recommend calling Trader Joe's before heading in to grab some. I saw other people posting about them on Instagram, but it took an additional 2-3 weeks before my Trader Joe's got the tarts.
So call, then grab them while you can!
Are Trader Joe's Custard Tarts from Portugal?
Yes, the Portuguese Custard Tarts are actually imported from Portugal, as it says on the box.
What do the tarts taste like?
The Trader Joe's custard tarts are not overly sweet. They are sweet, but it's a mild sweetness.
If you wanted more sweetness, you could sprinkle some powdered sugar over the top. (Note: some places in Portugal also give you cinnamon as an option to sprinkle over the top).
The tart is also very creamy inside, and the crust is very flaky! Overall, a great combination of sweet, creamy, and flaky. Very delicious.
Air fryer versus oven baked
So the Trader Joe's custard tarts have instructions for several different cooking methods. Oven, air fryer, or microwave.
Well, I wasn't going to ruin a perfectly good tart in the microwave, but I did want to test out the oven and air fryer versions to see which was better.
So when you take the tarts out of the package, they come in a nice foil that you leave on when they are cooking.
Pictured below are the tarts right after I removed them from the package in the freezer.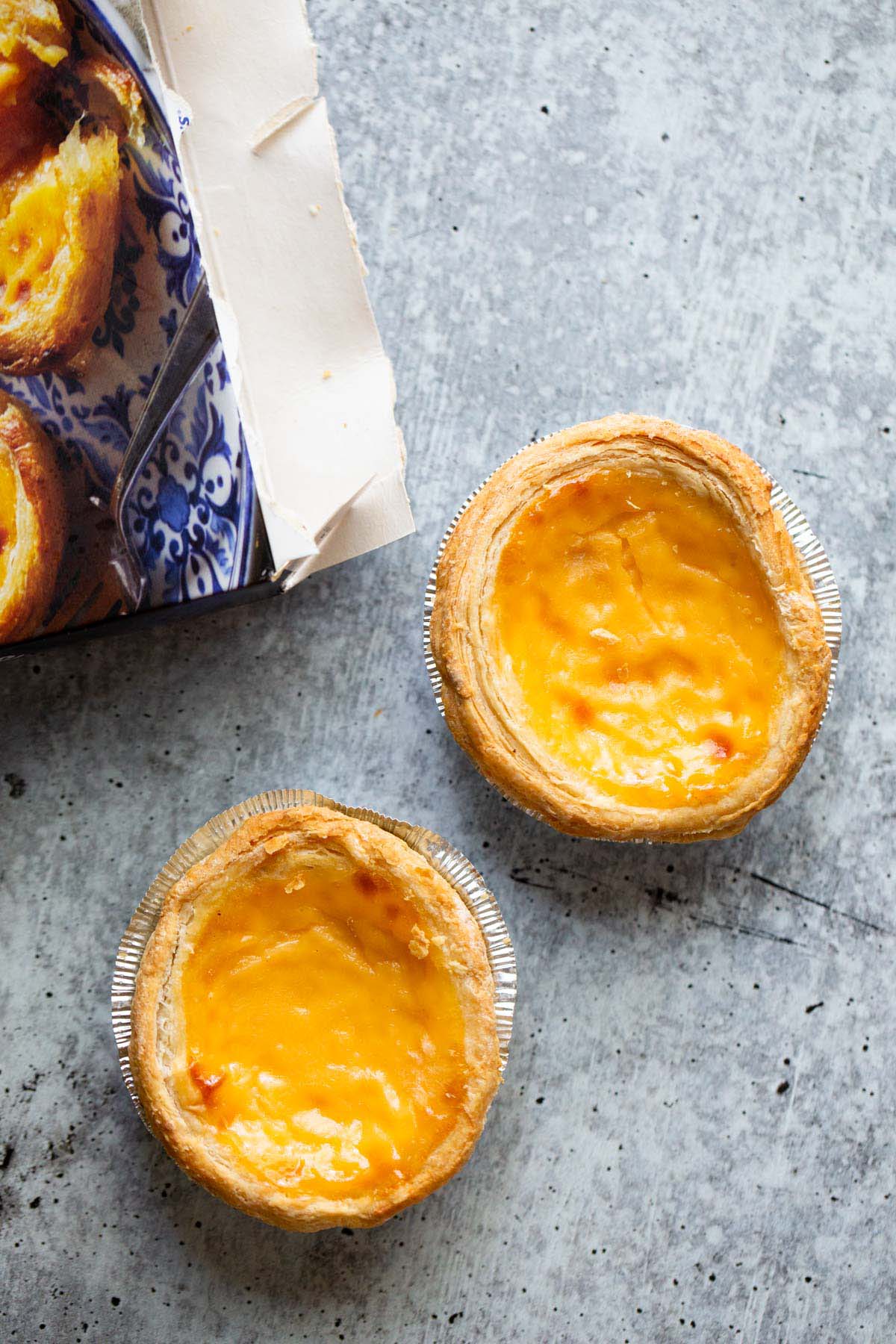 I took the tarts and cooked them according to the package directions. One in the oven and one in the air fryer. Can you guess which is which?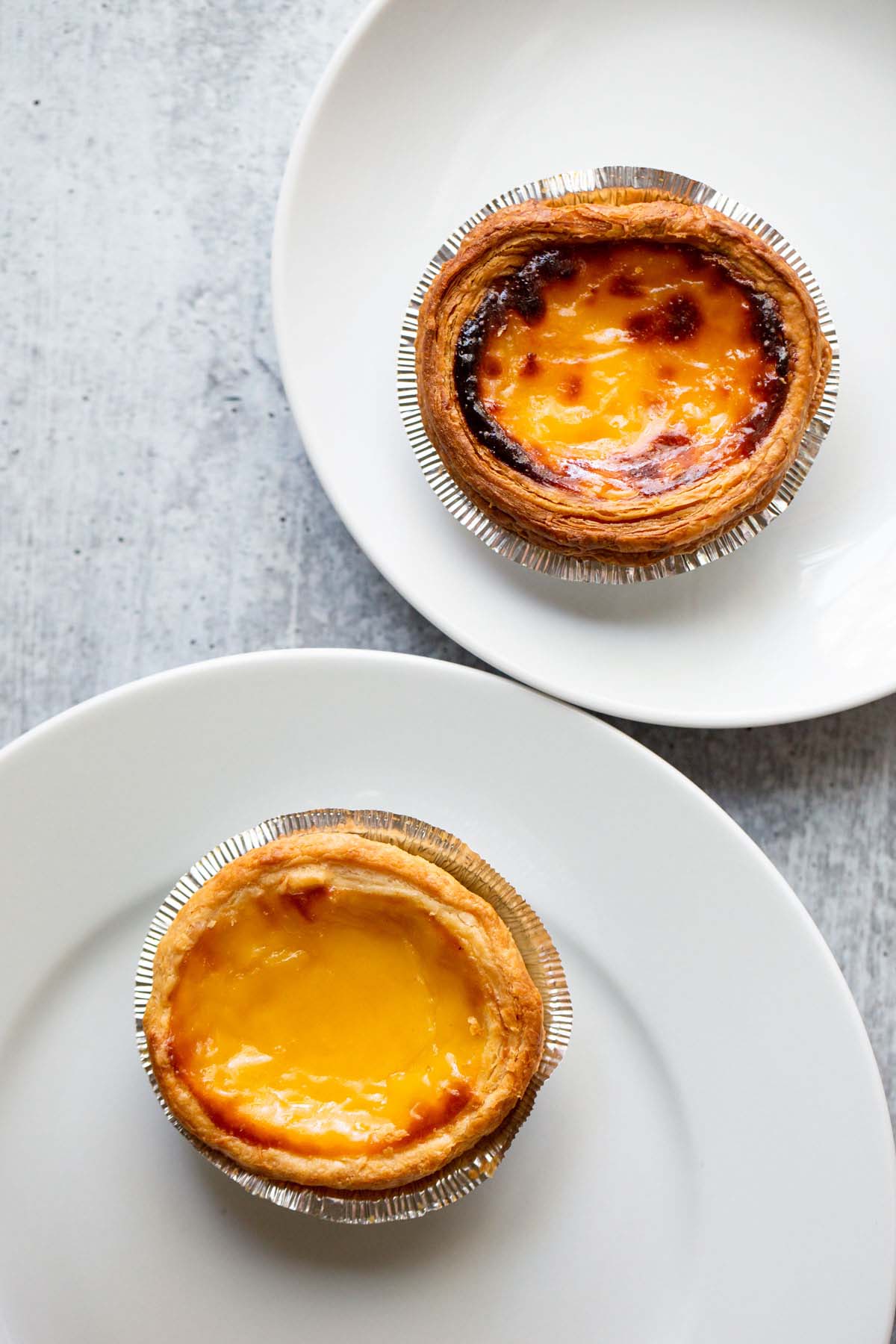 The one pictured below is cooked in the oven at 375 degrees for 25 minutes.
The top didn't get as browned, and I feel like the crust wasn't quite as flaky. But the inside wasn't as set and was VERY custardy.
It was still delicious, but if I were to make them in the oven again, I would probably slightly broil the top for a minute or leave in for an extra few minutes.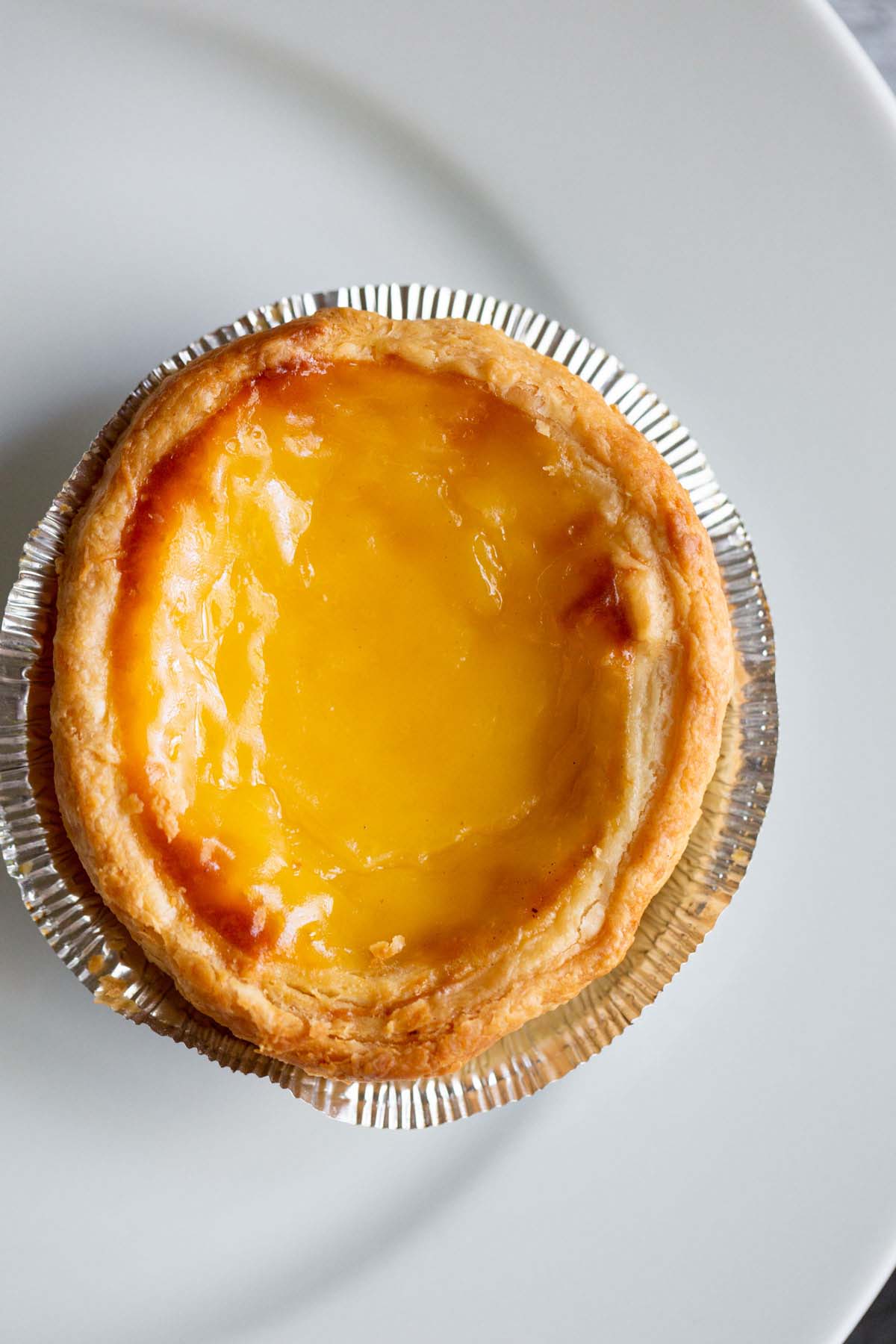 This custard tart pictured below was cooked in the air fryer. According to the package, you should cook in the air fryer for 12 minutes at 350 degrees F.
The air fried custard tart was flaky and not burnt at all, even if it looks like it. The crust was flaky and it was delicious. However, the custard was more set than the oven-baked version, which may be a good or bad thing, depending on how you prefer your custard tarts!
The next time I make these in the air fryer, I will probably just cook for 9-10 minutes instead of the full 12 minutes so that the custard isn't quite as set and is slightly creamier.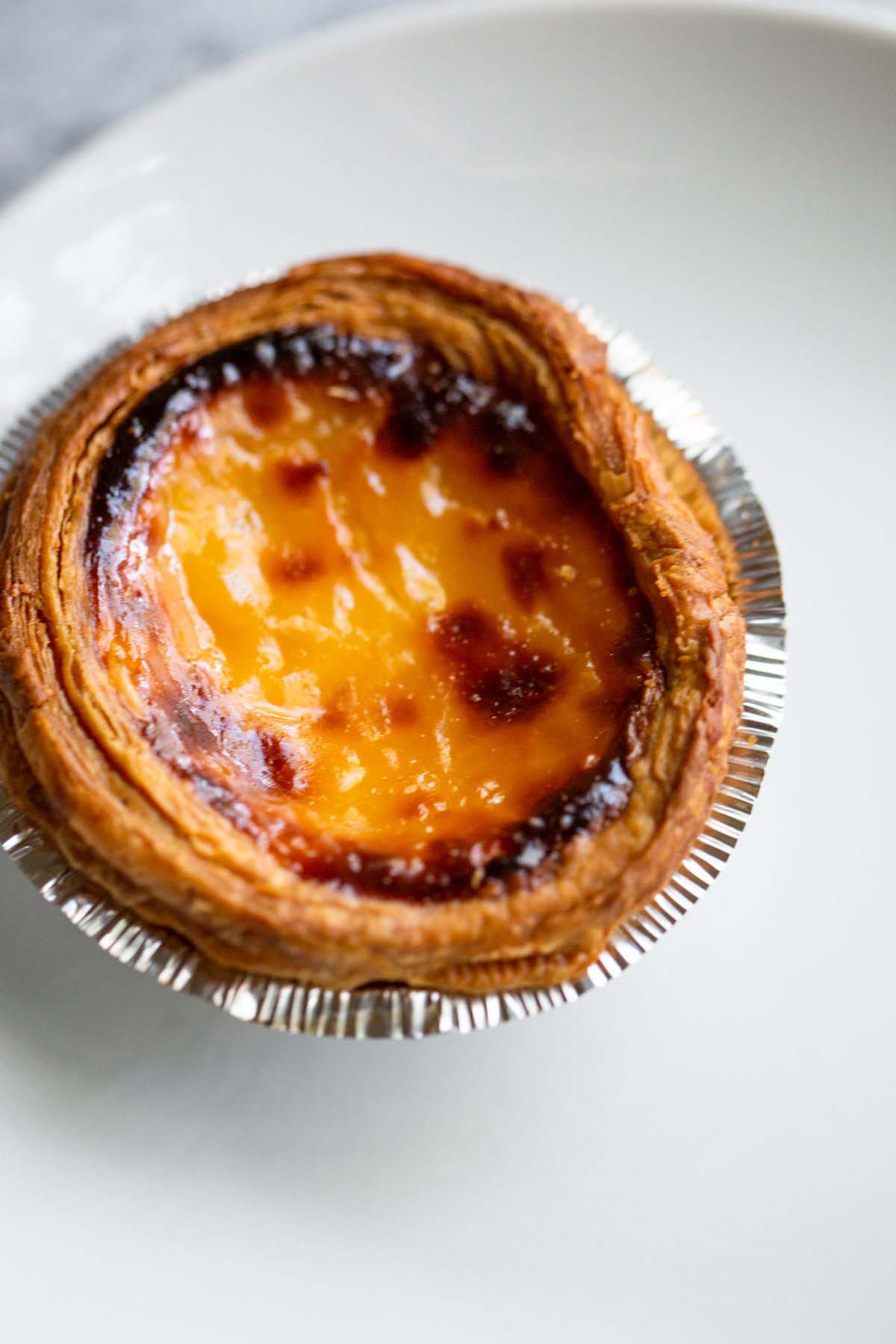 The verdict?
The verdict? I definitely preferred the air fried version of the Portuguese custard tart, and so did my husband.
The crust was flakier, the top was better, and while the inside was a little more set, this version was definitely the best way to cook the tarts if you have an air fryer.
And it takes much less time to cook them! 10-12 minutes versus 25? Yes, please.
I will say.. regardless of how you cook them, definitely let them cool for about 5 minutes before eating. The inside of the tart remains hot for awhile, and you don't want to burn your mouth. Proceed with caution and let cool longer if needed.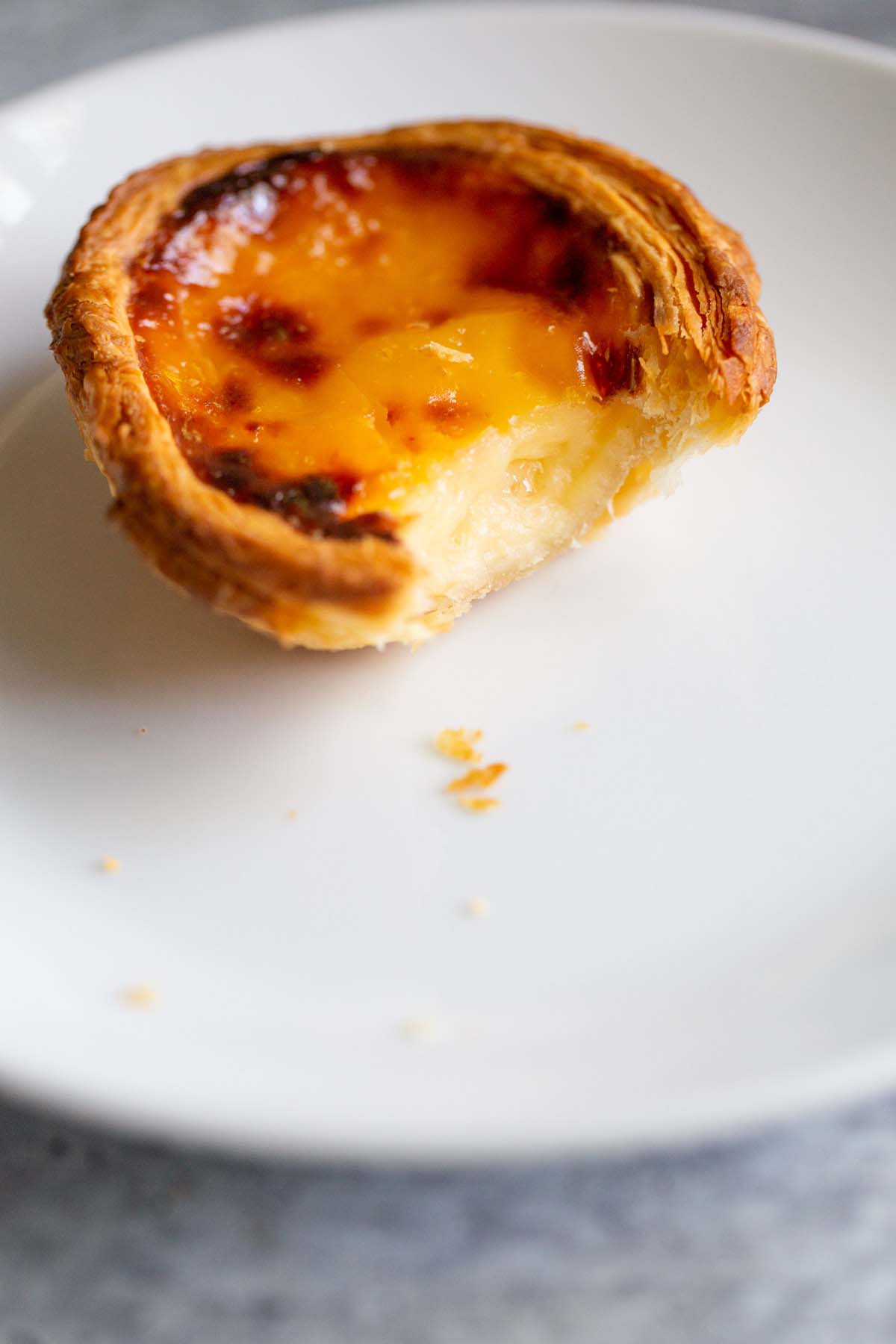 Have you tried these tarts? What's your favorite way to cook them? Let us know in the comments!