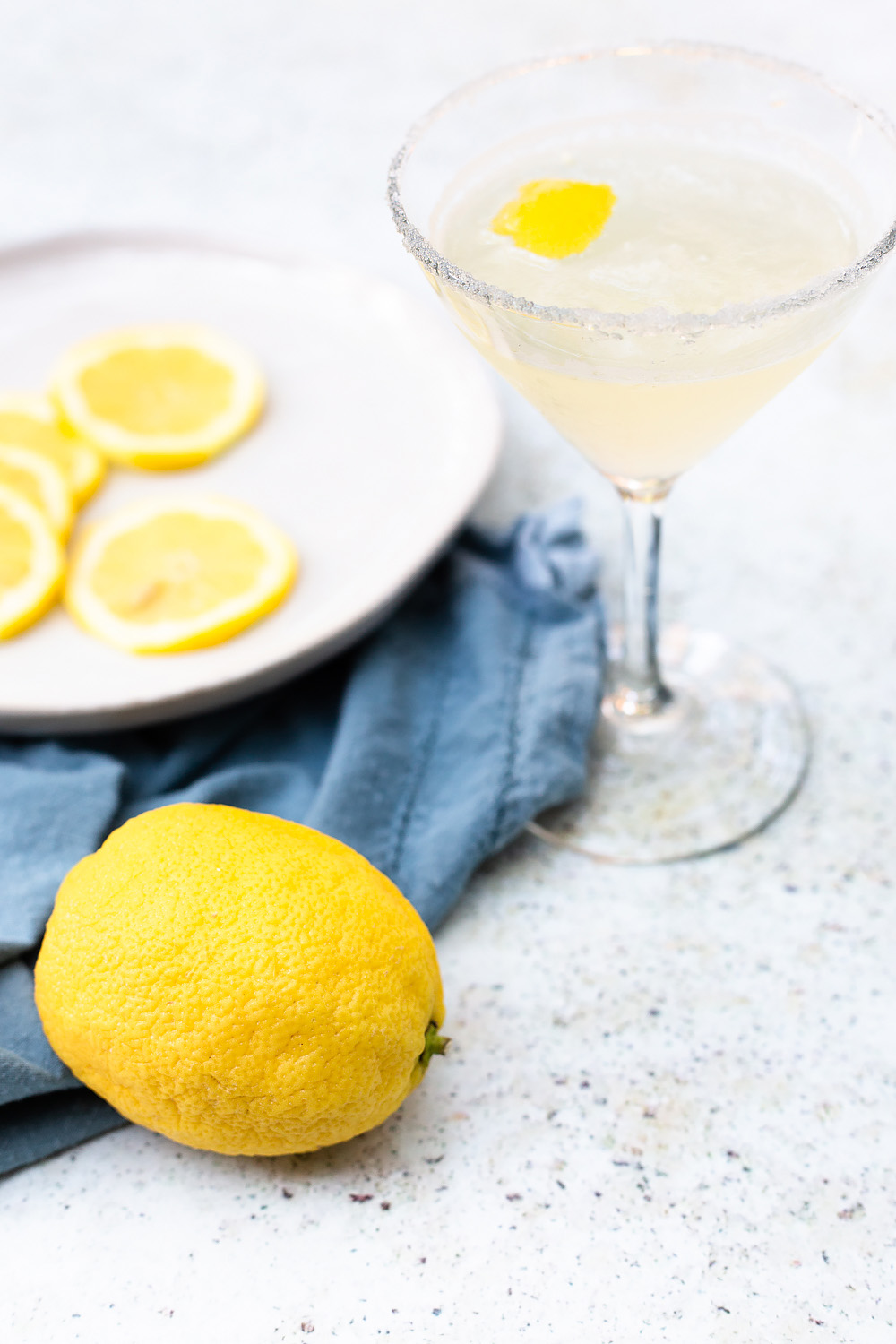 I absolutely adore lemons in summertime. They are just so tart and refreshing. And I love when drinks have lemons. While I can't have lemon drop cocktails this summer, I CAN have lemon drop mocktails. I decided this would be an EASY recipe to adapt from alcoholic to nonalcoholic. And it was! All you need is some sugar, some simple syrup, lemons, and club soda. Voila! A lemon drop mocktail recipe that is delicious year-round, but especially in spring and summer when you crave those bright lemony flavors.

Also.. when you have a giant bag of lemons from Costco, what better way to use them up? Plus, this lemon drop mocktail is SO easy to make. You can easily whip one up, and then also make an alcoholic version for anyone who wants a cocktail. Or make some of these mocktails for kids, and alcoholic versions for parents. That way everyone can enjoy the drink of their choice! Just make sure not to mix them up! Especially if you're serving to kids or pregnant women.
Some tips for making the lemon drop mocktail:
Make sure the club soda is chilled! It will make for a much cooler, refreshing lemon drop mocktail.
Garnish with whatever you like, but I love just a little lemon coin! You get it by just shaving the side of a lemon with a peeler. This is the peeler I have and I love it. (It's also great for peeling potatoes, carrots, shaving zucchini, etc.
Garnishing the martini glass rim with sugar gives the drink a bit of extra sweetness, makes it look fancier, and provides a little extra crunch! However, if you want, you can just garnish half the rim.
I don't have a martini glass. What other cocktail glasses can I use?
You can use any glass! Martini glasses tend to work well, but don't let that stop you from making this recipe. Just keep in mind, if you're using a tall glass like a collins glass or a drinking glass, you may need to double the recipe to fill the glass.
My lemon drop turned out WAY too tart OR not tart enough. What did I do wrong?
We've found lemons can definitely have different acidity levels. So if you have a batch of lemons that are a little less strong, you may need to add another half ounce lemon juice. If yours is a bit too strong, I recommend topping up with a bit more club soda to mute the lemon flavor a bit.
I'm pregnant/don't like drinking/want to make more mocktails for my kids. Do you have more on the site?
Yes! And trying to add more. You can check out the mocktail/non-alcoholic drinks we have on the site here.
Have any other questions? Let us know in the comments and we will try to answer them!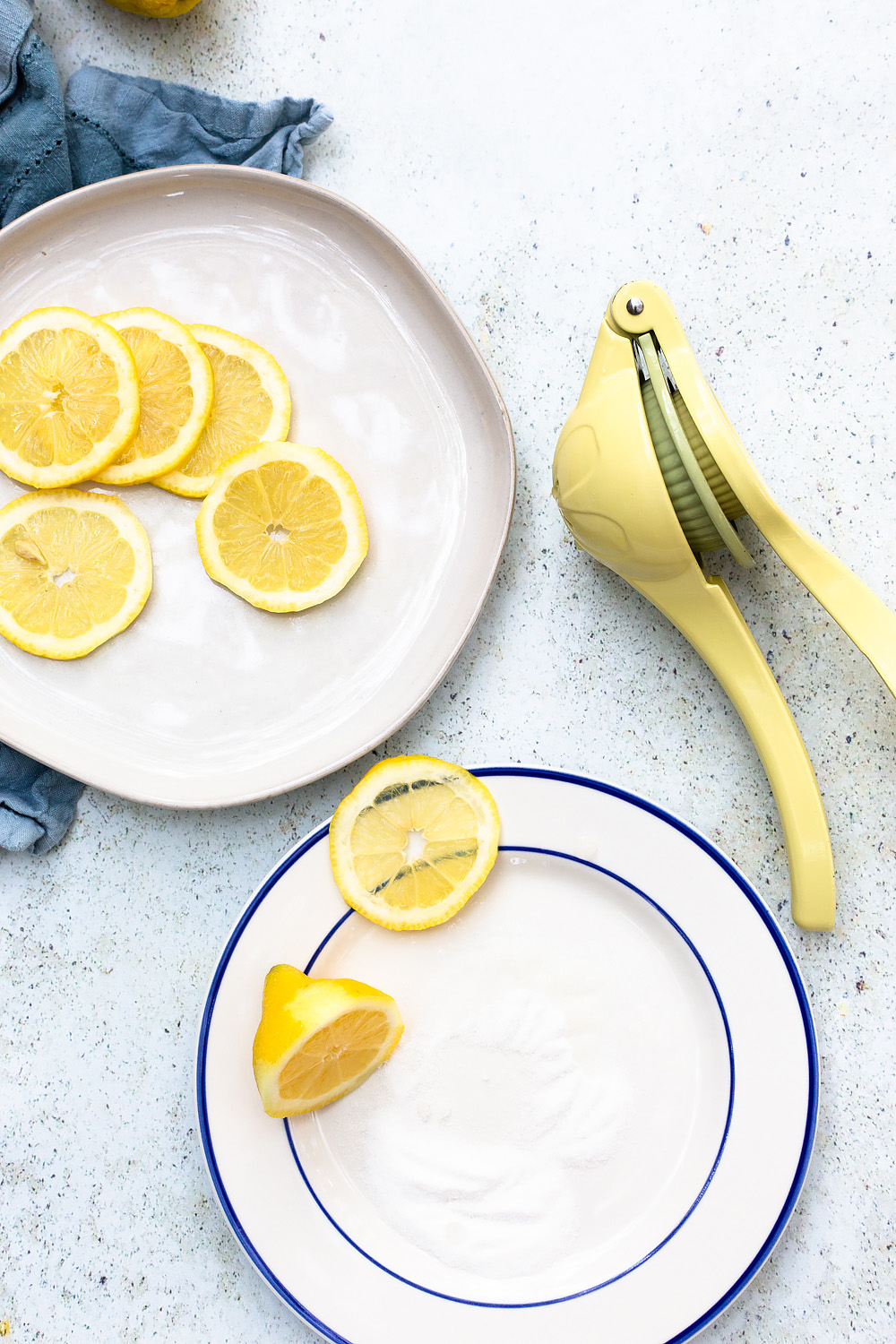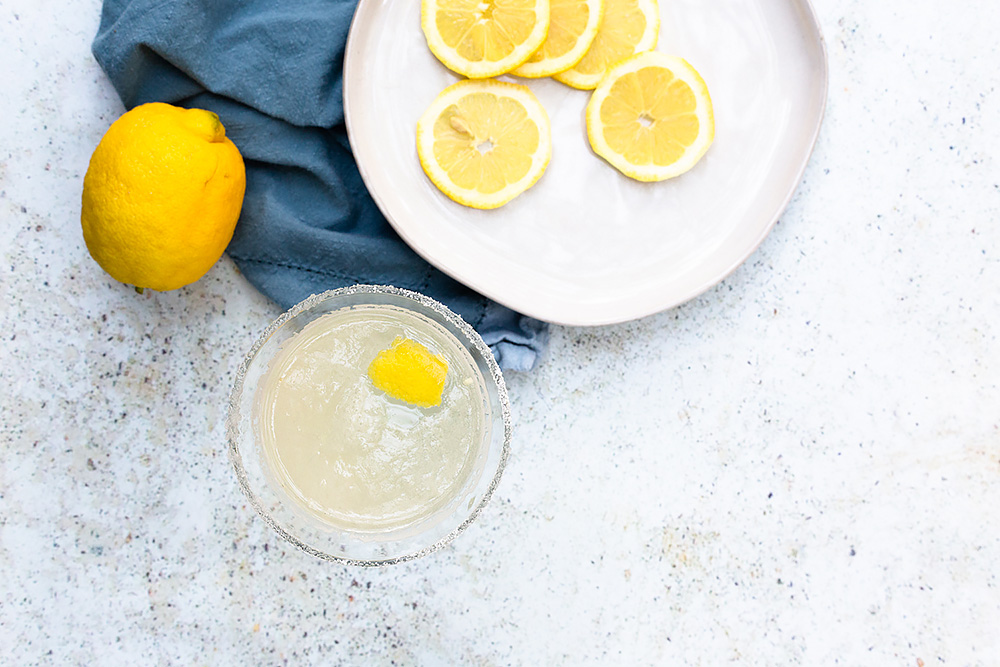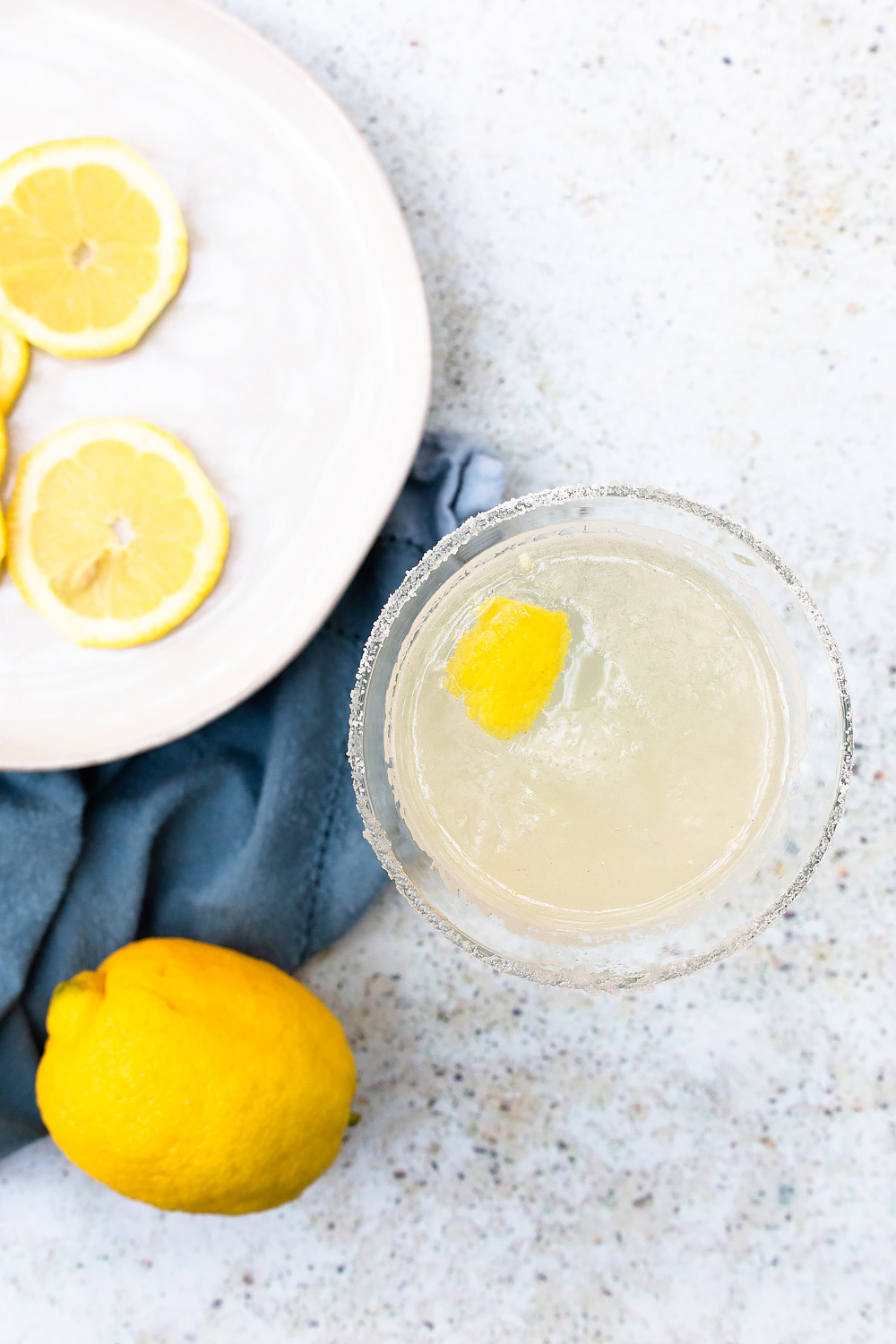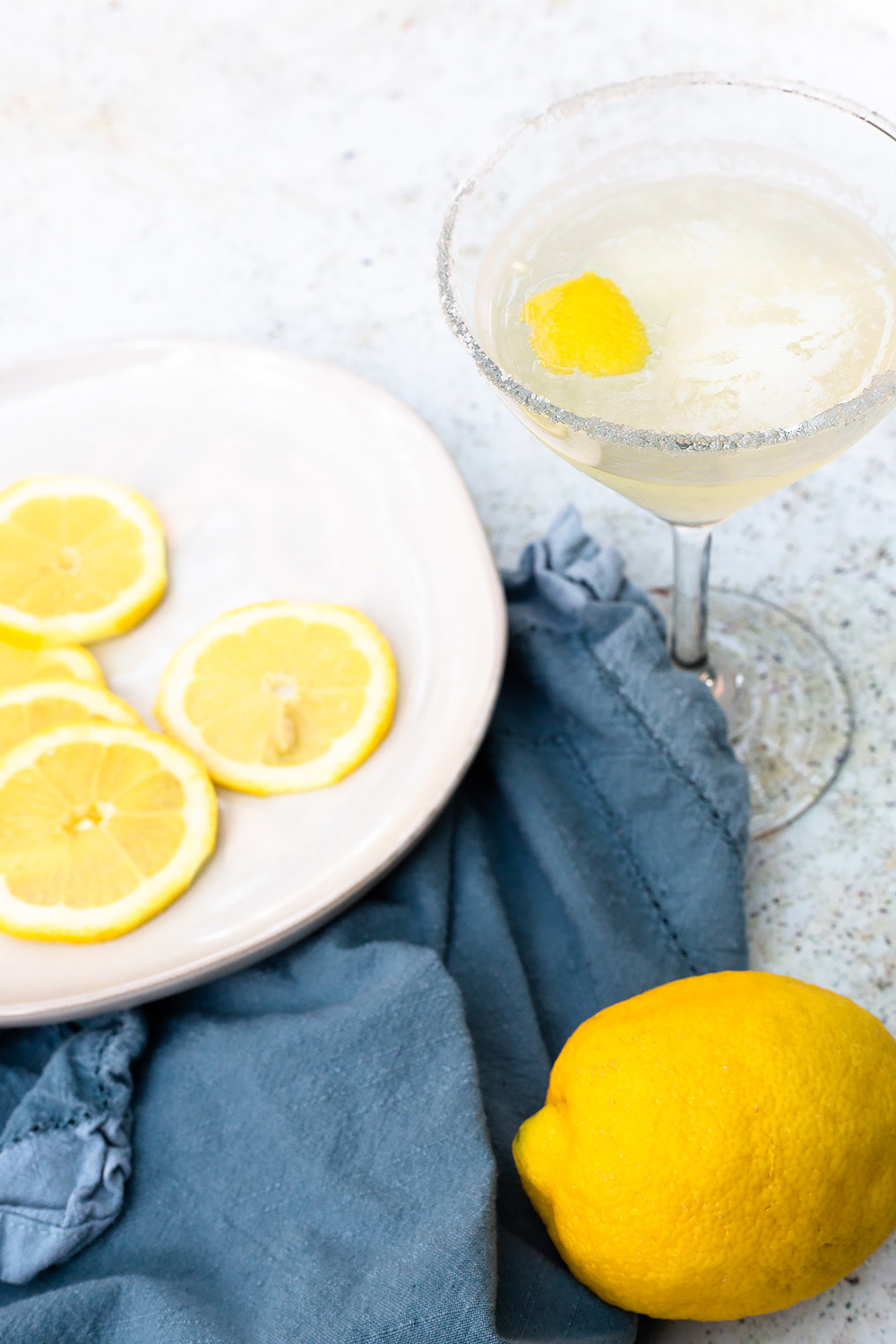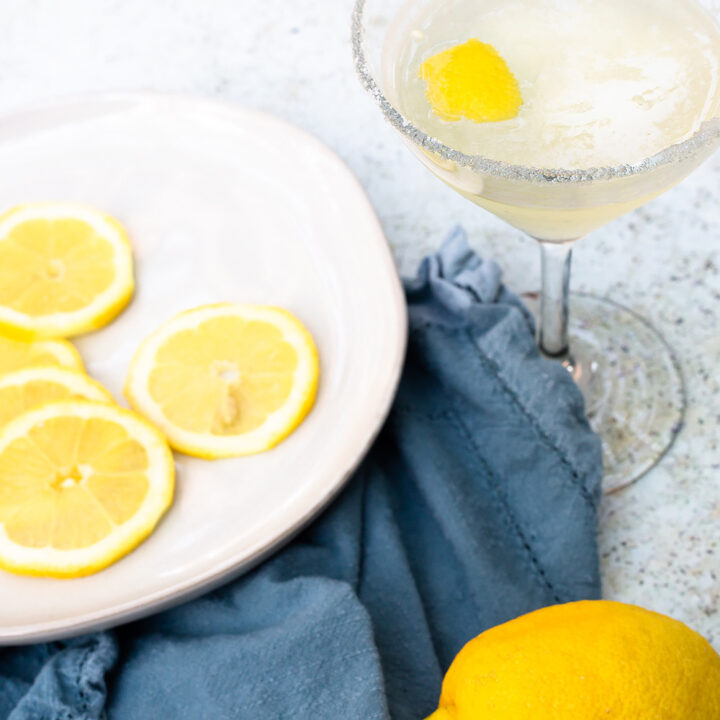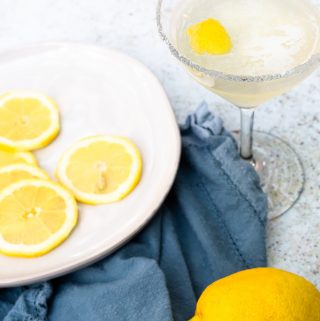 Lemon Drop Mocktail
Ingredients
1.25

oz

lemon juice

¾

oz

simple syrup

2.5

oz

club soda, chilled

ice

sugar
Instructions
Place a small pile of sugar on a plate. Take a martini glass and either with a lemon half or water, wet the rim. Dip the rim of the glass in the sugar, getting a nice coating around the rim.

Into a cocktail shaker, add ice cubes, simple syrup, and lemon juice. Shake together for 15 seconds.

Strain the mixture into the martini glass. Top with club soda.

Garnish with lemon peel or anything else you'd like! Enjoy.
If nutrition info is shown, values are based on an online calculator and are estimates. Please verify using your own data.
Tried this recipe?
Tag @foodbanjo on Instagram and share your photos!