This baked cod with a lemon butter herb sauce is so easy to make. A simple seafood weeknight dinner that seems much fancier than it is, but is extremely delicious. An easy dinner for two!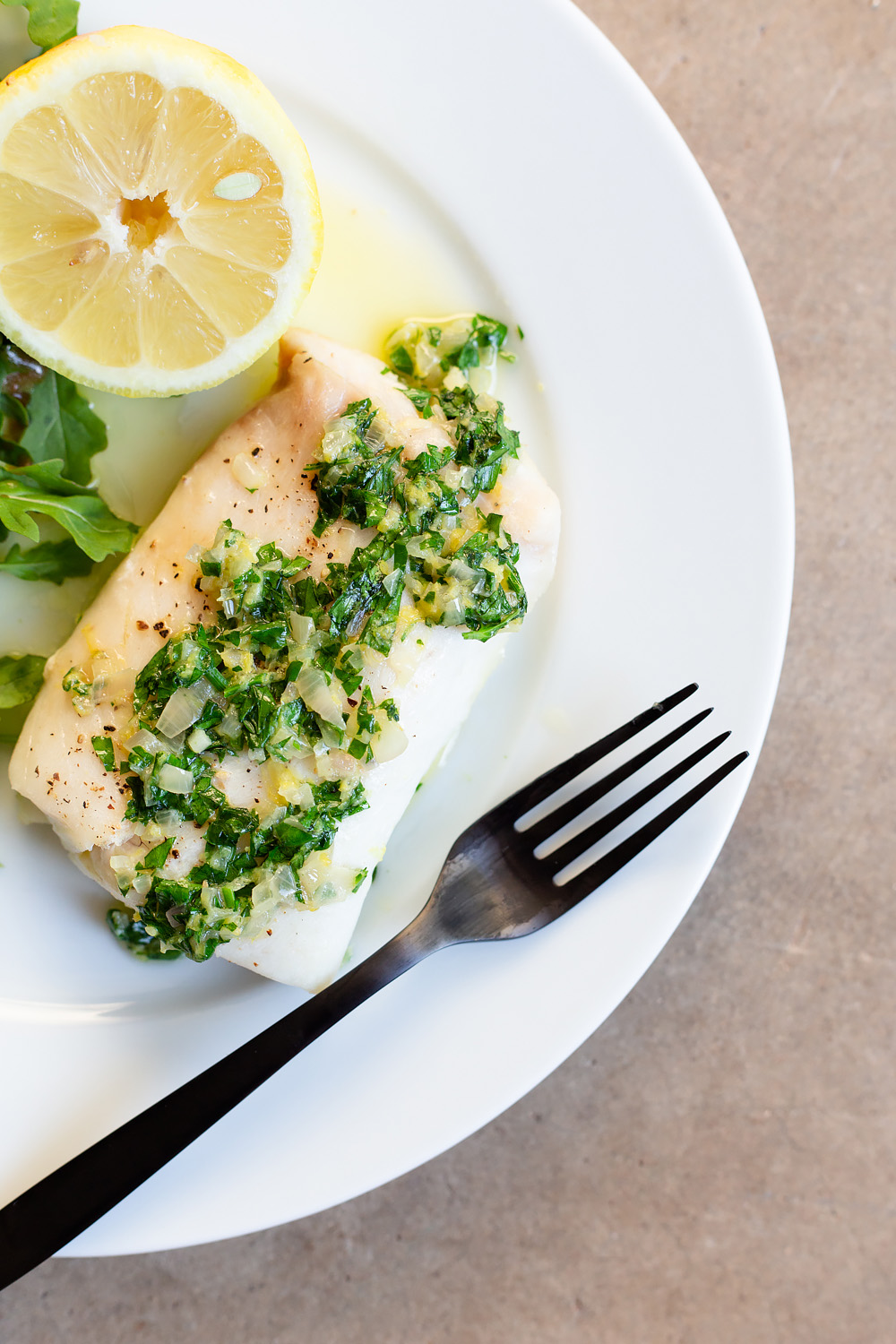 I'm always on the hunt for easy recipes that taste delicious. I talk a lot about it here on the blog. I don't like to overcomplicate things. And I don't usually have a lot of time to whip up something fancy for dinner.
So when we were flying back from Orlando a couple of weeks ago and I saw a recipe in Food and Wine magazine for fish with a lemon butter sauce I got excited. And decided I needed to make a version of it. It looked easy and delicious, especially the way I planned on making it!
The recipe in Food and Wine is for a whole grilled flatfish, skin on, but let's get real. I'm not that fancy. And I don't have a grill (maybe someday!) So I pulled out the fish I always have on hand.. trusty but flaky and delicious cod. I baked that right up in the oven while I made a sauce that has butter, lemon zest, shallots, fresh thyme, and parsley.
I modified a few things from the recipe in the magazine, and it turned out delicious! In fact, I've already made it a few times in the last few weeks!
It's a delicious seafood pescatarian meal for any time of the year. Have it in summer with a nice glass of white wine and a side salad or grilled veggie, or have it in winter to bring in some bright flavors.
Ingredients:
Cod filets
Olive oil
Salt and pepper
Unsalted butter
Shallots
Chopped fresh flat leaf parsley
Lemon (zest and juice)
Thyme sprigs
Some tips for making the recipe for this cod with a lemon herb butter sauce:
Get your timing right! Know that the her butter sauce takes about 8-10 minutes to make, so try to time it to be ready for a few minutes after the fish comes out of the oven. That way your fish has a chance to rest for a couple of minutes, but doesn't get cold.
Watch your shallots carefully when you add them to the sauce. The first time I made this, I started to burn the shallots. Oops. Don't be like me.
Serve with lemons at the end! I liked a little more lemony flavor with mine, so it was nice to have a lemon half to squeeze over the fish. Josh thought it was perfect the way it was, so he didn't bother with the extra lemon. It's nice to give your dining guests an option!
Don't forget to remove the thyme sprigs from the sauce before plating!
Can you use frozen cod for the recipe?
Yes! Just let it thaw ahead of time, so it's all thawed and there are not any frozen parts prior to cooking. The recommended way is usually to thaw in the refrigerator.
Can you use other fish for the recipe, like salmon or trout?
Absolutely. I like to try out different fish. I think the flavors would pair well with salmon and trout, and also any flaky white fish. I also think the sauce would go well served over shrimp, if you want to go that route.
I don't have fresh thyme, can I use dried?
You CAN, but dried thyme sometimes has that harder texture which can be weird with a flaky fish. If you don't have fresh thyme, honestly, I'd just leave it out. It adds a bit of flavor, but not enough to worry about.
Other seafood recipes to try: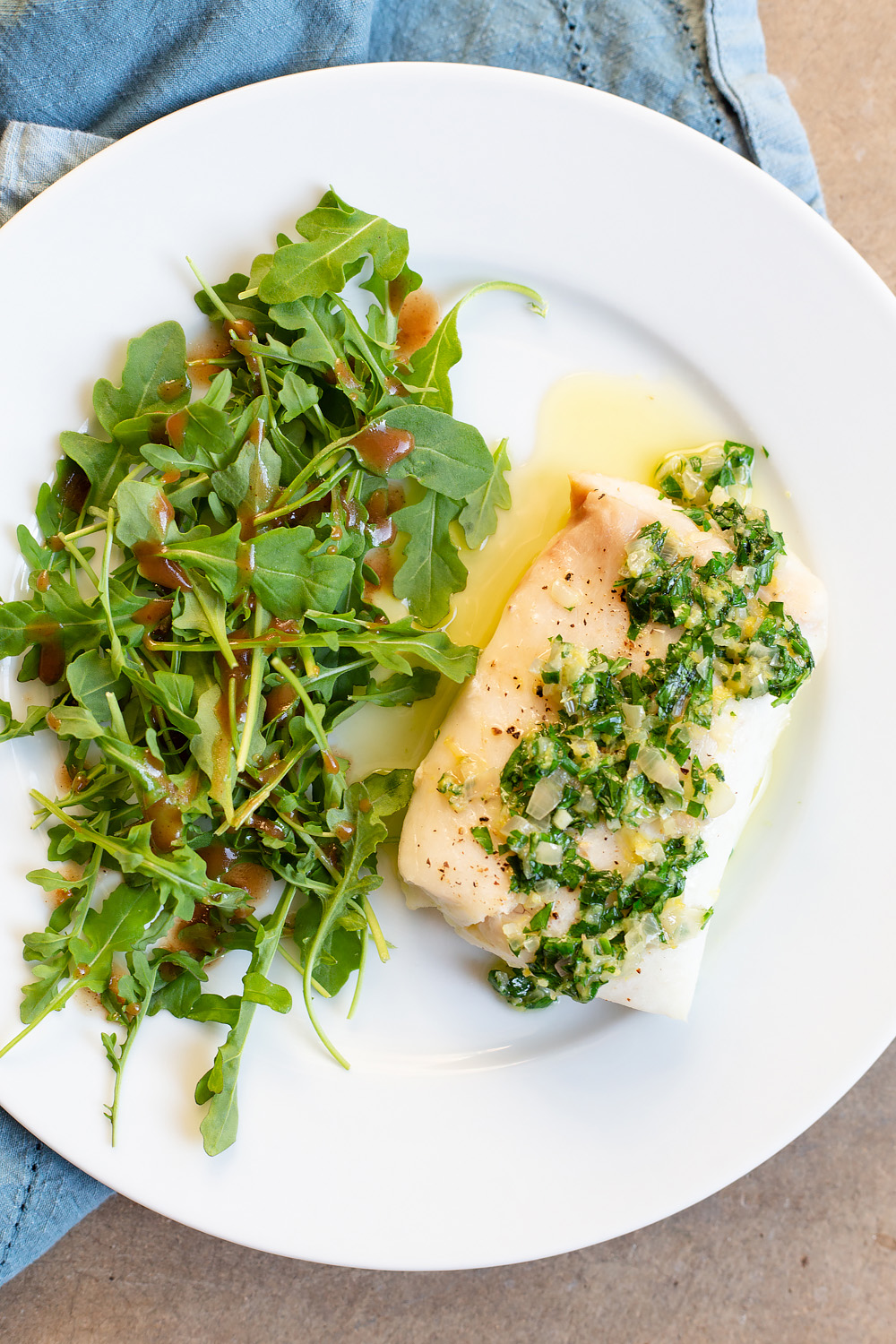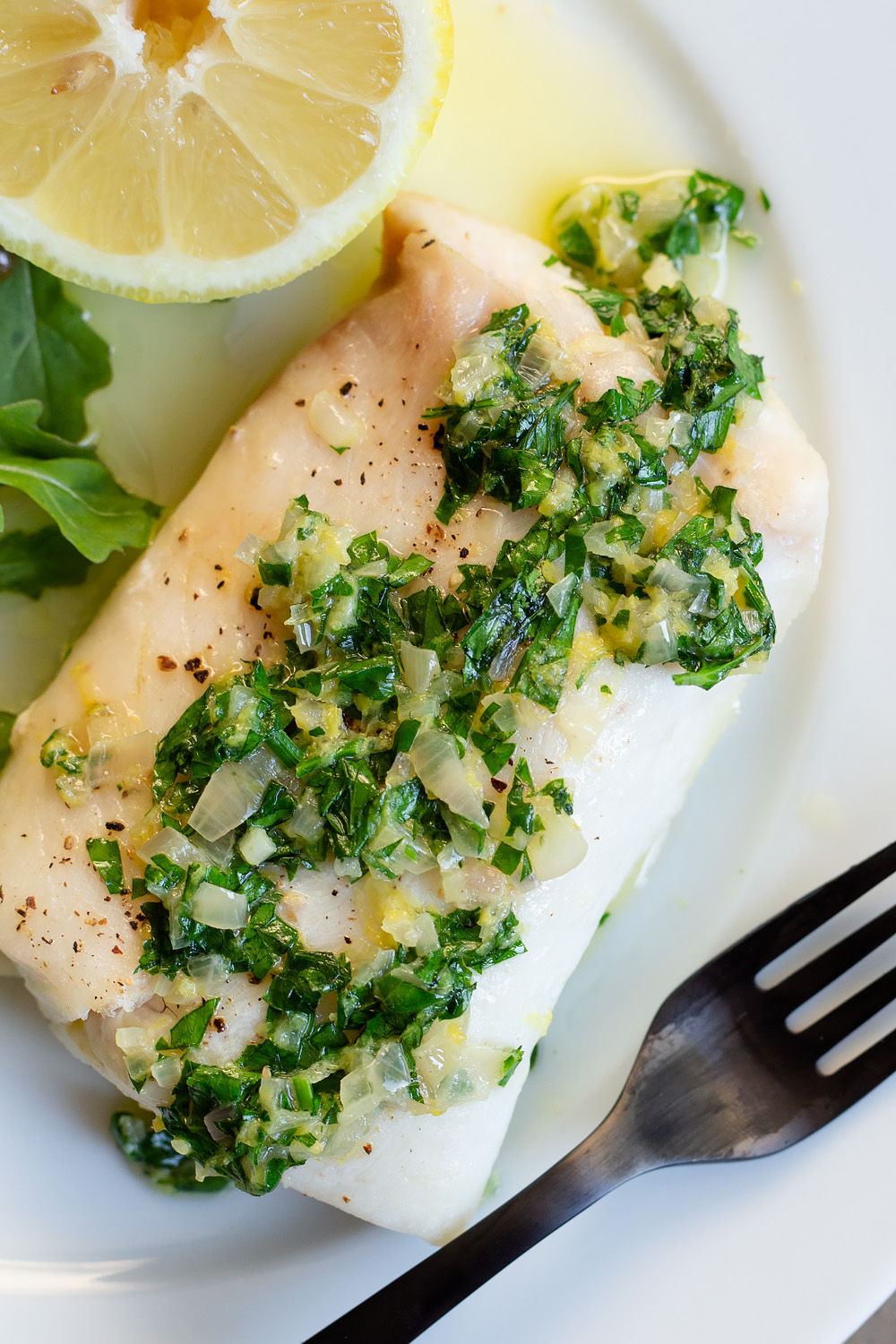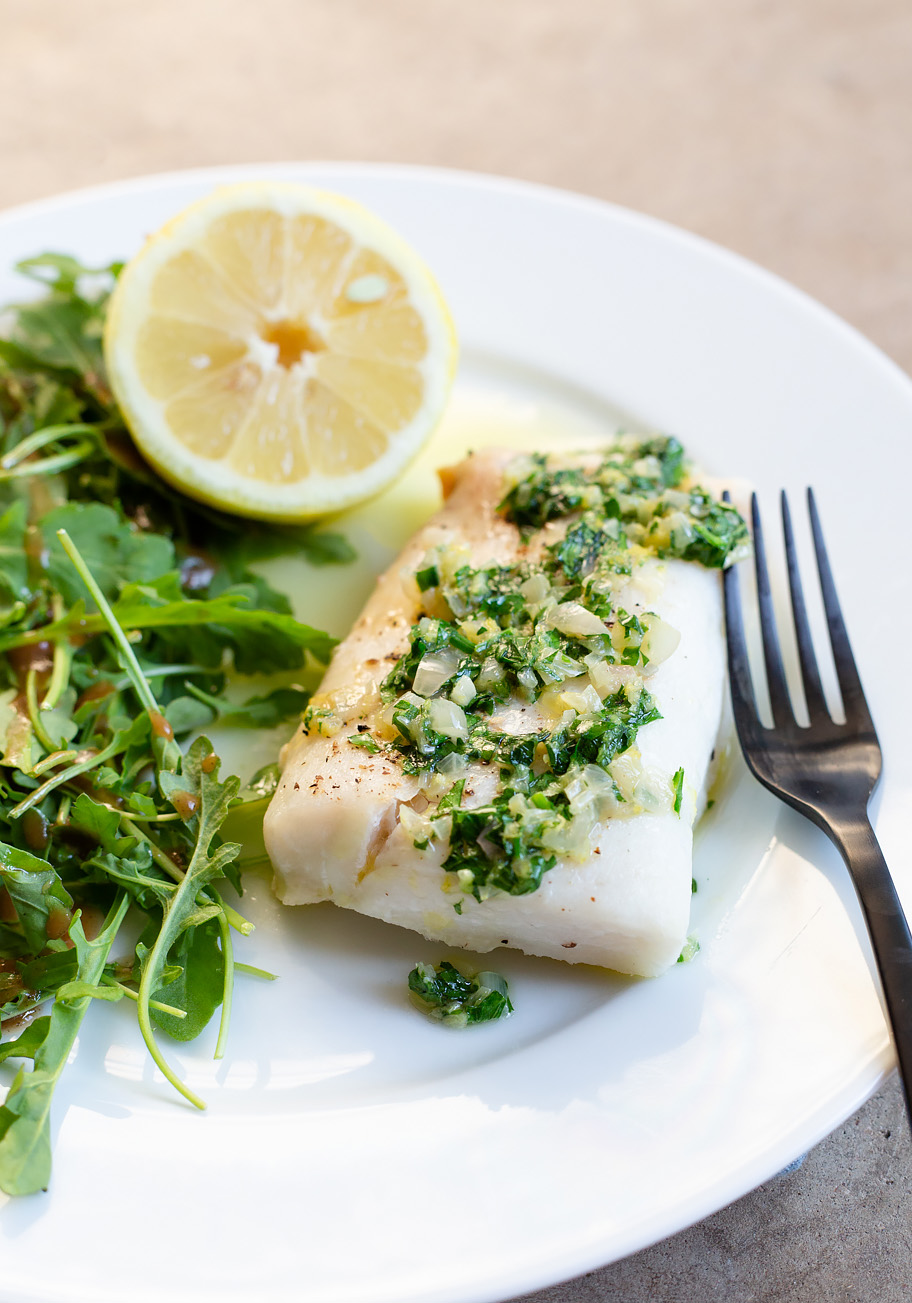 Recipe adapted from Food and Wine magazine.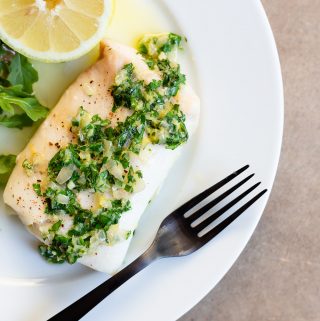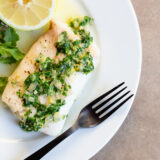 Print Recipe
Baked Cod with a Lemon Herb Butter Sauce
This baked cod with a lemon butter herb sauce is so easy to make. A simple weeknight dinner that seems much fancier than it is, but is extremely delicious. An easy dinner for two!
Ingredients
2 6-8

oz

cod filets

½

Tbsp

olive oil

salt and pepper

½

cup

unsalted butter

4 oz

2

Tbsp

shallots

minced

¼

cup

chopped fresh flat leaf parsley

2

Tbsp

lemon zest

4

thyme sprigs

2

lemon halves
Instructions
Preheat the oven at 400 degrees F. In an ovenproof dish, coat the bottom with olive oil so the fish doesn't stick. Sprinkle salt and pepper over the fish. Once oven is preheated, add the fish to the oven and bake for 15 minutes.

While fish is baking, melt the butter in a small saucepan over medium-low heat. Add the shallot and cook 3-5 minutes, stirring occasionally. Do not let shallot burn.

Remove from the heat, add the parsley, lemon zest, and thyme sprigs. Stir to combine, then let sit for 5 minutes. Remove thyme leaves.

Once fish is done, let rest for 2-3 minutes, then spoon the herb butter sauce over the fish. Sprinkle with more salt and pepper. Serve with lemon halves, if desired.