Sun-dried tomatoes are deliciously meaty and and a punch of flavor to any dish. But when you can't find sun-dried tomatoes or don't have them, check out these substitutes for sun-dried tomatoes.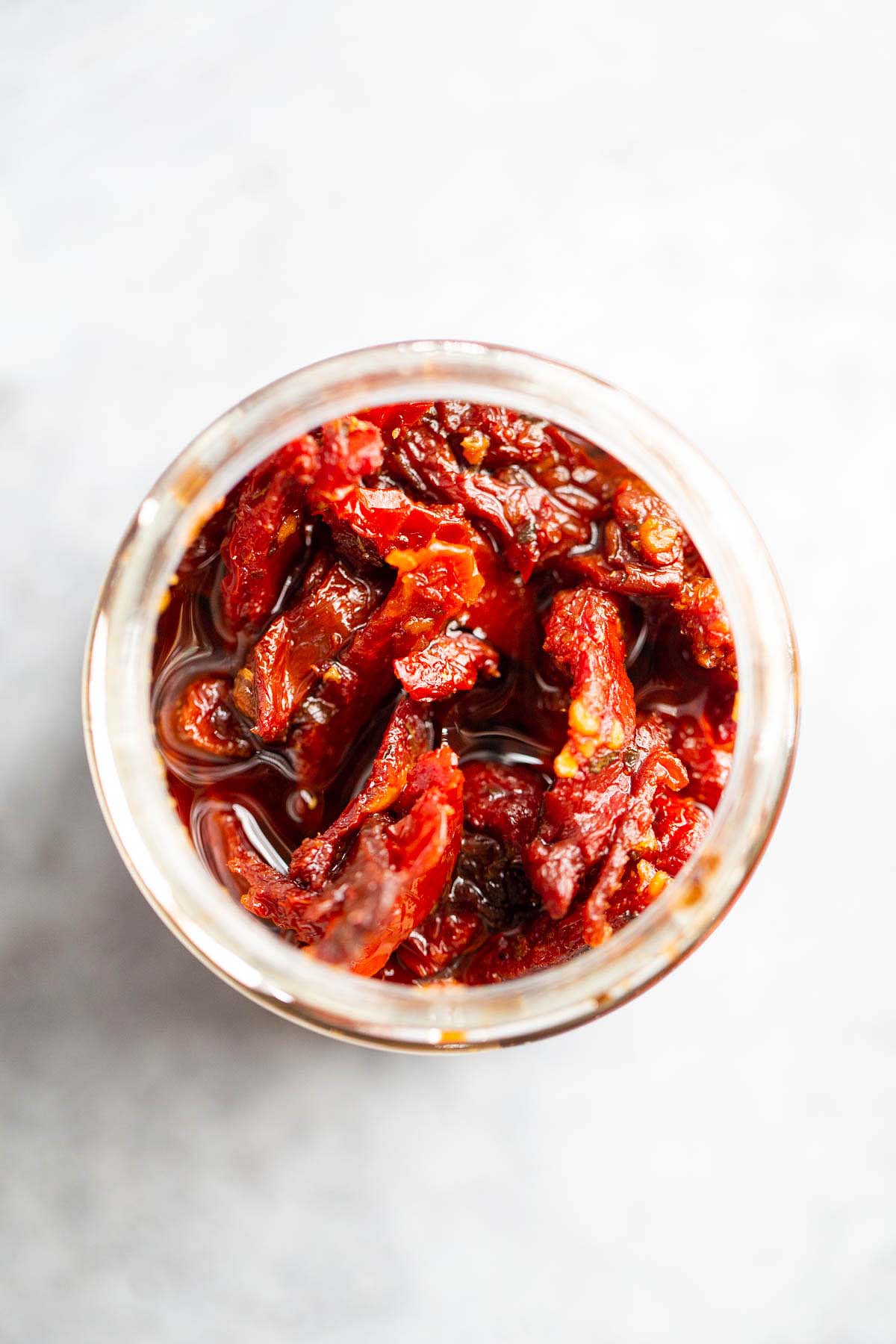 I love sun-dried tomatoes so much. I try to always keep a jar or bag in the house. I use them in pastas, salads, and even on sandwiches.
Sun-dried tomatoes are just the perfect pantry food. While you do have to refrigerate them after opening, they keep for a long time in the refrigerator.
The texture is excellent. They have almost a meaty chewiness that is a great substitute for meat in pastas or sandwiches. And they have a slightly tart acidity like tomatoes do.
But, you may not always have them in your house, so sometimes you're looking for a substitute for sun-dried tomatoes.
What are sun-dried tomatoes?
Sun-dried tomatoes have been dried out, or dehydrated by being placed in the sun. These days, they may also be placed in a dehydrator or oven as well. The flavor is a bit more intense and concentrated than regular fresh tomatoes and they are chewy and meaty, much like dried fruit.
Typically they are made from Roma, San Marzano, grape tomatoes, or cherry tomatoes.
What do sun-dried tomatoes taste like?
Sun-dried tomatoes have more of a concentrated flavor than regular tomatoes. They are bright, tart, and slightly sweet.
Types of sun-dried tomatoes:
Sun-dried tomatoes typically come in two types: jarred or bagged.
The jarred kind are in oil. They are plump and juicy. One of the benefits of getting the jarred kind is that you can also use the flavorful oil in dishes!
The bagged kind are dried and then stored without oil, much like you would see with dried fruit. They have a very similar texture to dried fruit. Slightly chewy. The tomato flavor definitely is concentrated in these. Sometimes these will need refrigeration after opening, check your bag to be sure!
You can also usually find them plain or with Italian herbs. I like to get them plain so I can flavor as I choose, but both are great options if you're making an Italian dish!
Best substitutes for sun-dried tomatoes:
Mushrooms
Mushrooms are a fantastic substitute for sun-dried tomatoes. They have that meaty texture that sun-dried tomatoes do, which can be amplified even further if you roast the mushrooms in the oven to dry them out a bit before using.
I will often use mushrooms as a substitute for sun-dried tomatoes when I'm making pastas or salads.
Canned tomatoes
If you're looking for that same level of acidity with some tomato texture, using a crushed canned tomatoes can be great. Depending on the use, you may want to drain the tomatoes before using.
Other types of canned tomatoes can also be delicious, depending on the use. San Marzano tomatoes or canned plum tomatoes are easy to find in stores and have a long shelf life.
Tomato sauce and tomato paste
If you're making a pasta sauce, tomato sauce can be a good substitute for sun-dried tomatoes. It will bring that tomato flavor and brightness.
Tomato paste is a highly concentrated form of tomato sauce that packs a punch. It's easy to find both canned tomato paste and tomato paste in a tube. Tomato paste has an intense flavor that can really amplify the tomato flavor in pastas and sauces.
Fresh tomatoes
Of course, we can't leave fresh tomatoes off the list! Slice those fresh tomatoes up and use as an alternative for sun-dried tomatoes in sauces, pastas, salads, and sandwiches.
I love using fresh plum tomatoes or fresh roma tomatoes, but the type of tomato you choose may depend on what you're making. Cherry tomatoes or grape tomatoes are always a delicious option as well, and they can be sliced in half or quartered.
Roasted bell peppers
Don't love tomatoes but looking for something similar? Roasted bell peppers/roasted red peppers can bring a similar vibe to dishes and they are easy to find. They won't have quite the same chewy texture that sun-dried tomatoes do, but can add a similar hearty texture and flavor to dishes.
What is your favorite way to use sun-dried tomatoes and what's your favorite substitute? Let me know in the comments!
Recipes to love: