Does everyone have a favorite dessert from when they were growing up? I think this might be mine. Chess bars. My mom would make a batch of these every so often and stick them in the fridge. I'd sneak them out quite frequently, even if she was saving them for Easter. When I'd mention to her how much I loved them, she'd say that they were so easy, she should make them more often. And do you know what? They ARE so easy.

These have a layer of cake-likeness on the bottom and a layer of gooey cream cheese + powdered sugar on the top. I just love how the top tends to get all crackly too. Over the years, my sweet tooth has almost gone away, but I still can't resist these!
I'd recommend letting them completely cool before cutting. You'll get much better results that way. I often get asked:  do chess bars need to be refrigerated? Yes! At least, I do. Most things that have cream cheese do better with refrigeration and it keeps them fresh. If I'm serving for a gathering, they are fine if you have them out for a couple of hours.
Also, I cooked mine in a parchment-lined pan so I could easily take them out and cut them, but you can also just make them in a cake pan with no parchment. Either works!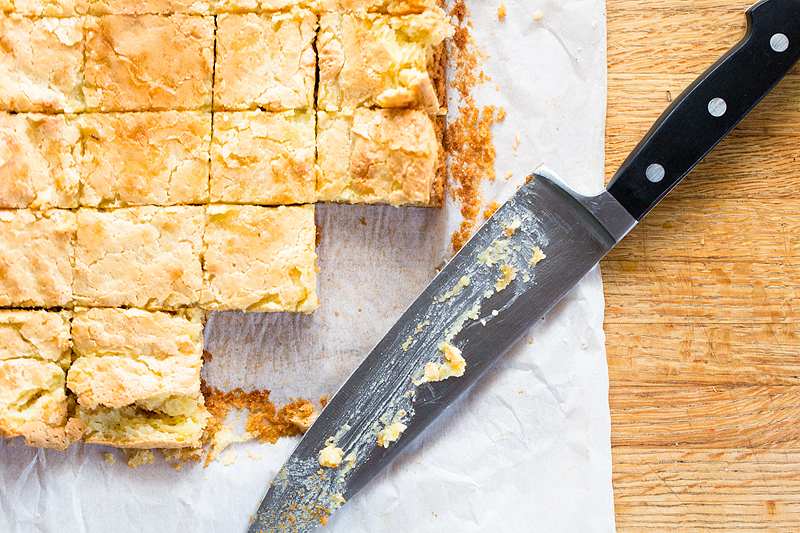 Chess Bars
Prep time:
Cook time:
Total time:
Ingredients
1 box butter recipe yellow cake mix
1 stick butter softened
1 egg (for base)
3 eggs (for topping)
8 oz cream cheese softened
1 box powdered sugar (16 oz)
1 tsp vanilla
Instructions
Preheat oven to 350 degrees F.
Take the cake mix, 1 egg, and softened stick of butter and mix together.
Pat down into a 9x13 pan.
Mix together remaining eggs, cream cheese, powdered sugar, and vanilla and pour over cake.
Bake at 350 for 10 minutes.
Reduce heat to 325 and bake for 45-50 minutes.
This cake will sink in the middle after it cools.
Let cool completely before cutting. Cut into squares and place any remaining bars in the refrigerator in an airtight container (between layers of wax or parchment paper).