The $5 Costco acai bowl is such a delicious treat. It's topped with banana chips, fresh strawberries and blueberries, and a delicious granola.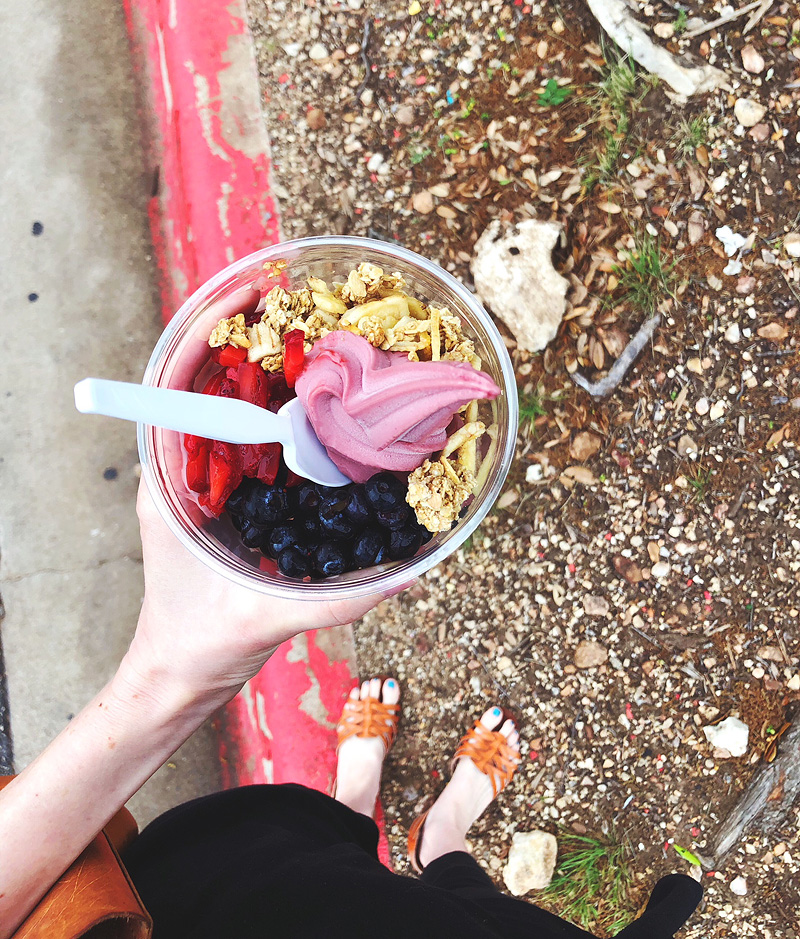 When Josh told me that Costco has an acai bowl on their menu now, I was excited. First, I'm always excited about new additions to the Costco food court menu. Second, ACAI BOWL. I've been trying to eat a bit healthier lately, and this seemed right up my alley.
So.. on Sunday, we went to Costco. JUST for the acai bowl. Seriously. We didn't even go into the main part of the store. It was crazy-busy because it was the last day of the monthly sale. But we braved the busy parking lot, braved the crowds, and headed to the food court to grab the tempting Costco acai bowl.
I ordered the acai bowl and Josh got the frozen yogurt. We sat at a table and people-watched (which is always fun at Costco). And I faced Zara towards me and made her watch me eat the acai bowl. Hehehe. Mean mom that I am. I know she was jealous.
So now, let's talk about this acai bowl. The reason we made the journey. First of all, it's huge. What else would you expect from Costco? It has a nice swirl of the acai sorbet and is piled with the toppings of blueberries, sliced strawberries, banana chips, and Kirkland Signature Granola. I ate most of it, but Josh had some bites after he finished his frozen yogurt.
The verdict? Delicious. It was refreshing with the acai sorbet (perfect for cooling off in the upcoming summer), and tasted so fresh and healthy with the fresh blueberries and strawberries. The granola and banana chips both added the perfect amount of sweetness and crunch. And according to LiveKindly, the Costco acai bowl is vegan too! And only 330 calories.
At $4.99, this is kinda a steal.
10/10, Costco. This one is a definite winner.
Update: We've gotten this several more times since, and it's still delicious! Tastes so fresh. In fact, every time I think about the acai bowl, I crave a trip to Costco to get it.