South Congress (or SoCo as nobody calls it) is a lot different than it used to be just 5 years ago. But, regardless of what you or I may think of the changes, there's one species who loves going to this highlight of Austin: dogs! SoCo now has a few more places that are great for hangin' out with our best friends. Here is some of the best as ranked by our dog, Sydney (but she doesn't understand how numbers work, so…). (Guide now updated for 2018!)
note: special icons for each for @water bowls and %dog treats
Mañana Coffee & Juice
1603 S Congress Ave, Austin, TX 78704
Tucked into the side of the new So. Congress Hotel is one of the best cafés in town. The hotel pastry chef makes everything in-house: macarons, sticky cinnamon rolls, flakey croissants, and more exotic varieties of buttery goodness. They also press their own juices! Help yourself to their flat and sparkling water taps and relax in the secluded courtyard with your pooch or pig (yep, seen people out with their pigs - it is South Austin after all). Half-off all pastries from 5-7pm everyday!

Lobby Bar at South Congress Hotel @
1603 S Congress Ave, Austin, TX 78704
A great place to hang out with your best friend. Featuring a great beer and wine list, and snacks from Café No Sé next door, the hardest decision comes when trying to pick one of their signature cocktails. I've tried them all...twice, but if I had to Sophie's Choice this one I'd have to go with the Sunflower, or and maybe the Scorpion. Another half-off everything (wine, beer, cocktails, snacks) happy hour from 5-7pm weekdays.
Torchy's Tacos @
1822 S Congress Ave, Austin, TX 78704
It's Torchy's. It's some of the best tacos on the planet. It's where the President stops when he's in Austin. Their new flagship location on South Congress features a patio you can access from the sidewalk, and an outside bar for ordering, so you and Fido never have to go inside. Go for one of their grande breakfast tacos, or mix it up with their imaginative Taco of the Month (please bring back the Chicken and Waffle taco!). Aimee gets the fried-chickeny Trailer Park Taco, and asks them to make it trashy (take off the lettuce and add queso)!
Home Slice Pizza
1415 S Congress Ave, Austin, TX 78704
Dogs are always welcome at the covered patio in back, or at the pick-up window of More Home Slice. Their NY-style pizza crust makes every pizza great. When it's cold out I like to get their spicy Meatball Sub, or their new Sicilian thick-crust pizza - available only on Mondays and Thursdays.
TOMS @
1401 S Congress Ave, Austin, TX 78704
This is Sydney's main jam on Congress. Come for the shoe shopping, stay for the coffee and the view. Hanging out at TOMS on the elevated deck with an Iced Horchata Coffee, or one of their seasonal drinks, is the best way to unwind. Or take it to the next level by crashing in the hammock. It's a great place for the kids too with tons of activities from kids' yoga to movie nights.  
Jo's Coffee @ %
1300 S Congress Ave, Austin, TX 78704
Caffeinating So. Congress since '99, Joe's occupies some great people/dog watching real estate, and live music during their Sinner's Brunch every Sunday. Grab a homemade toaster pastry and an Iced Turbo, or my preference, the less-sweet Belgian Bomber. And be sure to post a picture of your doggie in front of the I love you so much mural!
Amy's Ice Creams %
1301 S Congress Ave, Austin, TX 78704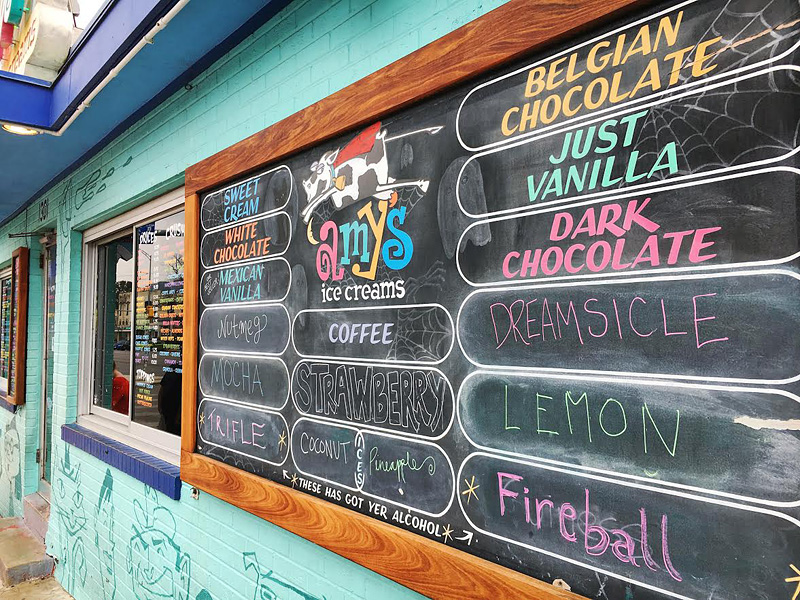 Even if I'm not in the mood for ice cream, just checking the posted flavors of the day at Amy's is enough to get me in line (there's always one boozy option)! Pick your mix-ins and ponder the movie quote trivia to get yourself a free topping. Sydney gets her own taster or puppy cup - a cup of sweet cream ice cream with a dot of peanut butter ice cream in the middle.
Burro Cheese & Juice Austin Food Trailers
1221 S Congress Ave, Austin, TX 78704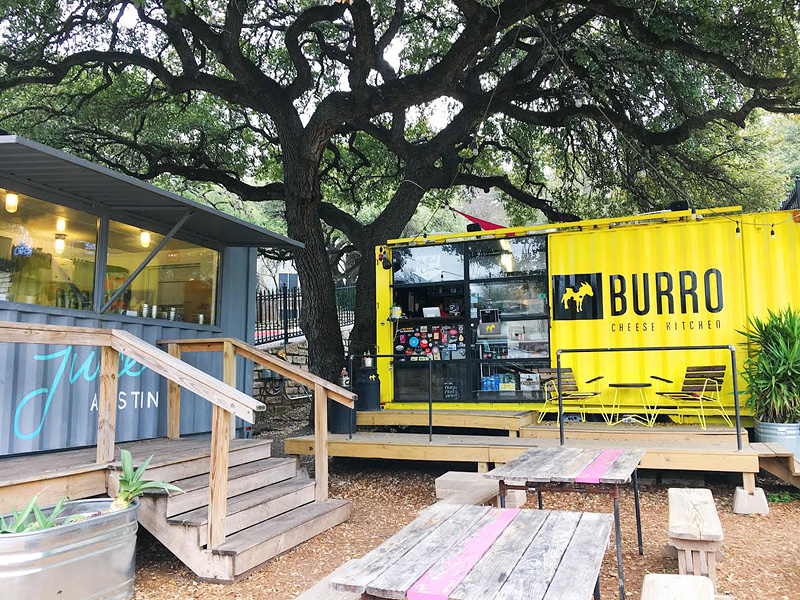 Squatting in the microtrailer park next to Amy's is Burro: home of the best grilled cheese sandwich I've ever had. My favorite is the Coppola: gouda, almond pesto aioli, basil, and tomato, served on Easy Tiger sourdough and put through the press. Sydney gives it 5 noms.
Yeti Barrr @ %
220 Congress Ave, Austin, TX 78704
The Yeti Barrr popped up last spring, and it's been going strong since! They have a nice deck to hang out on with your puppy and friends. For seating, they have both swivel chairs scattered around AND YETI coolers to sit on. How cool is that? We love swinging by for a beer. If you're not in the mood for beer, they also have wine. And all of it is inexpensive! The YETI Barrr has become one of our go-tos for a nice weekend walk and drink.
Curious about other places to check out in Austin? Click the image below to check out the rest of the Austin City Guide written by other bloggers in Austin!