This Instant Pot Parmesan Risotto comes together so quickly and doesn't require constant stirring. It's an easy no-stir risotto recipe that is creamy and delicious.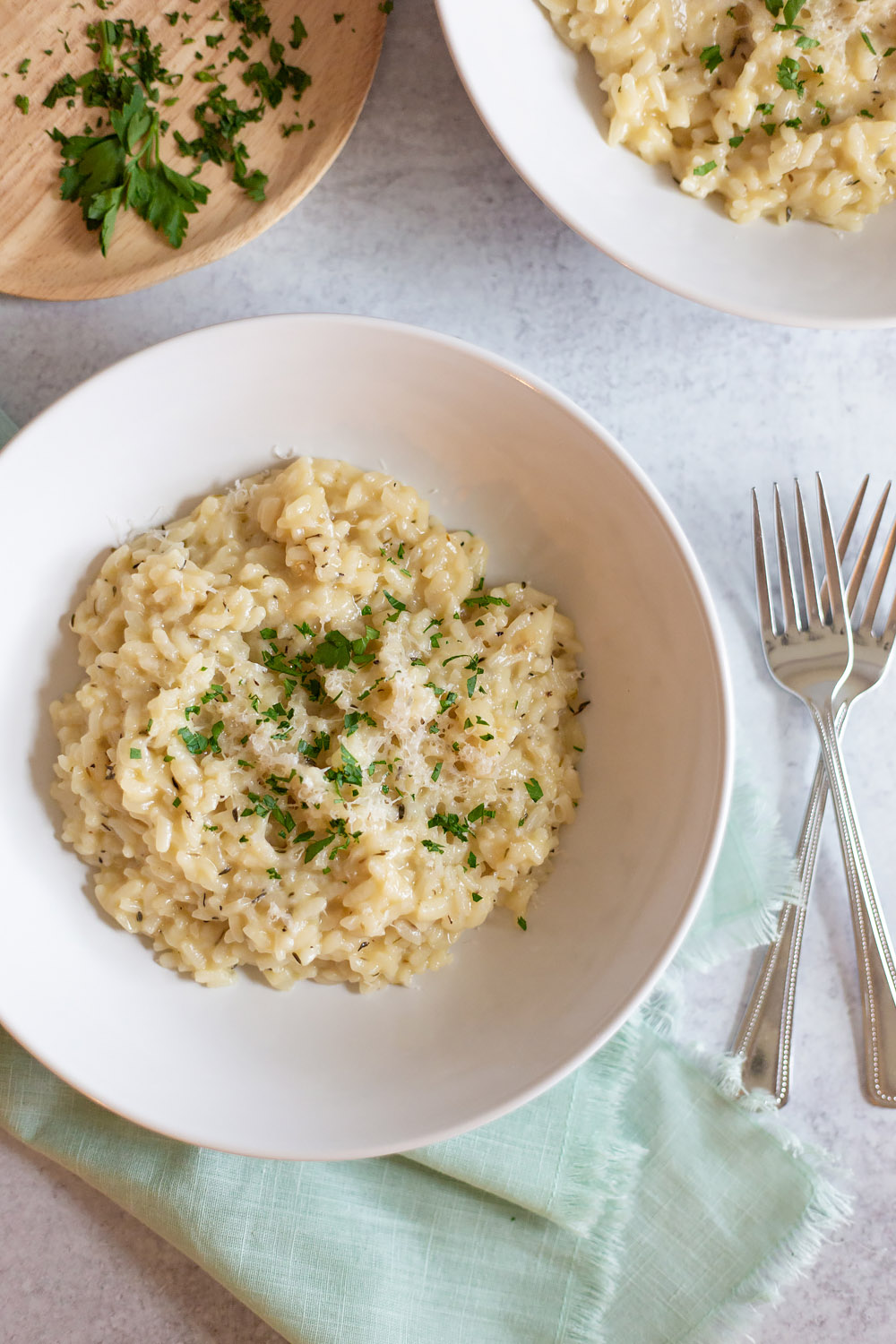 I'm still amazed that you can make risotto in an Instant Pot. And honestly? This Instant Pot Parmesan Risotto is the best risotto I think I've ever had. It winds up being so flavorful and beautifully creamy.
This recipe for Instant Pot Parmesan Risotto is so quick and easy to make too. Dangerously easy. And it just uses simple ingredients that I have lying around most of the time. I used a 6 Quart Instant Pot to make the cheesy risotto.
Ingredients:
Butter - You'll need butter both for sautéing the ingredients in at the start and then for adding to the risotto at the end.
Onion and garlic - I use yellow or white onion. And then of course there is garlic. I used 3 medium cloves for this recipe.
Arborio rice - This is the type of rice used in risotto. It's typically kind of starchy, which helps give risotto it's creamy, starchy texture. I find this type of rice in the rice section of my grocery store. Surprise, surprise. Right where you think it would be!
White wine - use any dry white wine you want. I used a Pinot Grigio.
Dried thyme - There are two types of thyme in the spice aisle - ground thyme and dried thyme leaves. You don't want ground thyme for this recipe. You want the dried thyme leaves.
Chicken stock or broth - This will help add a lot of flavor to the dish. You can use homemade stock if you have it, but I typically get a carton at the store. You can also use veggie stock if you're vegetarian.
Freshly grated Parmesan cheese - I highly recommend using freshly grated Parmesan. From a wedge of Parmesan cheese you have.
Parsley - I like to use freshly chopped parsley to garnish. It's optional though. It just adds a touch of flavor and color to the dish.
Looking for more Instant Pot recipes? Try these!
How to serve
While the cheesy parmesan risotto is delicious served as is, here are other ways our readers have served it:
With green beans and red pepper flakes
With chopped spinach and chili flakes
With asparagus and smoked salmon or cooked shrimp
Served with sliced chicken breast on top
With cooked salmon on top
Instructions:
Melt butter in the pot, then cook the onions, then add garlic, then the rice to the pot.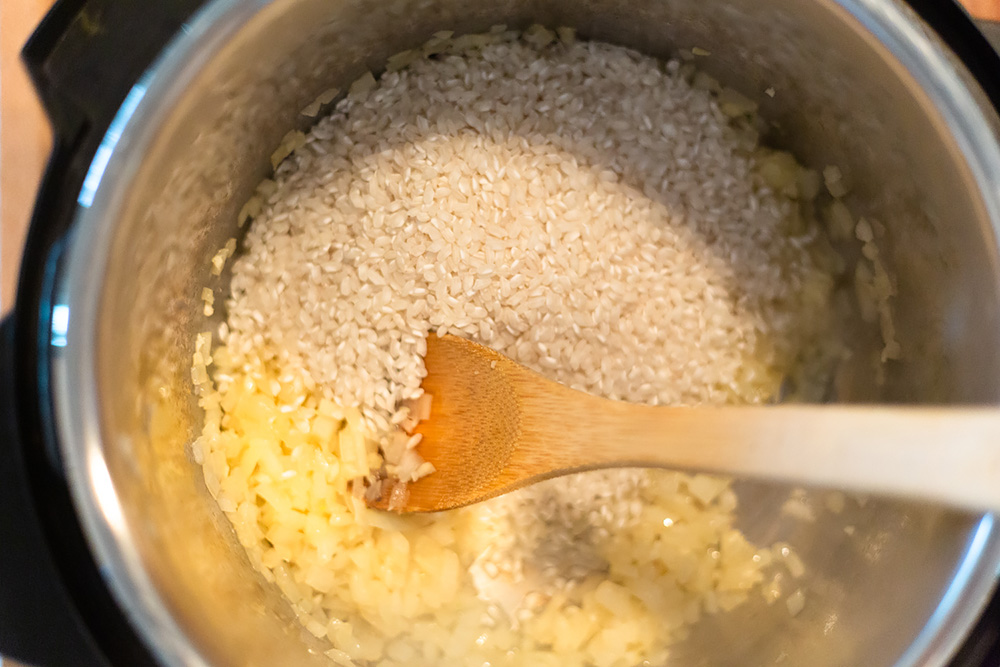 Add white wine to deglaze and stir.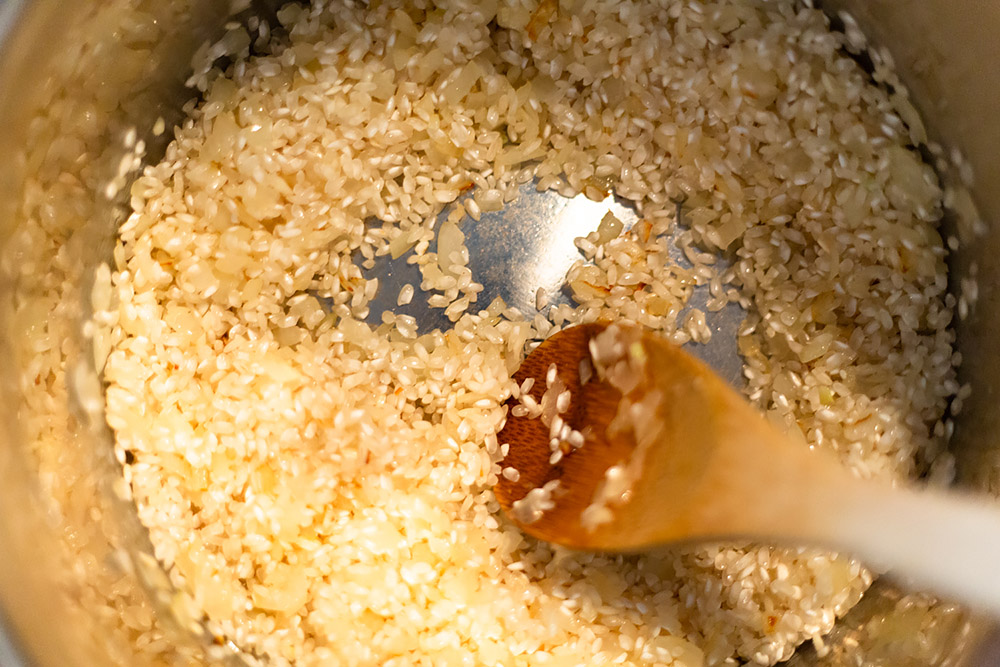 Add the chicken broth and seasonings. And then set on manual mode for five minutes.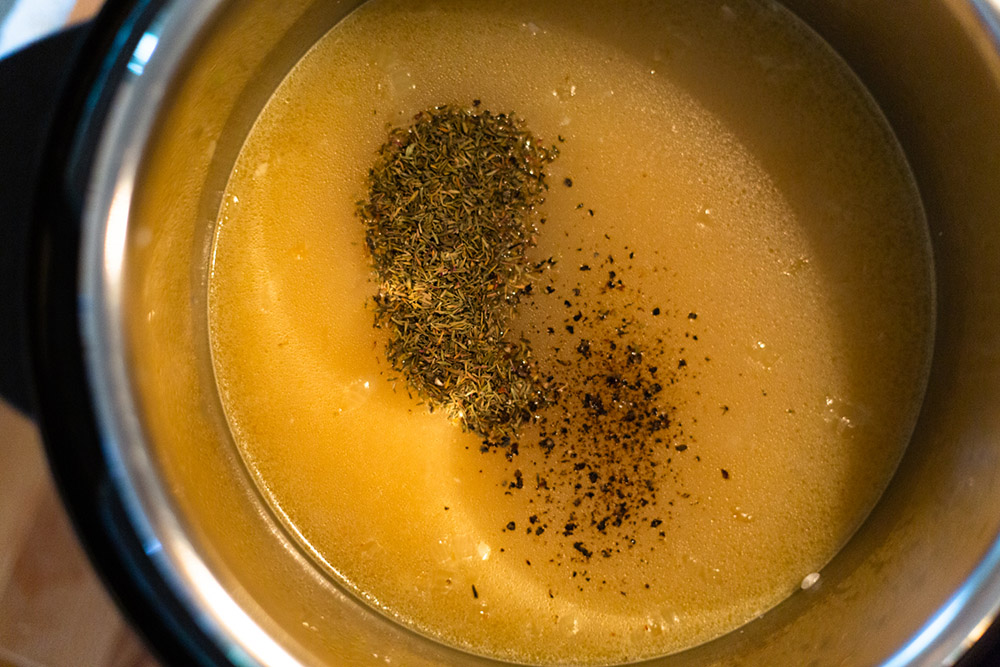 After quick releasing and removing the lid, add the additional butter and the Parmesan cheese and stir together to combine.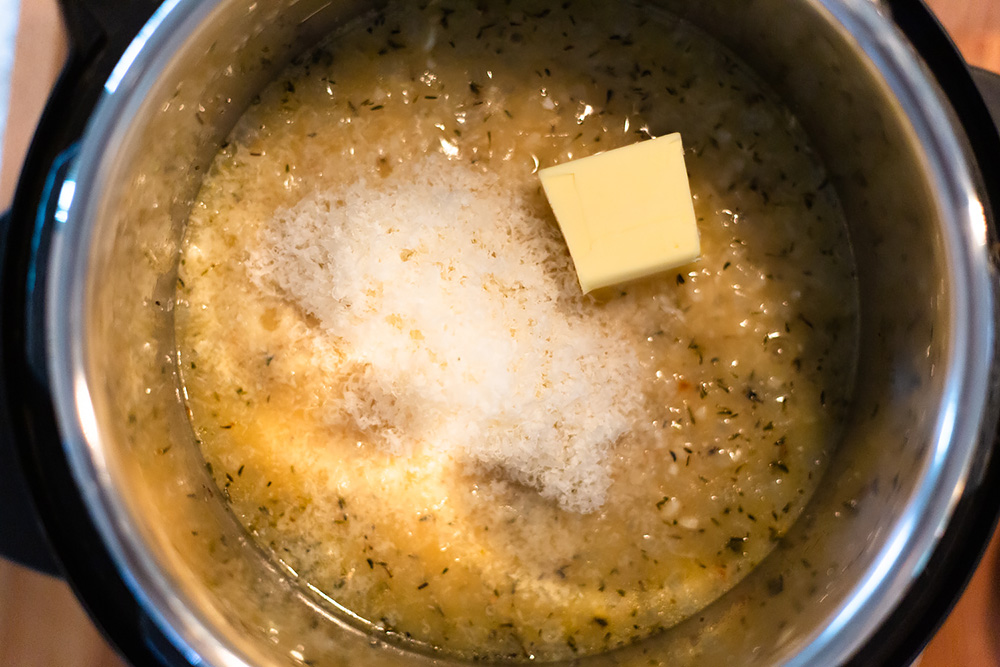 Serve and enjoy!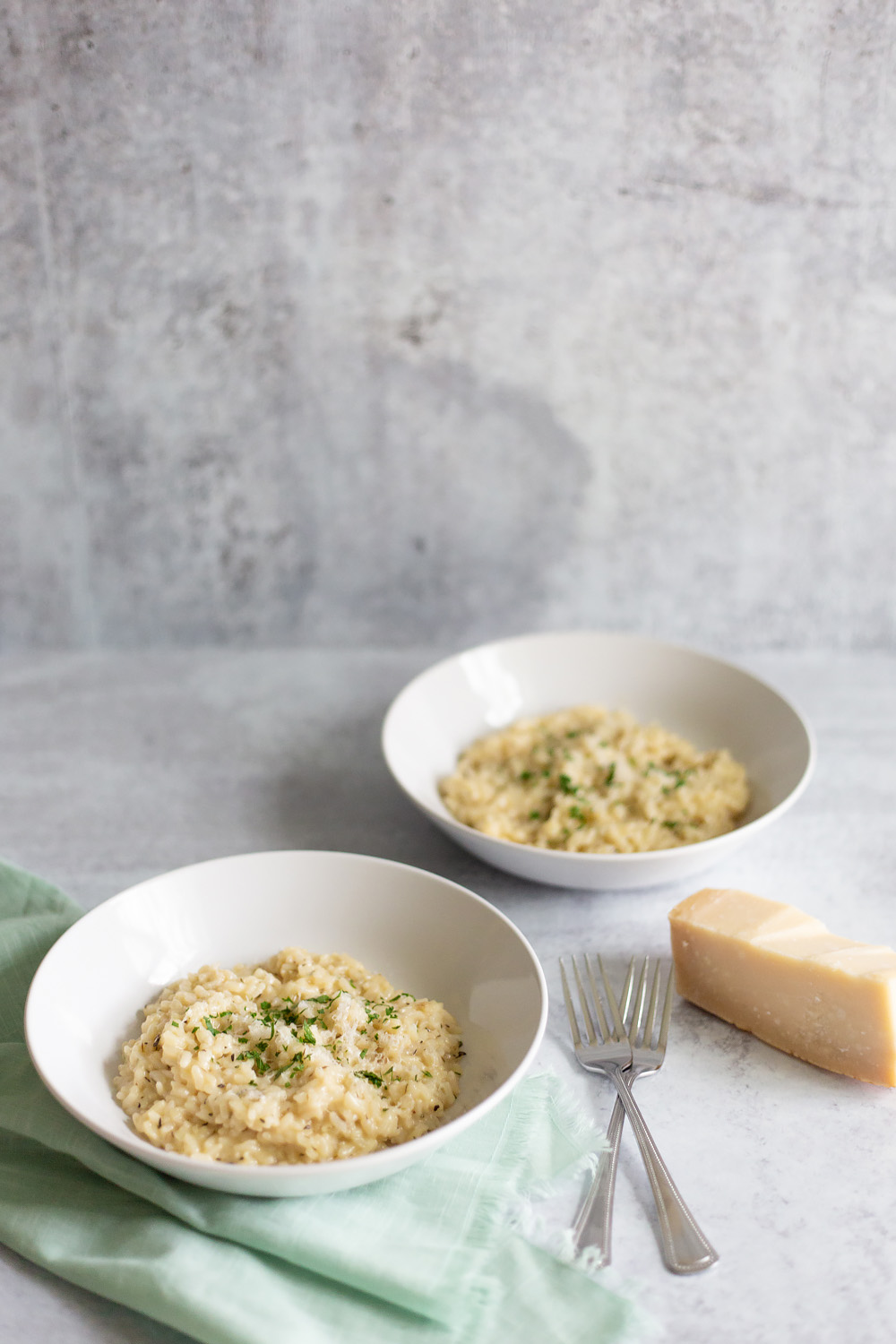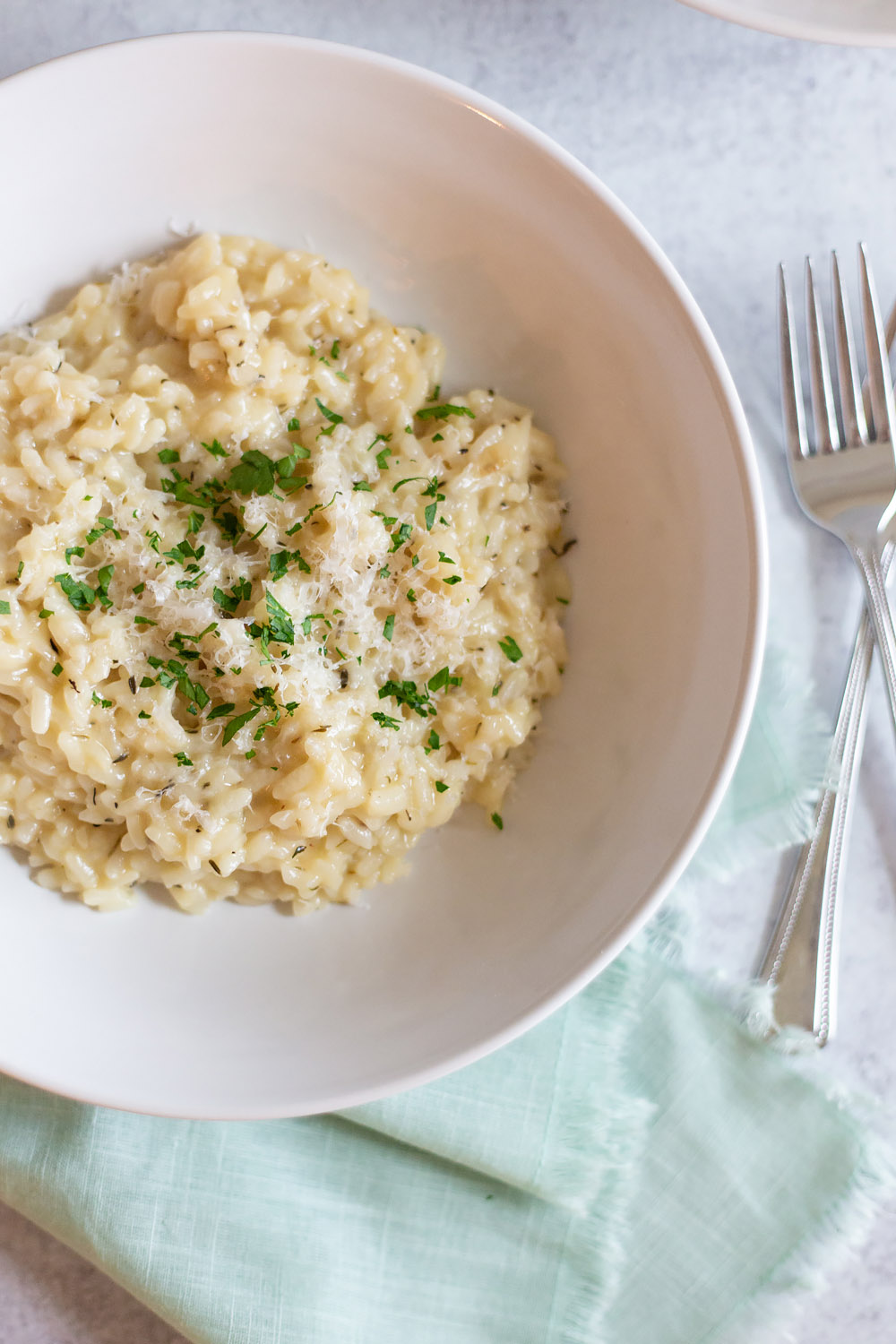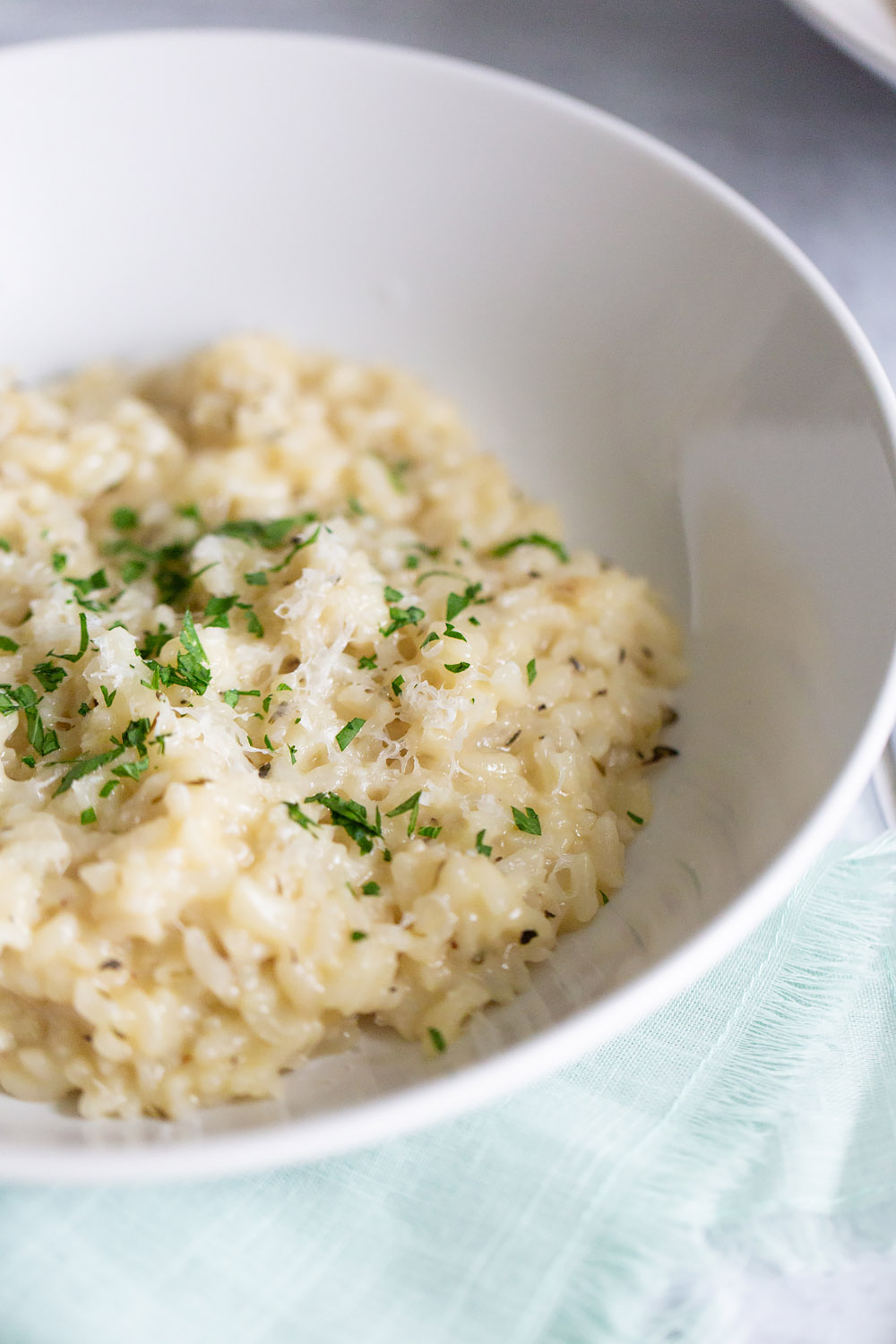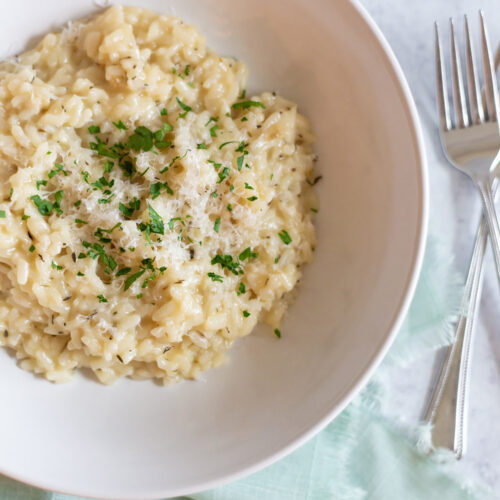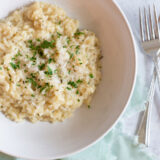 Print Recipe
Instant Pot Parmesan Risotto
This Instant Pot Parmesan Risotto comes together so quickly and doesn't require constant stirring. It's an easy no-stir risotto that is creamy and delicious.
Ingredients
6

Tbsp

butter, divided

1

medium onion, diced

3

cloves

garlic, minced

2

cups

Arborio rice

½

cup

white wine

4

cups

chicken stock or broth

1

Tbsp

dried thyme

1

tsp

salt

½

tsp

black pepper

¾

cup

Parmesan cheese, freshly grated
Instructions
Prep the ingredients. Dice the onion and mince the garlic.

Turn the Instant Pot onto SAUTE mode. Add 2 Tbsp butter to the Instant Pot and let melt.

Add the onion and saute 3-4 minutes, stirring frequently.

Add the garlic and saute for 1 minute.

Add the Arborio rice and saute for 2-3 minutes, stirring frequently.

Add the white wine and deglaze the pan, scraping the bottom to make sure there isn't anything stuck to the bottom of the pot.

Hit the CANCEL button on the Instant Pot.

Add the chicken stock, dried thyme, salt, and pepper to the pot. Stir everything to combine.

Put the lid on the Instant Pot and set on MANUAL mode for 5 minutes. Once the 5 minutes are done, QUICK RELEASE the steam valve and let the steam escape. Remove the lid carefully once all the steam has stopped escaping the valve.

Add 4 Tbsp butter and the grated Parmesan cheese. Stir to combine everything. Season with salt and pepper to taste. Top with chopped parsley and more Parmesan cheese if desired.
Notes
One thing to always remember with the Instant Pot is that it always takes time to come to pressure. So when you set the timer for 5 minutes, it will take an additional 5-10 minutes to come to pressure before it starts counting down.
When you take the lid off the pot, the risotto will look liquidy. However, once you stir it, it will come together nicely.
This risotto is great served on its own, but you can also top with chicken, shrimp, or scallops. It's also delicious served with a salad.