Can I confess something? I don't really like typical apple pie. I don't know why. However, this Dutch Apple Pie with a crumb topping instead of another crust? I'd eat that everyday.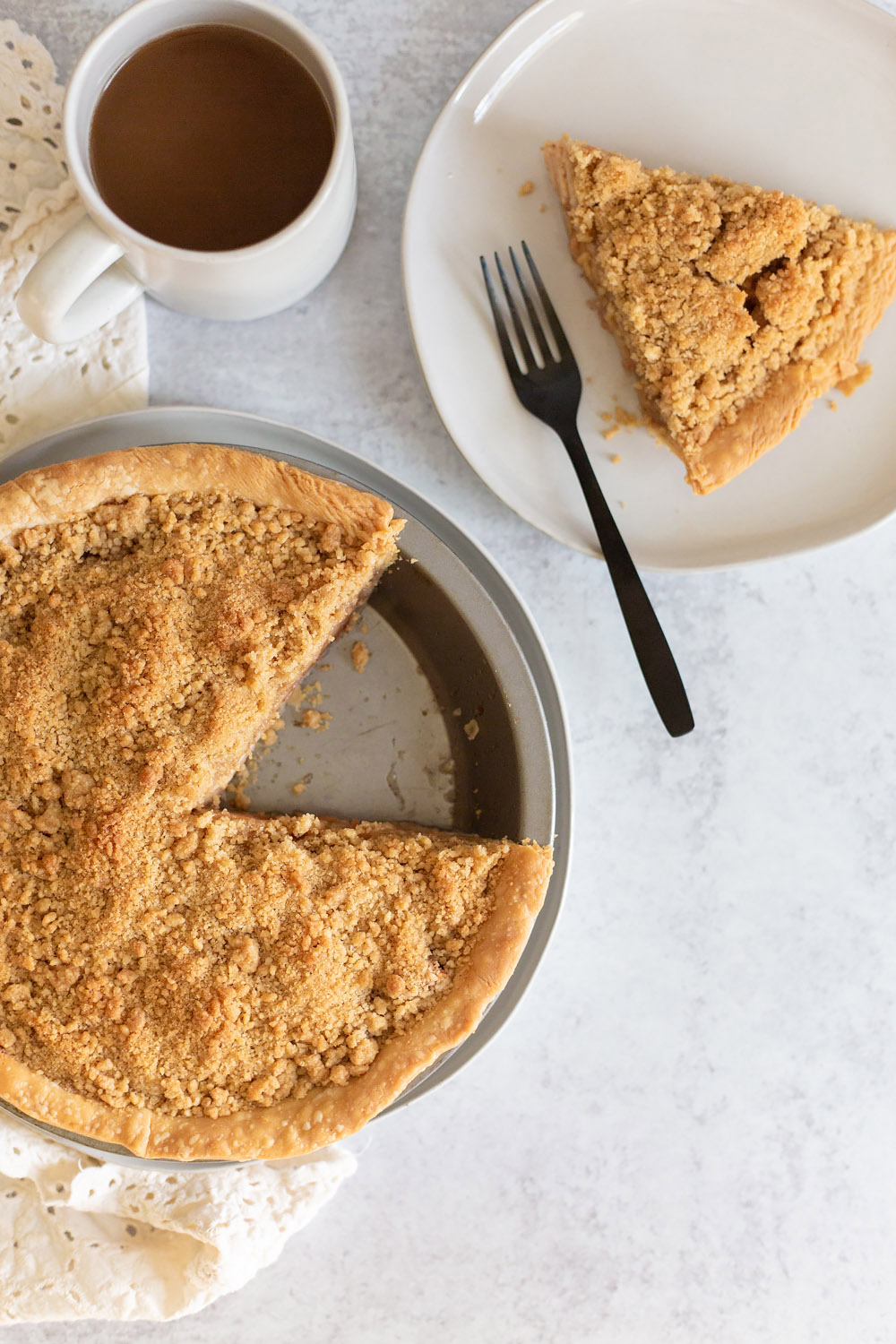 This Dutch apple pie is so tasty. And surprisingly easy to make! My mom makes this several times a year. One of those times is Thanksgiving. And even though I'm always so stuffed from all the other delicious food, I always have to eat a slice of this pie.

If you're wondering what makes it different than other types of apple pie, it's that crumb topping. That's also what makes it so easy to make! Instead of trying to put another crust on top and make it fancy, all you have to do is sprinkle the crumb topping on the apples, and it makes for a buttery, sugary, delicious pie.
So let's talk a little about making the pie.
First, the crust. I don't get fancy and make a crust here. While you can definitely do that, I use a store bought crust (and that's what my mom's recipe calls for!) For the crust, I use the kind that you can find in the refrigerated section of the store. In my local grocery store, they are next to the biscuits. At Trader Joe's I've seen them in the freezer section next to the desserts. For those types of pies, you roll out the dough and then press them into a pie plate. You can also get the type of crust that is already in the tin. That makes it even easier. Those are typically in the freezer section close to the frozen pies. Just make sure to look at the instructions on the pie crust before you start! The one I used said to leave out at room temperature for 15 minutes before rolling out.
For the apples. My mom always uses Red Delicious. I chose to use Gala apples for mine. Either works! Other kinds will work too. I think it depends on what you can find at your grocery store. To make the pie, you peel the apples, and then slice them thinly. You can definitely do it by hand if you'd like. I wound up using a mandoline. If you go that route, be careful! The blades on those are incredibly sharp. I always use the provided tool so I don't cut my fingers.
Once you've sliced the apples, you toss them with some sugar and cinnamon. Yum. (I had some apples left over that didn't fit in the pie, and I definitely stood at my counter eating them. No shame here.)
Then the crumb topping for the Dutch apple pie. The thing that makes it special! Take softened butter, flour, and brown sugar, and then mix them all together until they get crumbly and combined. I use a fork to do this. You can also use your hands.
Then you just assemble the pie (add the apples to the crust, top with the crumb topping), then bake and cool. So incredible.
I love my Dutch apple pie served with a bit of vanilla bean ice cream or with some whipped cream. Decadent, but worth it.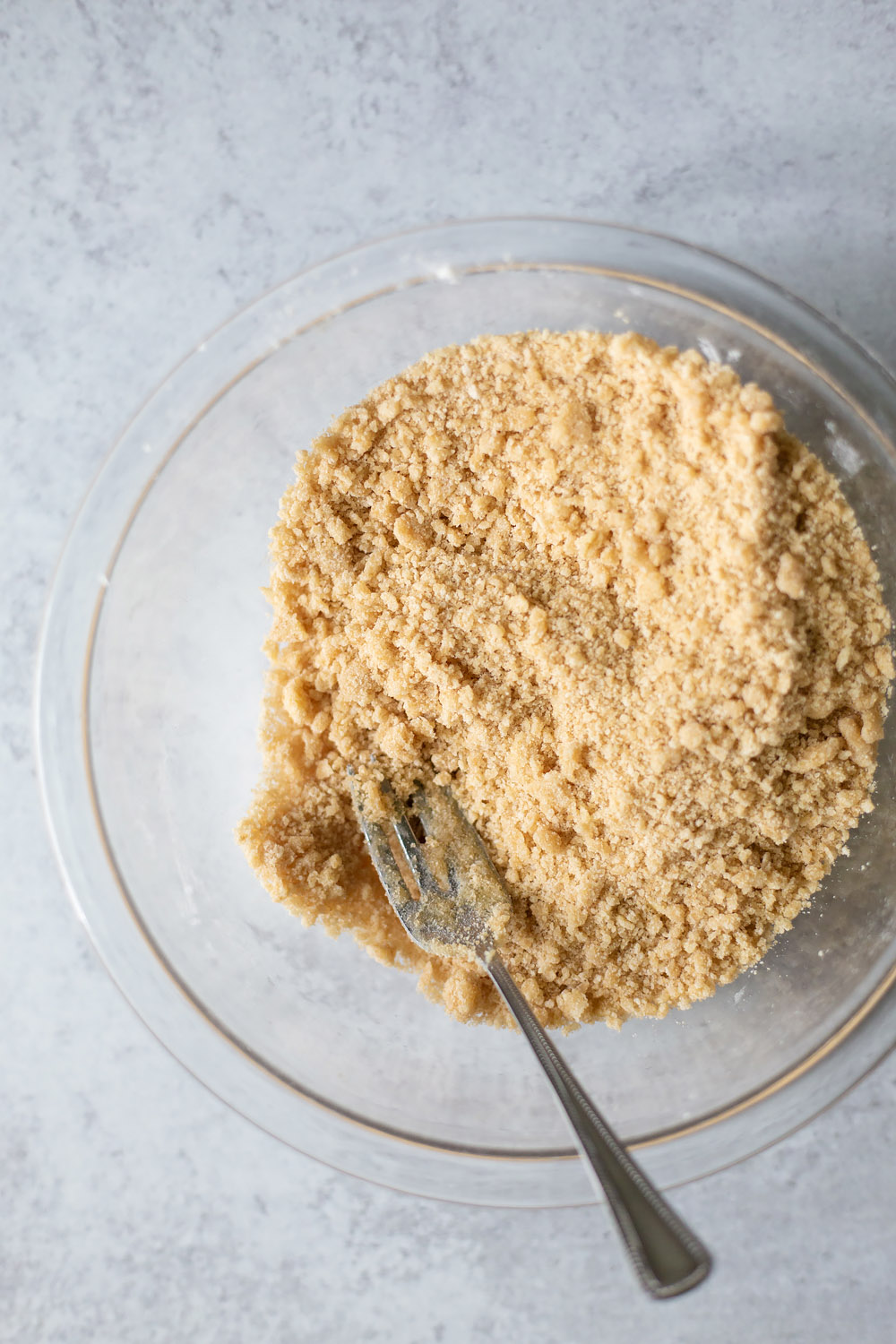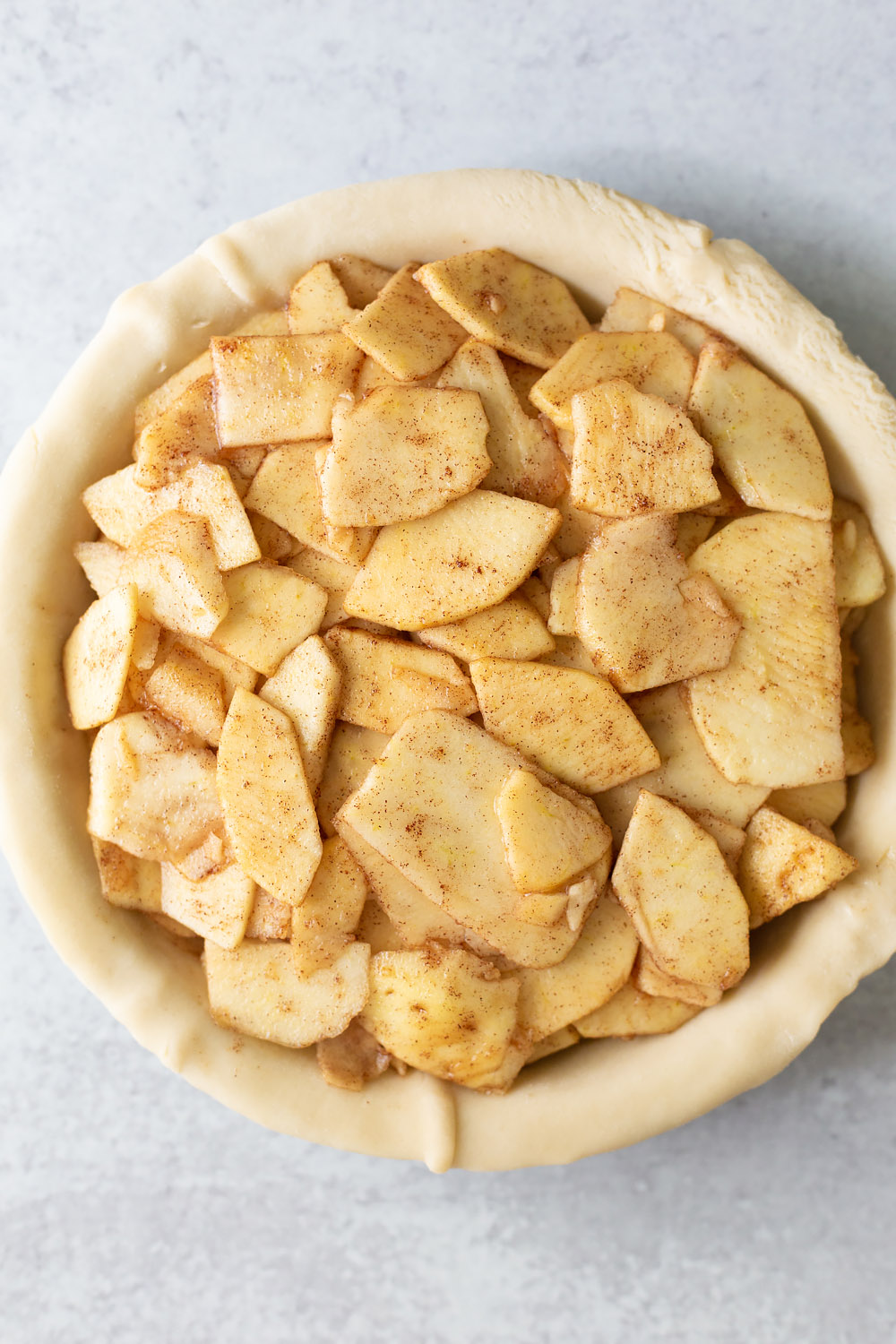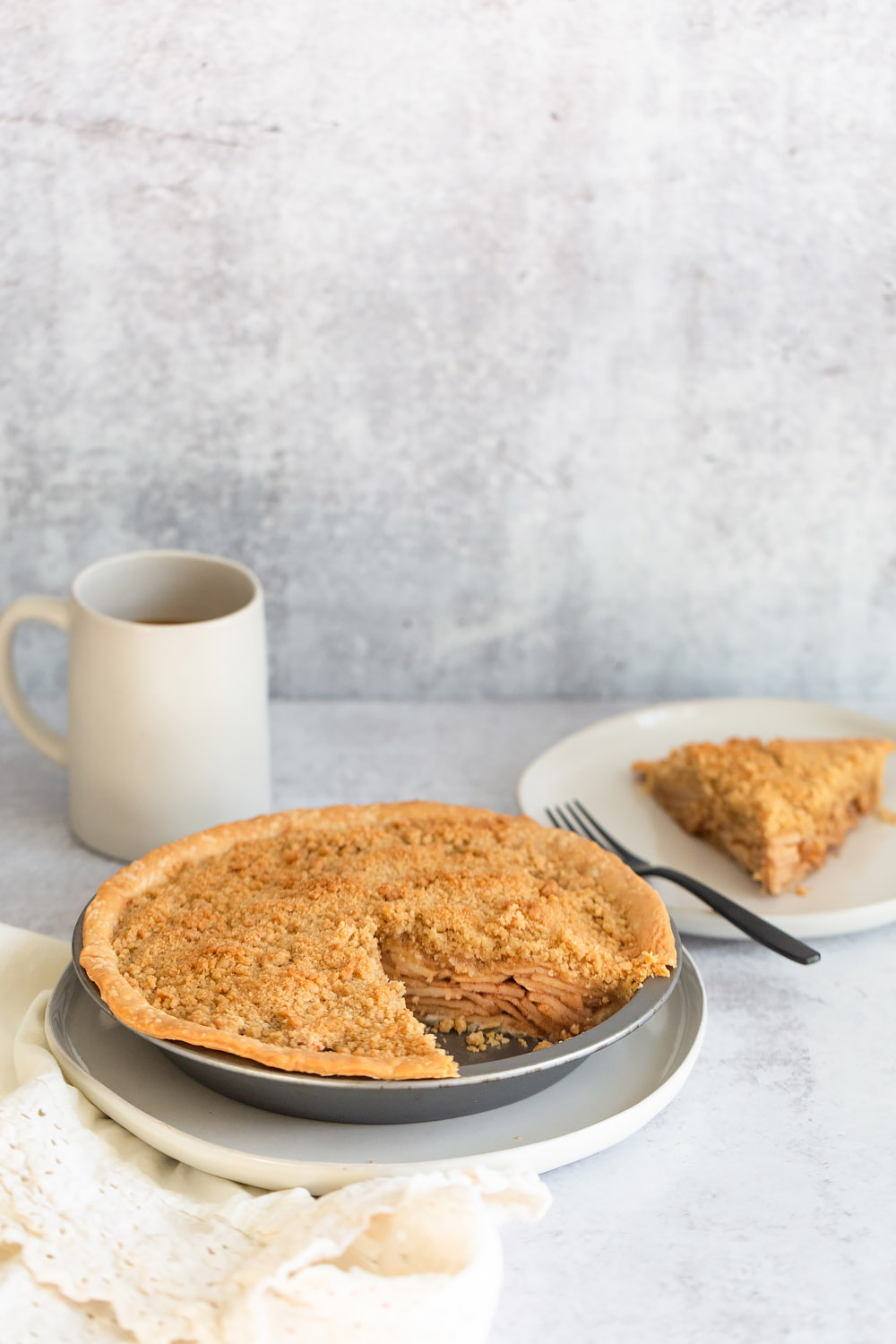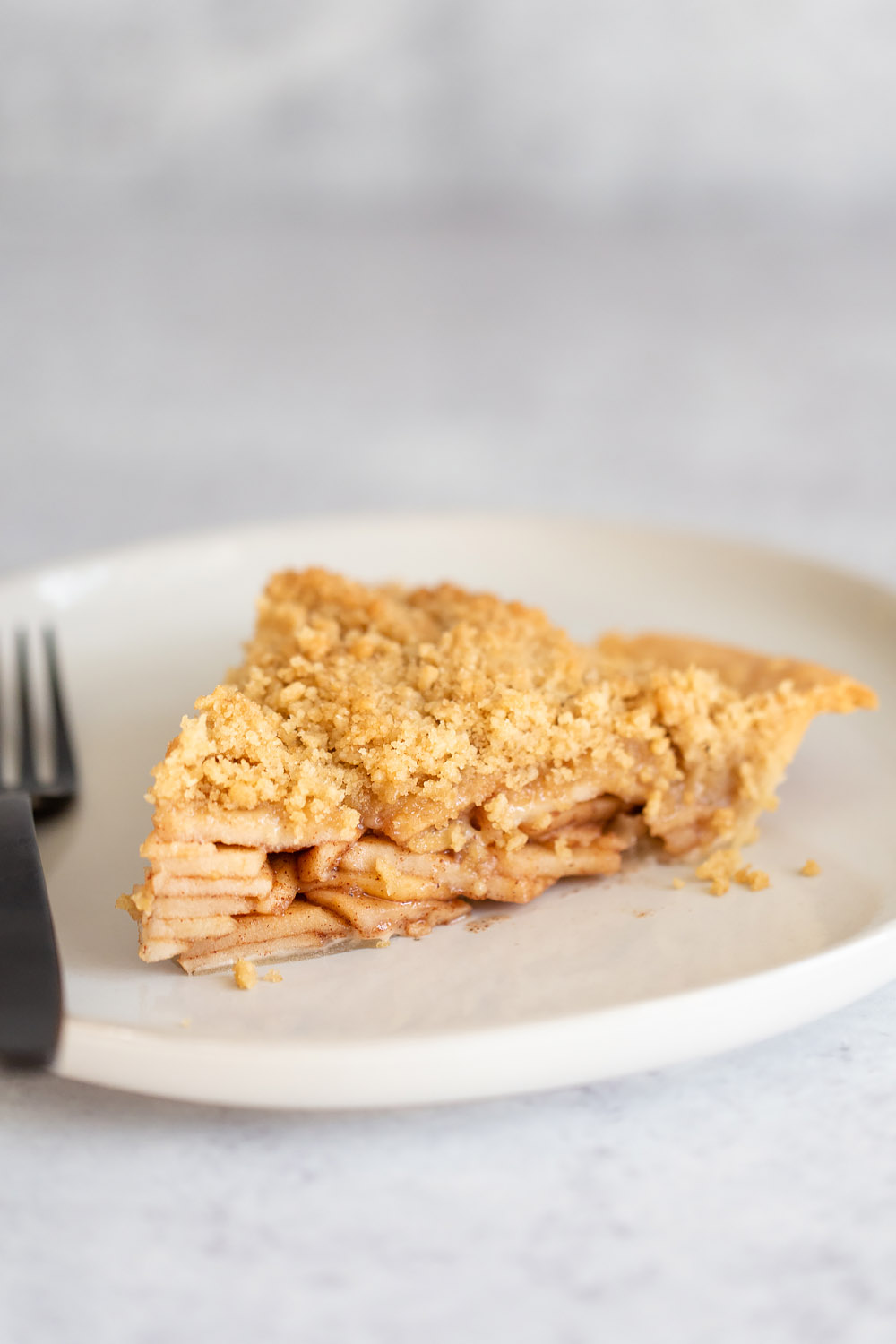 Print Recipe
Dutch Apple Pie
This Dutch apple pie has a buttery, sugary crumb topping that makes for the best apple pie ever.
Ingredients
1

unbaked pie shell/crust

4-5

medium apples

1

tsp

cinnamon

1/4

cup

white sugar

3/4

cup

flour

3/4

cup

brown sugar

1/3

cup

butter, room temperature
Instructions
Preheat oven to 375 degrees F.

Take the unbaked pie crust and roll into a pie tin (if needed). Set aside.

Peel and slice the apples into thin slices. Add to a large bowl, and sprinkle the cinnamon and sugar over the apples. Mix together until apples are coated in the cinnamon and sugar.

In a medium bowl, add the flour, brown sugar, and butter. Mix together with a fork until combined and crumbly.

To assemble the pie, add the apples to the pie dish on top of the crust. Then top with the crumb topping.

Place in the oven and bake for 40-45 minutes until light brown.
Notes
Depending on the size of apples you use and how many, if you have leftover apples, that's fine. 
You also may have a bit of leftover crumb topping, but you'll most likely use all of it. It won't just lightly cover the top of the apples until you can't see them any more, you'll keep pouring it on so it creates a thicker layer on the top that will cook and form a nice sugary top.