Trader Joe's offers cacio e pepe ravioli now, and we had to try it! It's a fresh pasta filled with cheese and pepper for an easy lunch or dinner. We tried it and liked it!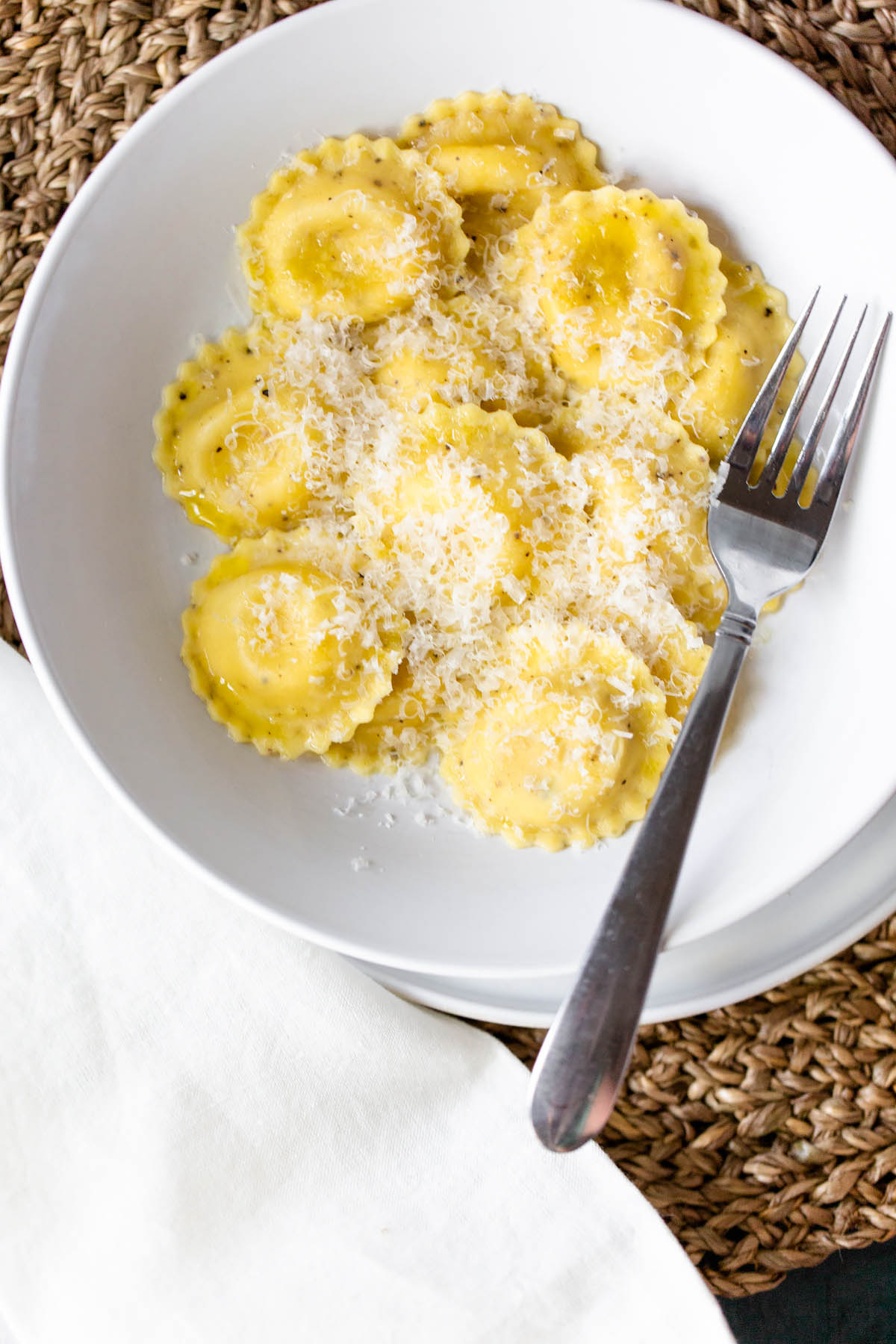 I recently stopped by Trader Joe's here in Austin. I used to go ALL THE TIME. It was by my work, and I would often use my lunch breaks to shop at Trader Joe's. But hello pandemic and working from home and curbside pickup.
So I hadn't been to Trader Joe's since March. Luckily, I had to go into Austin and take some photos for a client, so on the way home, I swung by Trader Joe's to see what they had. When I spotted this cacio e pepe ravioli, I knew I HAD to try it.
It sat in our refrigerator for a few days. But not unnoticed or forgotten about. I was looking for the perfect day to try it. And that day came. The kids wanted mac n cheese, so it seemed like the perfect time for Josh and I to have something fancier (and easy).
So we boiled up a pot of water, dropped this cacio e pepe ravioli in, and then let cook for a few minutes. I removed the pasta, added it to bowls, then drizzled some olive oil on top and grated some Parmesan cheese. We wanted to keep it simple so the cacio e pepe flavors would shine through and we could judge if we liked it or not.
Verdict? A quick and easy lunch that seriously took almost no time to prepare and was delicious!
It was the perfect amount for two people! If you're serving a family, I'd suggest either cooking more, or adding side dishes like bread, salad, or veggies.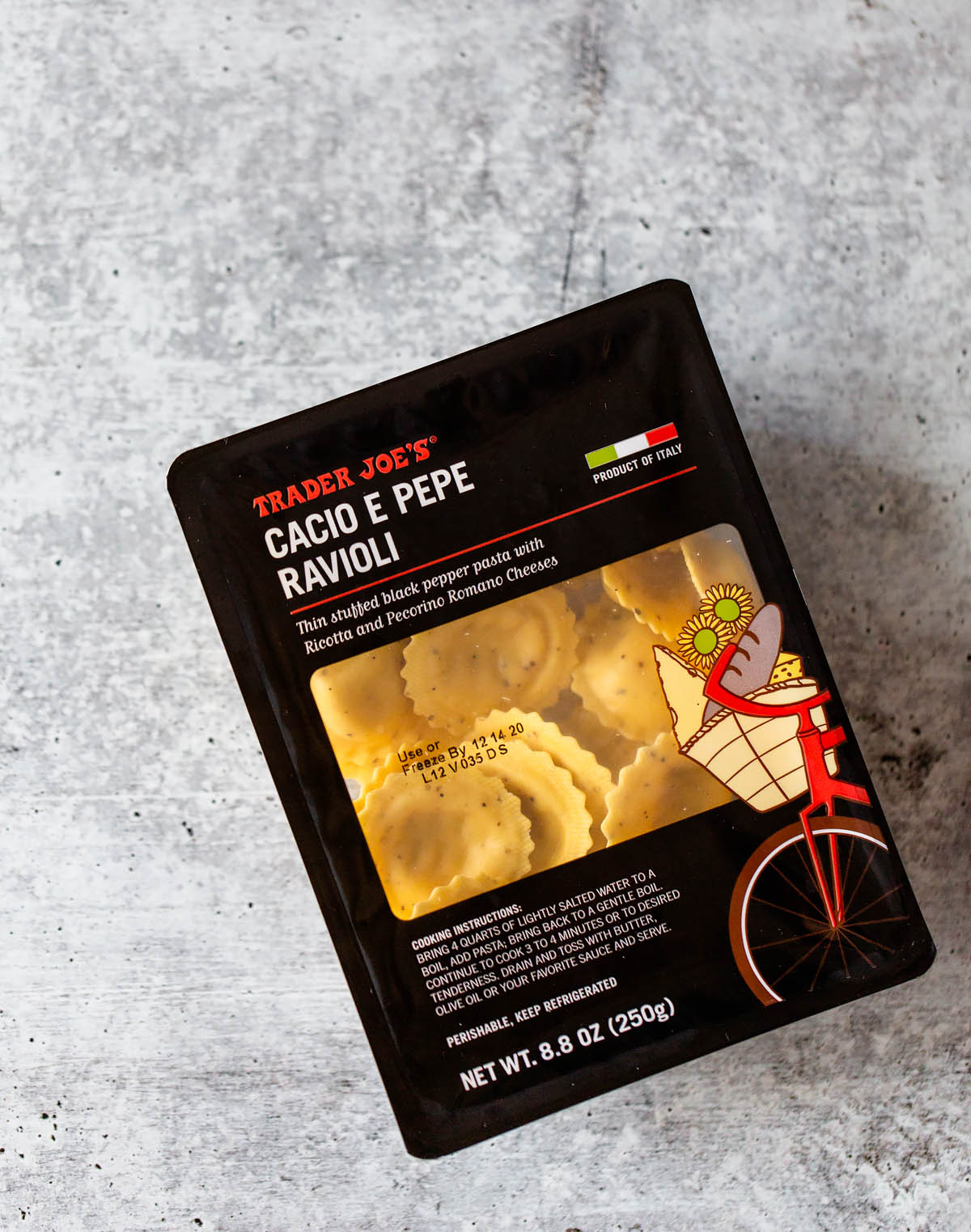 What we liked about the ravioli:
Josh and I were both huge fans of the cacio e pepe ravioli. It tastes very slightly sweet and has a nice cheesy flavor.
I love that it is so quick to make and all you need is one pot! (Very into minimal dish-washing these days).
I love that the pasta is fresh. When we cooked it, the pasta still had a nice texture and wasn't mushy at all.
And it feels fancy! The cacio e pepe ravioli is perfect for an easy lunch. It could also be an easy dinner on its own or served with a salad.
What we didn't like about the ravioli:
So, I have this section here, but really nothing? I don't have any complaints.
I would definitely buy this ravioli again and again. The next time I go to Trader Joe's, I'll probably buy several of these and freeze some.
I only got one this last time, since I wasn't sure if we would like it or not.
What is cacio e pepe?
Cacio e pepe means "cheese and pepper." It's a classic Italian dish combining cheese and pepper that makes a flavorful and cheesy pasta dish. It's typically served with a noodle like spaghetti or bucatini, but this Trader Joe's pasta puts the flavors in a ravioli!
Ideas for serving:
Drizzled with olive oil and topped with Parmesan cheese
Served with sliced prosciutto and arugula
Served with tomato sauce and topped with Parmesan cheese
Topped with a squeeze of lemon juice and arugula
Topped with lemon juice, lemon zest, and a drizzle of olive oil