This blueberry mojito mocktail recipe makes a delicious nonalcoholic cocktail using fresh blueberries. It also uses lime and mint to bring out the fresh mojito flavors! Delicious on a hot afternoon or evening when you want a bubby and fizzy drink!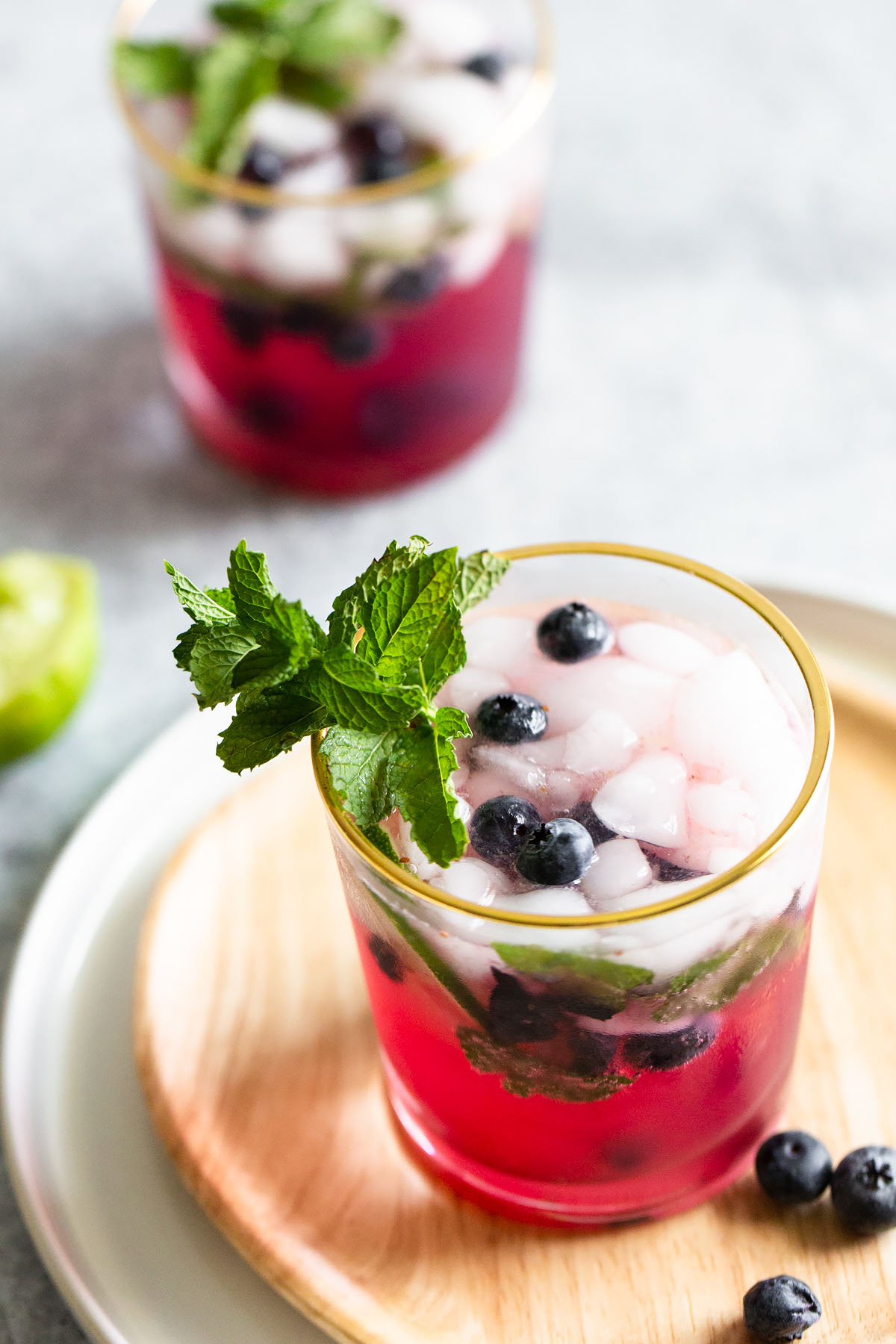 So I recently accidentally found myself with some fresh blueberries. And I realized I needed a good way to make the most of them.
And I also realized I've been wanting to drink more mocktails. Because sometimes you want to feel fancy, but also don't want alcohol.
Then I thought about how much mint I have growing in my garden. And how I had some limes on my counter. And sparkling water in my refrigerator.
So this virgin blueberry mojito recipe was formed!
The nice thing about this non-alcoholic blueberry mojito recipe is that no shaking is required. You do muddle up the blueberries a bit with the other ingredients, but you don't need a cocktail shaker for this.
Ingredients:
Fresh blueberries
Mint
Lime
Sparkling water or club soda
Tools needed:
Tall glass - You'll want a tall glass for muddling!
Muddler - A muddler works great to really break up the mint and blueberries. However, if you don't have one, you can use the handle part of a wooden spoon.
Lowball glass - I like to serve these in lowball glasses. However, you can always make a double and serve it in a tall glass.
Jigger or tablespoon measurement - A jigger helps you to measure ounces for simple syrup. If you don't have one, you can use a tablespoon measurement! Once ounce is 2 tablespoons. So if you're using half an ounce (like the recipe calls for), that's 1 tablespoon.
How sweet to make the mocktail:
I personally don't like drinks too sweet. So I only use half an ounce of simple syrup in my virgin blueberry mojito. However, if you want to increase the sweet, you can use ¾ an ounce or even 1 ounce of simple syrup!
Can you make this with alcohol?
Um, absolutely. The typical mojito is alcoholic. If you want to make a regular blueberry mojito, you'll want to add a splash of rum before you add the sparkling water.
How to make the blueberry mojito:
First, add your blueberries and mint to a tall glass or cocktail shaker.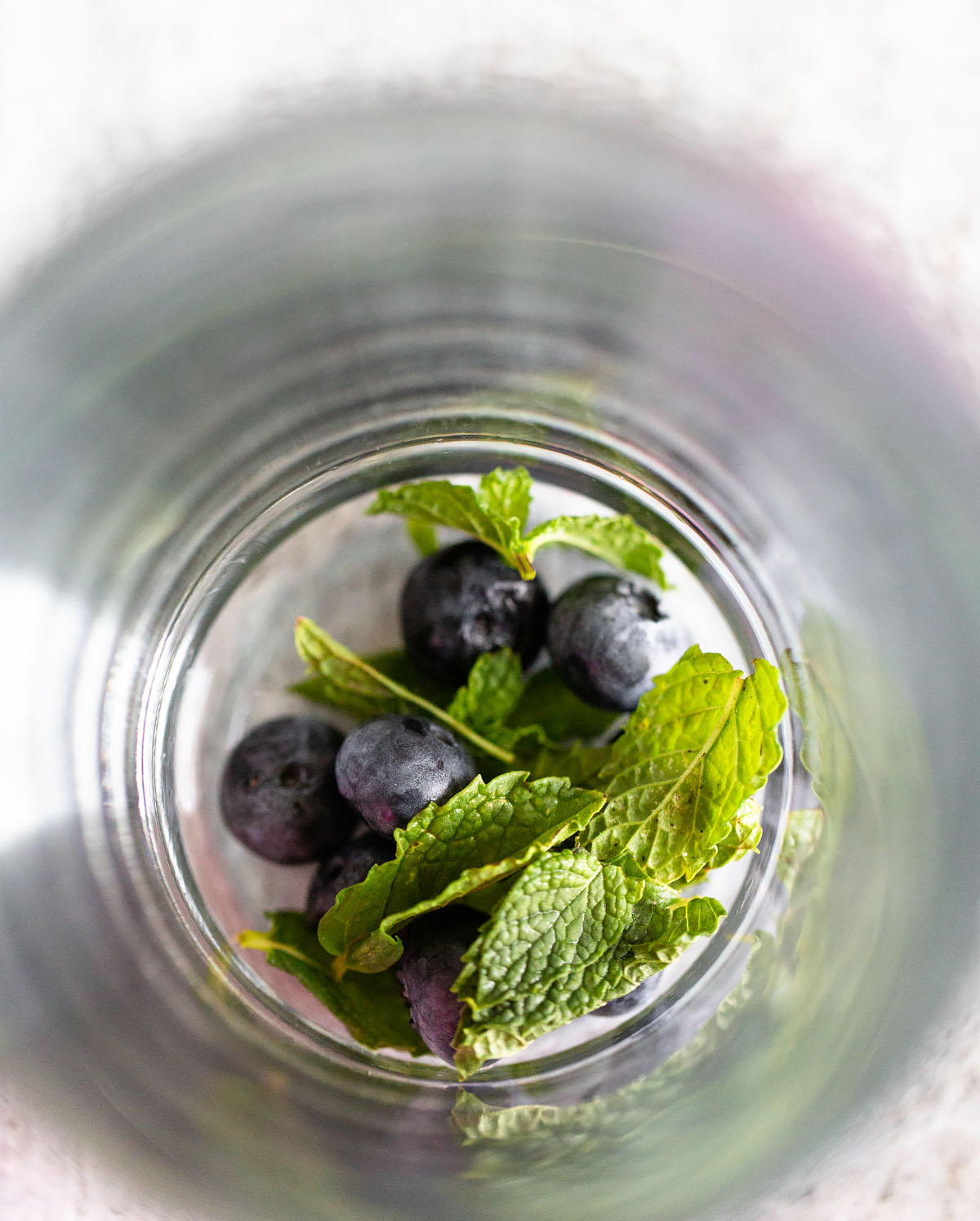 Next, add juice from half a lime and the simple syrup and muddle until everything is juiced and combined.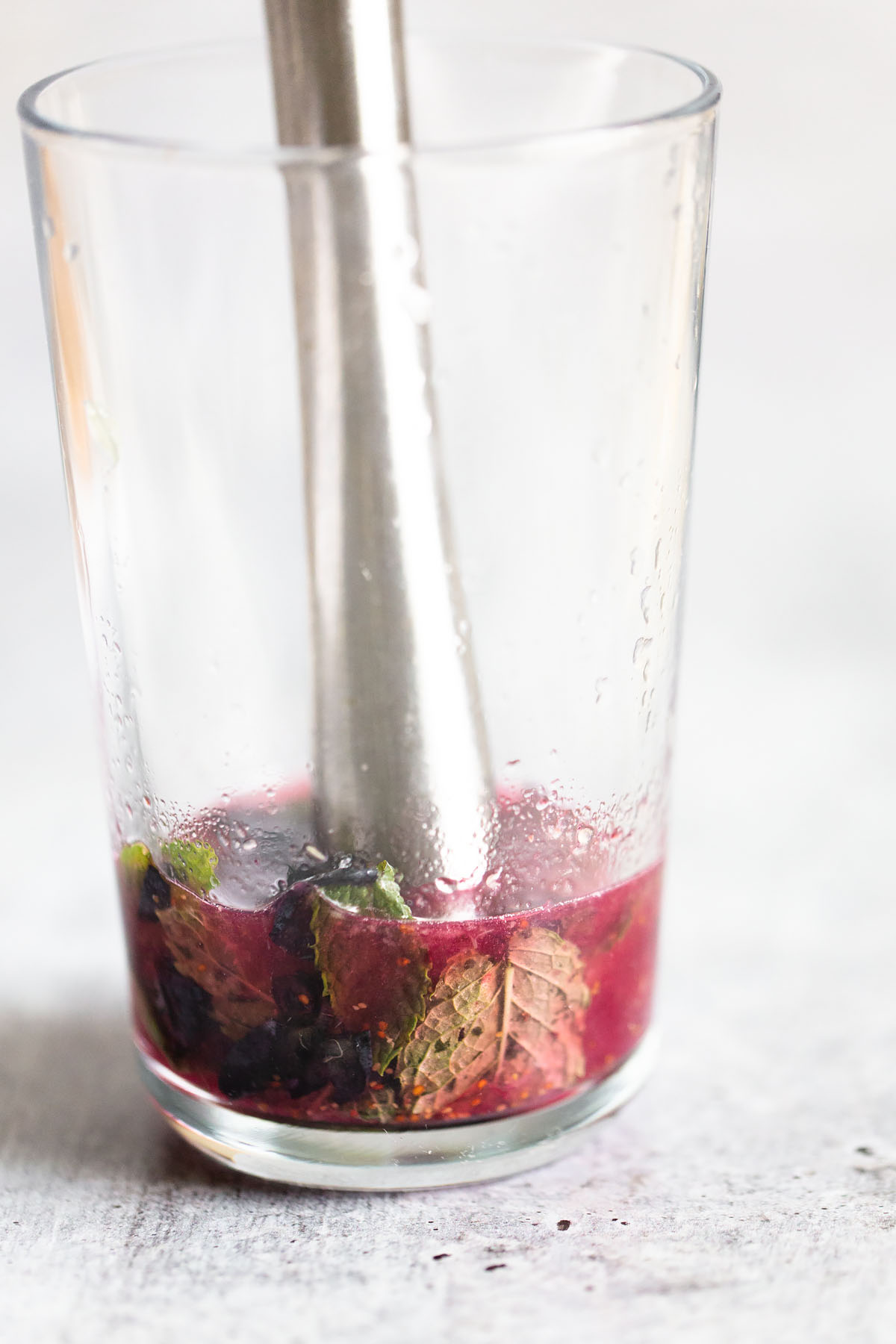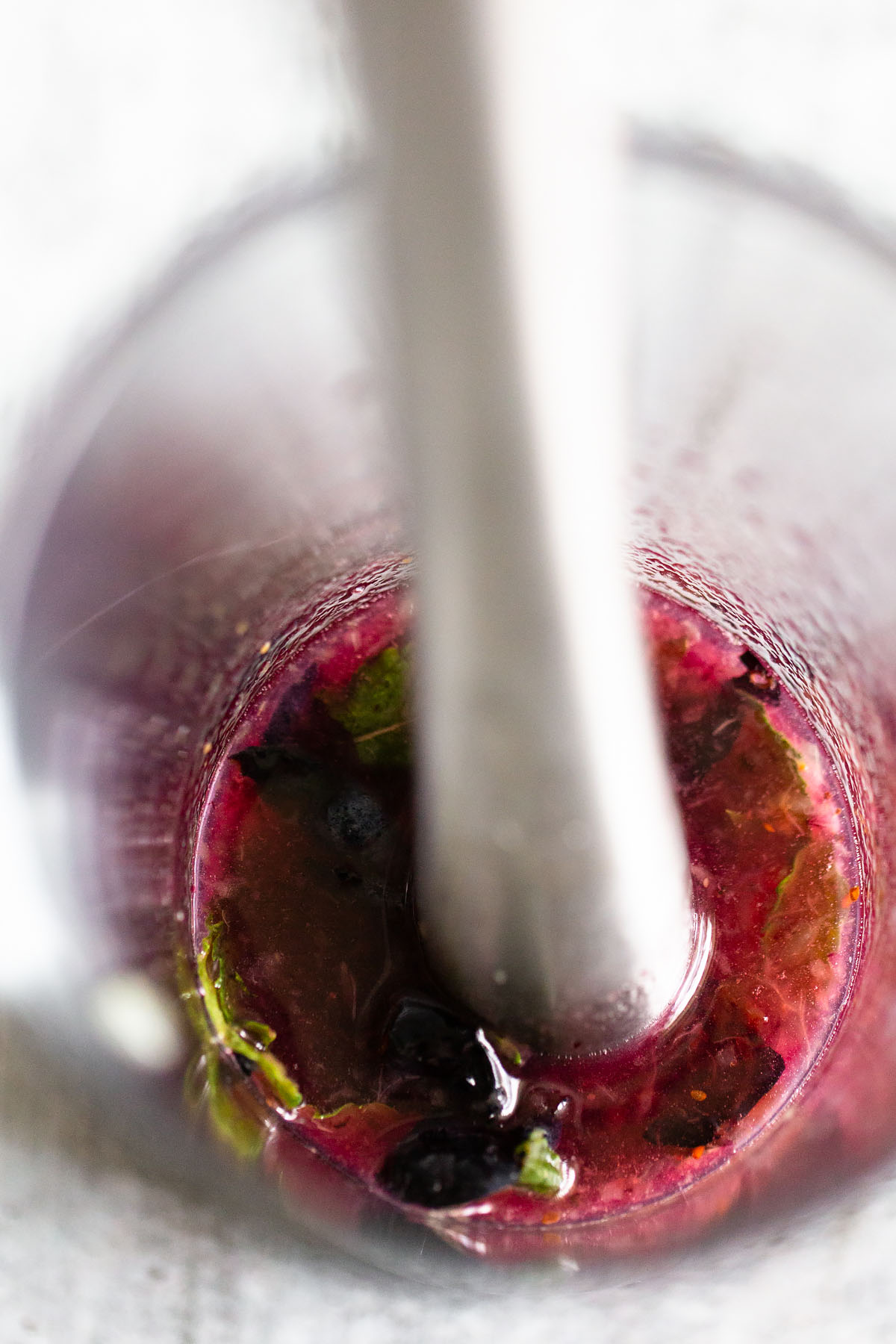 Fill a glass partway with ice. Add the blueberry/lime/mint/simple sugar mixture and then top with sparkling water. Stir well to combine. Top with more blueberries, lime slices, and fresh mint, if desired.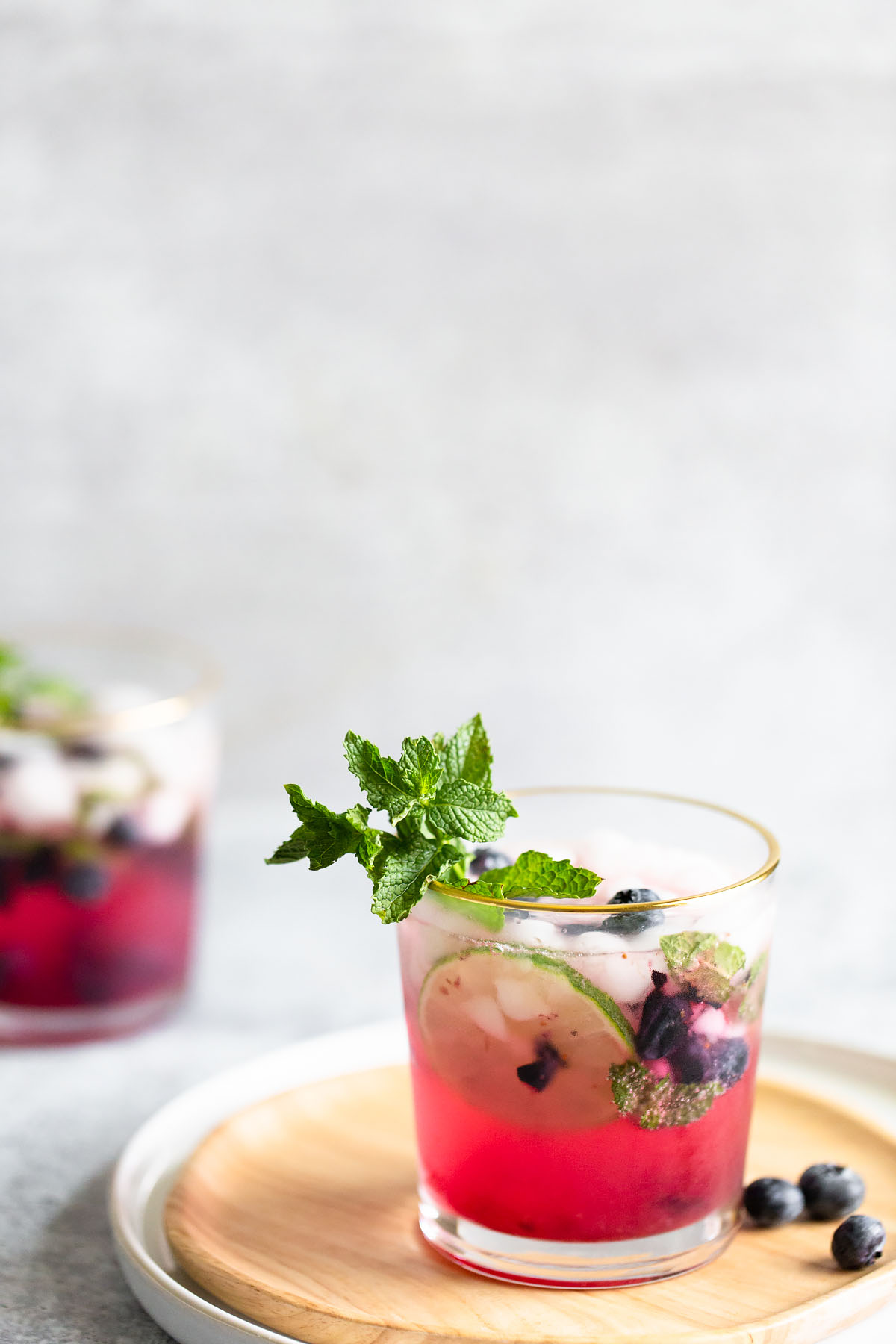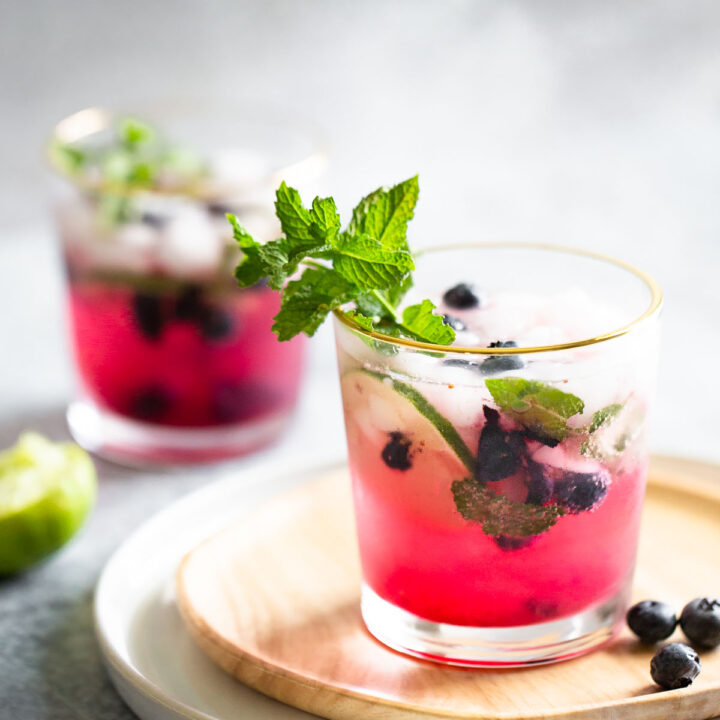 Blueberry Mojito Mocktail
This recipe for a blueberry mojito mocktail is a delicious nonalcoholic cocktail using fresh blueberries. It also uses lime and mint to bring out the fresh mojito flavors! 
Ingredients
8

blueberries

plus more for garnish

6

mint leaves

plus more for garnish

½

lime

½

oz

simple syrup

ice

club soda or sparkling water
Instructions
Into a tall glass or cocktail shaker, add the blueberries and mint.

Squeeze ½ a lime into the glass. Add the simple syrup.

With a muddler or handle of a wooden spoon, squish and muddle the mixture so the blueberries are smashed and incorporated into the liquid.

Add ice to a lowball glass and pour the blueberry mixture over the ice.

Top with sparking water and stir well to combine.

Add more blueberries, slices of lime, and fresh mint if desired to top the drink.
Tried this recipe?
Tag @foodbanjo on Instagram and share your photos!