These homemade mango yogurt melts only use a few ingredients in the recipe and no refined sugars! They are an easy diy treat for toddlers, babies or adults. The yogurt bites are frozen, so they are delicious in the summer or anytime for teething babies!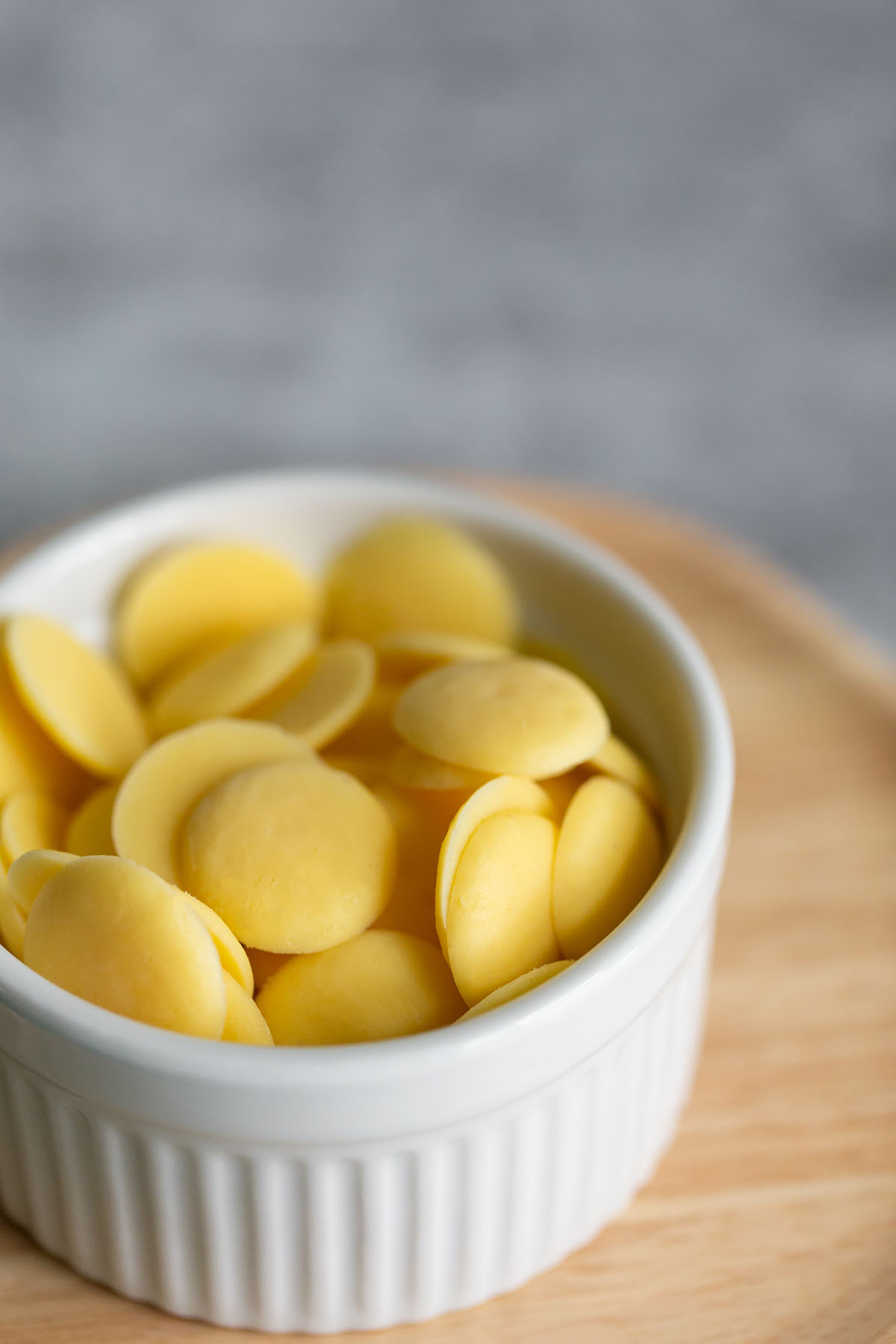 When Zara was a baby, we used to get her the freeze-dried yogurt bites. They came in a lot of different flavors and she loved them. But they were kinda expensive.
Now that Archer is getting to be the age to appreciate some good yogurt bites, I decided to make my own recipe. These are homemade, frozen yogurt melts. And they are easy to make. And all you need to do is keep them frozen until it's time to eat them! It's an easy (and cheaper) diy alternative to those freeze-dried yogurt bites.
I love that both Archer (a baby) and Zara (a toddler), both love this recipe! Honestly, as an adult I love these frozen yogurt bites too. They're pretty tasty. And they are just so easy to diy and make a homemade version of. And you can absolutely customize these to whatever fruits you have around your house and that are in season. Keep it healthy!
Ingredients:
Fruit (we used mango for these) - you can use any type of fruit you have around! Strawberry, raspberry, mango, blueberry!
Banana
Greek yogurt
What type of fruit should you use for the yogurt melts?
You can use whatever fruit you want! I used mango because I wanted something with a pretty subtle flavor since Archer has only recently started eating solid foods. However, you can you strawberries, blueberries, pineapple, etc.
Should you use fresh or frozen fruit?
You can use either. However, if you're using frozen fruit, you may want to let it thaw just slightly. Otherwise, depending on your blender, it can be hard to blend everything together. We have this high-power blender that I absolutely love, and I still let the frozen mango thaw just slightly before blending up.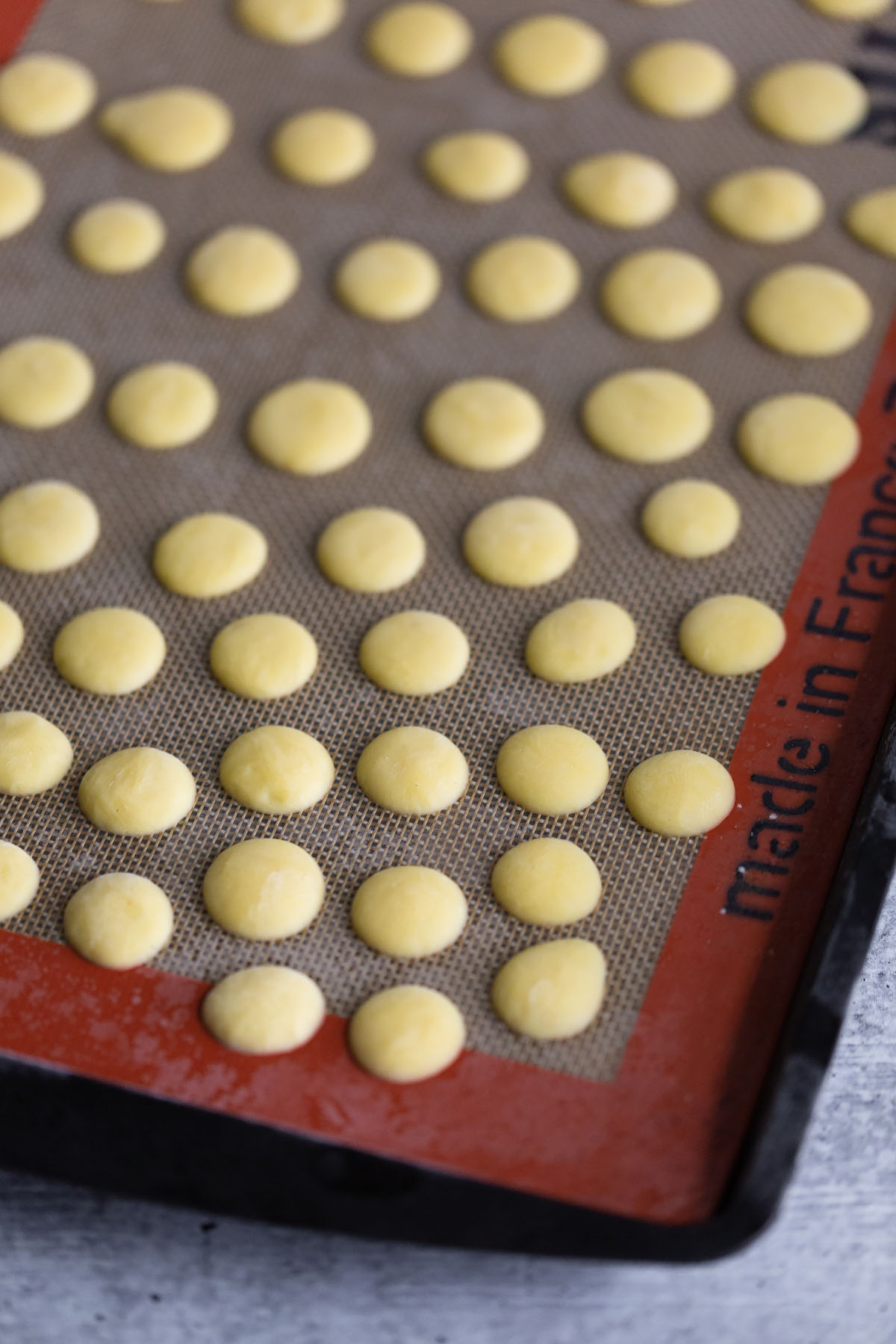 Can you add vegetables to yogurt melts?
You can! I like to incorporate a bit of spinach. It helps with the iron that babies need, but it is mild and easy to incorporate a handful when you're making the homemade yogurt melts.
What age can babies eat yogurt melts?
You always want to assess your babies' ability to eat and how they are doing and progressing. Yogurt melts are nice, because they really do melt. Some packaged freeze-dried yogurt bites will absorb humidity and become a bit hard to chew/swallow for babies, but since these really do melt, they can be a bit easier to eat.
I always recommend sitting right with babies when they are eating so you can intervene at any signs of distress. However, you can feed these to babies starting at 6 months if they are ready, but you may want to start with softer foods (if you haven't), and introduce harder things like frozen yogurt melts once they have a better handle on eating and swallowing foods properly.
Do yogurt melts help with teething?
My son is actually in a teething phase right now, so I do love giving him cold stuff to help his little gums. He SEEMS to appreciate it, but he can't talk, so who knows.
Can toddlers help make the yogurt melts?
Um, absolutely. This is a very fun activity to get toddlers to help with. Just check out the video below of Zara helping to make these and see what I mean. Honestly, Zara loves these so much I use them as a dessert food for her. Jokes on her! These are so healthy!
How to make the frozen homemade yogurt bites:
First, line two cookie sheets with parchment paper, wax paper, or a silpat mat. Then, add the fruit (slightly thawed if previously frozen), half a banana, and greek yogurt to a blender. Blend up until completely smooth.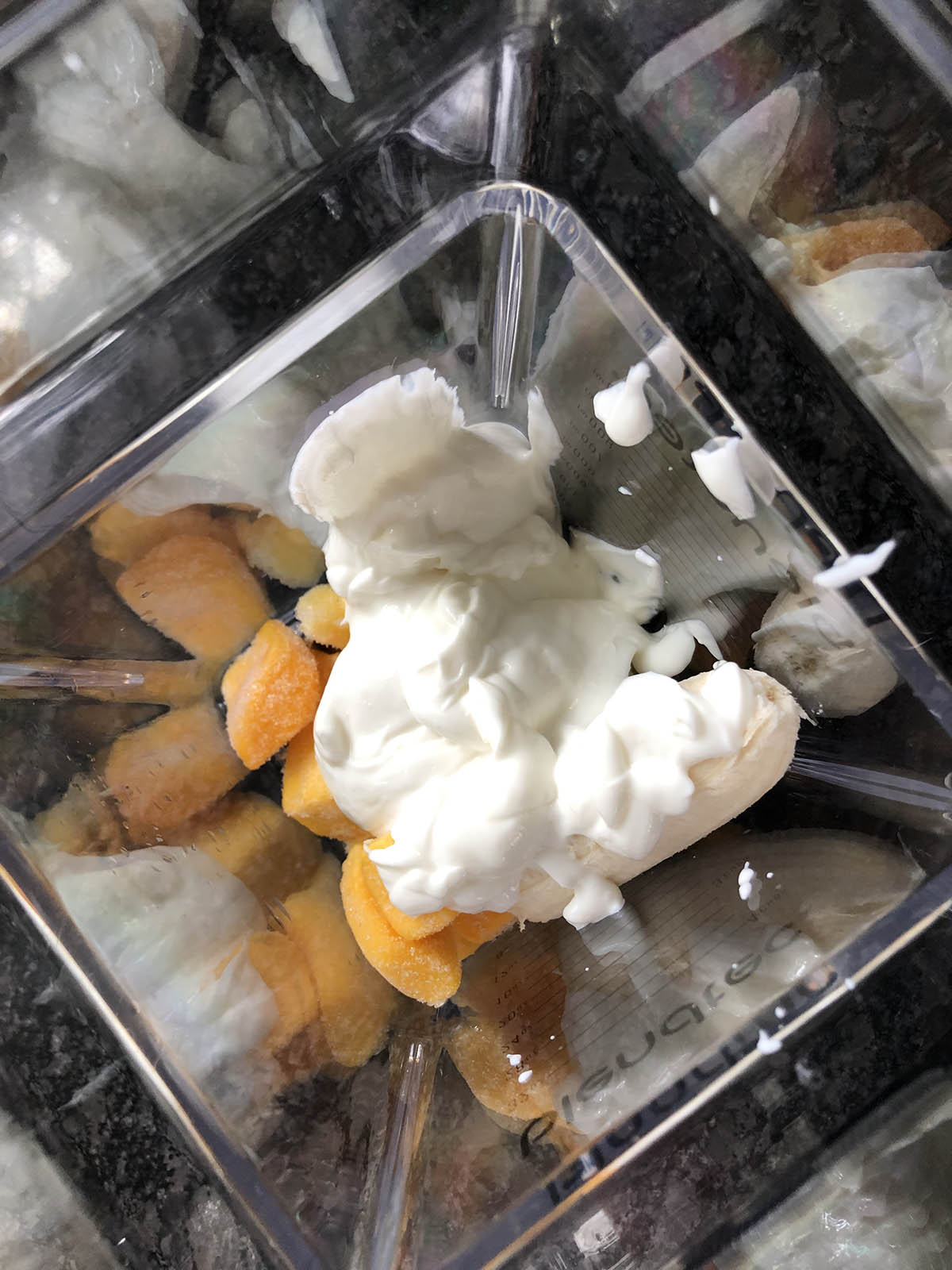 Add to a ziplock plastic bag and seal. Slice off a tiny tip of the bag with scissors and pipe the mixture onto the parchment or silpat mats, creating dots. This recipe should make enough to where you would need to do this on two cookie sheets.
Be warned... the mixture comes out quickly, so just snip off a very slight bit of the plastic bag so you don't create too large of a hole.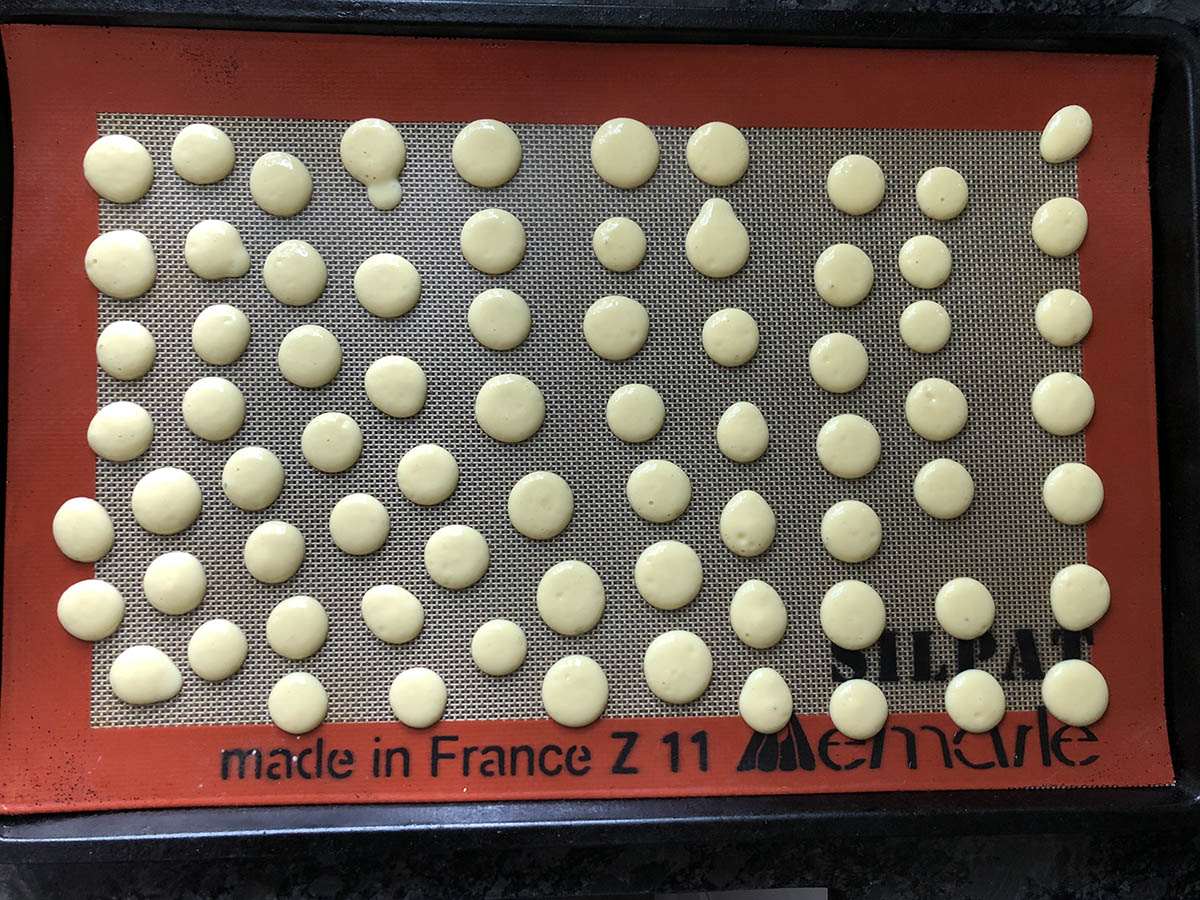 Next, stick the cookie sheets in the freezer and freeze for at least two hours. Then, quickly take each cookie sheet out and peel off the yogurt melt dots. Place in a container or plastic bag in the freezer until ready to eat.
These yogurt melts do melt quickly, so definitely keep in the freezer until just ready to serve to your toddler or baby!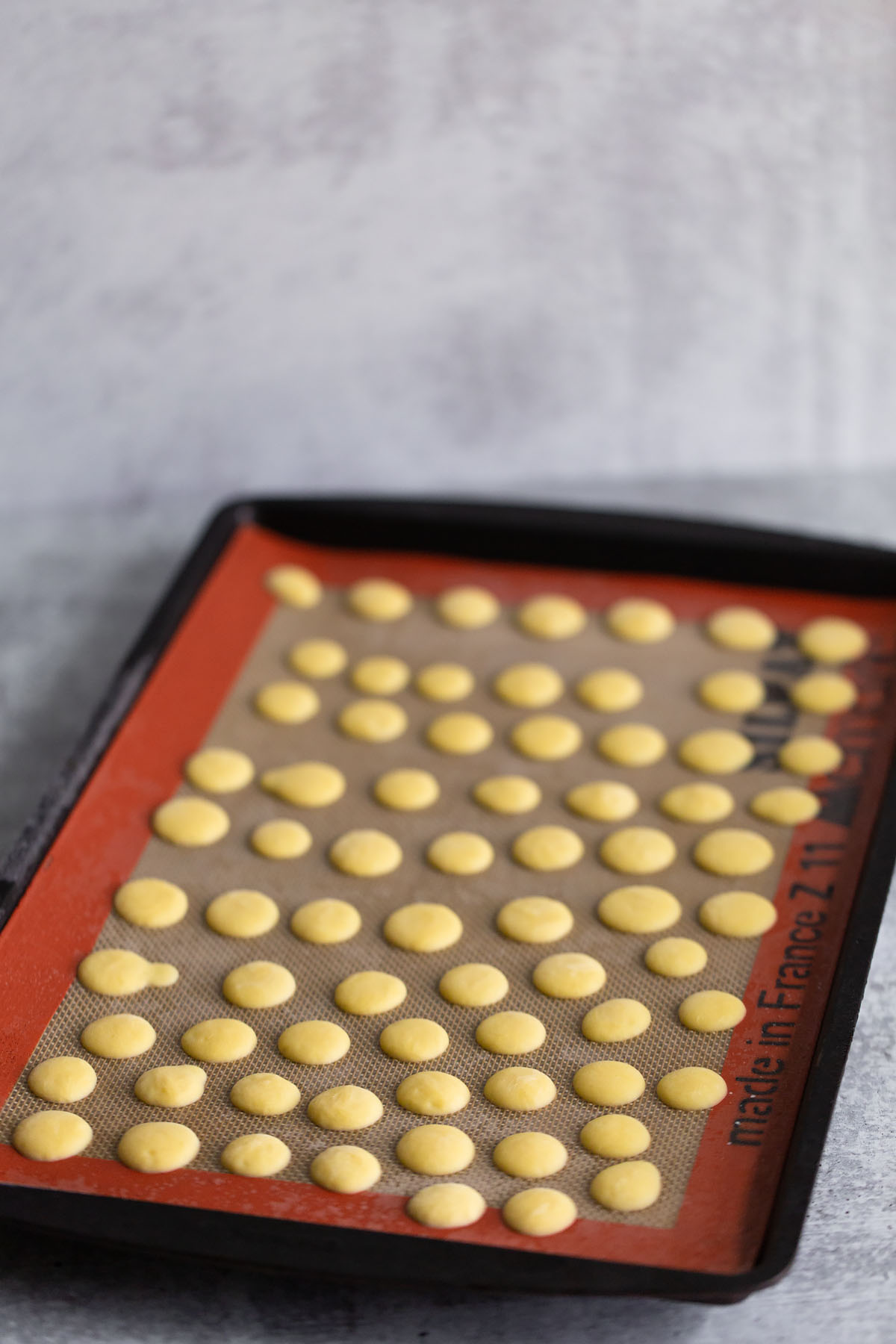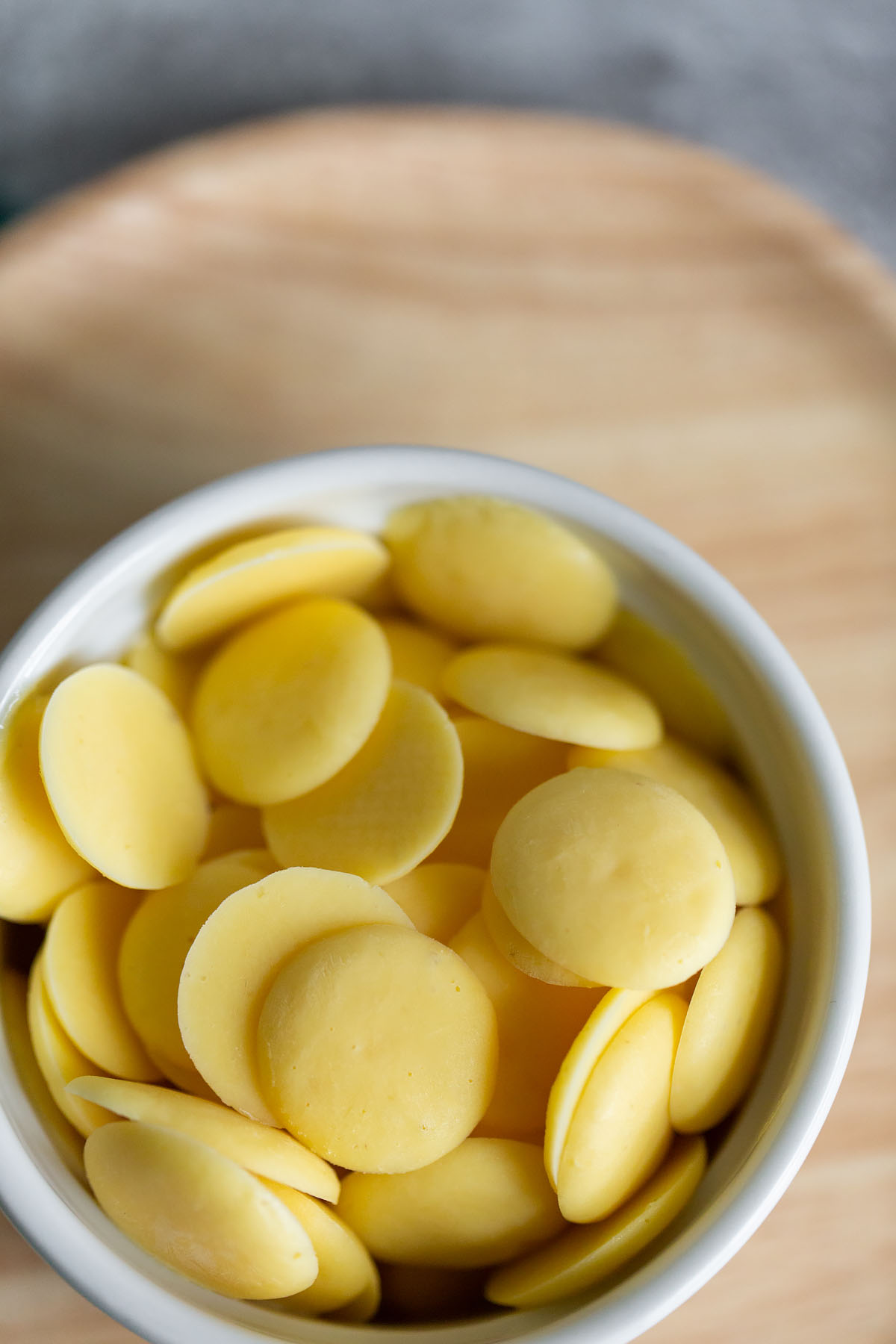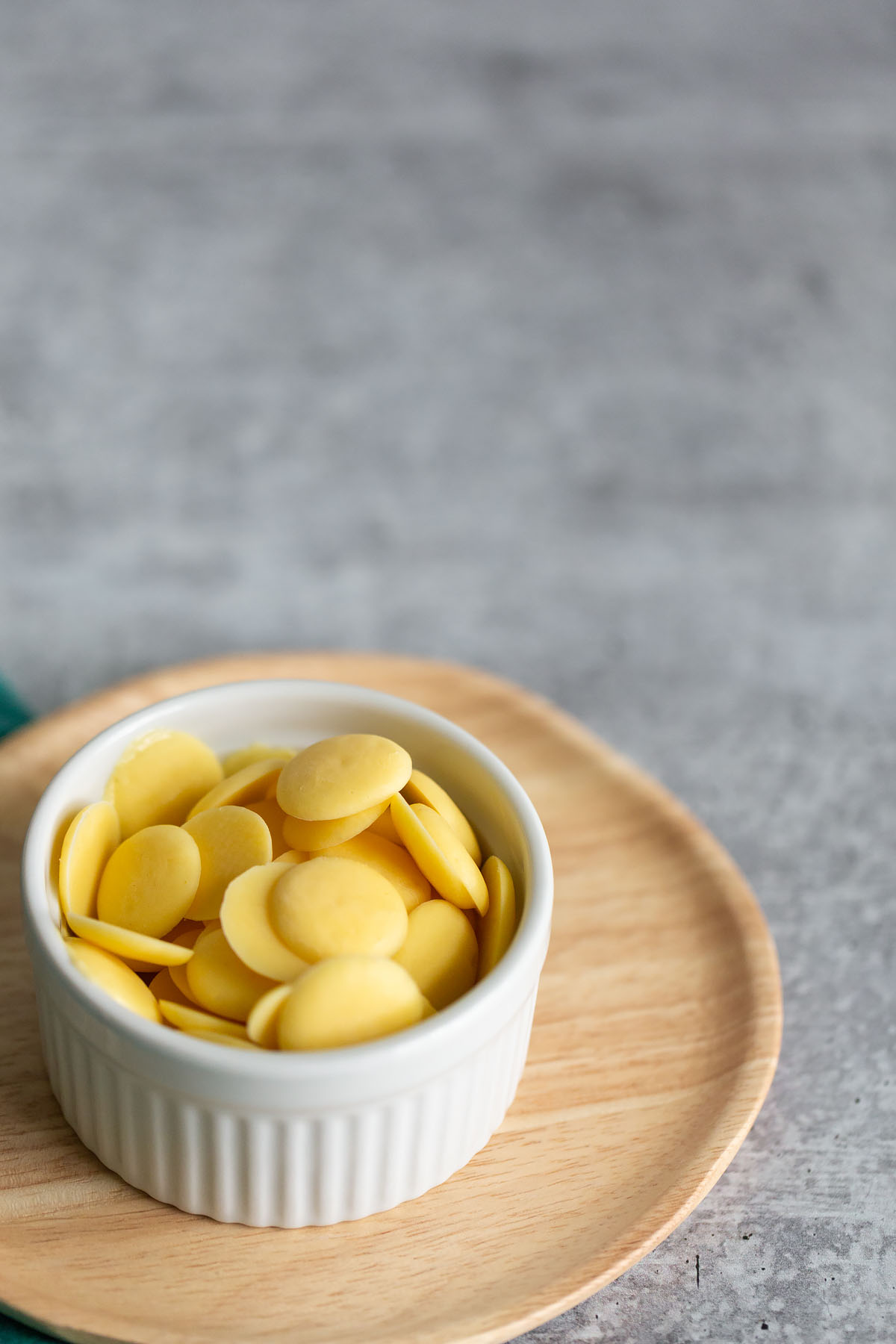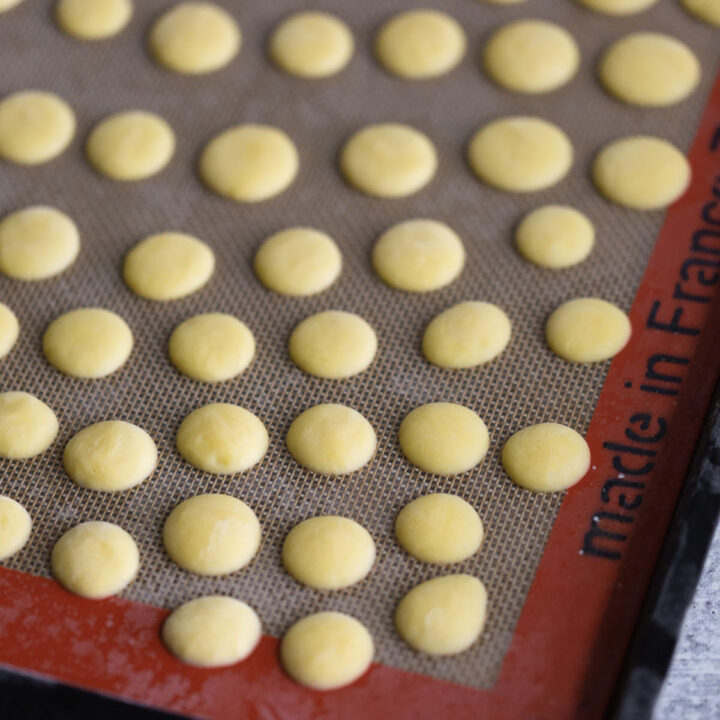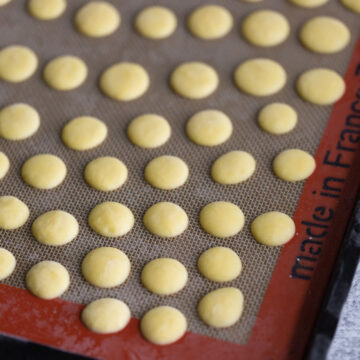 Frozen Yogurt Bites
These mango yogurt bites are so delicious and tasty! These yogurt melts are an easy, toddler-friendly snack.
Ingredients
1

cup

mango

½

banana

½

cup

greek yogurt
Instructions
Line two cookie sheets with parchment paper, wax paper, or silpat mats.

Take the mango, banana, and yogurt and add it to a blender. Blend until completely smooth.

Add the mixture to a plastic ziplock bag, and seal.

Snip off a tiny corner of the bag (just a tiny bit, the mixture comes out quickly!)

Pipe in small dots (or whatever shapes you desire) onto the parchment or silpat mats.

Place in the freezer for at least 2 hours to harden.

Once frozen, peel off the parchment or silpat and place in a container or ziplock bag and store in the freezer until ready to enjoy.
Tried this recipe?
Tag @foodbanjo on Instagram and share your photos!