Pan con tomate is a delicious Mediterranean dish. This Spanish tomato bread recipe uses fresh tomatoes and garlic, along with toasted bread, for an easy, delicious appetizer or snack.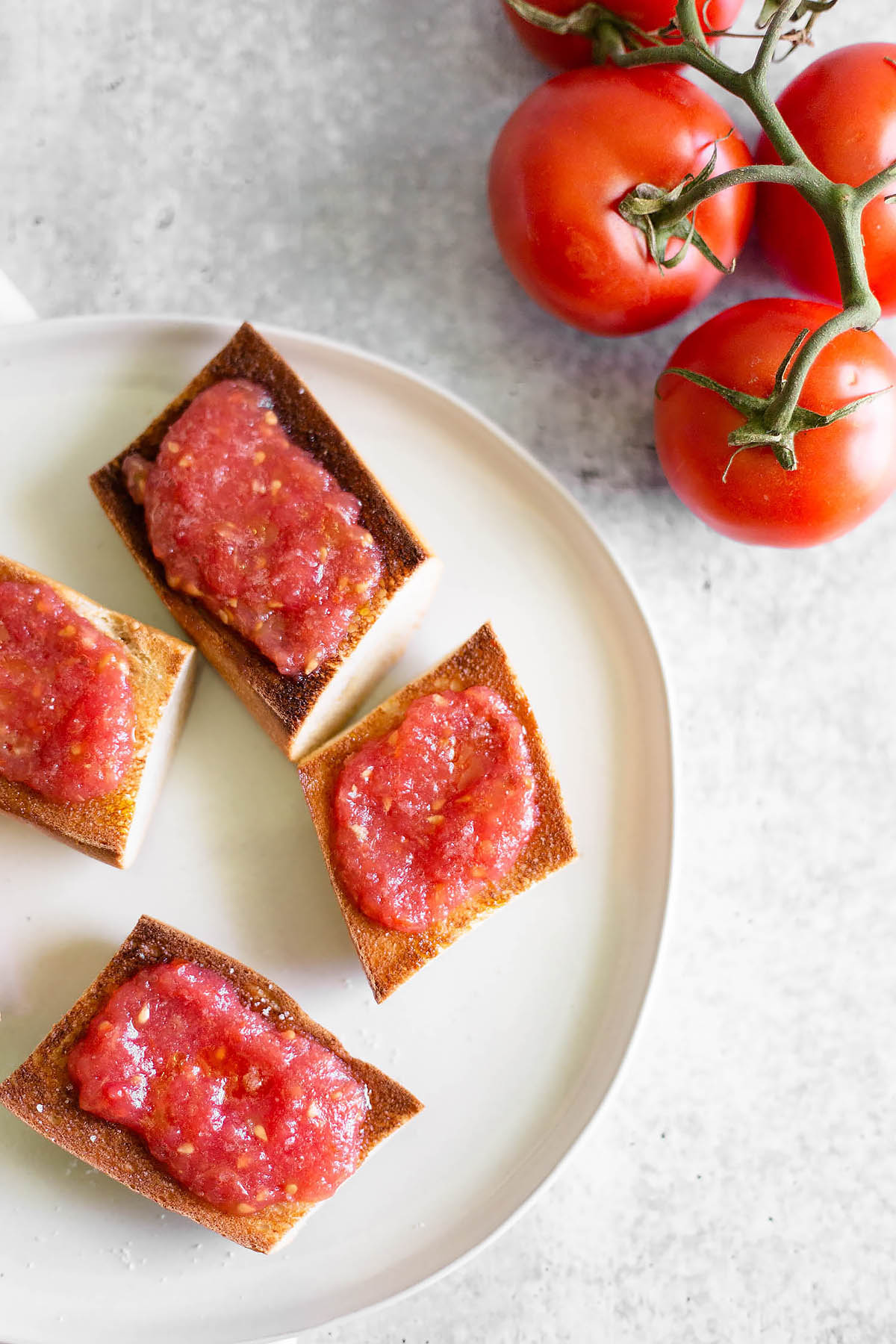 Lately, we've been looking for food to transport us to another place. Since we can't really travel ourselves.
So this pan con tomate has been one of the dishes that's been on our menu lately. It makes us feel like we're vacationing in Spain. It makes us think of sunny days on the Mediterranean, or in the center of Madrid.
I think this dish actually originally came from the Catalan region, called pa amb tomàquet there.
Wherever you have it, however you make it, it's delicious.
Two ways of making pan con tomate
In one method for making this pan con tomate recipe, you halve the tomato and rub directly onto the bread, getting all the tomato juice onto the bread directly.
The second method for this Spanish tomato bread has you grate the tomato into a bowl using a grater, and then you spoon that over your bread slices.
Which way is better?
We tried both ways, and I like them both! The flavor of this Spanish tomato bread with just directly rubbing the tomato on the bread was really delicious, however the juiciness of spooning the tomato over the bread was also delicious.
I feel like if I were to serve this recipe to my toddler (who has a habit of making a mess), I would rub the tomato onto her bread for her. And if I were eating it myself, I'd probably spoon it over the top.
So the recipe in this post talks about doing it that way. Spooning it over the bread for maximum tomato.
Ingredients
Tomatoes - Roma, Campari, or Beefsteak
Loaf of crusty bread, like ciabatta or french bread
Olive oil
Garlic cloves
Salt
How to customize the dish
The pan con tomate is DELICIOUS served as is, but if you want to customize it, there are a lot of options:
Top with some Spanish ham
Top with roasted or satueed leeks or onions
Sprinkle a little cheese on top
What to serve with pan con tomate
The pan con tomate is delicious on its own as an appetizer or snack. But if you're going to make it part of a meal, here's a few ideas for pairing.
Instructions
For either version of pan con tomate, you'll cut up your bread into medium slices and each slice in half, so you have a "face up" style of bread.
Lay them on a baking sheet.
How you cut your bread may depend on what bread you're using. Either way, you want a slice of bread you're able to easily hold in your hand and makes sense as an appetizer.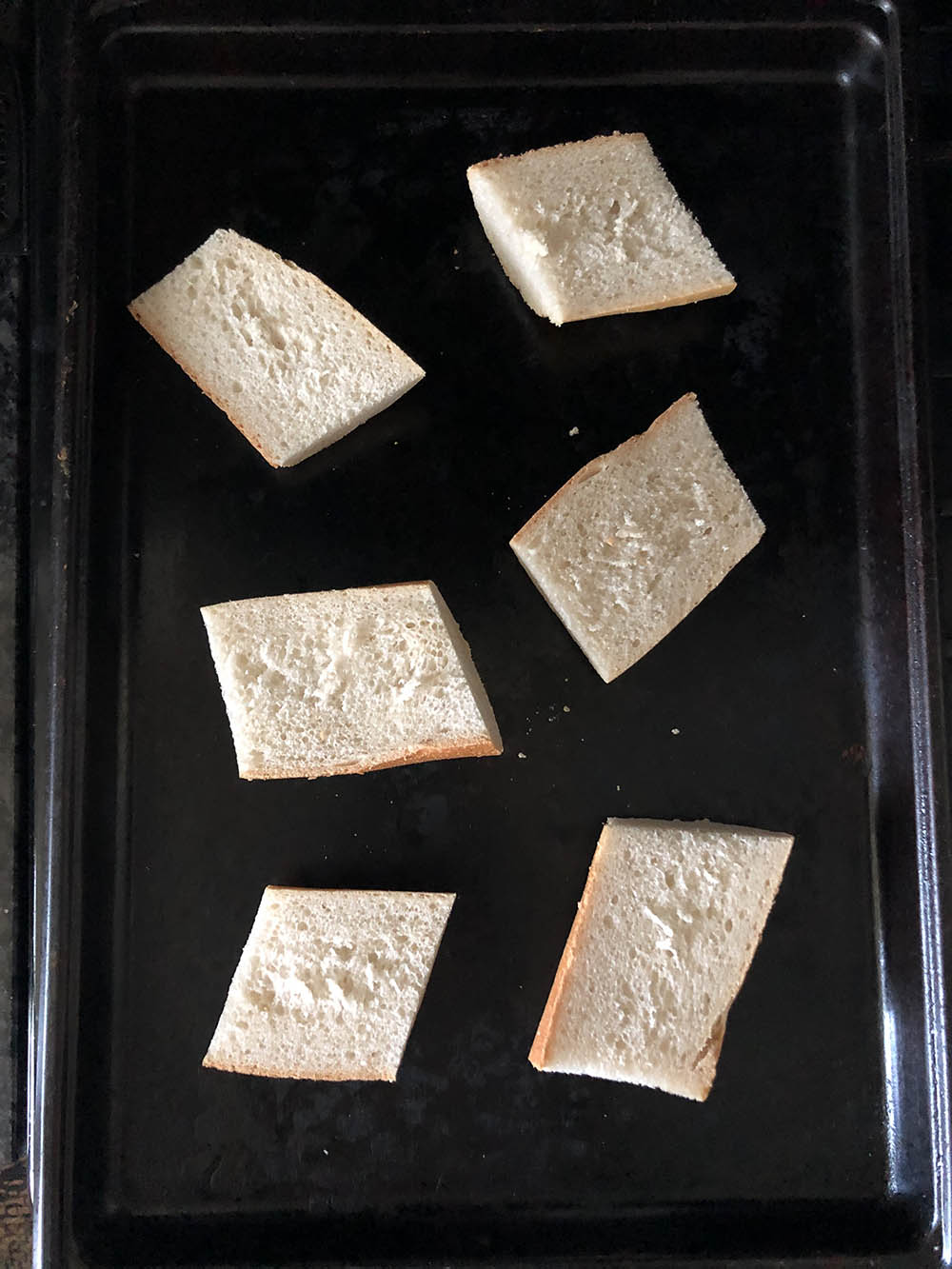 You'll then drizzle olive oil over each piece of bread and rub in. Or, alternately, you can use a pastry brush to spread olive oil over the bread.
Place in the oven under the broiler to toast up.
While your bread is toasting, prepare your tomatoes.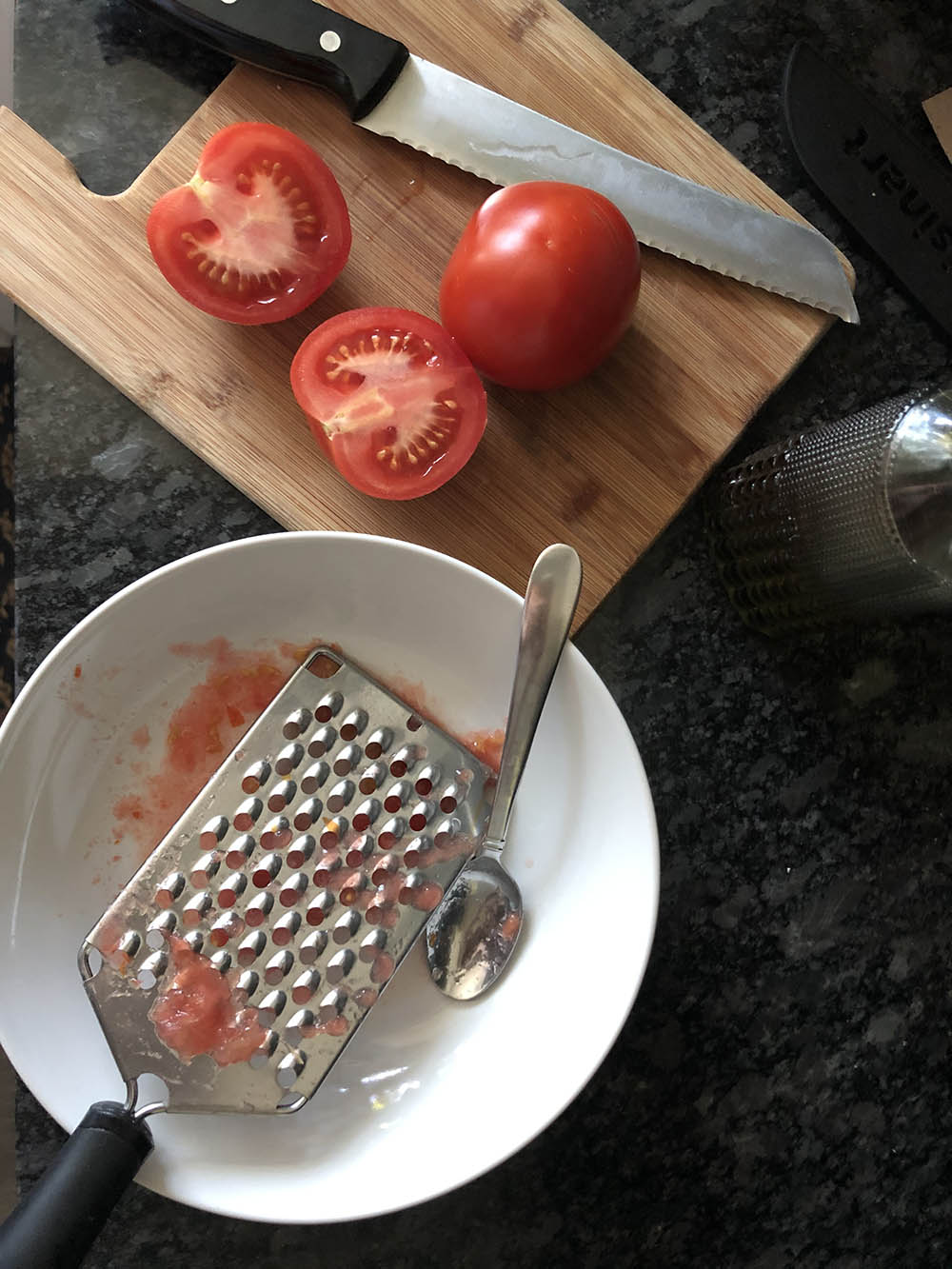 Wash your tomatoes and cut them in half. Using a grater, grate each tomato until the flesh is completely grated, and all you have left behind is the skin, then discard the skin.
You should wind up with a bowl of tomato deliciousness that looks like this.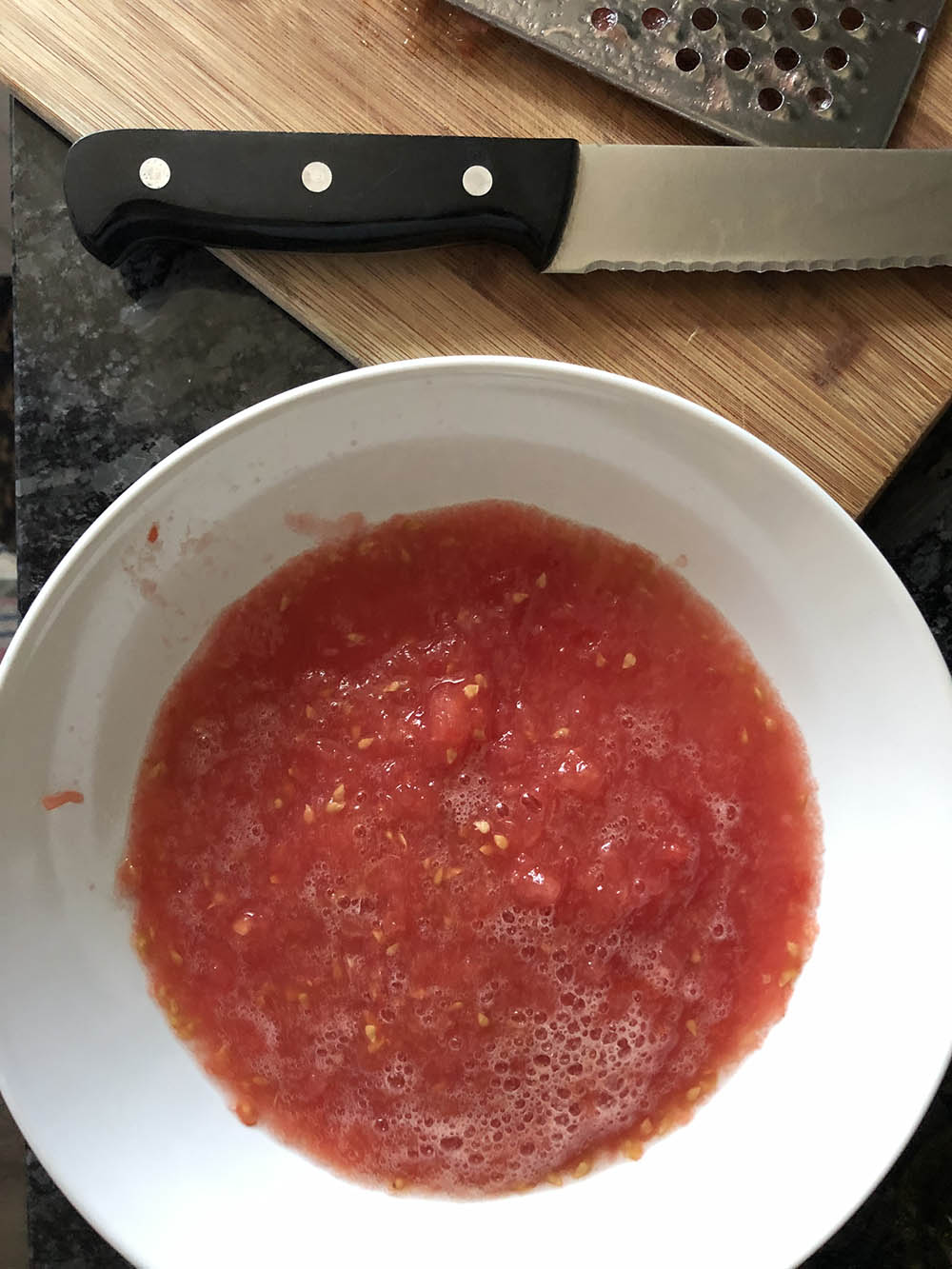 Remove the bread from the oven, rub with cloves of garlic, then spoon the grated tomato over the slices. Season with salt and a drizzle of olive oil as needed.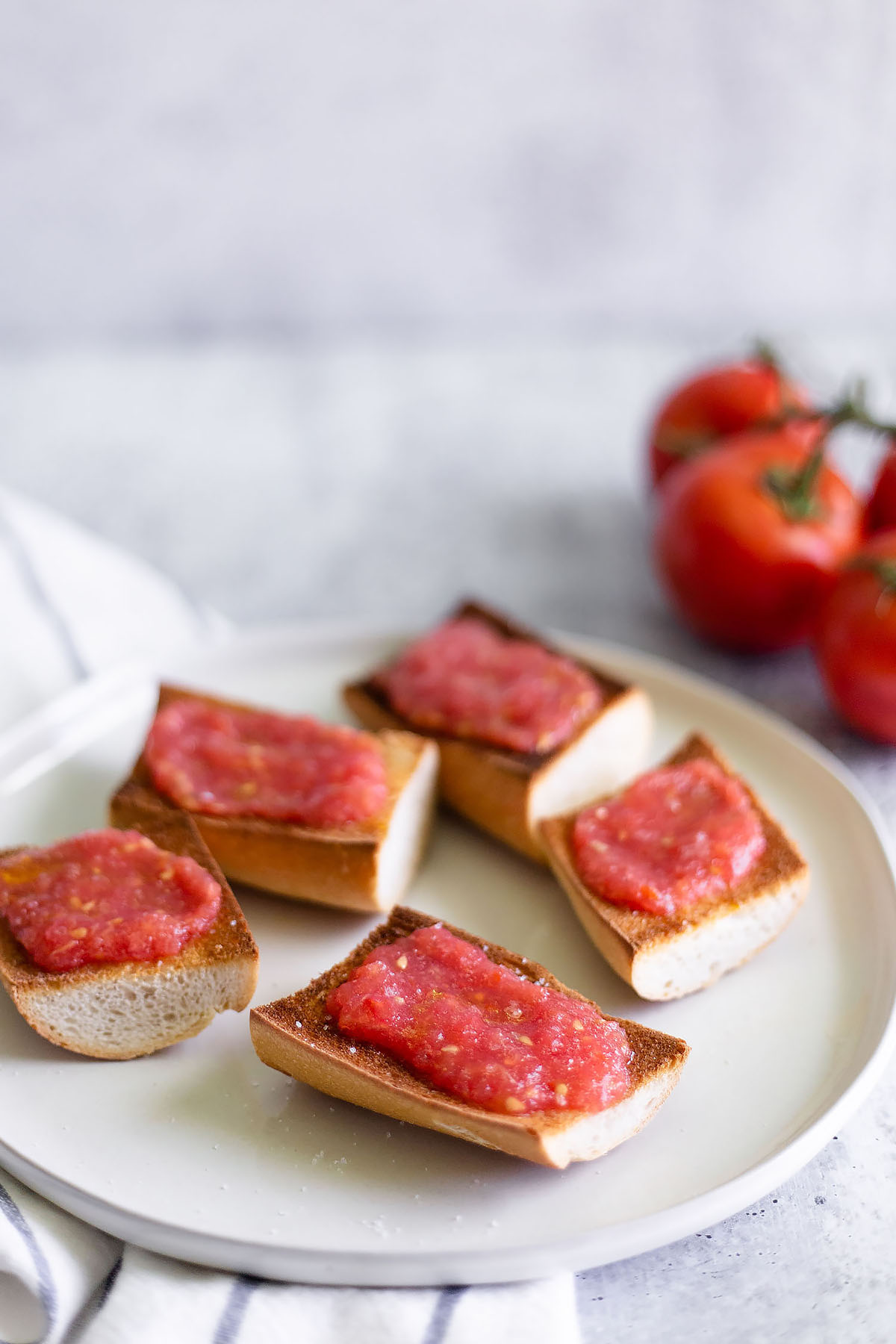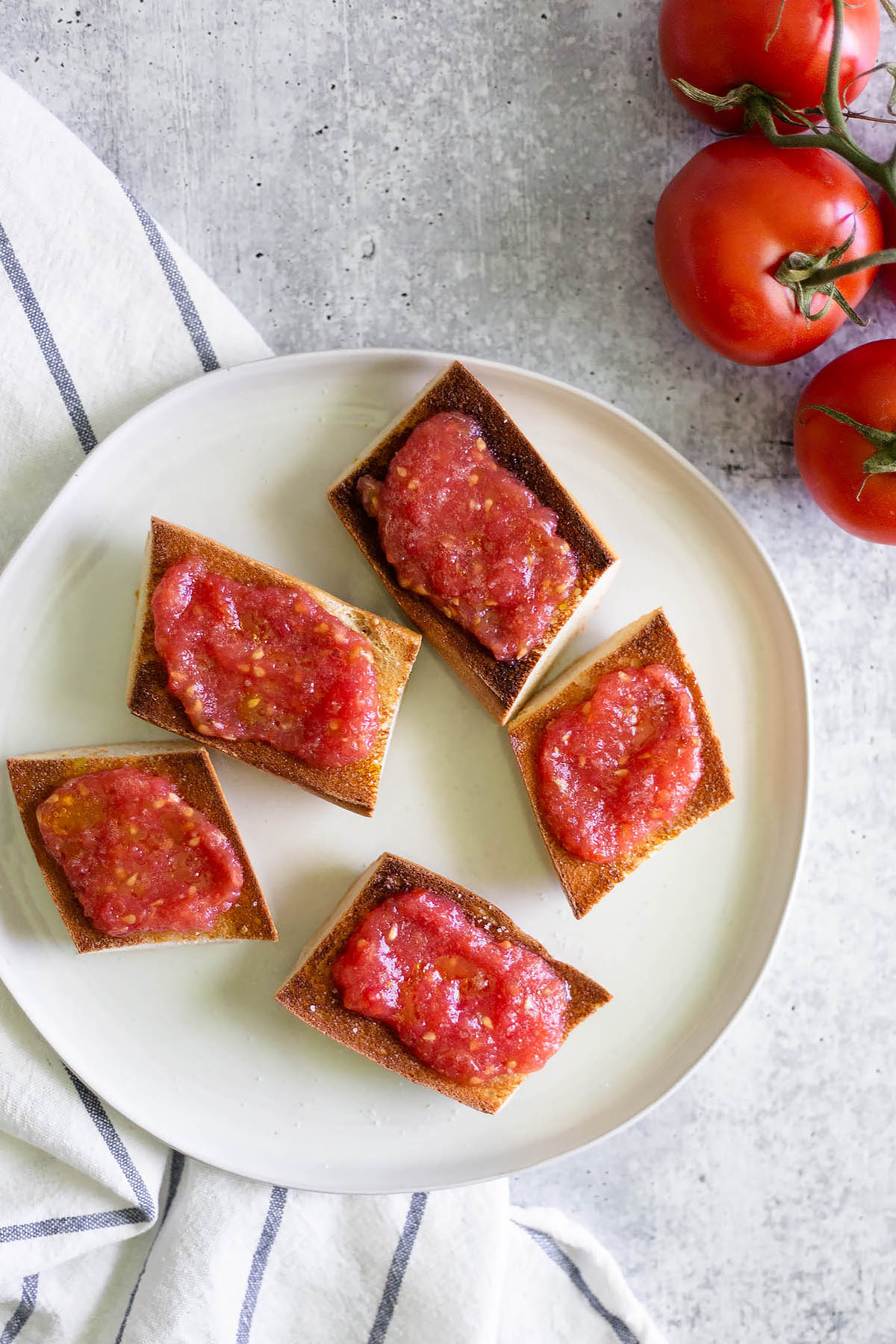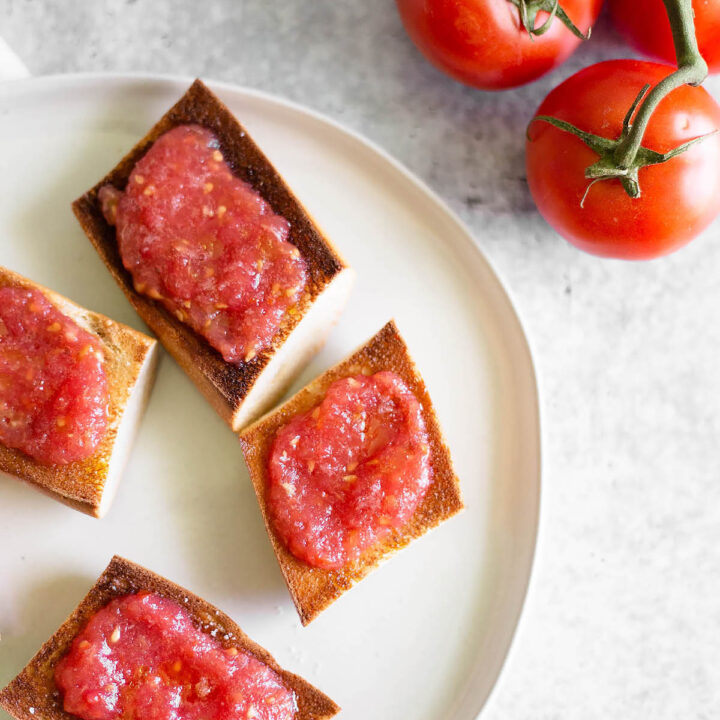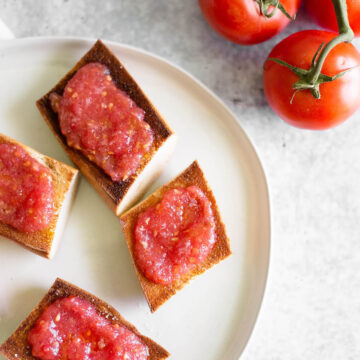 Pan Con Tomate - Spanish Tomato Bread
Pan con tomate is a delicious Mediterranean dish. This Spanish tomato bread uses fresh tomatoes and garlic, along with toasted bread, for an easy, delicious appetizer or snack.
Ingredients
3

roma or campari tomatoes

½

loaf of ciabatta or French bread

2

cloves

garlic, cut in half

extra virgin olive oil

sea salt
Instructions
Turn on your broiler to preheat.

Take your bread and cut it in thick (3-4 inch) slices, then cut each in half so you have slices that have faces.

Place your slices on a cookie sheet, face up, then brush or drizzle each slice with olive oil.

Stick under the broiler for 2-3 minutes until toasted.

While bread is toasting, take your tomatoes and slice each in half. Grate the flesh and insides into a bowl, using a grater or box grater. Discard the tomato skins.

Once the bread comes out of the oven, rub each slice with a piece of garlic. Put on a plate, and spoon the tomato mixture over each toasted slice of bread.

Sprinkle a bit of sea salt and drizzle with a bit of olive oil, if desired.
Notes
If you are using beefsteak tomatoes instead of roma or campari, you may only need 2.
If nutrition info is shown, values are based on an online calculator and are estimates. Please verify using your own data.
Tried this recipe?
Tag @foodbanjo on Instagram and share your photos!