Cucumber lemon water is a delicious detox drink and has so many benefits! It's easy to make, and keeps water from being boring. Mix up flavors and fruits for lots of variations.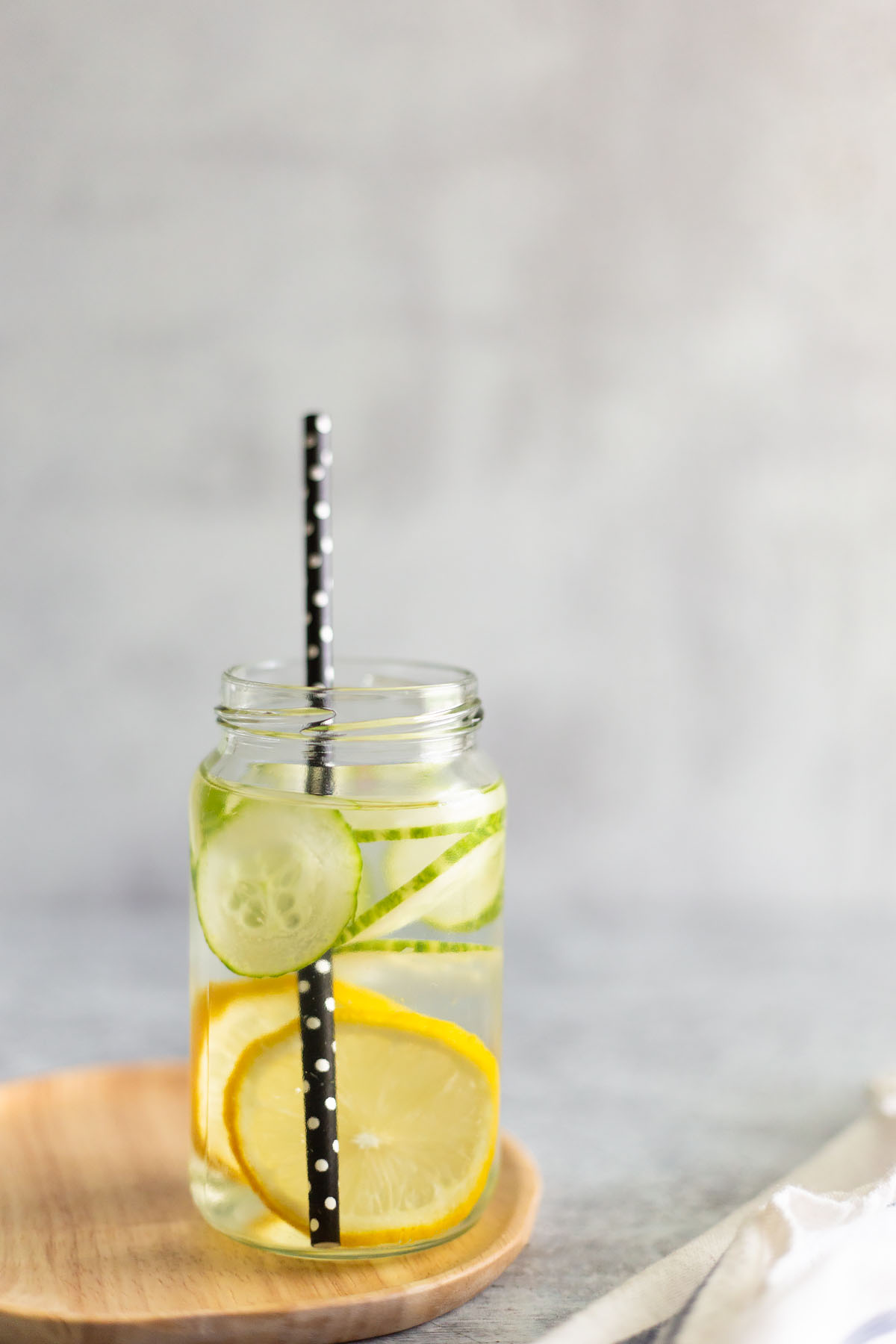 This post contains some affiliate links, which means that I make a small commission off items you purchase at no additional cost to you.
So lately I've been falling so short on drinking water. How much are we supposed to drink a day? 8 cups? 11 cups? Depends on our weight and how much we work out and other factors?
Regardless, I'm failing. Again and again. Every day.

So I've tried incentives to drink water. One thing that has helped is this water bottle. I got it last year, and I recently pulled it out again and it's helping SO much.
The other thing that has helped is to make drinking water interesting again. So I've been doing more infused waters. Lately, I've been loving cucumber lemon water. Apparently it's also supposed to help with detox and is supposed to be alkaline?
Whatever the health benefits are, it's delicious. And helping me to drink more water, which is so important. And if it winds up being some sort of detox drink, that's even better!
Ingredients
Filtered water
Cucumber slices
Lemon slices
Variations
Mint - Add fresh mint to the water for a delicious mint infused water. It adds a nice freshness to the drink.
Lime - If you have limes around, swap out the lemons for limes. Or even just add limes to the mix!
Strawberries - A cucumber strawberry detox water would be delicious!
Raspberries - Fresh or frozen raspberries would work well
Peaches - I love peaches, and fresh peaches would flavor the water beautifully
Flavor tips:
Make sure you're not overpowering any flavor in this cucumber lemon water! For example, lemon does a GREAT job flavoring the water. And it can overpower the cucumber. That's why in my recipe I used a lot of cucumber slices, and only a couple of lemon slices.
Ultimately, find a balance of what you love. And embrace the differences! That's what keeps water from being boring, right?
Do you need to strain the water after infusion?
For something simple like lemons and cucumber slices, I wouldn't worry about straining anything out. If you add things like mint or peaches, you may want to strain before drinking. You can also use a bottle or glass that is made for infusing fruits. Like that water bottle I mentioned earlier? It comes with an attachment if you want to infuse your water.
How to make cucumber water:
Okay, this MAY be the easiest recipe I've ever posted on the blog. And it's barely a recipe.
Just take some filtered water. Add a few cucumber slices and a few lemon slices to the jar or container. If you have a lid, shake it all up.
Then place in the refrigerator for two hours or more so the flavors infuse into the water.
And then I usually shake one more time, and then enjoy!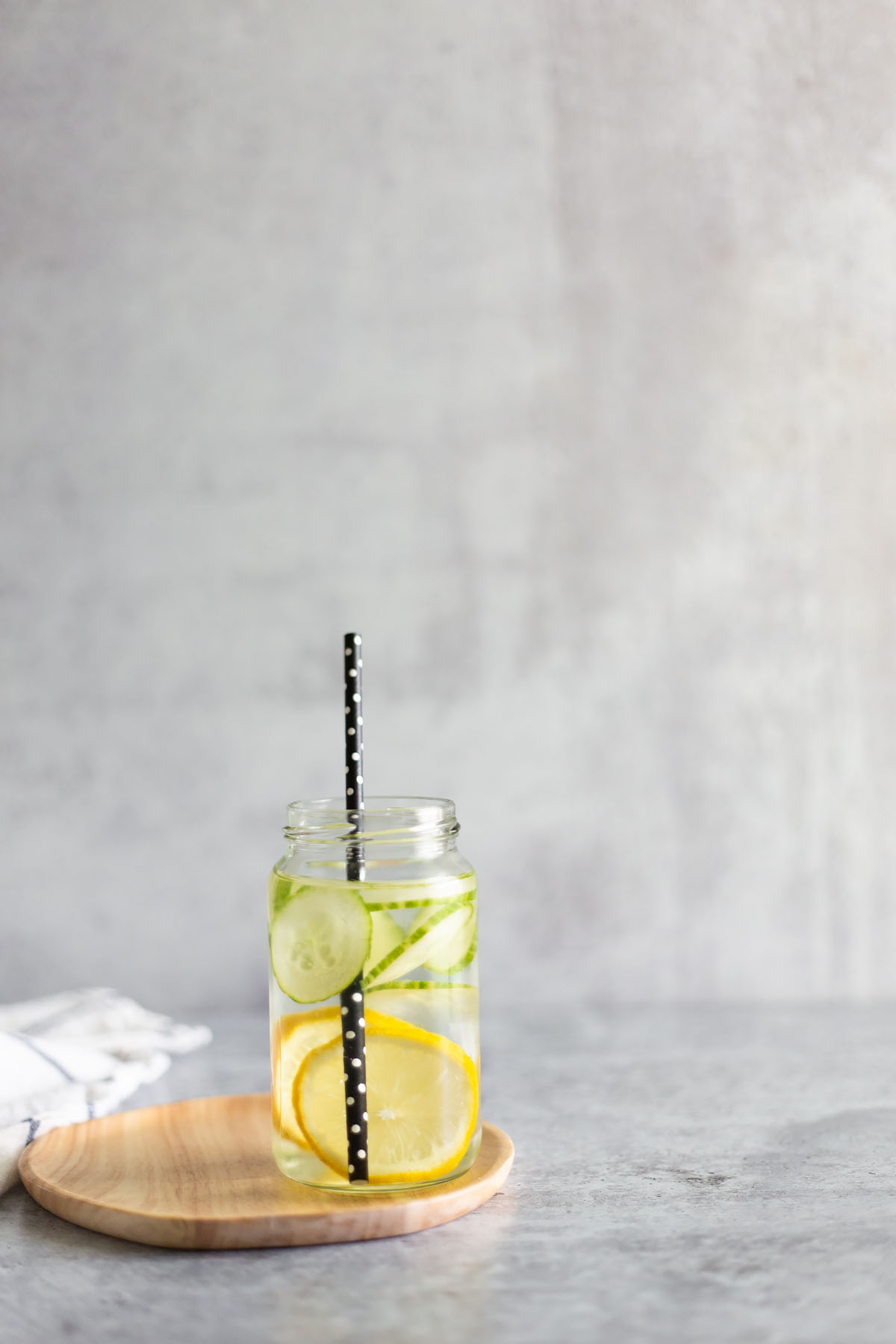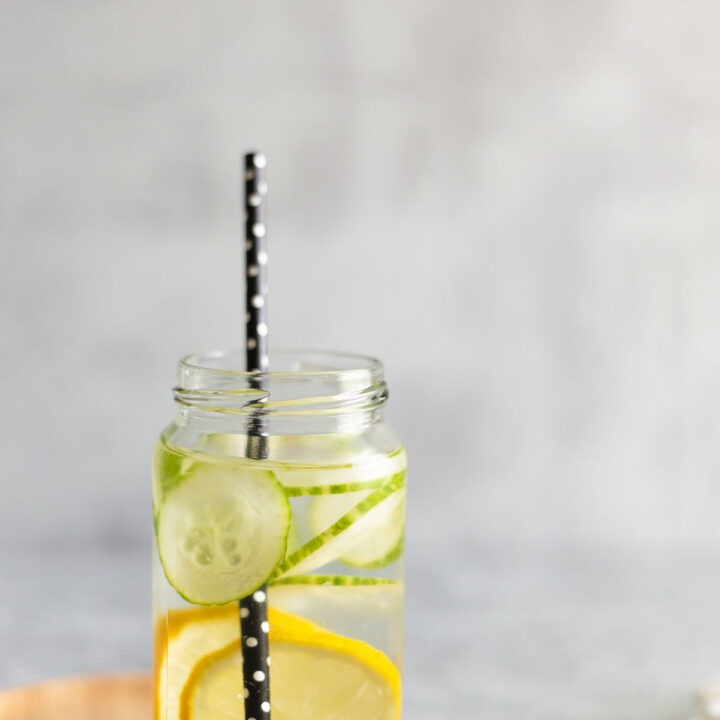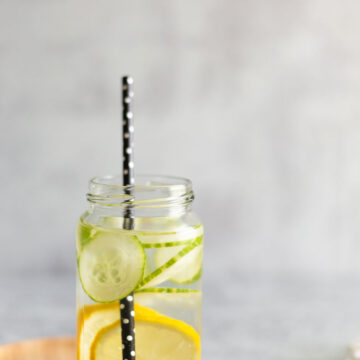 Cucumber Lemon Water
Cucumber lemon water is a delicious detox drink and has so many benefits! It's easy to make, and keeps water from being boring. Mix up flavors and fruits for lots of variations.
Ingredients
1.5

cups

filtered water

8

slices

cucumber

2

slices

lemon
Instructions
To a glass jar, add the filtered water.

Wash the lemon and cucumber if needed.

Cut slices of cucumber and lemon and add to the jar.

Shake (if you have a lid), or stir to combine.

Place in the refrigerator and refrigerate for two or more hours.

Stir or shake again, and enjoy!
Notes
The recipe above is flexible! It can be completely customized to what you have at home. You can also use the same amount of cucumber and lemon slices for a larger amount of water. However, if you're doing a lot more water, like filling a pitcher, you'll want to use a lot more cucumber and lemon slices.
Nutrition
Calories:
11
kcal
Carbohydrates:
3
g
Protein:
1
g
Fat:
1
g
Saturated Fat:
1
g
Polyunsaturated Fat:
1
g
Sodium:
19
mg
Potassium:
95
mg
Fiber:
1
g
Sugar:
1
g
Vitamin A:
43
IU
Vitamin C:
9
mg
Calcium:
22
mg
Iron:
1
mg
Tried this recipe?
Tag @foodbanjo on Instagram and share your photos!