This croissant breakfast sandwich is topped with scrambled eggs, cheese, and fresh basil. It tastes like something you would get at a restaurant, but it's so easy to make at home!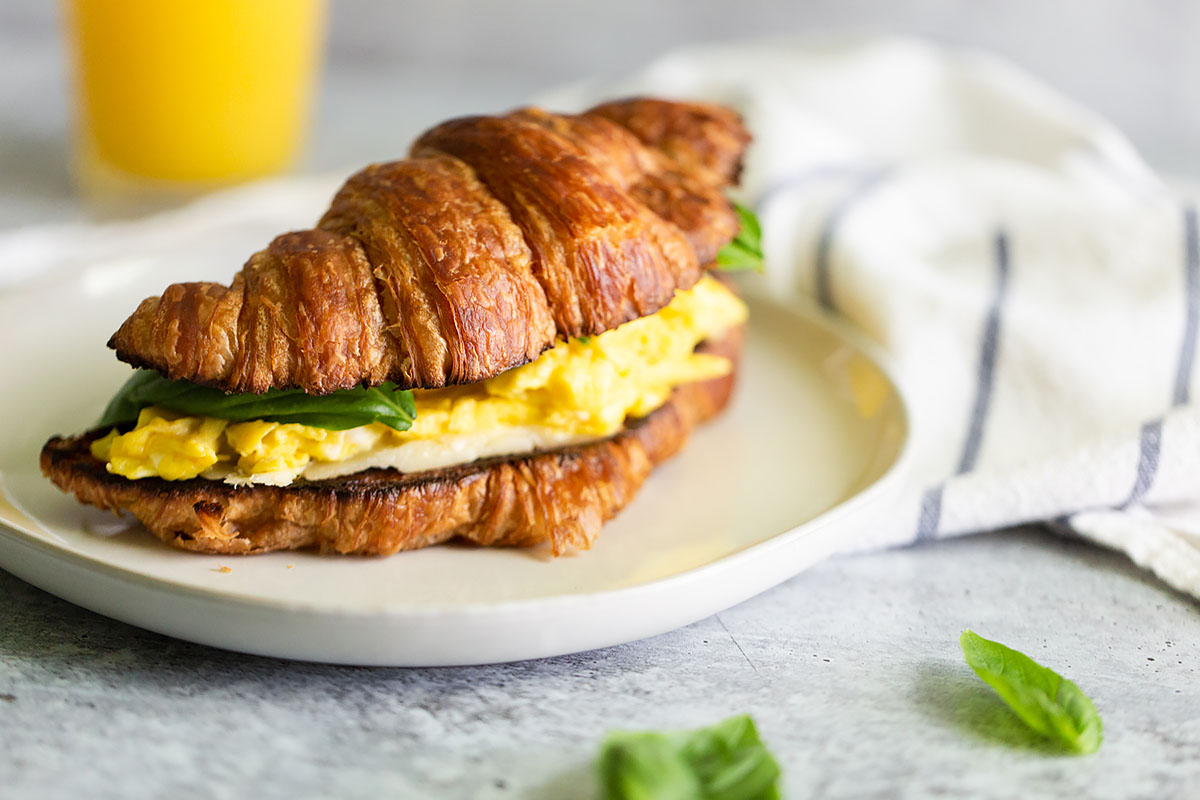 We recently got a bunch of croissants at the store. With no real plans on how to use them. So, I thought I'd make breakfast sandwiches one day! I scrambled up some eggs, sliced up some cheese, and grabbed some fresh basil leaves from our garden.
And boom.
The best croissant breakfast sandwich was born. Seriously. This is probably my favorite breakfast sandwich I ever had. I made them for Josh and myself FOUR days in a row.
We discussed how having these made us feel like we were on vacation. It was something that you would splurge on and savor and enjoy. And this recipe is surprisingly easy to make at home. I have a feeling we're going to be doing this a lot more lately. Especially since we can't really travel anywhere these days. These croissant sandwiches will just transport us to feeling like we're on vacation. A French-Italian vacation with the mix of croissants and basil.
The key to this recipe is to toast up your croissants! I cut them in half, then melt a little butter in a pan and put the croissant halves face down until they become golden brown.
And then top with the rest of the ingredients!
Ingredients
Butter
Croissants
Eggs
Cheese
Fresh basil leaves
Where to find croissants
We typically find croissants at our local grocery store. You can also find them at bakeries, or even get adventurous and make them yourself.
What inspired this recipe was actually Costco croissants. We got a package of 12 giant Costco croissants for maybe $5? And then tried to figure out a way to use them all before they went stale. Breakfast sandwiches to the rescue!
Recipe variations
We topped our breakfast croissants with eggs, cheese, and fresh basil leaves, so it's vegetarian. But here are some other ideas!
Scramble the eggs with some cooked chorizo and top with cilantro
Add bacon!
Top with smoked salmon and thinly sliced red onions. (Add scrambled eggs or not!)
Top with scrambled eggs, ham slices, and a béchamel sauce
Serve face-up and top with sausage and gravy
Related Recipes:
How to make it
First, take your croissant and slice it in half. I prefer to do this with a bread knife, as it cuts easily that way. Then, I melt a little butter in a pan and put the croissant halves in there, face down. I toast them in the butter until they are nice and crispy.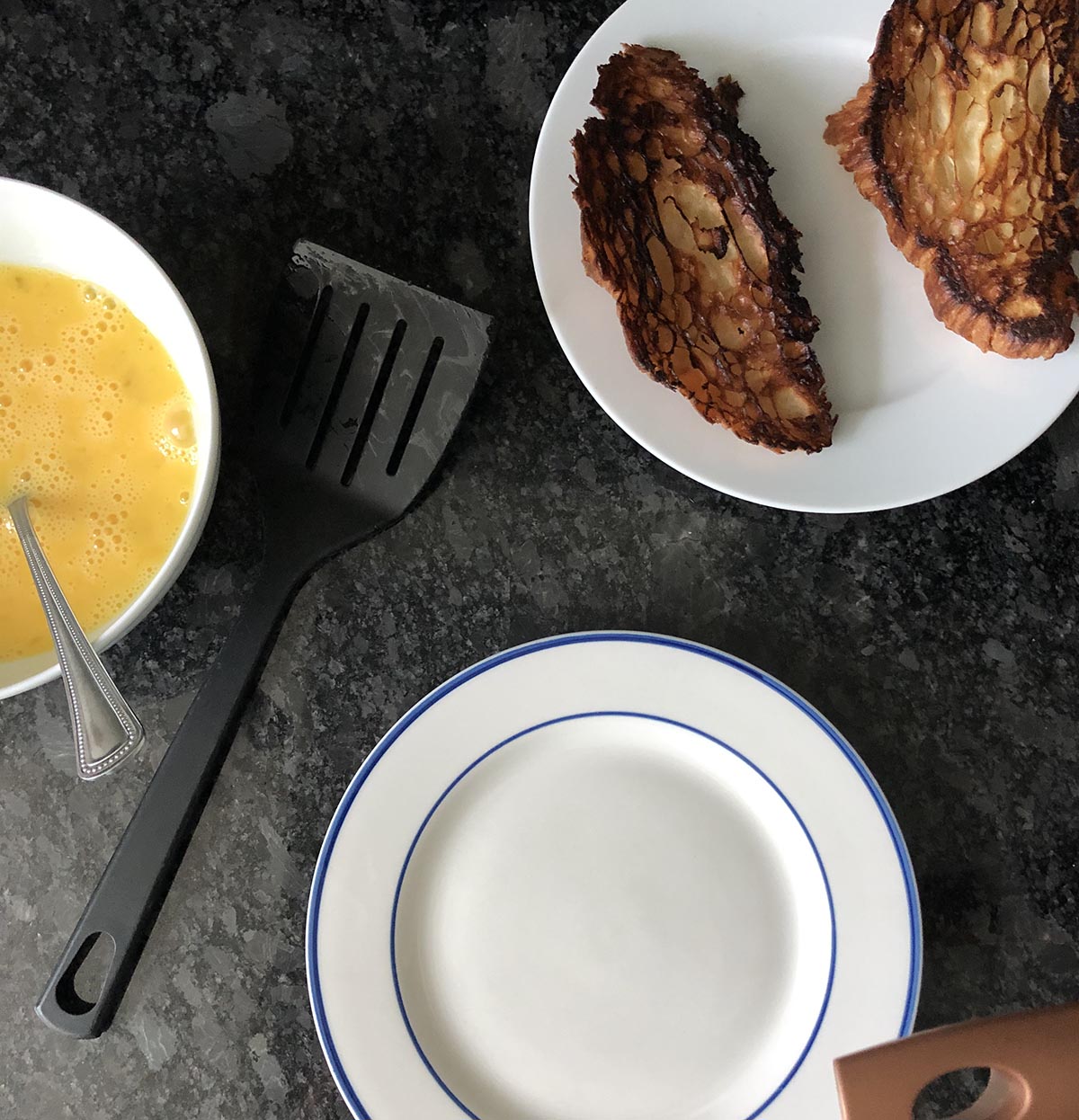 Next, scramble up your eggs! You want them nice and fluffy.
Then, layer your sandwich! Onto the bottom half of the croissant, I lay my cheese, then top with eggs.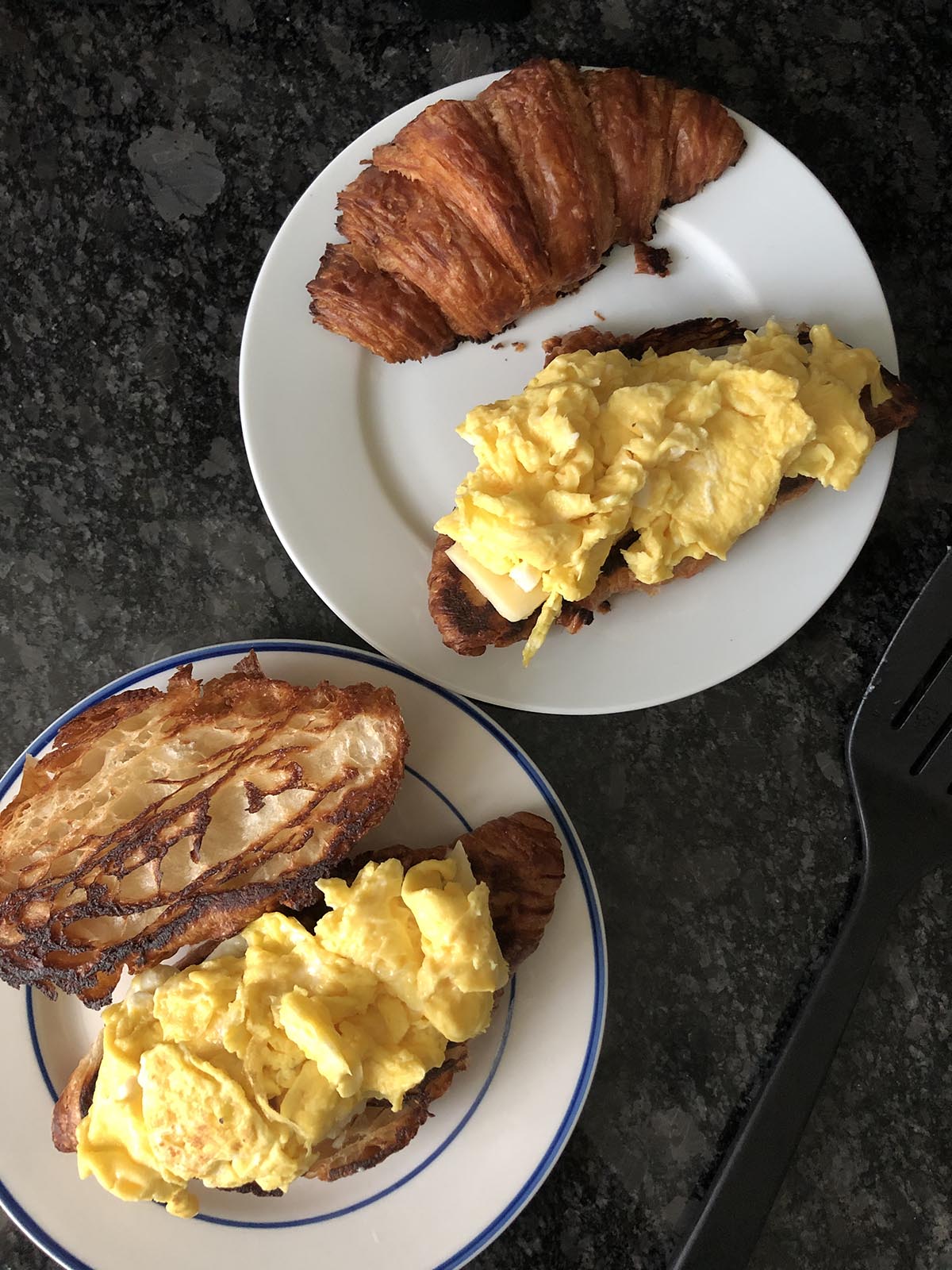 And then finally with the fresh basil leaves!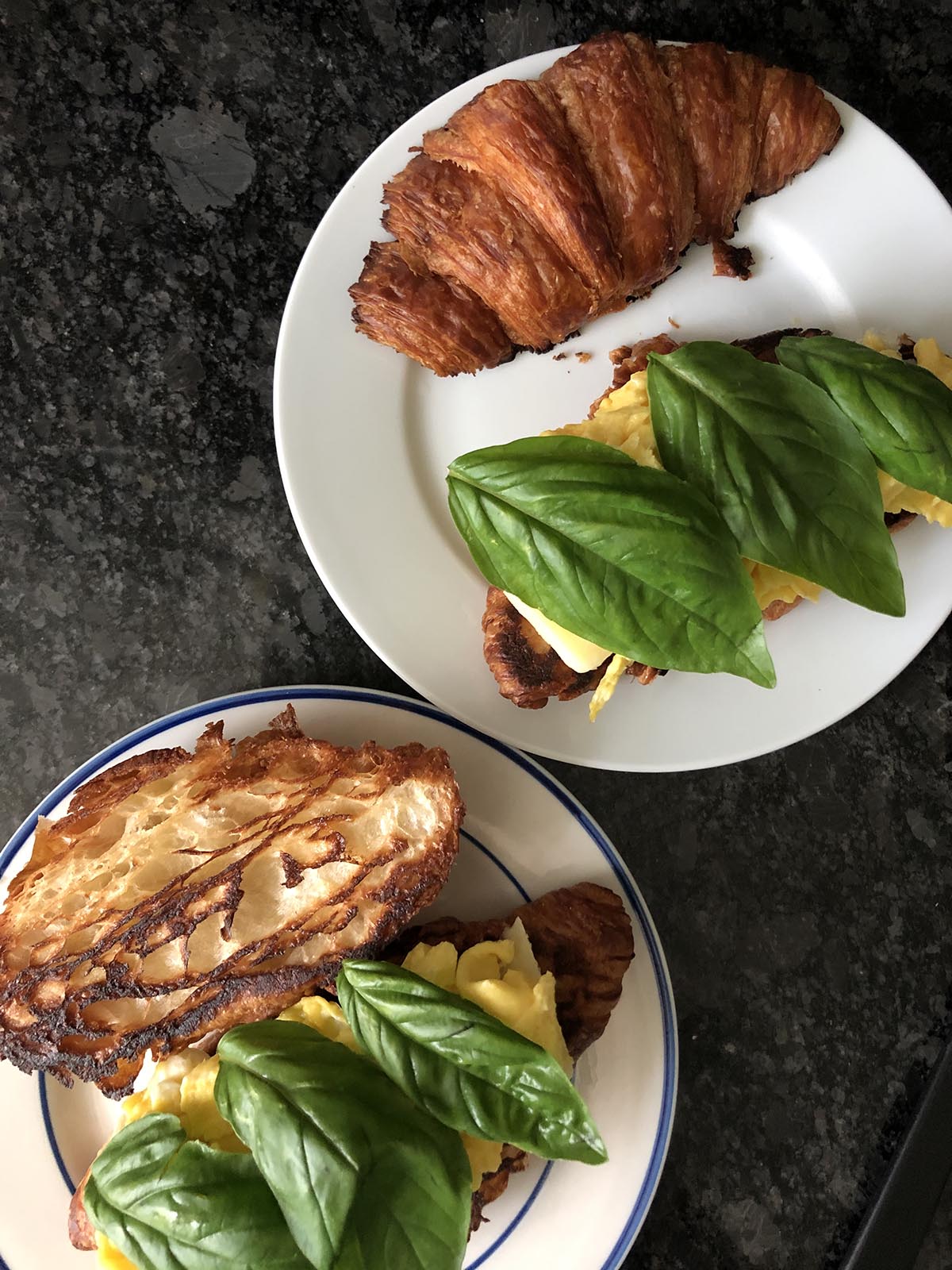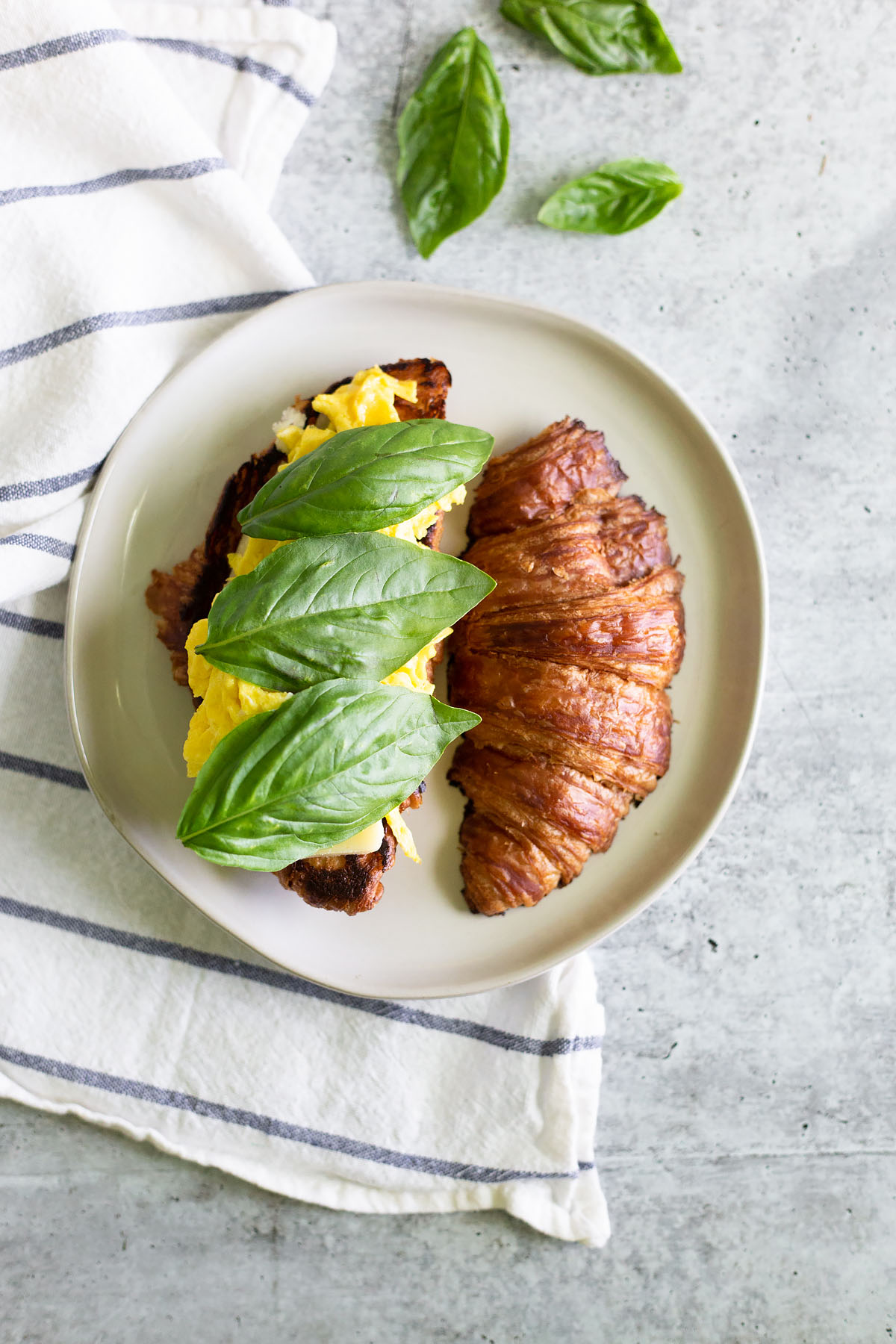 Place the other half of the croissant on top, bite into the delicious sandwich and imagine you're sitting at a cafe somewhere. Serve along with tea, regular coffee, or even this homemade AeroPress cappuccino.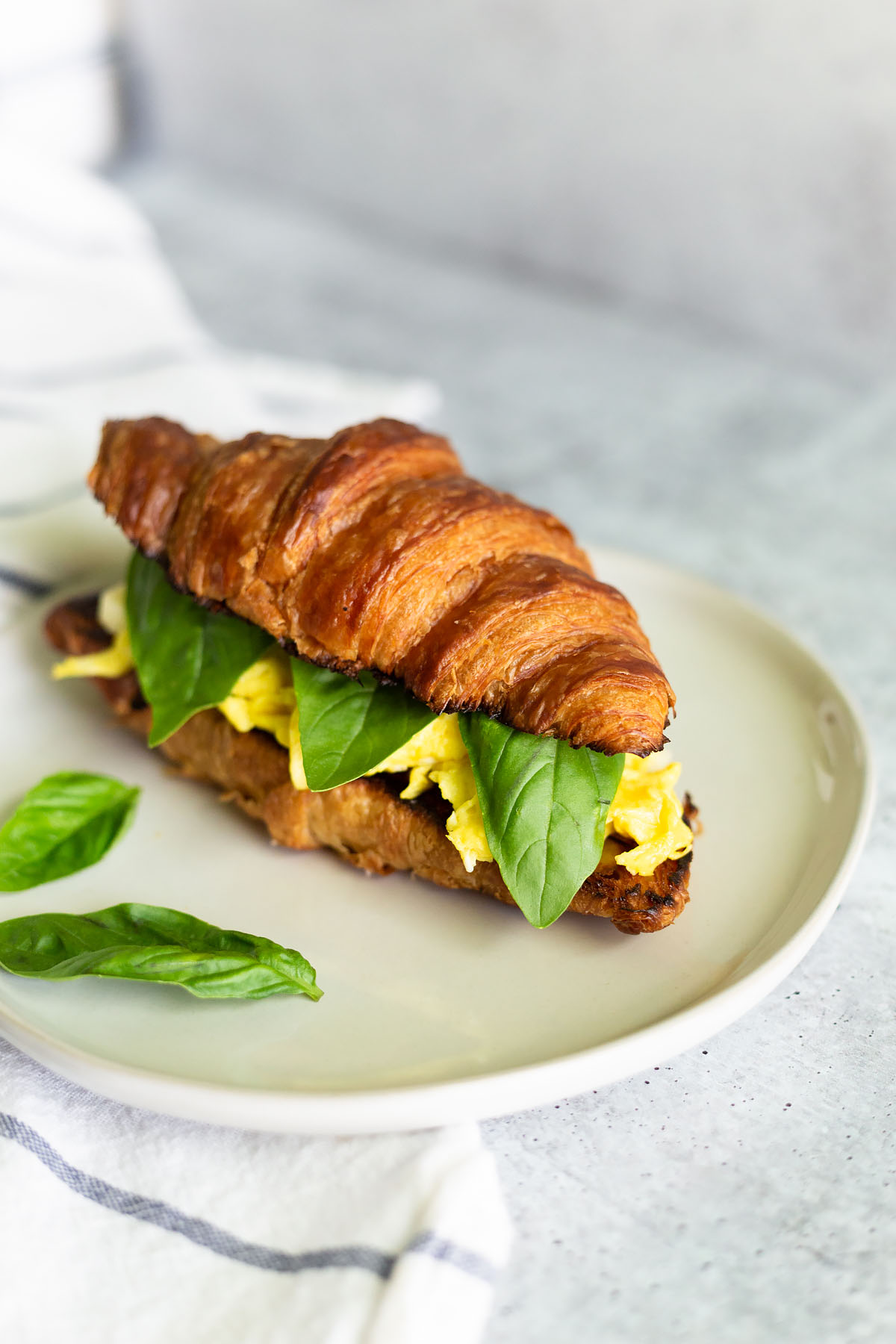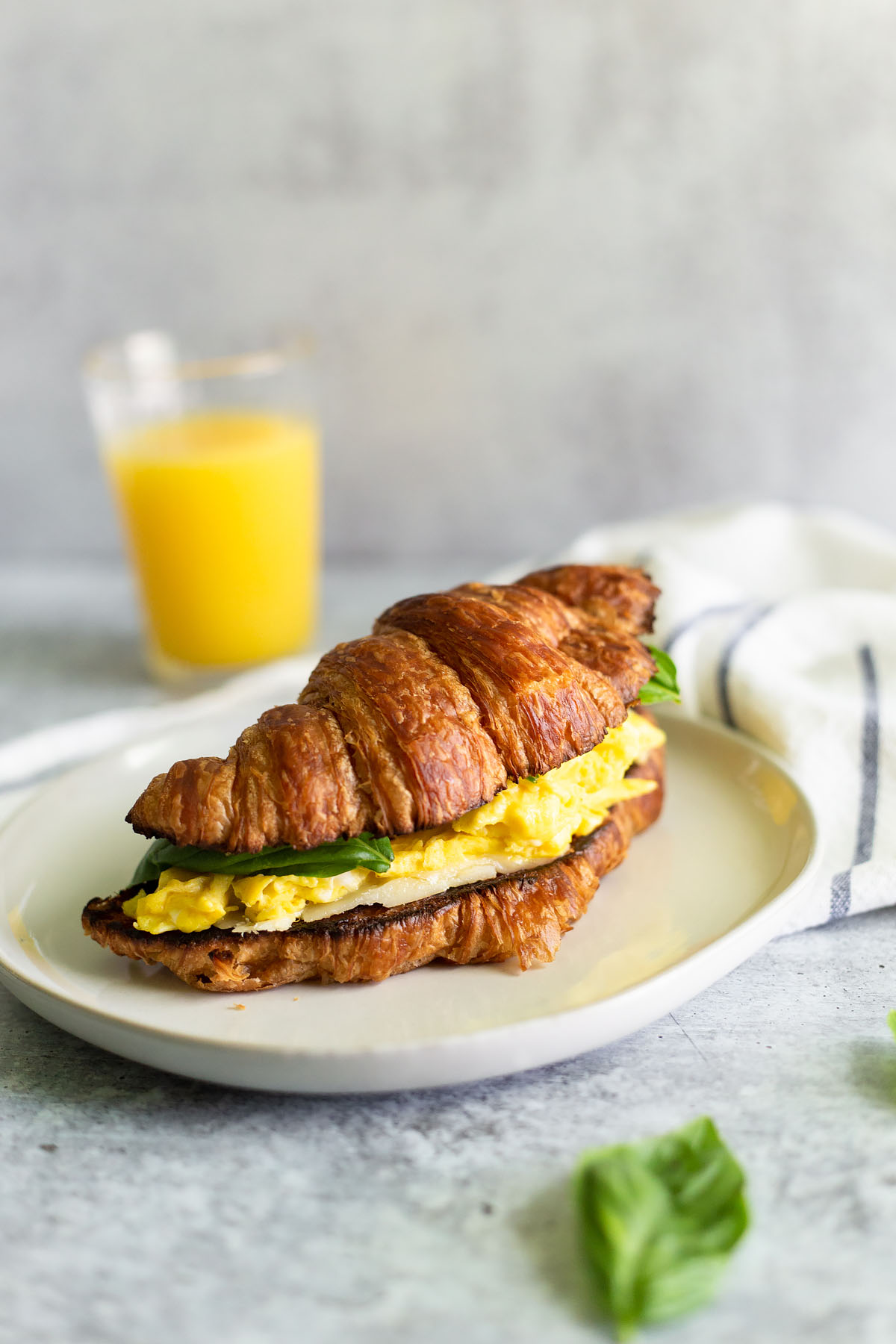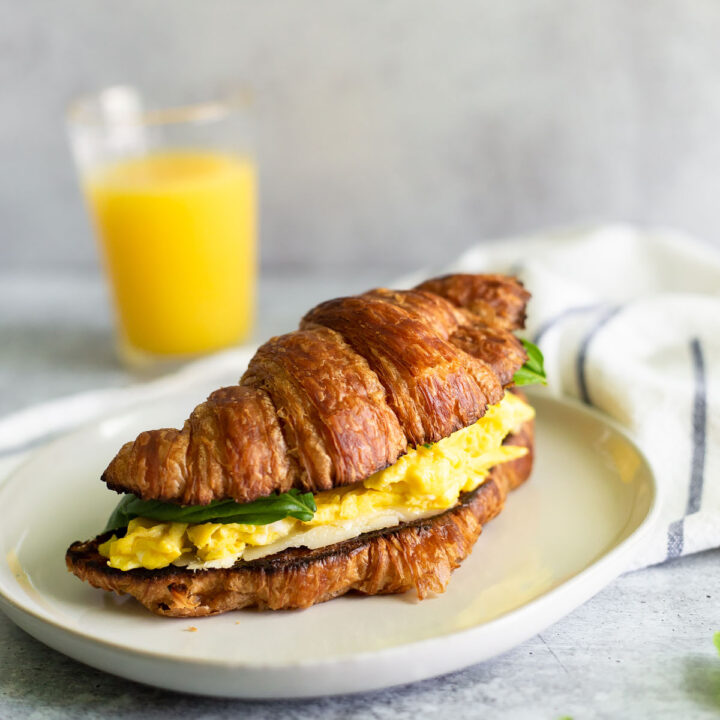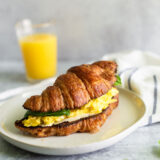 Print Recipe
Croissant Breakfast Sandwich
This croissant breakfast sandwich is topped with eggs, cheese, and fresh basil. It is easy to make at home.
Ingredients
1

croissant, large

2

tbsp

butter, divided

2

eggs

sharp cheddar cheese

fresh basil leaves
Instructions
Take your croissant and slice it in half, so you can use it to make a sandwich. A bread knife works great for slicing.

To a skillet over medium heat, add 1 Tbsp butter and let melt. Swirl the butter around so it coats the bottom of the pan.

Add the croissant halves to the pan, face down. Cook for 1-2 minutes, checking frequently until croissant is nicely browned but not burnt.

Once croissant is toasted, set it on a plate. Wipe out the bottom of the pan, if needed.

Take 2 eggs and crack them into a small bowl. Scramble them with a fork.

Add 1 Tbsp of butter to the skillet, letting it melt, and swirling it around. Once melted, add the eggs and cook, stirring frequently, until eggs are scrambled and cooked, about 2-3 minutes.