Croissant french toast is flaky, buttery, and eggy! It's delicious topped with whipped cream and whatever fresh fruit you have on hand! The perfect recipe for brunch at home.
Have you ever gotten croissants at Costco? They are so good, but you get so many! The last time we got a package of croissants from there, I used some to make this delicious croissant french toast that we topped with strawberries and freshly whipped cream. The rest I used for croissant breakfast sandwiches.
Both are delicious. Both are pretty easy to make. But today we're talking about that croissant french toast recipe. It's buttery, flaky, and it somehow feels so much fancier than regular french toast.
You can make this with fresh croissants or croissants that are starting to go stale. Either works in this case! I do add a bit of sugar to the custard batter so that way the sugar helps to caramelize the croissants when cooking. I also add lemon zest, because I find it gives the french toast an additional depth of flavor and a touch of brightness.
Here's the basic ingredients you need to make croissant french toast.
Ingredients:
We served this with fresh strawberries and whipped cream, but you can serve in various ways. Here are some ideas.
Variations:
Strawberries and vanilla whipped cream - The strawberries give it a freshness, and the vanilla whipped cream provides a sweet creaminess
Bananas foster - Grab some bananas, brown sugar, and butter (and rum or bourbon if you're feeling up to it!) Make a bananas foster sauce to top the croissant french toast with. Here's a recipe for the bananas foster sauce.
Peaches and basil (or mint) with almond whipped cream - Cut up some fresh peaches, make an almond whipped cream, and add a bit of fresh basil or mint
How to make the croissant french toast:
First, slice up those croissants! Cut them in half so you have lots of surface area to soak up the custard sauce and toast.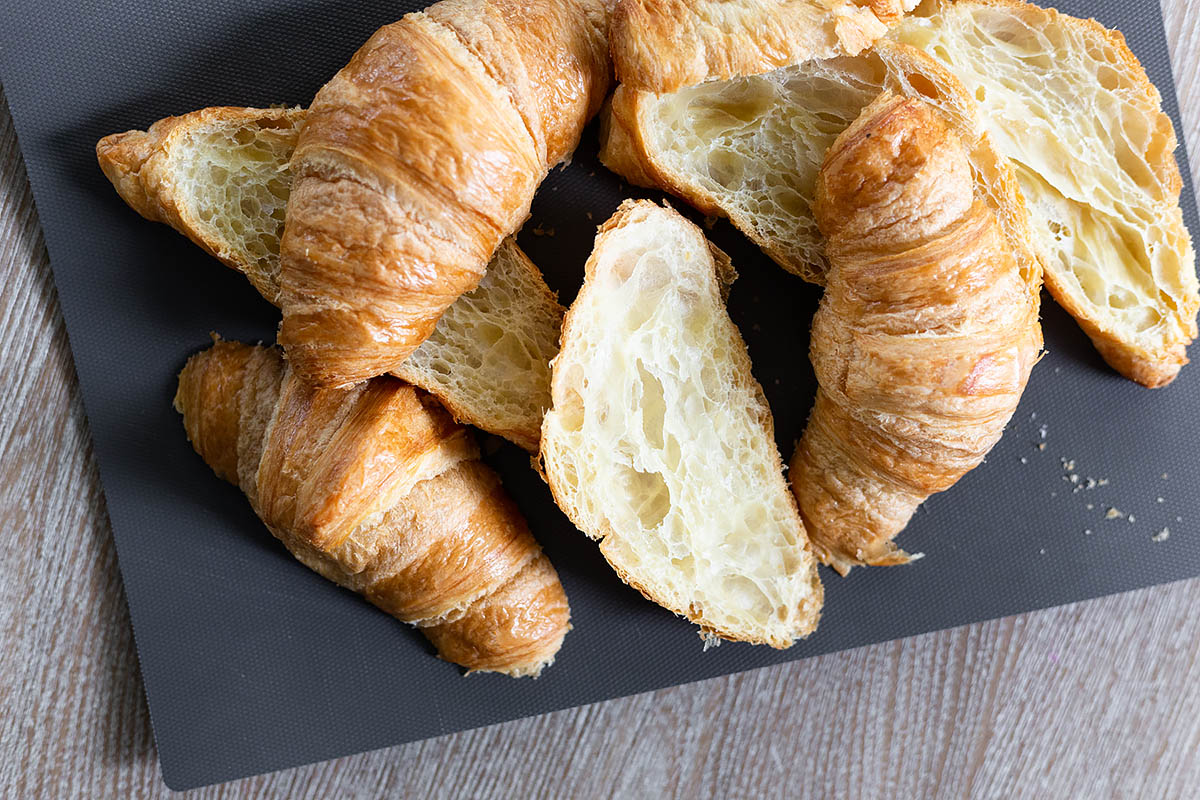 Next, take your eggs, milk, sugar, and lemon zest (use a zester!) and whisk all together with a fork or whisk.
Next, preheat your griddle or pan. Get it super-hot and prepared to cook up your french toast!
Then, take each croissant half and soak it in the egg mixture.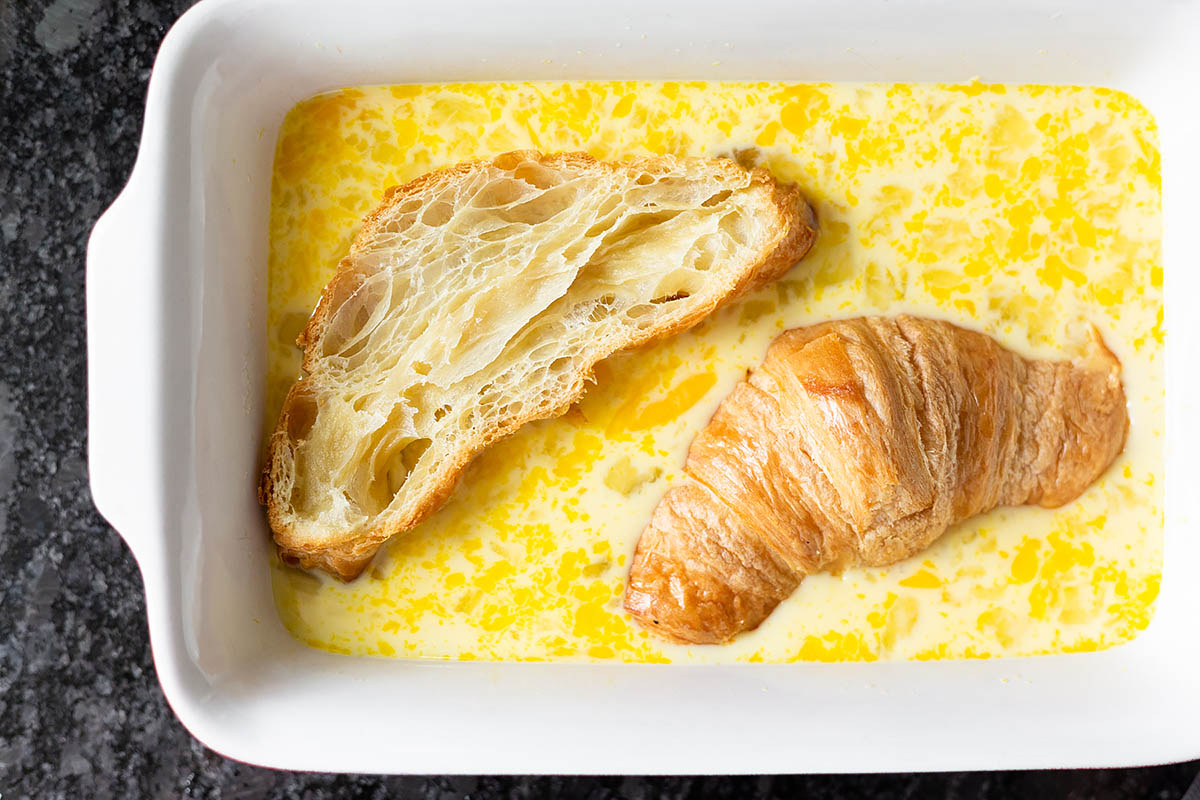 Then, add butter to your pan, swirl around as needed to coat, and add the croissants to the pan. Flip once it's golden brown, and cook the other side until it's also golden brown. You may need to press a little bit to get all that surface area golden. Repeat with all the other croissants.
Add three croissants to each plate, and then add freshly whipped cream and strawberries (or however you plan to top them) and enjoy!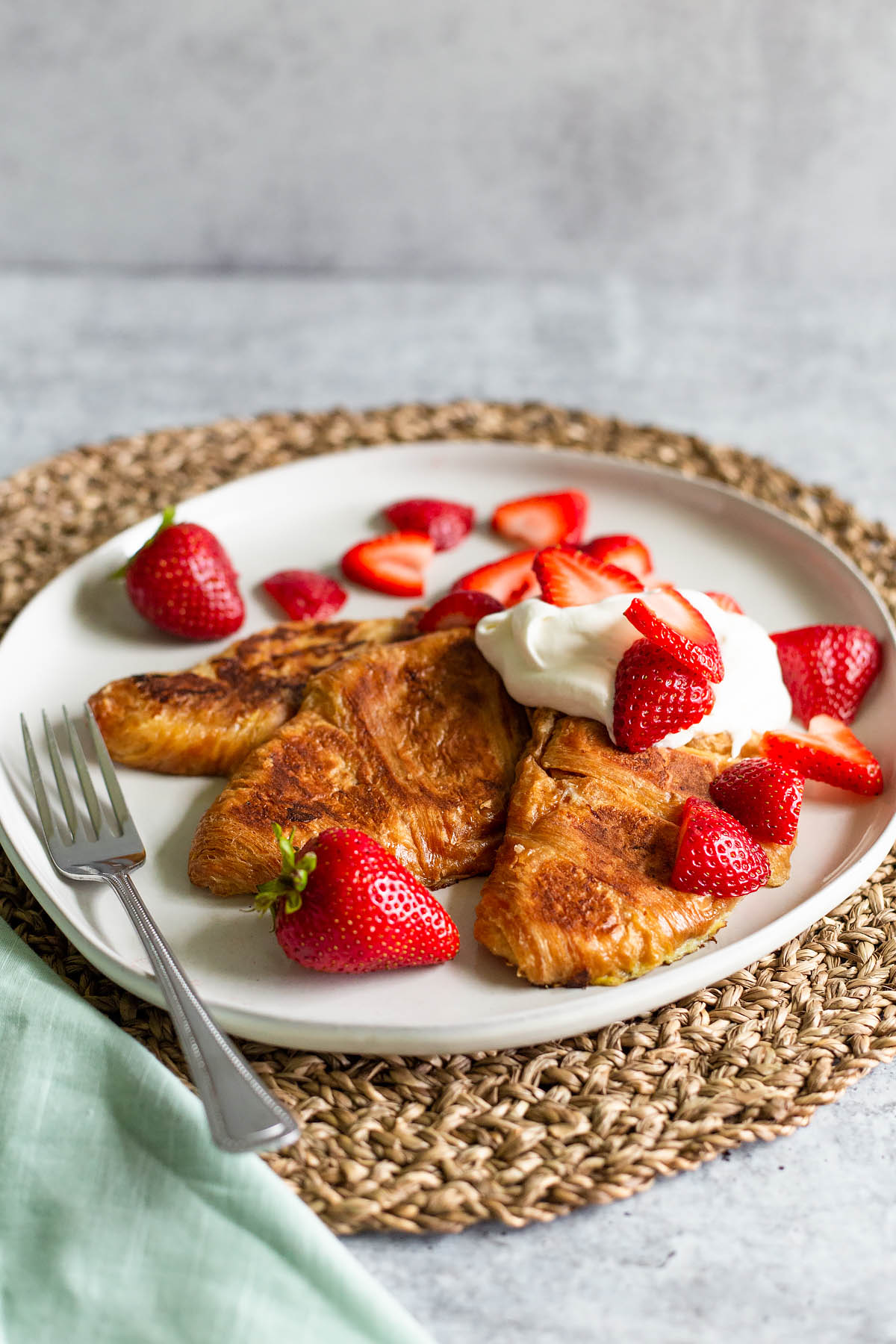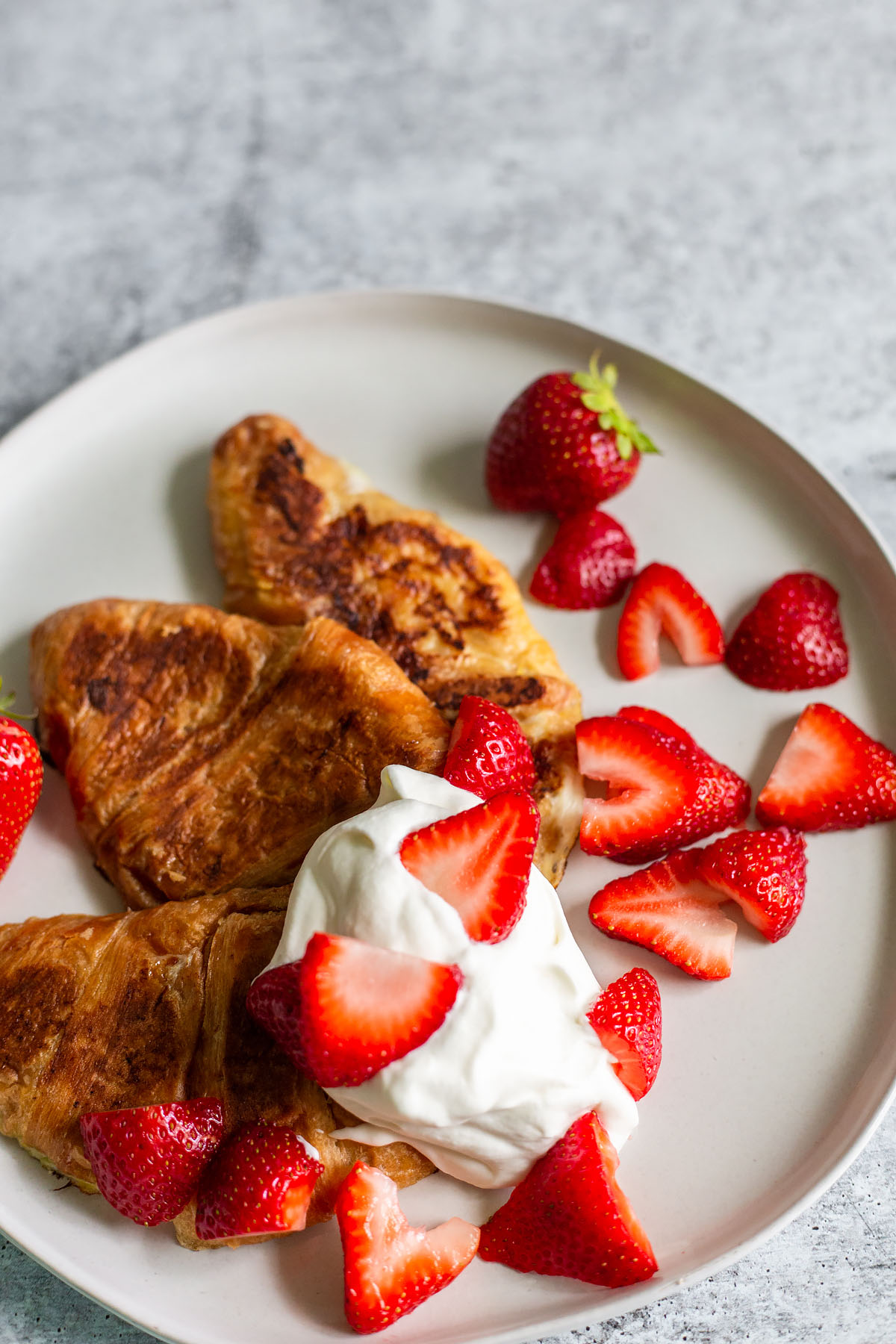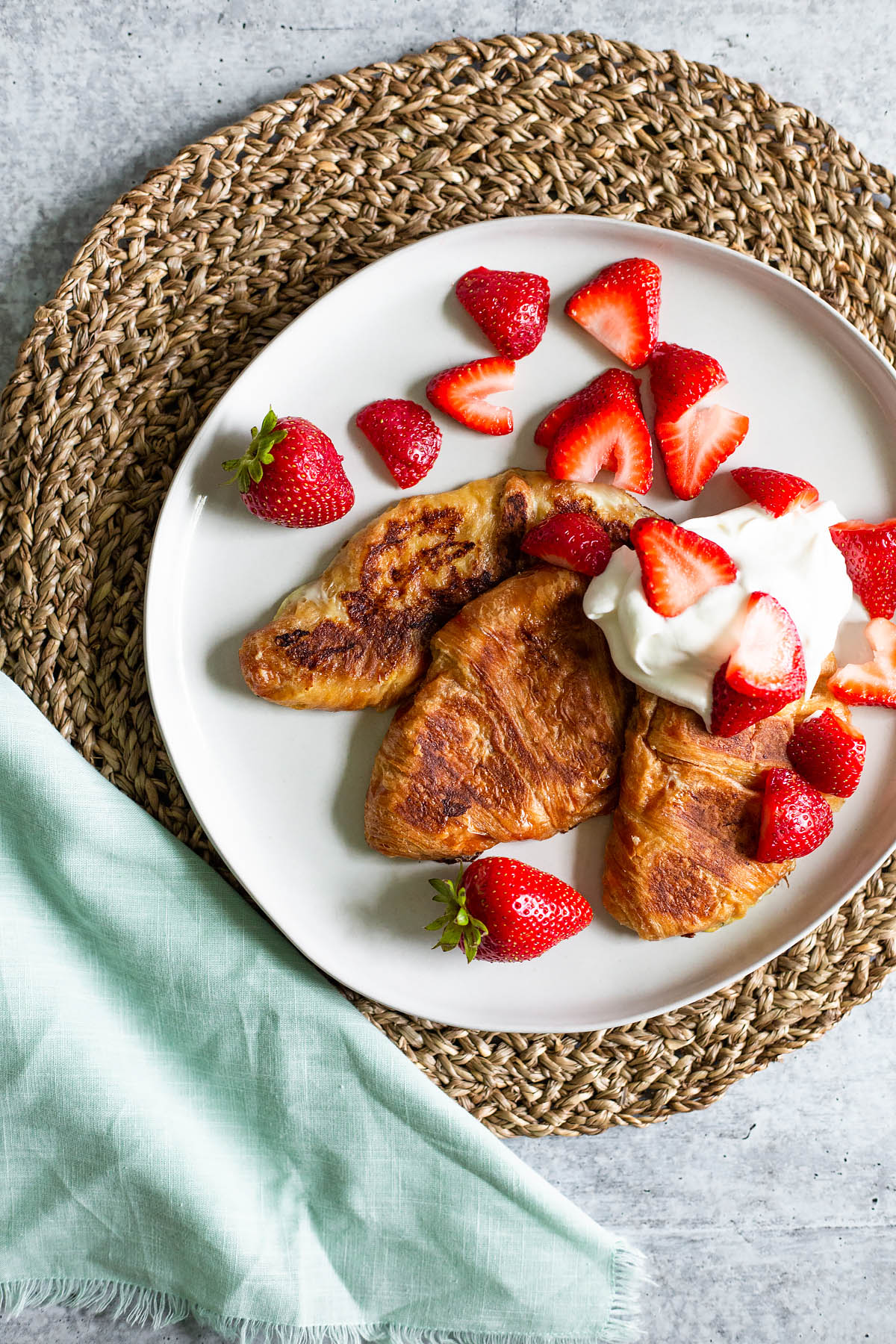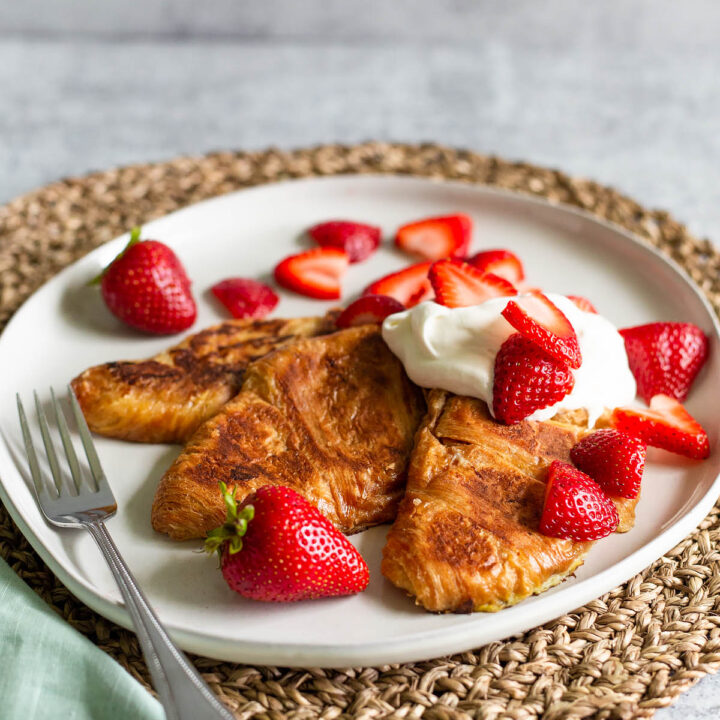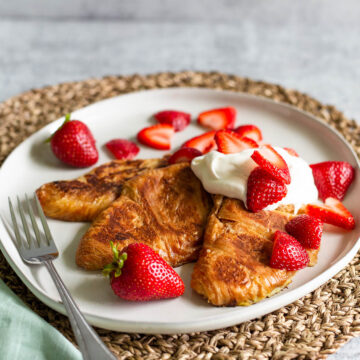 Croissant French Toast
Croissant french toast is flaky, buttery, and eggy! It's delicious topped with whipped cream and whatever fresh fruit you have on hand! The perfect recipe for brunch at home.
Ingredients
6

large

croissants

3

eggs (you need 1 whole egg plus 2 yolks)

1

cup

milk

¼

cup

sugar

1

lemon, zested

butter

for pan
Instructions
Take the croissants and slice each in half, so you have a lot of surface area.

In a casserole dish, add the 1 egg plus 2 egg yolks. Add the milk, sugar, lemon zest, and whisk with a fork or whisk until well combined.

Take a griddle or skillet and heat over medium-high heat until hot. Add butter to the pan and swirl or spread so that butter is coating the pan or griddle.

Dip the croissant halves into the egg/milk mixture, and flip so each side is coated in the egg mixture. Add to the griddle and cook until golden brown. Flip and repeat on the other side.

Continue with all the slices of croissant.

Plate, adding 3 croissant halves to each plate. Top as desired (we love strawberries and soft whipped cream).
Tried this recipe?
Tag @foodbanjo on Instagram and share your photos!