This easy cheesy pasta bake is a quick weeknight dinner for the family! It uses mostly pantry ingredients and whips up in a flash. Perfect for those busy nights.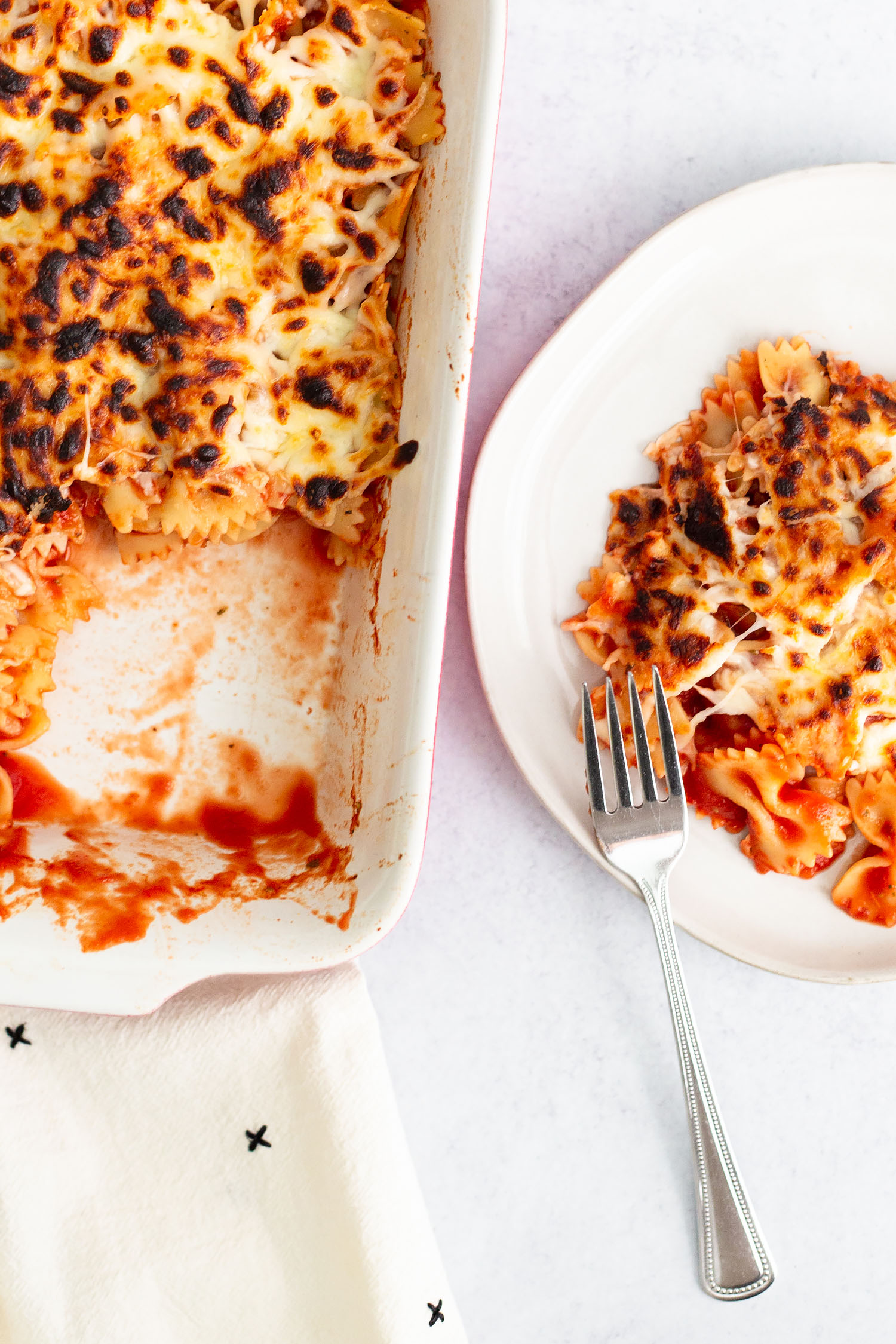 Ever have nights where you have no time.? You just want dinner on the table. Maybe something comforting and filling. Something you almost always have the ingredients for. Something you can customize to what you have in the house.
Enter this easy, cheesy pasta bake. It's seriously one of the easiest dinners you can ever make. Simply boil pasta, toss with a can of tomato sauce, add some herbs if you want, top with cheese, and stick it under the broiler.

It really just uses the simplest of ingredients too. Ones I always have around, and you probably do to. And if you don't? Easy to switch stuff out.
Ingredients:
Dried pasta
Tomato Sauce
Shredded mozzarella cheese
Any herbs and spices you want
Substitutions and additions:
Pasta - I used farfalle pasta (the kind that's shaped like bowties!) But you can use whatever you have around. Ziti, penne, even spaghetti. They can all be used here. Stay away from something tiny like orzo, but otherwise go wild!
Tomato sauce - I like to use just a can of plain old tomato sauce. But if you have a jarred pasta sauce, feel free to use that.
Cheese - I love how mozzarella melts on this pasta. But honestly? I've used cheddar on this. I've used a shredded Mexican cheese blend from the store. Use what you've got. Within reason of course. I think Brie cheese would be weird on this haha. But any basic cheese will do.
Herbs and spices - I typically use dried oregano. But you can use an Italian Blend, or leave it out all together. Want to make it a little spicy? Throw some red pepper flakes in.
Meatballs - I like to keep this simple. But you can always add things if you like! Cook up some meatballs, cut them up, and add them.
Chicken - This would be delicious with diced chicken! We've definitely done that before.
Diced pepperoni - We've made this many times in the past by dicing up some pepperoni cubes and adding them in. It adds a wonderful texture and flavor!
Fresh veggies - You can always add whatever fresh veggies you want! Tomatoes, red onion, etc. Go crazy! Just remember some things may need to be cooked prior to baking so that they are hot and cooked through.
How to make the Easy Pasta Bake:
Step one. Boil pasta according to the package ingredients.
Then, take out a baking dish. I used an 8x11, but you can use a 9x13 too. Pour a little tomato sauce into the bottom. Turn on the broiler so it's hot and ready!
Once the pasta is done cooking, drain and then pour the pasta into the dish. Add the rest of the tomato sauce, and any seasonings.
Stir to combine and to make sure the tomato sauce is well-distributed.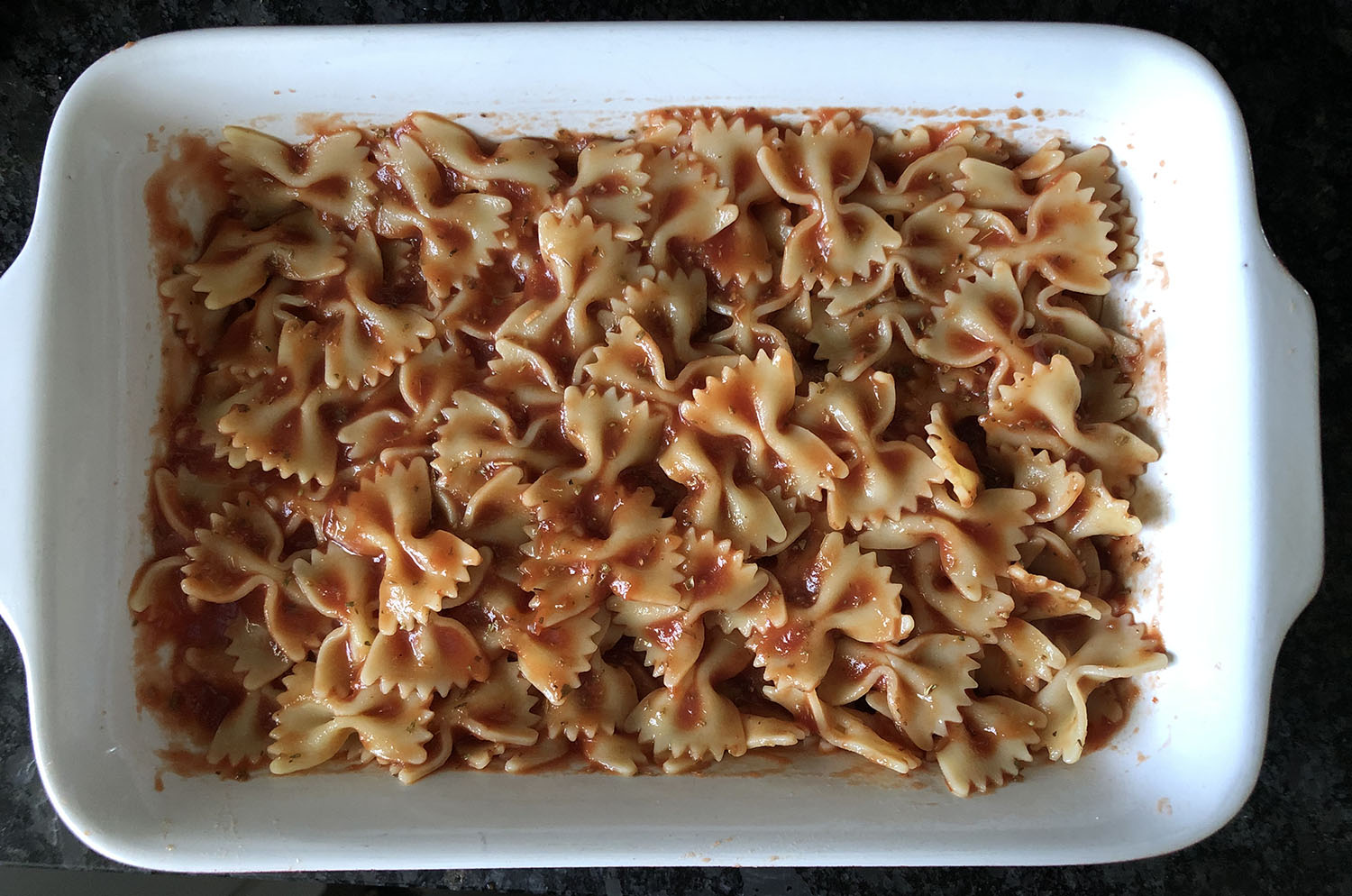 Top with cheese!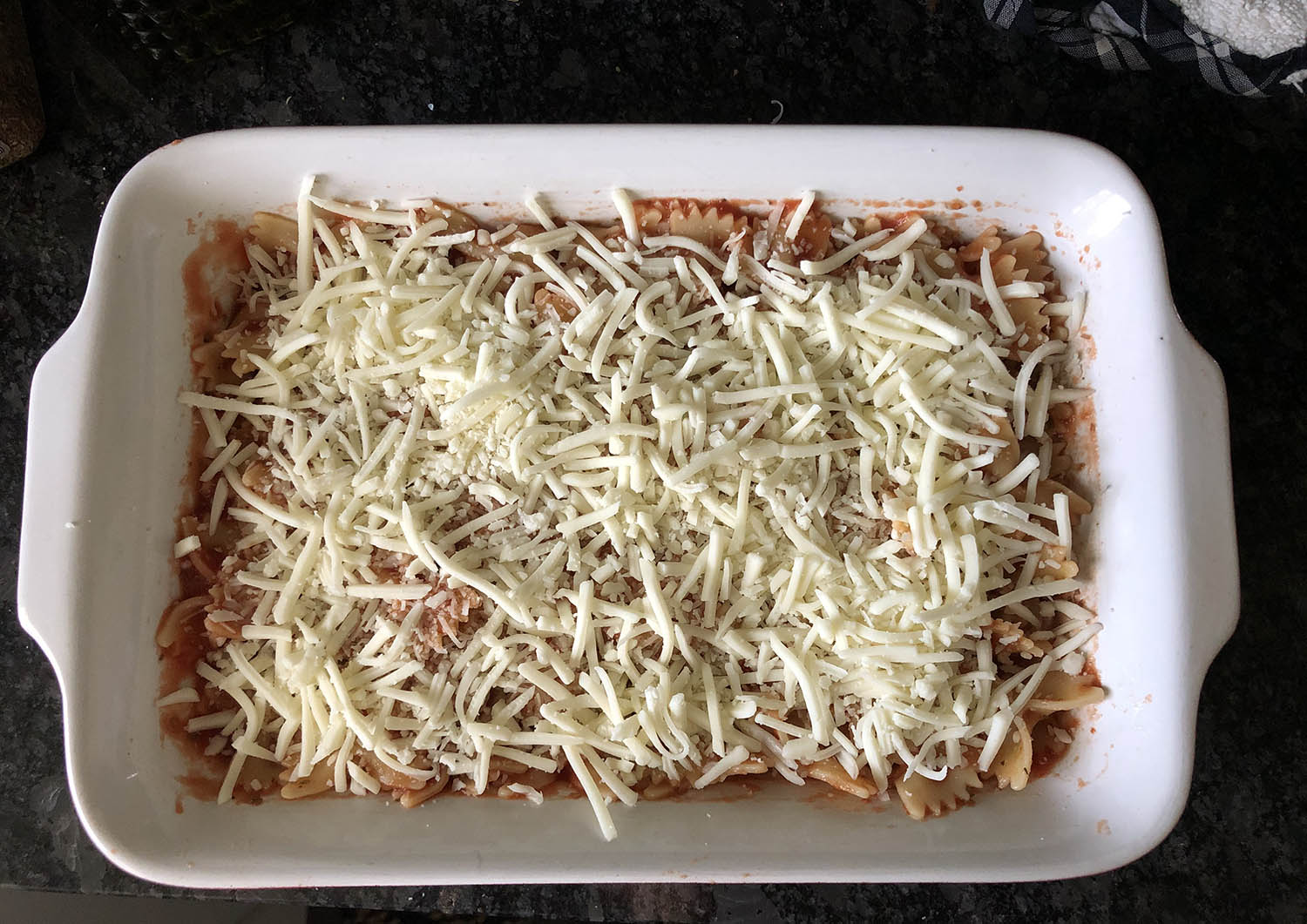 Then stick under the broiler and watch carefully. Every oven is different, and the time in the oven depends on how your oven operates and also how close your dish is to the broiler.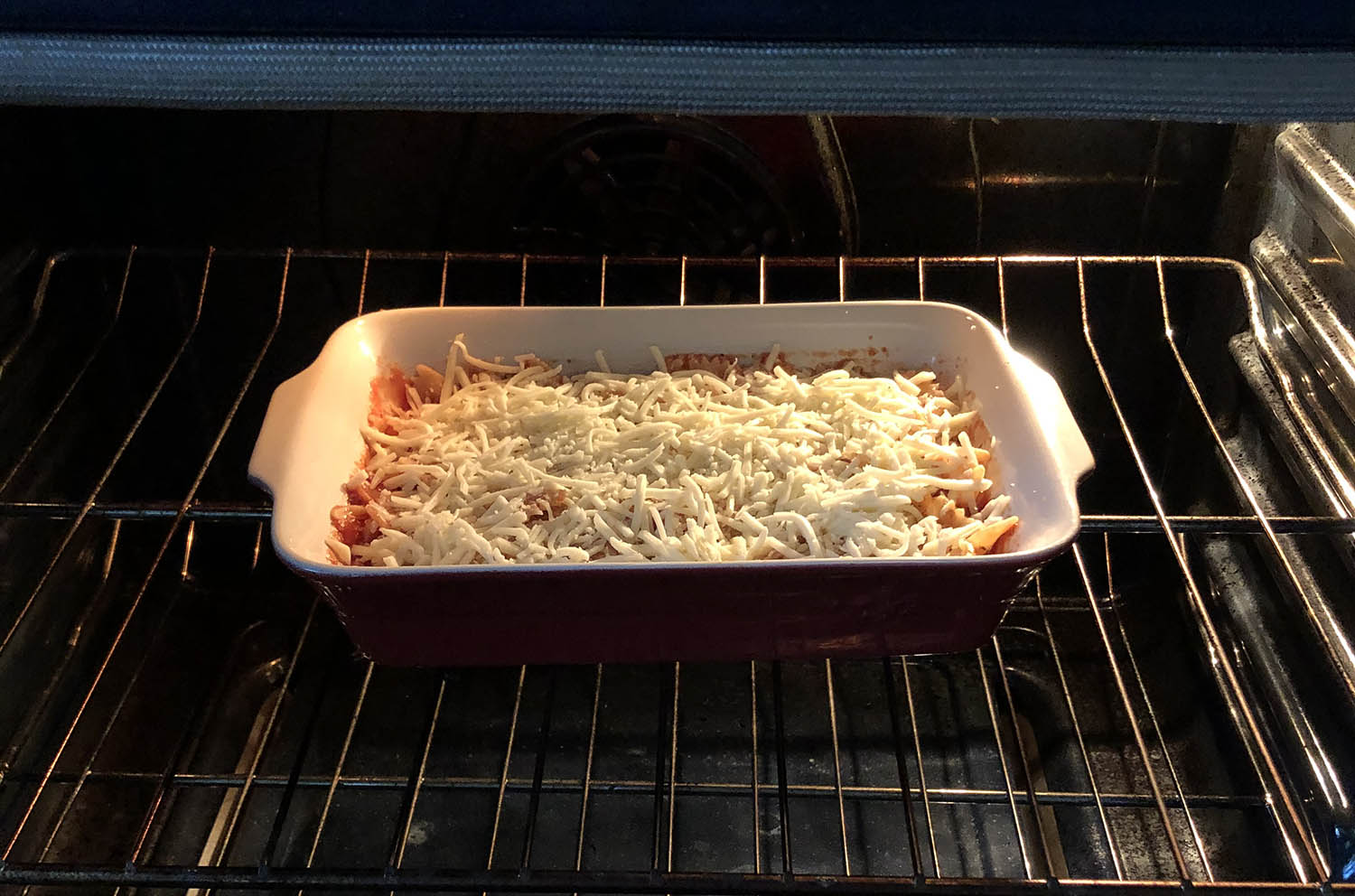 Once it's done, remove from the oven and enjoy!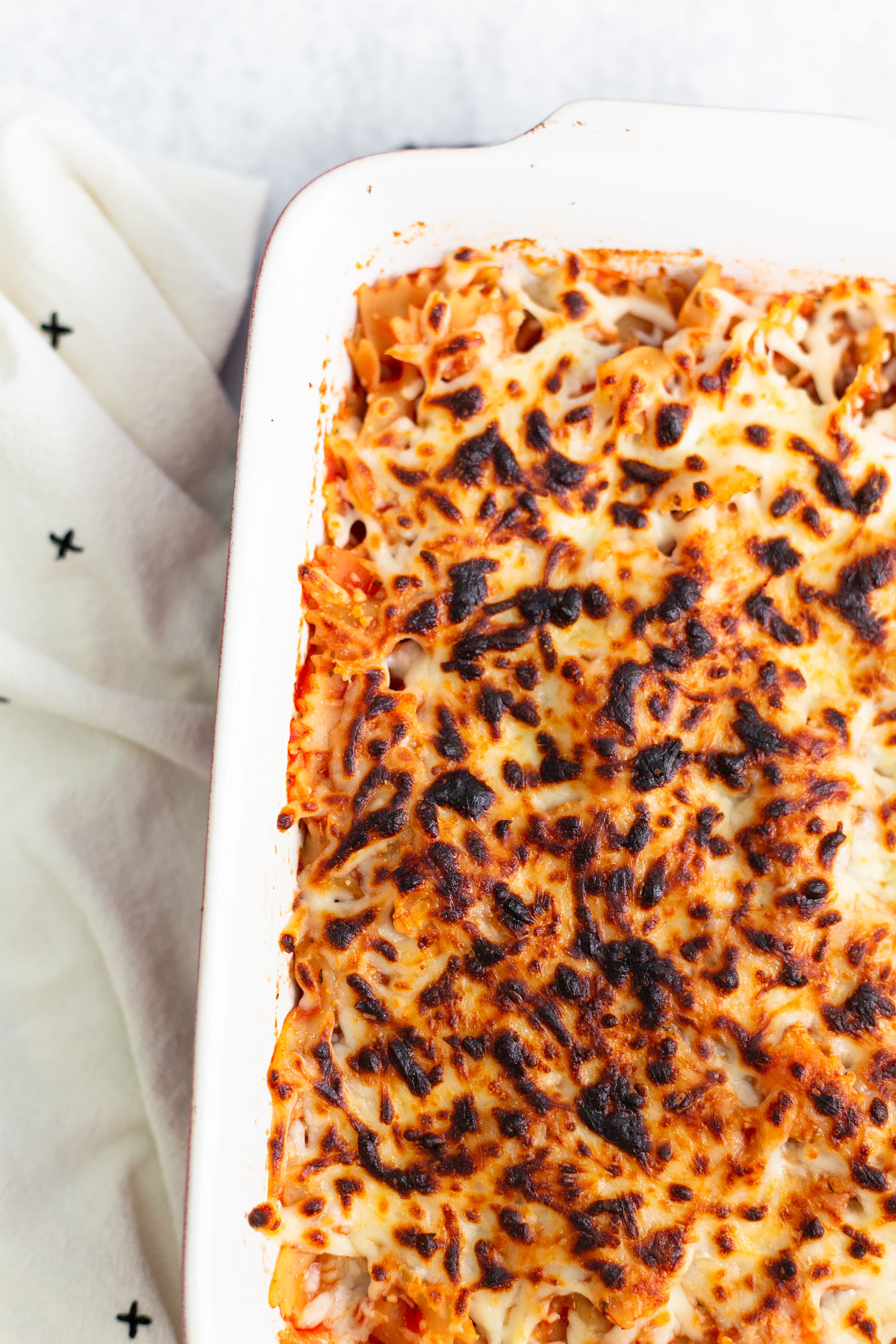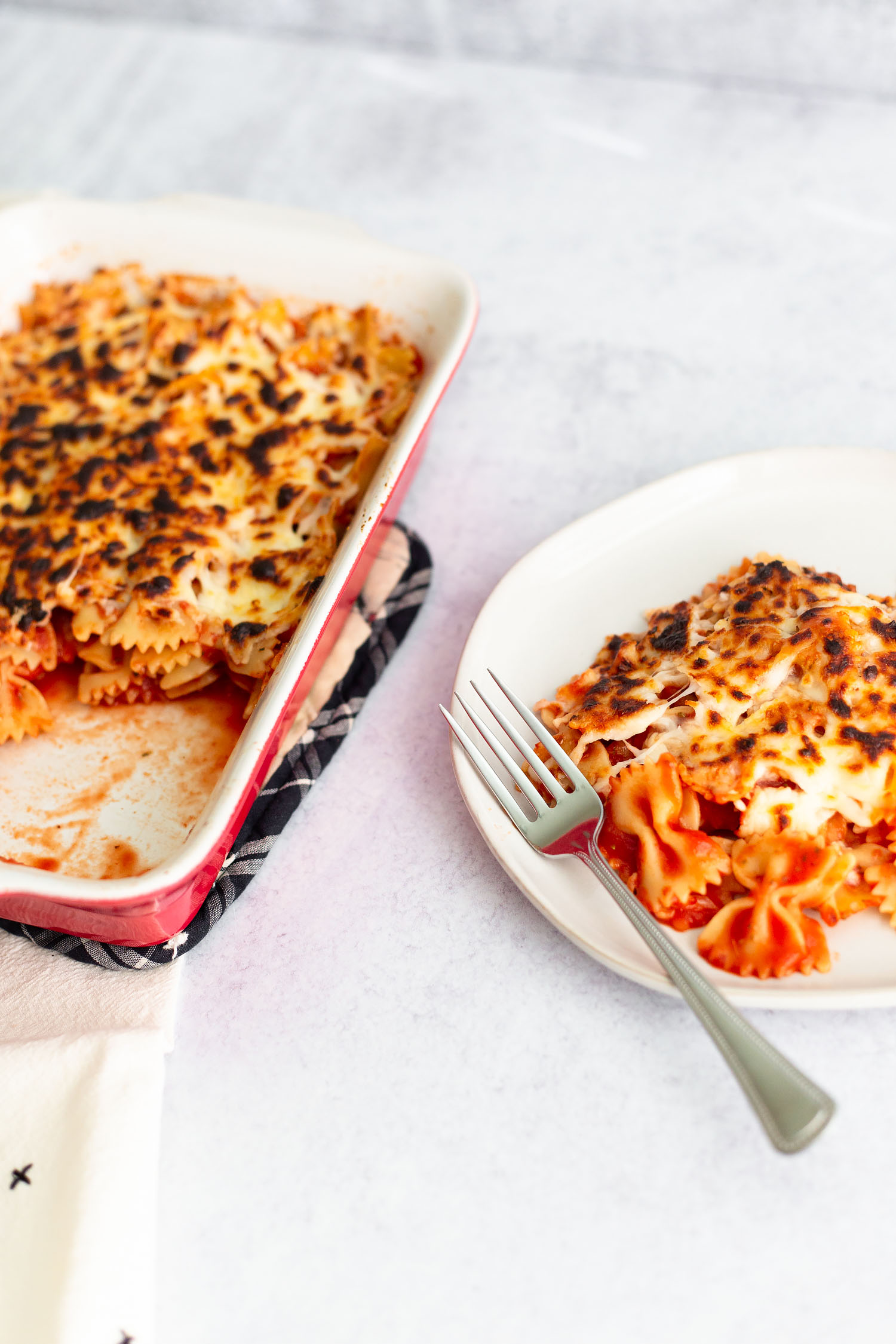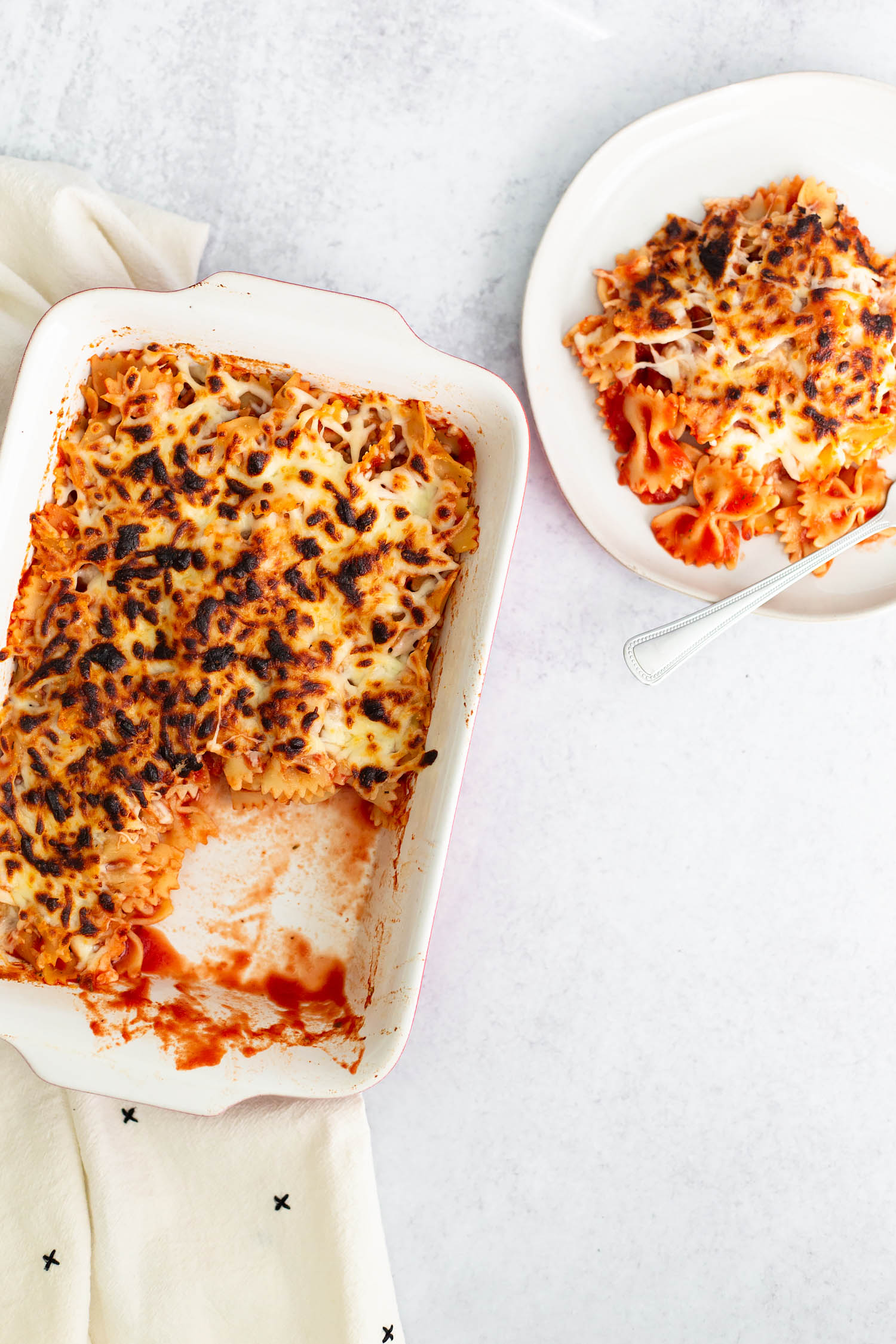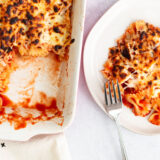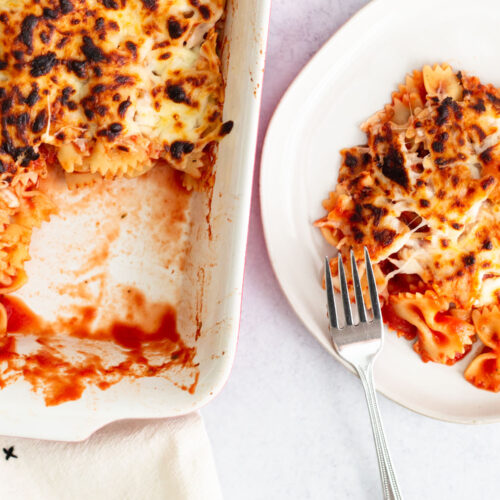 Print Recipe
Easy Cheesy Pasta Bake
This cheesy pasta bake is so easy and quick to make! It uses minimal ingredients, and is so easy to customize to any taste!
Ingredients
16

oz

dried pasta

like farfalle or penne

15

oz

tomato sauce (1 can)

shredded mozzarella cheese

2

tsp

dried oregano or Italian seasoning
Instructions
Take a large pot and add water. Place pot on the stove over high heat until water starts boiling.

Add the pasta to the pot and cook according to package directions until cooked through.

Turn on your oven broiler.

Take out an 8x11 or 9x13 baking dish and add a bit of the tomato sauce to the bottom.

Drain the cooked pasta, and then add to the baking dish.

Add the rest of the tomato sauce and herbs to the baking dish. Stir to combine, until all the pasta is coated with the tomato sauce.

Top with the cheese, so you have a nice layer on top.

Stick under the broiler and watch carefully. Once the cheese is melted and browned, remove from the oven.
Notes
Recipe notes:
If you serve immediately, the tomato sauce should be warmed. If you're concerned about the tomato sauce not getting hot enough under the broiler, you can first bake the dish for 5 minutes at 350 degrees F before broiling the cheese.
For ideas on additions and substitutions, please check out the blog post.