This recipe for a ham and noodle casserole is a version of an Austrian or German dish called schinkenfleckel, or schinkennudeln. It's a delicious, creamy noodle dish that is a perfect way to use up any leftover ham!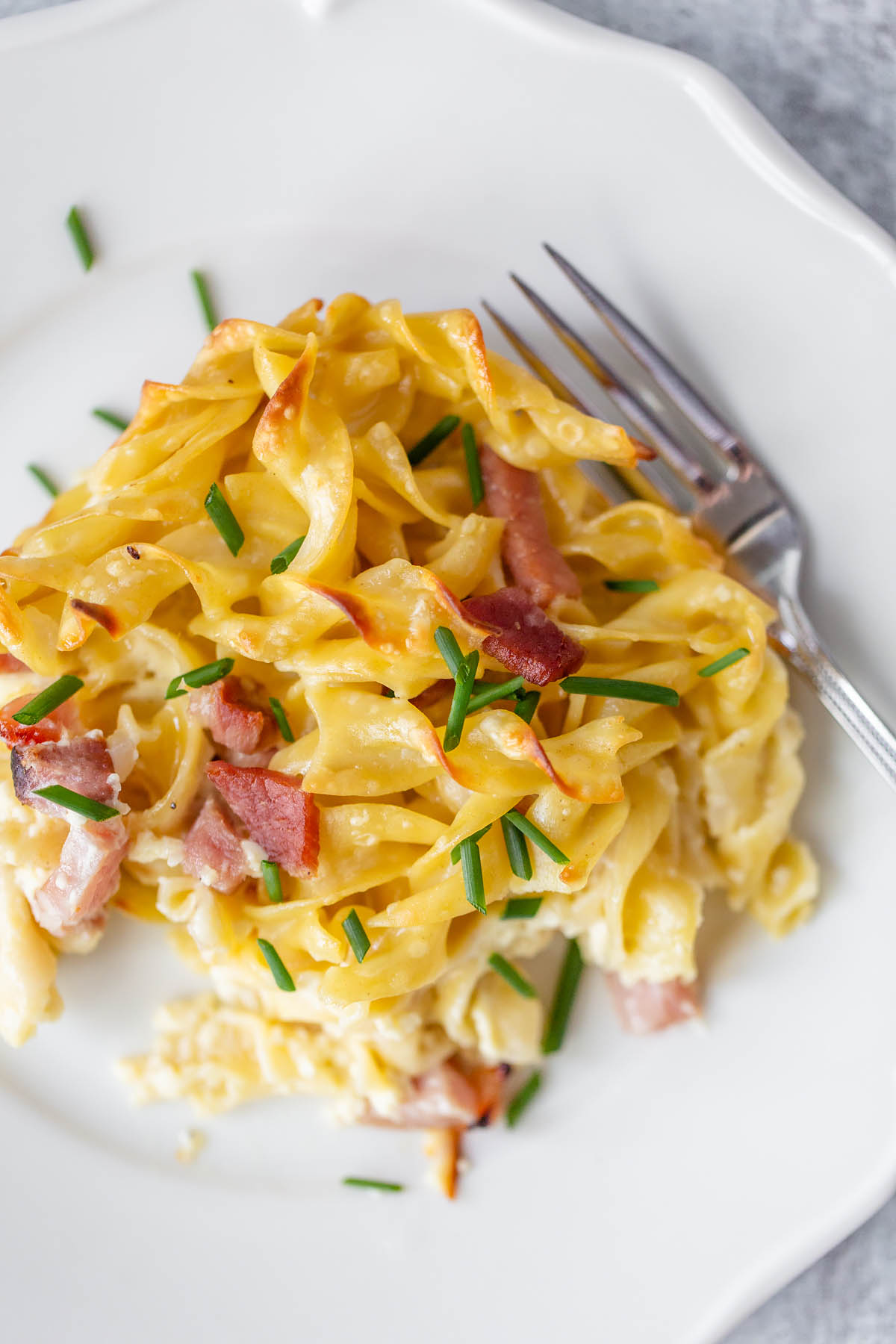 My grandma made this ham and noodle casserole dish growing up and it was one of my favorite recipes she would make. I never thought twice about it, but as I've gotten older, I realized it has Central European origins. My grandma was of Czech heritage, and here in Texas we have a lot of Czech and German roots. So it only makes sense that a lot of recipes she cooked have origins in those countries.
I set out to make a version of it, and thankfully was successful, as she didn't leave the recipe behind (she passed away in 2004). I got some tips from my mom, and consulted versions of similar dishes on the internet.
Now, this recipe isn't your traditional schinkennudeln, or schinkenfleckel recipe. Because my grandma didn't make it in the traditional way. This isn't even my grandma's recipe, since I don't have that. But it's a take on the schinkenflecken. And I'm happy with it.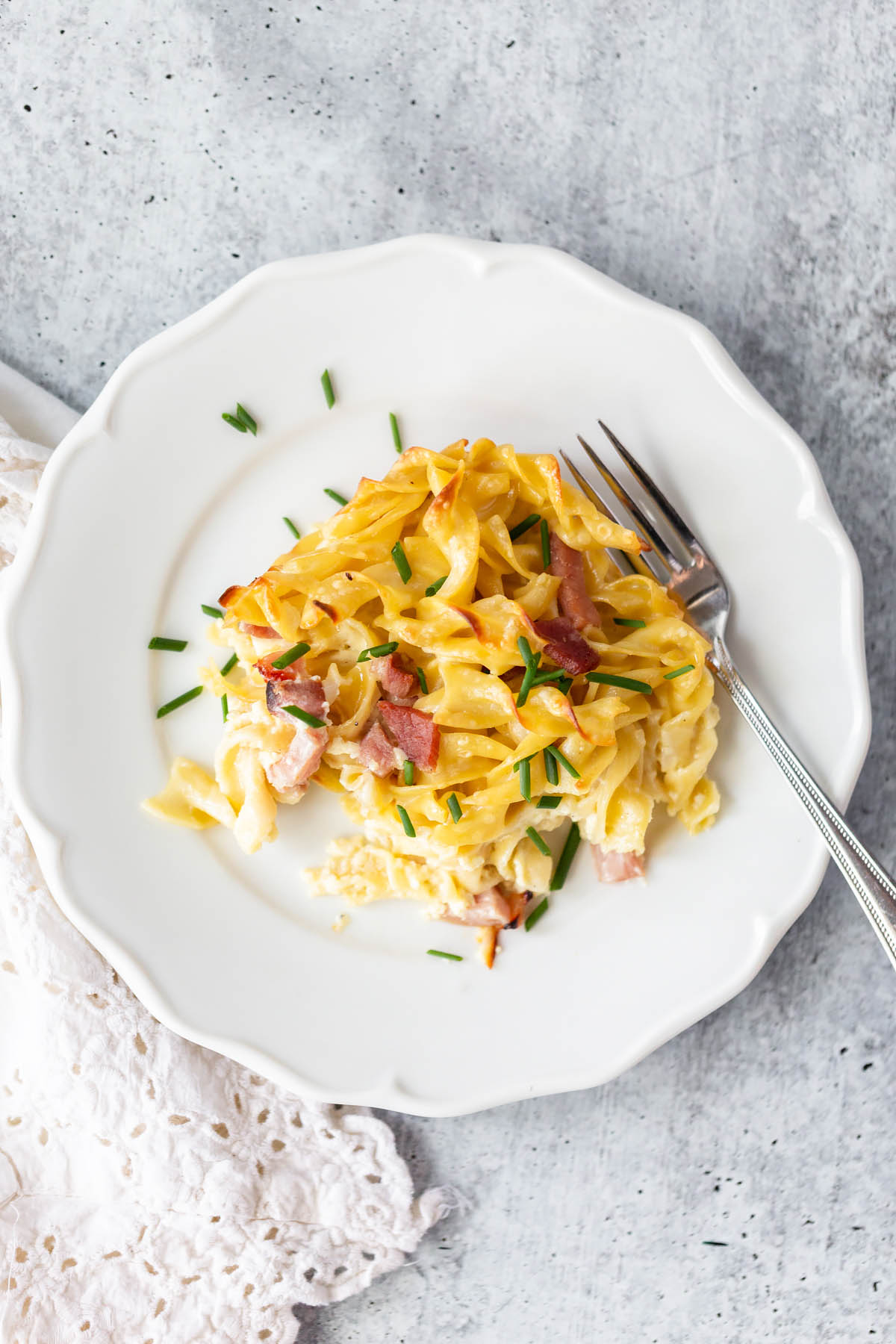 What is schinkenflecken, schinkenfleckel, or even schinkennudeln?
Schinkenflecken is a traditional Austrian ham and noodle dish. It's typically made with eggs, cheese, and sour cream. It forms a casserole that's a little eggy, a little creamy, a little cheesy, and a lot delicious.
This ham and noodle recipe is also considered German, as Schinkennudeln. This version doesn't use sour cream, and instead uses heavy cream. At least, these are things the internet tells me. (If true, my version and my grandma's version are closer to the German ham and noodle casserole).
My Americanized version is not traditional, but is based on these dishes. And it's pretty easy and delicious to make.
What type of ham to use:
I love to use thick ham slices. Leftover ham from Easter or Christmas is great in this recipe! However if all you can get is deli-sliced ham, you can use that too. It won't be QUITE as good, but still tasty.
What to serve with your ham and noodle casserole:
This ham and noodle casserole can be creamy and a little decadent. It's like a take on a German mac and cheese. Or Austrian mac and cheese? Regardless, the recipe pairs nicely with something a little acidic and something that cuts through the richness of the dish. I mean, this ham and noodle casserole is comfort food at its best, but is tasty served with something bright!
Kale salad with apples and cheese - If you want a salad with this dish, serve with this kale salad! The bright, acidic vinaigrette and crunchy apples nicely cut through the richness of the ham and noodle casserole.
Red cabbage slaw - This noodle dish goes great with a red cabbage slaw dressed in a bright vinaigrette or apple cider vinegar.
Crisp apples - Simple sliced apples are a tasty accompaniment to the recipe.
Wine - If you're a wine drinker, the acidity of wine pairs so nicely with the creamy noodle casserole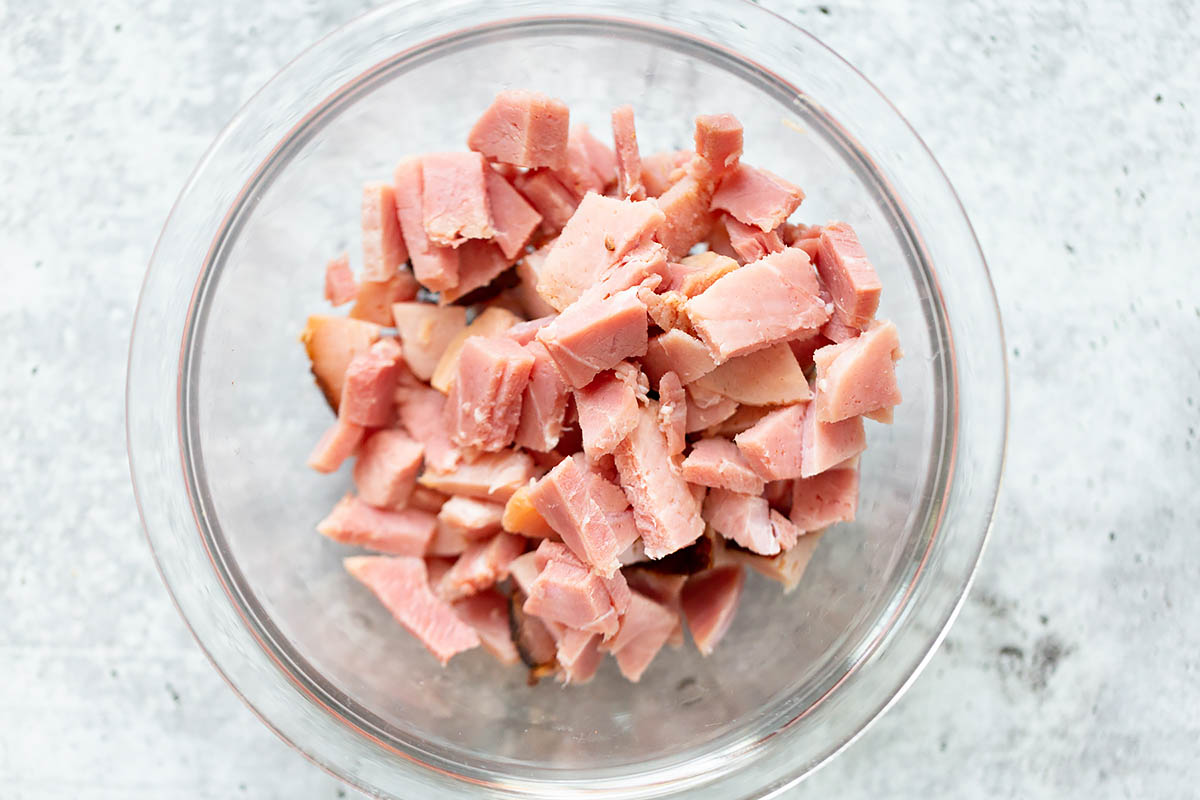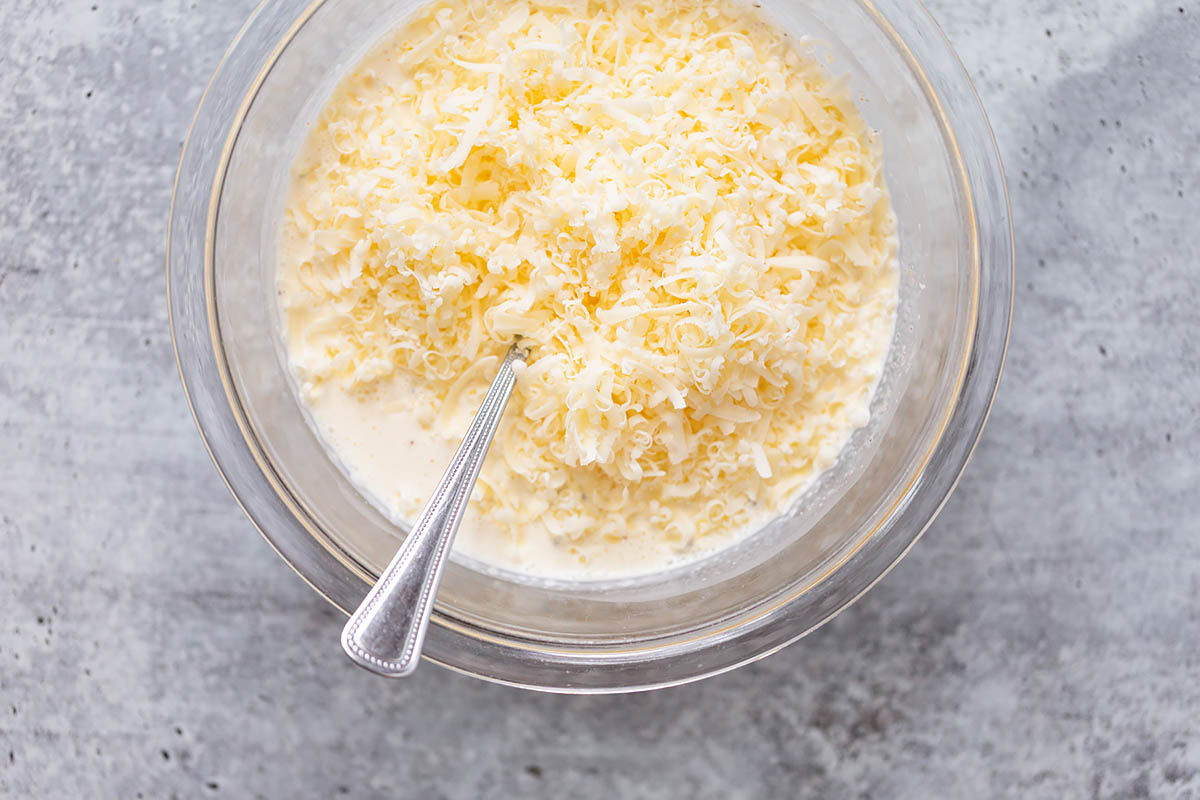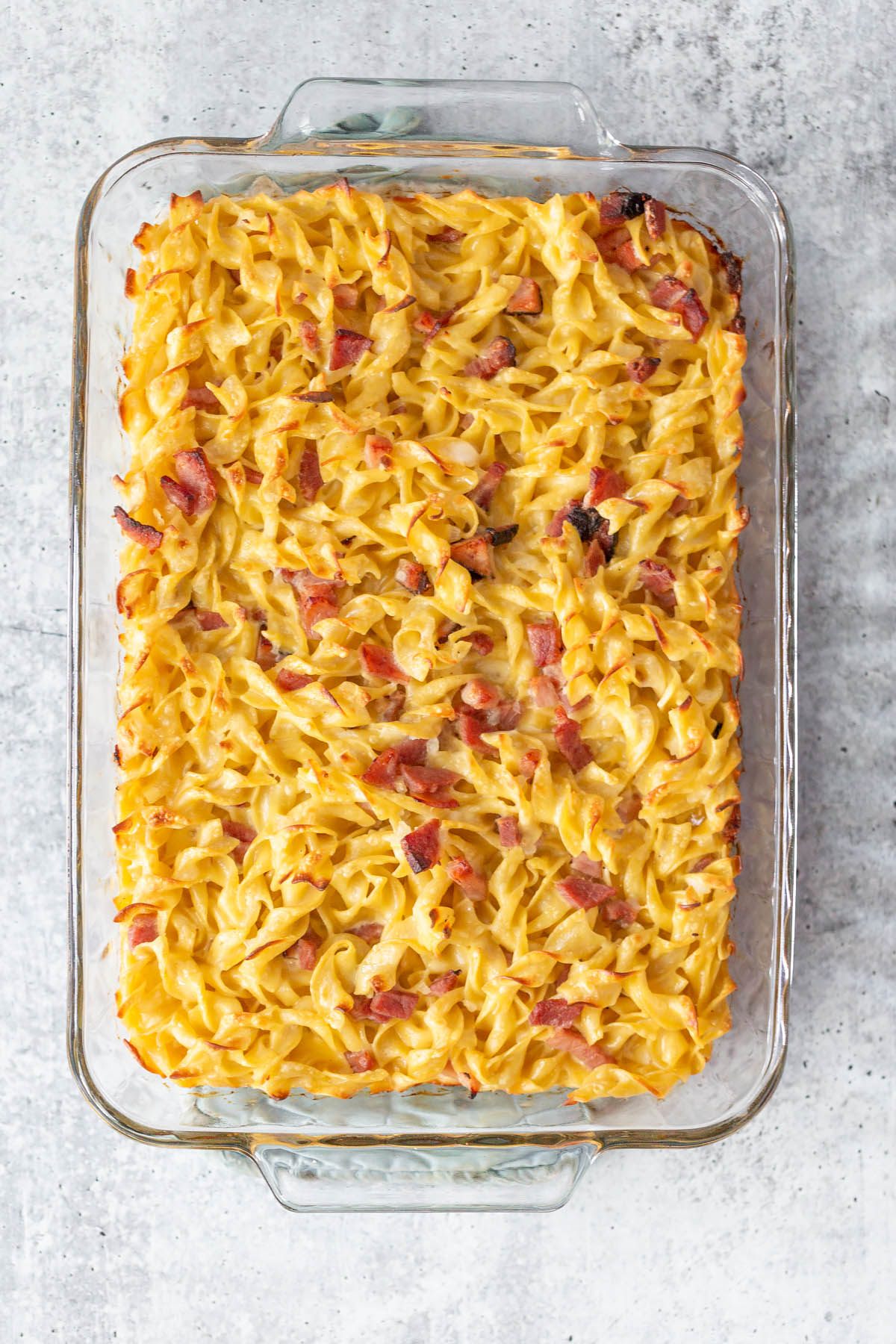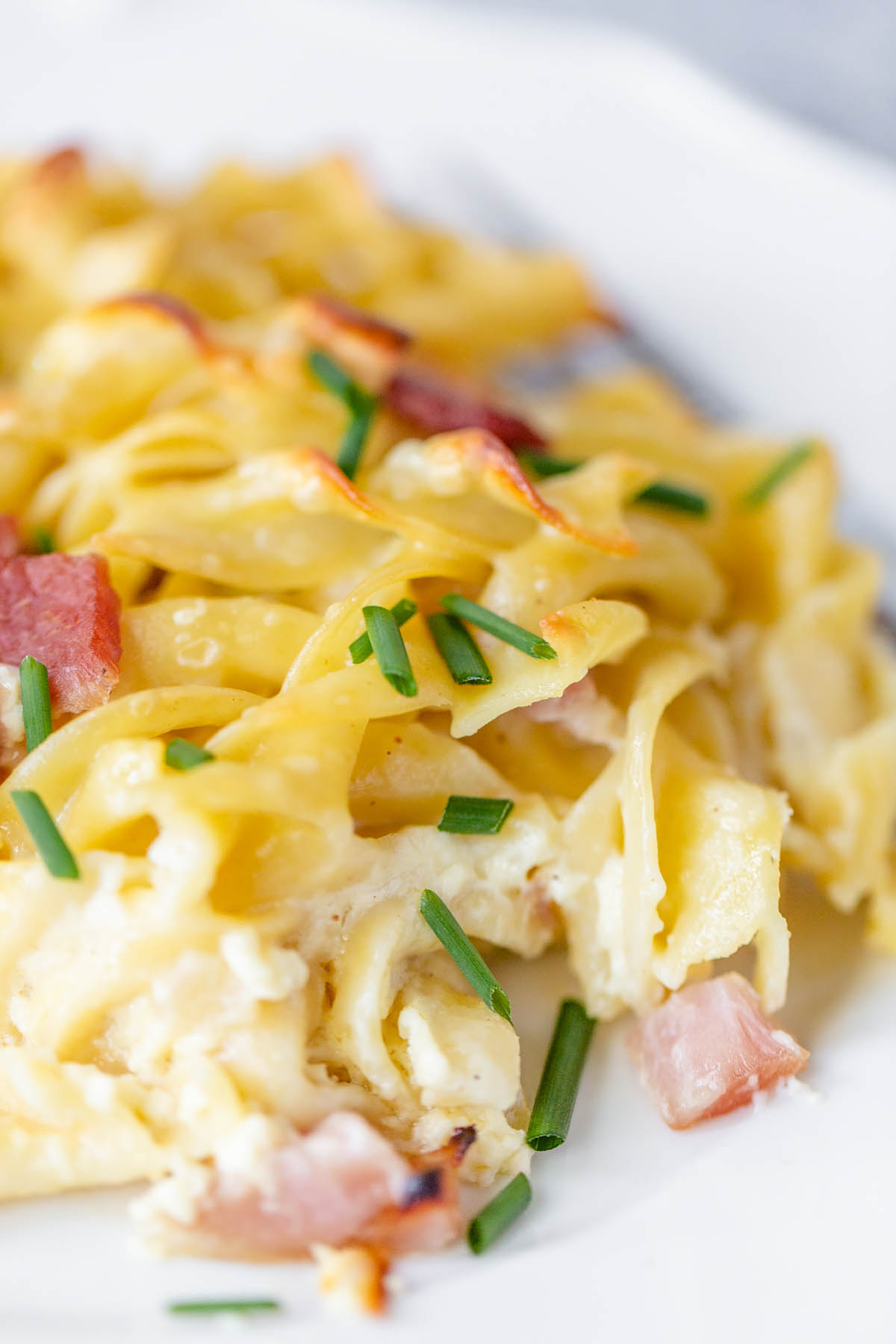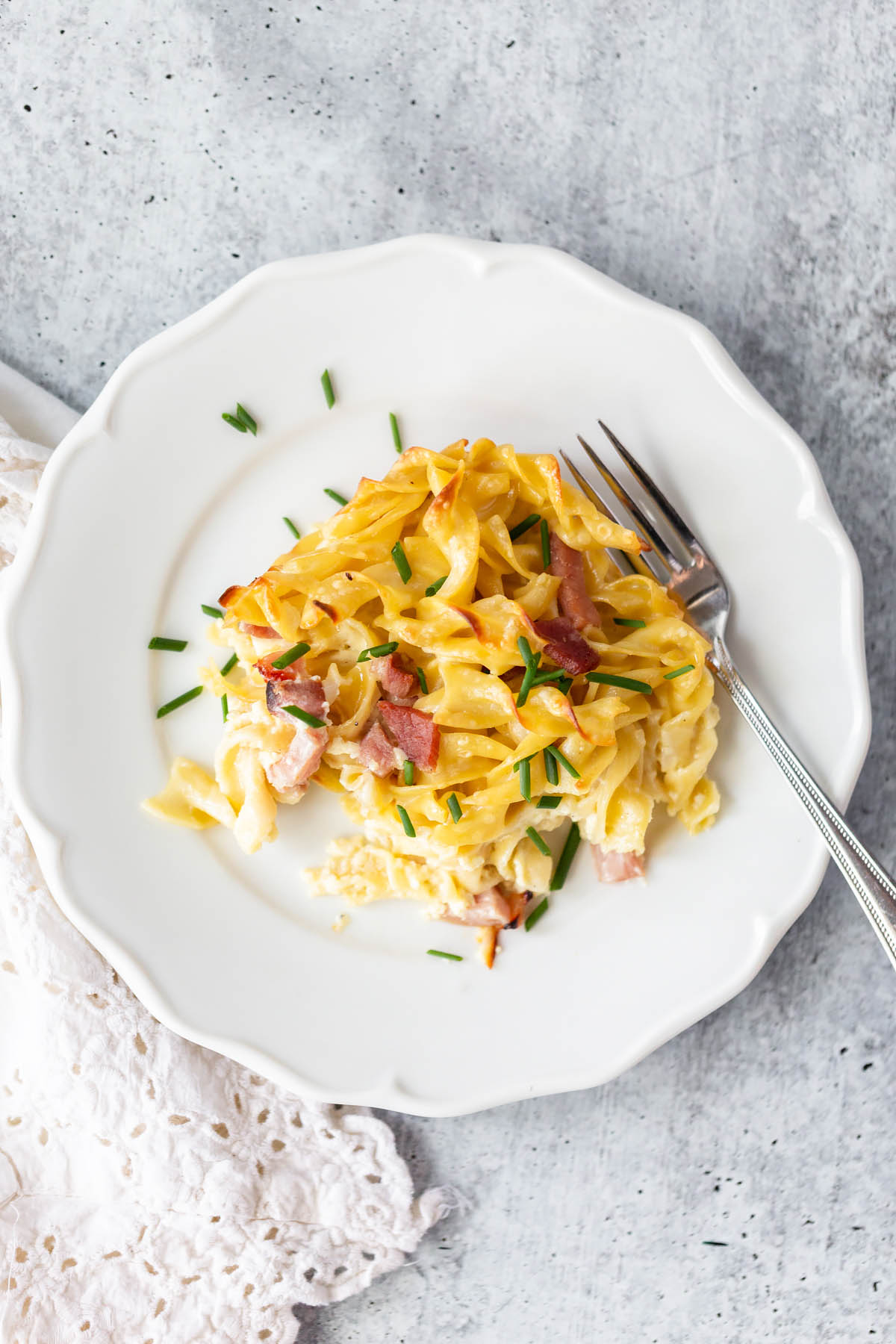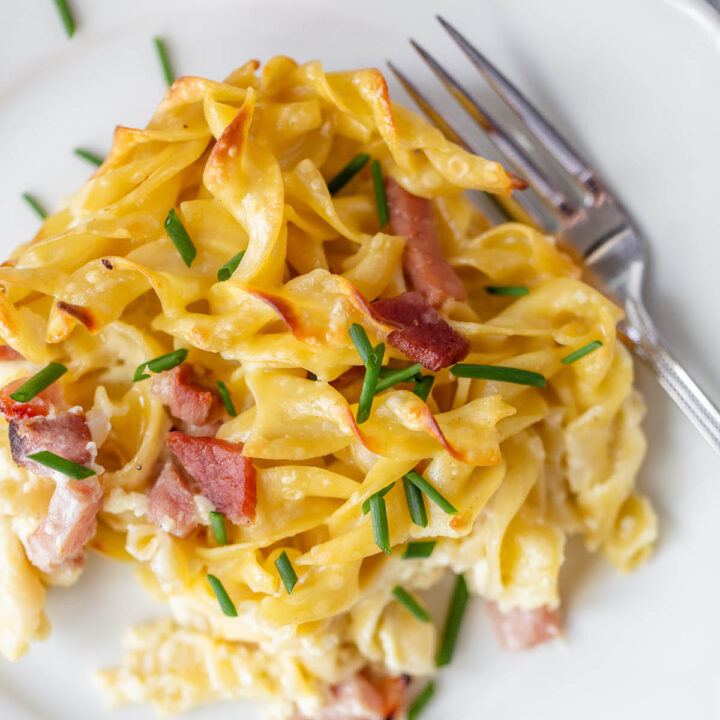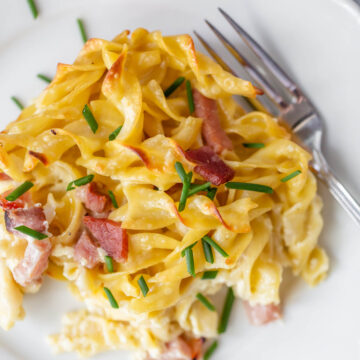 German Ham and Noodle Casserole
This recipe for a ham and noodle casserole is a version of an Austrian or German dish called schinkenfleckerl or schinkennudeln. It's a delicious, creamy noodle dish that is a perfect way to use up any leftover ham!
Ingredients
12

oz

egg noodles

cooked

½

lb

smoked ham

diced

½

medium onion

diced

1

tablespoon

butter

2

eggs

2

cups

heavy cream

⅛

teaspoon

nutmeg

1.5

cups

white cheddar cheese

½

teaspoon

salt

¼

teaspoon

pepper

cooking spray
Instructions
Spray a 9x13 dish with cooking spray and preheat your oven to 375 degrees.

Prepare your ingredients. Boil your eggs noodles until al dente or soft, dice your ham, dice your onion, and grate your cheese.

In a skillet, melt the butter. Add your ham and diced onion and saute, stirring frequently, until onion is cooked through and soft. Turn off the heat.

In a medium bowl, add your eggs, heavy cream, nutmeg, salt, and pepper. Whisk together with a whisk or fork. Add the cheese and whisk to combine.

Drain your noodles, then add the ham and onion. Pour the egg/cream mixture into the pot. Stir together.

Pour into the casserole dish and cover with foil.

Place in the oven and cook for 30 minutes, covered. Remove the foil and cook for an additional 15 minutes.

Remove from the oven and serve.
Notes
If desired, you can add more cheese to the top after cooking and broil.
You can also broil the top without cheese if you like a crispy top.
Dish can be garnished with fresh chives or green onions.
Cheddar cheese can be substituted out for Swiss or Emmental cheese for a more traditional cheese.
If nutrition info is shown, values are based on an online calculator and are estimates. Please verify using your own data.
Tried this recipe?
Tag @foodbanjo on Instagram and share your photos!