This Tuscan Kale salad with apples and cheddar is delicious for an easy lunch, a side for dinner, or it can even be dinner all on its own! It's healthy, crunchy, and so flavorful! It's tossed with a homemade apple cider vinaigrette that provides the perfect acidity to the kale and apples.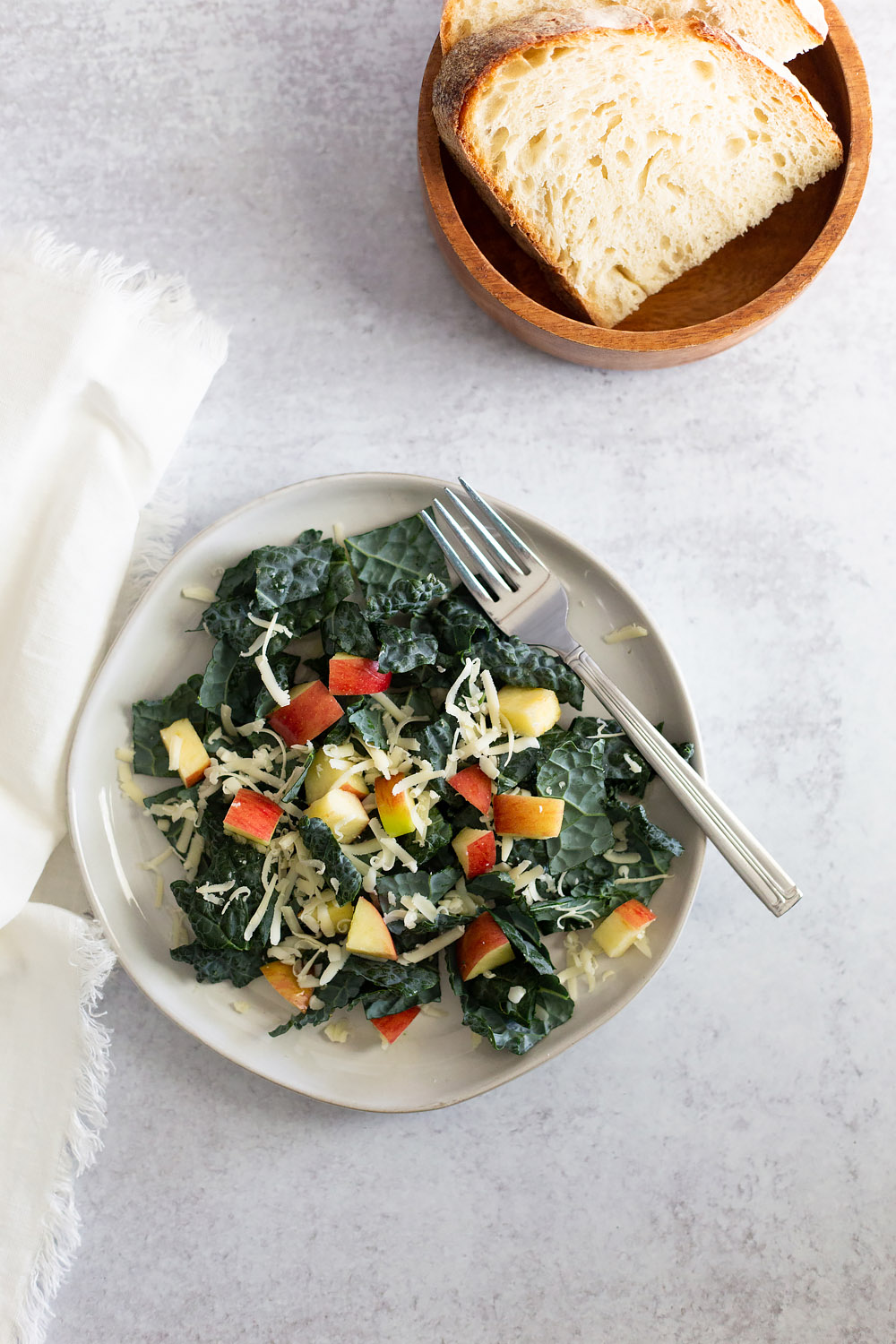 I've been really into this Tuscan kale salad lately. Luckily, so has Josh. I got this idea for the salad from a dish I had at Flower Child. They have a kale salad there that is one of my favorite salads I've ever eaten. It is SO good, and it has kale, apples, cheddar, almonds, and some other items. However, I kept mine simple (because I'm lazy) and just stuck with the kale, apples, cheddar, and a homemade apple cider vinaigrette.
Luckily, it's still so fantastic, even with the pared down ingredient list. This is my husband's favorite salad. He requests it on his birthday, and always says he would eat it several times a week.
And I can't blame him. The kale always is so hearty, the apples crisp and sweet, and the cheddar cheese just brings that little something extra. All that paired with the homemade apple cider vinaigrette just makes this salad so craveworthy.
For this kale salad with apples and cheddar, I chose to use Tuscan kale. It's one of my absolute favorite kinds of kale. Curly kale is okay, but Tuscan kale is MAGIC. I just love everything about it.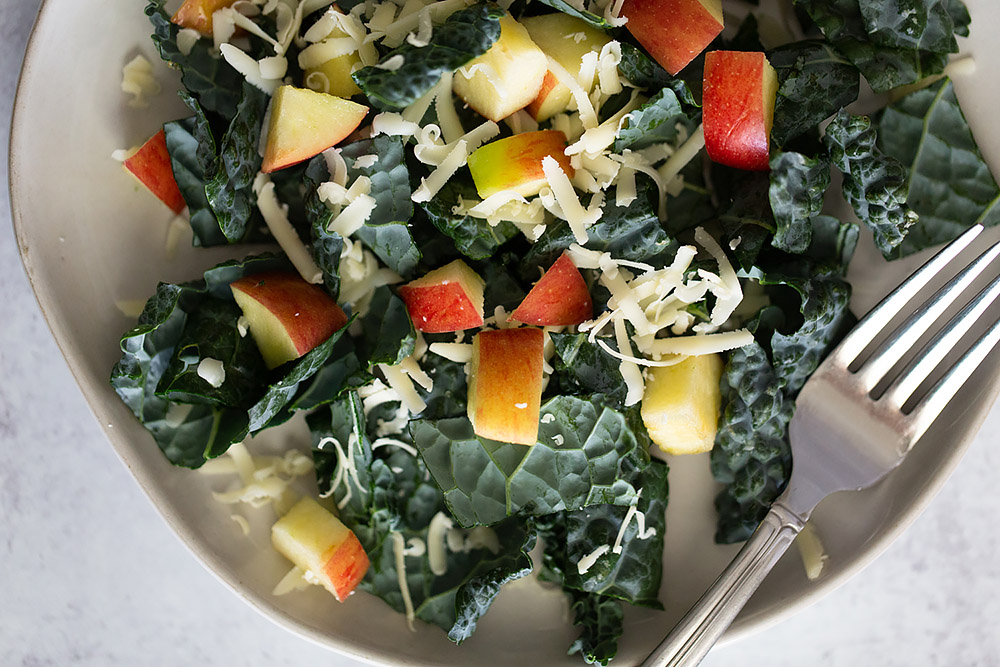 What is Tuscan kale?
Tuscan kale is also called a bunch of other names. Dinosaur kale, lacinato kale, cavolo nero (black cabbage), and they all refer to the same thing. A dark, straight, bumpy kale.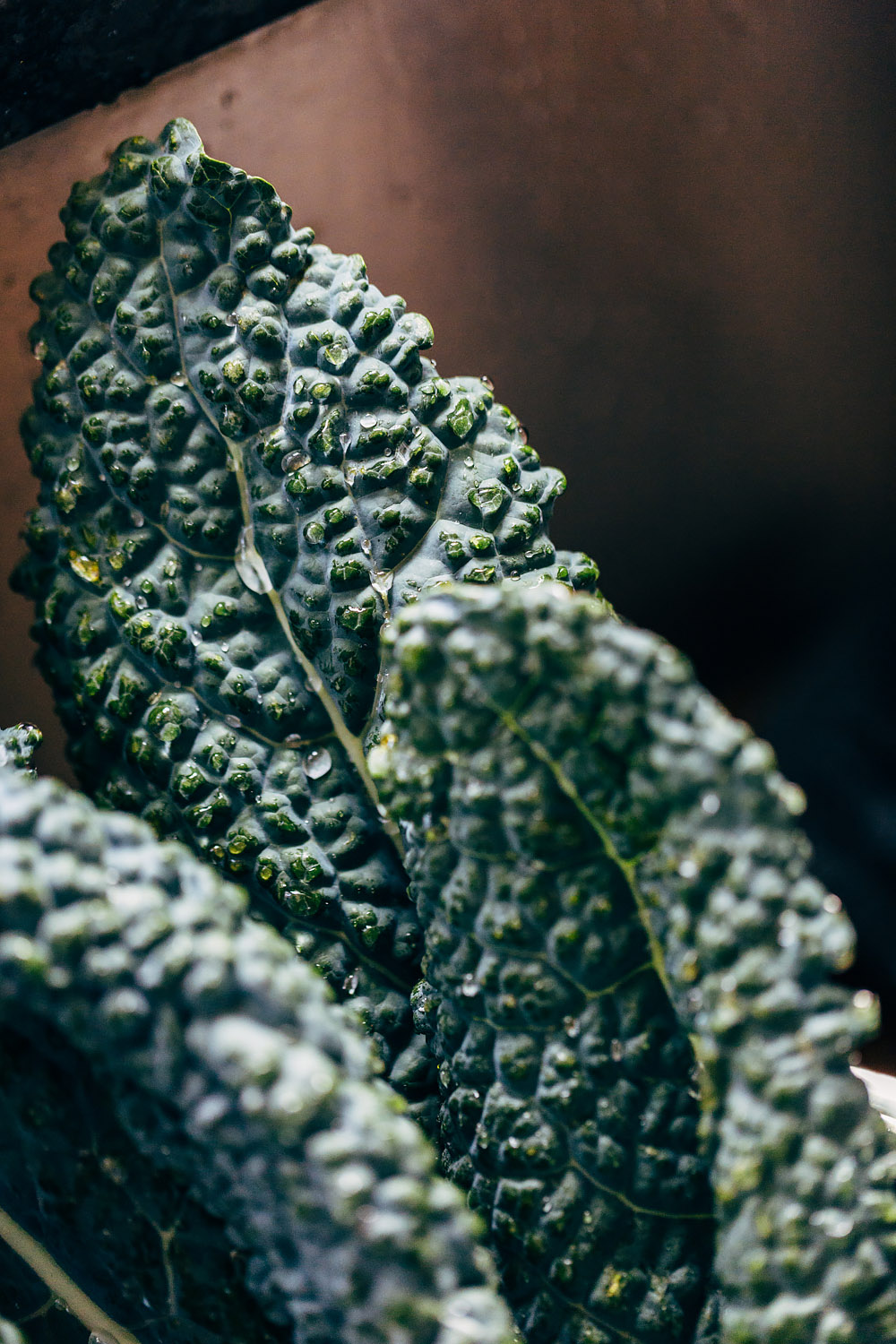 What's the difference between Tuscan kale and curly kale?
Not much, other than appearance. Tuscan, or dinosaur kale can be slightly more tender, but not a huge deal. And honestly, if you can't find Tuscan kale, as it can be harder to locate, just use curly kale. I've done that and the salad is still delicious! (However, both my husband and I agree it's slightly more delicious with Tuscan kale).
Why else should you make this salad (other than it's delicious?) Kale is SO healthy! I mean, obviously. You've probably heard all your foodie friends that are trying to eat healthy talk about kale. There's kale chips. Kale Caesar salads. Kale smoothies. Kale everything. But there's a good reason for that! It's diabetes-friendly and has high levels of vitamins A, K, B6, and C, calcium, potassium, and manganese.
Ingredients Needed:
Kale
To prepare the kale for the Tuscan kale salad, you'll want to cut out the center stem or rib. It can be really tough, and you don't want that in your salad. So slice along the rib/stem, and remove it. You'll be left with a nice size of kale on each side. Then take that kale and cut it into about 2 inch pieces.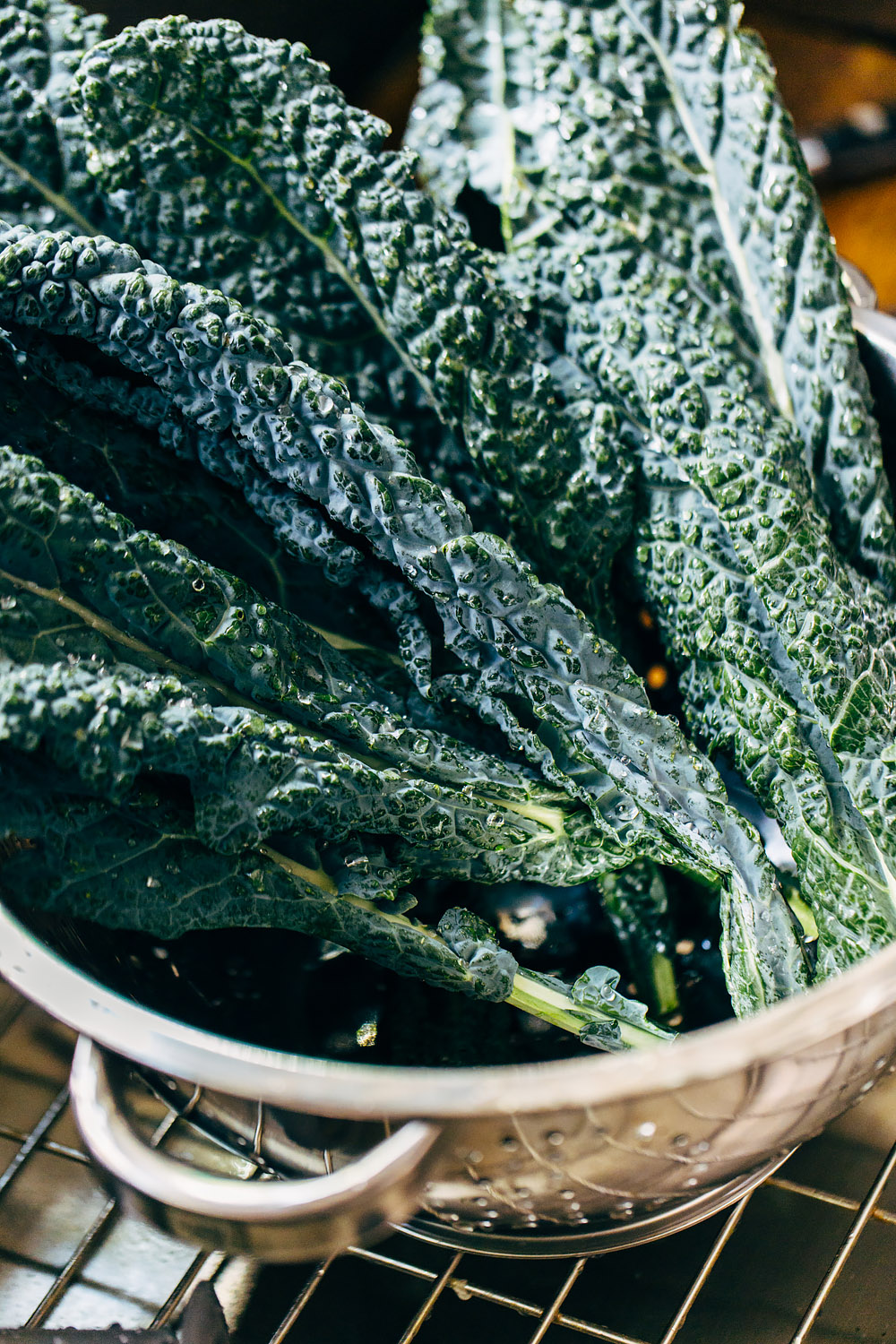 Apples
For the apples, I typically use gala or jazz apples. You can also use honeycrisp or pink lady. Any of those will work great in this salad. Just dice the apple into small cubes, leaving the core behind!
Cheese
For the cheddar cheese, I try to use a nice quality, sharp cheddar. Head to the fancy cheese section and get something nice. It doesn't have to be expensive! Sometimes getting a large block of nice cheese that is ungrated can wind up being cheaper or comparable to buying pre-shredded cheese. For this salad, I wind up using a block of English or Irish Cheddar cheese. Tillamok is also a great option.
Vinaigrette
To make the apple cider vinaigrette, just combine all the ingredients in a mason jar and shake! Could not be easier. This combines them all and then you can just pour over your salad. If you don't want to use all the dressing, just pour as much as you want over it. So easy.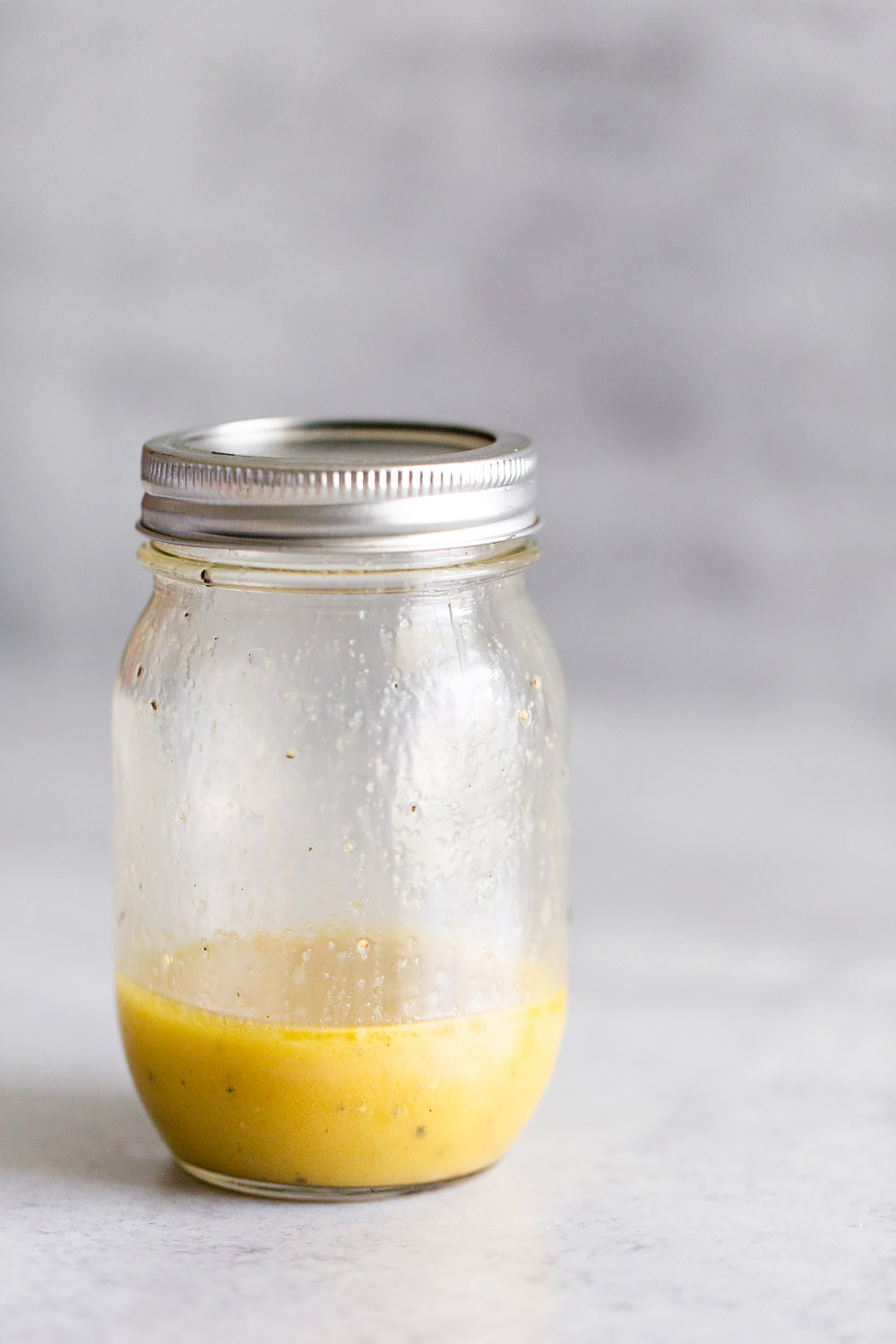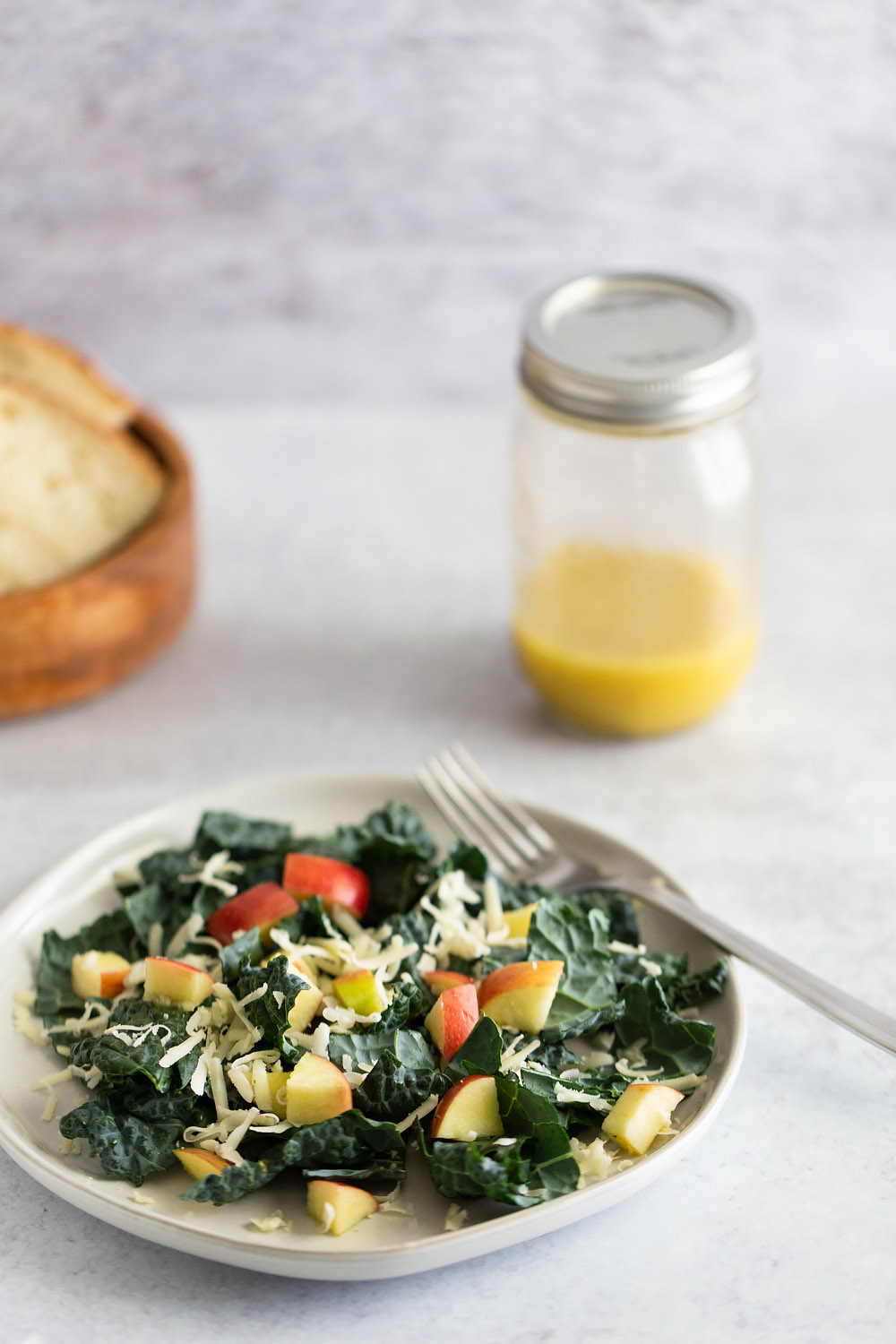 Love this recipe? Try these too!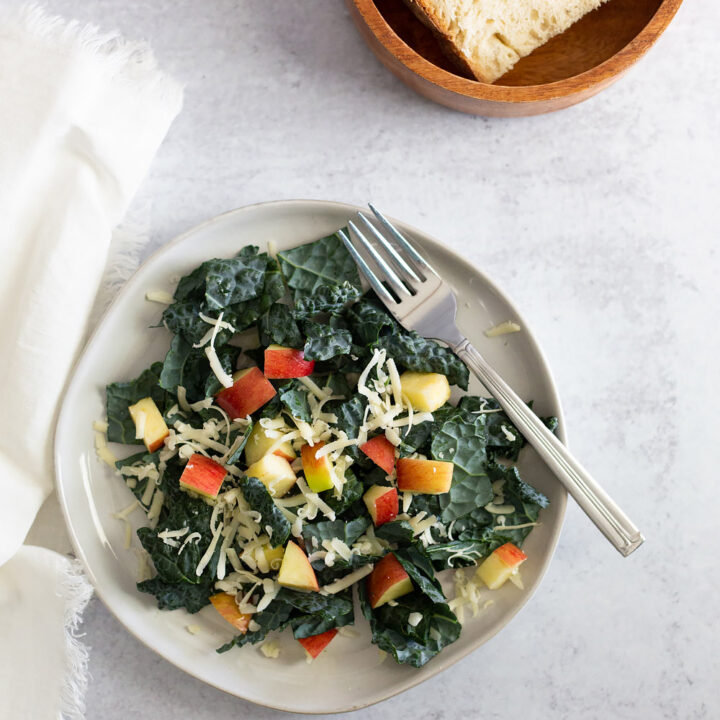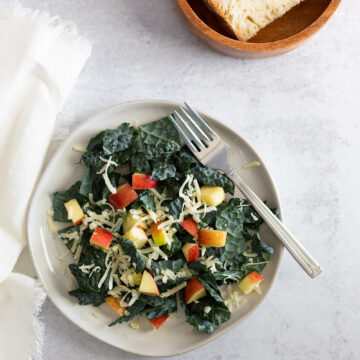 Tuscan Kale Salad with Apples and Cheddar
This Tuscan Kale Salad is easy to make for a quick lunch or even dinner! It's filling and delicious.
Ingredients
5

oz

Tuscan kale

1

red apple, small

¼

cup

Cheddar cheese, grated

¼

cup

extra virgin olive oil

⅛

cup

apple cider vinegar

1

teaspoon

dijon mustard

1

teaspoon

honey

salt

pepper
Instructions
Wash the kale and then remove the center rib/stem of each leaf. Cut the kale into 2 inch pieces and place in a large bowl.

Dice the apple into small chunks, leaving the core behind. Add to the bowl.

Shred ¼ cup cheddar cheese. Put most in the bowl, reserving a bit for adding to the top of the salads.

Into a mason jar or other jar/container with a lid, add the olive oil, apple cider vinegar, dijon mustard, honey, and a sprinkling of salt and pepper. Shake until well combined. Pour over the salad and then toss the salad together with the dressing.

Plate the salad onto two plates or bowls and sprinkle the remaining cheddar cheese over the top.
Notes
Tuscan kale is also referred to as dinosaur kale and a few other names. It can be found at some grocery stores and farmer's markets. If you cannot find it, curly kale will work great in this salad too.
Use a high-quality cheddar cheese for this salad.
Nutrition
Calories:
393
kcal
Carbohydrates:
22
g
Protein:
7
g
Fat:
33
g
Saturated Fat:
7
g
Polyunsaturated Fat:
3
g
Monounsaturated Fat:
21
g
Cholesterol:
15
mg
Sodium:
145
mg
Potassium:
476
mg
Fiber:
2
g
Sugar:
12
g
Vitamin A:
7273
IU
Vitamin C:
89
mg
Calcium:
217
mg
Iron:
1
mg
If nutrition info is shown, values are based on an online calculator and are estimates. Please verify using your own data.
Tried this recipe?
Tag @foodbanjo on Instagram and share your photos!