These vegan roasted cauliflower tacos are flavorful and bright! They pair fresh veggies with delicious seasonings for an easy, filling vegan dinner!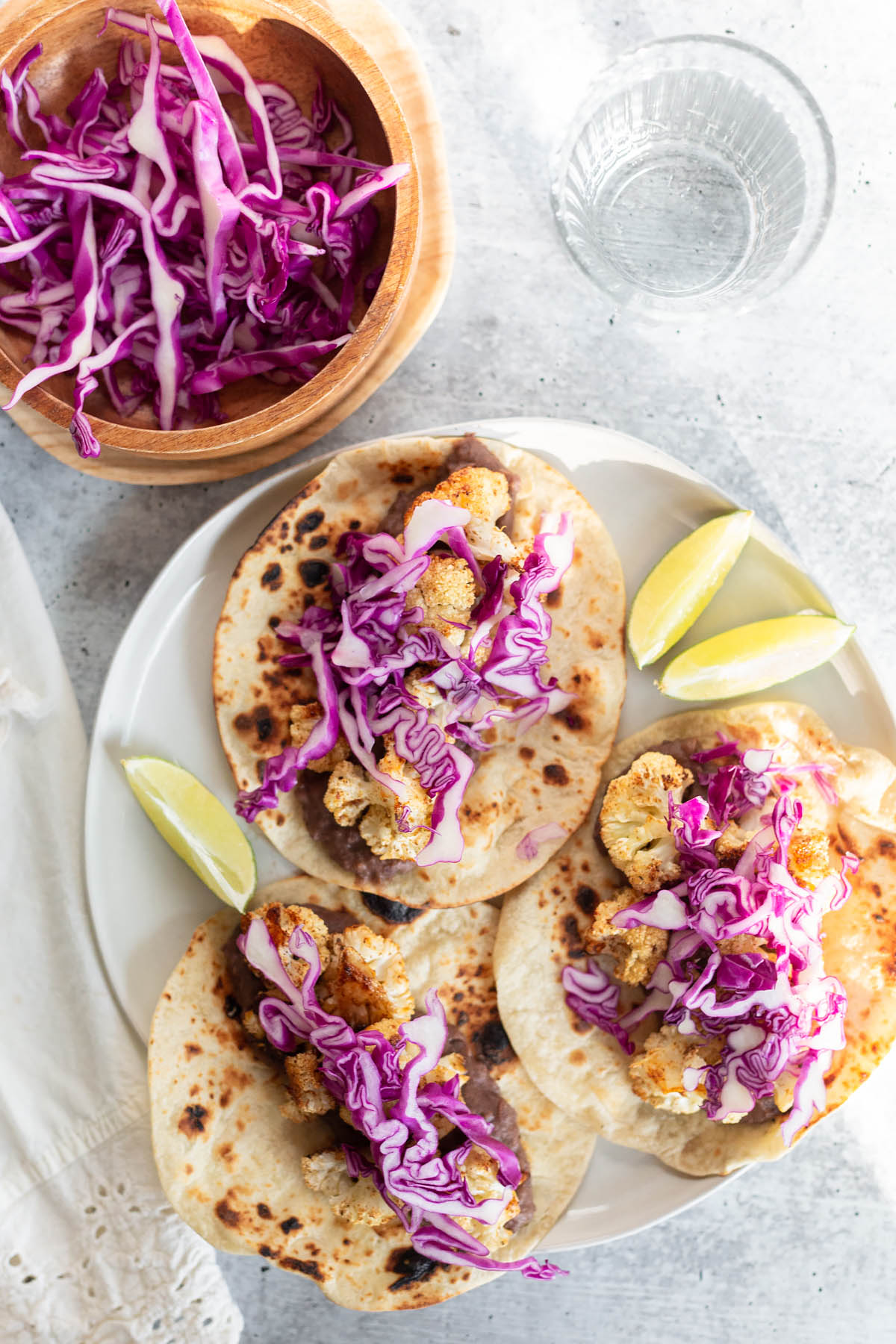 I've made vegan roasted cauliflower tacos a few times lately, and I've been absolutely loving them. These tacos have made me so happy that Josh and I made the decision to incorporate more vegan recipes into our dinner plans.
Roasted cauliflower works so well in tacos. If you season it right, it's incredibly flavorful and tasty. And when you roast it in the oven? It's so meaty!

These vegan cauliflower tacos are so hearty and flavorful! The crunchiness of the red cabbage, flavor of the roasted cauliflower, char of the tortillas, the creaminess of the black beans, and the brightness and acidity from the lime zest pair together to create a taco dish you'll be craving night after night. They are easy to make and taste so fresh!
Ingredients:
Flour tortillas (make sure they are vegan)
Refried black beans (make sure they are vegan) -- you can also check out these substitutes for black beans
Head of cauliflower
Red cabbage
Lime
Ground cumin
Smoked paprika
Olive oil
Cilantro, salsa or avocado (for topping if desired)
Are flour tortillas vegan?
Yes, most are these days. However, you'll still want to check to be sure that the tortillas you're using are made with vegetable oil and not lard. Here's a list of brands that are definitely vegan! Spoiler alert - Mission Tortillas are vegan. I mention it here, because it's one of the most popular and easy to find brands out there!
How to make your tacos SO much better
We have a top secret way for making our tacos even better! That's to char them over a flame. If you have a gas stove, that's easy to do! If you don't have a gas stove (or grill), then just heat them in a pan so they get warmed through.
Like this recipe? Try these too!
How to make the tacos
First, you'll preheat your oven to get it started cooking! Take a baking sheet and line it with foil.
While the oven heats up, cut up your cauliflower head into florets. The florets are the small parts that look like little trees! Keep the florets and discard the cauliflower core.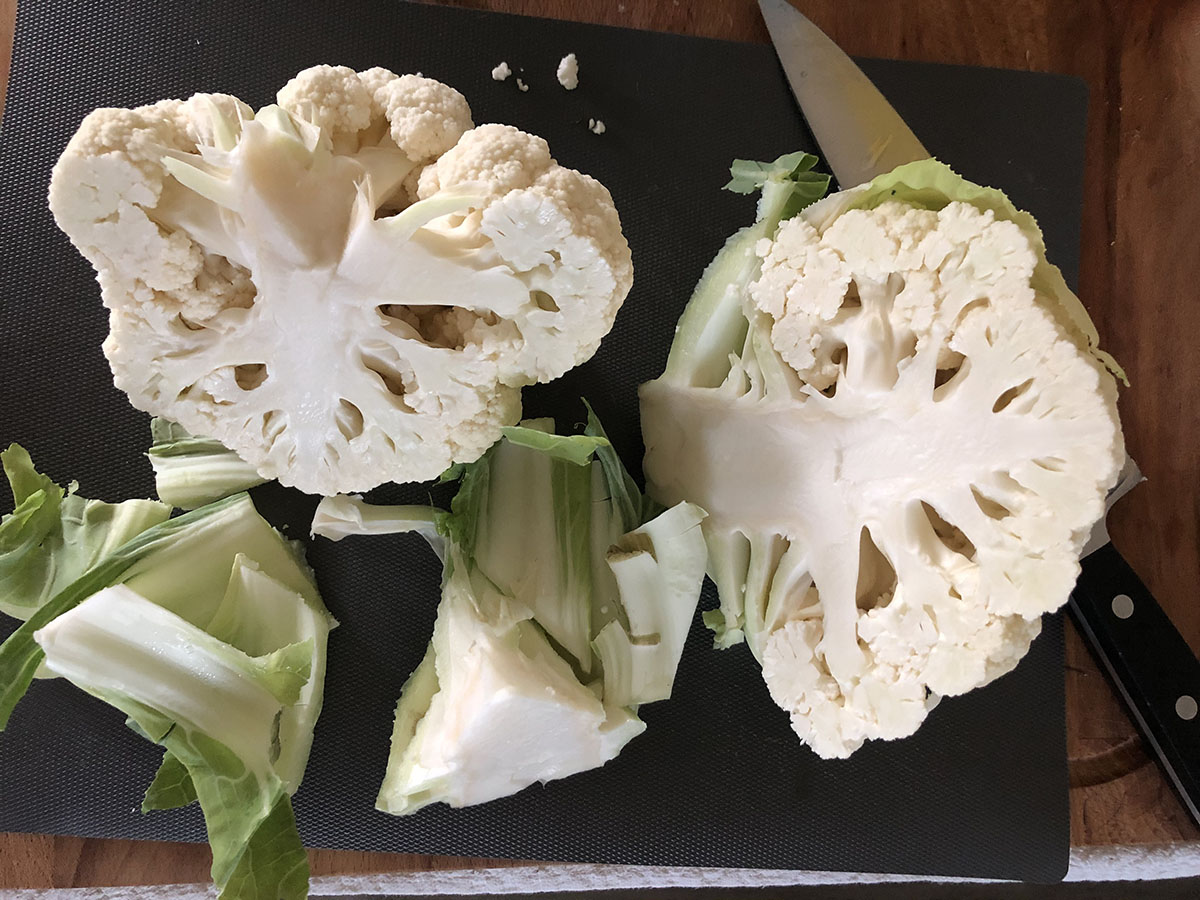 Place the florets on the baking sheet, then toss with olive oil, cumin, and smoked paprika. Place in the oven to roast.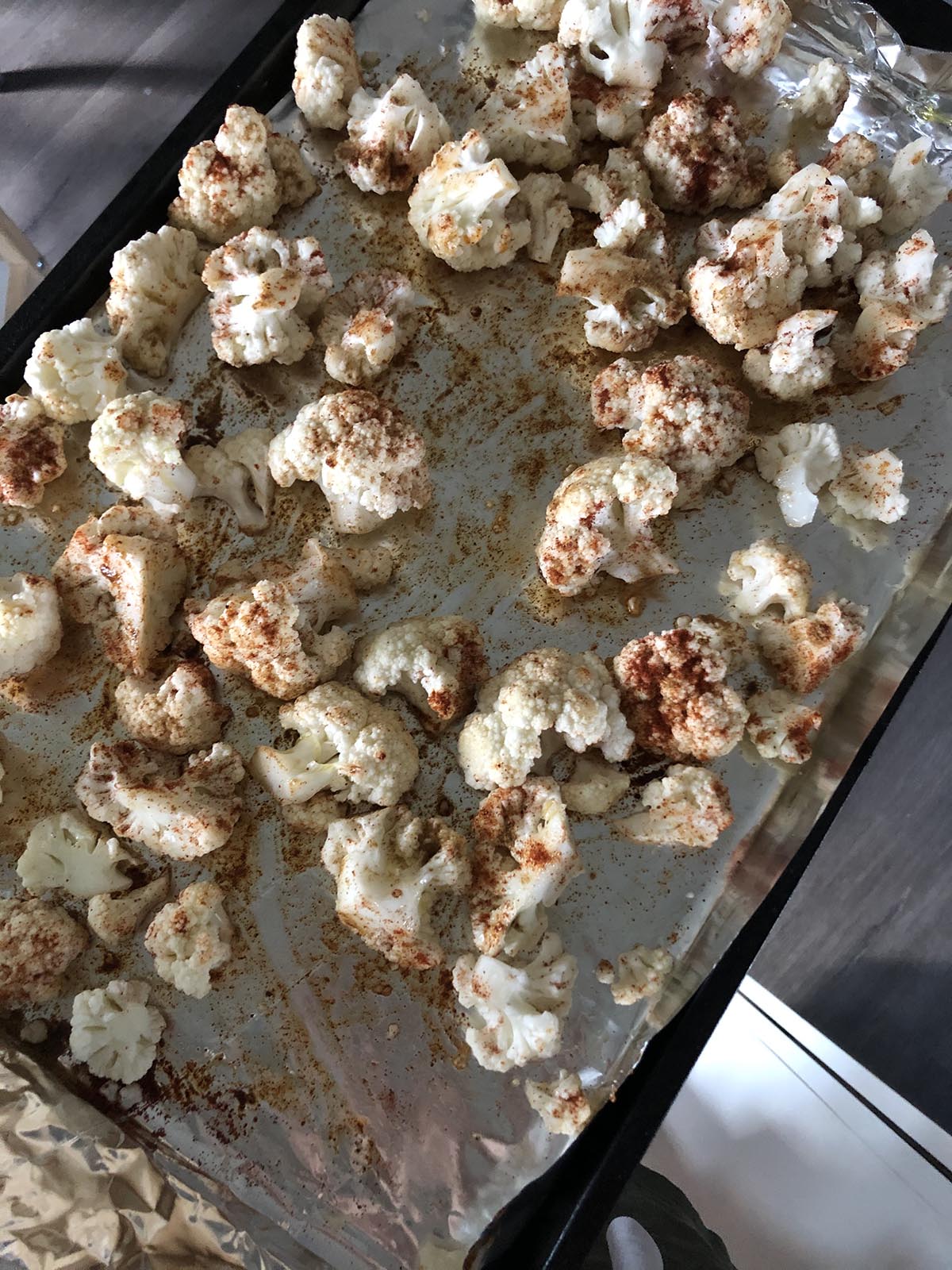 When the cauliflower is close to being done, start heating up the can refried beans in a small pot.
Slice up some red cabbage and cut the lime into sixths.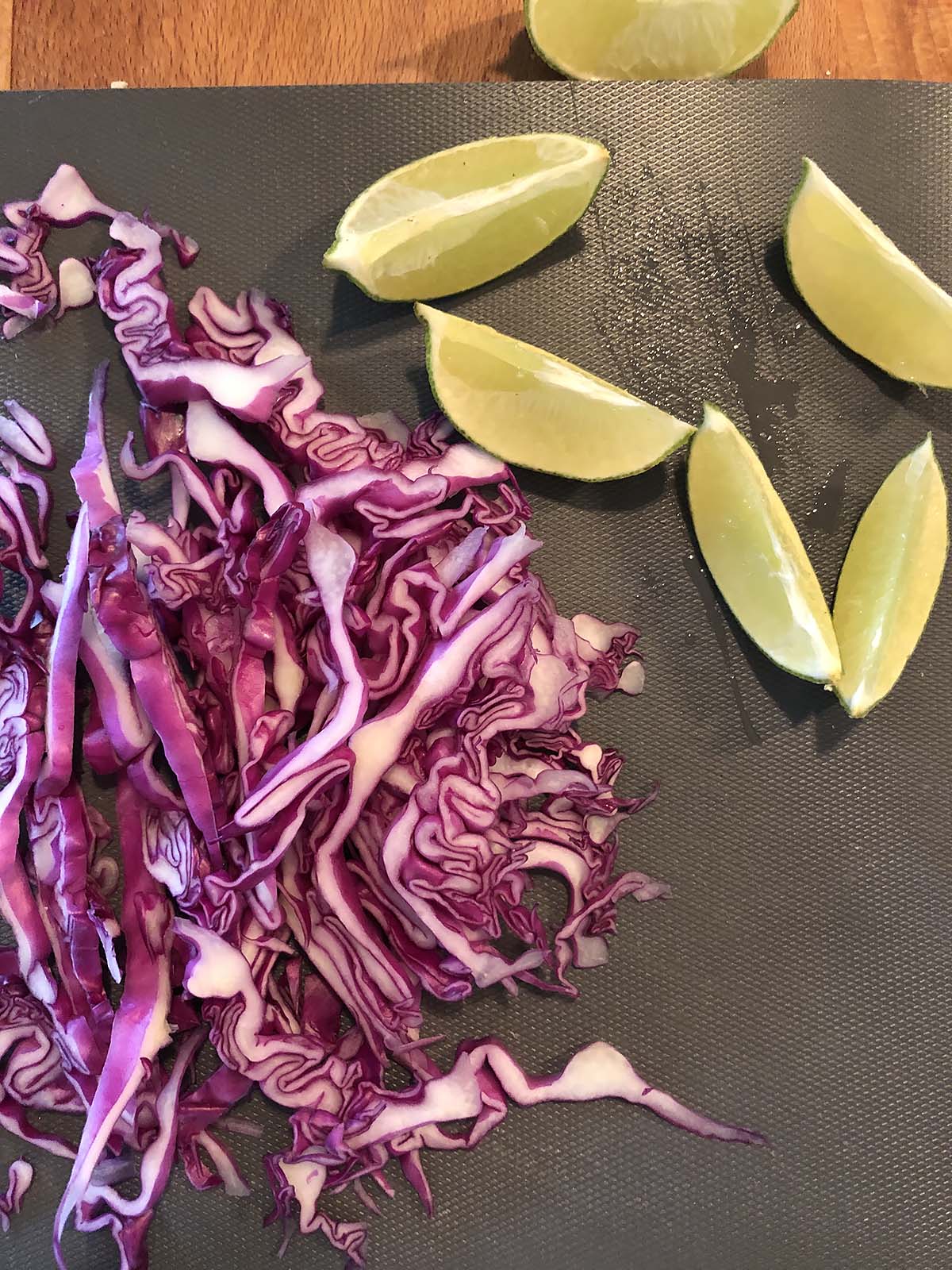 If you have a gas stove, turn on the flame and heat up your tortillas over the flame. I typically turn the flame on low so that I don't burn the tortilla. Flip each tortilla, heating both sides and set aside.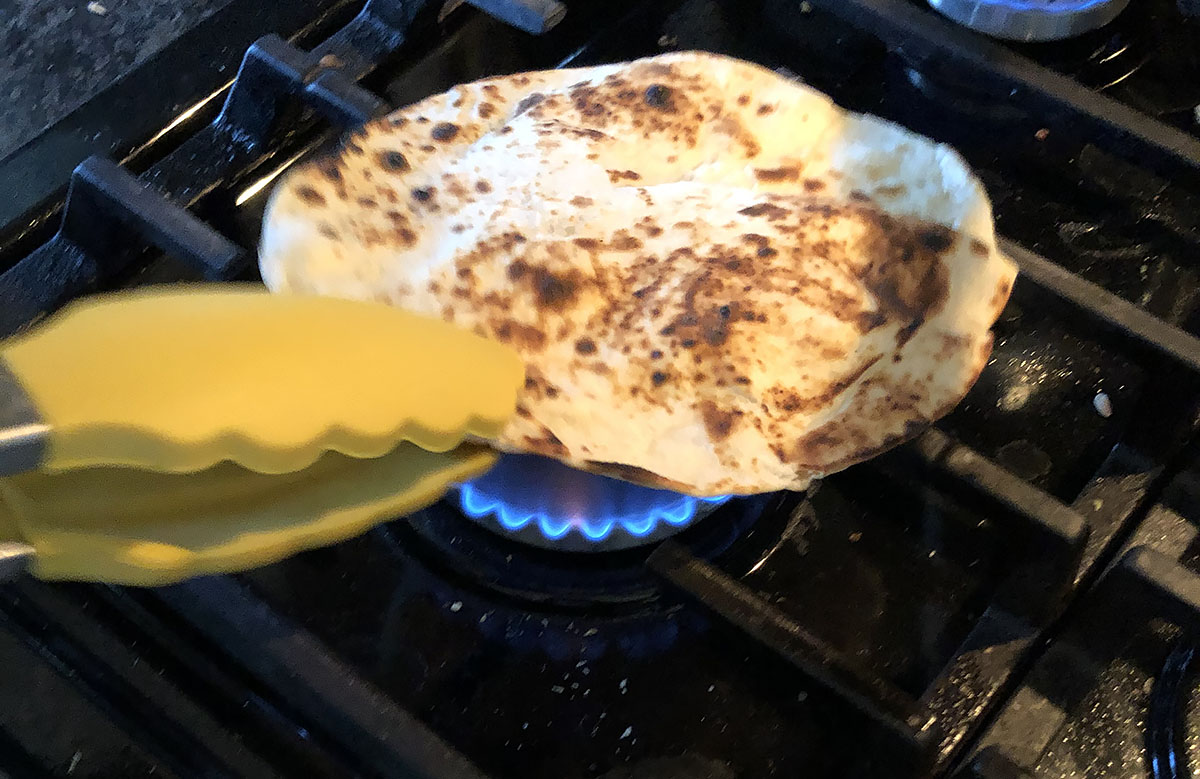 Assemble each taco, starting with the beans, then cauliflower then topping with the sliced red cabbage. Squeeze a lime wedge over each taco.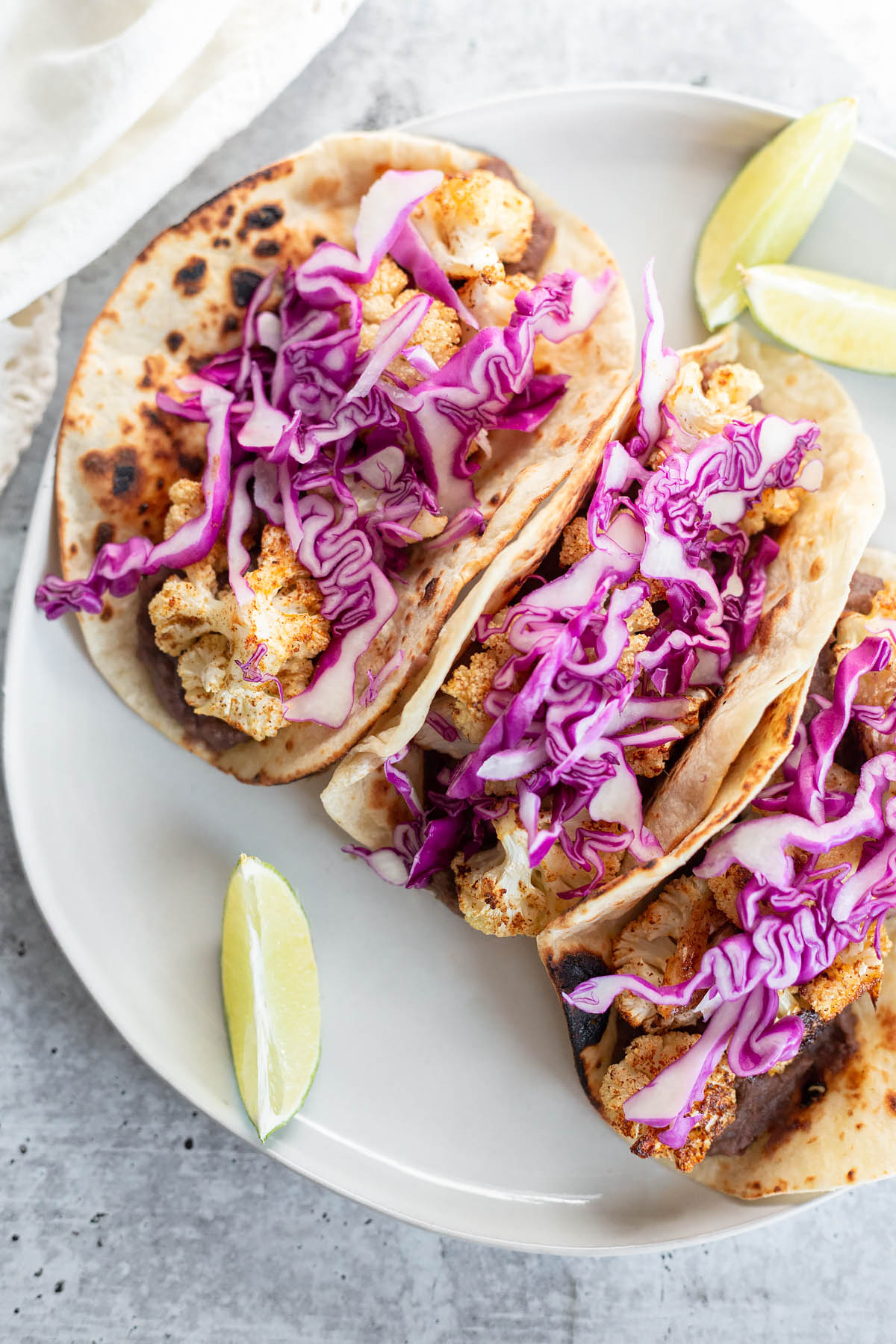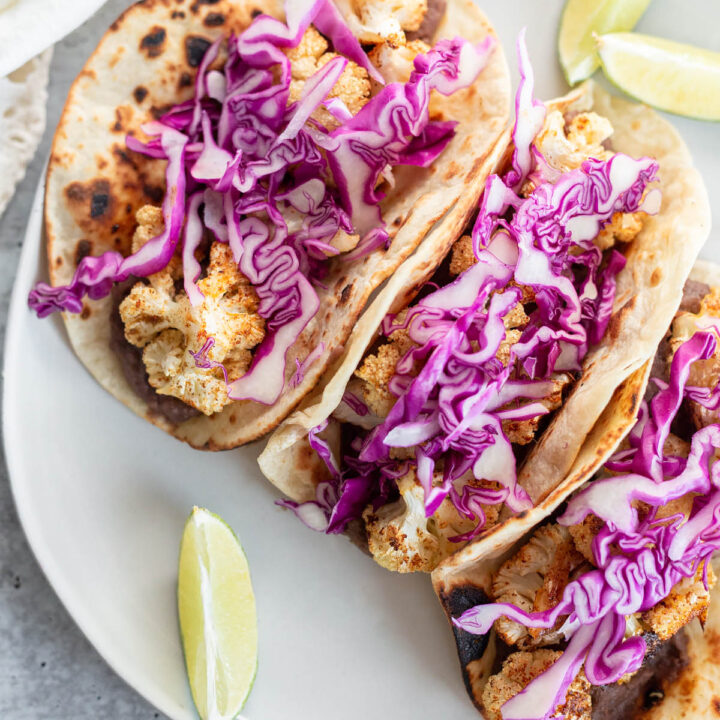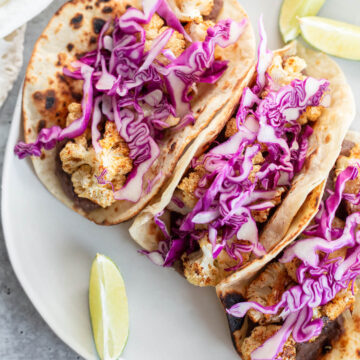 Vegan Roasted Cauliflower Tacos
These vegan roasted cauliflower tacos are flavorful and bright! They pair fresh veggies with delicious seasonings for an easy, filling vegan dinner!
Ingredients
1

head

cauliflower

2

tablespoon

olive oil

2

teaspoon

cumin

dried

2

teaspoon

smoked paprika

15

oz

can refried black beans

1

lime

red cabbage

6

flour tortillas
Instructions
Heat the oven to 425 degrees F. While the oven is heating, add foil to a sheet pan.

Take the head of cauliflower and cut it into florets, discarding the core.

Place the cauliflower florets onto the sheet pan and drizzle with the olive oil. Toss, then sprinkle the cumin and smoked paprika over the top and toss again so that the cauliflower is coated. Place in the oven and cook for 25-35 minutes, until cauliflower is cooked through.

When cauliflower is almost done cooking, place the refried beans into a pot and heat over low heat, stirring frequently, until beans are hot.

Slice some red cabbage and cut the lime into 6 wedges.

If you have a gas stove, take each tortilla and heat over a flame (over low heat) until warm and lightly charred. If you have an electric stove, heat a pan over medium heat, and warm each tortilla in the pan.

Take each tortilla and add refried beans, then the cauliflower, and the red cabbage. Squeeze the lime over each one. Add avocado, cilantro, and/or salsa as desired.
If nutrition info is shown, values are based on an online calculator and are estimates. Please verify using your own data.
Tried this recipe?
Tag @foodbanjo on Instagram and share your photos!