M'arrecreo is a delicious place to get pizza in Lisbon! Their Neapolitan-style pizzas are made with fresh, high-quality ingredients and cooked in a stone oven that cooks the pizzas in less than 90 seconds.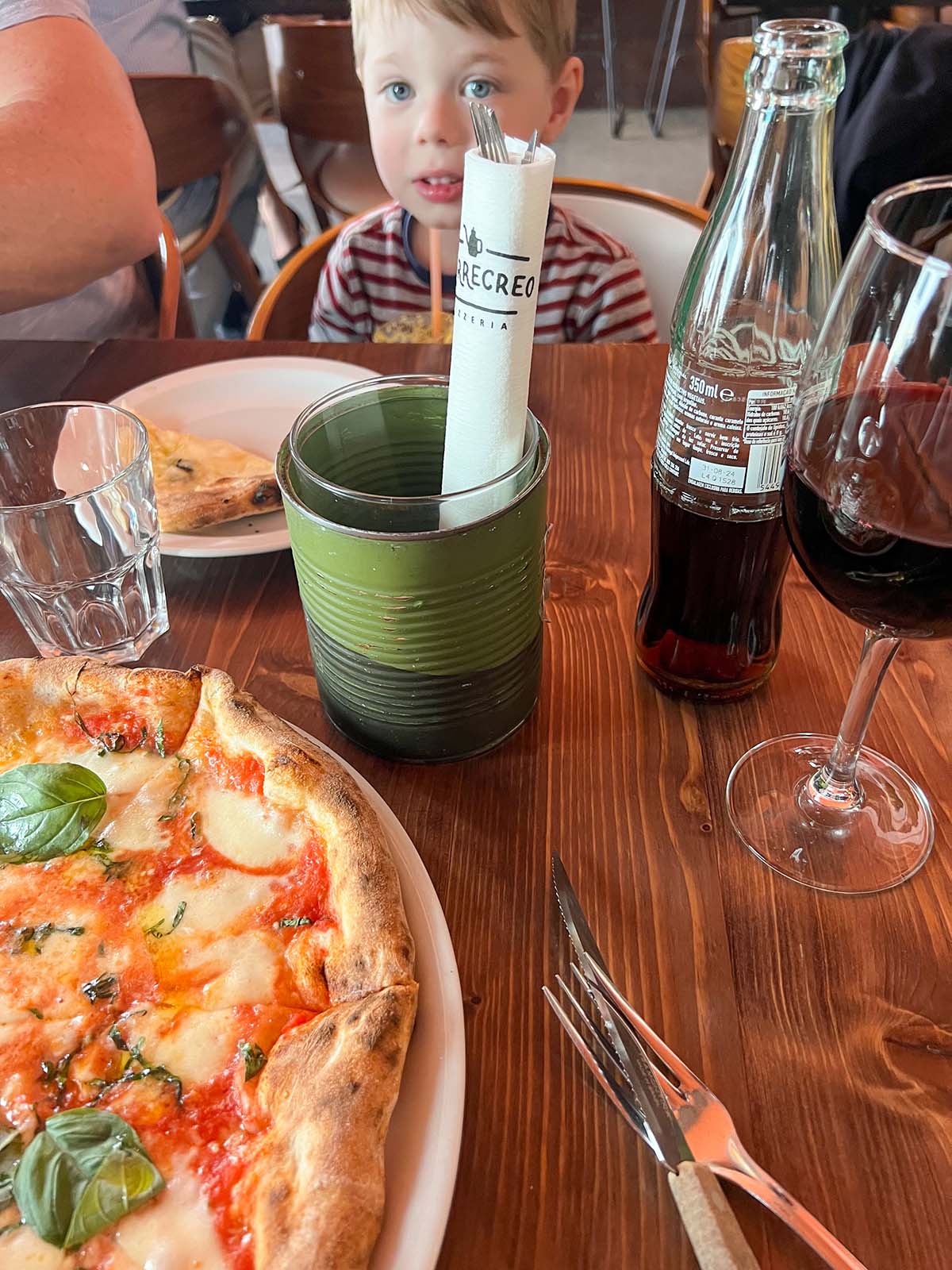 On our trip to Lisbon, we were walking with our friends around the gorgeous and peaceful Estrella Park when suddenly, my kids were starving. They could barely walk another step without the promise of food.
If you have kids, you know how that goes.
So our friends offered a couple of suggestions, and my kids love pizza, so off we trekked to M'arrecreo in Lisbon. A metro ride and a funicular ride up a hill, and we were there!
Where is M'arrecreo Pizzaria?
M'arrecreo Pizzaria is located in the Barrio Alto neighborhood of Lisbon, on top of a hill. If you're staying in Central Lisbon, it's very easy to get to, and it's just a short walk away from Principe Real park.
The address is Rua de São Pedro de Alcântara nº 35 1200-270 Lisboa.
If you take the metro to the Restauradores station, be prepared to also take the Ascencor da Glória for a funicular ride up the steep hill. Otherwise, you may starve of hunger and tiredness from walking up the hill before you get to have delicious pizza.
The 24 tram also passes right by the pizzara, so that's also a great option to take if it's not crowded!
After eating pizza, wander over to the Miradouro de São Pedro de Alcântara for incredible views of Lisbon. It's an overlook that has a large fountain, shaded trees, and benches.
The drinks
The drink menu here fits in perfectly with the Italian vibe. Aperol Spritzes, Negronis, Limoncello are all on the menu along with Pisco Sours and Caipirinhas. You can even get Ginjinha! And at the time of writing this, every drink is under 10 euros.
And of course there are wines from Portugal and Italy, and also beer.
If you're looking for a non-alcoholic option, there is NA Sagres, along with a dedicated mocktail menu.
So what did we get? I was boring and got red wine, but it's hard not to! Portuguese wine is delicious!
Josh opted for a Negroni and he said it was perfect and hit the spot.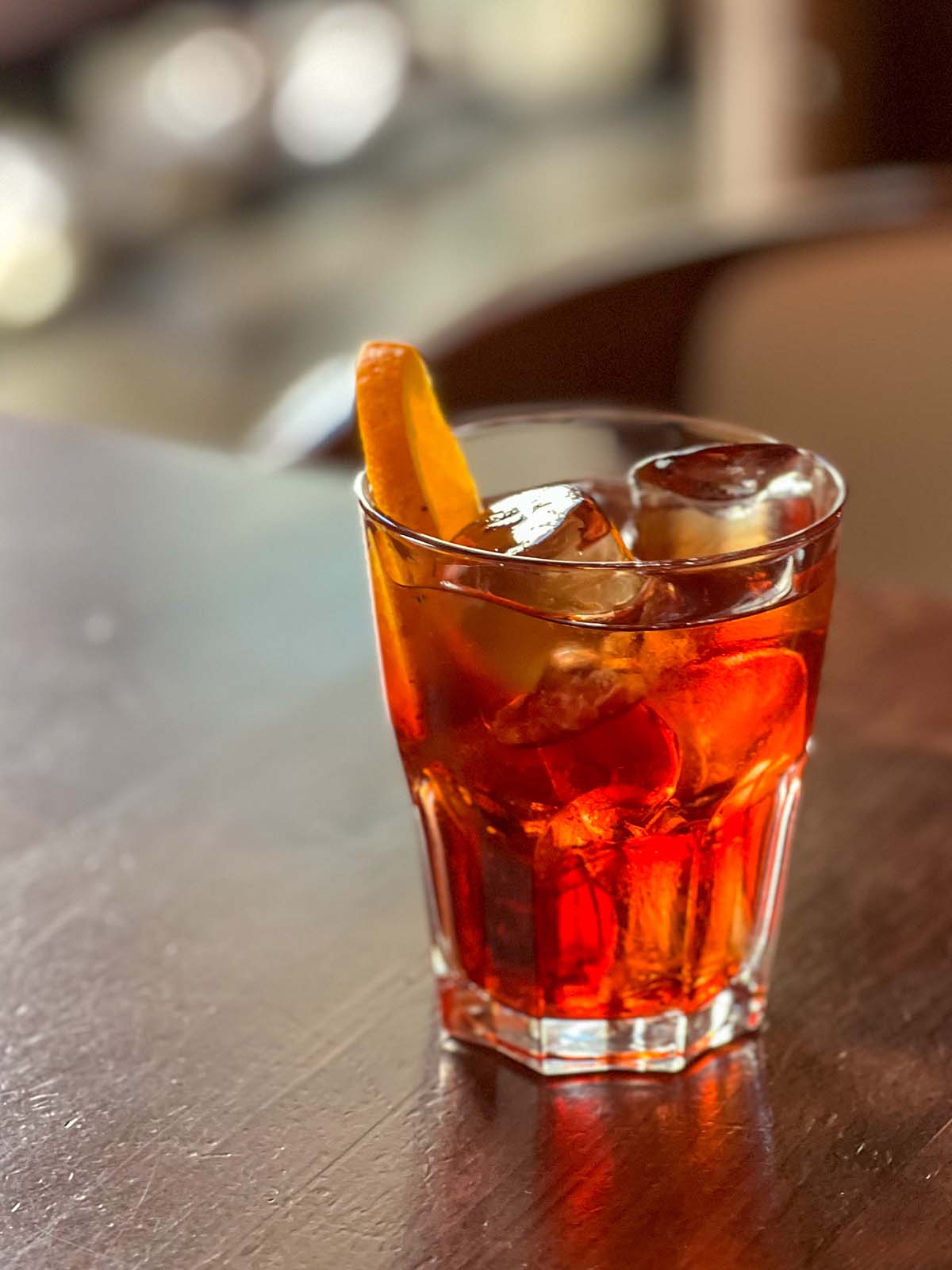 They wound up making a lovely fancy drink for Archer. He had some fresh orange juice topped with a little sparkling water, and he loved it! Did not want to share with his sister.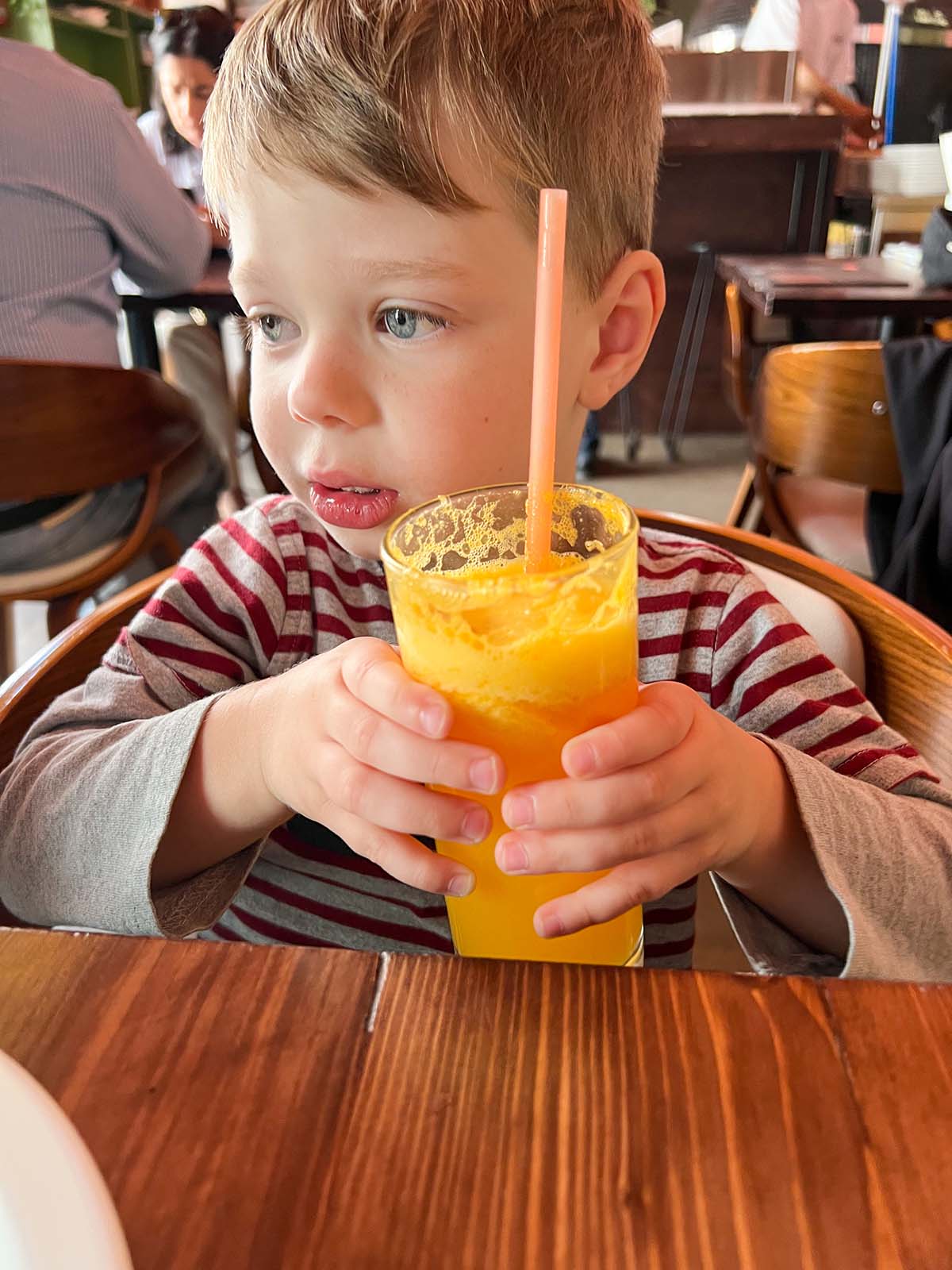 We rarely let Zara drink coca-cola (she's had it maybe 5 times in her life), but on this trip we let her splurge twice, and on each occasion the waitstaff was like "She can have COKE?"
But we it was vacation. So we let her splurge. Her coke was served with a lemon wedge, which she found amusing.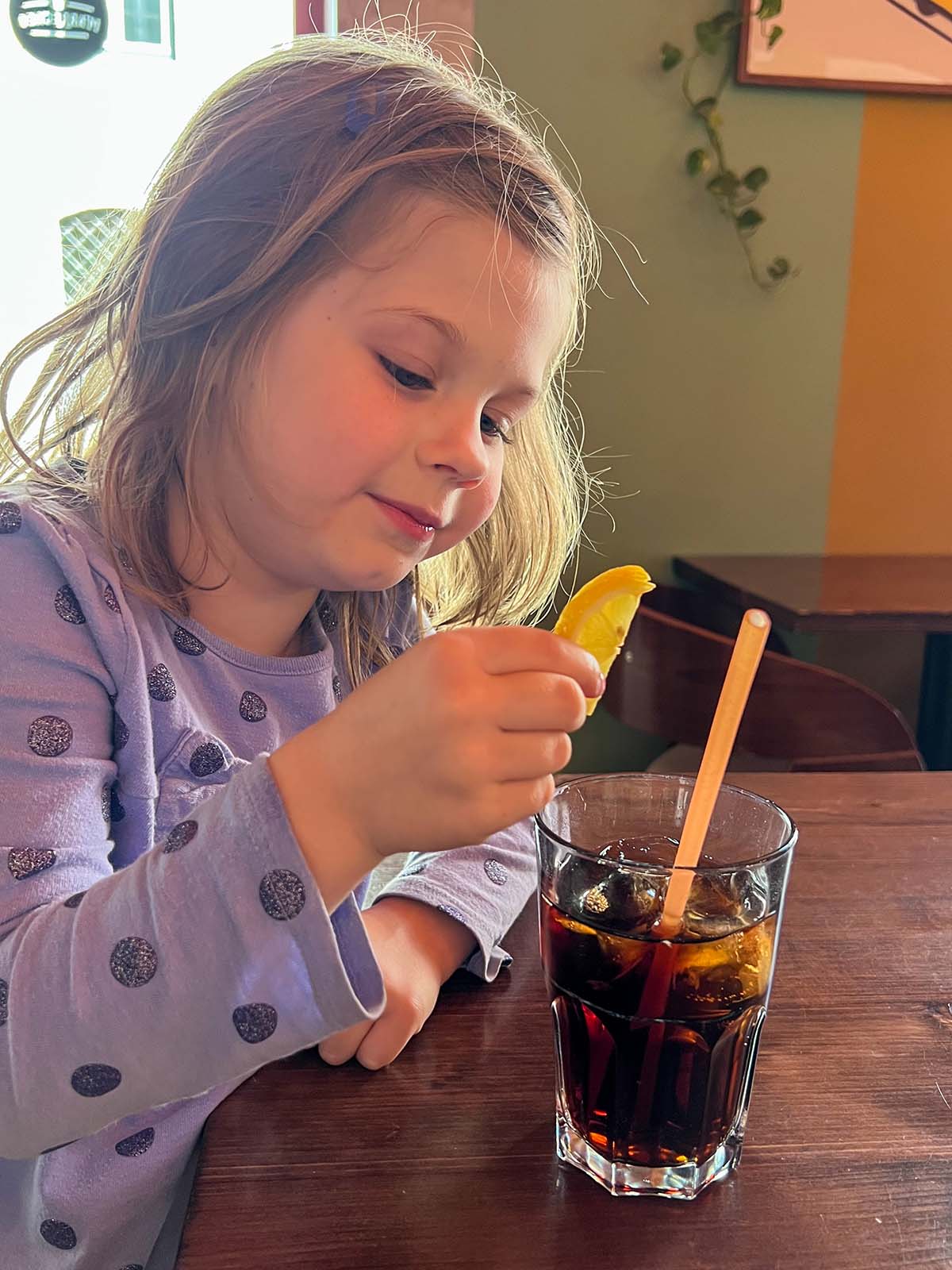 The food
We ordered 2 pizzas between the four of us. They have many different options, but since we were with kids we went pretty classic.
Archer and I split this Scarpariello which was so good. It's similar to a Margherita, but it had smoked provolone. Highly recommend.
Josh got the 4 Fromaggi (4 cheese) that had mozzarella, smoked provolone, gorgonzola and parmesan. He loved the gorgonzola on the pizza and could not stop raving about it.
I tried a slice of his, and it was tasty, but I liked the other one better.
And then Zara ate our pizza crusts, because she rarely likes the actual pizza.
Luckily for her, the crusts were DELICIOUS.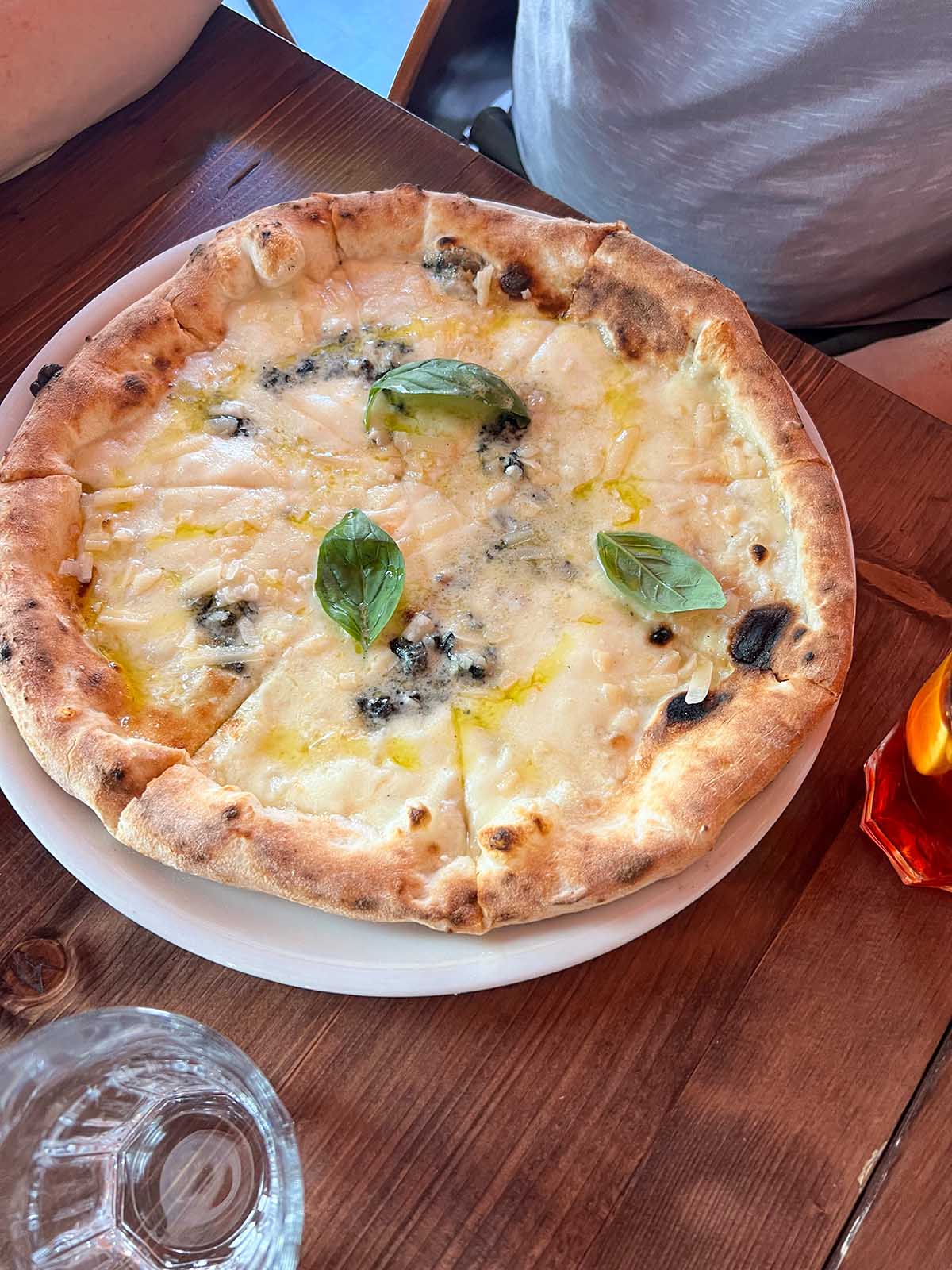 The atmosphere
The restaurant isn't huge, but when we visited there were plenty of tables available. It's a cute place that feels modern, but with a little Portuguese and Italian flair.
Super cute, and the windows/doors were open to the outside, providing a really nice airy vibe, even with the darker paint colors.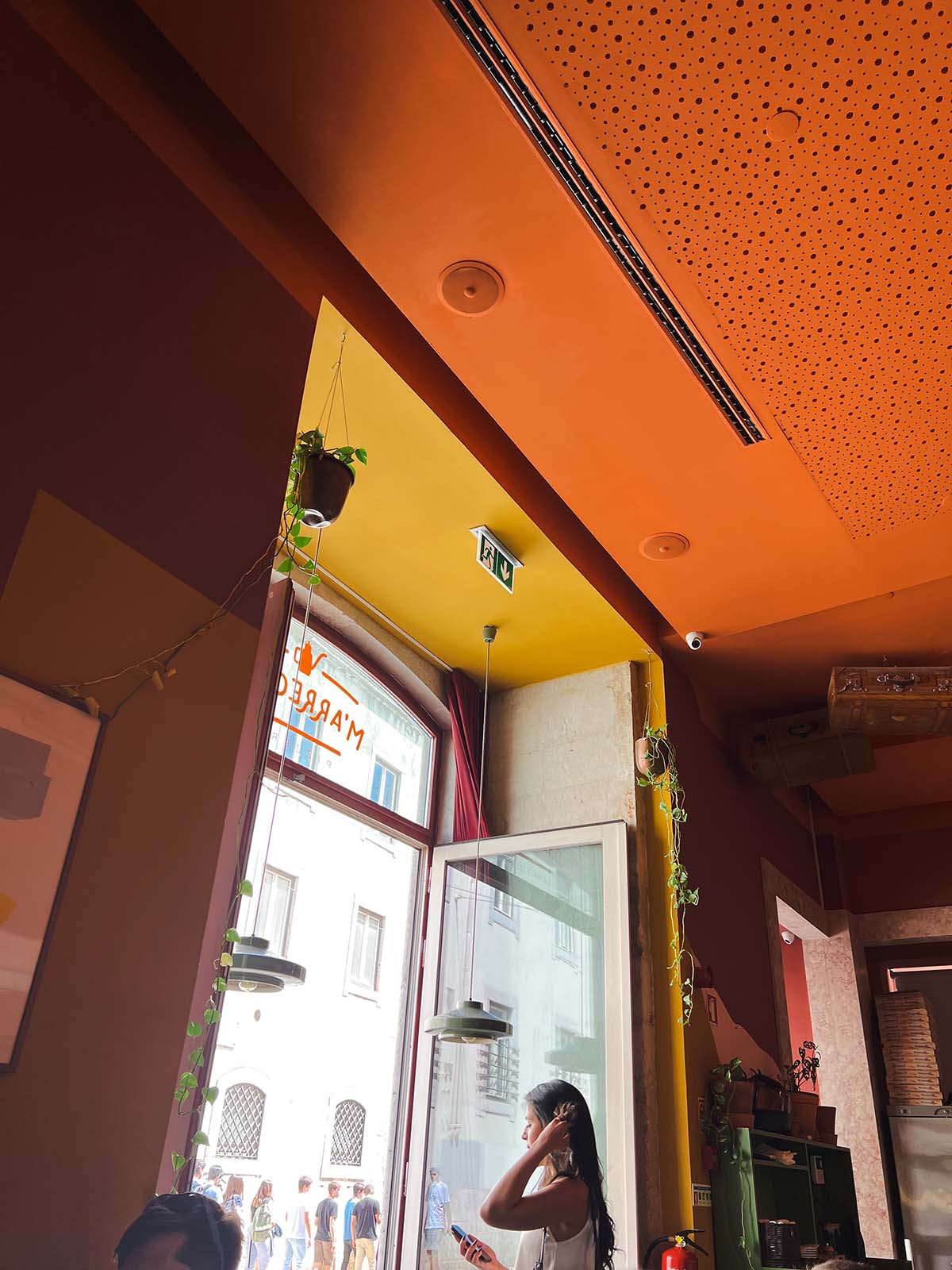 It is kid-friendly?
Yes! They were so accommodating to our kids, and even offered to pre-slice the pizza for us so that we could easily share with them.
Would we return and eat there again?
Um, yes. Absolutely. 100%. The second place we stayed in Lisbon actually wound up being within walking distance of the restaurant and I really wanted to eat there again, but we just didn't have time with everything else we want to do.
That being said, on our next trip to Lisbon, we will definitely be coming here again. The pizza was great, the waitstaff was great, the drinks were great, and overall a really nice atmosphere and location.