It's a Per-Peri showdown. Nando's Peri-Peri sauce versus Trader Joe's Peri-Peri sauce. Which is better? Which is spicier? Which should you reach for when you're making all your spicy recipes? Find out more when we dive into the flavor profiles, the ingredients, and the colors.
Recently I spied a Peri-Peri sauce at Trader Joe's. It was a new item, and I knew I had to try it. Having Peri-Peri chicken a few years ago in London, and falling in love, I knew this sauce was right up my alley.
But then I wondered -- how did it compare to the sauce that made Peri-Peri famous? Nando's Peri-Peri sauce. (If you're in the US and looking for a Nando's restaurant, they are sadly only located in the DC and Chicago areas. But you can find Nando's sauce at many grocery stores, including my local one in Texas!)
So I embarked on a journey to try both of them, side by side. A comparison of colors, flavors, ingredients. Which is better? Which is spicier? How should these be used?
What is Peri-Peri Sauce?
Peri-Peri sauce originates in Africa (with a Portuguese influence) and is traditionally a blend of African bird's eye chilis. The flavor is typically spicy, garlicy, tangy, and lemony. The Nando's franchise popularized the sauce and flavors, but Peri Peri simply means "pepper pepper" in Swahili.
The Color and Look
As you can see, the colors vary wildly here.
The Trader Joe's version is on the left and Nando's is on the right.
Trader Joe's sauce is definitely more yellow/orange, and also more opaque. Because of that, it almost looks creamier. You can still see the flecks of chili peppers.
Nando's sauce is more reddish, and more translucent. You can see more peppers and textures in the sauce.
The Ingredients
This is one area where the sauces vary wildly. Let's take a look at Trader Joe's first.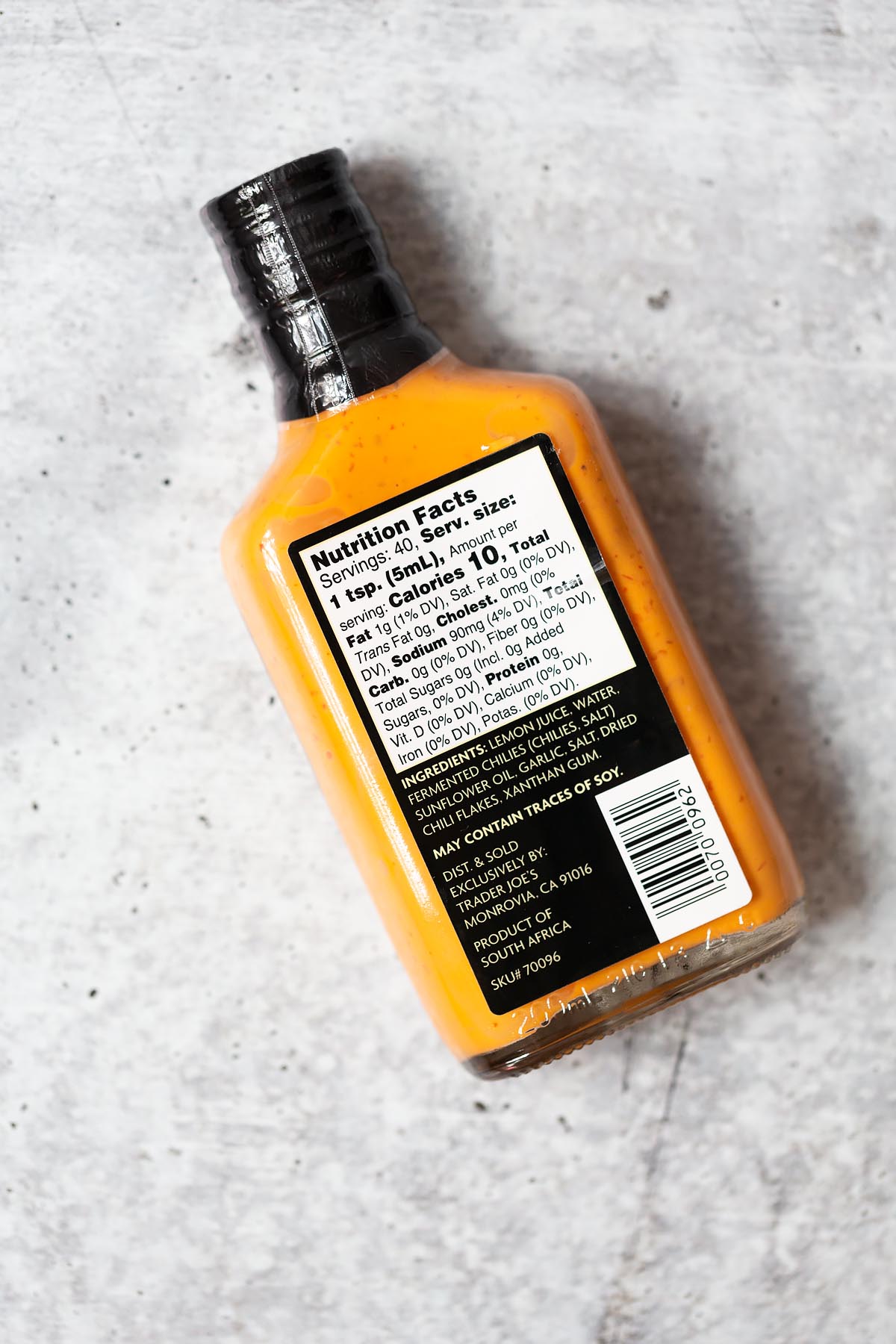 The first ingredient in Trader Joe's Peri-Peri sauce is lemon juice, then water, followed by fermented chiles. It doesn't specify what type of chilis they use. This also does state that this is a product of South Africa.
By comparison, let's take a look at the Nando's label. This is for their medium sauce.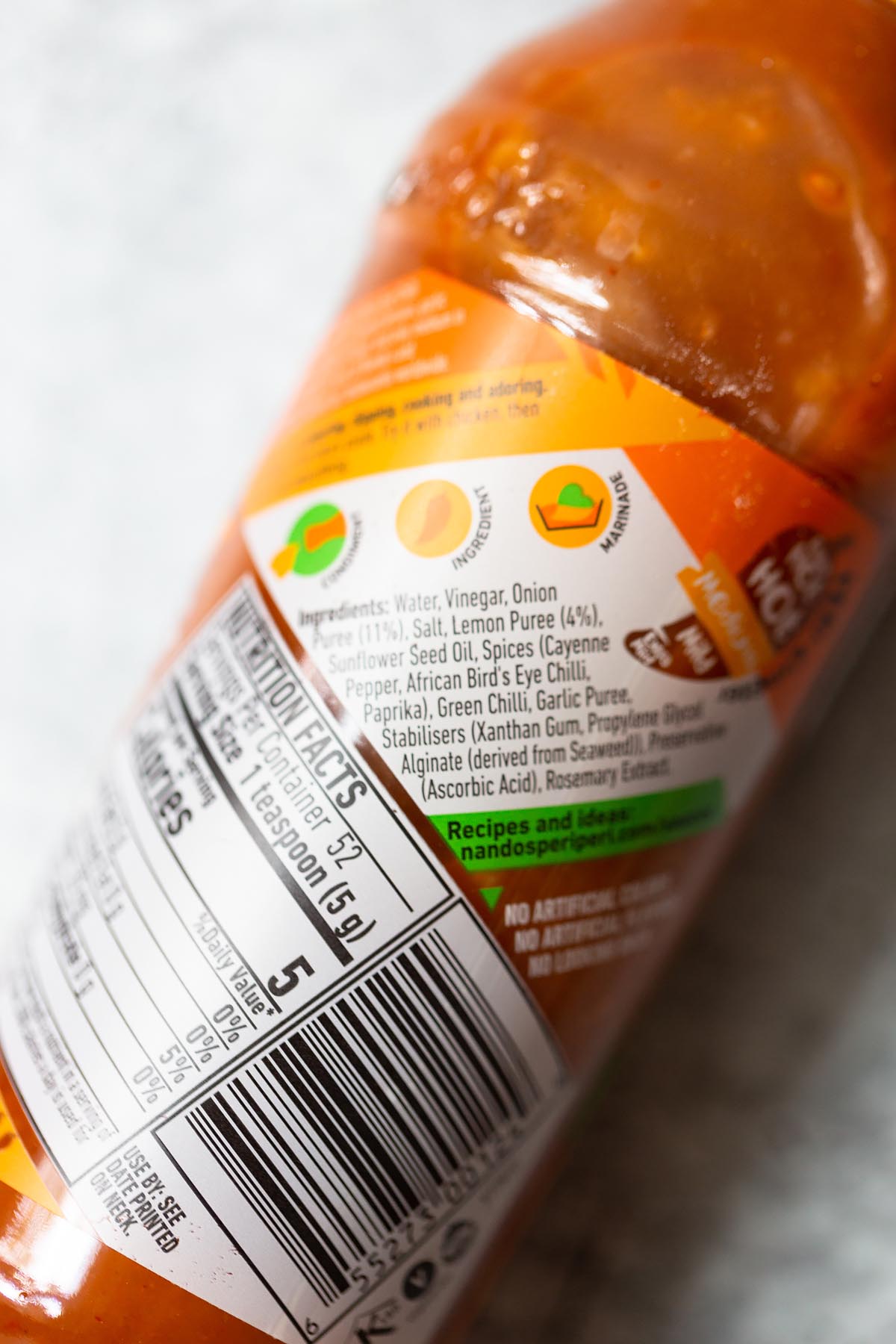 Nando's sauce definitely shows more ingredients on their label. The first is water, then vinegar, then onion puree, salt, and THEN lemon puree. Nando's label does call out the spices (cayenne pepper, African Bird's Eye Chili, Paprika). It also calls out the stabilizers, followed by rosemary extract. Also, the Nando's sauce is made in the Netherlands (at least the one that is distributed in the United States).
The Taste
Trader Joe's definitely had the more citrusy Peri-Peri sauce. First taste was "wow, that is spicy and bright and lemony!" After looking at the ingredients, I wasn't surprised. The lemon flavor definitely comes through in the sauce. And it felt much spicier than the Medium Nando's sauce.
Nando's sauce had a slower building heat. And it's important to note, I had the medium spice level. It still had some heat, but not nearly as much as the Trader Joe's sauce, and it didn't hit you right away either. It also felt like it had more depth of flavor, which may be because the lemon flavor wasn't as strong, which allowed more flavors to come through like the onion, rosemary and different chilis.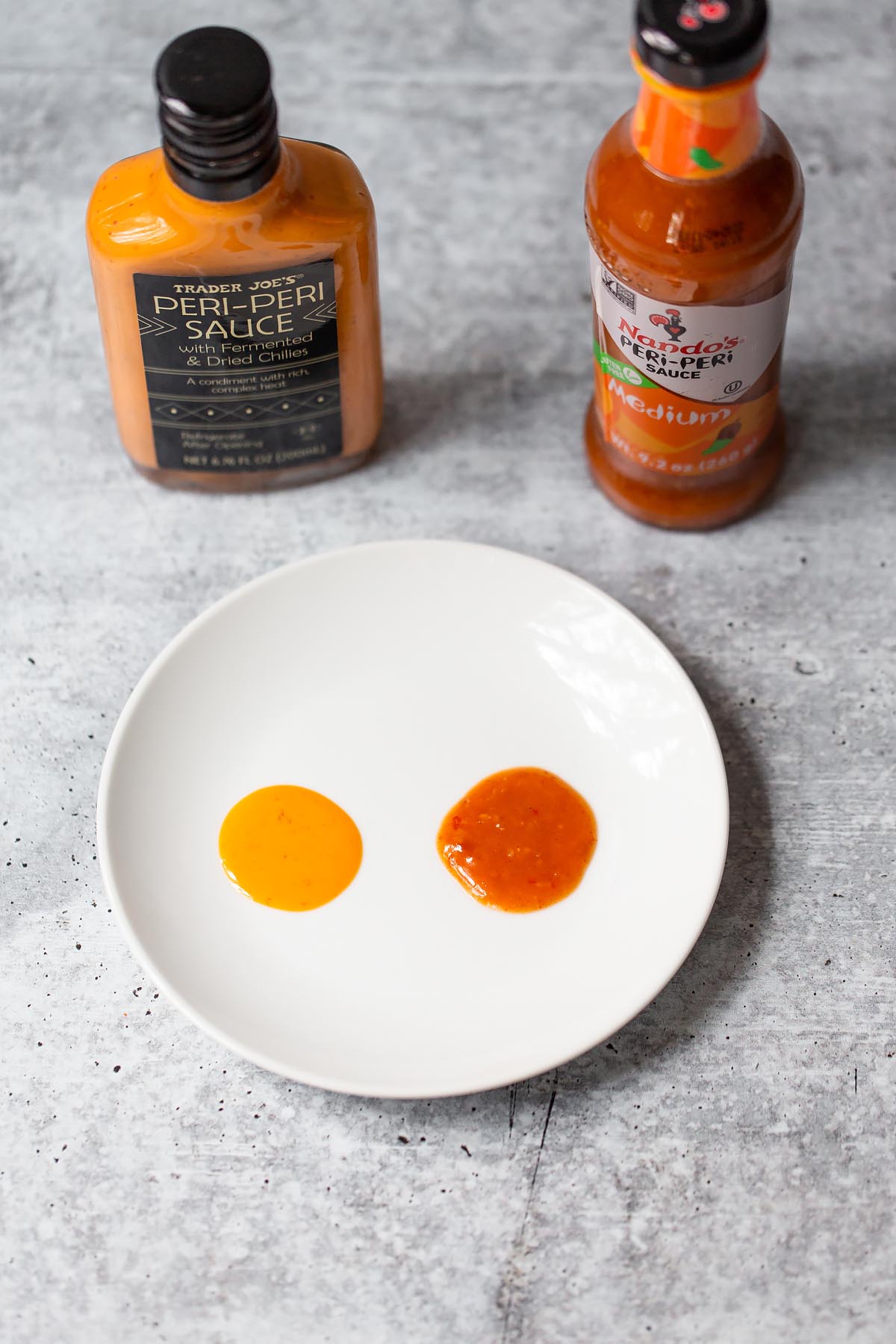 Which is the Winner?
Good question. Both?
They are both great sauces, it just depends what you're looking for. If you're used to Nando's, you may want to stick with their sauces for familiarity.
If you're looking for just a good sauce, choose either. Both will make great marinades for wings, chicken, etc.
If you're looking for a sauce with more heat and citrus, reach for the Trader Joe's Peri-Peri. If you're looking for a milder sauce that still has that flavor, try Nando's. These can both be used for dipping sauces (or mix with mayo for a Peri-Peri mayo dipping sauce), to flavor any dish, or as a drizzle on top of a finished meal.
Bonus idea - try using as an ingredient in a salad dressing.