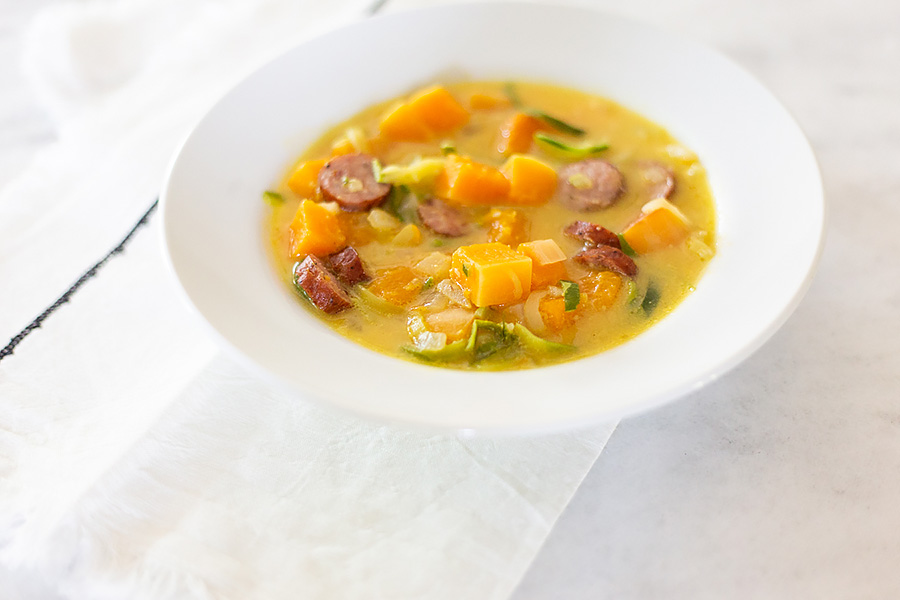 I'm so happy to share this soup with you. It is my FAVORITE SOUP EVER. I threw some ingredients together last year, loved it, and have made it SO many times since. It's a Whole30 roasted butternut squash soup with sausage and zucchini noodles. It is SO good and filling. And makes a lot. I love how I can eat this for many meals. I have enough leftovers that I usually bring this to work a couple of days and have a happy desk lunch (opposite of a sad desk lunch).

A few tips on the making of the butternut squash soup:
If you're doing a Whole30, you'll want to find a Whole30-compliant sausage that doesn't have added sugar or any other ingredients.
Preparing a butternut squash can be daunting! But it's actually pretty easy. Peel it, then chop off the top and bottom. Then cut in half. To easily scoop out the seeds, using an ice cream scoop or melon baller works GREAT! If you don't have one, just a regular spoon will work.
When you're making the zucchini noodles, don't forget to give them a rough chop! You don't want long, spaghetti-like strands. It makes the soup much harder to eat. You can buy zucchini noodles in stores, or make them yourself with a spiralizer! There are cheap and slightly-more expensive versions. If you don't want to make zucchini noodles, you can also just dice zucchini to put in the soup. If you're going that route, cook the soup an additional 5-10 minutes after adding the zucchini to make sure they are tender.
Taking out some of the soup to blend is part of what makes this soup so great. It makes the broth full of body and super-flavorful. Because we blend some of the soup, it's why we don't add the cooked sausage and raw zucchini until the end, because we don't want those items to be blended.
Print Recipe
Butternut Squash Soup with Zoodles (Whole30-friendly)
Ingredients
1

medium butternut squash

about 3 cups diced

3

Tbsp

olive oil

3

small zucchini squash

12

oz

sausage links

1

onion

diced

¼

tsp

salt

¼

tsp

pepper

4

cups

chicken broth or stock

4

cups

water

3-4

sprigs fresh thyme
Instructions
Preheat oven to 425 degrees F. Peel butternut squash and scoop out the seeds. Cut butternut squash into one inch cubes. Toss with 2 Tbsp olive oil, then roast on a baking sheet for 40 minutes.

While squash is cooking, prepare the zucchini noodles. Take the zucchini, cut off the ends, and then spiralize to create zucchini noodles. Give the zoodles a rough chop, so they are in shorter strands rather than long strands. Set side.

Cut the sausage links into slices. In a large stew pot, heat 1 Tbsp olive oil over medium heat. Cook the sausage, stirring occasionally, until browned. Remove the sausage and set aside.

Into the pot, add the diced onion, salt and pepper. Cook onion until translucent. Then add the chicken stock and water to the pot. Heat to boiling, and add the thyme sprigs. Reduce heat to medium-low.

Add the butternut squash cubes to the pot and simmer for 10 minutes. Then remove the thyme sprigs and scoop out 2 ½ cups of soup (both squash and liquid) into a blender. Blend until smooth. Add the mixture back to the soup and stir.

Increase heat to medium. Add the zucchini noodles and sausage to the pot. Cook for 5 minutes. Season with additional salt and pepper to taste, if desired.