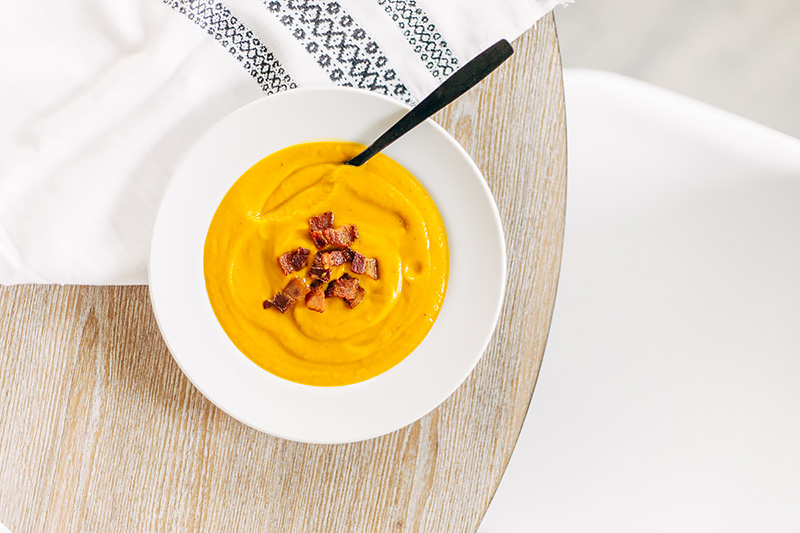 Okay, it's time for another Whole30 butternut squash soup recipe! I just love soups this time of the year. They're perfect for the cold weather. When doing a Whole30 in January, soup is on the menu a LOT.
This butternut squash soup is so simple and easy to make. I like to cut up a butternut squash myself (because I THINK it's cheaper?), but to save a ton of time, you can buy the cubes. That makes this recipe so easy.
If you're doing a Whole30, make sure to find chicken stock and bacon that is Whole30-compliant. If you're not doing a Whole30, you can even do crazy stuff like top the butternut squash soup with croutons! Or serve with bread! Oh the possibilities.
I wouldn't necessarily skip the bacon though. The Whole30 butternut squash soup can get pretty sweet, and the saltiness of the bacon helps to balance it out and add a smokiness and saltiness that pairs nicely with the sweet.
The texture comes out so creamy and delicious. Every time I make this for my husband, he always talks about how tasty it is.
I definitely recommend using a good blender to blend the soup and do it in batches! Don't try to get all the soup in there at once. You may end up with a messy kitchen! I also try to vent mine, so steam doesn't build up in the blender while I'm blending the butternut squash soup.
Hope you enjoy!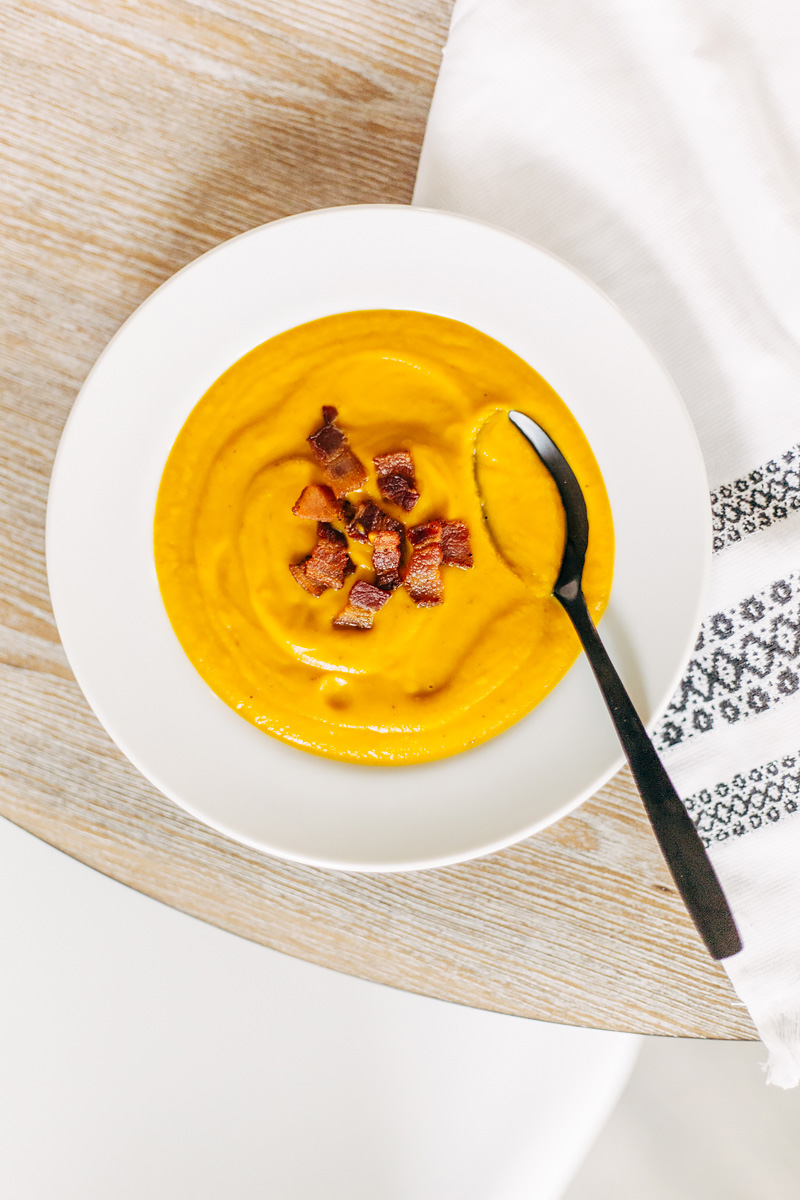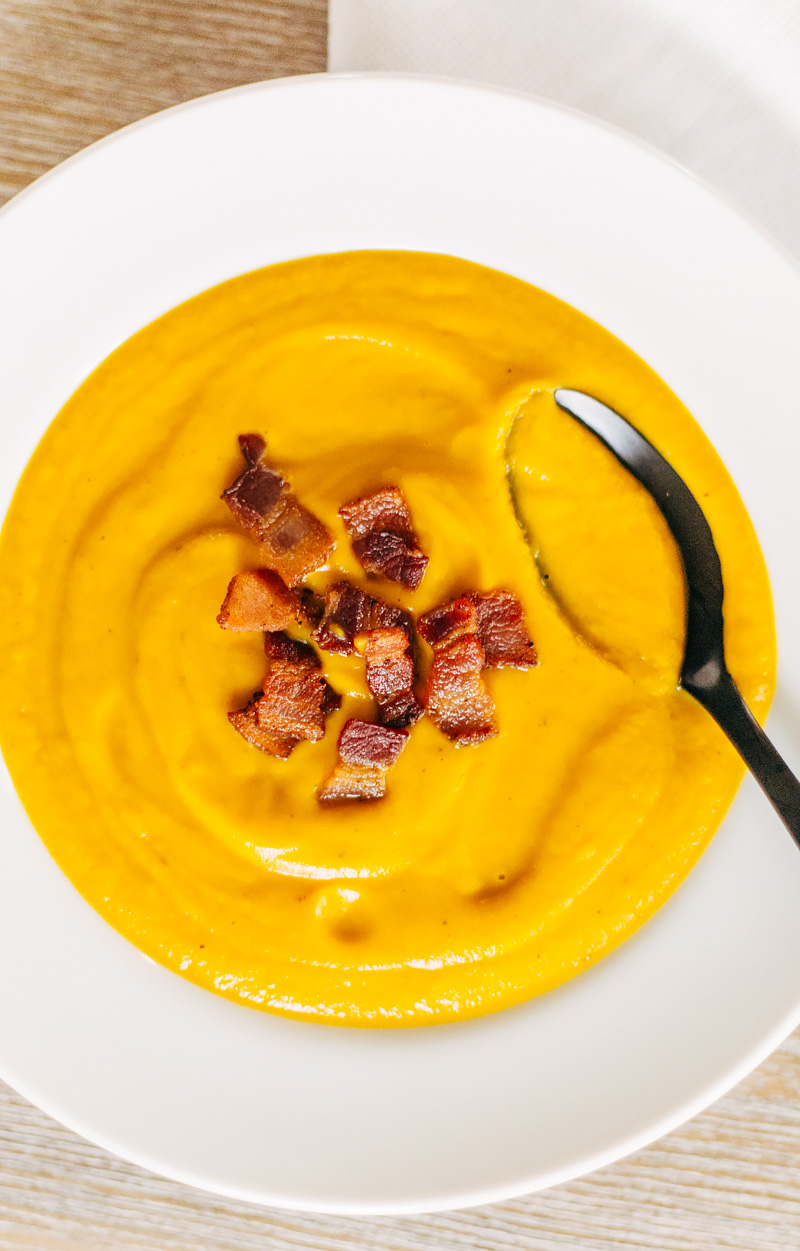 Serves 4
Ingredients:
1 medium butternut squash, peeled and seeded (about 2 lbs, or 3 cups diced squash)
3 Tbsp olive oil
½ a white or yellow onion, diced
1 tsp dried herbs de provence
¼ tsp dried thyme
½ tsp smoked paprika
Salt and pepper
4 cups Chicken stock (Whole30-compliant)
2 cups water
2 slices of thick bacon (Whole30-compliant)
Instructions:
Preheat oven to 425 degrees F. Cut butternut squash into one inch cubes. Toss squash in 2 Tbsp olive oil and place on baking sheet. Roast butternut squash cubes on for 40 minutes.
Heat a stew pot over medium heat and add 1 tbsp olive oil. Add onion and cook until translucent, about 2-3 minutes. Season with salt and pepper.
Add chicken stock and water to pot. Add roasted butternut squash. Add the herbs de provence, thyme, paprika, and heat until boiling. Reduce heat to medium-low and simmer for an additional 10 minutes.
Cut bacon into small pieces. Cook in a small skillet over medium heat until cooked through. Drain on paper towels and set aside.
Once soup is done, either blend with an immersion blender or blend soup in batches in a regular blender. Season with more salt and pepper, if desired. Serve and top with bacon bits.