This bolognese sauce is delicious over spaghetti squash! It makes for a tasty Whole30 and paleo dinner!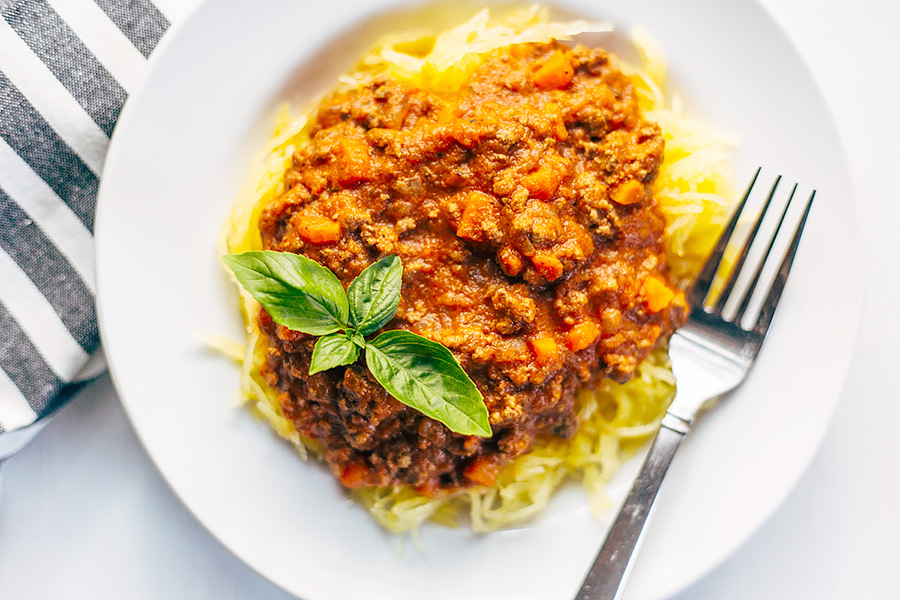 When we did our Whole30 earlier this year, I found one of the easiest things was to alter recipes we make a lot, and just make them Whole30-friendly! Now, that doesn't work for all recipes, but it worked beautifully to create this easy Whole30 bolognese sauce with spaghetti squash.

We're planning on doing another Whole30 in January because WE NEED IT after the holidays. It's a good chance to just reset and go sugar-free for 30 days. I always feel great when on a Whole30. I sleep better, have more energy, and just feel healthier. Lately at work, I've been feeling the afternoon slump. And then the evening slump when I get home. And then the morning slump in the morning. I'm hoping that another Whole30 will help get rid of that. And you can bet during our January Whole30, this will be on the menu!
Honestly, even when we're not doing a Whole30, I frequently serve this bolognese sauce over spaghetti squash instead of regular pasta. It's THAT delicious. You do want the sauce to simmer for awhile to cook down and develop flavor, so plan ahead if you're going to make this! It winds up being pretty easy, because most of the time the sauce is just hanging out in the pot, simmering away. You may need to stir it here and there, but this is not a meal that will be ready in 30 minutes.
Regardless, it's worth it! We make this at least once a month, and it's so delicious.
What is spaghetti squash?
Spaghetti squash is a big yellow squash. The inside is stringy, so it forms spaghetti-like strands. You typically roast it in the oven, then form the strands with forks, and discard the skin.
How to prepare and cook a spaghetti squash
To cook a spaghetti squash, first you'll want to cut it in half. You'll do this lengthwise, so you're cutting through the stem. Similar to how you would slice an apple in half. Spaghetti squash can be really hard to cut through, so you want to use a big, sharp knife. We have this one.
Once you're able to cut through it, the next step is to remove the seeds. You can do this with a kitchen spoon, but I've found the easiest way is actually with an ice cream scoop. Something about the ice cream scoop lets me easily get all those seeds out.
Once you have the seeds out, drizzle the inside of the spaghetti squash with olive oil, rub it in, then sprinkle a little salt and pepper. Place the spaghetti squash face down on a baking sheet and bake in the oven.
Then flip over once they are out of the oven, so you can make the spaghetti squash strands!
Look at that steamy, roasted spaghetti squash. So much love for this veggie.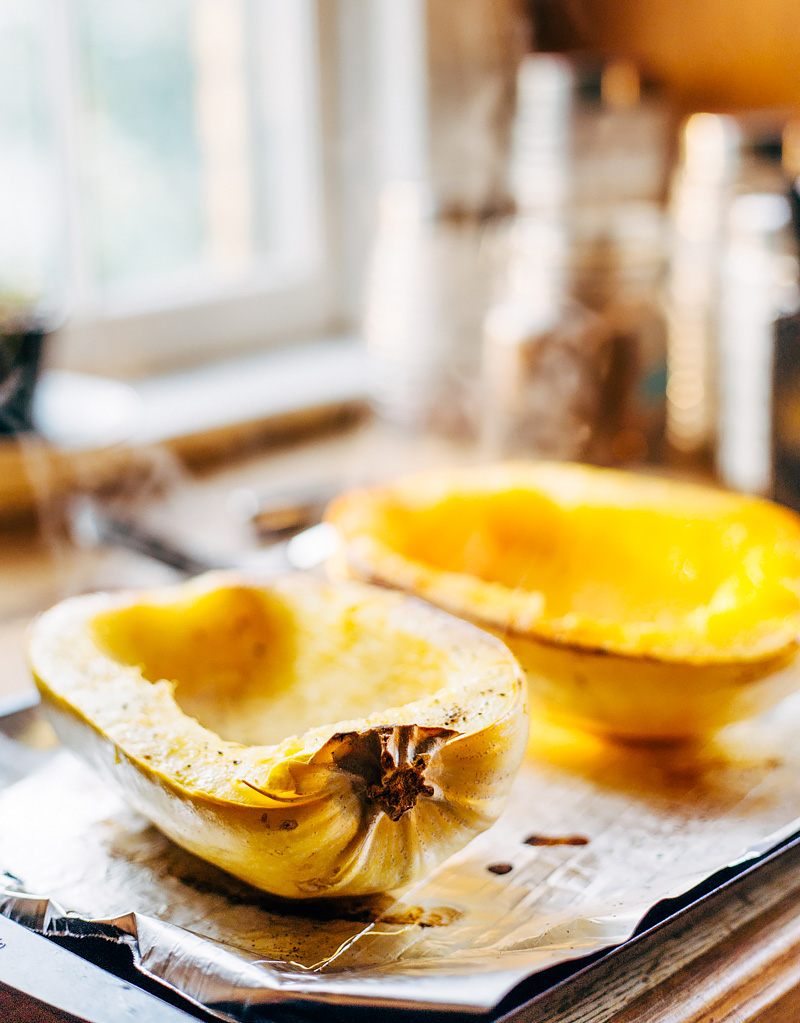 Yum. Roasted to perfection.
Make the spaghetti squash strands by taking two forks and fluffing the squash insides to create those strands.
There it is. The plated dish. Delicious, filling, and healthy. And low-carb!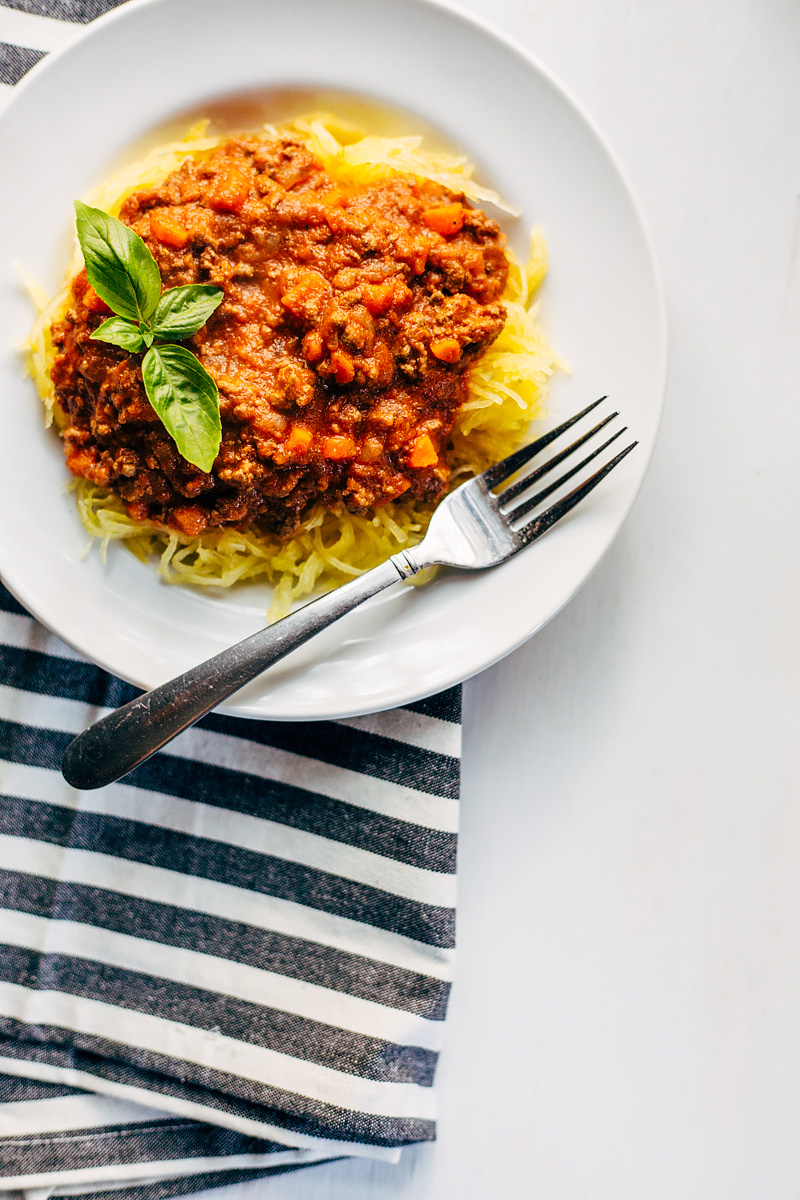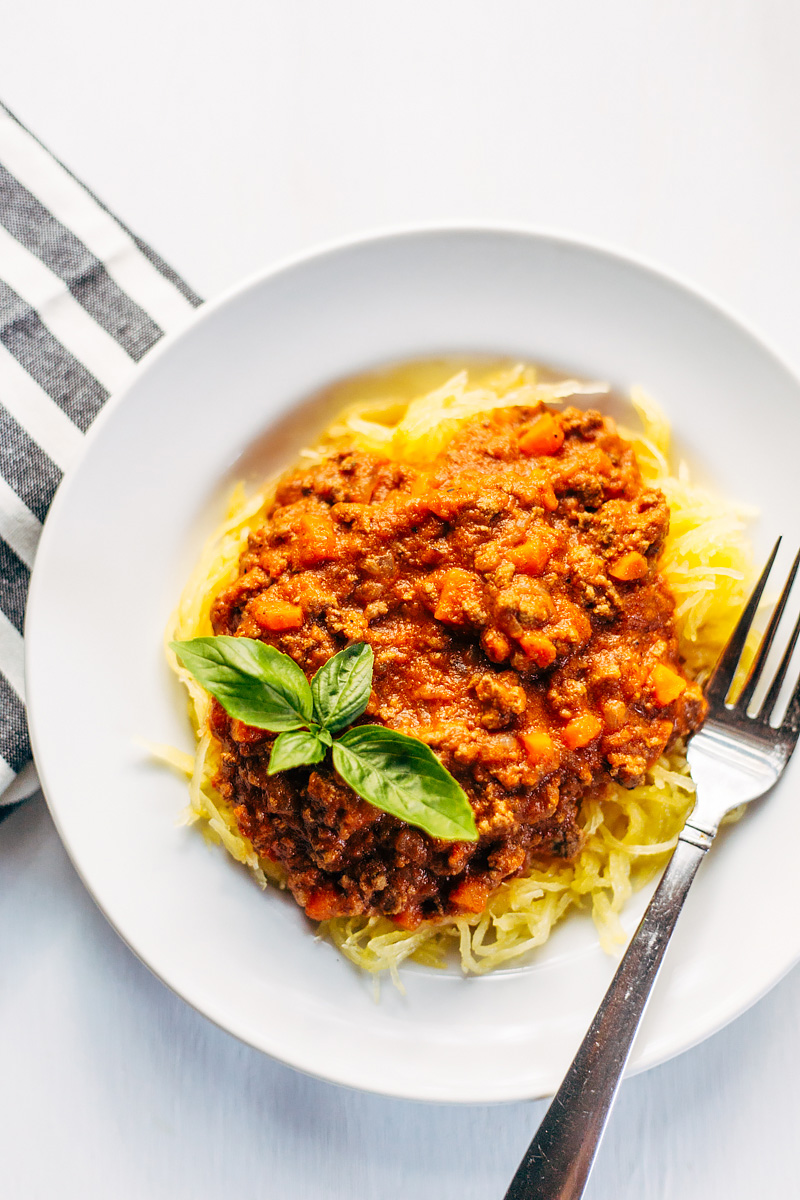 Honestly, I think I prefer this to a pasta version. (FYI, still pairs GREAT with some red wine if you're not doing a Whole30!)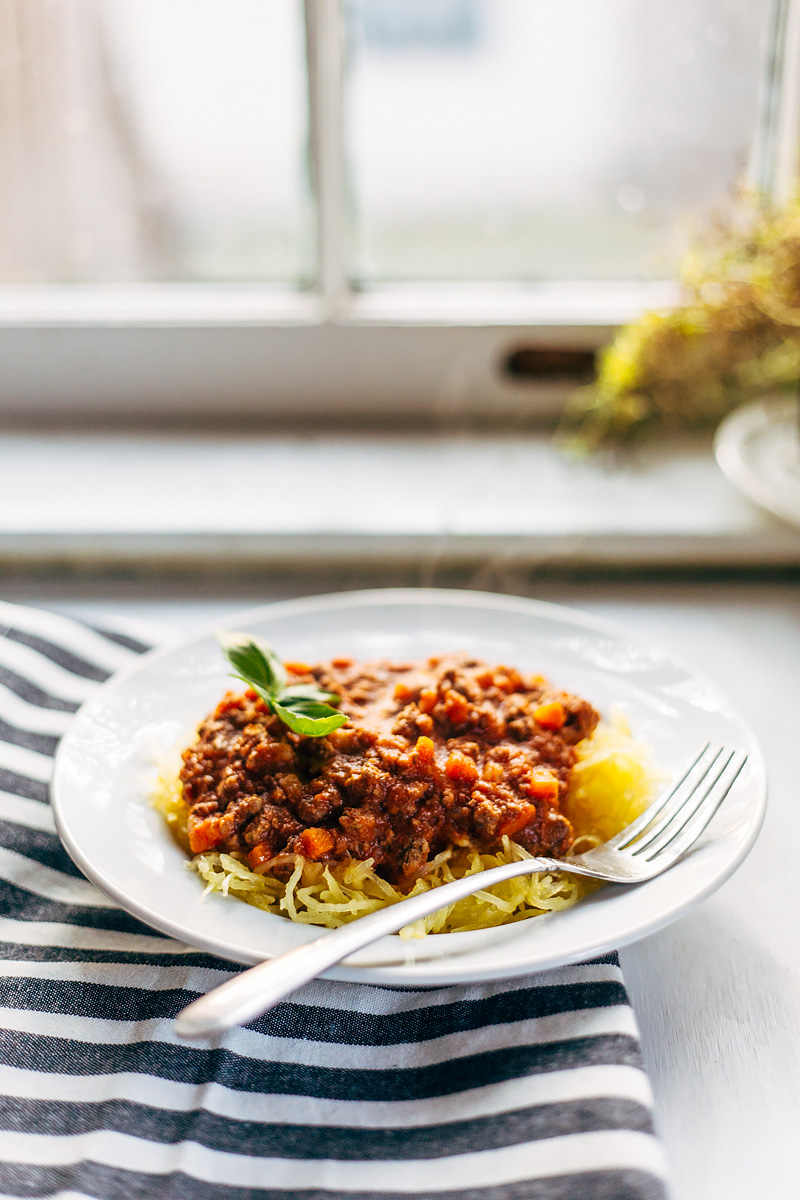 Print Recipe
Bolognese with Spaghetti Squash Noodles (Whole30 and Paleo)
Ingredients
3

carrots

1

yellow or white onion

3

Tbsp

olive oil

1 ⅓

lbs

ground beef

Salt

Pepper

1

cup

almond milk

unsweetened and unflavored

¼

tsp

nutmeg

½

tsp

oregano

1 28

oz

can plum tomatoes

1

medium spaghetti squash

Fresh basil

if desired
Instructions
Dice the three carrots and white onion.

Melt the olive oil over medium heat in a large pot (I use a stew pot). Add the onion and carrot and saute until onion is translucent.

Add the ground beef and brown, breaking up any clumps. Add about ¼ tsp pepper and ½ teaspoon salt. Once beef is browned, drain if needed to get rid of any extra grease.

Reduce heat to low and add the milk to the pot and stir occasionally until all the milk is absorbed.

Sir in the nutmeg and oregano.

Take the can of tomatoes and put into a blender. Blend until smooth. Add the tomatoes to the pot and stir to mix.

Bring the sauce to a boil, then reduce the heat to low and simmer uncovered for 1-1.5 hours, stirring occasionally. Add salt and pepper to taste.

While sauce is cooking, preheat the oven to 425 degrees F.

Cut the spaghetti squash in half and scoop out the seeds. Place face up on a foil-lined baking sheet. Drizzle one tablespoon olive oil over the squash halves and rub into the surface. Season lightly with salt and pepper. Flip over so squash is face down on the baking sheet. Bake in oven for 45 minutes.

When squash is done, remove from the oven and flip over. With a fork, fluff the squash to form strands. Scoop strands into bowls and spoon the bolognese sauce over the spaghetti squash.

Top with fresh basil leaves if desired.
This post contains some affiliate links, which means that I make a small commission off items you purchase at no additional cost to you.