This fried rice recipe is so easy to make and is customizable! It's delicious eaten as is, or add vegetables or meats for a more hearty dish.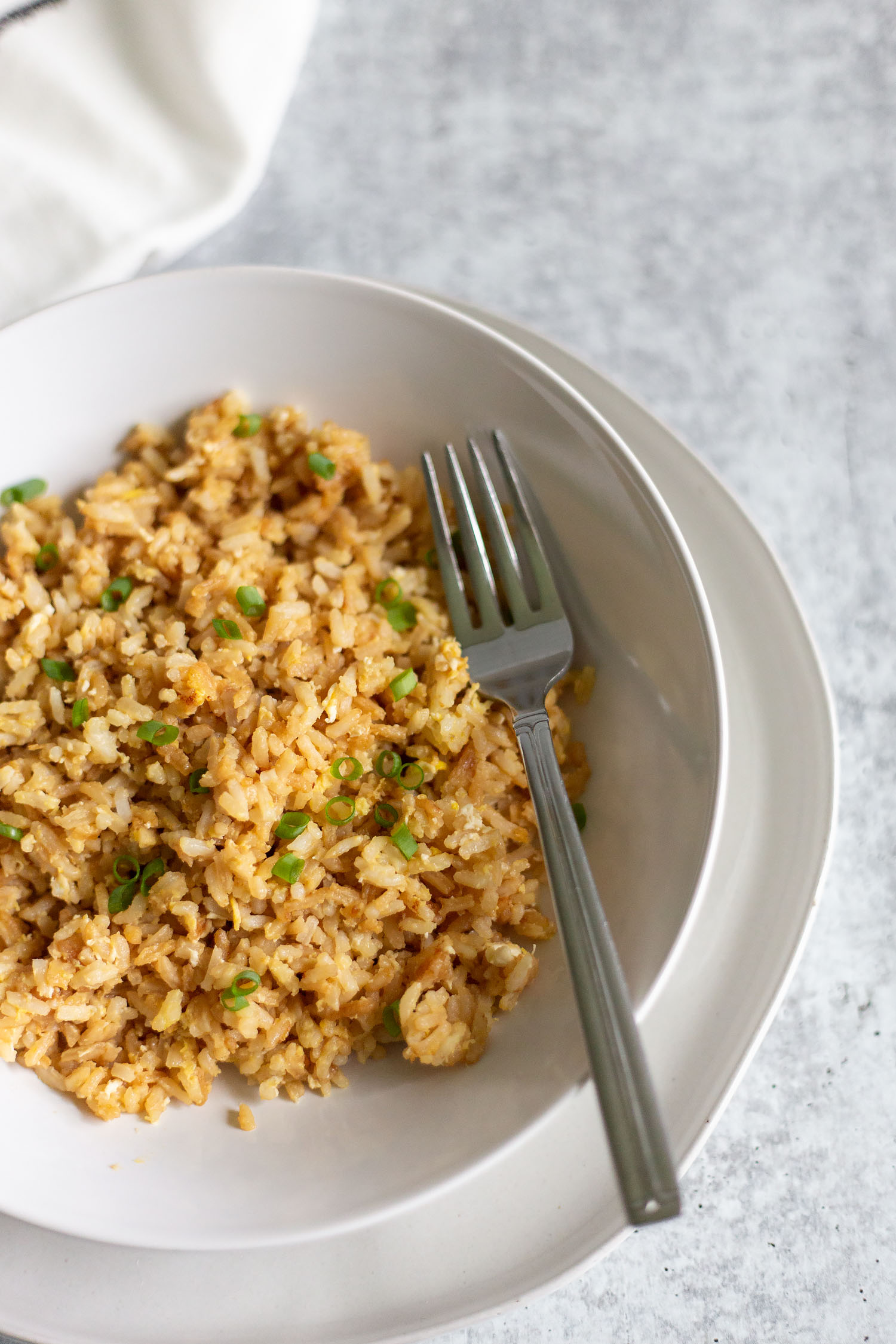 Now that I'm eating all my meals at home, I'm always coming up with ways to use leftovers. And I've actually make this fried rice for breakfast a few times lately. Yes, breakfast. It has an egg cooked in there, though you can't really tell by looking at it.

Even better? It's easy and quick. And kid-friendly. Which is pretty important around here these days. I was making myself some last week, when the toddler decided she wanted some too. And so I had to share. Because she loved it.
This recipe is really a great base recipe. It's simple, and you can customize it however you want. Add in peas, carrots, green beans, broccoli, or whatever frozen or leftover veggies you have lying around. Add cooked chicken, shrimp, or beef. Even bacon!
Honestly though? I like it just like this. Simple 3 ingredients. Leftover rice, soy sauce, and egg. Maybe with green onions.
Ingredients needed:
Canola or vegetable oil - You want a high heat oil here like canola or vegetable.
Leftover rice - Why do I say leftover rice? Because when you're making a fried rice, you really want to use leftover, cold rice. Something about leftover rice tends to make fried rice much better than freshly cooked rice.
Soy sauce - I get whatever the grocery store gives me in my curbside pickup these days. You can also use coconut aminos in place of soy sauce!
Egg - I crack an egg into the rice and then mix it all together to just coat the rice and give it a little extra body and creaminess. And protein!
Green onions - I topped this with green onions, but leave them off or top with whatever you like and have around!
How to customize:
This recipe is really a nice base recipe for fried rice. You can add in whatever fresh or frozen veggies you have lying around, and whatever meat or seafood you want to add!
On the veggie front, you'll definitely want to add the veggies in after the rice starts cooking, but before you add the soy sauce. Cook them until they are softened and cooked through.
If you're adding meats, cook them beforehand and add them in after the rice starts cooking.
Veggies to add:
Broccoli
Peas
Carrots
Green beans
Corn
Meat/seafood to add:
Cooked Shrimp
Cooked chicken
Cooked pork
Cooked beef
Cooked bacon
How to make the fried rice:
First, take a skillet and heat it over medium heat. Add the oil and let heat up. Then add the rice, and let cook for 7-10 minutes, stirring frequently.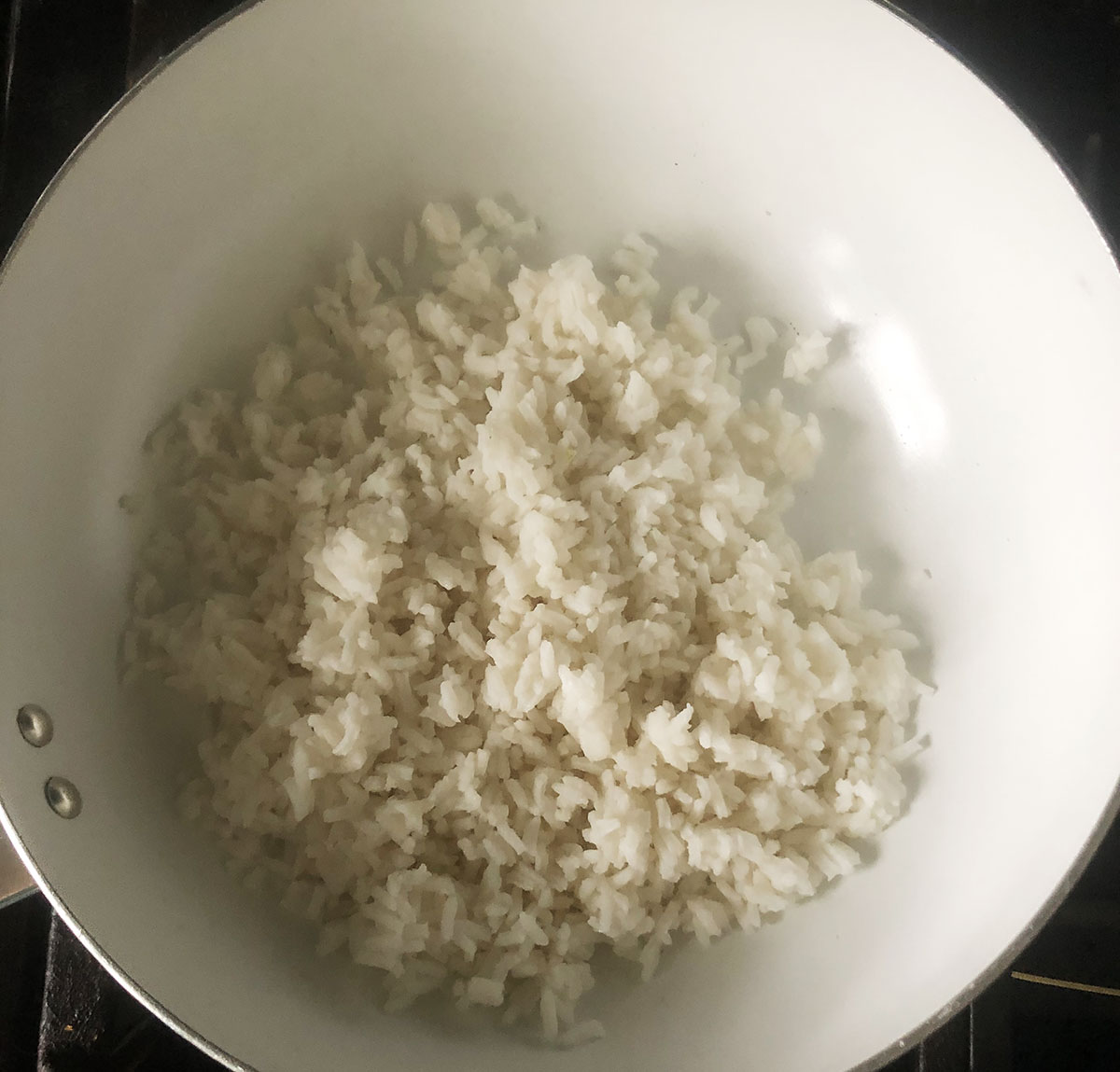 Once the rice is cooked, add the soy sauce and stir to combine. Then move the rice aside and crack an egg into the skillet.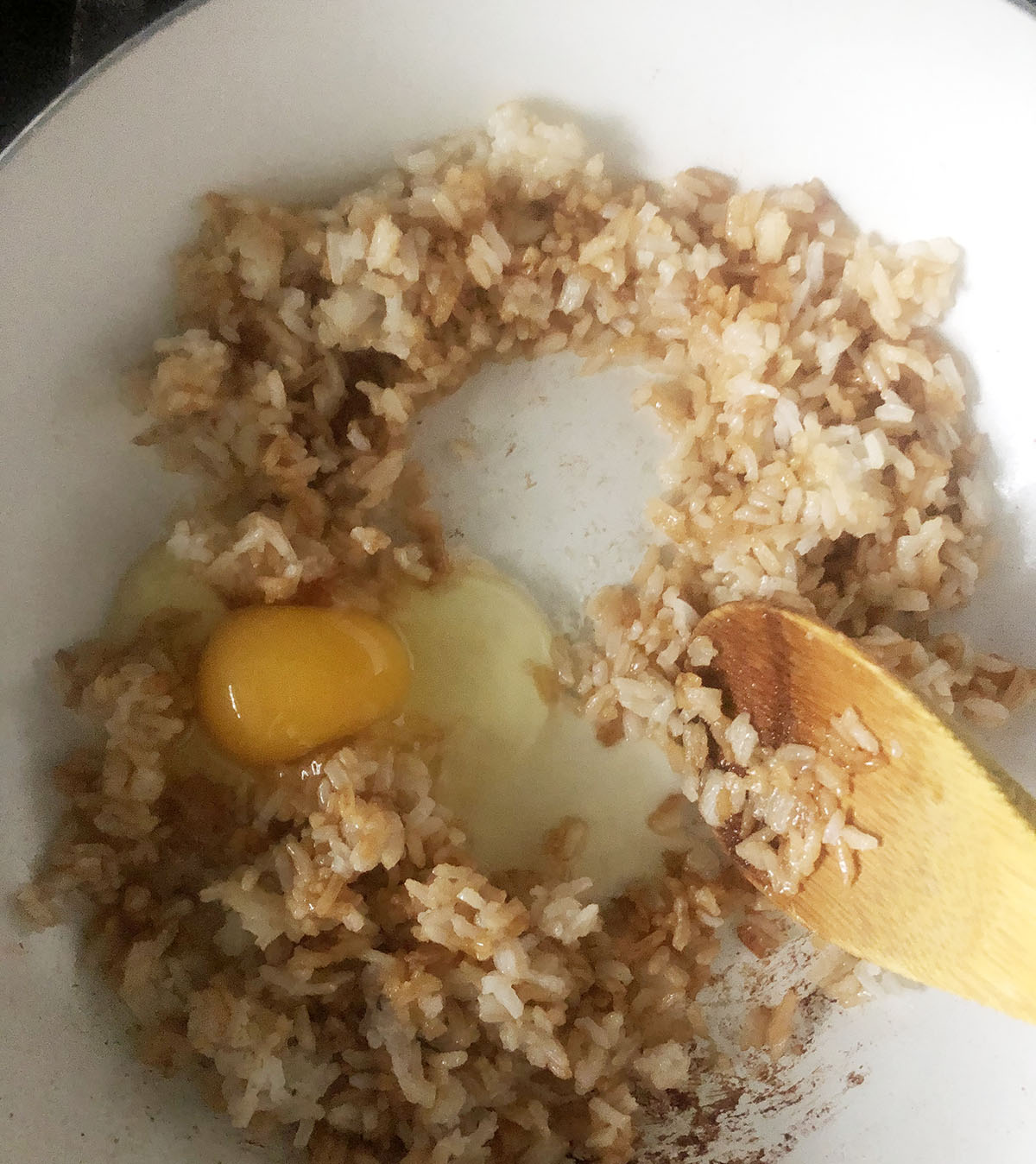 Start stirring the egg while it cooks, then stir it into the rice, so it coats the rice. Keep stirring until the egg is coating the rice and cooked.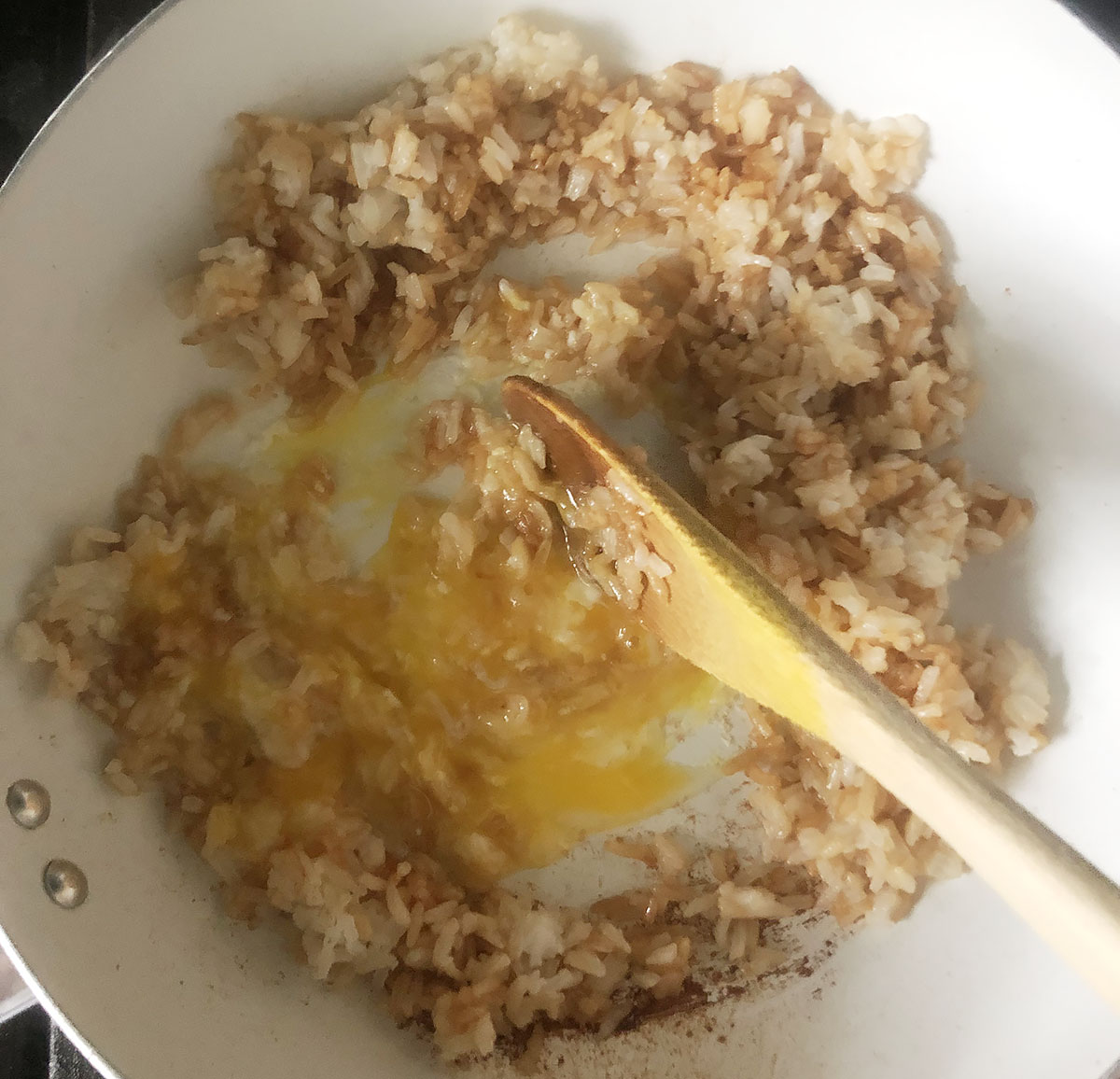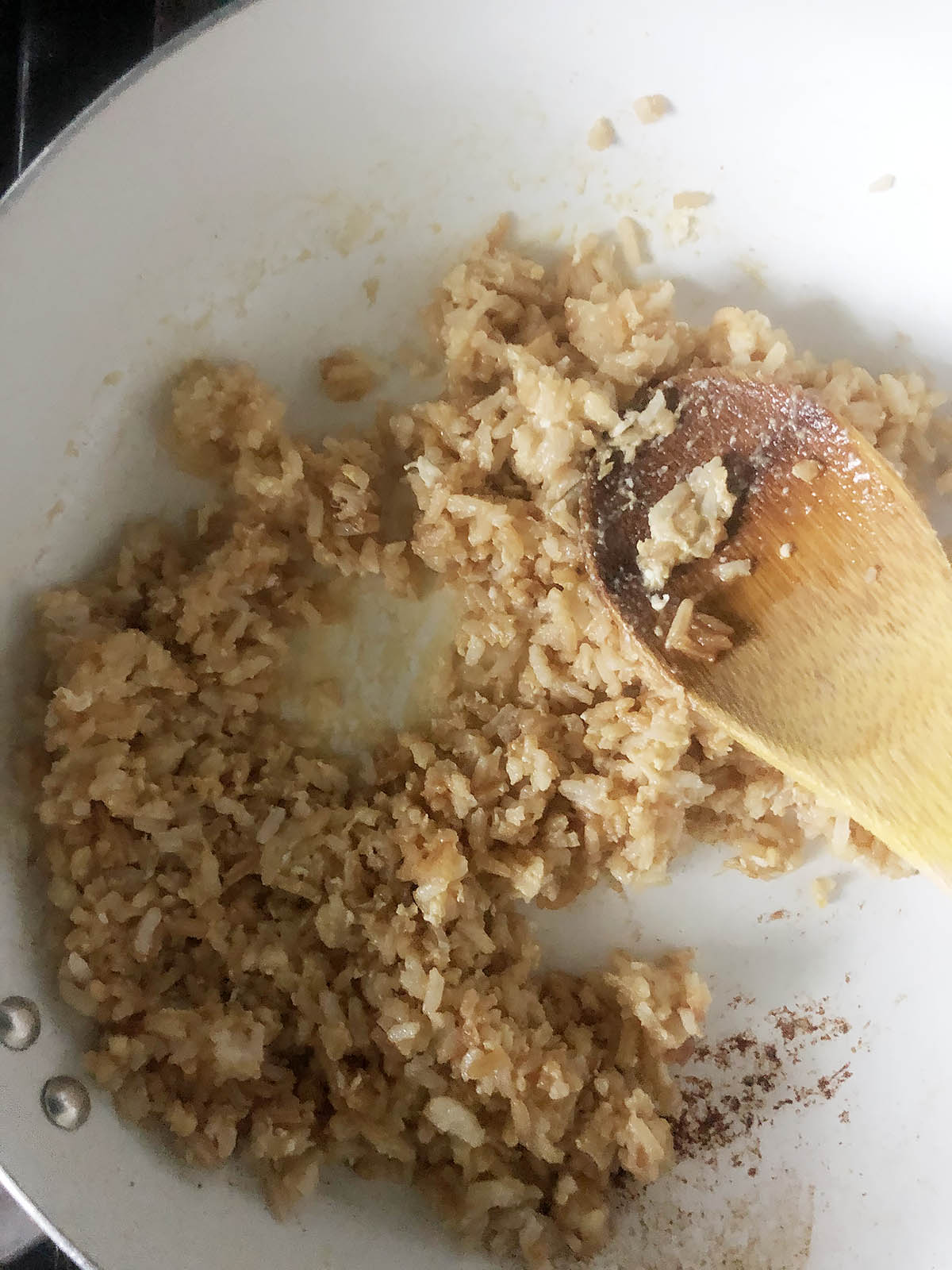 Plate and top with green onions (or whatever herb you prefer).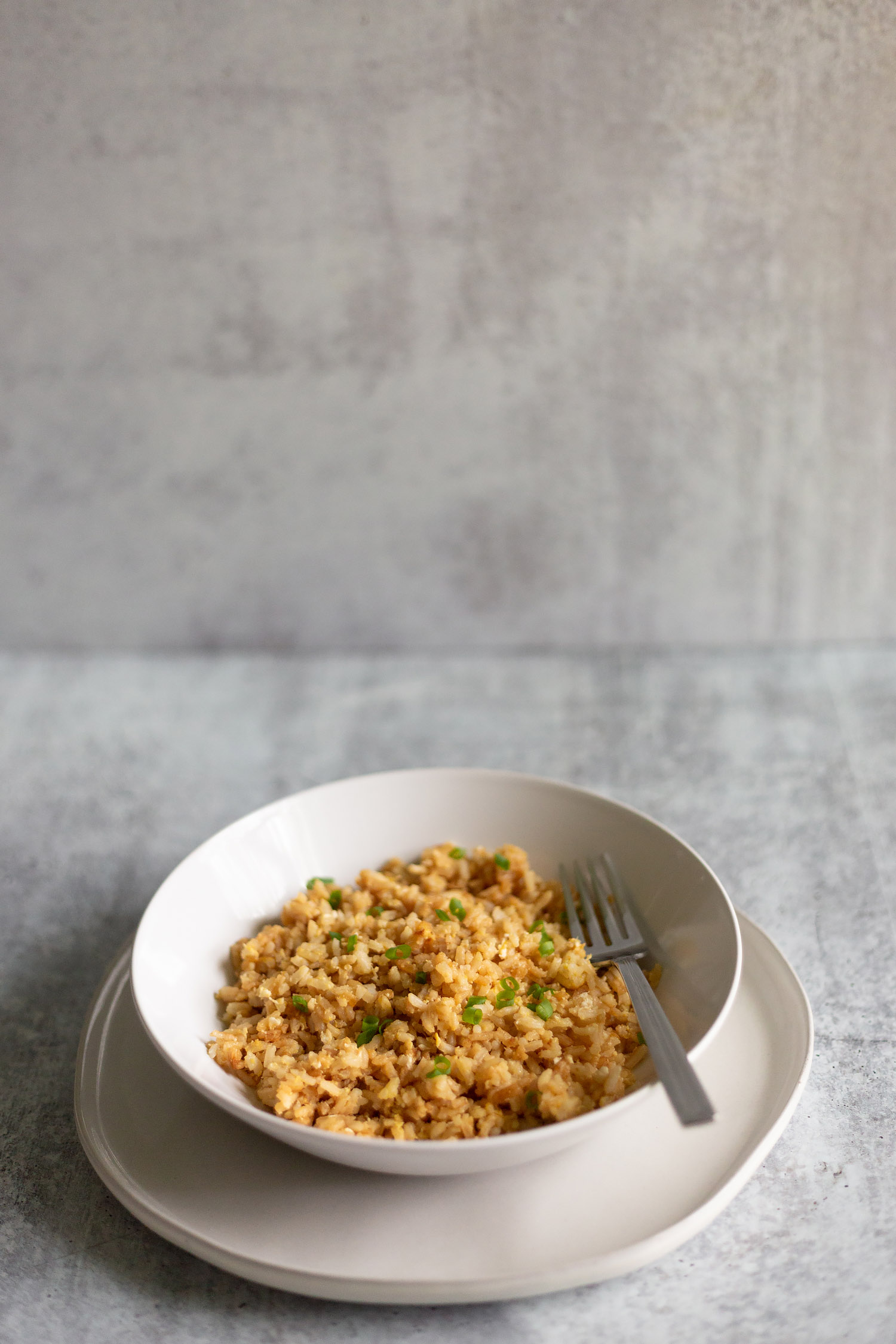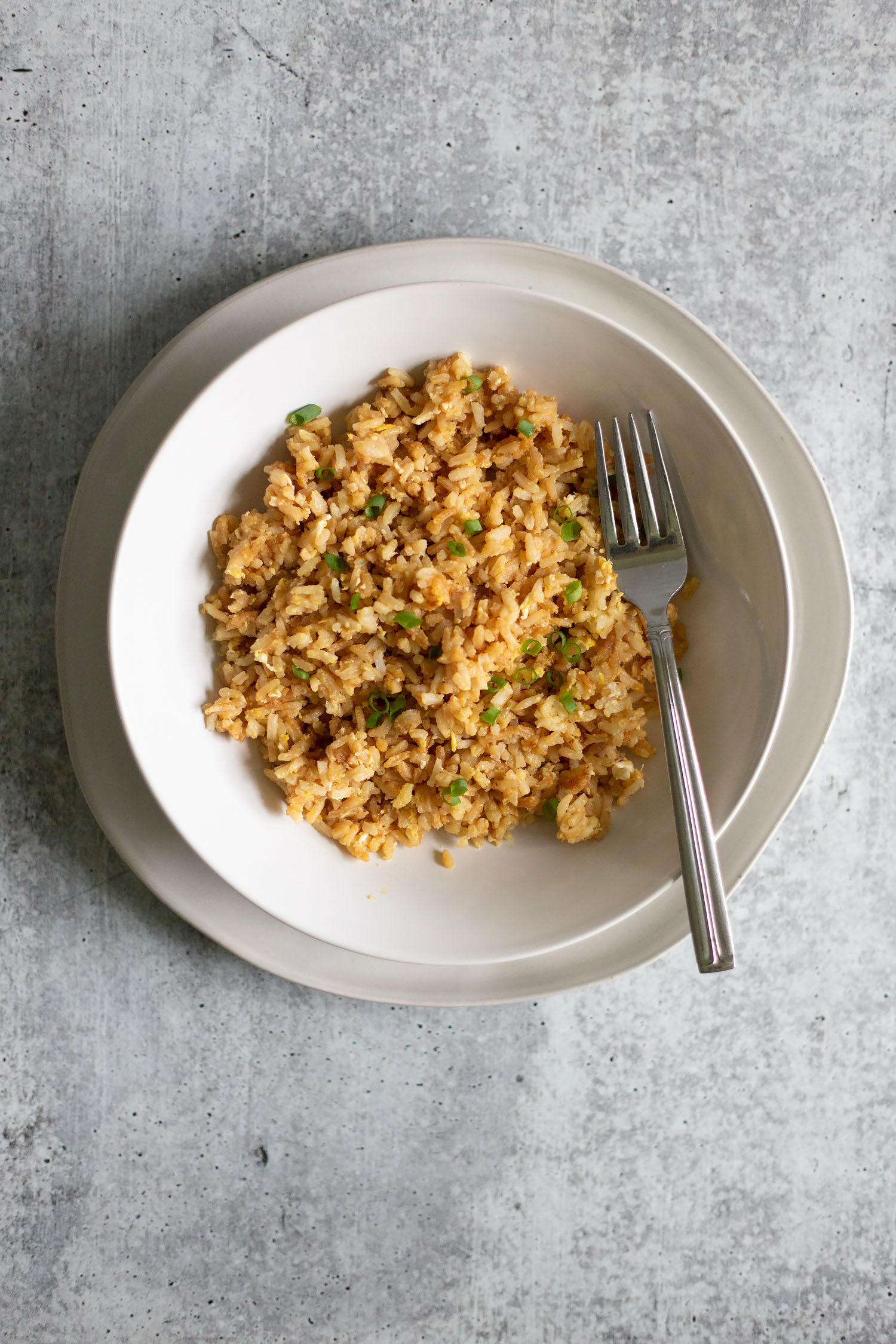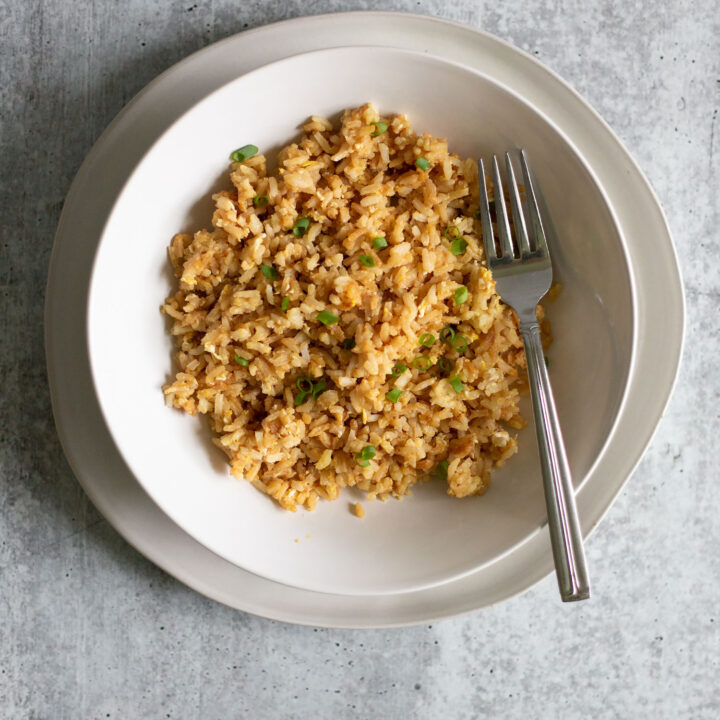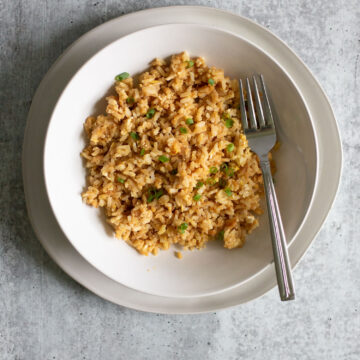 Easy and Customizable Fried Rice
This fried rice is so easy to make and is customizable! This is a basic recipe anyone can make!
Ingredients
1

tablespoon

canola or vegetable oil

2

cups

cooked and refrigerated rice

1

tablespoon

soy sauce

1

egg

green onions

if desired
Instructions
Heat oil in a medium skillet over medium heat.

Once the oil is hot, add the cold rice to the pan. Cook, stirring frequently, for 5-7 minutes until rice is starting to get crispy.

Add the soy sauce and stir to combine.

Push some of the rice away from the center of the pan. Crack one egg into the center of the pan. With your spoon (or stirring implement), break apart the egg, and then stir into the rice to combine and coat the rice.

Cook for an additional 1-2 minutes until egg is cooked.

Plate and top with green onions or other herb.
Notes
This recipe is easily customizable! If you'd like, add veggies or cooked meats. If doing so, add before you add the soy sauce to the pan.
If nutrition info is shown, values are based on an online calculator and are estimates. Please verify using your own data.
Tried this recipe?
Tag @foodbanjo on Instagram and share your photos!
Like this recipe? Try these easy recipes!