These customizable naan pizzas with fresh basil are easy to make and are a quick lunch, snack, or easy dinner. They are family-friendly and great for adults and kids.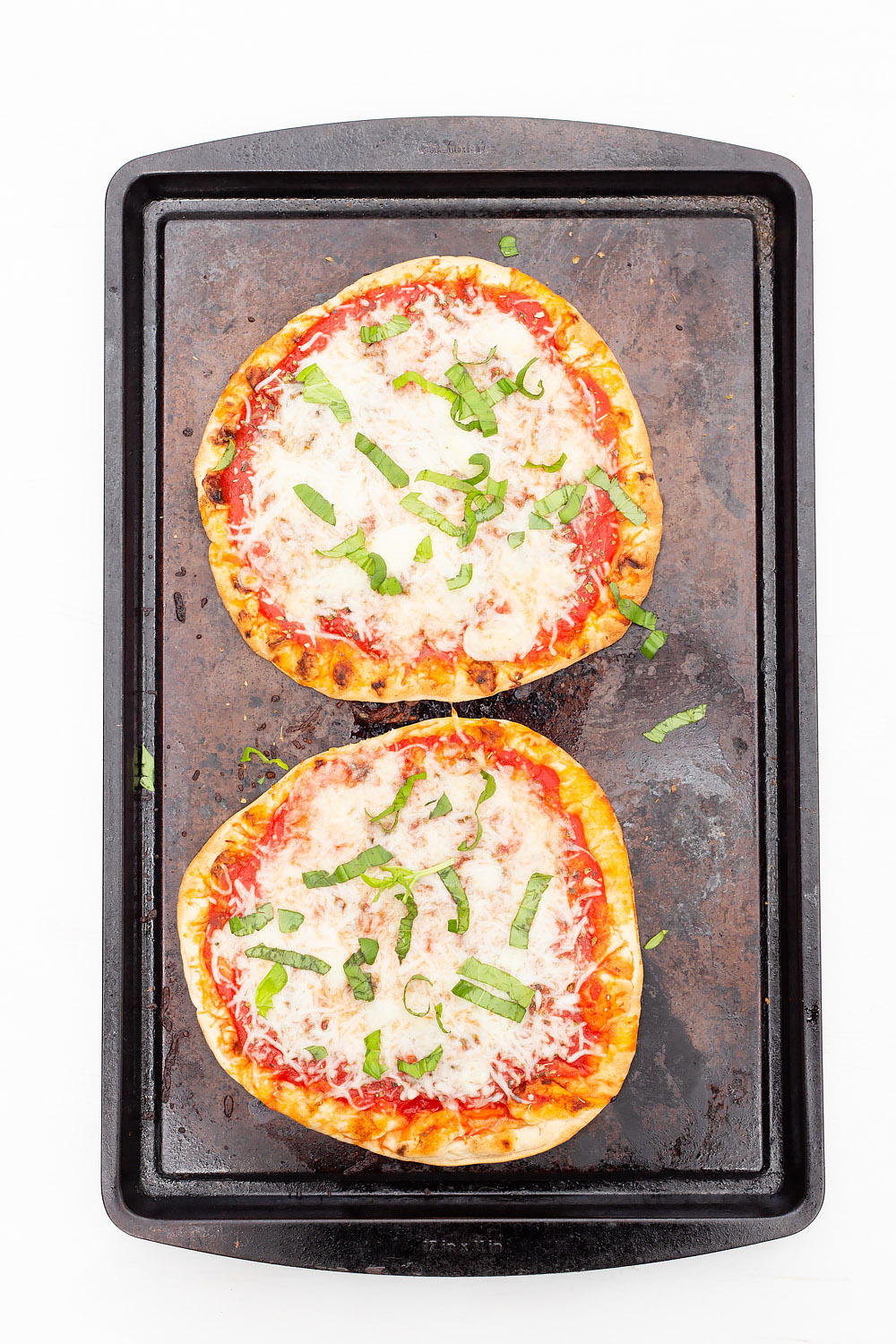 Easy meals like this simple naan pizza are my FAVORITE. When you have an energetic toddler, cooking quick meals either while she is napping or in those five glorious minutes where she entertains herself is KEY.
This naan pizza is so quick and so easy that we make it probably far too frequently around here. All it takes is some naan bread (fresh or frozen), shredded mozzarella, tomato sauce, and fresh basil. Easy lunch or dinner.
A couple of Sundays ago, we spent a wonderful morning at the farmer's market and let Zara run around on the playground. By the time we got home, she was wiped out and it was time for her afternoon nap. So I whipped up easy naan pizzas for Josh and myself and we had an easy, delicious lunch.
Ingredients needed:
Naan bread - You can use fresh naan, refrigerated naan, or frozen naan in this recipe. We've done it all!
Tomato sauce - I just use plain tomato sauce here.
Mozzarella cheese - Pre-shredded or fresh both work great.
Oregano - Dried is great here! We always keep dried oregano in our spice drawer. If you prefer to use Italian seasoning, you can use that.
Fresh Basil - You can find fresh basil in the produce section of your grocery store. I love keeping a basil plant around and snipping leaves off as I need them! One of my favorite herbs.
Some tips on making the naan pizzas:
All ovens cook differently. 10 minutes worked perfectly for me to cook the naan and melt the cheese, but yours could take a bit more time.
This recipe is EASILY cut in half. When I'm just making it for Josh and myself, I usually just make half the amount.
If you like crispy cheese, you can always broil for a minute or two!
Fresh basil is SO good on this. I don't recommend skipping.
If you're using bigger slices of naan, I recommend slicing each pizza to make it easier to eat. We actually slice our toddler's into a bunch of small triangles.
These are so easy to customize! If you want, throw some pepperoni on there or even pineapple if you're crazy.
Naan pizza ideas:
Cheeseburger naan pizza - Top your naan pizza with some tomato sauce, then cheddar cheese and pre-cooked hamburger meat. If desired, add small diced pickles or pickle relish after it comes out of the oven.
Hawaiian naan pizza - Top with tomato sauce, cheese, pineapple and pre-cooked ham or bacon.
BBQ chicken naan pizza  - Use bbq sauce instead of tomato sauce, and top with pre-cooked chicken and cheese. Once it comes out of the oven, throw some sliced green onions on the top.
Chicken pesto naan pizza - Put a layer of pesto on the pizza, top with cooked chicken and cheese.
Love this recipe? Try these other easy meals!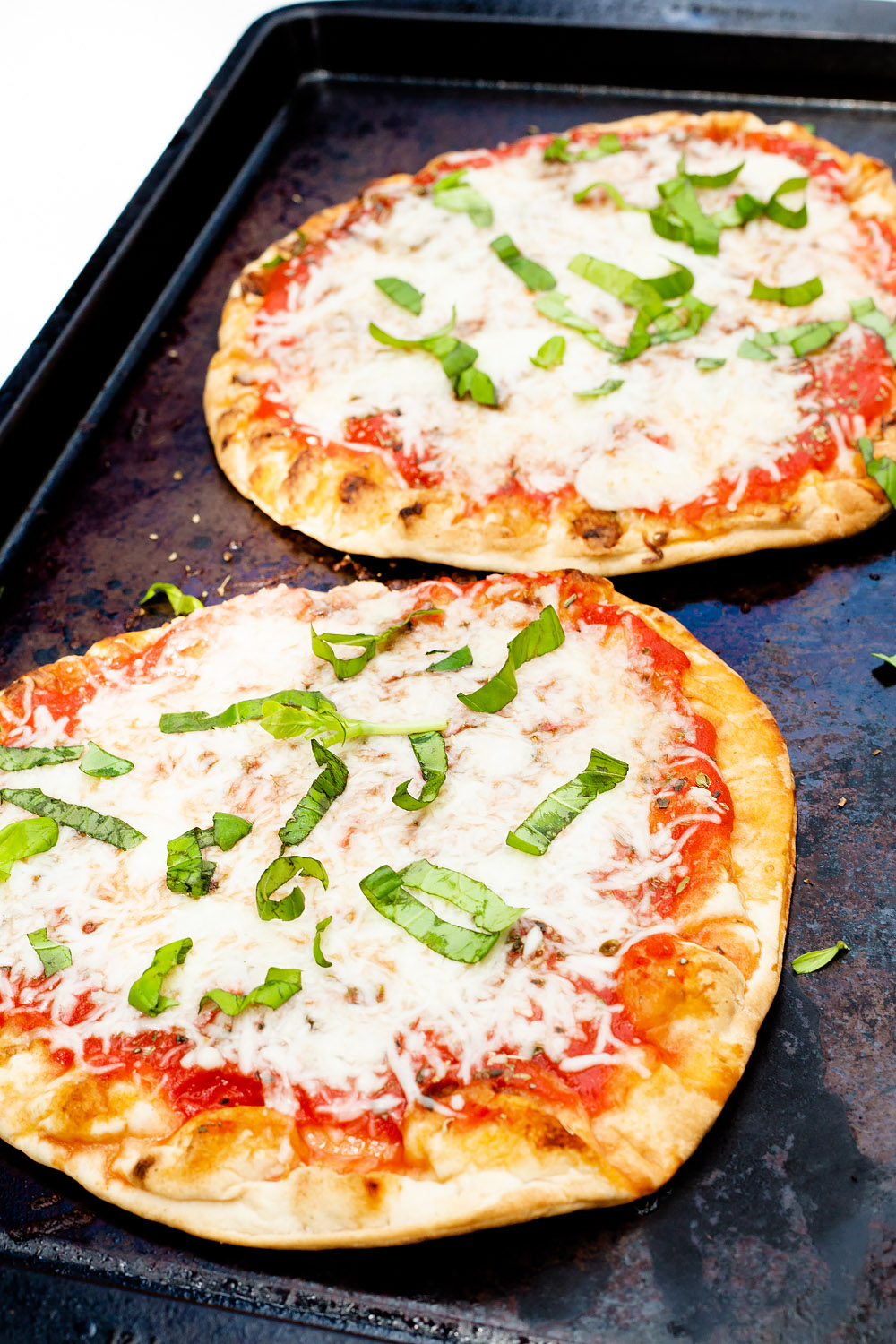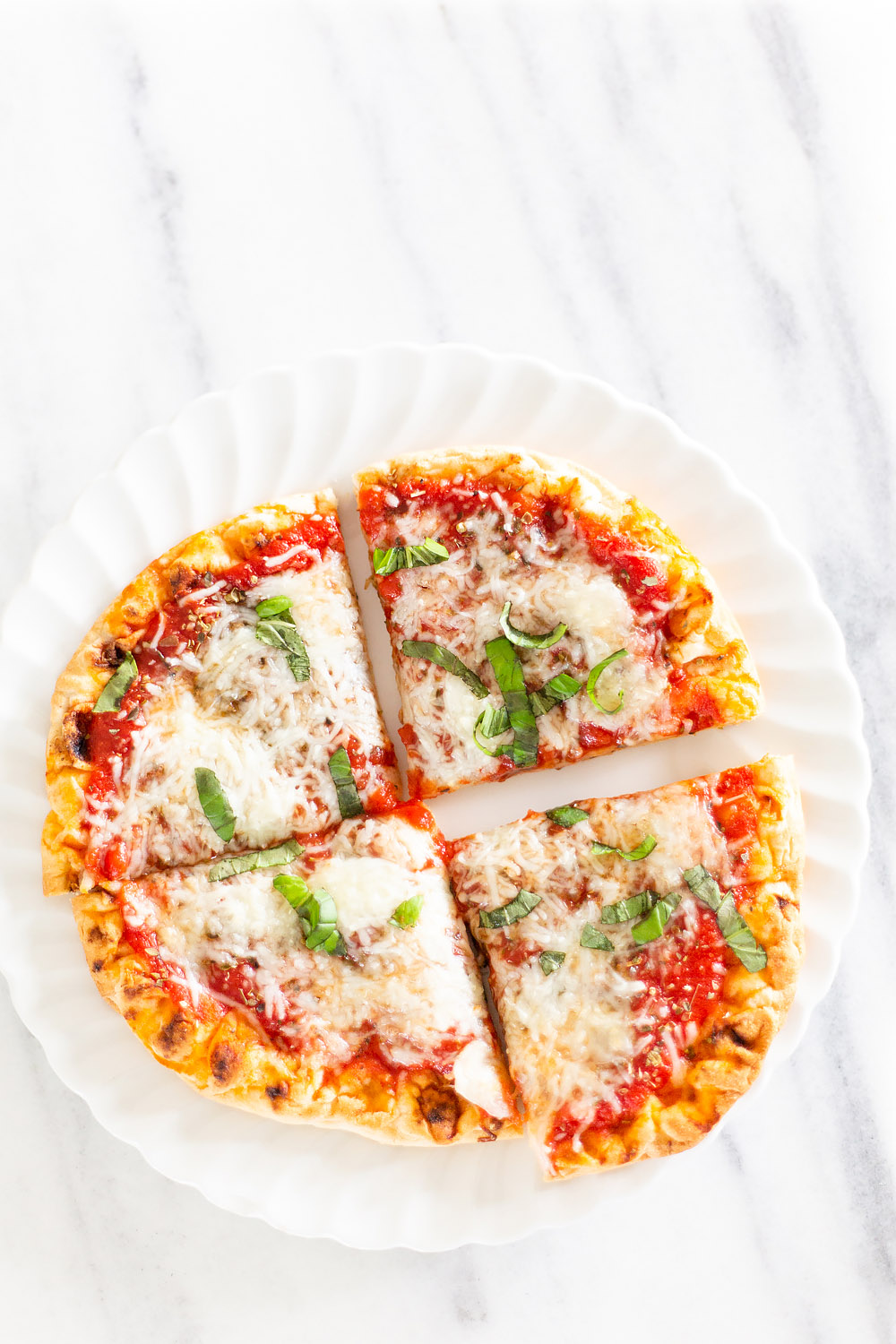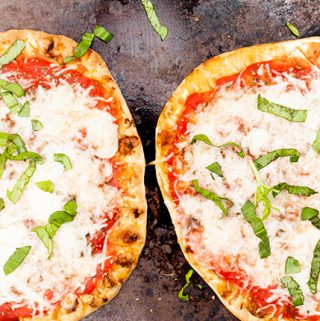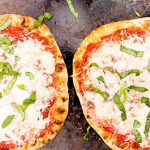 Print Recipe
Naan Pizzas
These customizable naan pizzas with fresh basil are easy to make and are a quick lunch, snack, or easy dinner. They are family-friendly and great for adults and kids.
Ingredients
4

large naan or 8 small naan flatbreads

1 15

oz

can tomato sauce

1 8

oz

bag shredded mozzarella cheese

dried oregano

6-8

fresh basil leaves
Instructions
Preheat oven to 400 degrees F.

On a baking sheet (or 2), place the naan flatbreads. Top with tomato sauce and sprinkle dried oregano on each pizza. Top with the shredded mozzarella.

Place in the oven and cook for 10 minutes.

While pizza is cooking, wash the basil leaves and then slice into strips.

Once the pizza is done and removed from the oven, sprinkle the sliced basil over the pizzas. Cut each pizza into quarters (if large naan), and enjoy!