This recipe for homemade pecan granola is easy and flavorful! Enjoy on top of yogurt, in a parfait, on its own, or in oatmeal.
Here in Texas, we have a lot of pecan trees. I remember my grandma had a big one in her yard, and when we were younger, we would pick the pecans off the grass, crack them with a nutcracker, and enjoy them as a snack.
I don't have any pecan trees in my yard now, but there are a few here in the neighborhood. I accidentally stepped on a pecan the other day and thought about picking it up and eating it. But I didn't, because I didn't want literal street food that had touched the sole of my shoe. Luckily, it's easy enough to buy a bag of already shelled pecans and use them in a bunch of dishes! I use them in salads, cookies, or just to snack on. But I really love them in granola. Those big pieces taste so good with the toasted oats and honey.

The key to a good pecan granola is to not add the pecans in until the very end of cooking. Trust me on this. The first time I attempted pecan granola last year, I wound up with a very burnt taste in my mouth from the pecans that had spent way too long getting roasted. Learn from my mistakes.
You can enjoy this granola in a variety of ways, but we especially love them in yogurt bowls with fruit, like in this recipe for granola breakfast bowls.
Ingredients for making homemade pecan granola:
Pecans -You can get pecan pieces for this, but I love to get pecan halves and then chop them up myself. If you have access to a pecan tree, use fresh ones and crack them yourself!
Old fashioned oats - Old fashioned oats work best here! However, if all you have is quick oats, you can use those, the texture will just be slightly different.
Coconut oil - You'll use melted coconut oil here. If you're like me, my coconut oil tends to stay solid in the winter and melted in the summer. If your coconut oil is in the hard stage, just stick it in the microwave to melt!
Honey - I always love using local honey.
Vanilla - Use the pure stuff, not imitation vanilla.
Cinnamon - The ground cinnamon adds a nice warmth and flavor to this recipe.
Salt - A pinch of salt really amplifies all the other flavors and balances it out.
How to make the pecan granola:
First, you'll preheat your oven to 275 degrees F. That's a low temperature, but that's what you want when making this granola.
You'll combine your dry ingredients -- the oats, cinnamon, and salt in a bowl. In another bowl, you'll combine your melted coconut oil, honey, and vanilla.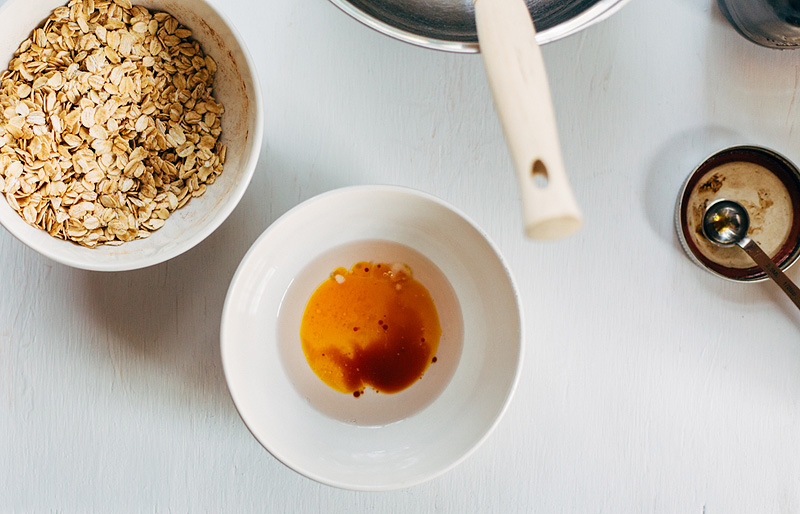 In a medium/large bowl, combine your wet and dry ingredients. Stir until everything is all mixed together and combined. Then spread on a parchment-lined baking sheet and put in the oven.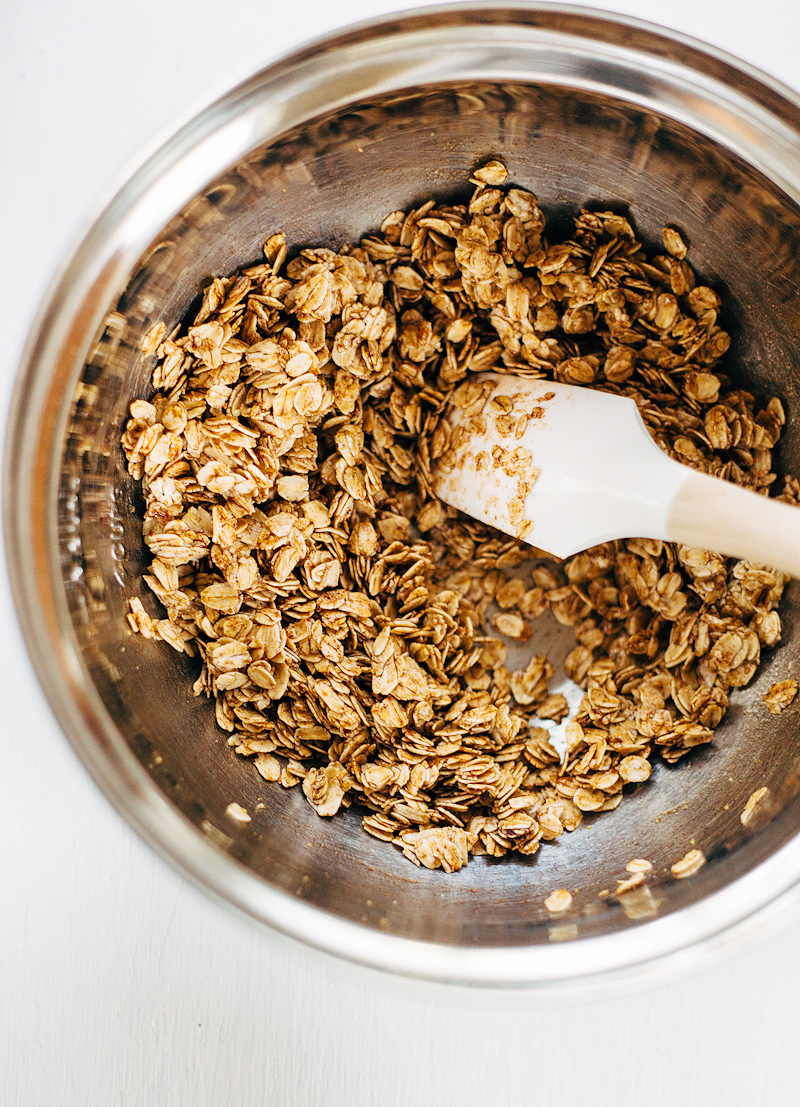 If needed, chop your pecans while you're waiting for the oats to cook in the oven.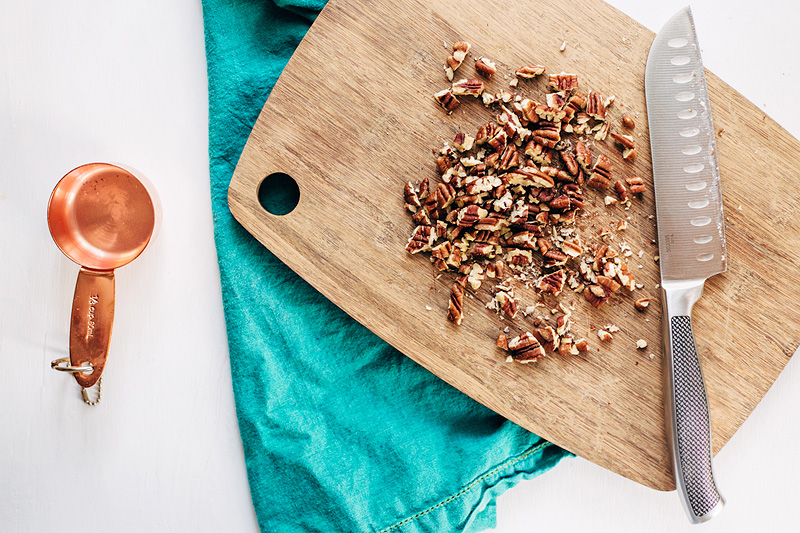 After 20 minutes, stir the oats in the oven. Put back in the oven, cook for another 20 minutes, take out, and then add the pecans to the sheet. Stir to combine and then put back in the oven for 5 minutes.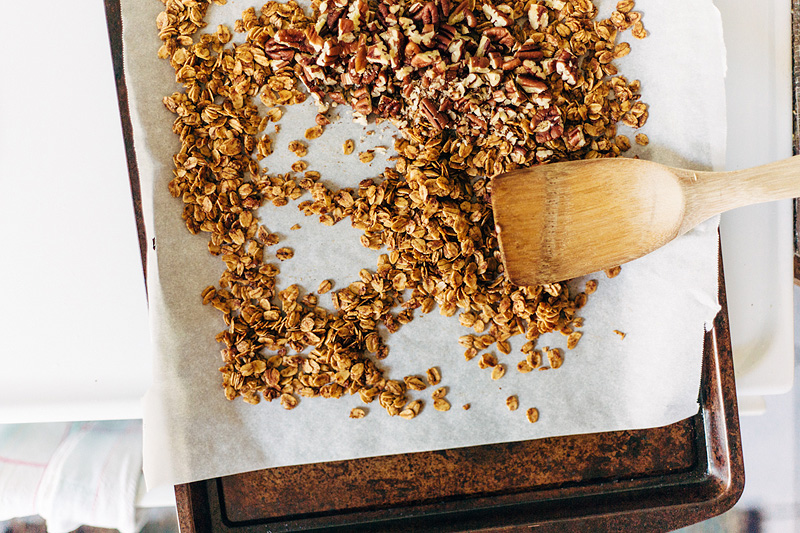 After 5 minutes, pull the granola out of the oven. Let cool, then store in airtight jars.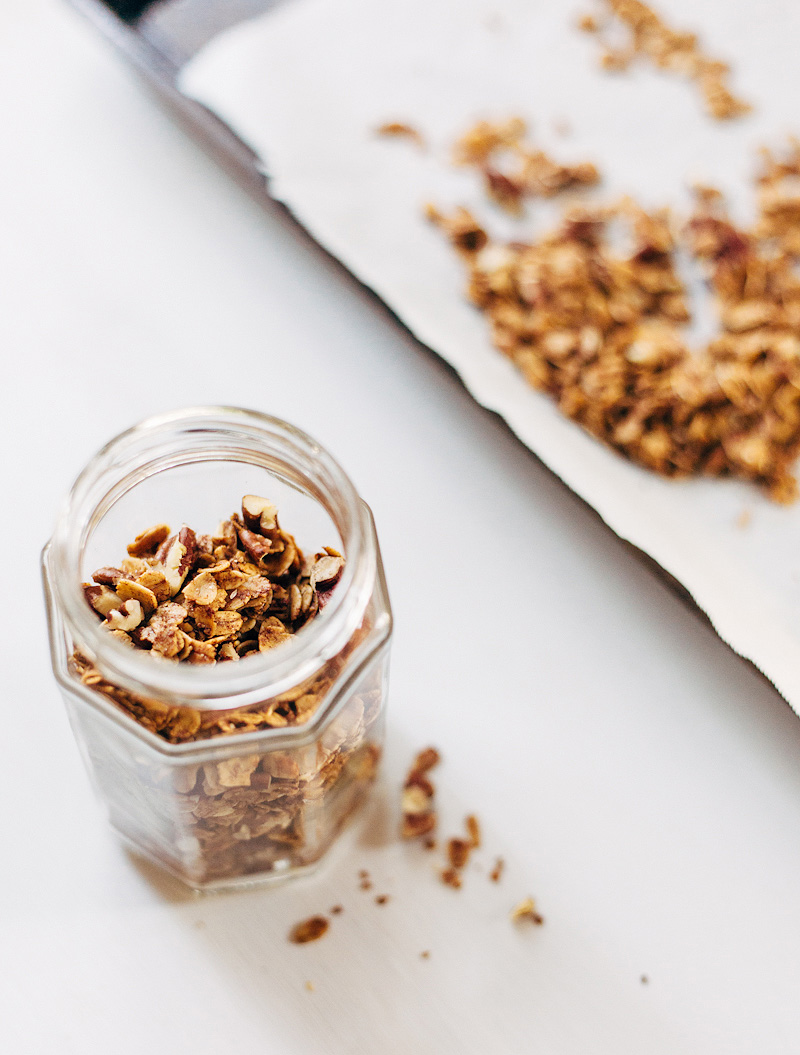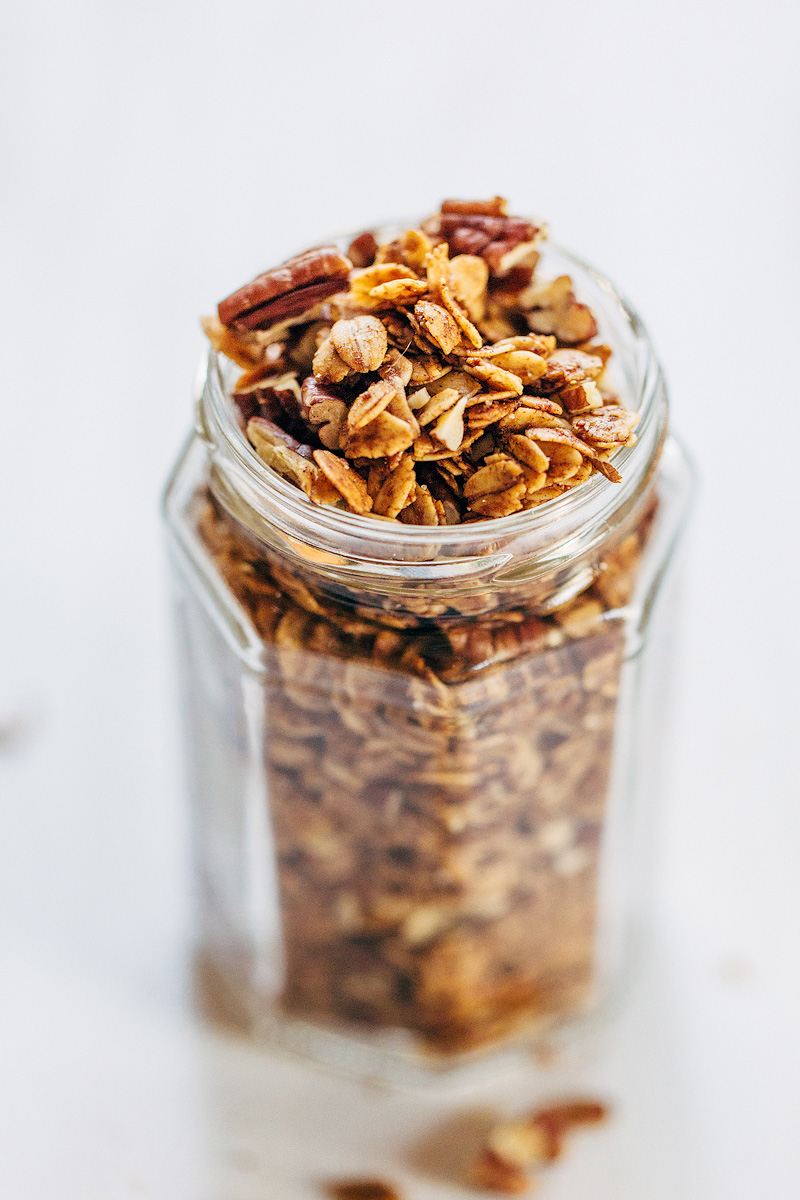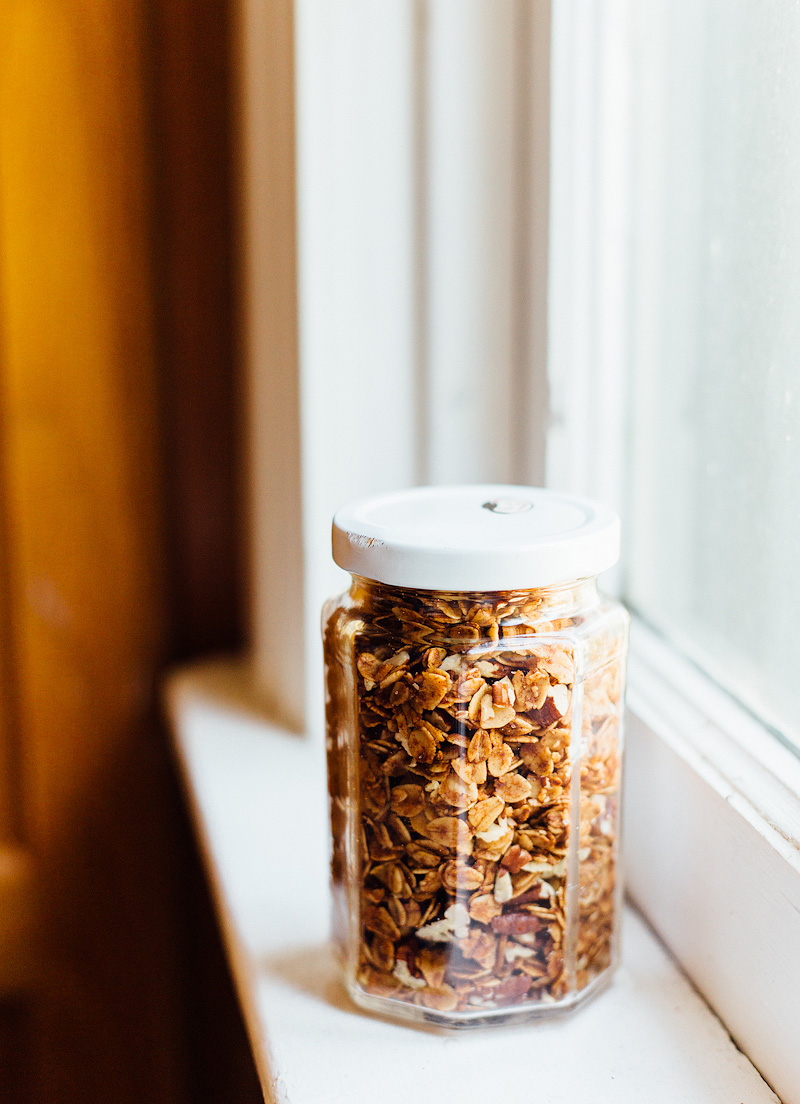 Print Recipe
Easy Pecan Granola
This homemade pecan granola is delicious with yogurt, in oatmeal, or on its own!
Ingredients
1

cup

old fashioned oats

2

tsp

cinnamon

pinch

of salt

1 1/2

tbsp

coconut oil

melted

1 1/2

tbsp

honey

1/2

tsp

vanilla

1/3

cup

pecans

roughly chopped
Instructions
Preheat the oven to 275 degrees F.

Combine the oats, cinnamon and salt in a medium bowl.

Combine the melted coconut oil, honey, and vanilla in a small bowl and stir.

Add the wet mixture to the oat mixture and stir until combined.

Spread the mixture onto a parchment lined baking sheet.

Cook for 20 minutes, then stir.

Cook for 20 more minutes, then stir.

Add the chopped pecans and stir to combine.

Cook 5 more minutes then cool and enjoy!
Looking for more delicious recipes? Check these out!