This Bananas Foster French Toast is an indulgent breakfast recipe with caramelized bananas that tastes delicious and can be made boozy or not! It's a great way to use up those bananas and bread!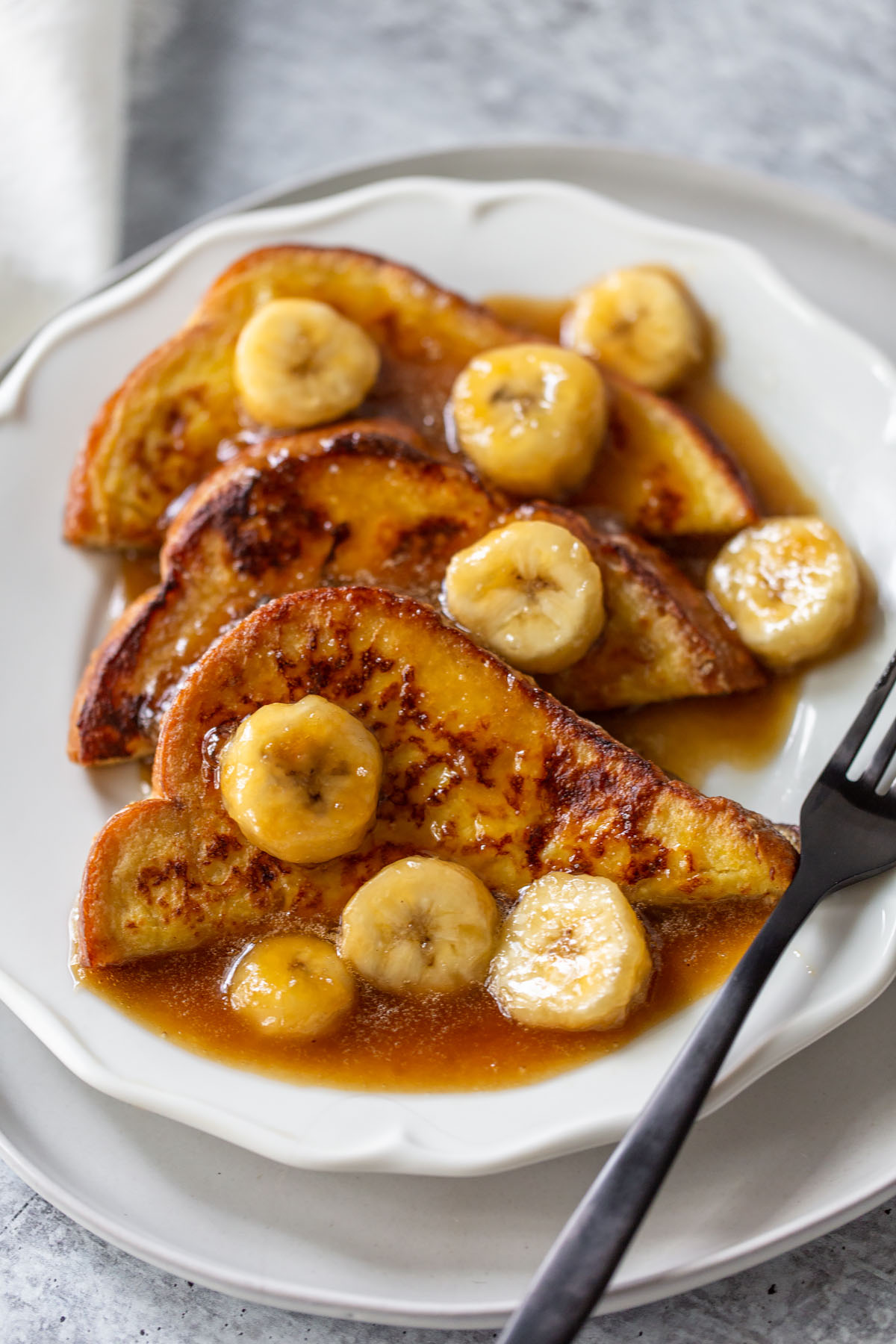 This post contains some affiliate links, which means that I make a small commission off items you purchase at no additional cost to you.
Mmmm. Bananas Foster. Mmmm. French toast. MMMMM. Bananas Foster French Toast!
I've seriously been wanting to make this for months. I mean, how absolutely delicious does that combination sound? I love the sticky sweetness of bananas foster. Those caramelized bananas. And I love French toast. So I've been wanting to combine the two into a decadent French toast recipe that would be perfect for breakfast or brunch at home.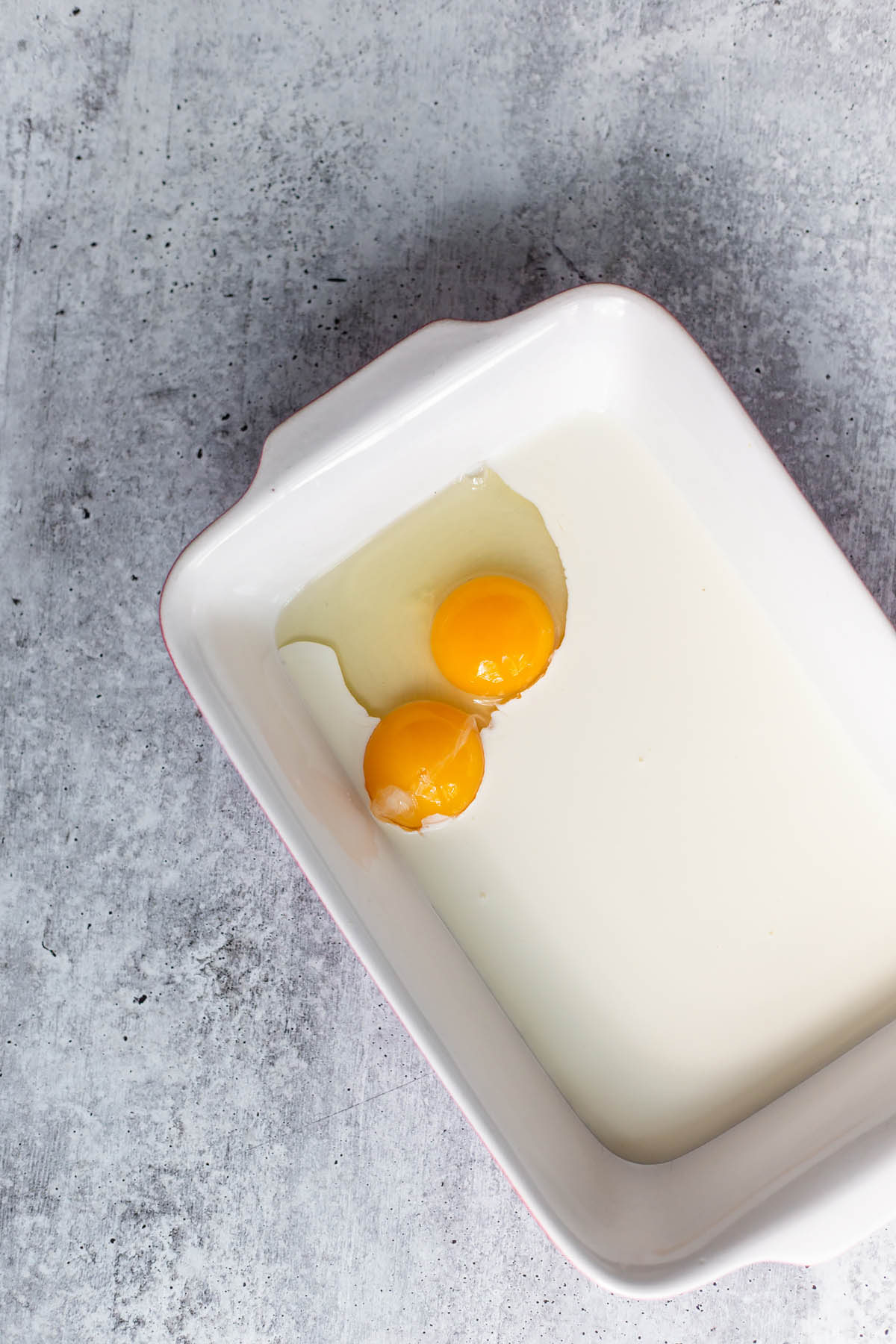 And I'm happy to say… it was a huge success! The brioche gets all custardy and delicious. So yummy even on its own. The cooked bananas, butter, and brown sugar combine into a sticky-sweet mess delight that is so yummy spooned over the French toast.
This is not a healthy breakfast by any means. This is a happy weekend brunch breakfast where you're going to indulge. And we all need those every once in awhile, right?
I left the rum out of this bananas foster french toast recipe because I didn't want a splash of alcohol at 10 in the morning when I was making this, but feel free to add a few splashes when you're making the bananas foster part if you want to make this a boozy french toast recipe!
I also used coconut milk in the french toast. It added a subtle coconut flavor which could ALMOST make me imagine that I was on a tropical island somewhere, enjoying a relaxing vacation (that is.. If I didn't have a one-year old running around demanding to "help"). It was lovely, but you can sub out any milk of your choice. Cow's milk? Great! Almond milk? Delicious! Oat milk? I haven't tested it, but it would probably work well (let me know if you try it and it doesn't!)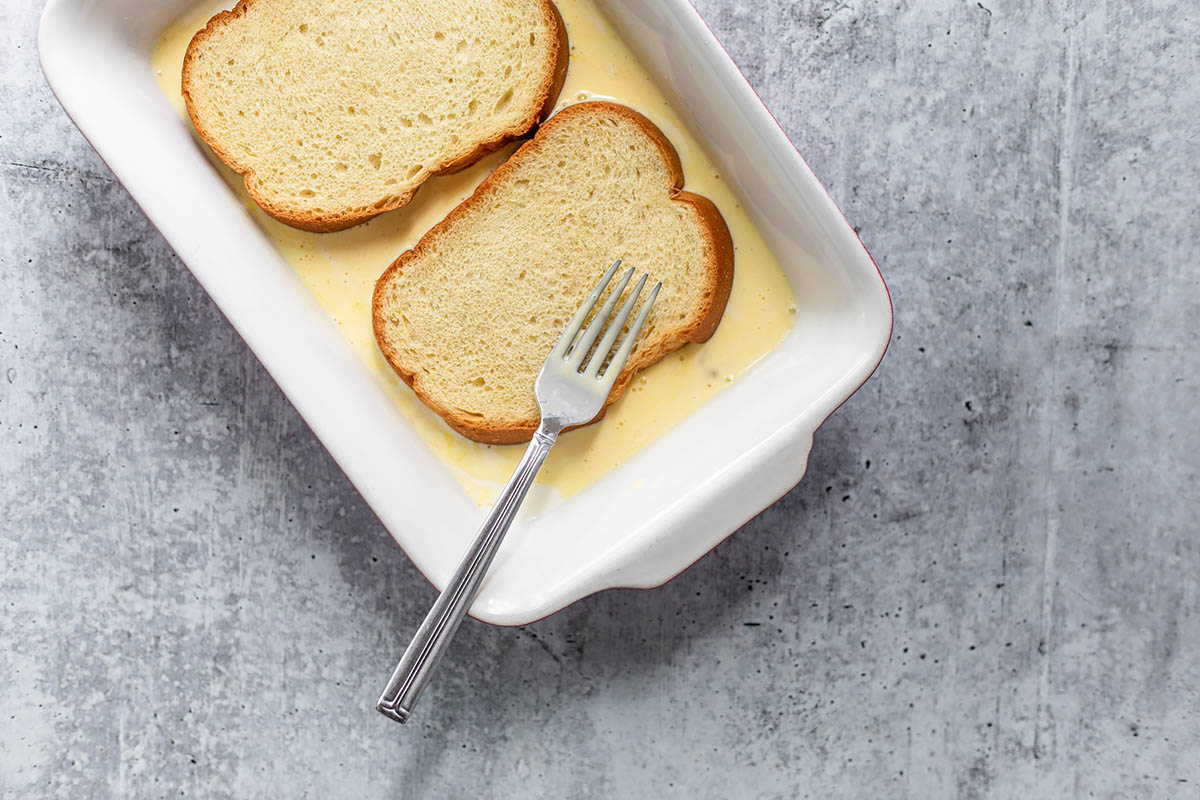 Whatever you use, this is going to make a delicious caramel banana french toast recipe.
Ingredients needed:
Milk - As I said above, I used canned coconut milk for this recipe, but I've also made it using almond milk and regular milk. The coconut milk gives it a nice subtle flavor, but use what you have!
Vanilla extract - I like to use the pure and not imitation stuff here.
Eggs - The eggs give the French toast a custardy texture.
Brioche bread - I LOVE making this with brioche bread, but I've also used a soft French loaf. Again, use what you have! French toast is a great way to use up leftover bread.
Bananas - This recipe is a great way to use up ripe or unripe bananas. If they are TOO ripe, they may fall apart a bit when cooking, so just keep that in mind.
Brown sugar - The brown sugar is used to help caramelize the bananas for the topping.
Butter - The butter is used with the brown sugar to provide the caramel sauce.
Rum - Completely optional. I haven't added it when I've made this, but a splash would be delicious!
Tips:
I used a can of coconut milk, but you can always substitute an equal amount of regular milk
Try to slice the bananas thickly. If you slice them too thin, they have more of a chance of falling apart in the caramel sauce as they cook.
Add a splash of rum to the bananas foster part if you want
Let the French toast get nicely browned. It's better that way, and will add a bit of a crust.
If you're worried about your French toast getting cold while you cook the slices, turn your oven on "warm" or a low temperature of 200 degrees F, and put a sheet pan in there. When you cook a slice of French toast, plop it on the sheet pan, then remove right before serving so all your toast is nicely warm.
Don't cook the foster sauce too long or on too high of heat, or the butter will start to separate from the sugar. Watch carefully.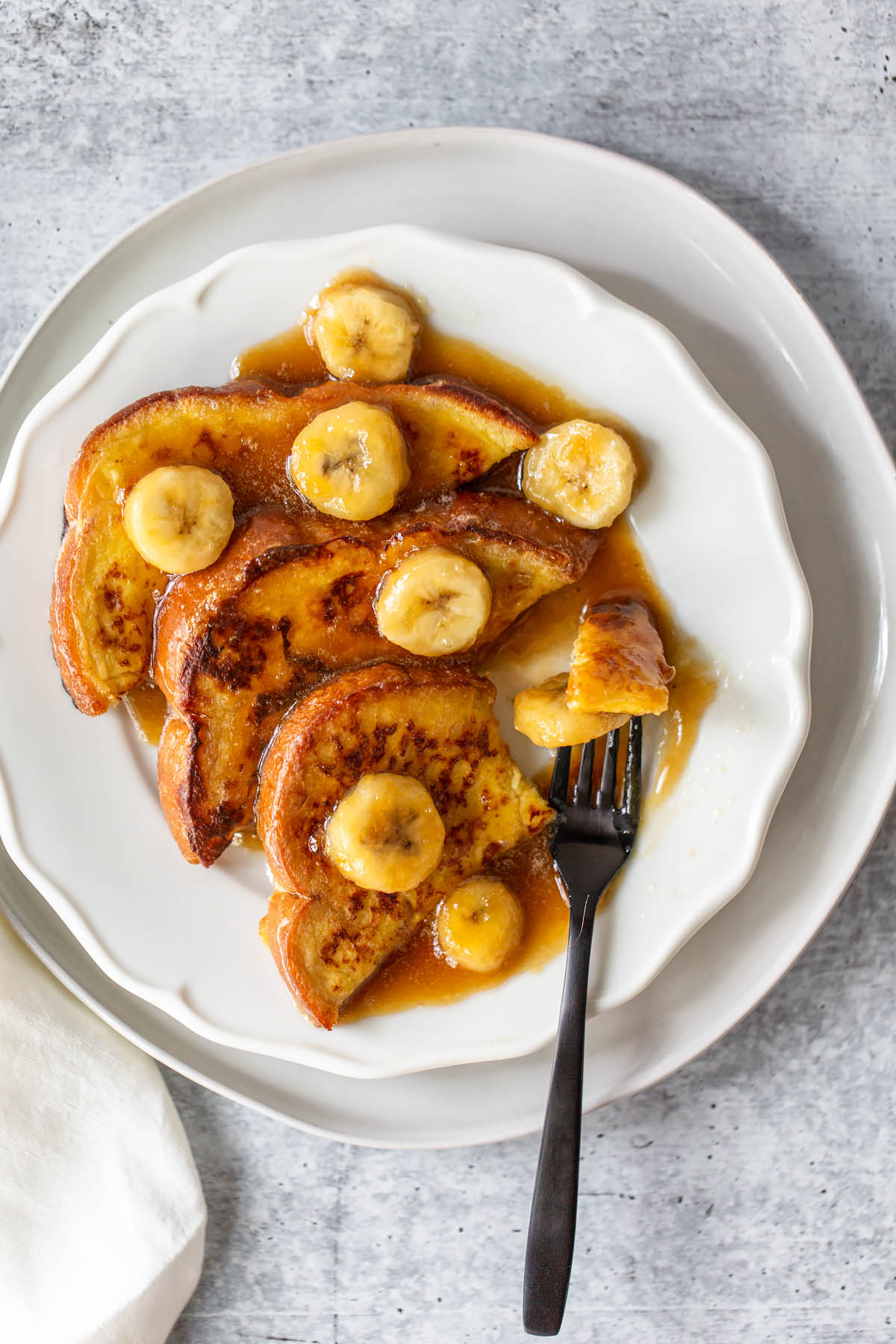 Equipment:
Skillet or griddle - It's easy to make French toast in a skillet, but then you can only do 1 piece at a time. That's fine if you have a lot of time, and put it in the oven to warm, but I love doing mine on a griddle pan on my stove (my stove actually has a burner just for the griddle). Here's one option for a griddle pan that is highly rated on Amazon. You can also use an electric griddle like this, that you can just plug into the wall.
Can I make this with regular bread and not brioche?
Absolutely. Use what you have. The brioche is so soft and soaks up the custard mixture SUPER-quickly. Something harder like a french loaf or baguette may need more liquid to soften up for the French toast. If you're using a regular sliced loaf of bread, then just know you may need more slices since sliced brioche is typically thicker than your regular sliced loaf.
Recipe variations:
I've served this with some roughly chopped pecans or walnuts on top. It adds a nice additional texture!
If you're not a banana fan (or allergic to bananas like a friend of mine), make this with another fruit! To do so, I'd add a cup of berries to a pan with a touch of water and some regular sugar (instead of brown sugar). Instead of getting caramelized, you'll just want everything to get kind of sweet and syrupy so you can spoon the berries over the French toast.
What to serve with the French toast: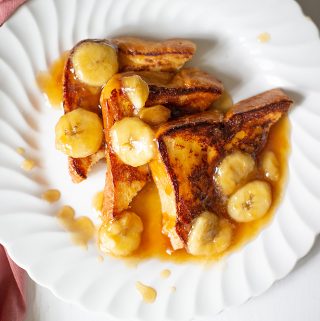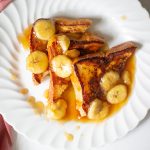 Print Recipe
Bananas Foster French Toast
This bananas foster French toast is an indulgent breakfast recipe with caramelized bananas that tastes delicious and can be made boozy or not! It's a great way to use up those bananas and bread!
Ingredients
13.5

oz

can coconut milk

1

tsp

vanilla

1

egg + 1 egg yolk

6

slices

brioche bread

2

ripe bananas

sliced thickly

½

cup

light brown sugar

½

cup

salted butter
Instructions
Heat a skillet or griddle over medium heat.

In a shallow dish, add the coconut milk, eggs, and vanilla. Whisk together.

Soak a slice of the brioche bread in the egg mixture and flip, so both sides are soaked in the mixture.

Once the griddle is hot, cook the bread until nicely browned on each side. Keep warm in the oven if needed while you repeat with the other slices of bread.

To make the bananas foster, heat the butter and brown sugar over medium heat in a skillet. Mix to create a sauce. Add the bananas and let cook until slightly thickened and sticky.

To assemble, slice each piece of brioche bread in half diagonally. Place 3 halves on each plate and top with the bananas foster mixture. Add freshly whipped cream, if desired. Serve and eat immediately.