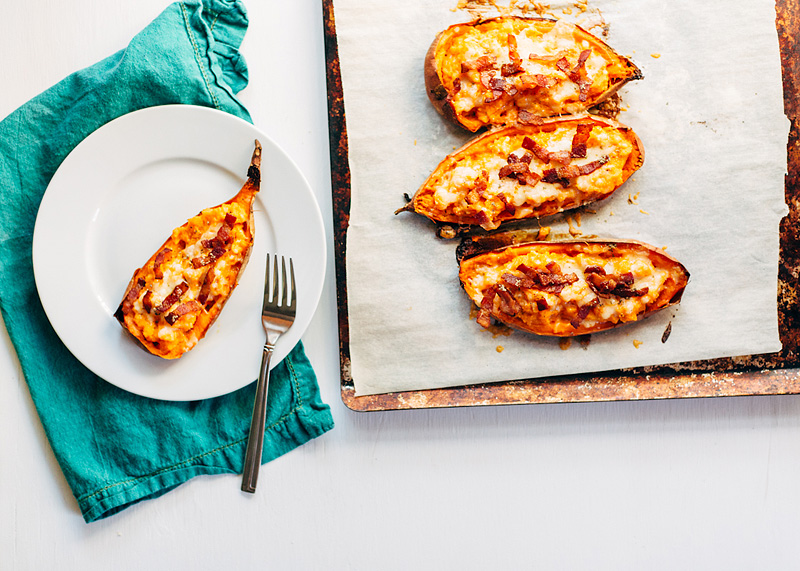 It's finally here! Thanksgiving week.
There is just something about Thanksgiving that I adore. Maybe it's the food. Yeah, it's probably all the food. But I also just love that there are no presents to open, no Easter egg hunt, no fireworks. The holiday is all about just hanging out with family and friends. And if your Thanksgiving is anything like mine, that means it usually involves lots of wine and champagne. And THREE kinds of pie.

Every year for Thanksgiving, my contribution is a sweet potato dish. While this isn't the one I make for Thanksgiving, I love sweet potatoes, so I am always eating them. And I *heart* potato skins, so sweet potato skins are right up my alley.
And these sweet potato skins are really easy. All you do is bake them, scoop out the insides and mix with a little milk and cream, pop back in the skin, and cover with cheese and bacon (and whatever other toppings you want)! And they're nice for this time of year when you don't have to worry about having your oven on for long periods of time. Hey, you're warming your house while cooking. Win-win.
In the recipe below, I recommend eating the sweet potato skins right away. And this is important. These don't make good leftovers. I made the mistake of not eating all of them right away, and eating two for my lunch the next day. I found out that right after you make these... so delicious. The day after... if they are warmed up in a microwave... not so much.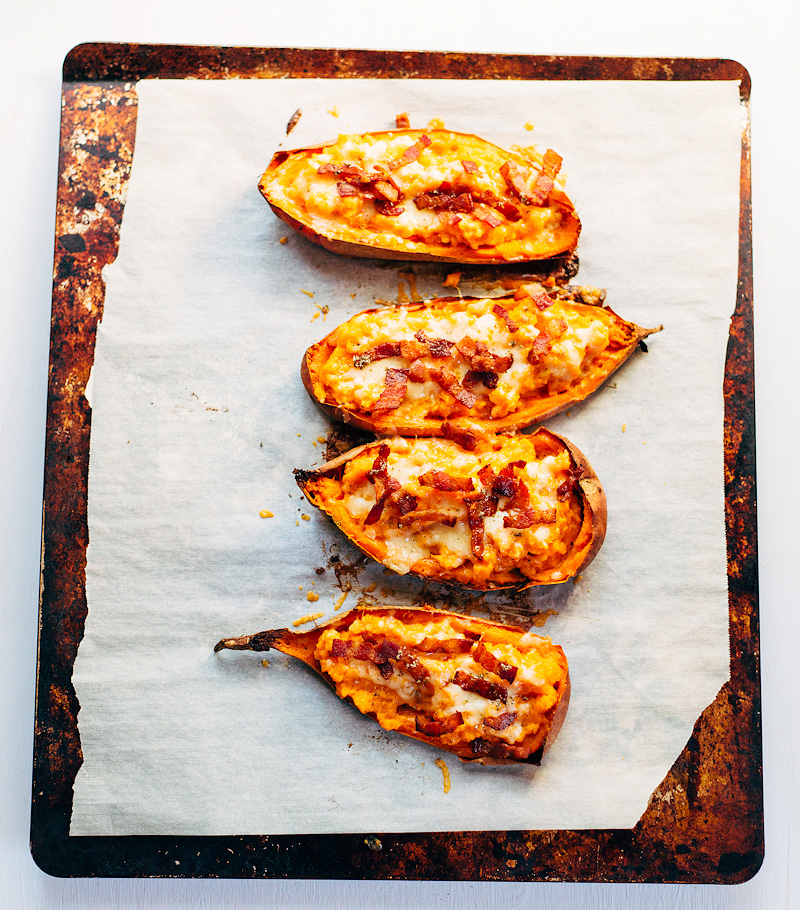 Print Recipe
Sweet Potato Skins with Bacon and Cheese
Ingredients
2

large sweet potatoes

scrubbed

1

tbsp

olive oil

1/4

cup

whole milk

1

tbsp

heavy cream

1/8

tsp

salt

1/8

tsp

pepper

1/4

cup

sharp cheddar cheese

2

strips bacon
Instructions
Preheat oven to 400 degrees F. Line a baking sheet with parchment paper and place sweet potatoes on sheet. Poke a few holes in each potato with a fork.

Bake 75 minutes or until soft. Remove from oven, cool for 5 minutes, and then slice each potato in half lengthwise.

Scoop out most of the potato into a medium bowl, leaving a thin layer inside.

Brush the skins with olive oil and place back on the baking sheet. Bake for 10 minutes.

While skins are baking, mash up the sweet potato in the bowl with the milk, cream, salt, and pepper.

After removing the skins from the oven, divide the mashed sweet potato evenly between the four skins. Sprinkle the cheese over the skins and bake for an additional 15 minutes.

While skins are baking, cut the two strips of bacon into small pieces and crisp in a pan. Drain and set aside.

Once the sweet potatoes are out of the oven, top with the bacon pieces and serve immediately.