These homemade migas breakfast tacos are so easy to make! They are tortillas filled with eggs, tomatoes, jalapenos, cheese, and avocados.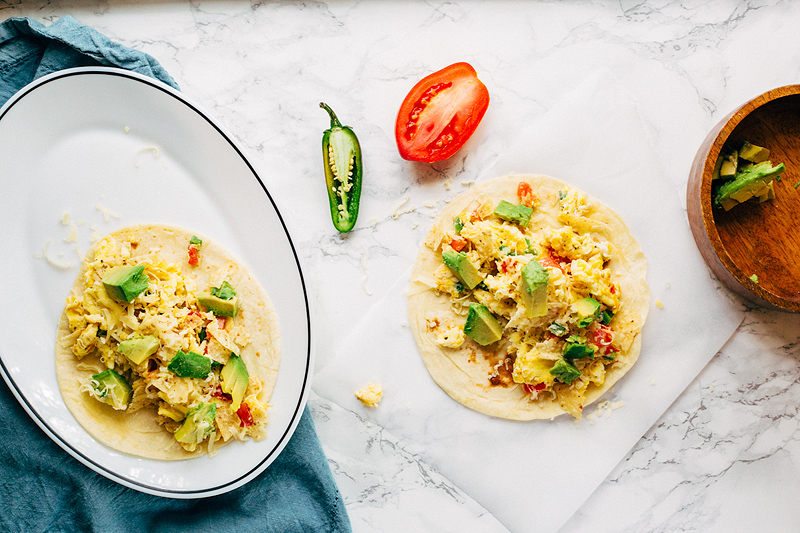 If you don't live in Austin, let me just clue you in on one thing: breakfast tacos are kinda a big deal here. I love all kinds of breakfast tacos. Sometimes I get egg and chorizo, sometimes bean and cheese, sometimes bacon, avocado, egg, and cheese. But really, the best kind are migas breakfast tacos.

They are nicely spicy and they have avocado and tomato, so they're good for you, right? I like to think so. Most of the time I'll order migas tacos from one of the many many places you can find them in Austin, but every once in awhile it's a treat to make them at home. This is especially nice on rainy days or crazy-hot Austin summer days when you don't want to leave the house.
The recipe below makes enough for two overflowing tacos, but you can double the recipe if you've got company! I also suggest finding the freshest tortillas you can for this recipe. Luckily here in Austin we've got places that make tortillas from scratch, but if all you can find are the national brands, that is fine too. Just don't skip the step where you lightly toast it in the pan!
Ingredients for making the tacos:
Eggs - The best breakfast tacos have eggs. This one is no exception.
Roma or Campari tomato - I find the roma or campari tomatoes to be the perfect size for this. You only need half of one, unless you double the recipe!
Jalapeno - Jalapeno adds the perfect amount of spice. Not too hot, but just slightly spicy.
Avocado - Avocado adds a little bit of creaminess to the migas tacos.
Flour tortillas - I love using flour tortillas, but if you are gluten-free or prefer corn tortillas, use those instead!
Tortilla chips - One of the great things about a migas taco is the texture that crushed tortilla chips add.
Oil or butter - When I cook the eggs in the skillet, I usually use a little oil or butter so they don't stick to the pan.
Salt and pepper - Because every recipe needs a bit of these. Just regular salt and regular black pepper.
Sharp cheddar cheese - I like to top mine with sharp cheddar. However, you can definitely use a preshredded Mexican blend of cheese, or queso blanco.
Salsa - This is optional, but many people love to top their breakfast tacos with salsa!
How to make the Migas Breakfast Tacos:
Prep your ingredients so you're ready to go! I like to crack my eggs into the bowl, so they are ready.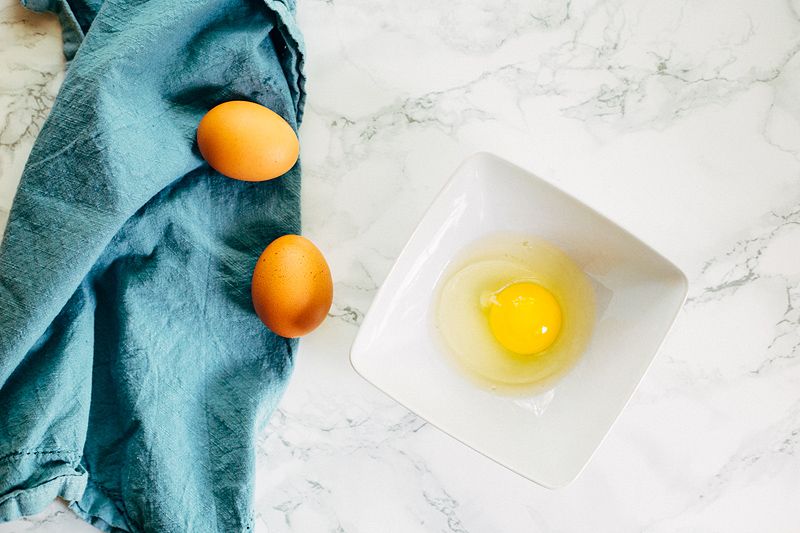 Dice up your tomato and jalapeno.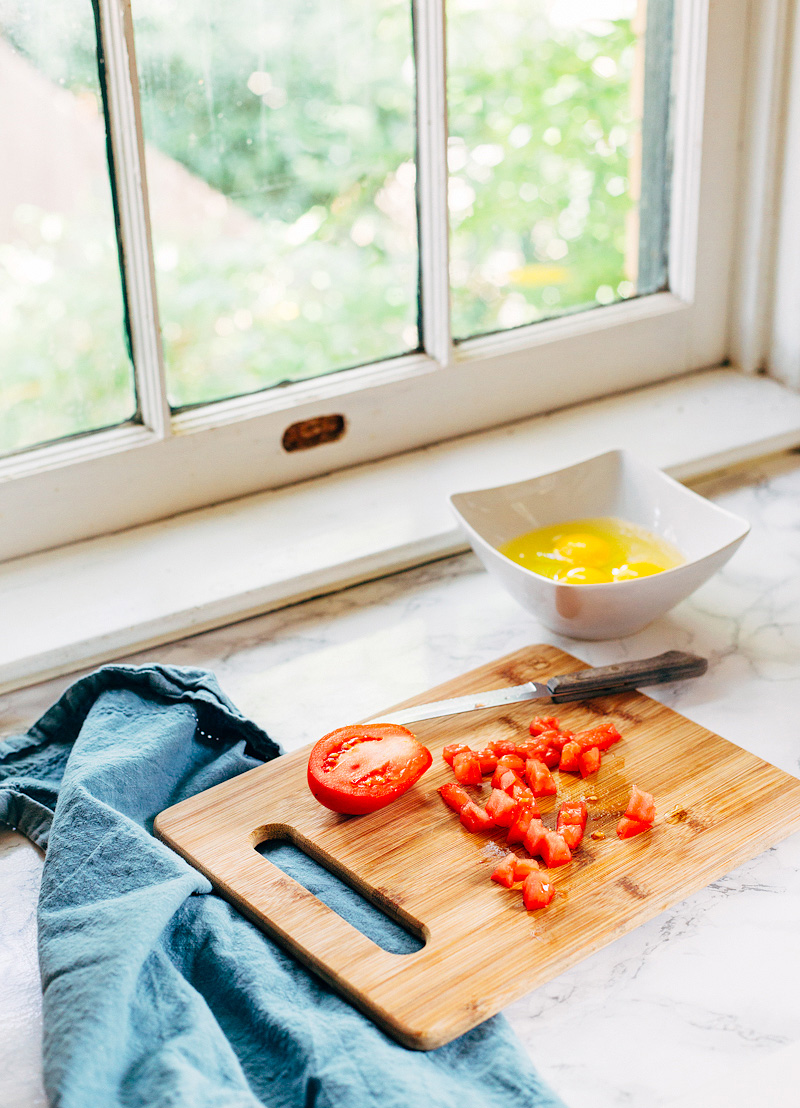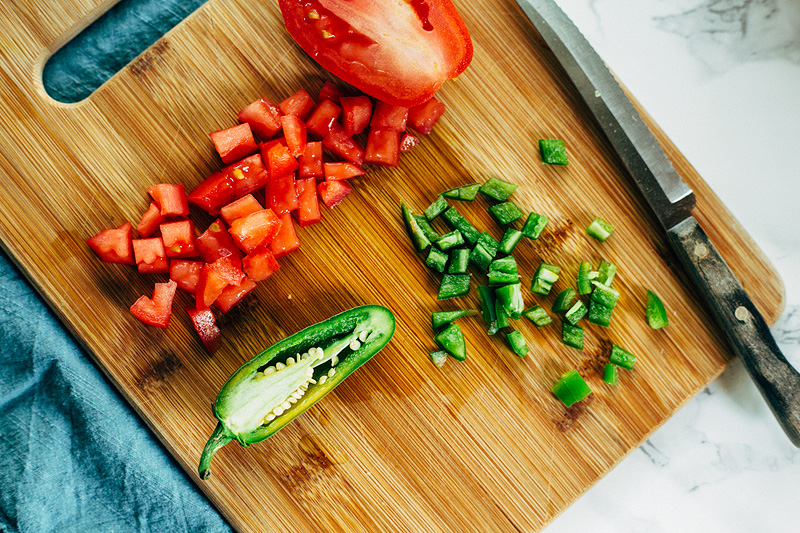 Take your tortilla chips and crush them into small pieces in a bowl. You don't want them to be too small though, because you want them to keep that lovely, crunchy texture.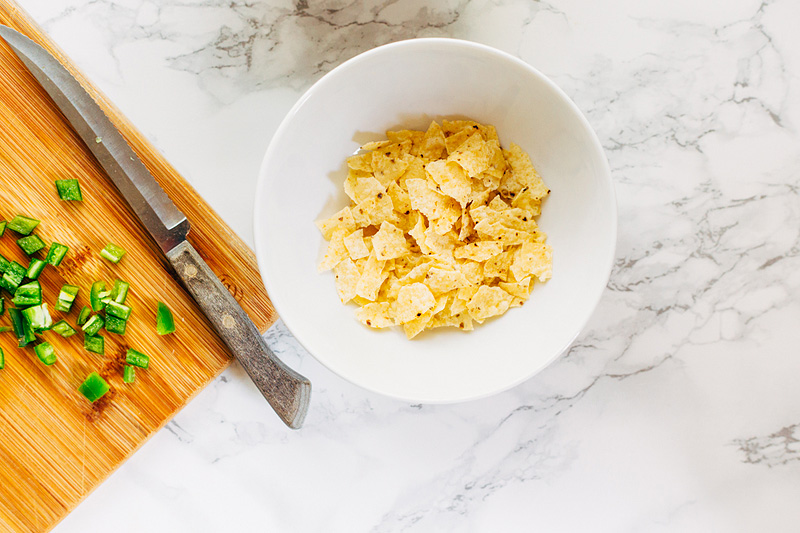 Toast your tortillas in the skillet until each side is lightly browned. Remove and set aside. Then add the oil or butter to the pan, swirl around, and then add your eggs. As they are starting to cook, add the diced tomato and jalapeno and scramble together. When the eggs are about 30 seconds from being done, add the crushed tortilla chips and stir to combine. Season with salt and pepper.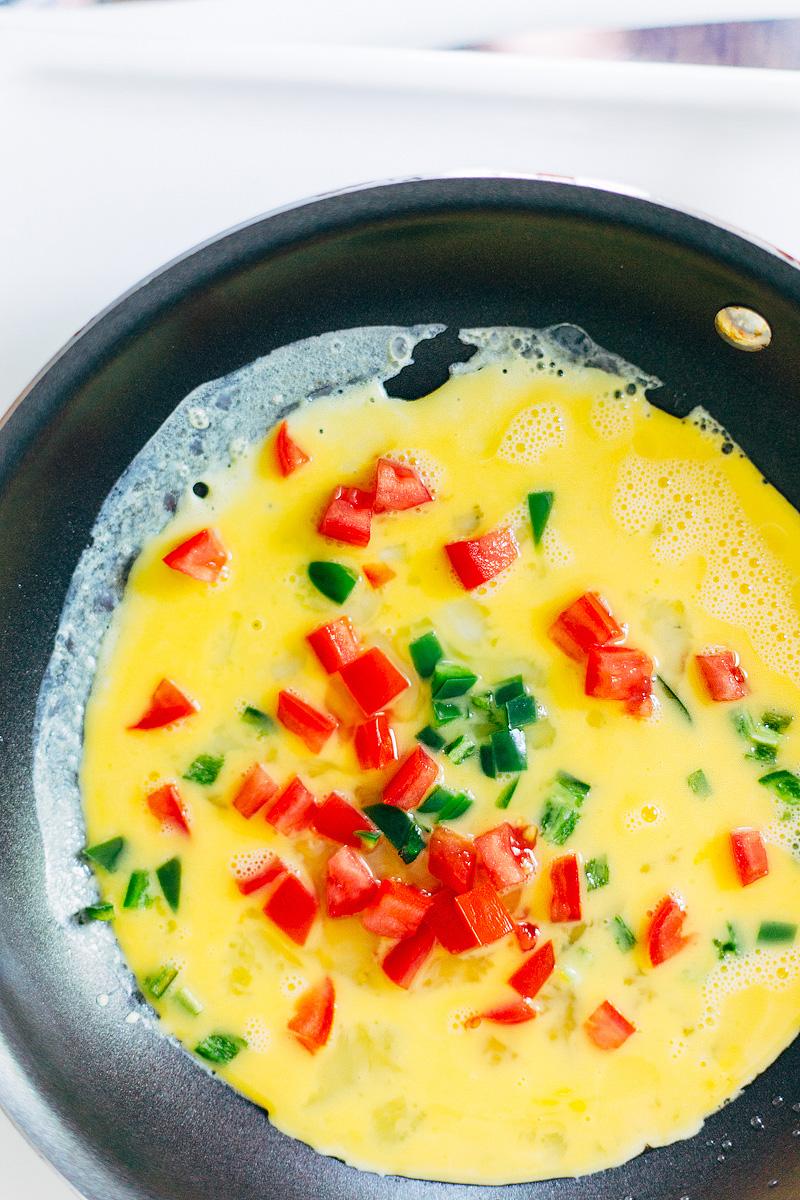 Remove the eggs from the pan and divide among the two tortillas. Top with diced avocado and shredded cheese. Add salsa if desired!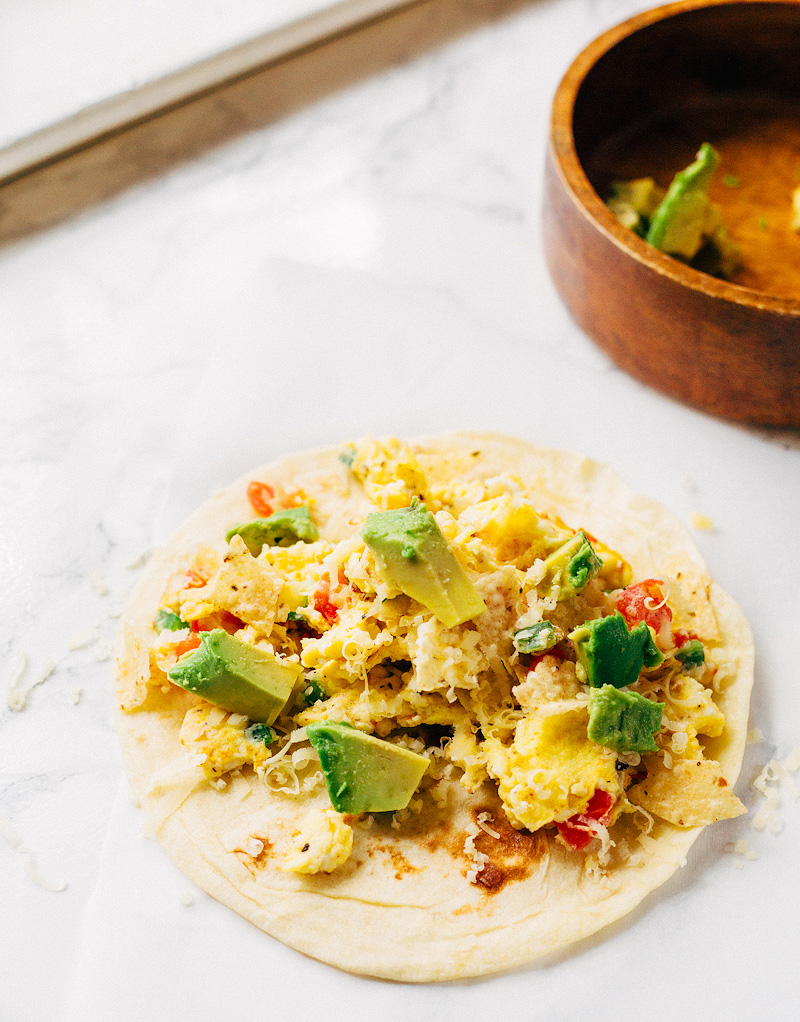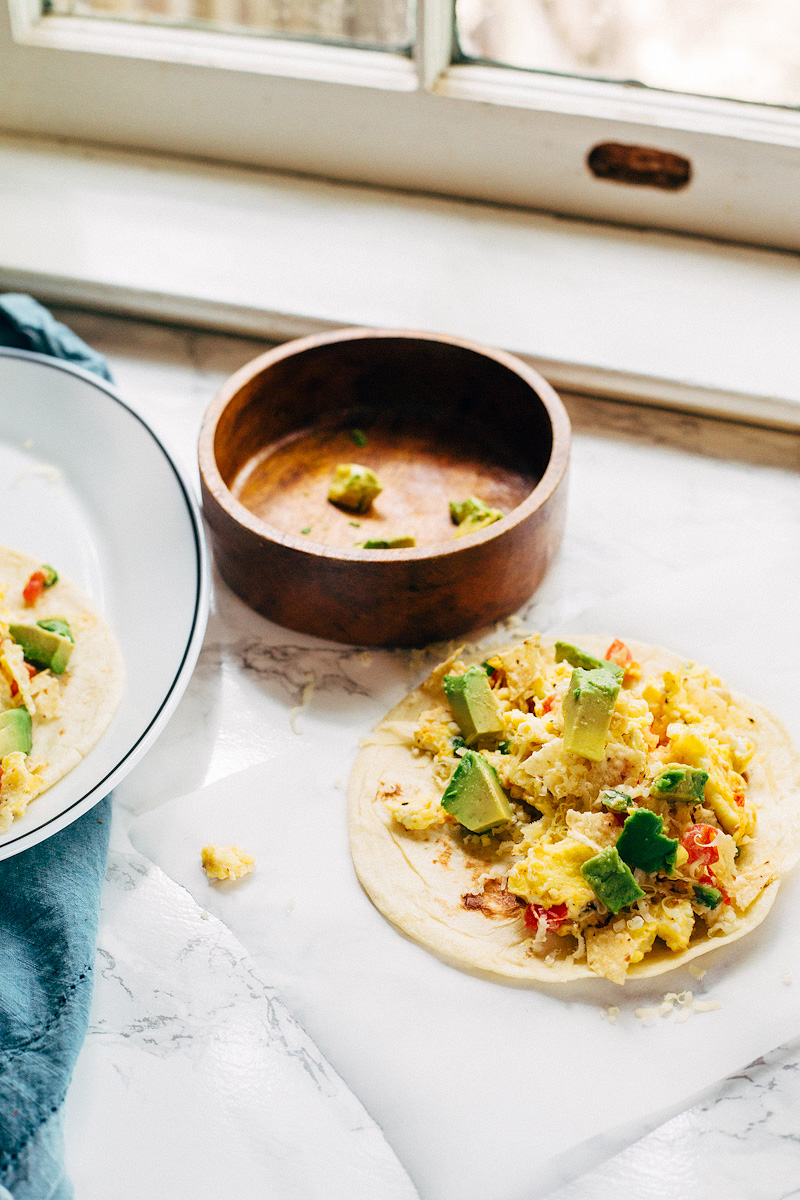 Print Recipe
Migas Breakfast Tacos
These homemade migas breakfast tacos are a delicious start to the morning!
Ingredients
2

flour tortillas

1

Tbsp

oil or butter

3

eggs

1/2

a roma or campari tomato

diced

1/2

a jalapeno

deseeded and diced

1/3

cup

crushed tortilla chips

1

avocado

cubed

salt

pepper

sharp cheddar cheese

for topping

salsa

if desired
Instructions
Crack the eggs into a bowl and whisk with a fork until blended. Set aside.

Heat a non-stick skillet over medium heat. Take each tortilla and lightly toast both sides, about 20 seconds per side. Set aside the tortillas.

Add the oil or butter to coat the skillet and heat for 30 seconds. Add the eggs to the skillet. As eggs are starting to cook, add the diced tomato and jalapeno. Stir as you would scrambled eggs and cook until about 30 seconds from being done.

Add the crushed tortilla chips to the pan and stir to combine. Season the eggs with salt and pepper.

On each tortilla, place half of the egg mixture. Grate some cheese over the top of each tortilla and top with avocado cubes. Add salsa if desired, and enjoy!
Love this recipe? Then check out these!