A French Press Latte is so easy to make at home! This recipe will help you make a delicious homemade latte in your French Press. It's quick and perfect for all coffee lovers!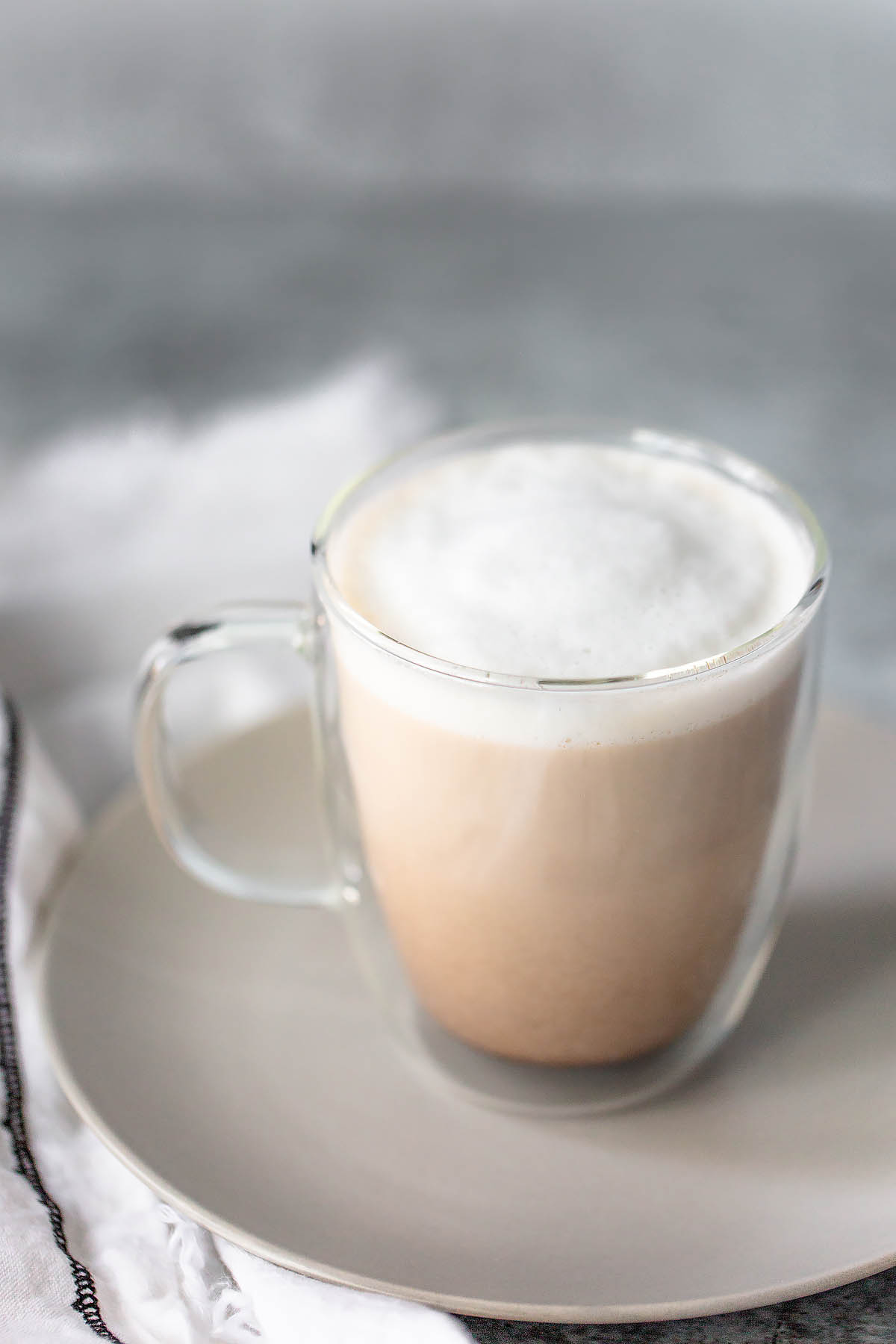 This post contains some affiliate links, which means that I make a small commission off items you purchase at no additional cost to you. As an Amazon Associate I earn from qualifying purchases.
Is there anything better than a fancy cup of coffee? And learning how to make a fancy latte or cappuccino at home so you don't have to pay $5 a day at a coffee shop?
Last year we brought you the magic of the AeroPress cappuccino. Today we're showing you how to make a French Press Latte!
It's a delicious, milky, frothy goodness. So delicious, I may not ever step foot in a coffee shop again. A latte is typically espresso coffee, steamed milk, and topped with milk foam. While a French Press doesn't typically make espresso, you'll basically make a strong coffee for use in this latte recipe.
Also, shout out to these glass mugs! They're so lightweight, double-walled, and allow you to see all the beauty and layers of your fancy coffee drink.
Ingredients
Espresso Coffee beans (or pre-ground coarse espresso coffee) - We recommend using espresso beans in this recipe. They have a richer flavor. And for a French Press, you'll want them coarse ground.
Hot Water
Milk - You can use whatever kind you have on hand, as long as it froths well.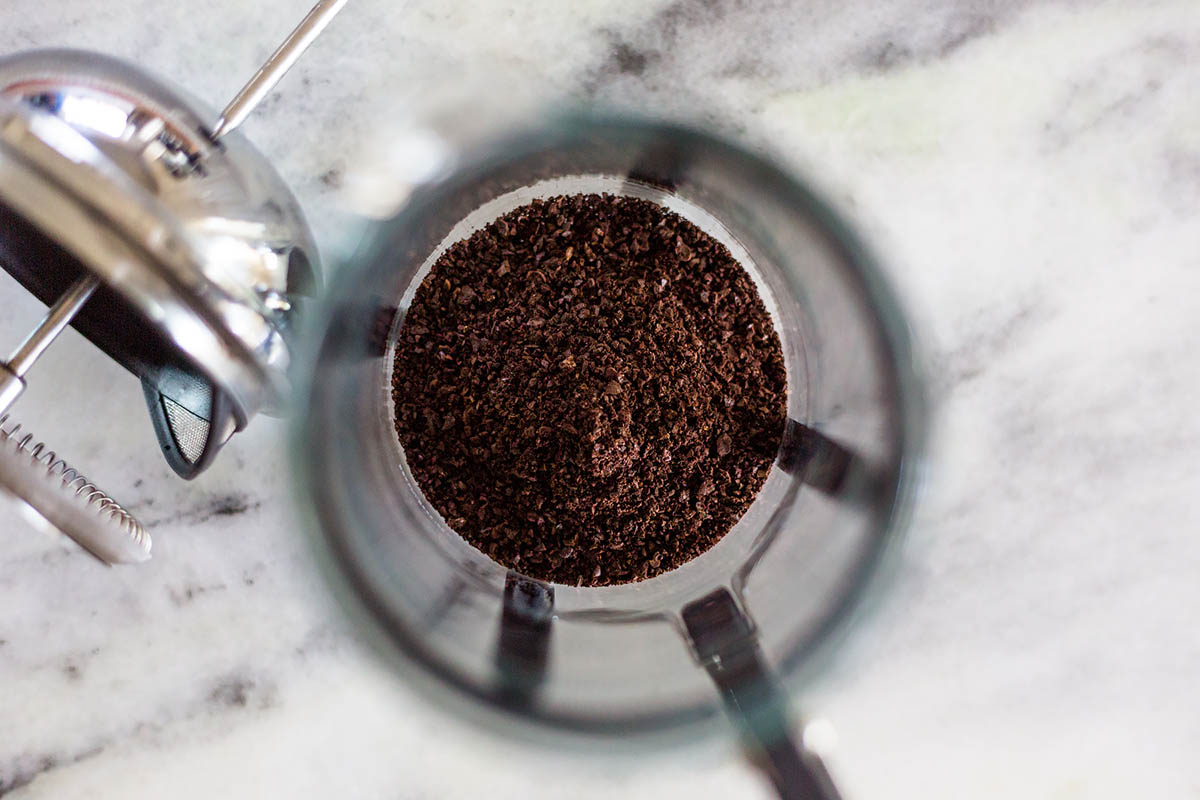 Equipment needed
Coffee grinder (or already have coarse ground coffee on hand) - I linked the one we own. When we got it, my husband called it a "game-changer" for making great coffee.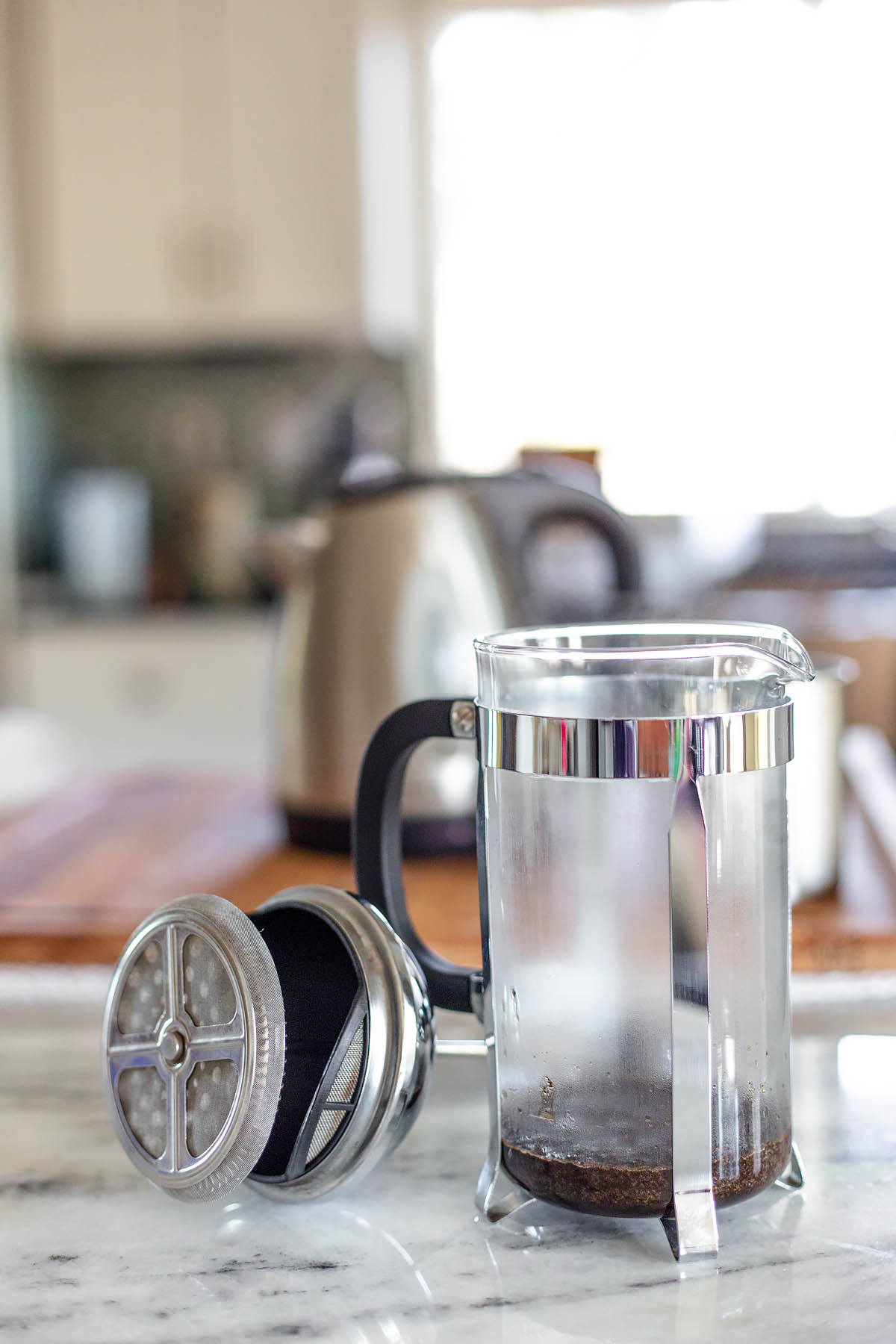 How to steam and froth milk
Steaming and frothing milk is easier than you think! Add your milk to a microwave-safe glass and heat in the microwave for one minute. Insert a handheld frother. Start in the middle, then rise it up to the top, and repeat one or two times until it becomes frothy and creamy.
Alternately, you could use a milk frother like this to make it even easier! I know people that have these and LOVE them. Totally up to you.
You can also froth milk in your French Press. I know, I know. WILD. We don't typically use this method, but you can absolutely do it!
What type of milk to use
You can use whatever you have on hand! We've used regular whole milk and we always have almond milk on hand. We have found that the Kirkland brand of almond milk (from Costco) froths up very well. Even better than whole milk. (We used whole milk for these photos, just fyi).
However, if you have an oat milk, soy milk, etc. you love that froths up nicely, you can use those in the French Press Latte.
Just know that if it doesn't froth up nicely, it may not be you. It may be your milk. Or your frother.
Customizing your latte
We love lattes as is, but you can always add a bit of flavoring! I recommend adding these flavorings to your glass after the coffee, stirring, and then topping with the steamed milk. Here are some ideas:
Add a touch of this cinnamon simple syrup for sweetness and cinnamon flavor
Drizzle a bit of maple syrup in for a sweet fall flavor
Add a tiny splash of peppermint extract for a Christmas flavor
Use hazelnut milk for a nice hazelnut flavor
Add a dash of cocoa and a little simple syrup for a mocha flavor
Add a touch of simple syrup for added sweetness
How to make the French Press latte:
If needed, get your coffee grounds and ground them on a coarse grind. Then add your coffee grounds to the French Press.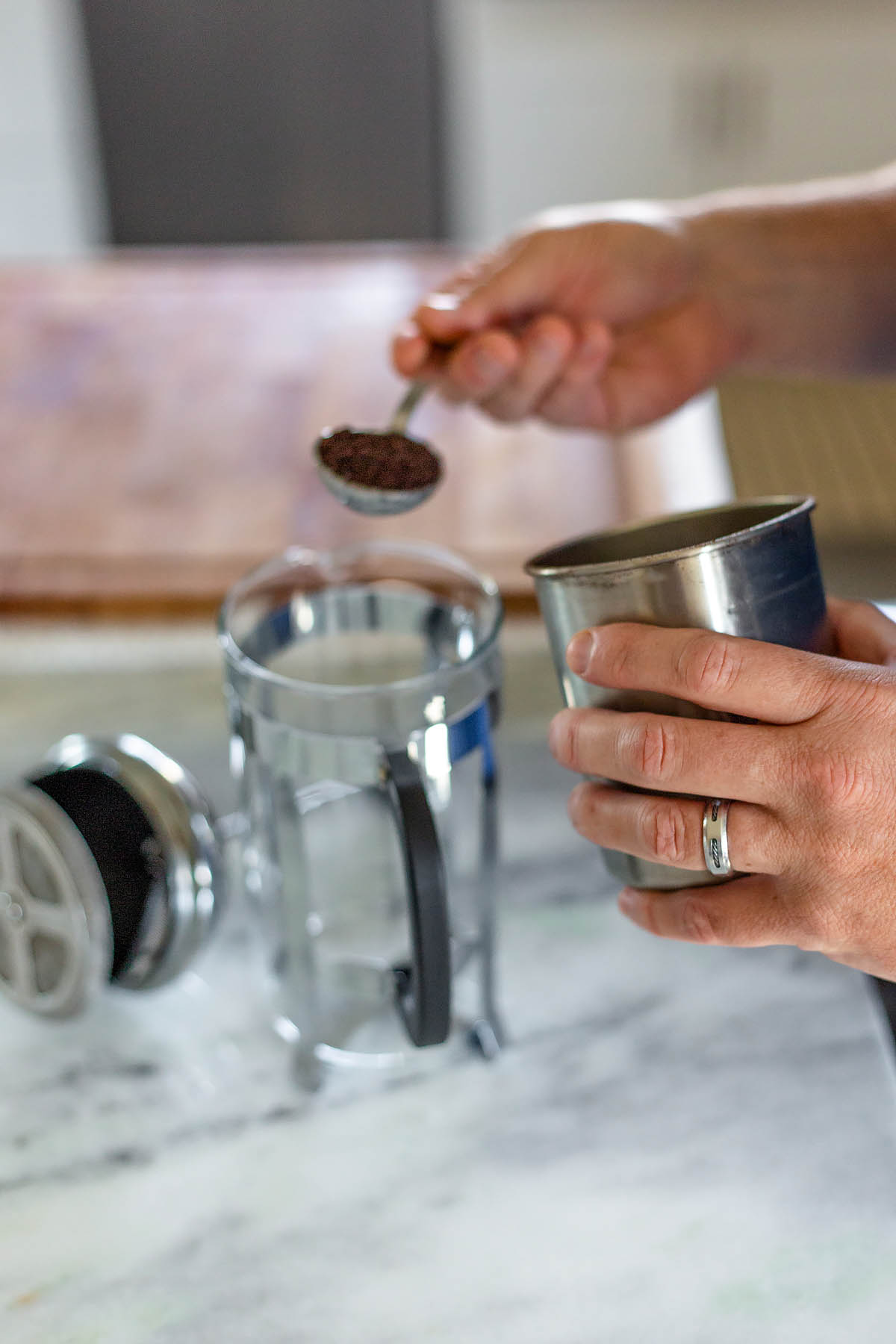 Add enough water to dribble it in and evenly wet your coffee grounds and almost cover them. (You'll add more water in a bit). Let it steep for two minutes.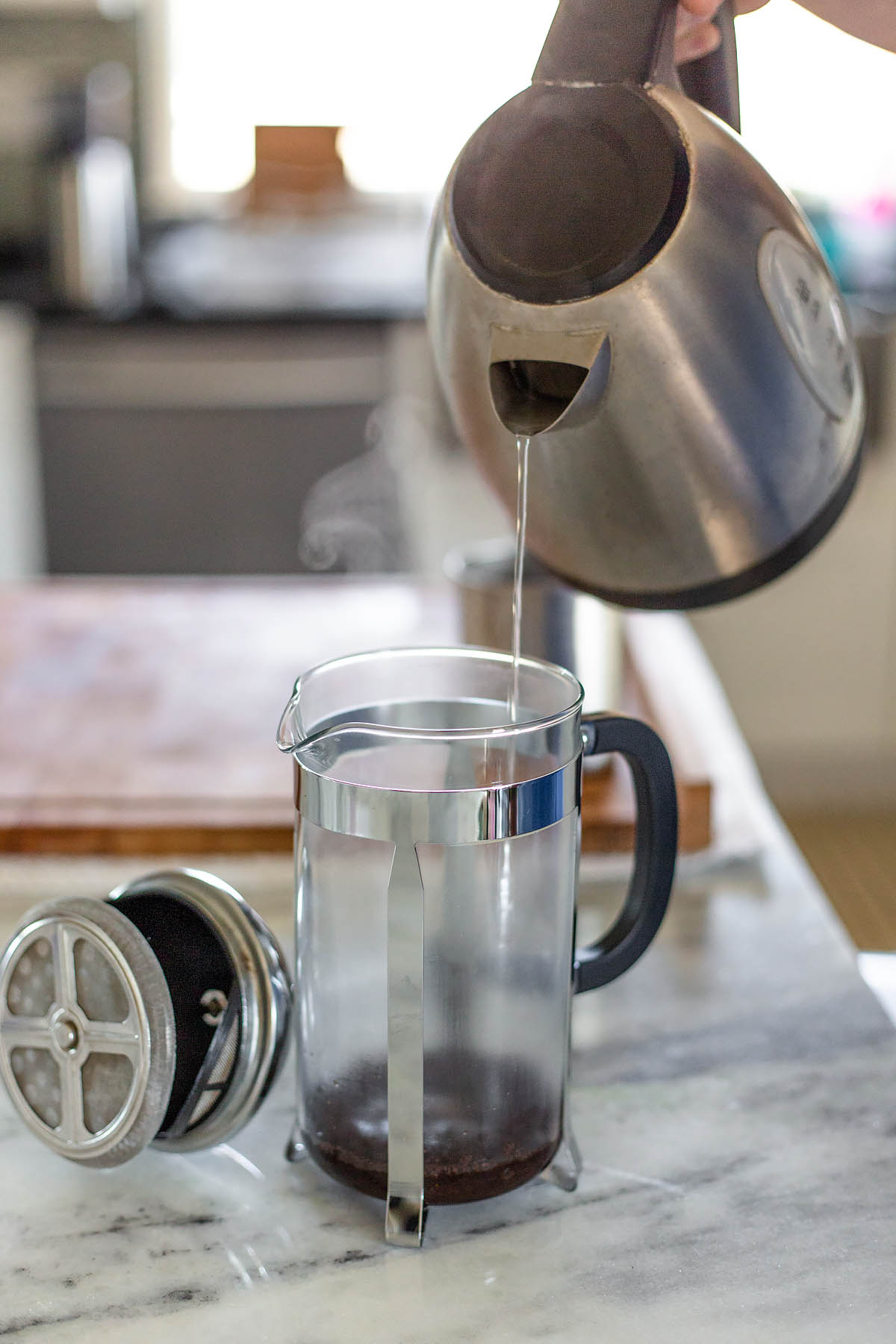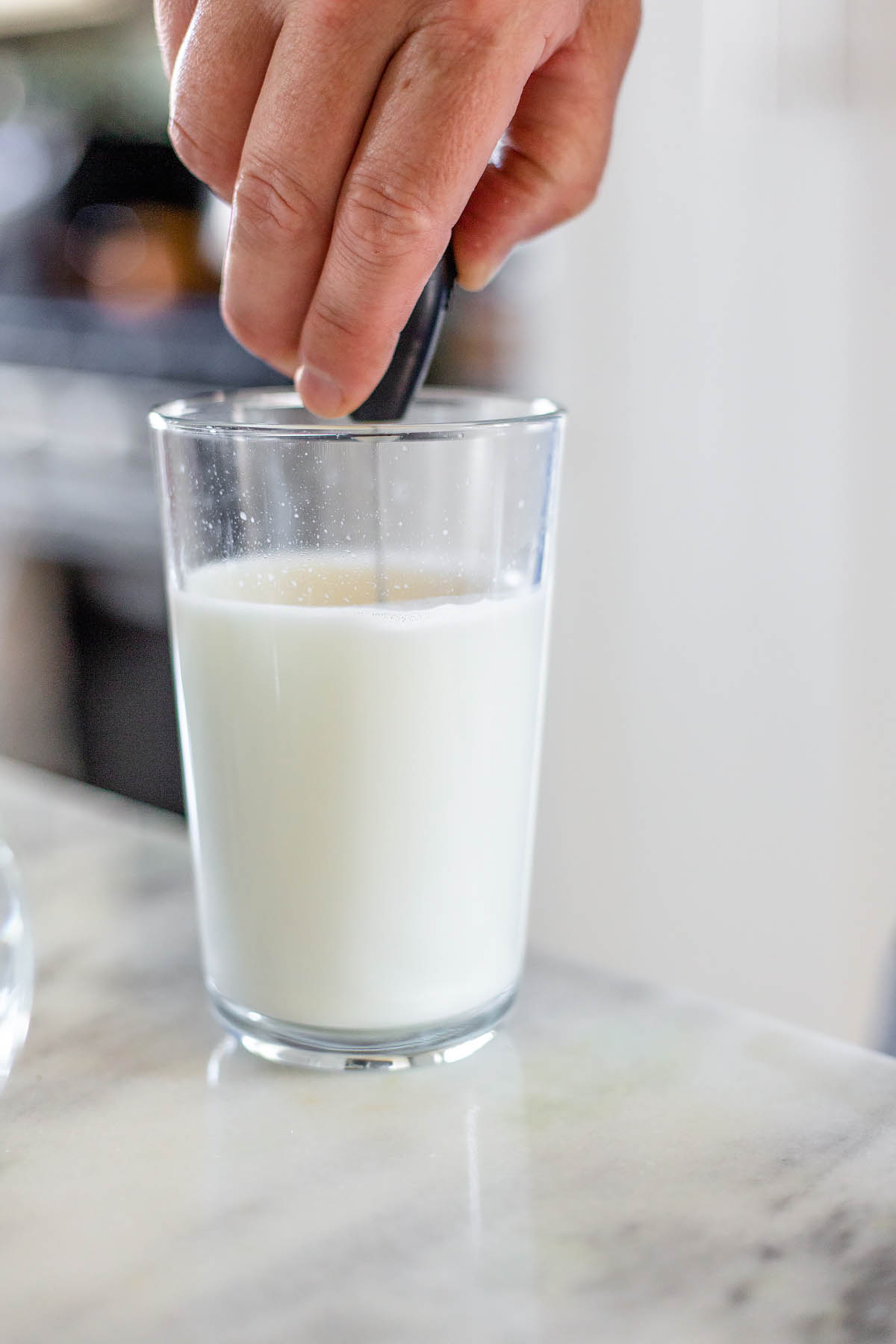 Add another 4 ounces of hot water to the French Press and stir. Press down on the French Press plunger and then pour into your coffee mug.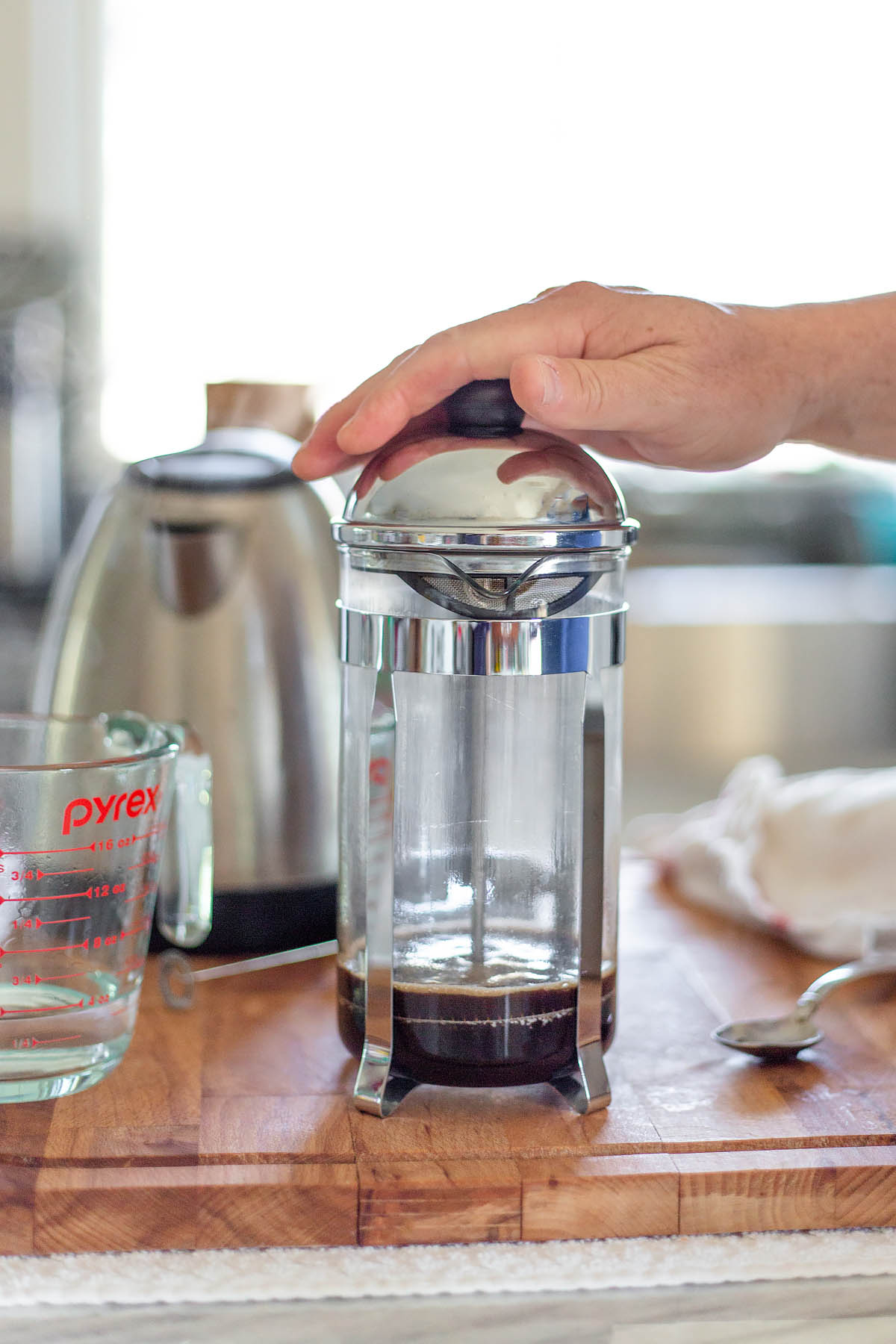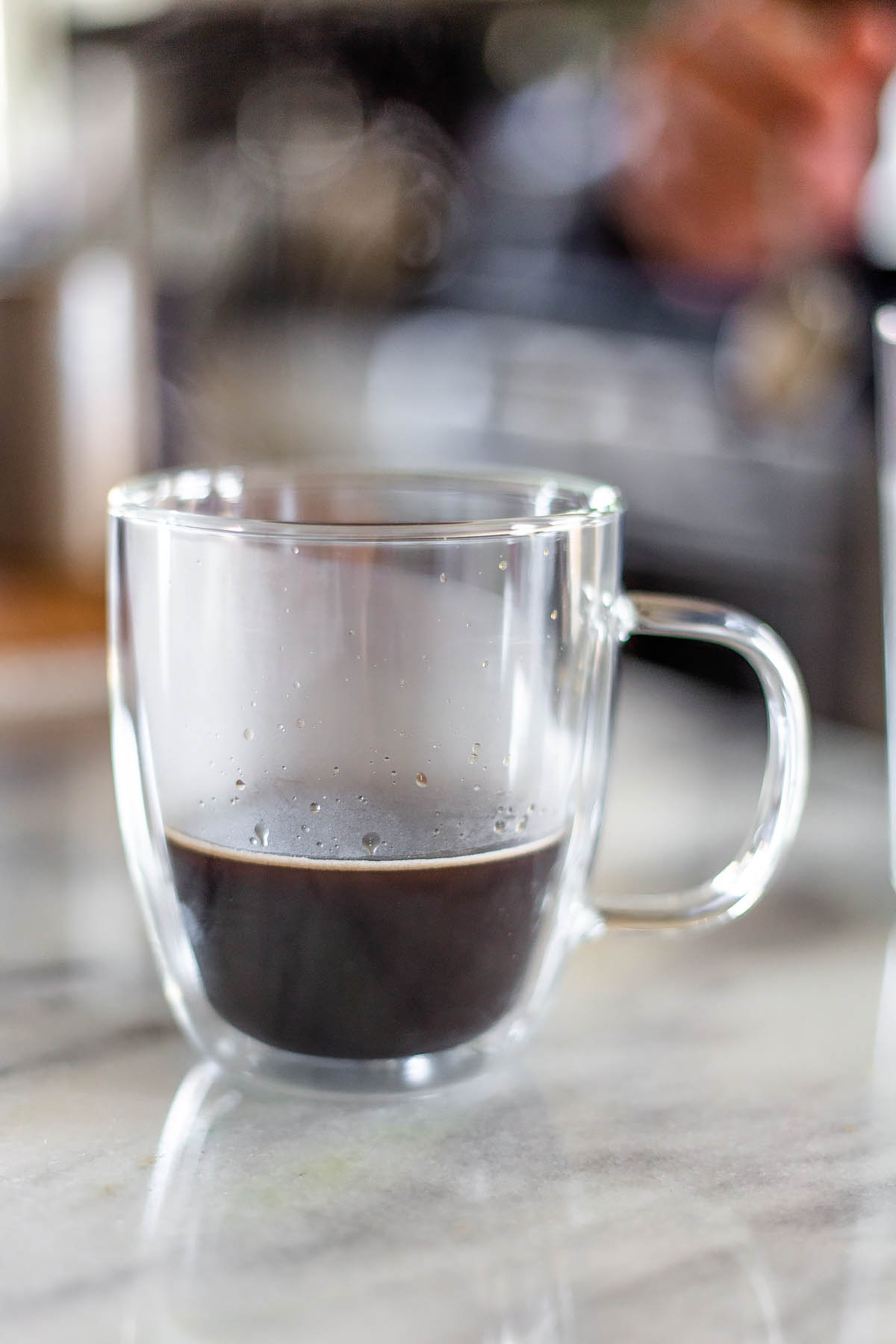 Use a spoon to hold back the foam while pouring the milk into the coffee mug.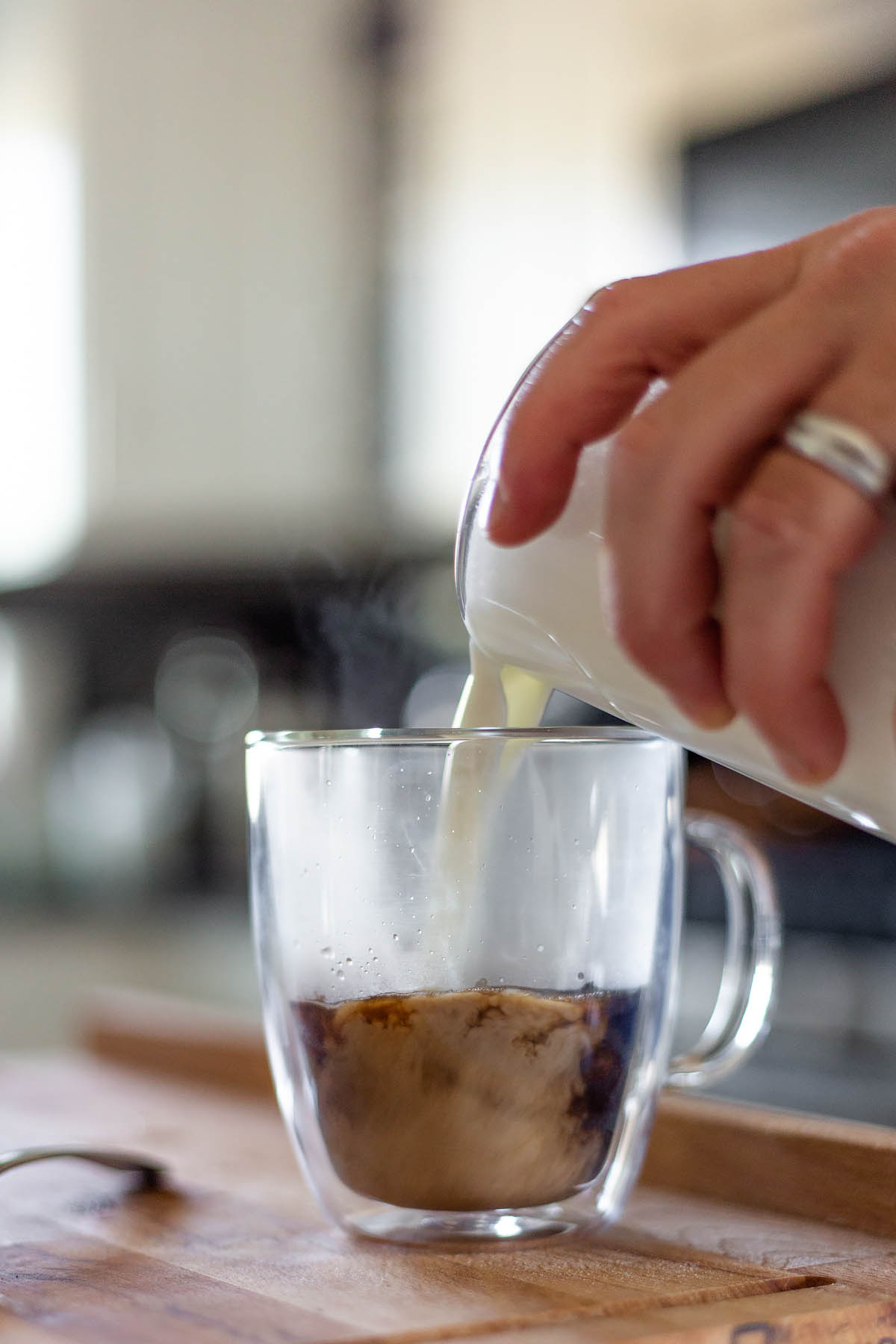 Scoop the rest of the foam onto the milk in the coffee mug.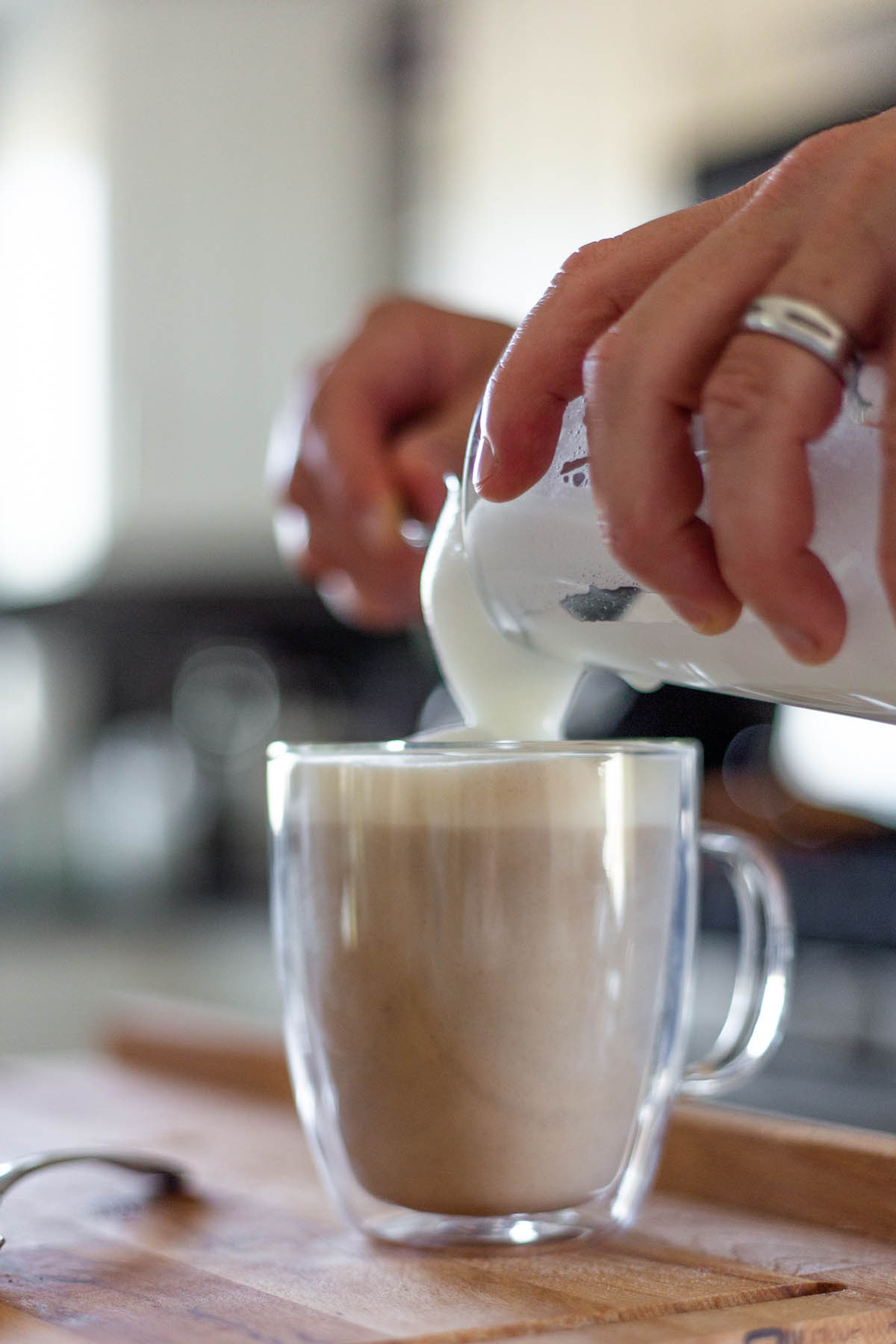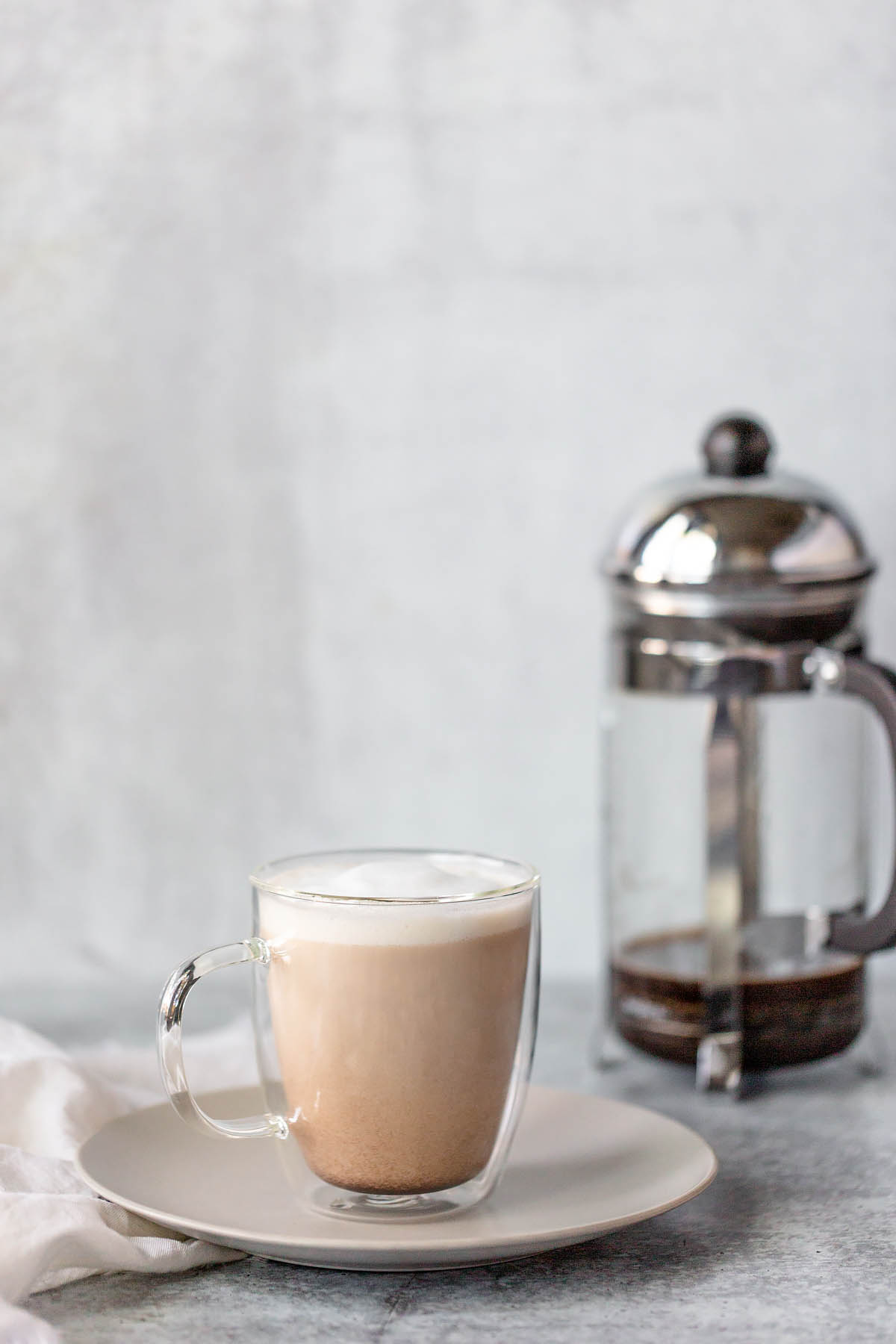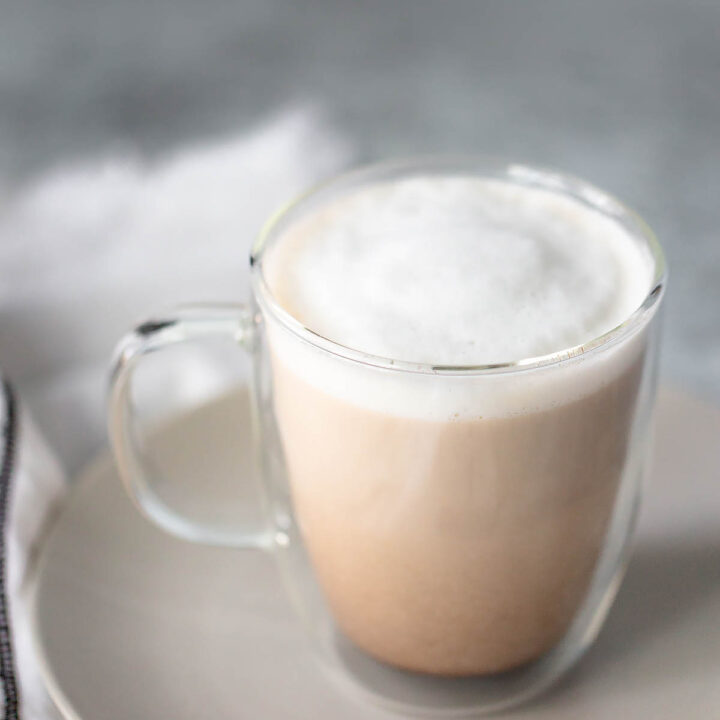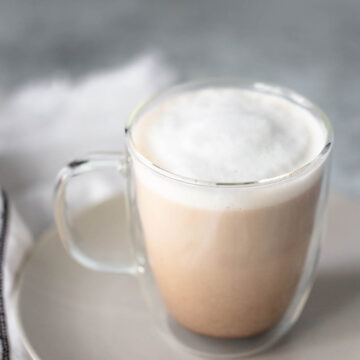 French Press Latte
A French Press Latte is so easy to make at home! This recipe will help you make a delicious latte in your French Press. It's quick and perfect for all coffee lovers!
Ingredients
4

tablespoon

espresso coffee

coarsely ground

8

oz

water

10

oz

milk
Instructions
Boil your water in an electric kettle or on the stove.

Grind your coffee beans on the coarsest setting your coffee grinder has if using whole bean coffee, or use pre-ground espresso beans.

Add 4 tablespoon of ground coffee to the French Press. Add enough of the boiled water to wet the coffee grounds until just covering the grounds. Let steep for 2 minutes.

In a microwave safe glass add the milk. Heat in the microwave for 1-1.5 minutes. Remove from the microwave and foam the milk with a milk frother, slowly moving the frother up and down in the milk a few times.

Add 4 oz more hot water to the French Press. Stir to combine. Press the plunger down on the French Press and then pour into your mug or glass.

Using a spoon, hold back the foam as your pour the hot milk into the mug. Scoop the remaining foam onto the top of your latte.
Nutrition
Calories:
174
kcal
Carbohydrates:
14
g
Protein:
9
g
Fat:
9
g
Saturated Fat:
5
g
Polyunsaturated Fat:
1
g
Monounsaturated Fat:
2
g
Cholesterol:
28
mg
Sodium:
134
mg
Potassium:
403
mg
Sugar:
14
g
Vitamin A:
459
IU
Calcium:
328
mg
Iron:
1
mg
If nutrition info is shown, values are based on an online calculator and are estimates. Please verify using your own data.
Tried this recipe?
Tag @foodbanjo on Instagram and share your photos!