Want fancy coffee drinks at home? Learn how to make an easy AeroPress cappuccino that will make you fall in love with making your own coffee drinks.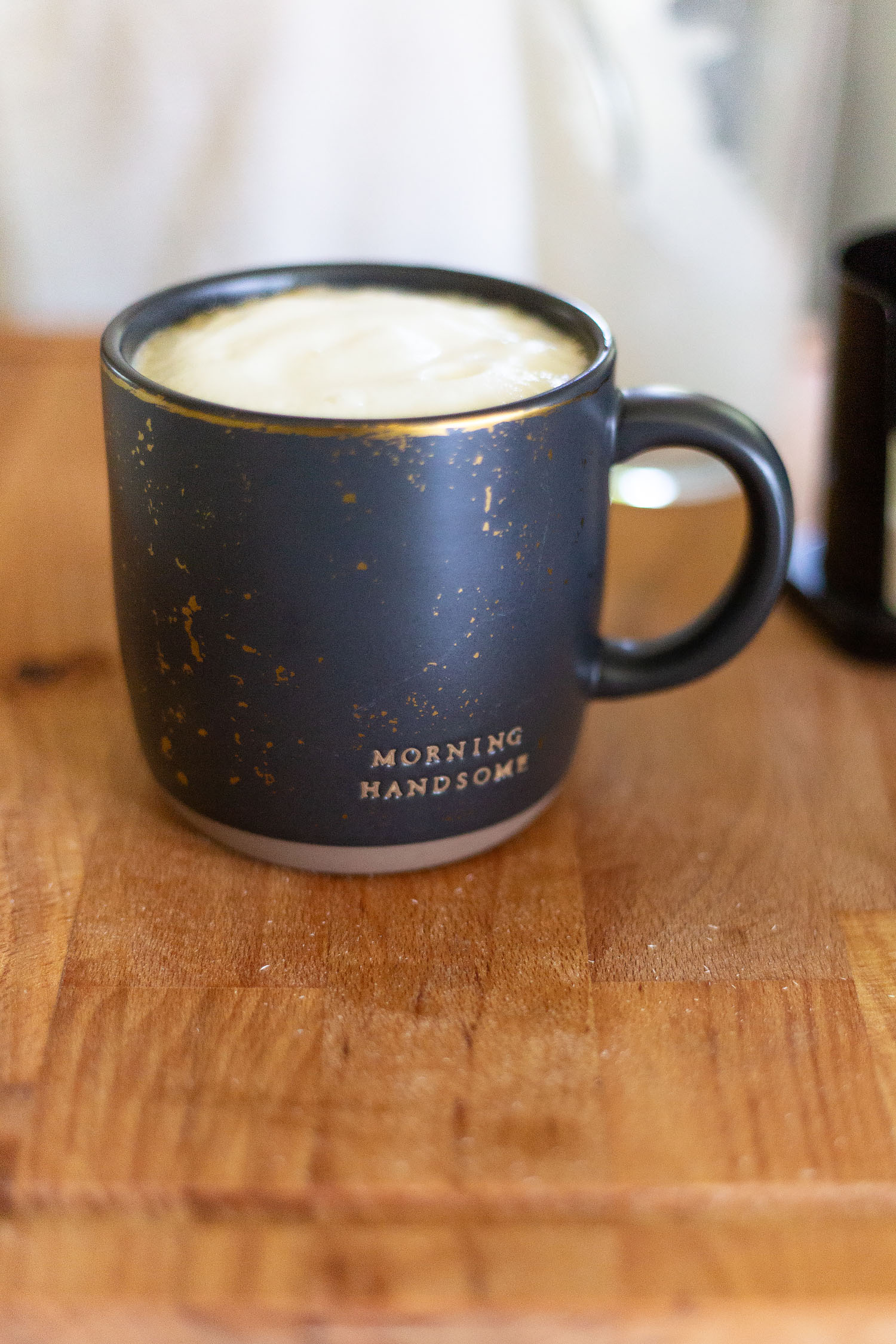 This post contains some affiliate links, which means that I make a small commission off items you purchase at no additional cost to you.
Morning, handsome. That's what I SHOULD say to my husband every morning when he makes me coffee. Instead, my words sound more like "Uggghhhh I'm so tiiiiiired. I need more sleep. Archer woke up 6 times last night. What time did Zara wake up? 5:30? Uhhhh uggggghhhh." until I get caffeinated.
But, I have to be really thankful that my husband makes pretty fantastic coffee. Sometimes it's French press. Sometimes it's homemade cappuccinos that are foamy and delicious. And that fancy cappuccino what we're here to teach you how to make. A homemade AeroPress cappuccino. For when you don't feel like leaving the house or when you don't want to drop $5-10 on a coffee.

To make this AeroPress cappuccino, you'll need:
Ground coffee
Hot water
Milk
While this seems like a lot of equipment to get (especially if you need to buy an AeroPress and a milk foamer), once you learn how to make coffees this way, you will wind up saving sooo much money because you'll no longer need to go to a coffee shop when you want fancy coffee!
What is an AeroPress?
An AeroPress is an espresso and coffee maker. You can buy one here if you don't have one. You put the espresso grounds in, add hot water, and then push down the coffee into your mug after it's had a chance to brew.
What kind of coffee should I use?
The coffee beans you use are really up to you. We like to buy a whole bean low-acid espresso and grind it ourselves. We have this coffee grinder and love it! It's the perfect balance of price and high-quality. We had a lower quality coffee grinder, but then it broke this year, so we picked up the OXO grinder. The first time Josh used it, he called it "life-changing."
If you're grinding your own coffee, you'll want to use a fine grind for this. Not sure about coffee grinds? Go here and scroll down to the section where they discuss the different coffee grind sizes.
Types of milk to use:
Again, you can use whatever you want. Just know that some types of milk won't foam as well. We haven't tested them all out of course. Maybe one day we will.
But I will say, we've used some almond milks that don't do a great job foaming. The Kirkland brand at Costco actually does a fantastic job, and it's what we typically use. You can always use regular dairy, as that almost always foams well.
How to make the cappuccino:
You can check out this video of Josh and Zara making an AeroPress cappuccino. Or skip by it and scroll down for photos!
First, get all your equipment out. Grind your coffee, and heat up water. Set up your AeroPress and add the coffee grounds and then hot water.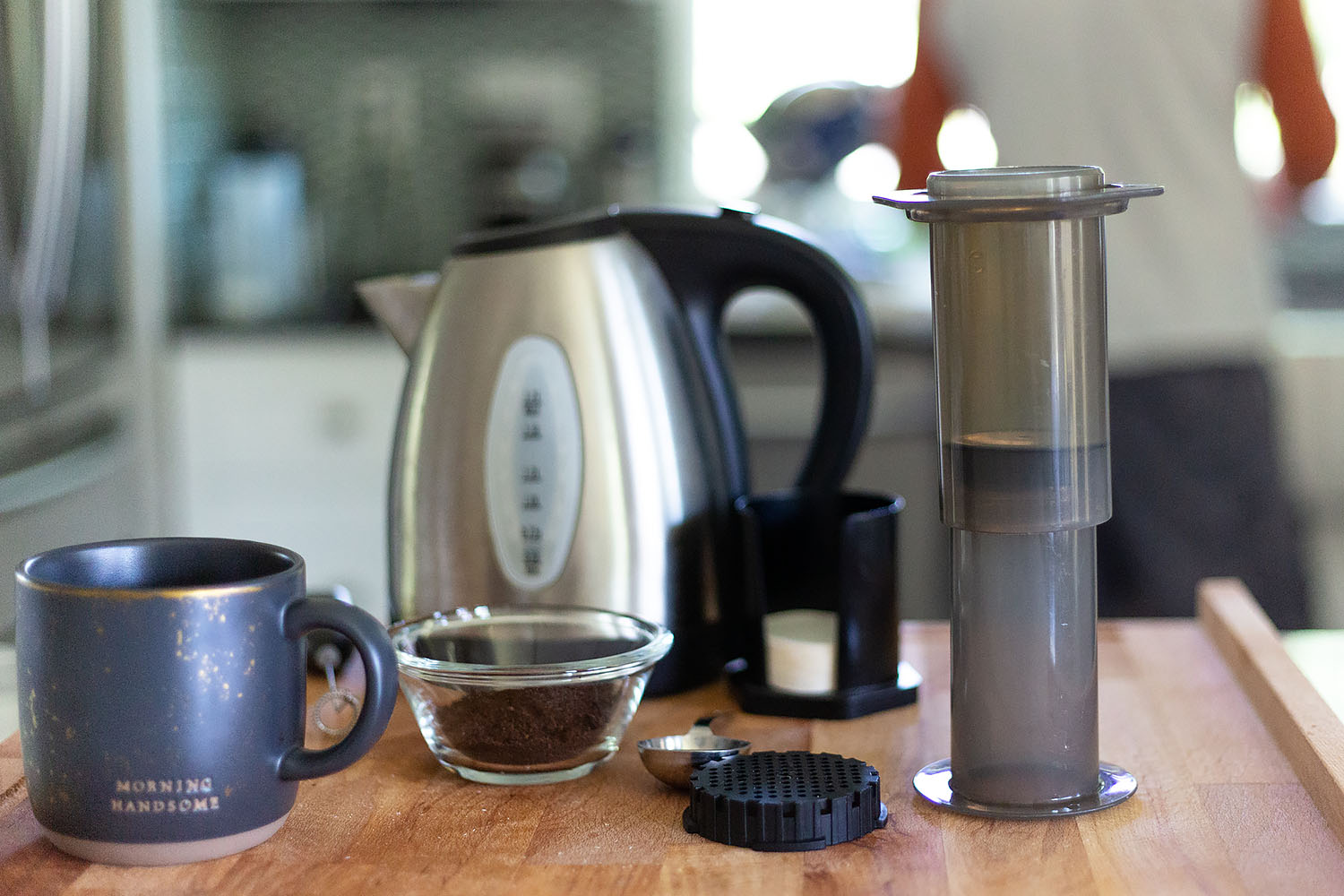 Stir to combine the coffee grounds and the hot water. Top with the filter and filter cap and let sit for 2 minutes.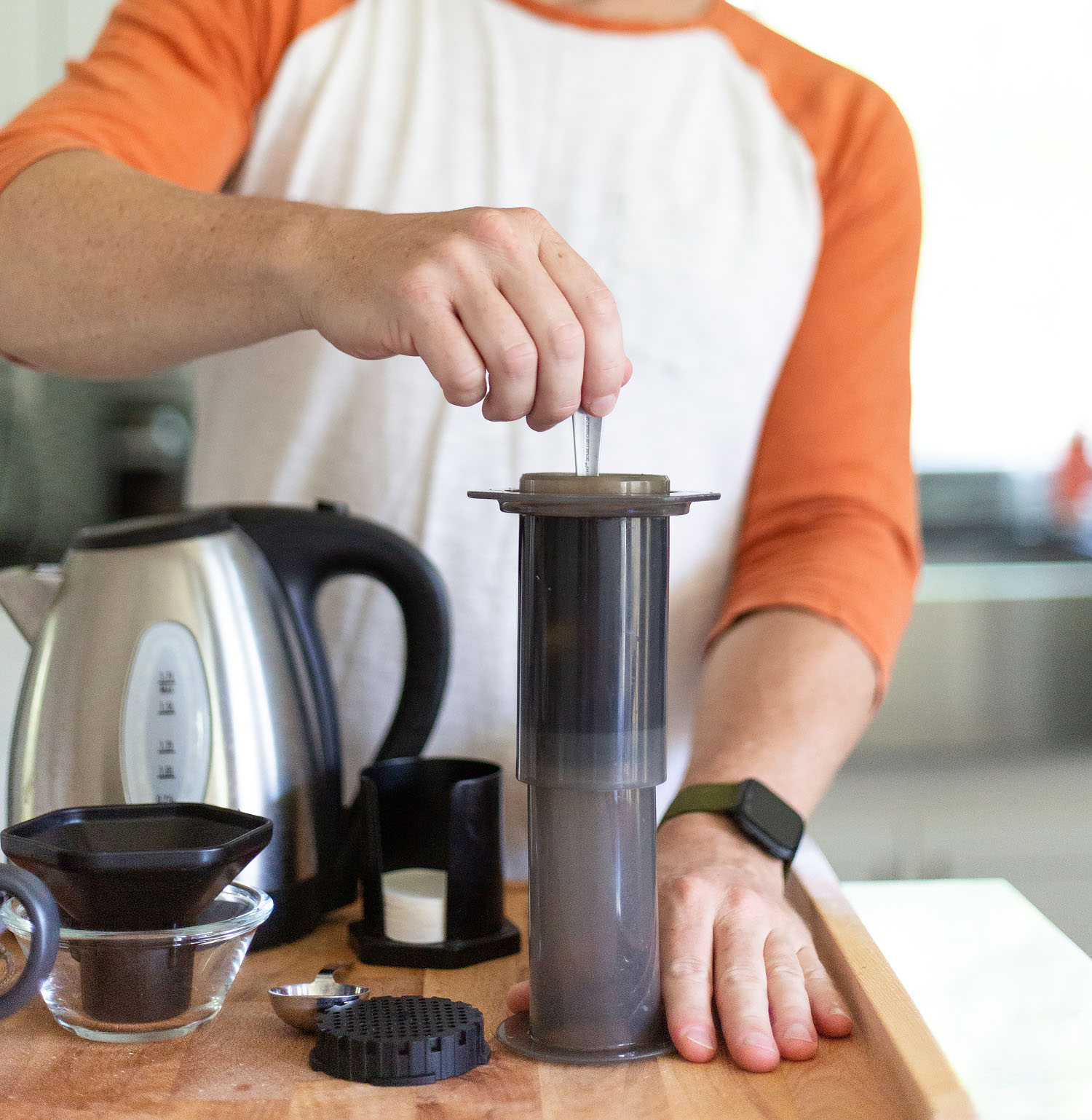 While you wait, heat up the milk in the microwave and then froth with the foaming tool.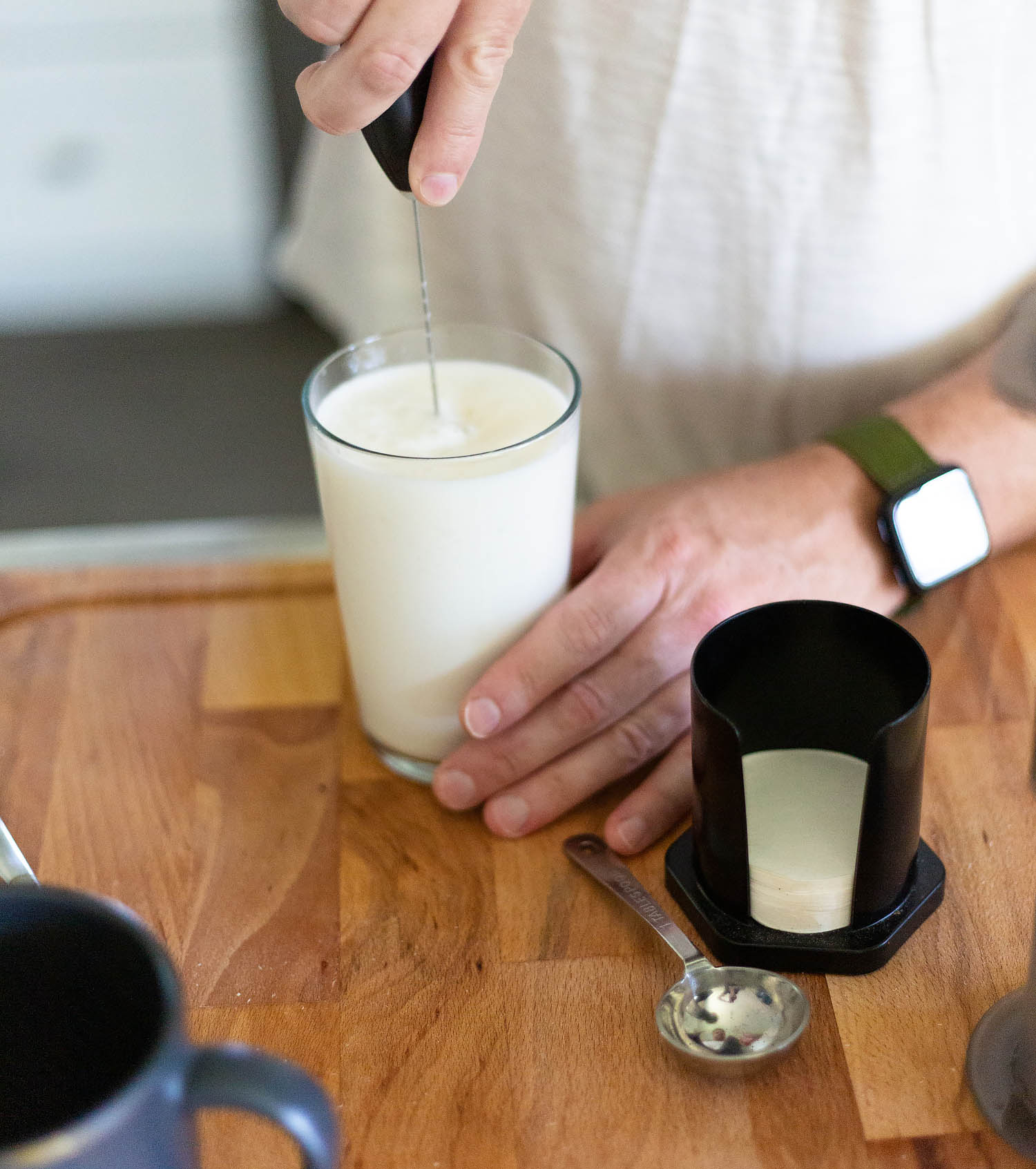 Then invert the AeroPress over your favorite coffee mug, and press down slowly until the coffee is in your mug.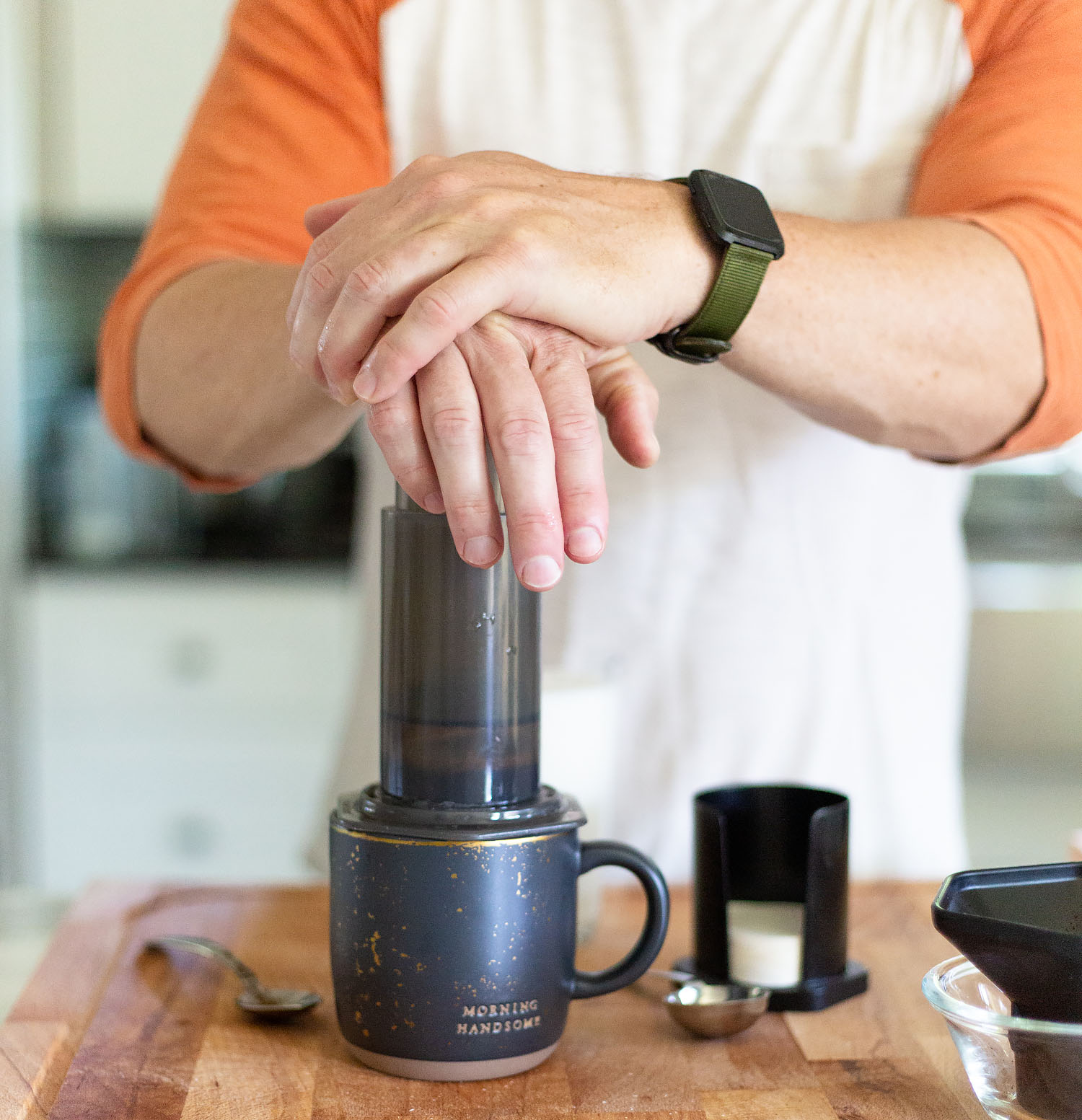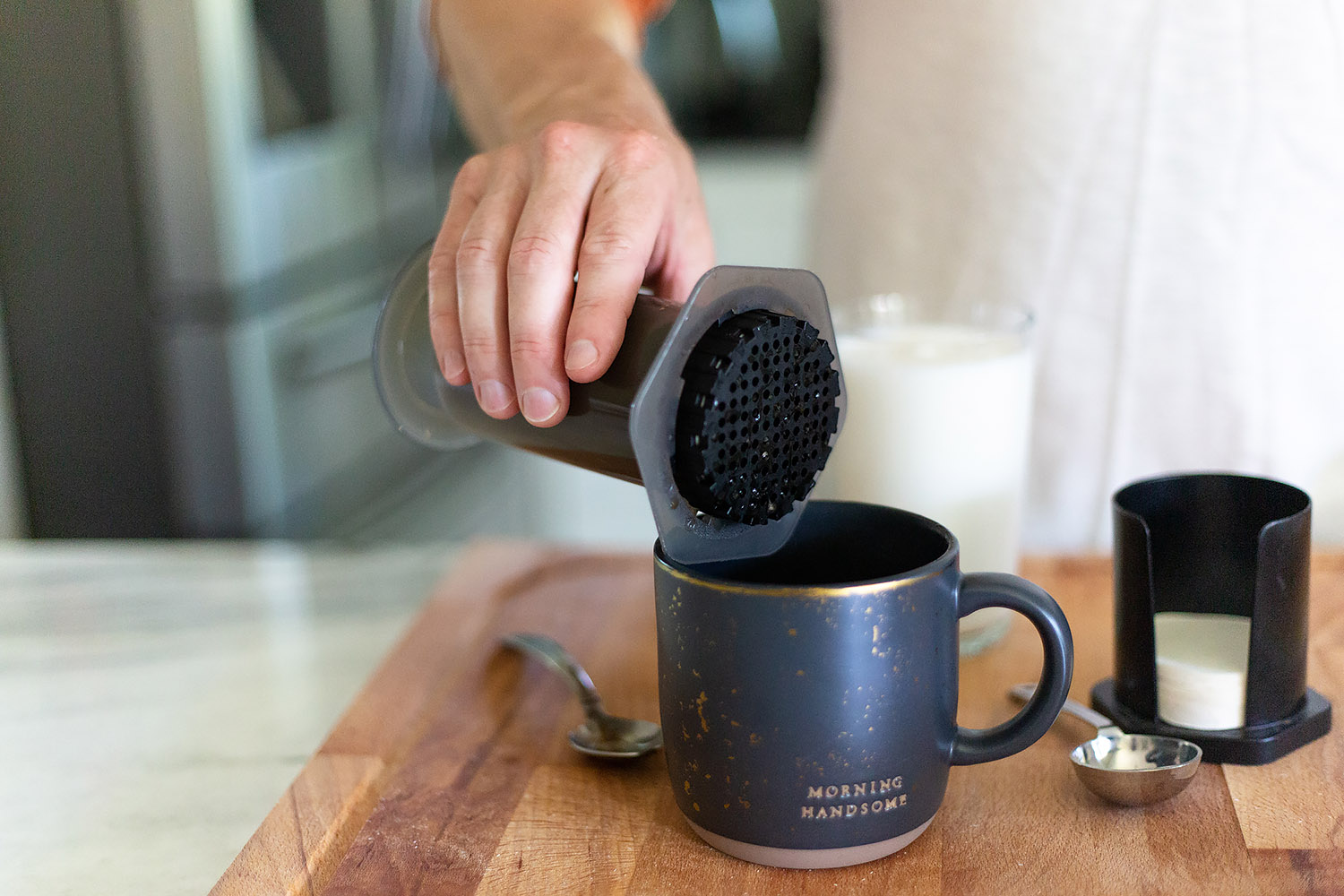 Add the frothy milk to your coffee, and enjoy!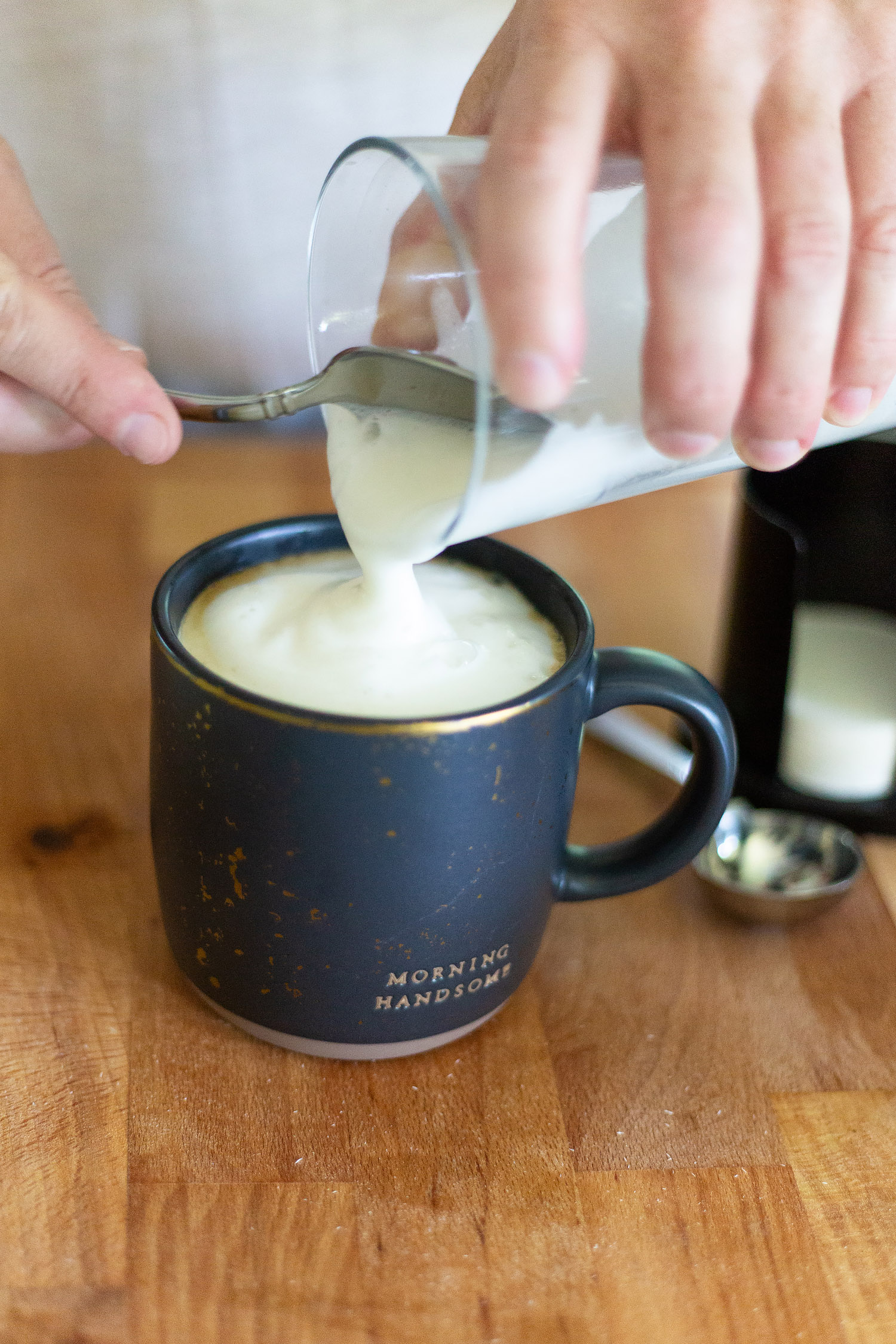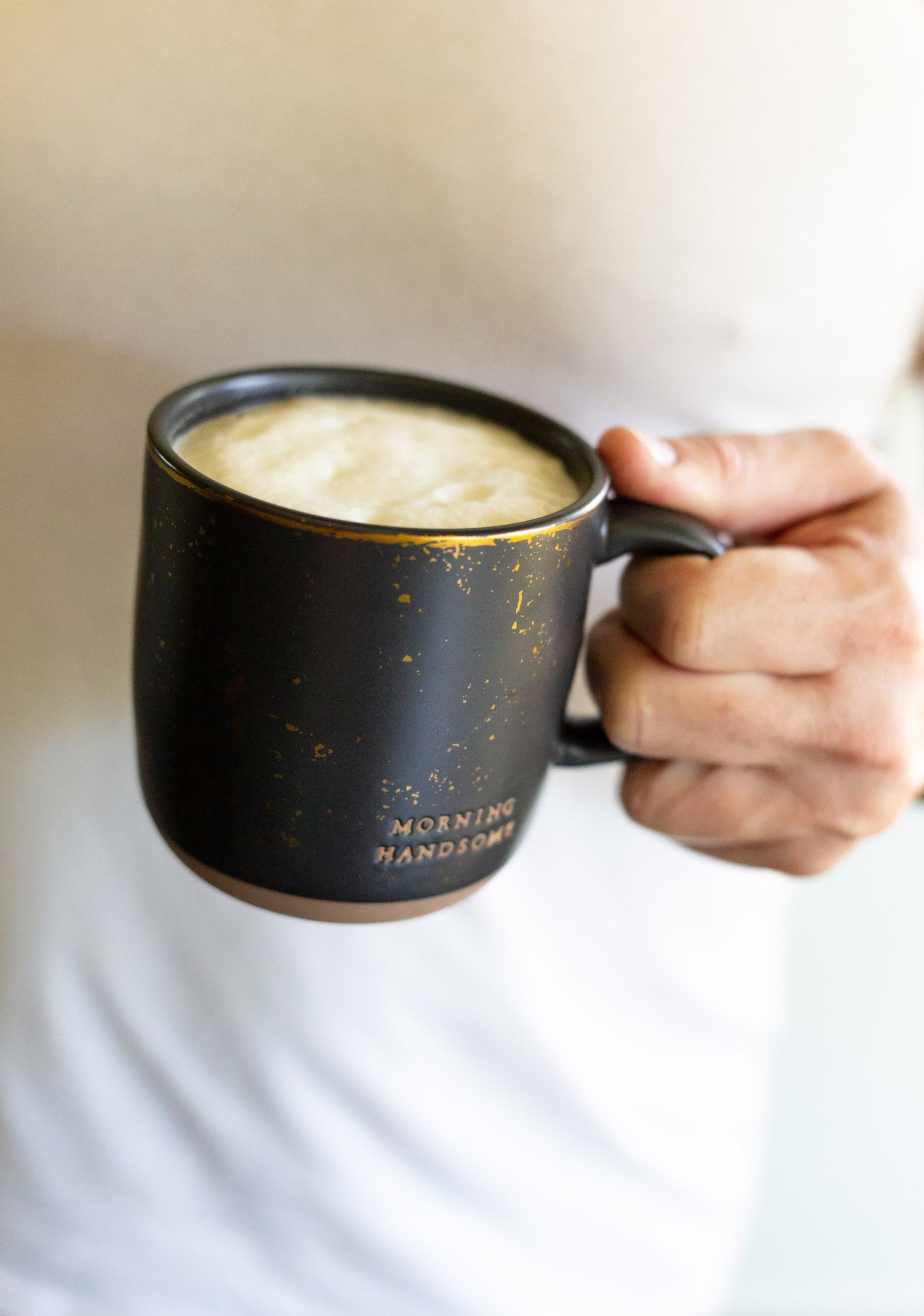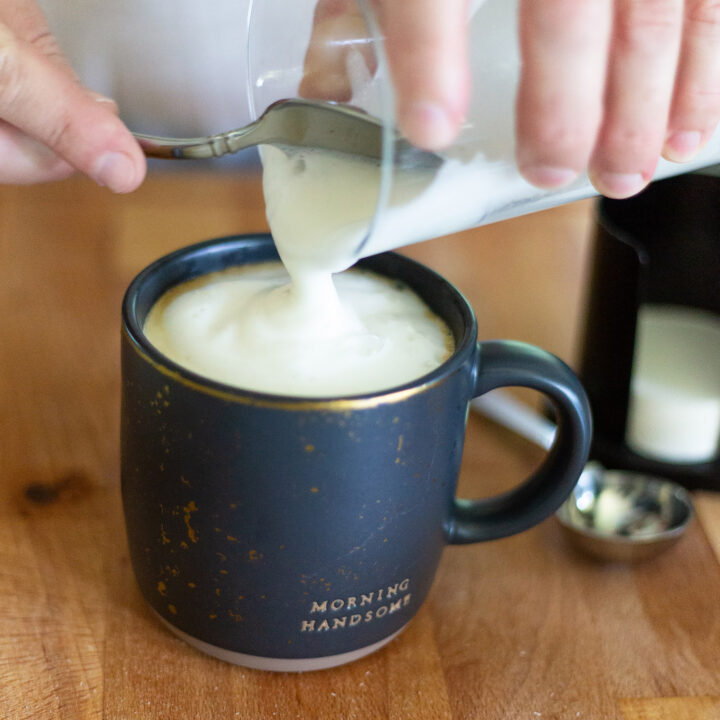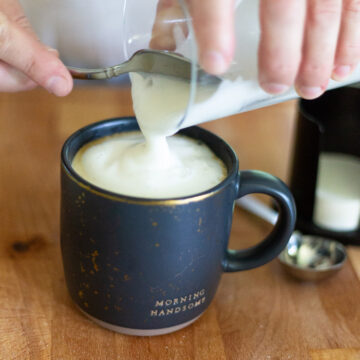 Homemade AeroPress Cappuccino
Looking to make cappuccinos at home? This AeroPress cappuccino recipe is easy to make!
Ingredients
2

tablespoon

finely ground espresso beans or dark roast coffee beans

4

oz

hot water (a couple of degrees short of boiling is preferable)

4

oz

milk
Instructions
Pour coffee grounds into the AeroPress. Add boiling water and lightly stir.

Top with the filter and filter cap and let sit for 2 minutes.

Heat up milk in microwave for 30 seconds and froth with foaming tool.

Invert AeroPress over your favorite coffee mug and press slowly. Add frothy milk to your espresso.
Notes
Pro tip: Be sure to eject your grounds from your AeroPress soon after it has cooled down. Keeping the plunger in the tube can degrade the rubber seal over time.
If nutrition info is shown, values are based on an online calculator and are estimates. Please verify using your own data.
Tried this recipe?
Tag @foodbanjo on Instagram and share your photos!
Like this recipe? Then you'll love these!