This recipe for Instant Pot Hoisin Ribs is sweet, sticky deliciousness. These are easy to make ribs that literally fall of the bone.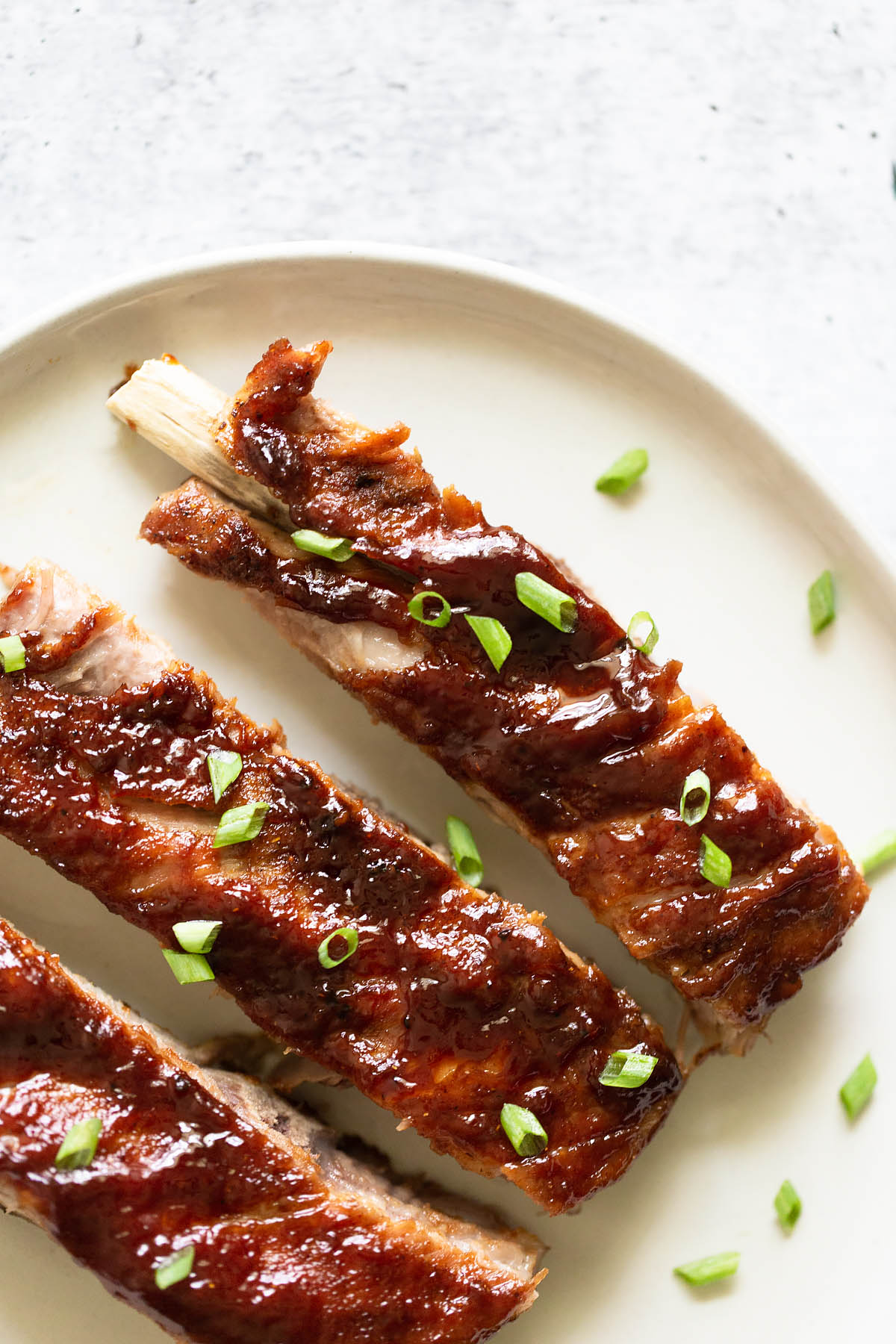 This post contains some affiliate links, which means that I make a small commission off items you purchase at no additional cost to you.
One of my favorite things about the Instant Pot.. or any pressure cooker... is the ability to cook meat quickly and make it fall-off-the-bone tender. And boy does this ribs recipe deliver.
These Instant Pot Hoisin Ribs literally fall of the bone. Or... the bones fall out. I have removed these ribs from the Instant Pot to have a bone or two actually slip out of the ribs. So tender. I don't think I'll ever make ribs another way.
I'm sold on Instant Pot Ribs. And even better when combined with a flavorful hoisin sauce and Asian-inspired flavors.

What is hoisin sauce?
Hoisin sauce in a way makes me think of an Asian bbq sauce. It's sweetened like a barbecue sauce and contains notes of soy, garlic, chilis, and ginger. It's thick like a bbq sauce, but flavored differently. Every brand of hoisin sauce may be different, so you want to taste to see what you prefer.
Also, I've had different saltiness levels with different hoisin sauces, so that can vary as well. I suggest before using a hoisin sauce to do a little taste test to judge the levels of salt and spice to see how much you may want to use in a recipe.
Where do you find hoisin sauce?
Hoisin sauce can be found at most grocery stores in the Asian section. You can also find it at speciality grocery stores (we love H-Mart!), or places like Amazon.
Ingredients:
1 rack pork ribs (bone-in)
Hoisin sauce
Water
Ground ginger
Ground coriander
Smoked paprika
Garlic powder
Chili powder
Can you double the recipe?
Absolutely you can. The first time I made this recipe, I actually doubled it and cooked two racks of ribs instead of one. If you're doubling the recipe, you'll make 3 changes.
First, double the ingredients (of course).
Second, REDUCE the Instant Pot cooking time to 35 minutes. Yes. cook for 35 minutes instead of 40. Because of the larger amount of meat, the Instant Pot will take a little longer to come to pressure. While it comes to pressure, it's starting to cook the meat. This is why for a larger amount you actually need LESS time once it comes to pressure.
Third, Make sure to curl the ribs around each other so that both fit nicely into a pot. I was able to do two racks in my 6 quart Instant Pot easily.
How to make the ribs:
Making these Instant Pot hoisin ribs is so easy.
First, take the ribs out and remove any membrane. This is the silvery part that can be attached to the backside of ribs. It can make the ribs more tough and difficult to eat.
To remove the membrane, I work a butter knife under the first part of it to loosen it up. Then I take a paper towel, get a good grip, and pull it off. Sometimes I do this in a couple of sections, but it's actually pretty easy to do once you figure it out.
Next, combine the spices into a bowl and mix together. This will be the ground ginger, ground coriander, smoked paprika, garlic powder, and chili powder.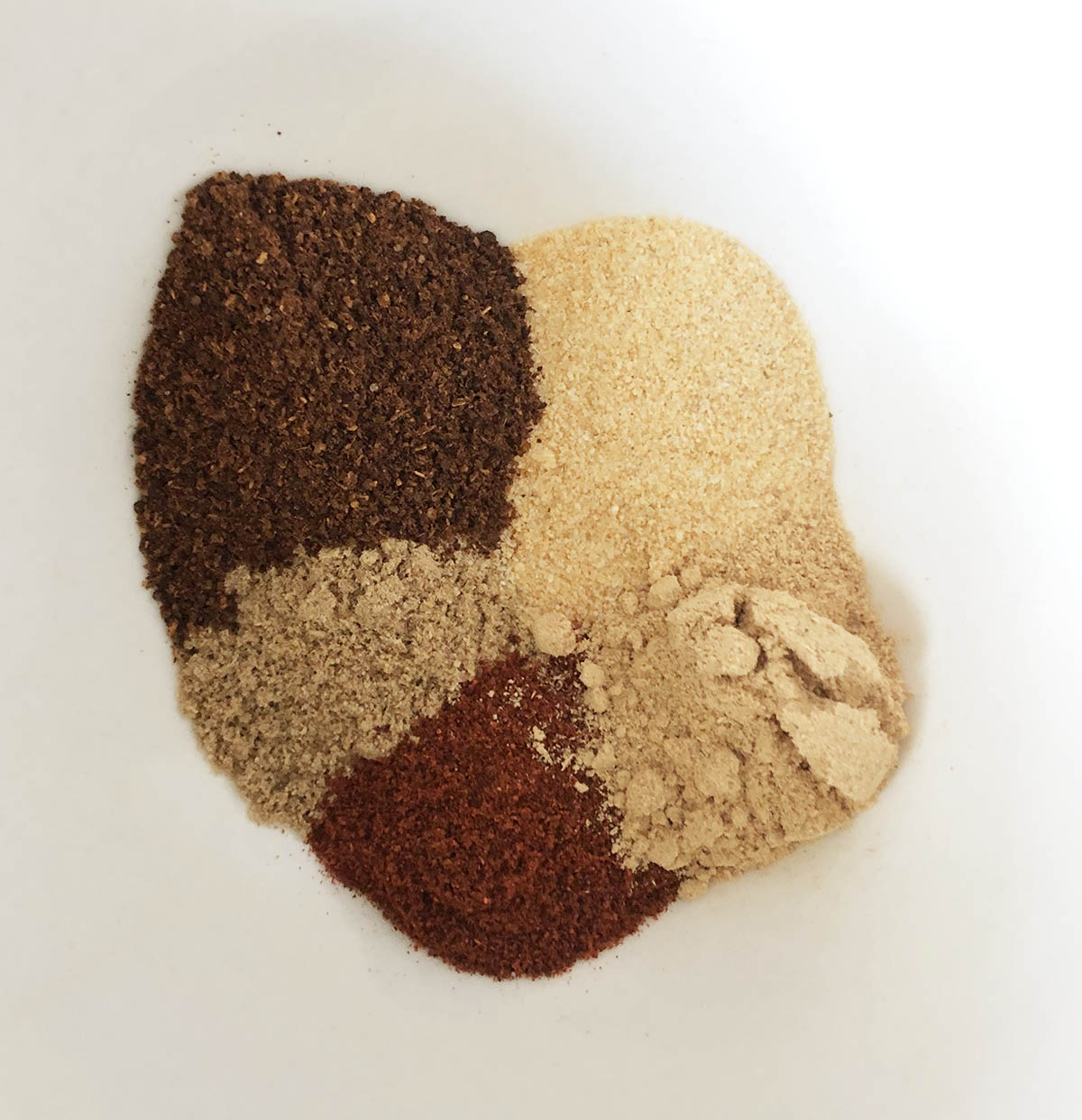 Take your rub and apply to both sides of the ribs, rubbing in until nicely distributed.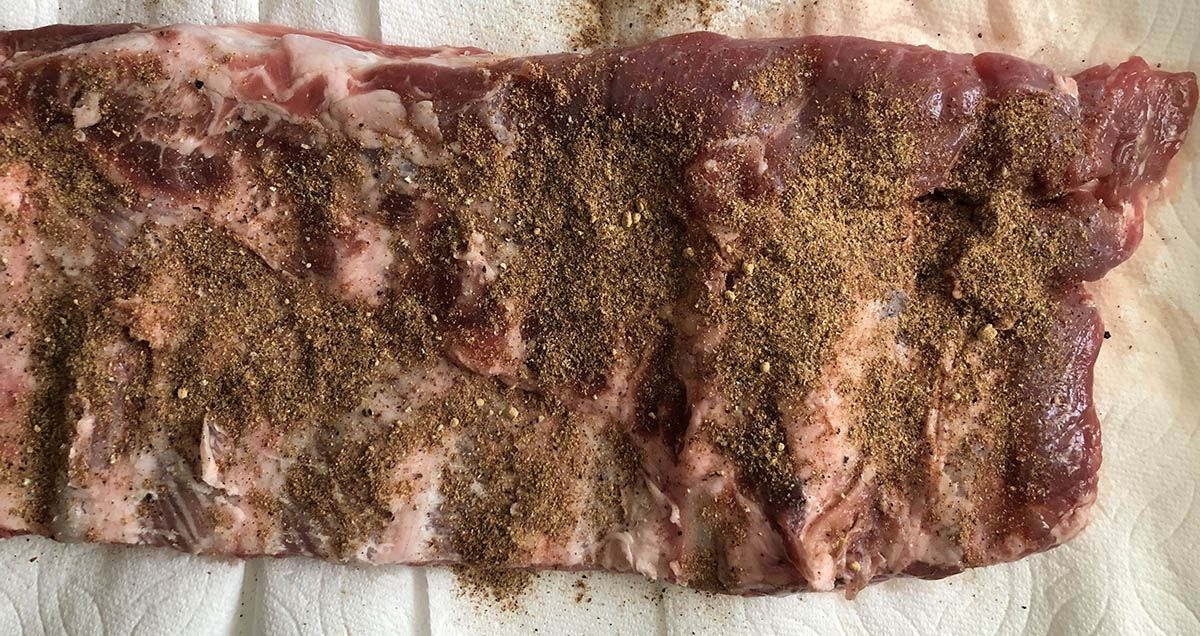 Once the rub is distributed on both sides, cover with plastic wrap and let sit for 30 minutes.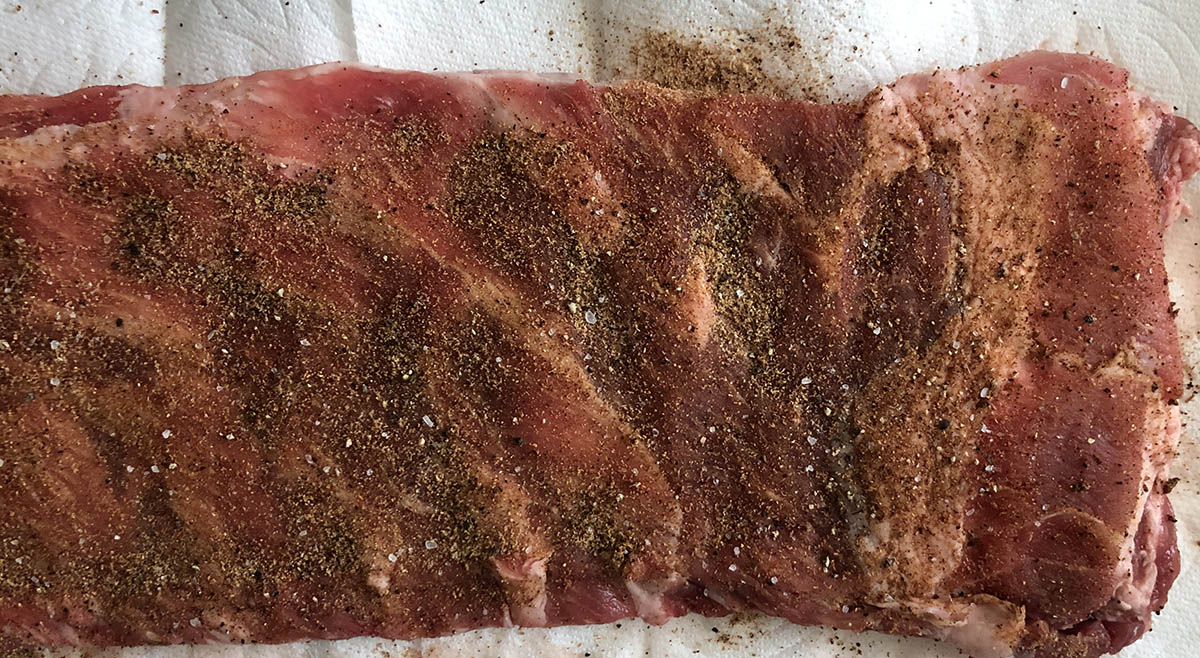 Then, get your Instant Pot ready! Add a rack to your Instant Pot. This is so your ribs don't sit in the liquid you're adding to the pot. I use the little rack that comes with my Instant Pot. It works perfectly for this!
Then add a cup of water to the Instant Pot.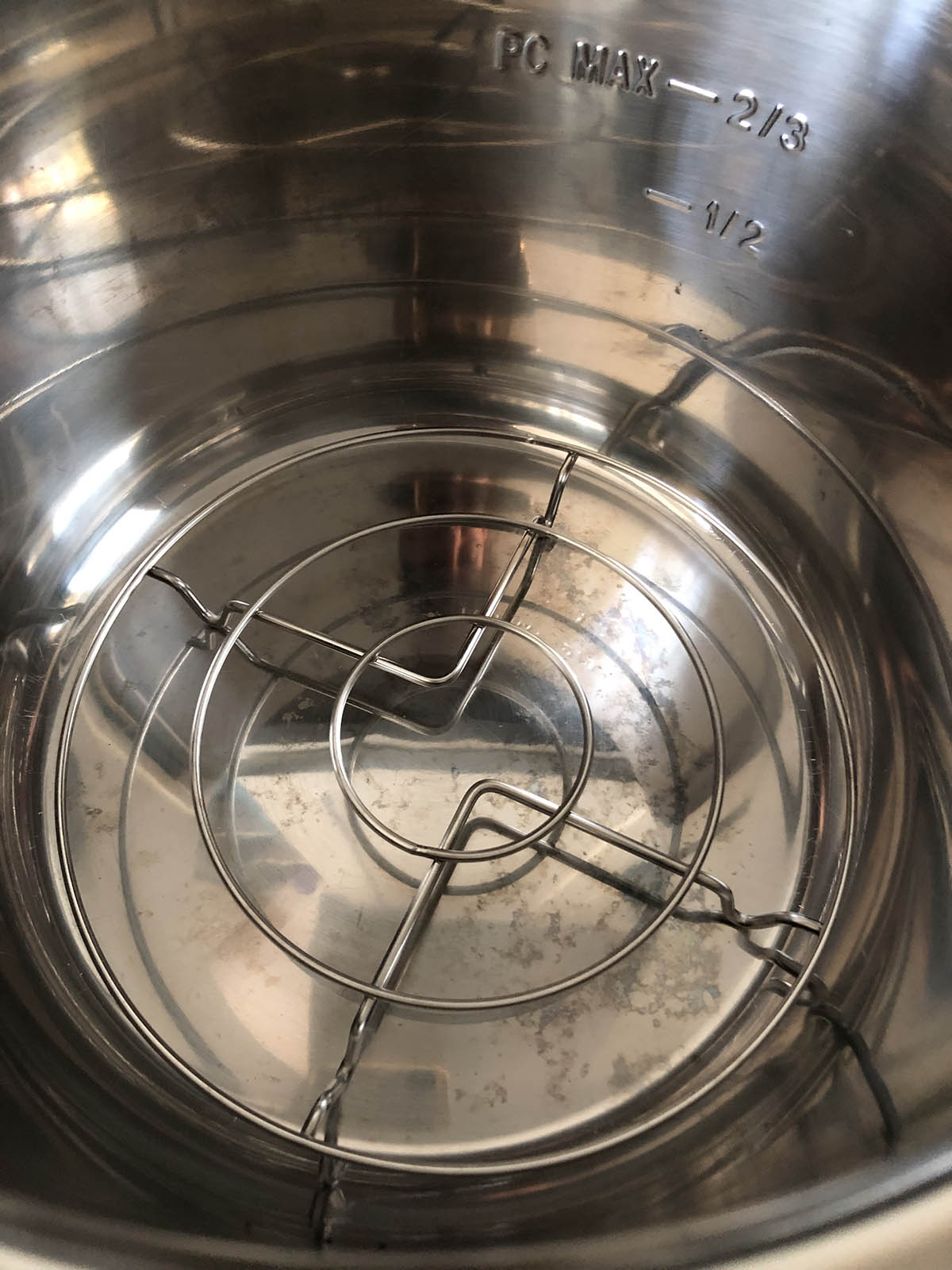 Next, gather up your ribs into a bit of a circle, and place onto the rack. Set your timer for 40 minutes, and then let the Instant Pot come to pressure and your ribs cook and get nice and tender.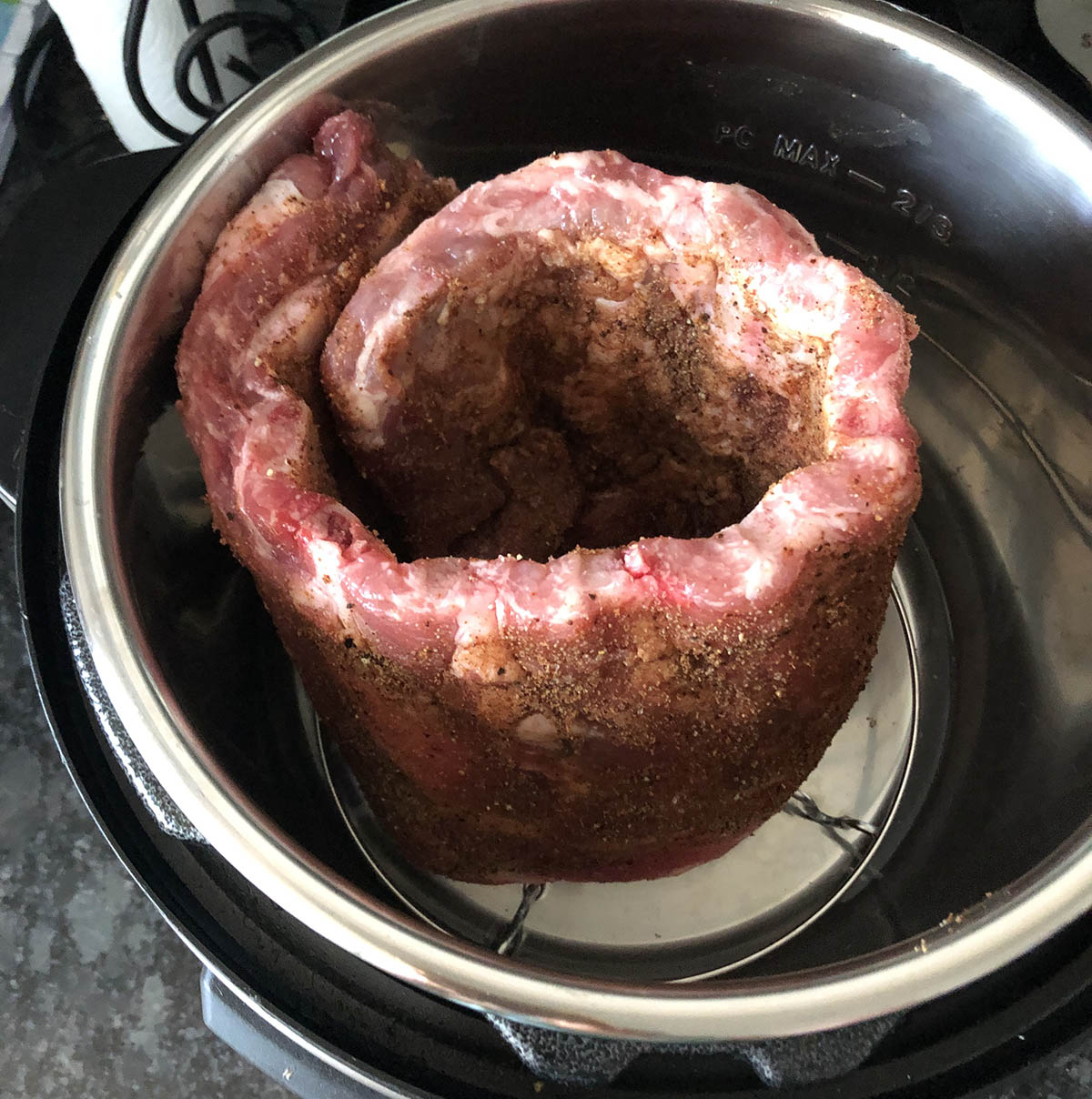 After the 40 minutes, let your ribs natural release for 10 minutes, then release any remaining pressure. You may literally have bones fall out of your rack of ribs like I did below, but carefully take your ribs and place them on a foil-lined baking sheet.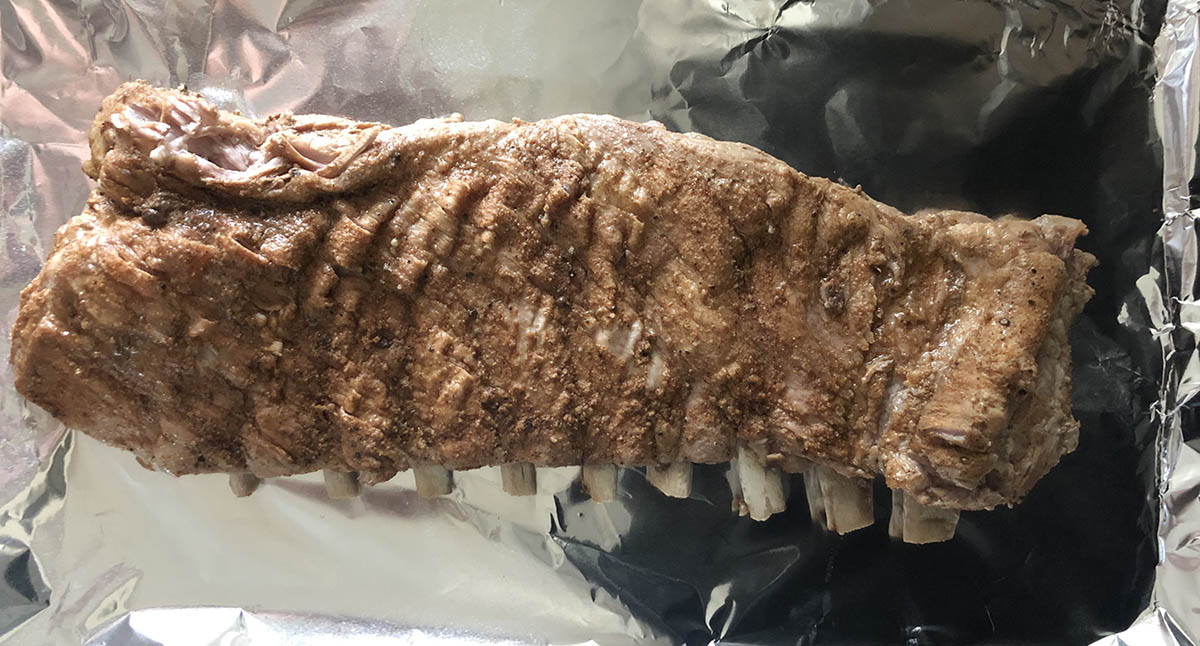 Brush your ribs with the hoisin sauce.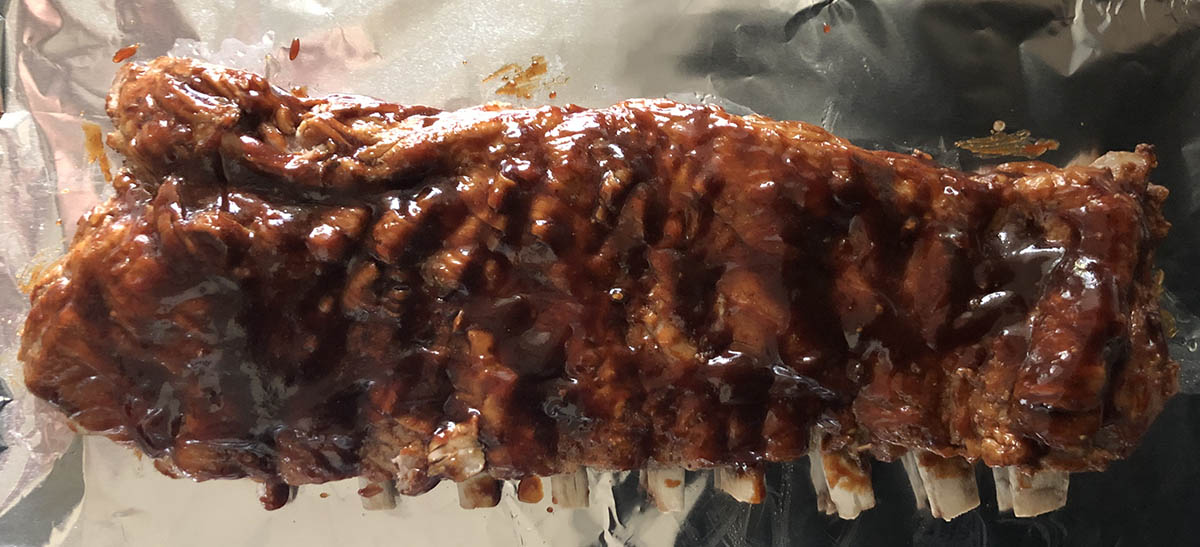 Broil for 3-4 minutes until nicely browned and caramelized.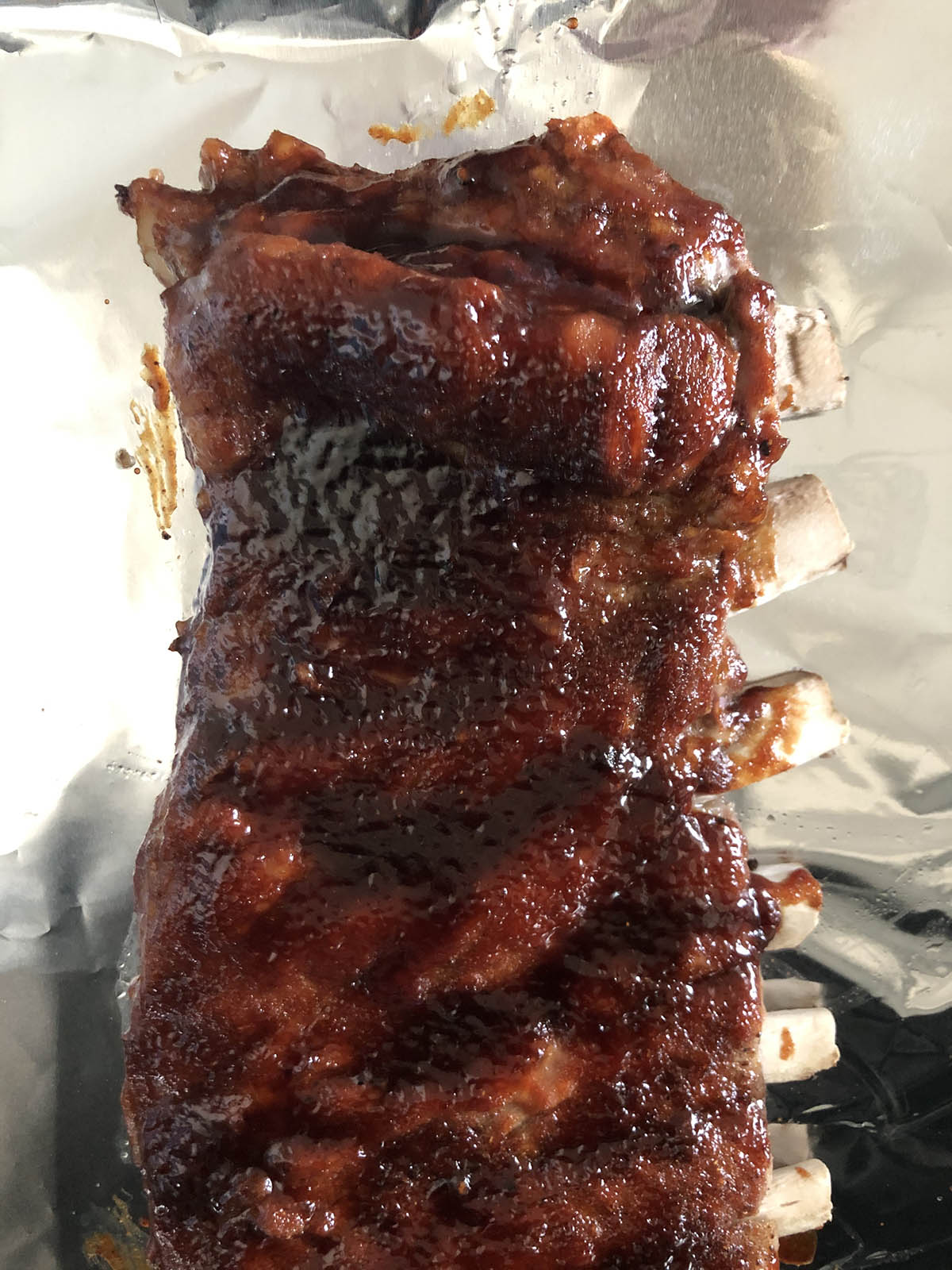 Let rest for 5-10 minutes, then cut the ribs and enjoy.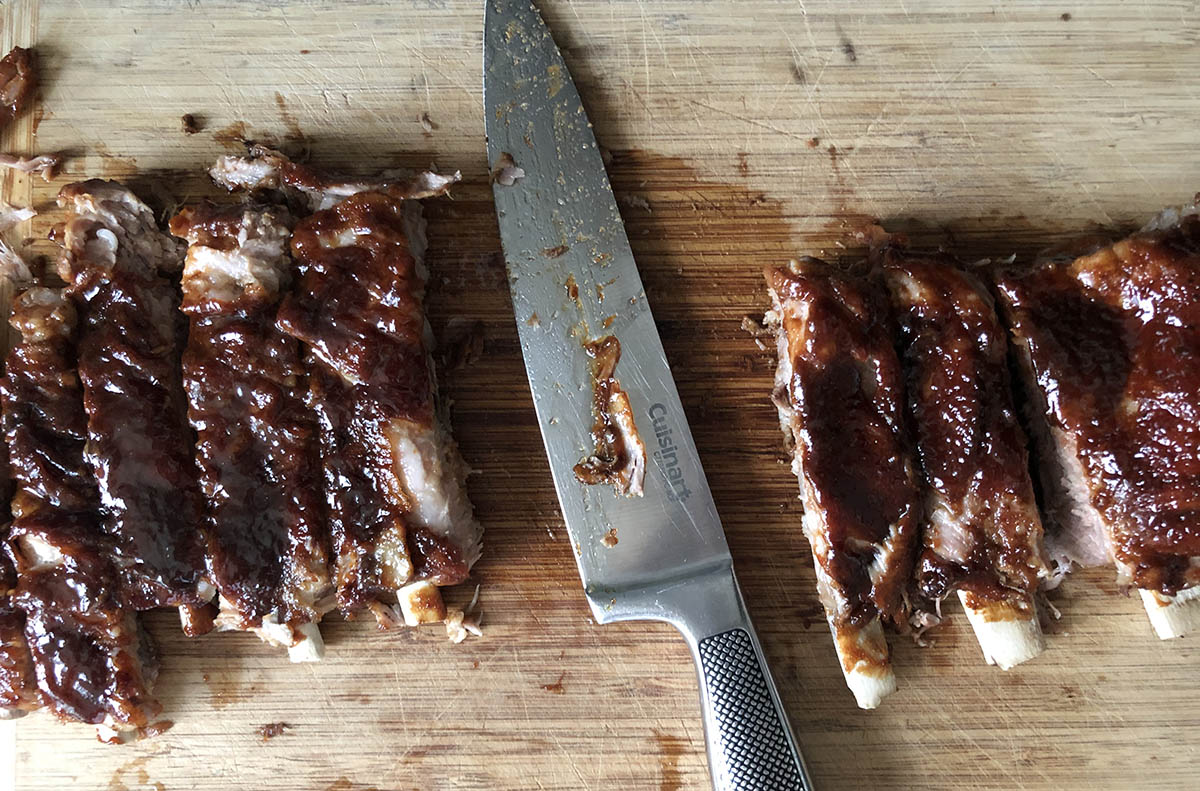 Top with green onions for a nice garnish, or just serve as is.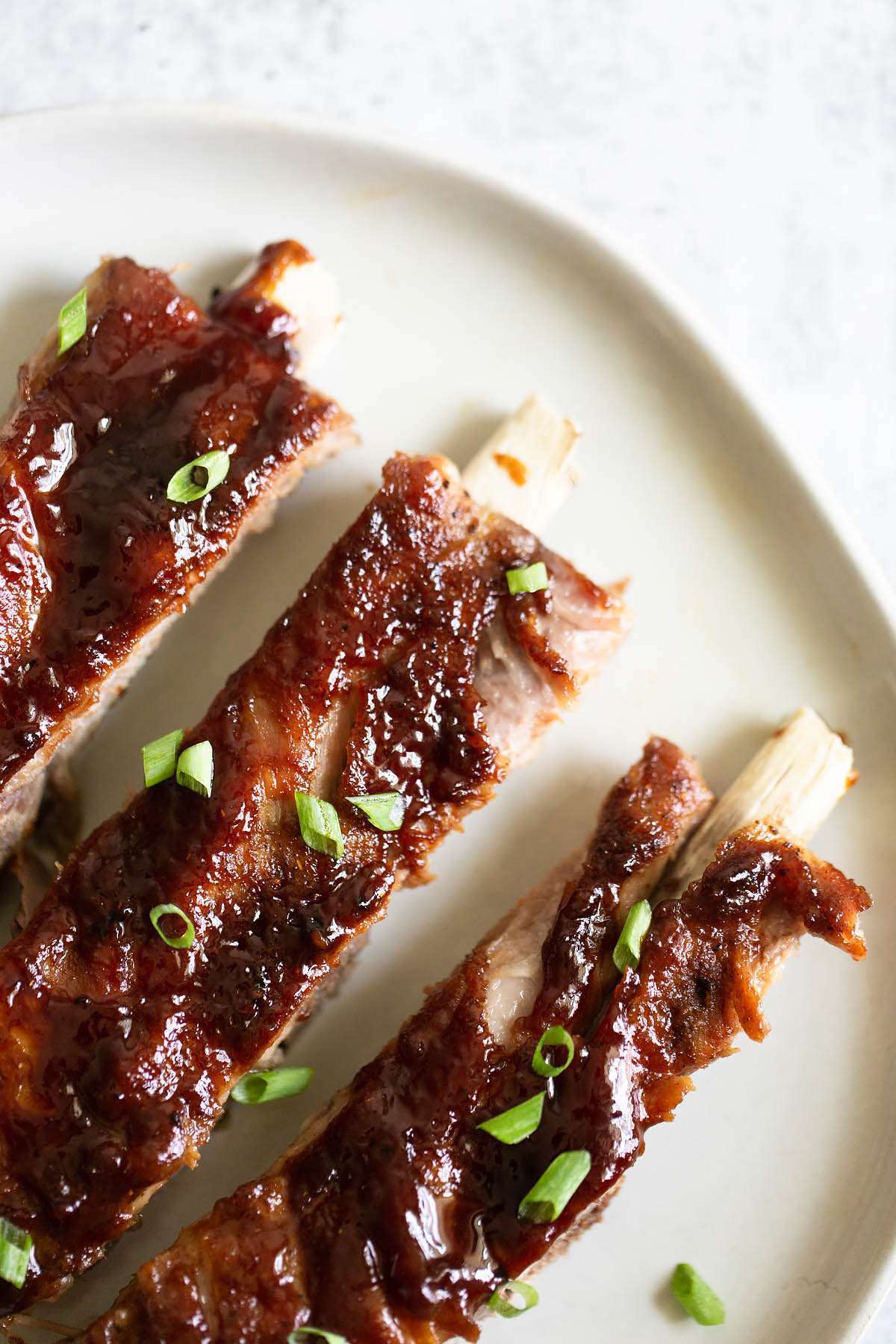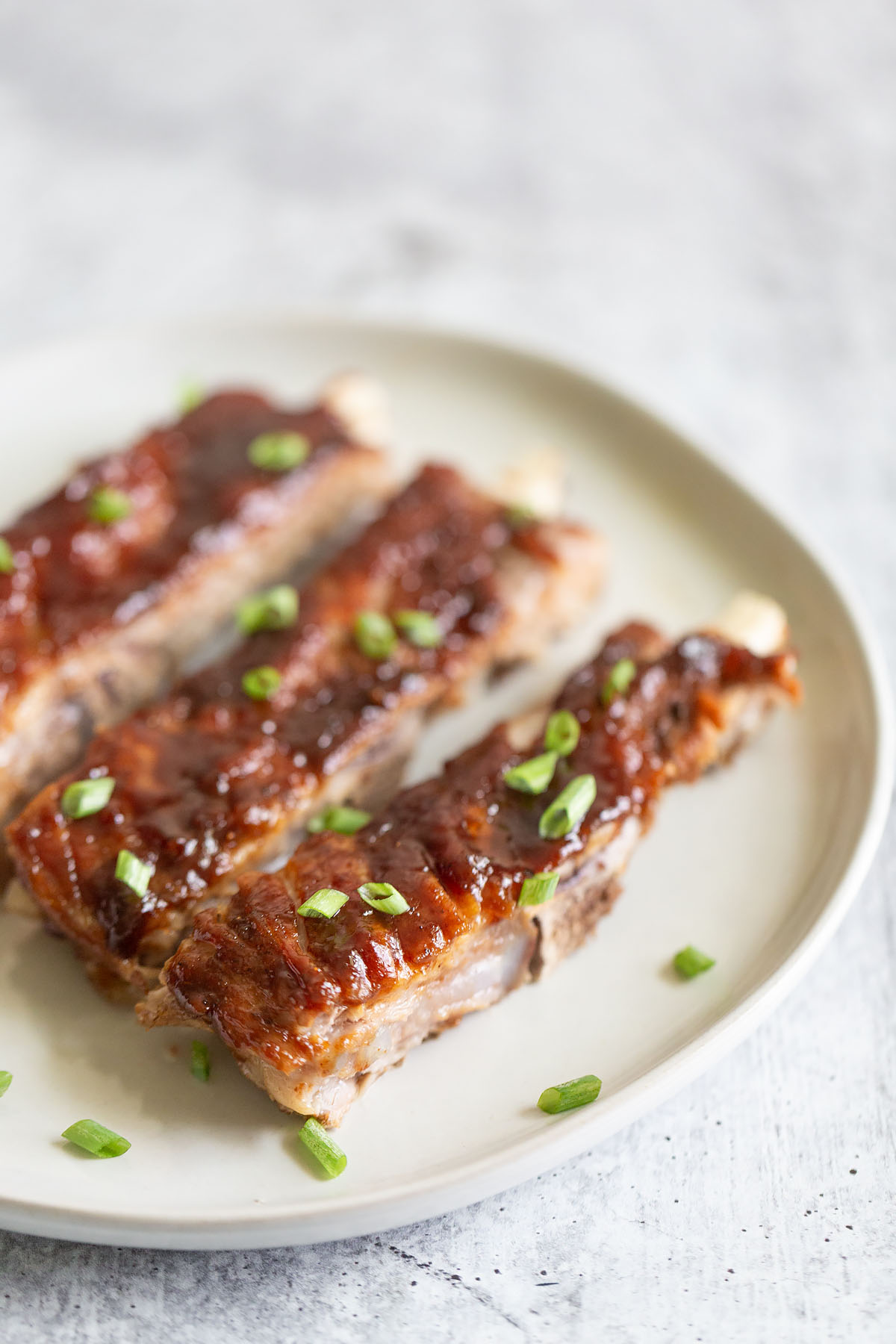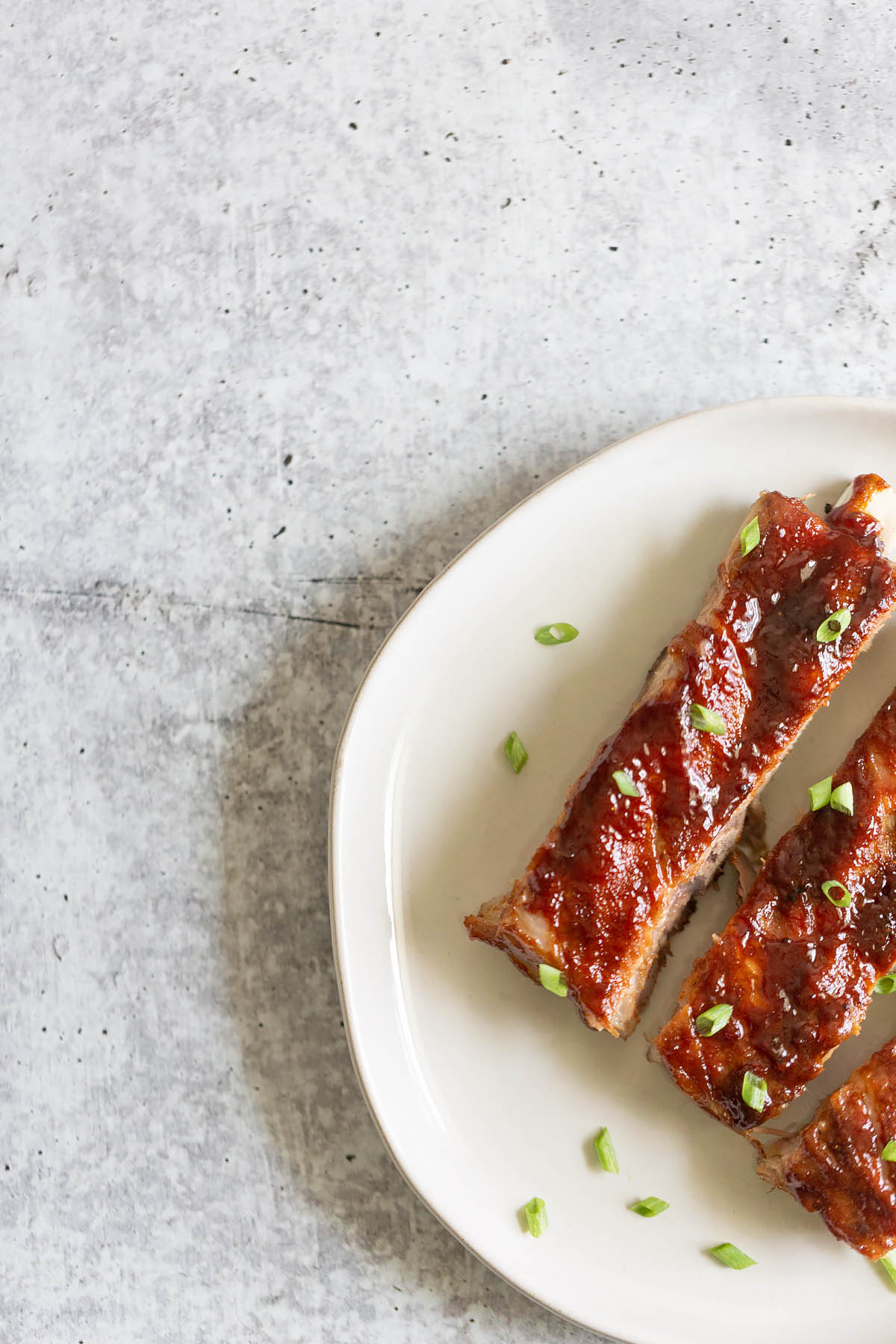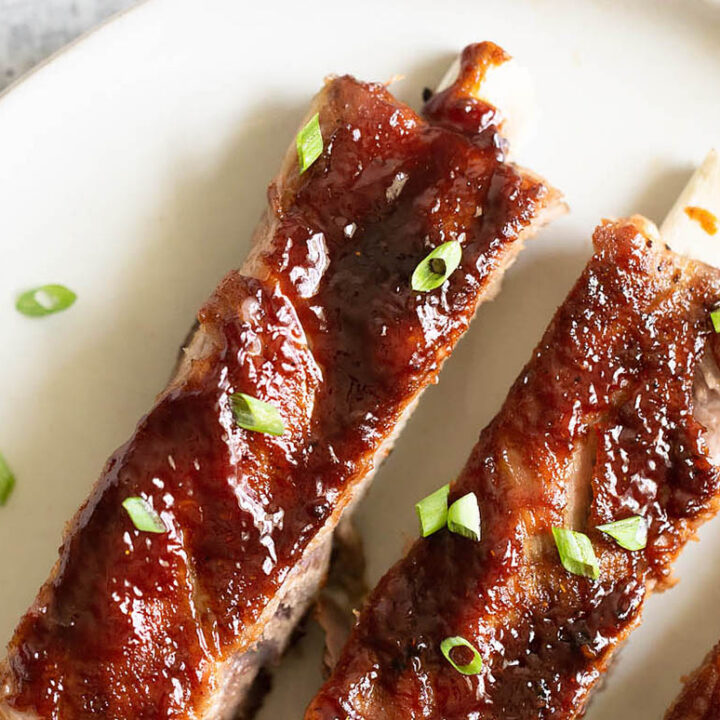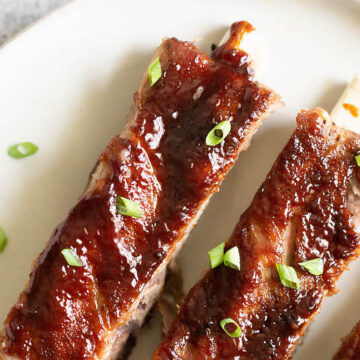 Instant Pot Hoisin Ribs
This recipe for Instant Pot Hoisin Ribs is sweet, sticky deliciousness. These are easy to make ribs that literally fall of the bone.
Ingredients
1

rack

pork, bone-in ribs

1

teaspoon

ground ginger

1

teaspoon

ground coriander

1

teaspoon

garlic powder

1

teaspoon

chili powder

½

teaspoon

smoked paprika

1

cup

water

3

tablespoon

hoisin sauce
Instructions
Take the rack of ribs, lay on a paper towel and remove the membrane from the back side. This can be done by loosening with a butter knife, then grabbing with a paper towel to pull off.

In a small bowl, combine the spices to make a spice rub. Add the ginger, coriander, garlic powder, chili powder, and smoked paprika to a bowl and stir to combine.

Take the spice mixture and spread all over the top and bottom sides of the ribs. Cover the ribs loosely with plastic wrap and let sit for 30 minutes.

Take your Instant Pot and place a small rack inside for the ribs to sit on. Add 1 cup of water to the bottom of the Instant Pot.

Take the rack of ribs and curl them so they fit into the Instant Pot.

Place the lid on the Instant Pot, make sure the valve is set to sealing, and then set the Instant Pot on manual pressure for 40 minutes.

Once the ribs are done and the Instant Pot beeps, let Natural Release for 10 minutes. After 10 minutes, release any remaining pressure from the pot.

Set your oven to broil. Take the rack of ribs out of the Instant Pot carefully. The ribs are so tender that bones may literally fall out. Place the rack of ribs on a baking sheet.

Take the hoisin sauce and brush over the ribs. Place the ribs in the oven and broil for 3-5 minutes until nicely browned and caramelized.

Remove the ribs from the oven. Let rest for a few minutes, then slice and enjoy.
Nutrition
Calories:
664
kcal
Carbohydrates:
7
g
Protein:
36
g
Fat:
54
g
Saturated Fat:
17
g
Polyunsaturated Fat:
9
g
Monounsaturated Fat:
20
g
Trans Fat:
1
g
Cholesterol:
182
mg
Sodium:
390
mg
Potassium:
602
mg
Fiber:
1
g
Sugar:
3
g
Vitamin A:
272
IU
Vitamin C:
1
mg
Calcium:
47
mg
Iron:
3
mg
If nutrition info is shown, values are based on an online calculator and are estimates. Please verify using your own data.
Tried this recipe?
Tag @foodbanjo on Instagram and share your photos!