This raspberry clafoutis is an easy dessert recipe that looks fancy. It's a delicious, custardy treat that pairs raspberry with a touch of almond flavor.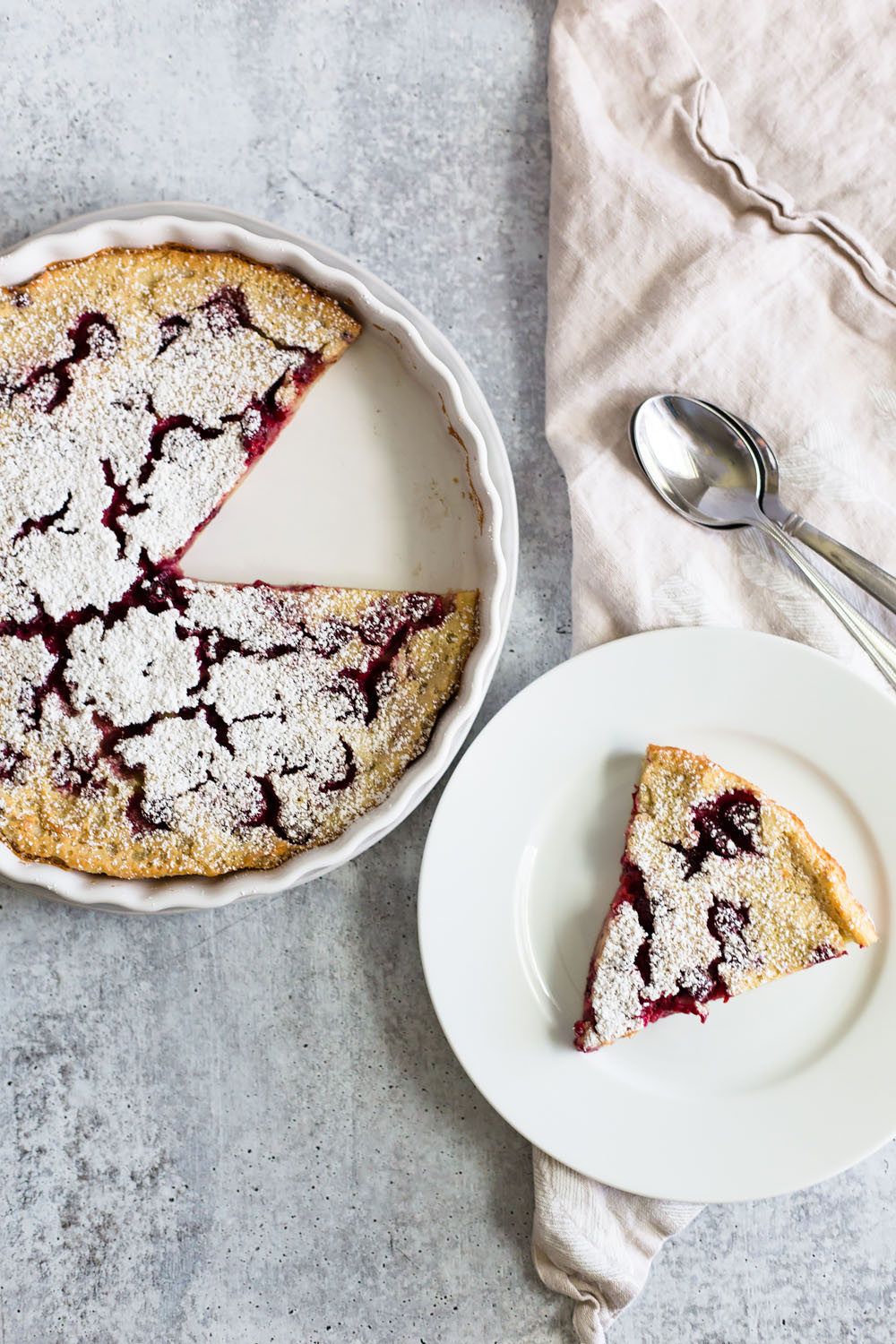 This post contains some affiliate links, which means that I make a small commission off items you purchase at no additional cost to you.
Have you ever had a raspberry clafoutis? I've been wanting to make one for awhile, but I wasn't sure how to even pronounce the name! (It's CLA-FOU-TEE). Not that that should have stopped me from making it. It was more just doing it. But once I did throw everything together and found out how easy it was, I was basically kicking myself for not making a clafoutis sooner!

What is a clafoutis?
A clafoutis is a French dessert that is baked in a oven and comes out custardy. So it's not fluffy like a cake, it's more dense and decadent. It reminds me a bit of a dutch baby pancake, but thicker and more dessert-like. It's kinda like if flan, pie, and cake all had a baby. Clafoutis can use different types of fruit, though stone fruits are the most popular.
Berries can also be used, like I did in this recipe! Cherry clafoutis tends to be the most popular kind of clafoutis to make. When you use many types of berries, the berries will bleed a bit into the custard part, so it will tint the area around the berries.
You can see both in the photo above and the photos below how the raspberries did tend to bleed into the custard part. That doesn't make it any less delicious though!
Ingredients:
Raspberries - I love raspberries in this recipe! You can use fresh or frozen. Both work great!
Milk - Again, you have options here. Use cow's milk, almond milk, or your preferred milk here.
Eggs - Don't most baked dessert recipes call for eggs? This one is no different!
Sugar - White granulated sugar works best in this clafoutis.
Butter - I use unsalted butter here, so I can control the salt content through actual salt! If all you have is salted butter, you may not add any additional salt to the recipe.
Vanilla Extract - I try to use the pure stuff and not imitation vanilla extract.
Almond Extract - I love how almond extract tastes with raspberries and other fruits! You only use a little bit, because the flavor is so strong.
Lemon zest - Lemon zest is just the outside zest of the lemon. You basically remove the yellow part with a microplane, so it's grated and incorporates nicely into the clafoutis batter. This is the link to the microplane we use. Had it for years!
Flour - Just plain old flour.
Salt - Salt helps bring out the sweetness in foods! I know, it's weird, but a little salt helps amplify the sweetness.
Powdered sugar - I like to top the raspberry clafoutis with a sprinkling of powdered sugar.
How to pronounce clafoutis?
If you're going to make one, you may as well know how to pronounce it. It's cla-fou-tee.
Do you eat a clafoutis hot or cold?
I love my clafoutis served warm. If it's room temperature or refrigerated, I usually heat it up and then sprinkle with powdered sugar. You can definitely eat it cold, I just prefer it warm!
Do you refrigerate clafoutis after it's cooked?
Yes! If you don't eat it all on the first go, refrigerate it.
Related recipes:
How to make a raspberry clafoutis:
First, you'll combine milk, eggs, sugar, vanilla, and almond in a blender. After blending to combine, add the flour and salt and blend again.
Next, you'll take a heavy oven-proof dish (I used a ceramic tart pan like this) and add butter and stick it in your preheated oven. Once the butter has melted and the dish is hot, you'll take it out, swirl the butter around the bottom, and then add a thin layer of batter to the pan and let it sit for a couple of minutes. The hot dish starts to cook the thin layer of the batter, which creates a layer for the fruit to sit on, so it doesn't seep to the bottom of the pan.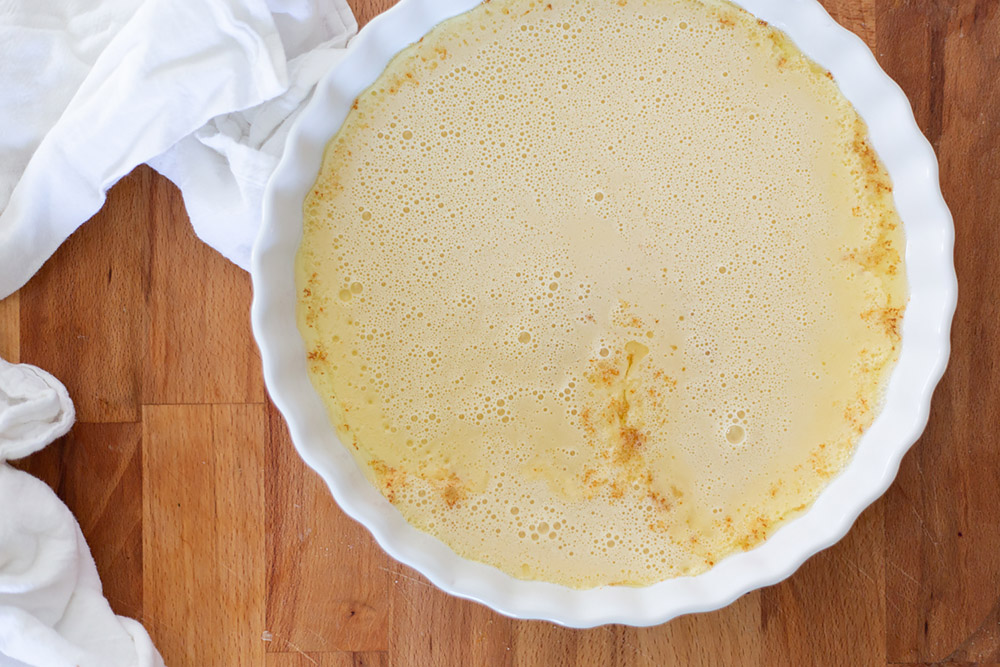 Next, you'll add the raspberries to the pan.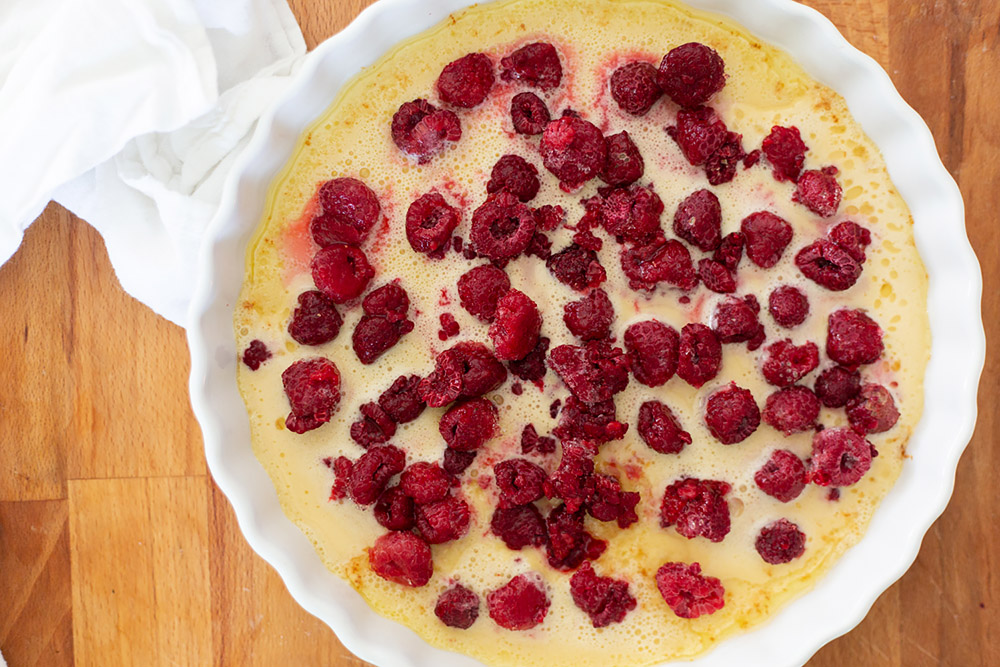 And then the rest of the batter, sprinkling a bit of the granulated sugar on top!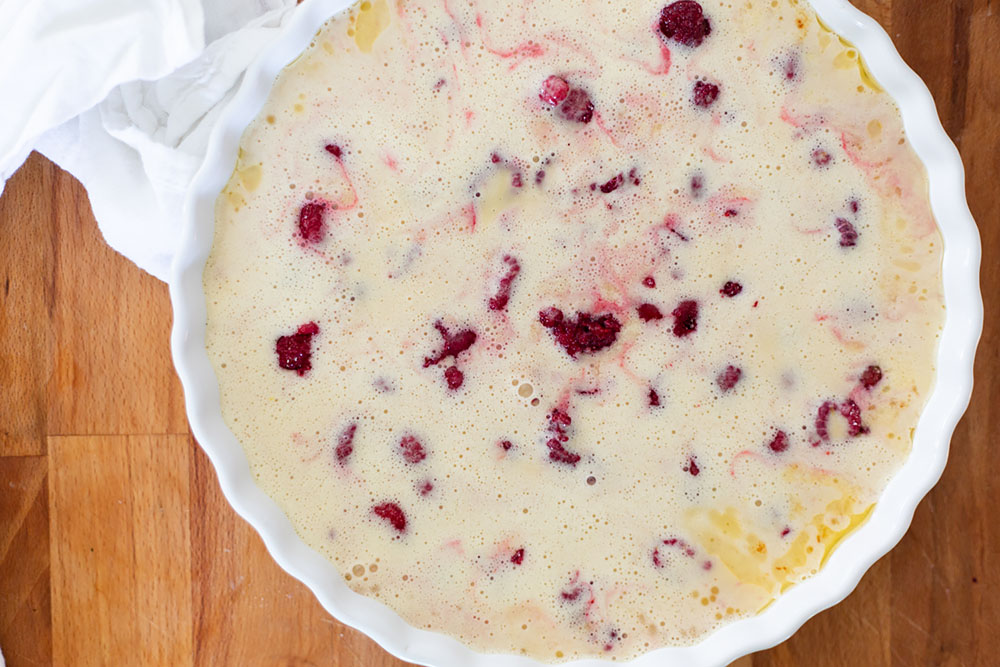 Then pop it in the oven to cook, and when it comes out it should look something like this.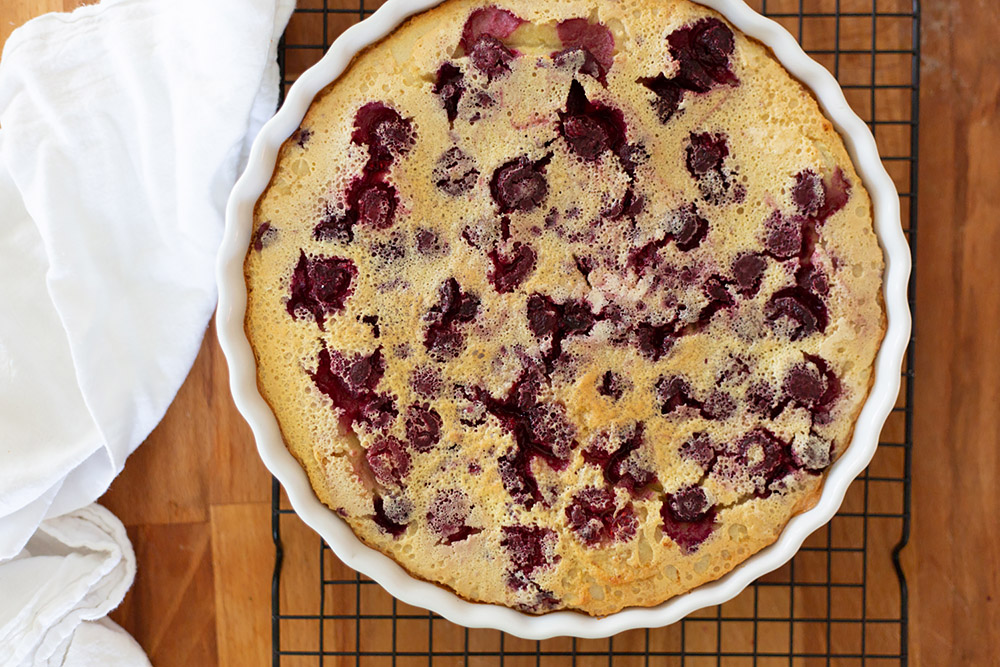 Let cool, then sprinkle some powdered sugar on top, and you've got yourself a delicious raspberry clafoutis!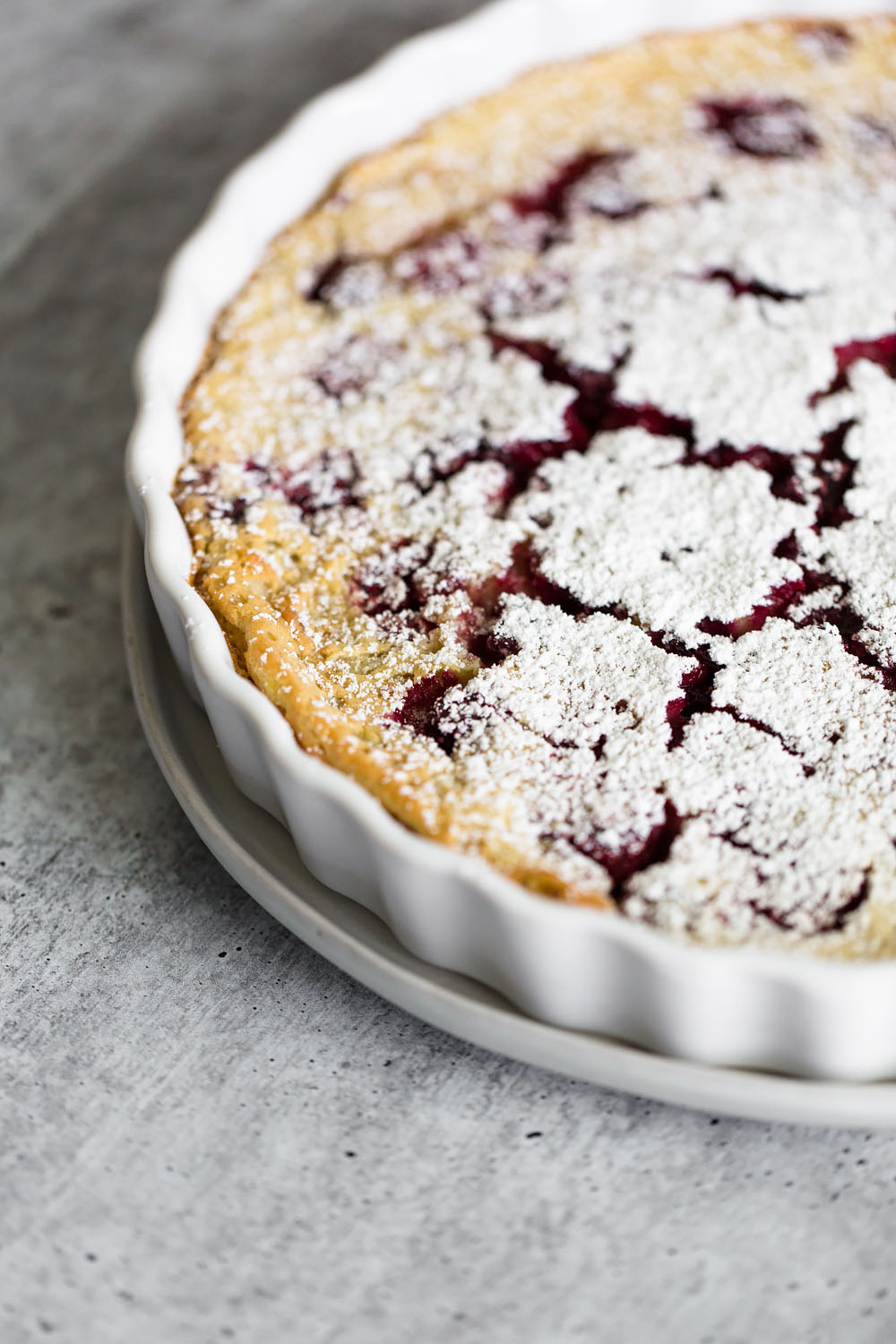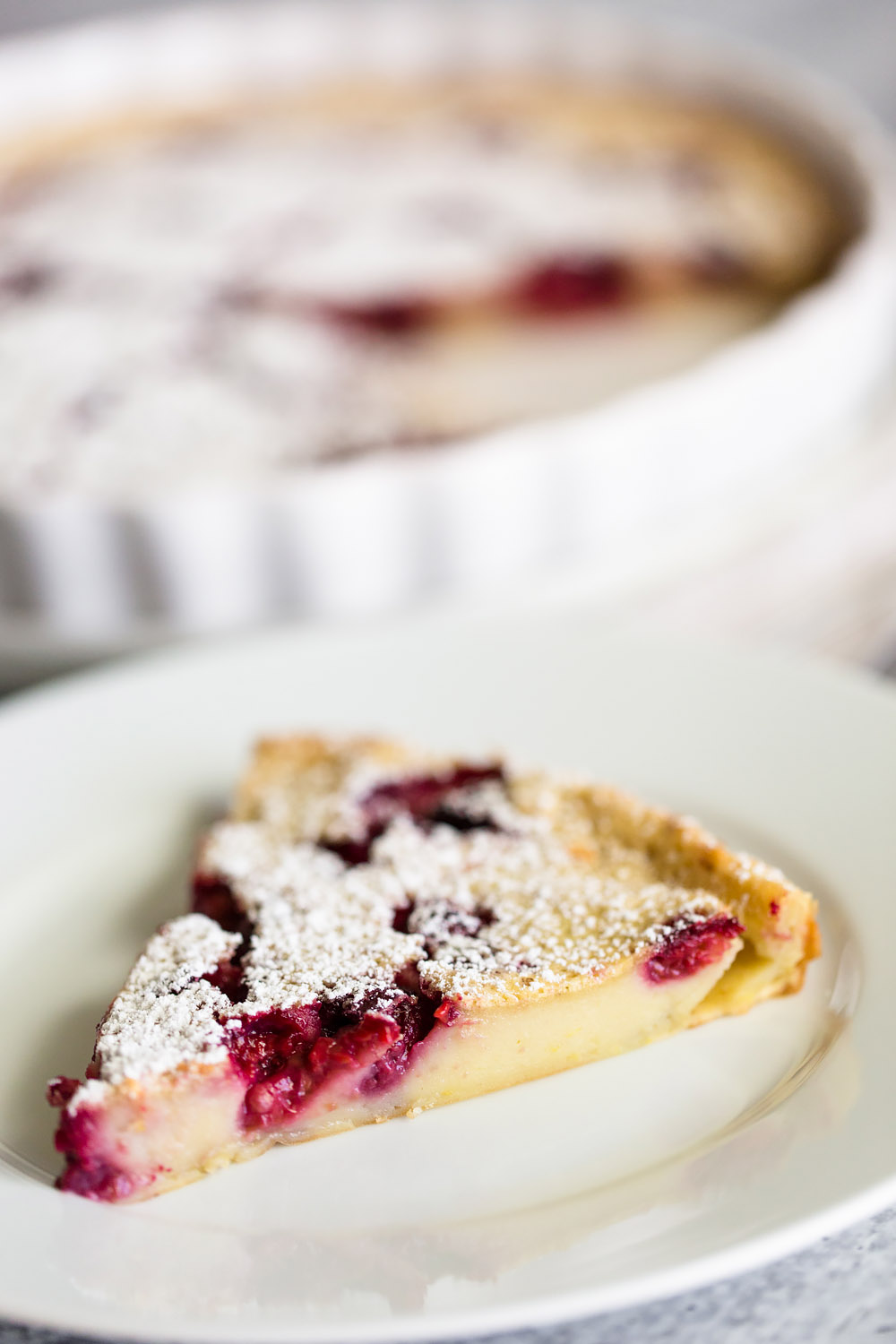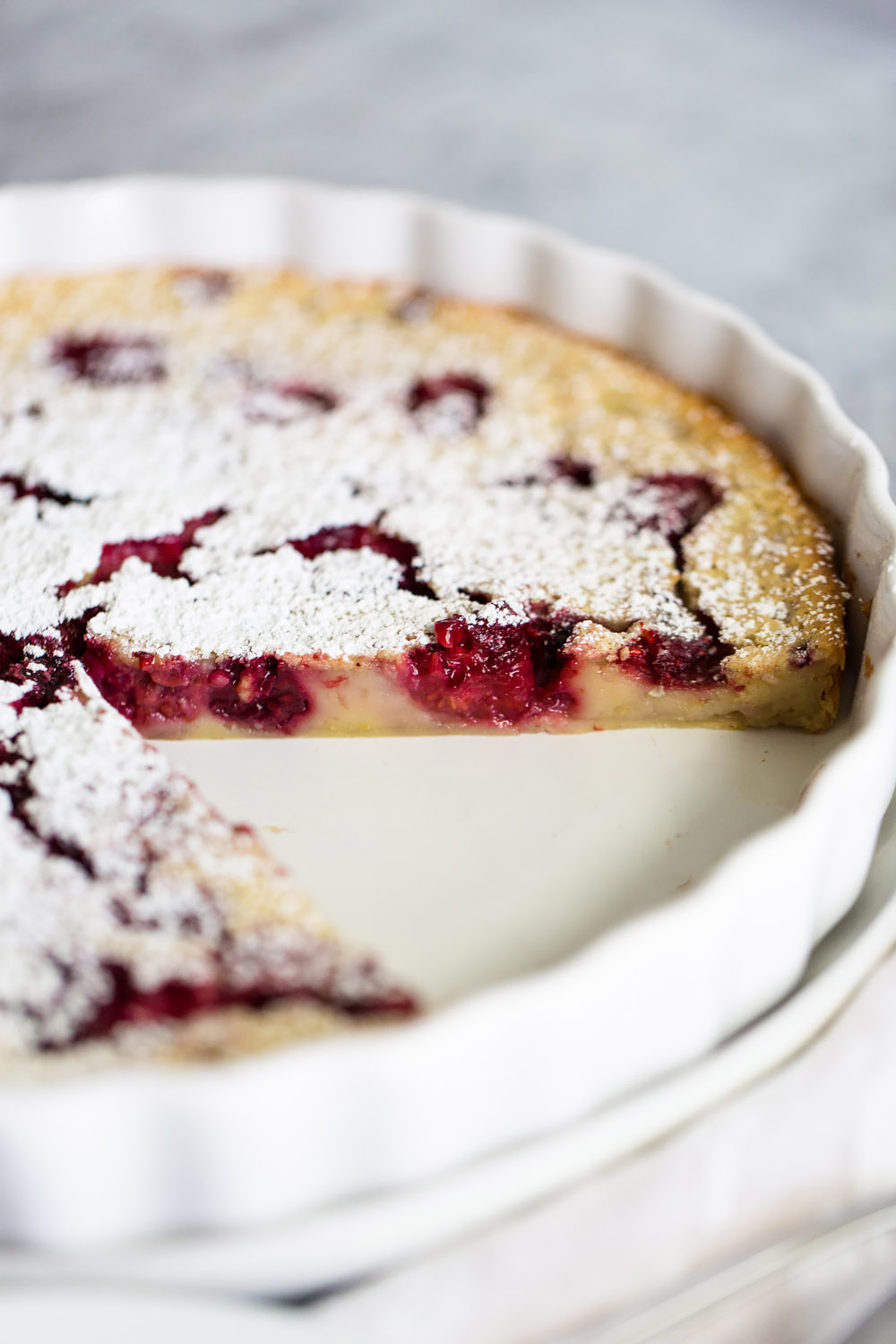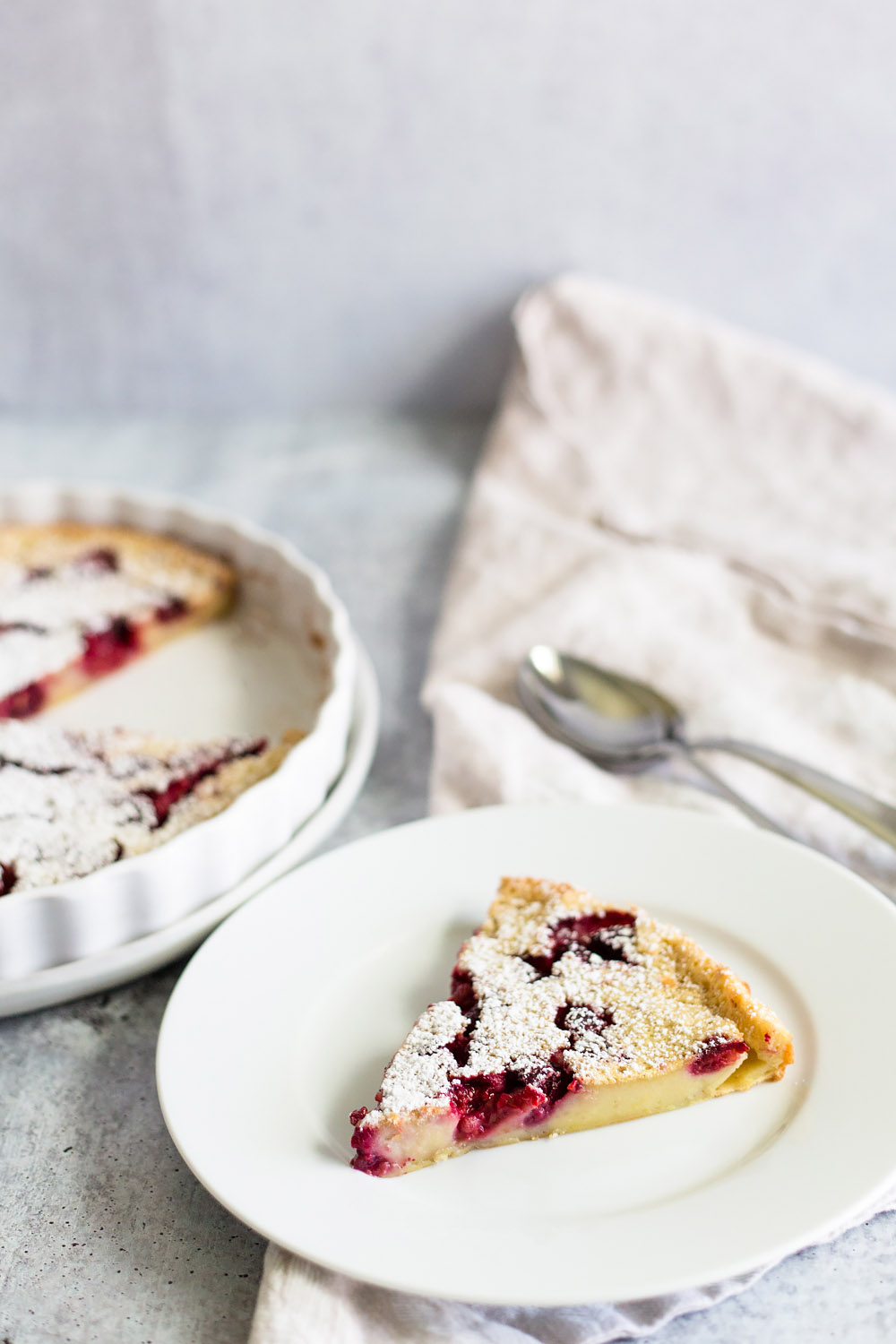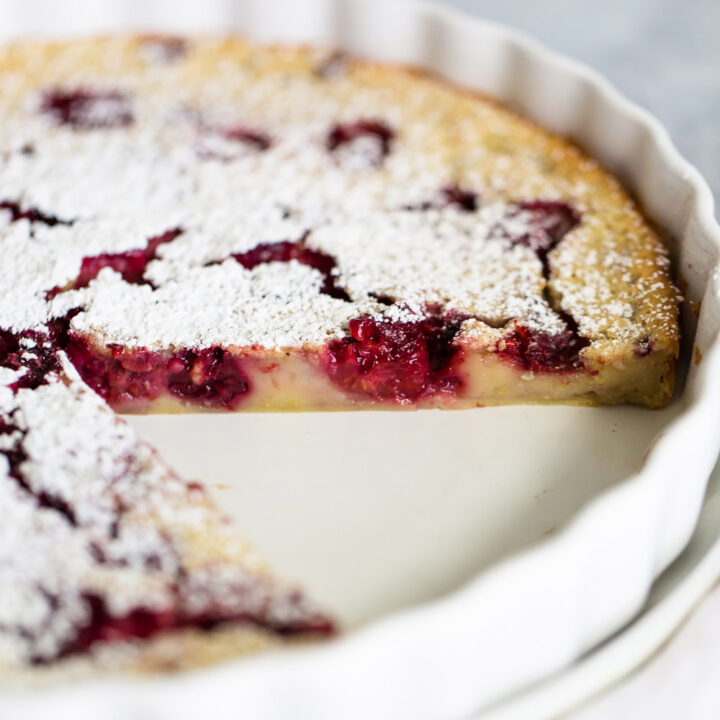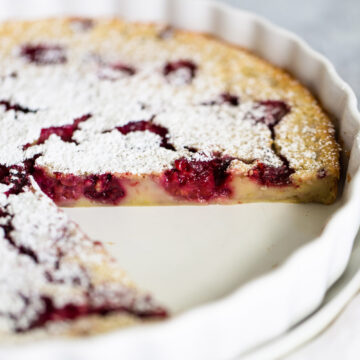 Raspberry Clafoutis
This raspberry clafoutis is an easy dessert that looks fancy!
Ingredients
1

tablespoon

butter

1

cup

milk

3

eggs

½

cup

sugar

2

tablespoon

sugar

2

teaspoon

vanilla extract

½

teaspoon

almond extract

1

lemon, zested

⅔

cup

all purpose flour

¼

teaspoon

salt

2

cups

raspberries

fresh or frozen

powdered sugar

for topping
Instructions
Preheat the oven to 350 degrees F.

In a blender, add the milk, eggs, ½ cup of sugar, vanilla extract, almond extract, and zest of one lemon. Blend until combined.

To the blender, add the flour and salt and then blend for 1 minute. Set batter aside.

Place the butter in an oven-safe dish, like a tart pan, cast-iron skillet, or heavy frying pan. Place the dish in the oven so the butter can melt. Once the butter is melted and pan is hot, remove from oven and swirl the butter around so it coats the bottom of the dish.

Once the butter has coated the bottom of the dish, pour a thin layer of the batter into the dish so it covers the bottom. Let sit for 2 minutes to slightly firm up.

Place the berries on top of the layer. Then add the rest of the batter to the dish.

Sprinkle 2 tablespoon of granulated sugar on top.

Bake for 45-55 minutes until the top is slightly browned.

Let cool for a bit (20-30 minutes) before sprinkling powdered sugar on top.

Serve warm as is, or with whipped cream or ice cream.
Notes
Fresh or frozen raspberries can be used in this recipe. 
Different pans can be used to make the clafoutis. I used a ceramic tart pan, but a cast iron skillet or heavy frying pan can be used. Just make sure your dish is oven safe and relatively thick.. If you use a thin pan, like a regular cake pan, the edges could get burned.
Since different dishes can be used (which could affect cooking times), to determine if the clafoutis is done, the top should be slightly browned and a toothpick should come out clean.
If nutrition info is shown, values are based on an online calculator and are estimates. Please verify using your own data.
Tried this recipe?
Tag @foodbanjo on Instagram and share your photos!