Vanilla Bean Creme Brulee is a surprisingly easy to make, especially when you follow our step by step instructions. This creme brulee is flecked with vanilla beans and can even be made several days ahead, then torched right before serving! And all you need is 5 simple ingredients.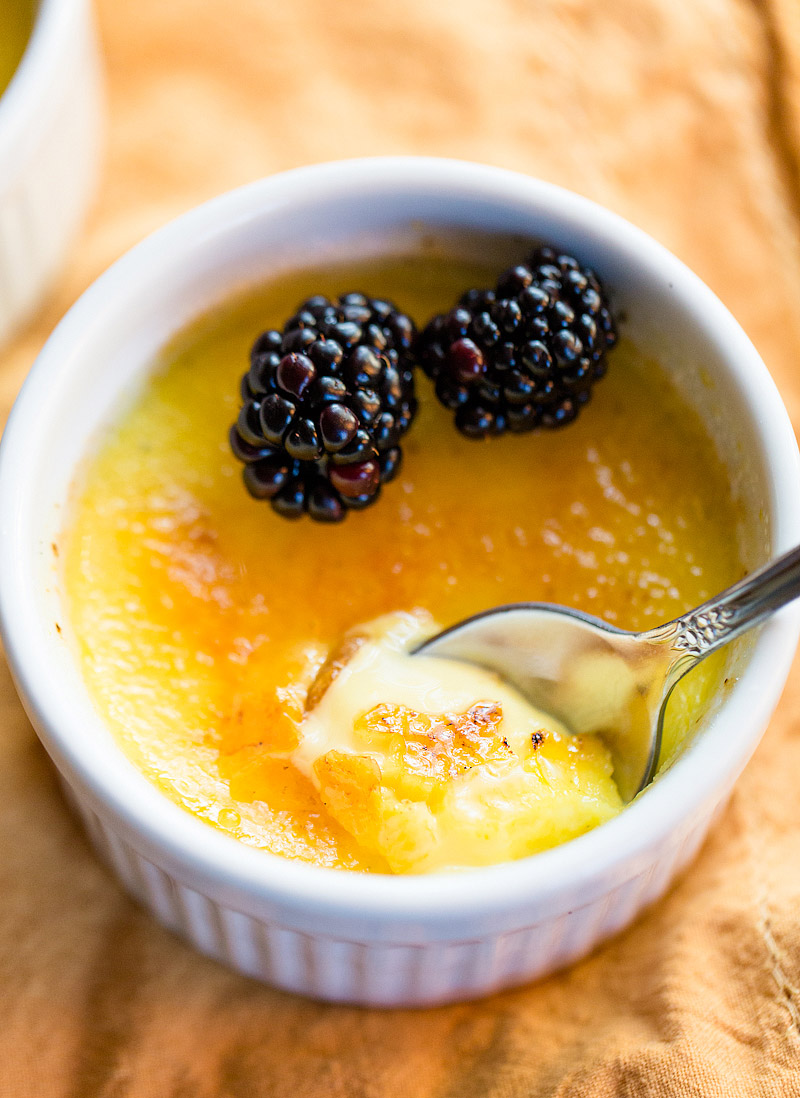 Crème brûlée is delicious, but seems hard to make at home, right? The fact that every Top Chef contestant who tries to make crème brûlée in 30 minutes fails doesn't help the home cook's confidence in tackling this recipe.
Here's the secret: crème brûlée is as simple to make as it is delicious. Most of the time is spent chilling: you need to make sure it is fully set, and cold, before taking a torch to it.
And yes! Fire! - the other reason dessert impresses. You'll need a torch to finish off this recipe, and with some practice, you can do this at the table for your guests! If you don't have a torch, they're cheap, and easy enough to find, along with a few ramekins. (You also will look like a badass when lighting candles with it).
The trick is in the sugary crust. I've tried all types of sugar for this recipe - brown, turbinado, superfine - and I've found simple granulated sugar tends to give the best results.
Ingredients
Heavy cream
Sugar
Salt
Vanilla bean
Egg yolks
Yes, that's it! Only 5 ingredients to make delicious vanilla bean creme brulee.
What is creme brulee?
If you haven't heard of it before, or tried it, creme brulee is basically a creamy French dessert with a sugar crust on top. The sugary crust is torched, which means that it gets hard. You typically break it with a spoon, then eat the hard, sugary crust with the creamy filling.
It's a dessert that always feels so fancy, but it actually pretty easy to make at home, as long as you have a torch!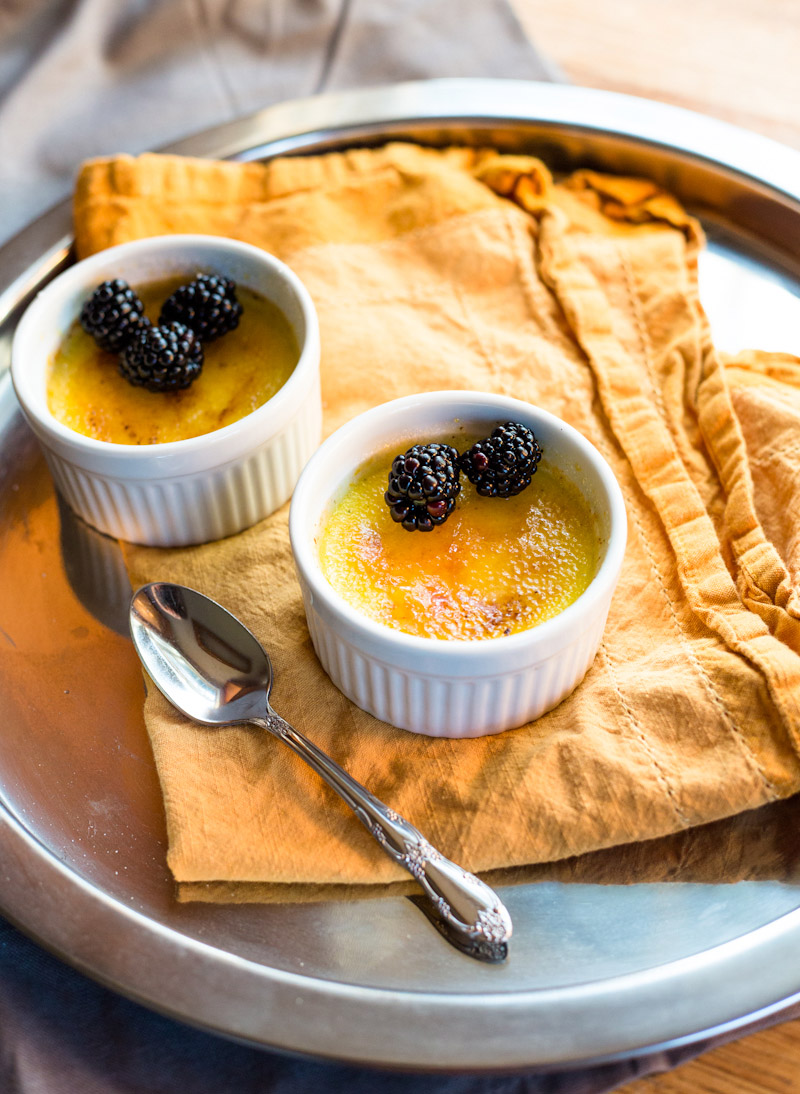 Recipe tips
The water bath is a necessary part of the creme brulee! Don't discount the beauty of a water bath when baking the creme brulee.
As mentioned in the directions, use plastic wrap when placing the brulee in the fridge to cool. By pressing the plastic wrap into the mixture, it will keep it from forming a skin at the top.
The creme brulee is delicious topped with blackberries, sliced strawberries, raspberries, sliced kiwi, or your favorite fresh fruit.
How to make vanilla bean creme brulee
First, preheat oven to 300 degrees F. Add your cream, sugar, and salt to a medium saucepan.
Scrape half a vanilla bean and add the vanilla bean seeds and pod to your saucepan. Bring the pot to almost boiling, then turn off and cover for 15 minutes.
Whisk egg yolks together, then slowly pour the creme mixture into your egg yolks, whisking constantly. Strain the mixture through a sieve.
Pour the strained mixture into ramekins placed in a prepared dish.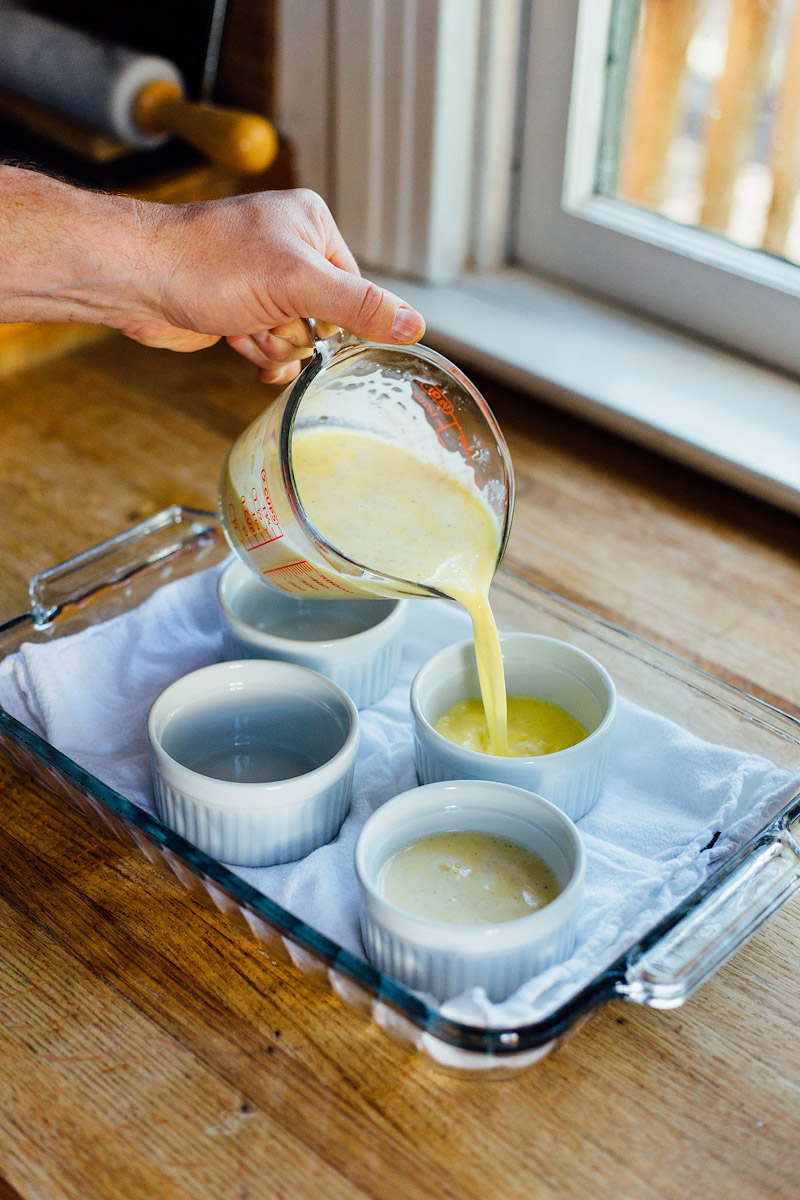 Add a water bath, pouring the water halfway to ⅔rds up the sides of the ramekins. Add foil to the top and place in the oven to bake for 25-30 minutes.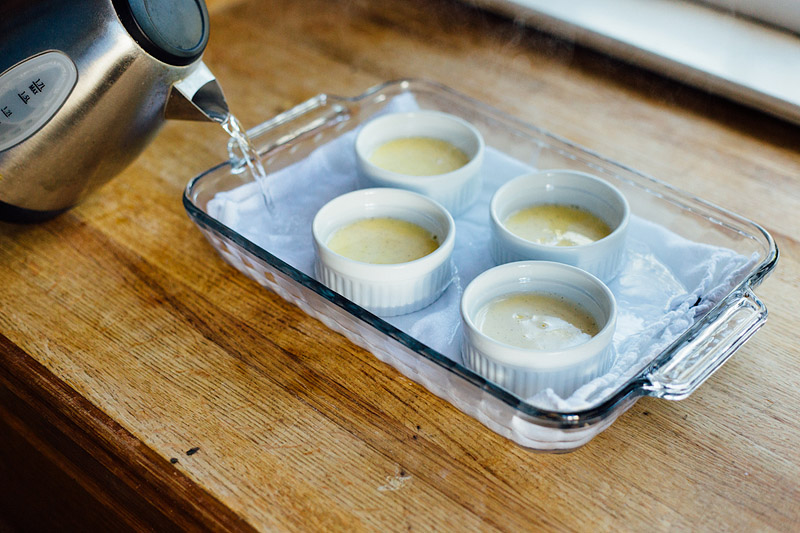 After vanilla bean creme brulee is done baking, let cool. Once cooled, add cellophane to the top of each ramekin, then place the the refrigerator for at least 4 hours.
After cooling, sprinkle sugar on top.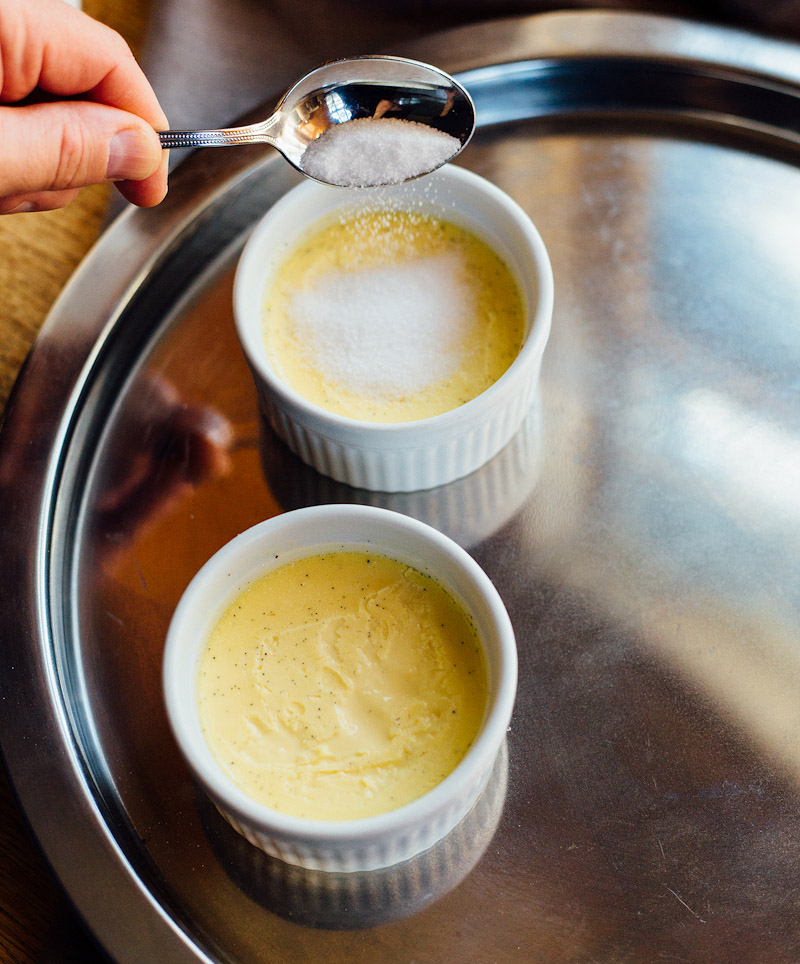 Turn each ramekin to distribute sugar evenly.
Torch the top of each creme brulee until sugar is caramelized and hard.
Top with fresh fruit as desired and enjoy!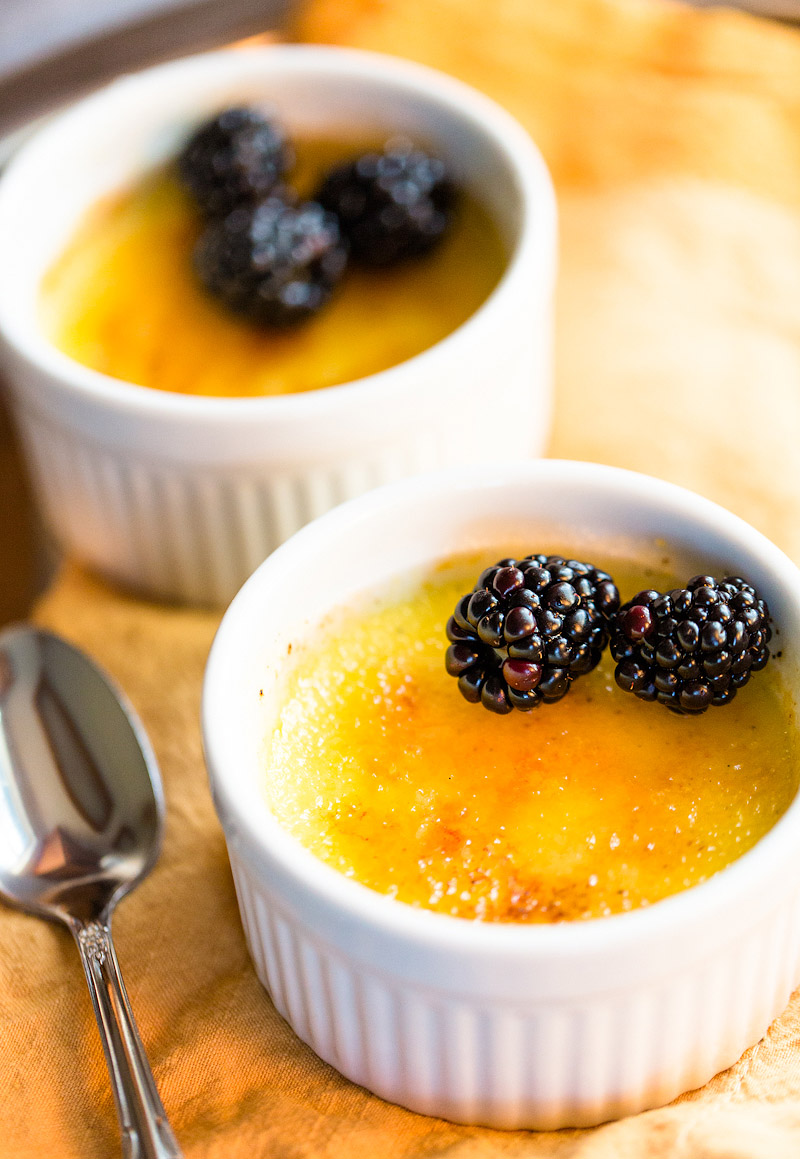 Easy dessert recipes
Recipes to love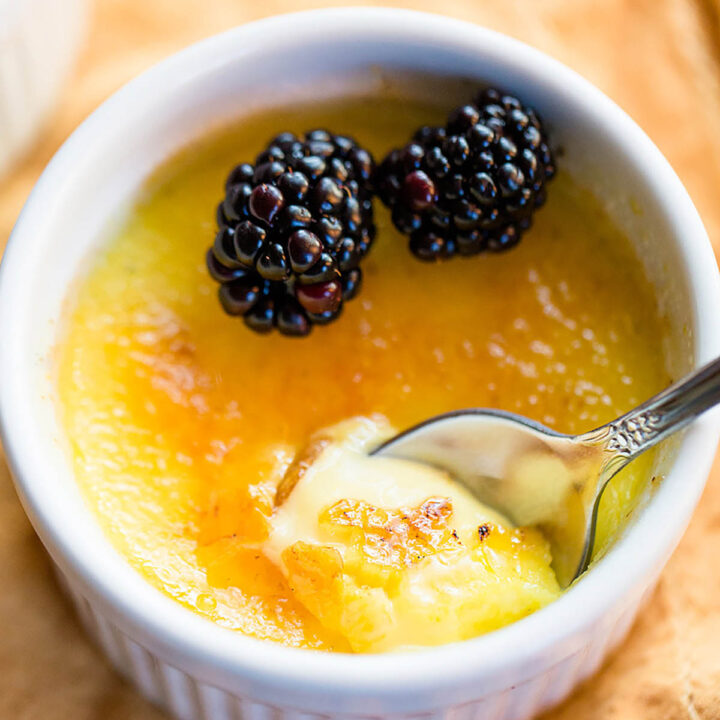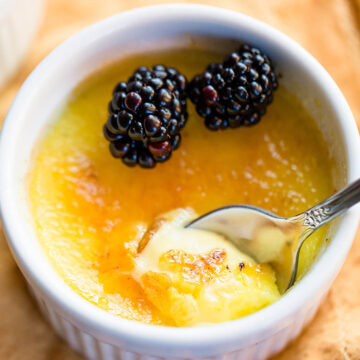 Vanilla Bean Crème Brûlée
Vanilla Bean Creme Brulee is a surprisingly easy to make, especially when you follow our step by step instructions. This creme brulee is flecked with vanilla beans and can even be made several days ahead, then torched right before serving!
Ingredients
2

cups

heavy cream

⅓

cup

sugar

pinch

of salt

½

vanilla bean

5

egg yolks

regular granulated sugar for topping
Instructions
Pour the cream, sugar and salt into a medium-sized saucepan.

Slice the half of the vanilla bean in half again, lengthwise. With the tip of your blade scrape out the vanilla seeds and stir them into your cream. Throw the empty vanilla pod in there as well. Bring the pot to just before boiling under medium heat, stirring occasionally. When the sides start to simmer, turn off the heat, cover, and let sit for 15 minutes.

Meanwhile adjust your oven rack to the lower-middle position and heat to 300 degrees. Lay a kitchen towel in the base of a casserole dish and arrange your ramekins in it so they are not touching the sides or each other. Boil water in a kettle for later.

Whisk your egg yolks in a large bowl until combined. Temper your eggs by slowly pouring your cream mixture into the egg yolks while whisking (this will keep your yolks from turning into scrambled eggs). Pour the mixture through a fine-mesh strainer into a pitcher or liquid measuring cup.

Evenly distribute your cream by pouring it into the ramekins and place in the oven. Carefully pour your boiling water into the casserole dish until it is about two-thirds up the sides of the ramekins. Lightly cover the top of the dish with aluminum foil and carefully slide the dish into the middle of the rack. Cook for 25 - 30 minutes, or until the custard jiggles like Jell-O.

Place casserole dish on a rack and let cool for 30 minutes. Remove ramekins from the water bath and let fully cool on the rack. Place cellophane over each ramekin so that it touches the custard and chill in the refrigerator for at least 4 hours, or until ready to use. You can keep them like this for up to three days.

When you are ready to serve, remove the cellophane and sprinkle a spoonful of sugar over the top of the custard. Take the ramekin in your hands and tilt it until the sugar is evenly distributed across the top, pouring any excess out onto your next custard.

Take your brûlée torch and slowly pass it over the sugar, after about 10 seconds it will start to bubble and brown. Keep moving the torch to prevent burning the sugar, you're looking for a caramel brown color. If you like a crispier shell, you can repeat the process by sprinkling on more sugar and torching again.

Garnish with berries, mint leaves, or a crispy cookie.
Nutrition
Calories:
542
kcal
Carbohydrates:
21
g
Protein:
7
g
Fat:
49
g
Saturated Fat:
30
g
Polyunsaturated Fat:
3
g
Monounsaturated Fat:
13
g
Cholesterol:
377
mg
Sodium:
43
mg
Potassium:
138
mg
Sugar:
20
g
Vitamin A:
2074
IU
Vitamin C:
1
mg
Calcium:
108
mg
Iron:
1
mg
If nutrition info is shown, values are based on an online calculator and are estimates. Please verify using your own data.
Tried this recipe?
Tag @foodbanjo on Instagram and share your photos!