Peanut butter blossoms are a peanut butter cookie that has a Hershey's kiss smooshed into the center of the cookie. They are delicious and a match made in peanut butter chocolate heaven.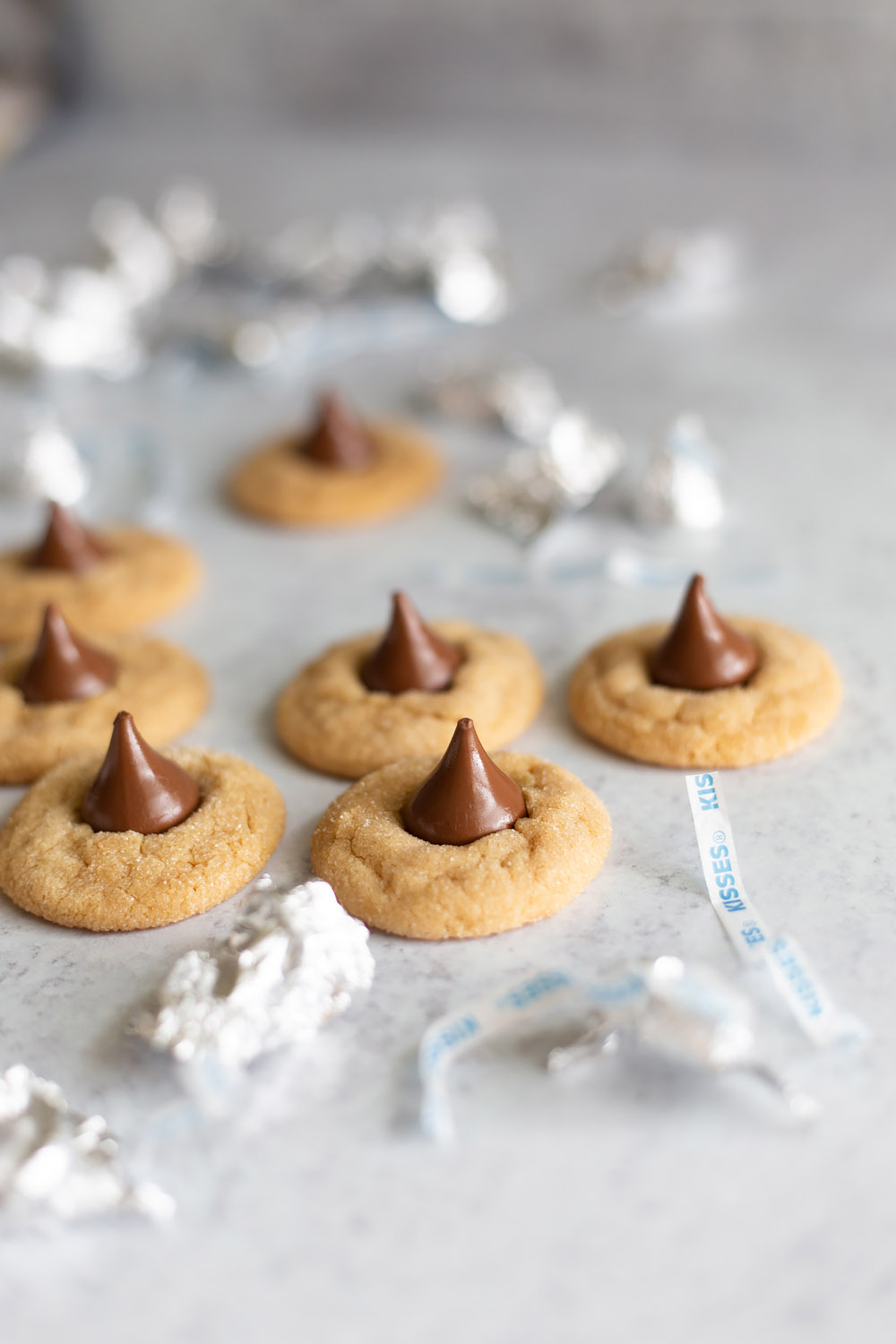 Even though I LOVE peanut butter blossoms, I have no time these days. So I decided to make these easiest ever, 3-ingredient Peanut Butter Blossoms!
The classic way of making these peanut butter blossom cookies is to make a peanut butter dough from scratch, roll balls of the peanut butter dough in sugar, bake, and then put the kiss on the cookie. That's how my mom always made them when we were little.
However, I've got a baby and a toddler and sometimes cooking means racing the clock to make something before a child wakes up from naptime. Some days I don't have time to make a peanut butter cookie dough from scratch. I barely have time to make anything! So the magic here is using PREMADE PEANUT BUTTER COOKIE DOUGH. Yes. Not fancy. But a fantastic shortcut. And still so, so delicious.
Ingredients for making Peanut Butter Blossoms:
Premade peanut butter cookie dough - You can usually find two different types. You can find the kind that are already portioned into cookies (like in the photo below) or you can find the kind that comes in a log, and then you scoop out the amount you want for each cookie. Either works! You can usually find these types of premade dough in the refrigerated section of grocery stores next to the biscuits.
Hershey's Kisses - a KEY ingredient. Obviously, unwrap before using. The traditional way is to use milk chocolate kisses, but if you're feeling daring, you can use the Hugs kind or a different flavor. Just keep in mind that you want it to pair nicely with the peanut butter.
Sugar - You'll just need some simple white granulated sugar. Only 2 tablespoons though!
How to make the Peanut Butter Blossoms:
Making the peanut butter blossoms is so easy and just uses those three ingredients! First, you unwrap 24 kisses so you have them handy. (And maybe a few extras for snacking on!) Then you simply roll up peanut butter dough into balls, using the warmth of your hands to shape them properly.
After that, it's as easy as rolling each peanut butter dough ball in some sugar, and then placing on a cookie sheet.
After they are done baking, you immediately stick a chocolate kiss into the center of each one. The bottom of the chocolate will melt a little from the warmth of the cookie, but the shape of the kiss should stay intact. It makes for a delicious cookie bite!
Print Recipe
Easy Peanut Butter Blossoms
These easy peanut butter blossoms only use three ingredients! Perfect when you want a dessert but don't have a lot of time.
Ingredients
1

package

premade peanut butter cookie dough

24

Hershey's kisses

2

Tbsp

white sugar
Instructions
Preheat oven to 350 degrees F.

Line a cookie sheet with parchment paper or use a silpat mat. Unwrap 24 Hershey's kisses and set aside. Place the sugar into a small bowl.

Take the premade cookie dough and roll into small balls. Roll each cookie dough ball in the granulated white sugar and place onto a cookie sheet, 12 at a time.

Bake for 10-12 minutes. Remove cookies from oven and immediately push a chocolate kiss into the center of each cookie. Let the cookies stand on the cookie sheet for 2-3 minutes, then remove and place on a wire rack to cool.

Repeat with the next 12 cookies.

Let cookies cool for 15-20 minutes before serving. Let cool completely before storing. Store in an airtight container once cookies have cooled completely for 2-3 days.
Notes
All ovens cook differently. If you're using a nonstick baking sheet, preheat your oven to 325 degrees F, and cook for 2-3 minutes longer (so 12-15 minutes).
Love this recipe? Try some of our other easy desserts: