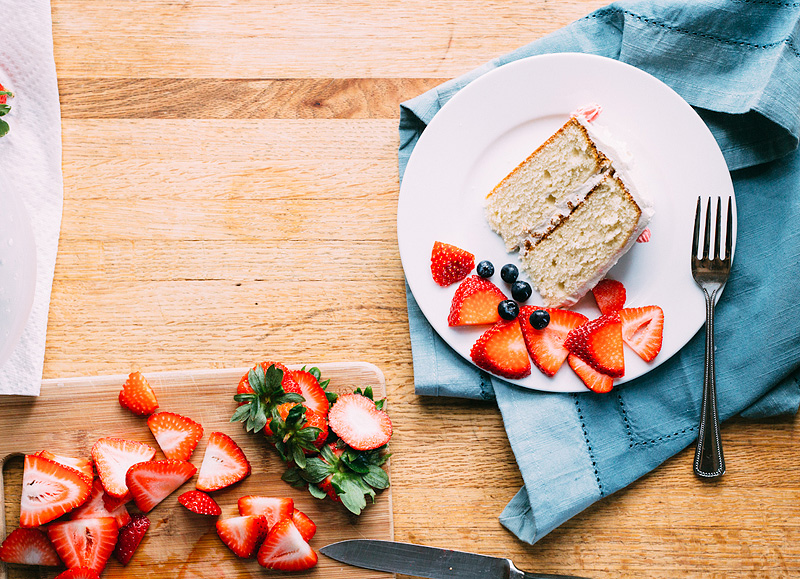 Let's talk about birthdays. I love having a May birthday. Growing up in Texas, it was always warm enough to spend the day outdoors doing something fun. It was close to the end of the school year. So you knew it was ALMOST time for summer vacation, which was a great feeling. But… and this is very important when you're in elementary school… it was still DURING the school year. This meant you could bring cupcakes to school. This meant you could celebrate your birthday with all your classmates and receive that little bit of extra attention. So perfect.
And then, I wound up meeting and marrying someone who also has a May birthday. And it makes it a little bit sweeter. We can celebrate our birthdays together. This usually involves a cake of some sort.

A few years ago, I found a cake recipe from one of my favorite food blogs (and one of the first food blogs I ever read)! It is a berry birthday cake. The typical preparation has you putting berries in the cake, but due to the pickiness of my family, I tend to leave them out and serve them on the side for whoever wants them. So instead, the vanilla flavor really shines through. So instead of the big berry birthday cake, I call my version (slightly adapted from Joy's) the vanilla bean birthday cake.
This cake is so good that I make it year after year. I sent the recipe to a co-worker, and she made the cake and wound up bringing the leftovers to work, and it was so tasty. Before I made the cake this year, that co-worker and I stood around for like five minutes talking about the deliciousness of the cake. So let's get baking!
First, butter and flour up those cake pans!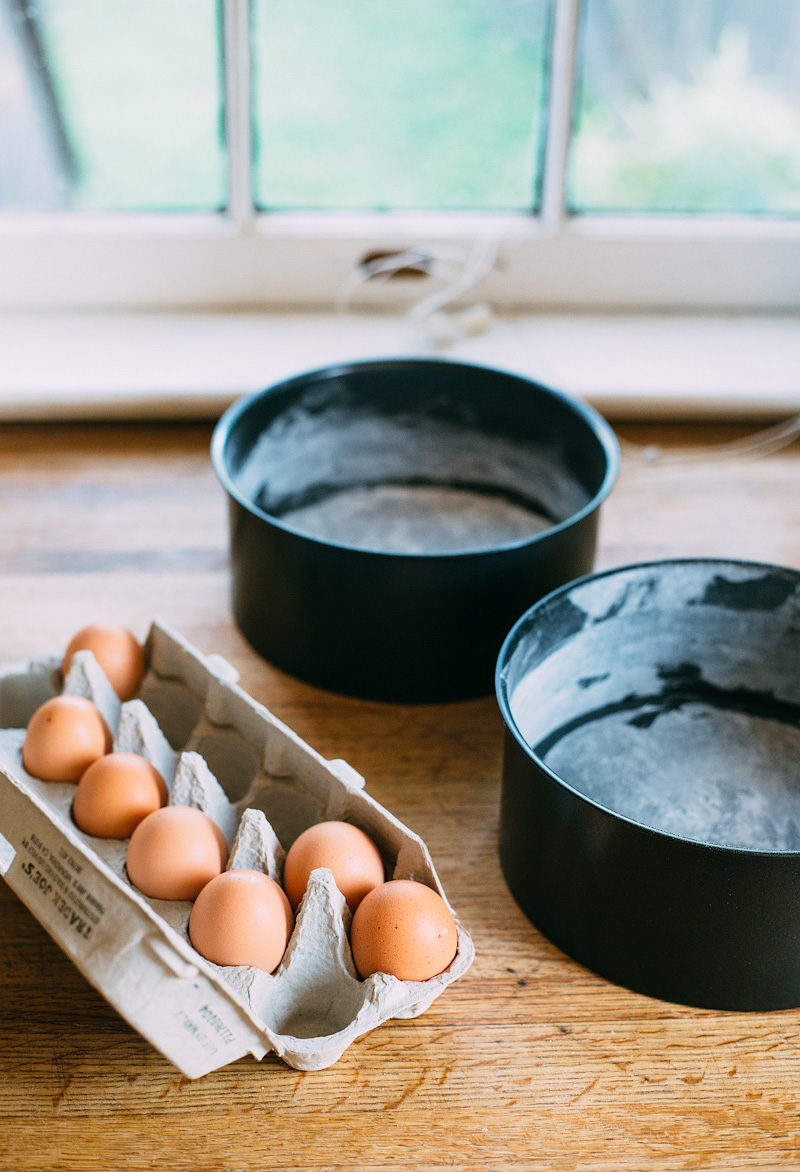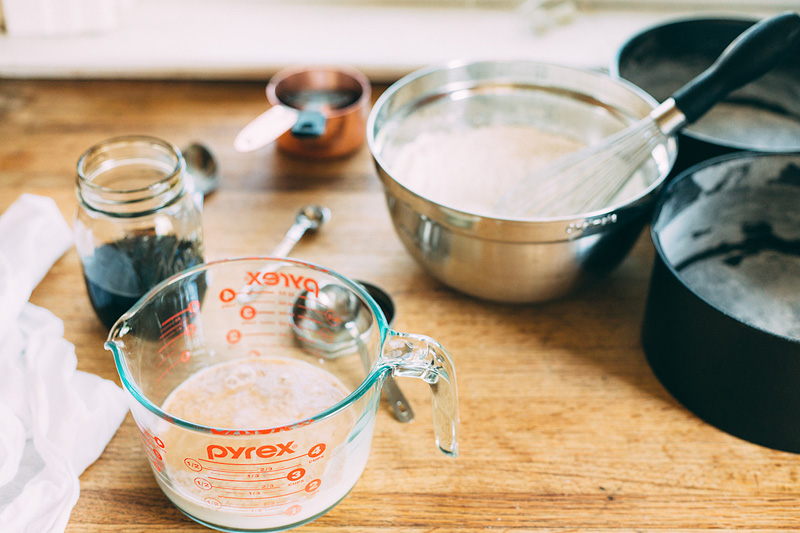 Divide the batter evenly into the two pans... well as close as you can get it.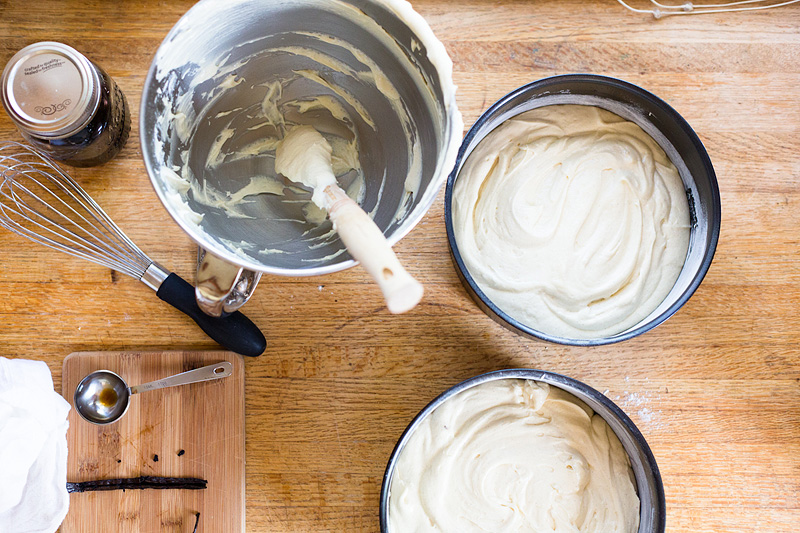 Always frost the cake with two pieces of parchment underneath! That way it remains clean, and you can just slide each parchment piece out after you're done.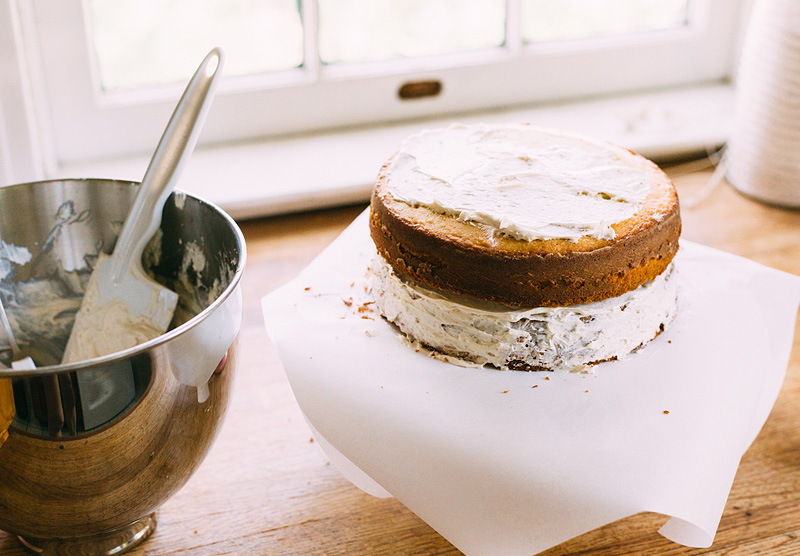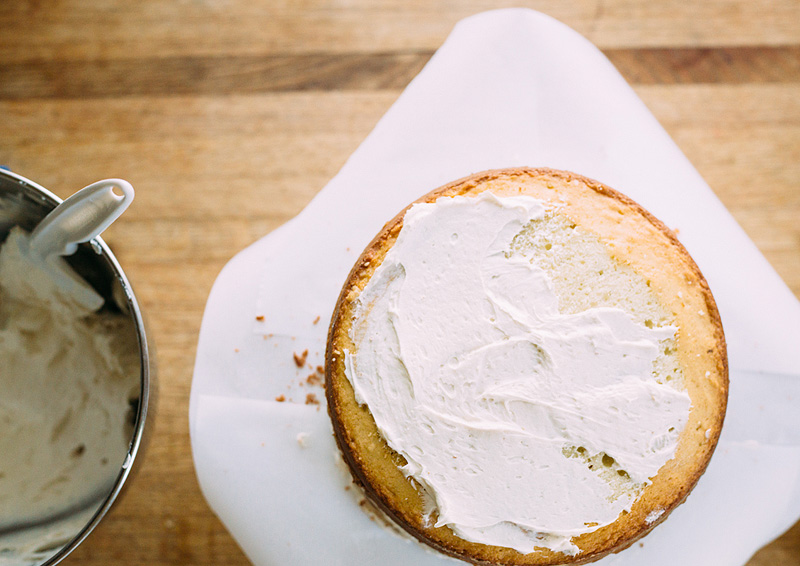 Make it fancy with a piping tip and colored frosting!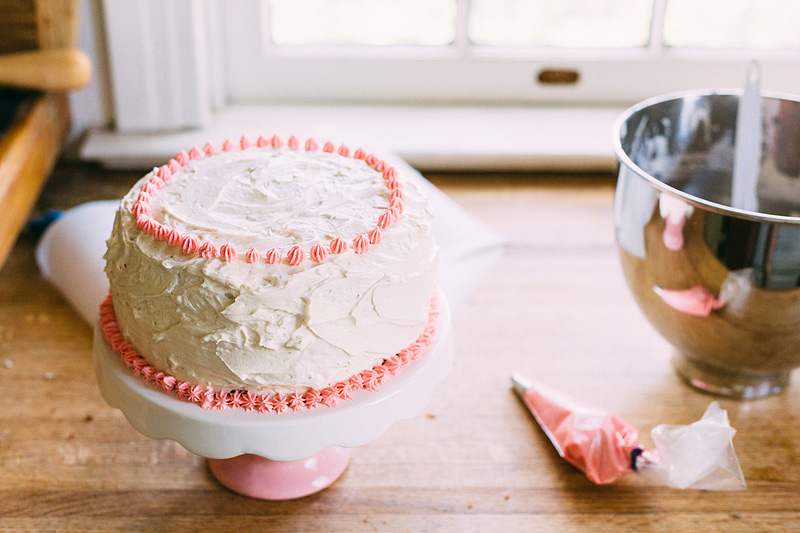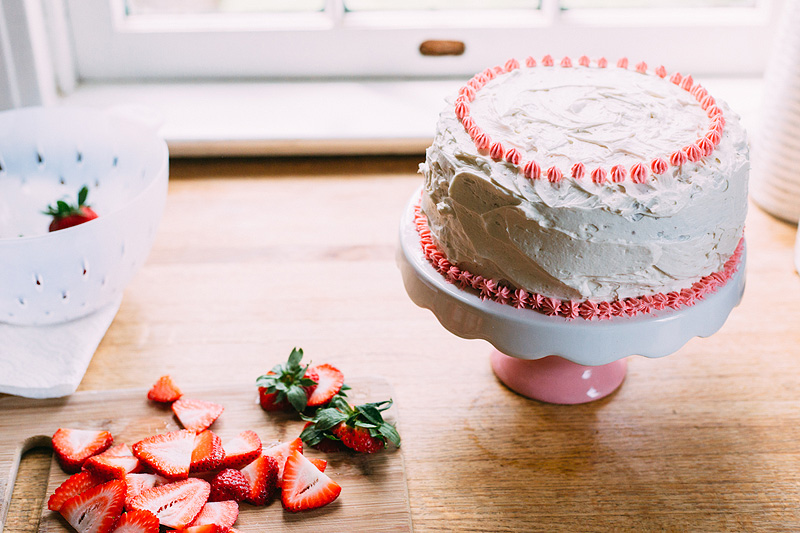 Okay, yes. We MAY use a brûlée torch to light our candles. Hardcore over here.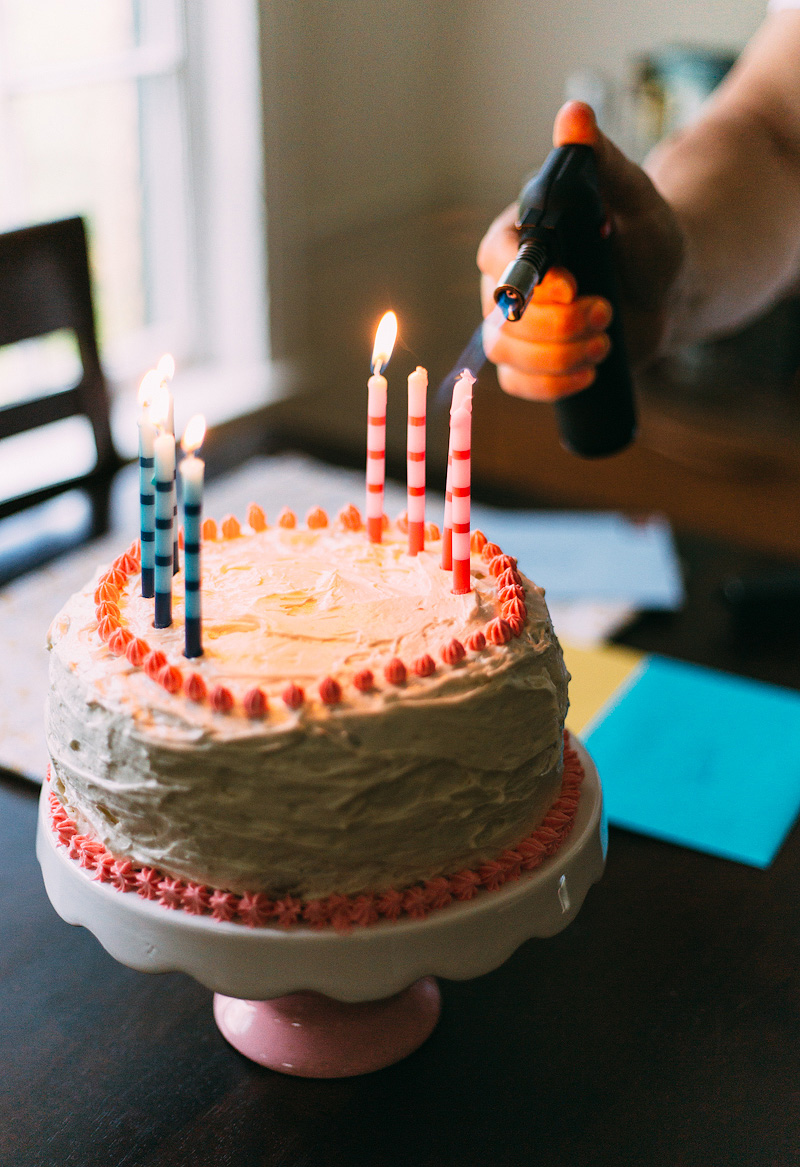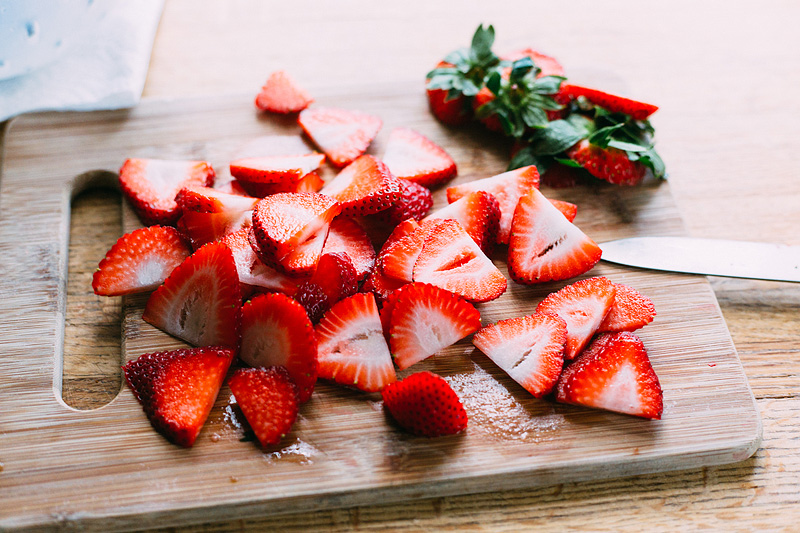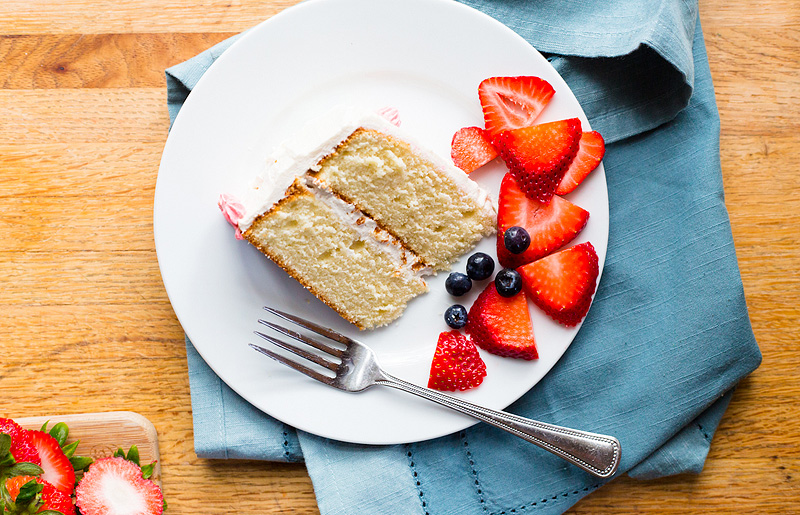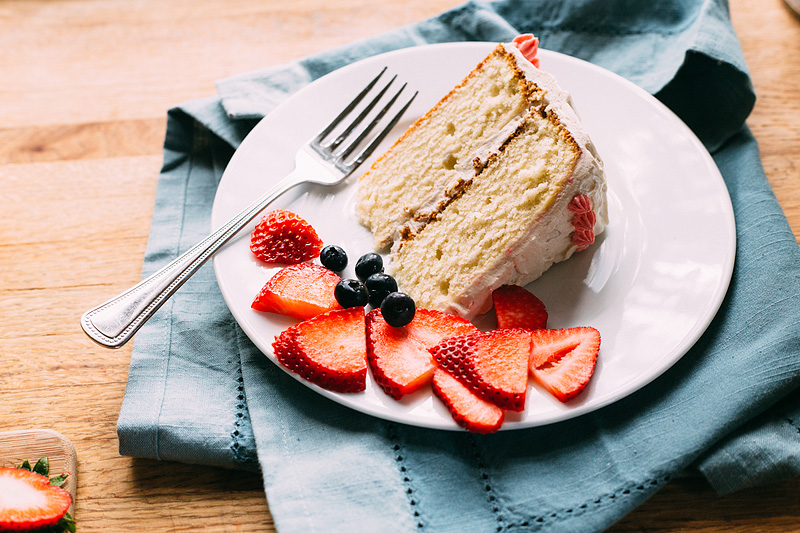 Here is the recipe.. adapted from Joy the Baker's Big Berry Birthday Cake.
Print Recipe
Vanilla Bean Birthday Cake
Ingredients
Cake:

2

sticks unsalted butter

softened to room temperature

1 ¾

cups

granulated sugar

4

large eggs

1

cup

whole milk

1 ½

Tablespoon

vanilla extract

½

vanilla bean

seeds scraped out

2 ¾

cups

all-purpose flour

1 ½

teaspoons

baking powder

½

teaspoon

salt

Frosting:

2

sticks

1 cup organic unsalted butter, softened

1

cup

cane sugar

¾

cup

whole milk

¼

cup

sifted all-purpose flour

2

Tablespoons

vanilla extract

Blueberries and sliced strawberries

for serving
Instructions
Preheat oven to 350 degrees F.

Butter and flour two 8 inch cake pans.

Cream the butter and sugar until light and fluffy, about 5 minutes. This is easiest done in a stand mixer with a paddle. Scrape down the sides of the bowl.

Add the eggs, one at a time, beating after each addition to incorporate.

In a large bowl, whisk together the flour, baking powder, and salt.

In another bowl, combine the milk, vanilla extract and vanilla seeds.

With mixer on low, alternate adding the flour mixture and milk mixture, starting and ending with the flour mixture.

Shut off the mixer, scrape down the sides of the bowl, and ensure everything is well-combined.

Evenly divide the batter between the two pans.

Bake 40 minutes until a toothpick or skewer comes out clean.

Let cakes cool for 15 minutes, then remove and set aside to finish cooling on a wire rack.

To make frosting, cream the butter about 30 seconds with a mixer.

Add the sugar and mix for another 5-7 minutes, until light and fluffy. Scrape the sides of the bowl to make sure everything is incorporated.

In a small saucepan, add ¼ cup milk, the vanilla and flour. Whisk together and then turn to medium heat.

Add the rest of the milk, whisking slowly until mixture starts to thicken. Once it starts to thicken, remove from heat, and continue whisking for another minute. If you have lumps, strain the mixture. Let cool to room temperature.

Once mixture has cooled, add to the butter/sugar mixture and beat about 4-5 minutes.

Frost the cake, leaving a little icing aside to color. Color the remaining frosting and then pipe onto the cake to decorate.

Serve with sliced strawberries and blueberries.