This is a half gin half vodka martini that will become your go-to drink! It's an easy to make cocktail that feels fancy.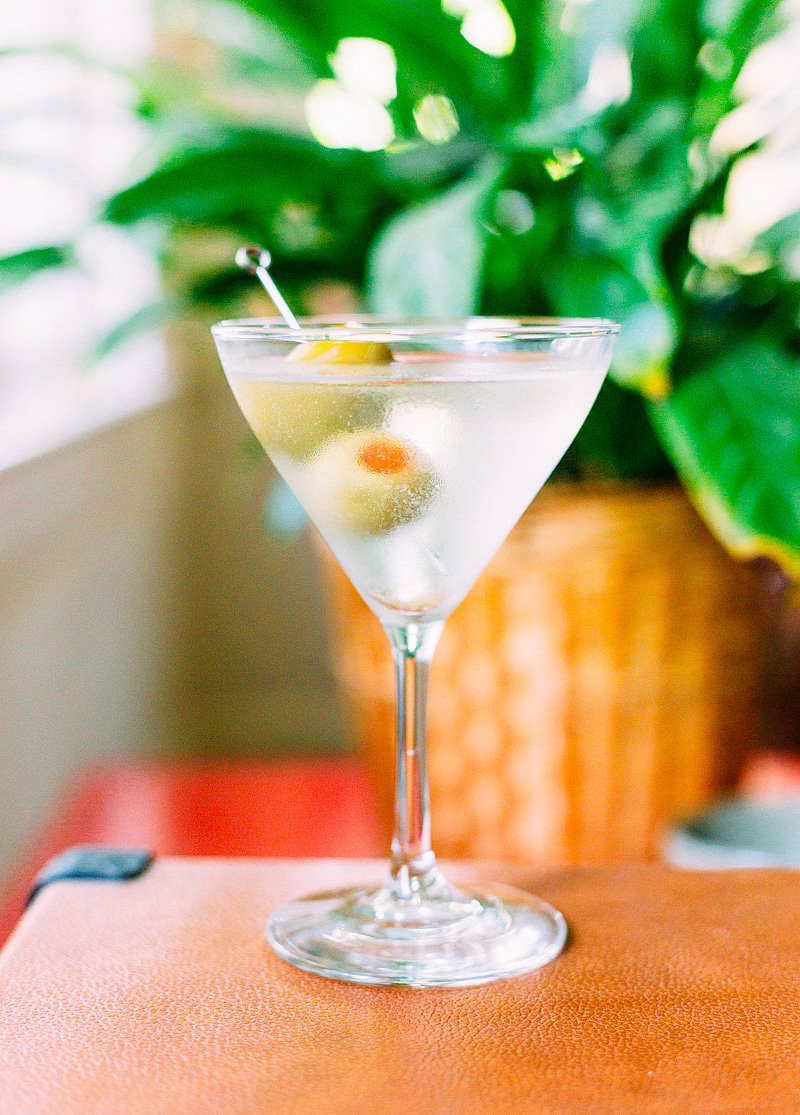 Happy weekend! It's time to talk about what you're going to drink. This gin and vodka martini is always a great option.
So you may be wondering about the name of this martini: The Dirty Fifty. Well.. let me explain.
About 6 or 7 years ago, I decided I wanted a martini. This wasn't something I had often.. maybe once or twice in my life before.  Josh started making it, and asked "gin or vodka?" I drew a blank. I didn't know the difference! I didn't really know what gin tasted like compared to vodka. They both looked the same to me.

He described the tastes of each, but I still didn't know. "I guess whatever people typically order?" He responded with "How about I do half and half?"
So that's what this dirty martini is. Half gin, half vodka, dirty, with a splash of vermouth. I've shared this recipe with a few people, and have come back and told me what a winning combination it is. So it's not just me who loves it! This is a martini for everyone!
A warning though... this is a drink that contains almost all alcohol. So know your limits. I know I can drink two over the course of a few hours and be fine. But I usually shouldn't go for three martinis!
This dirty martini is easily one of my favorite cocktails and is a go-to of mine. Try it, and it may become your go-to drink as well!
Difference between a martini and dirty martini:
If you aren't sure what a dirty martini is, it's basically a martini with a splash of olive juice. That olive juice is what makes it dirty. So if you want an extra-dirty martini, you'd put more olive juice in. For me, it's all about the balance. I want olive juice, but not TOO much.
What olives go into a martini:
What type of olives should you use in a martini? We always use the jarred olives. They are green and have a pimento in the middle. If you love those olives, they are a tasty treat after you finish your drink. If you don't love those olives (like me), then they are just a pretty garnish while you're enjoying your martini.
Also, if you use the jarred olives, and love dirty martinis, you'll use a splash of the olive juice in your martini!
Ingredients:
Gin - I love a smooth, clean-tasting gin in my martinis. But try several kinds! Some gins are more juniper-forward, which can affect how your martini tastes. Find one you love and use that in your martinis.
Vodka - Again, I love a clean vodka in this half gin half vodka martini.
Vermouth - You'll use a white (dry) vermouth in your martini.
Olive juice - Just get this from the jar of olives!
Ice cubes - For shaking the cocktail!
How to make the gin and vodka martini:
To a cocktail shaker, add the gin, vodka, a splash of vermouth, a splash of olive juice, and a few ice cubes. Shake for 20-30 seconds, then pour into a martini glass. Onto a cocktail skewer, add 2 olives and add to the drink.
Print Recipe
Dirty Fifty Martini
Ingredients
2

oz

vodka

2

oz

gin

1

tbsp

olive juice

tiny splash of extra dry vermouth

2

olives

3-4

ice cubes
Instructions
Take the olives and skewer them on a toothpick or other cocktail skewer. Place into the martini glass.

Measure the vodka and gin into a cocktail shaker.

Add the olive juice. (If you aren't sure how much you like, the 1 tbsp is a good starting point, but I use 2 tbsp because I like mine dirtier).

Add a tiny bit of vermouth to the shaker. I probably add less than a tsp worth.

Add 3-4 ice cubes, and cover the shaker and shake it for about 30 seconds.

Pour into the martini glass and enjoy!
Love this cocktail? Try these too!