These banana bread overnight oats are a healthy way to get in some oatmeal and celebrate your love for banana bread! This recipe incorporates yogurt for a protein-rich, delicious and creamy overnight oats recipe.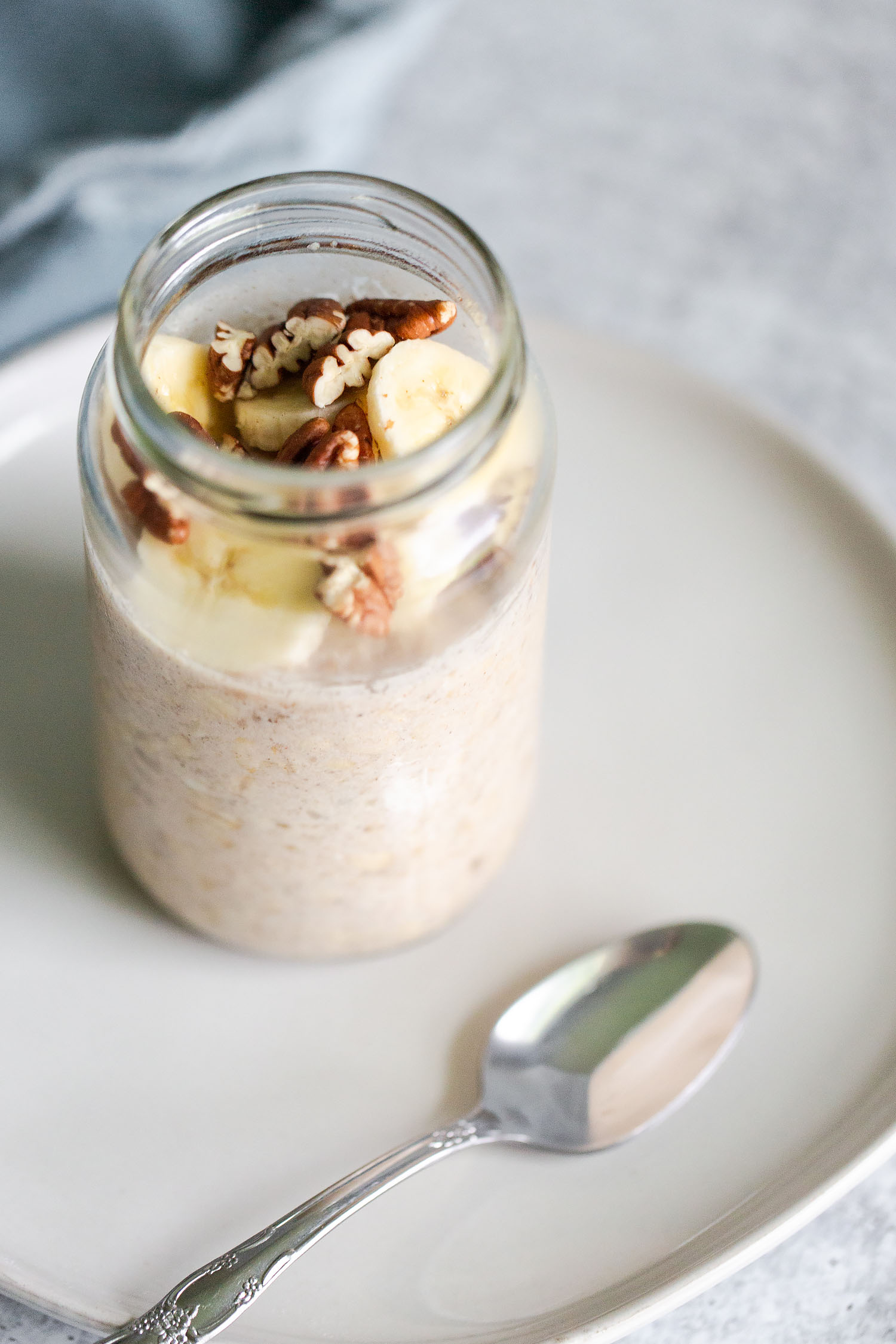 I've recently discovered a love for overnight oats. They are such an easy breakfast that you can prepare ahead of time.
These days, I'm working from home, and my kids are at home. So life is crazy around here, and it's a rush to get anything accomplished in the mornings before I have to turn on my laptop to start work for the day. Overnight oats means I don't have to really make breakfast for myself in the mornings, but I can still get in a healthy-ish breakfast. Much better than the frozen waffles I typically eat every day.

You can also put overnight oats in a jar, and that way you basically have breakfast on the go. So if you're heading to the office, you can grab one of your jars of overnight oats, and just eat them when you get to work.
If you're not familiar with overnight oats, let's talk a little bit about what they are.
What are overnight oats?
Overnights oats are old fashioned oats that are soaked in milk overnight. They can be customized in so many ways, which is why they are a favorite! Because you can customize them in a lot of ways, you can prepare a lot of different versions so you don't get tired of the same breakfast over and over.
Do you eat overnight oats cold or warm?
Overnight oats are typically eaten cold. Which is nice, because you can just grab them, eat them and not worry about cooking anything. In that way, they remind me a bit of eating a yogurt bowl. Especially if you top your oats with more fruit and nuts!
However, you can warm them up and eat them warm, if you prefer. You might wind up doing this if you're just getting accustomed to eating overnight oats.
What kind of oats do you use for overnight oats?
Use old-fashioned oats for overnight oats. Those work the best and soak up the liquid the best.
Are they healthy?
Oats have a lot of fiber, so they are really healthy for you. As long as the other ingredients you are adding are healthy, they can be a nice fiber-rich, healthy breakfast. I try to minimize any additional sugars I add to keep the health factor high.
Ingredients needed for banana bread overnight oats
Oats - As I mentioned previously, you'll want to use old fashioned oats for overnight oats
Banana - I use half a banana for this recipe. If you're not doubling it, I recommend throwing the other half in the freezer for use in smoothies later.
Milk - You can use whatever type of milk you want in this recipe. I typically use almond milk since it's what we have handy.
Yogurt - You can use greek or plain yogurt. Even vanilla flavored is fine. Use whatever you have around.
Cinnamon - This helps give it a slight "banana bread" flavor
Nutmeg - This is the other spice that helps with the "banana bread" flavor
Vanilla Extract - As always, I love using the pure stuff and not imitation
Brown sugar - I've made this recipe without sweetener, and you can certainly do that, but I prefer the slight sweetness from brown sugar. Alternately, you can use maple syrup.
Pinch of salt 
Extra banana slices and pecans - for topping
Recipe variations
The lovely thing about overnight oats is that they are so easy to customize! This is a recipe for banana bread overnight oats, but here are a few more ideas -
Bananas foster overnight oats - We have a bananas foster french toast recipe on our site, but if you're looking to incorporate that into overnight oats, then make the overnight oats recipe as is, then caramelize some bananas in brown sugar and butter and top your oats with the cooked mixture.
Banana chocolate chip overnight oats - Leave out the cinnamon and nutmeg, and add some chocolate chips in there!
Apple pie overnight oats - Keep the nutmeg and cinnamon in there, add a touch of applesauce, and top with some sliced apples and walnut or pecans.
How to make the overnight oats
To make the banana bread overnight oats, I take the banana and mash it into a bowl. Then I add the cinnamon, nutmeg, vanilla, and brown sugar, and mash it all together to incorporate.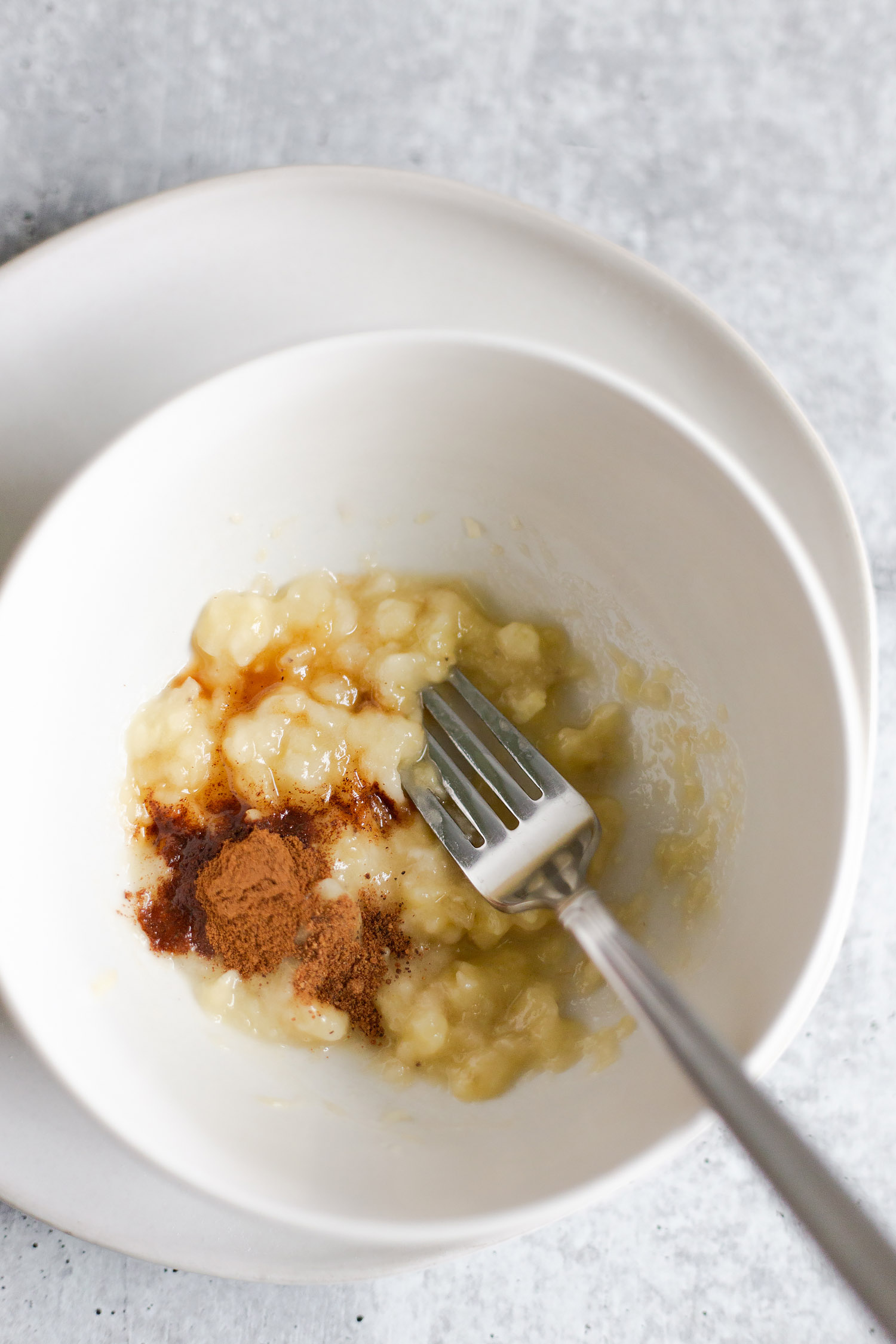 I then add the oats, milk, yogurt, and banana puree all to a glass jar and stir to mix together. Once they are all mixed together, I screw the cap onto the glass jar I'm using, and place into the refrigerator overnight. This is what it looks like before I pop into the refrigerator. Pretty well-stirred, but not yet ready to eat.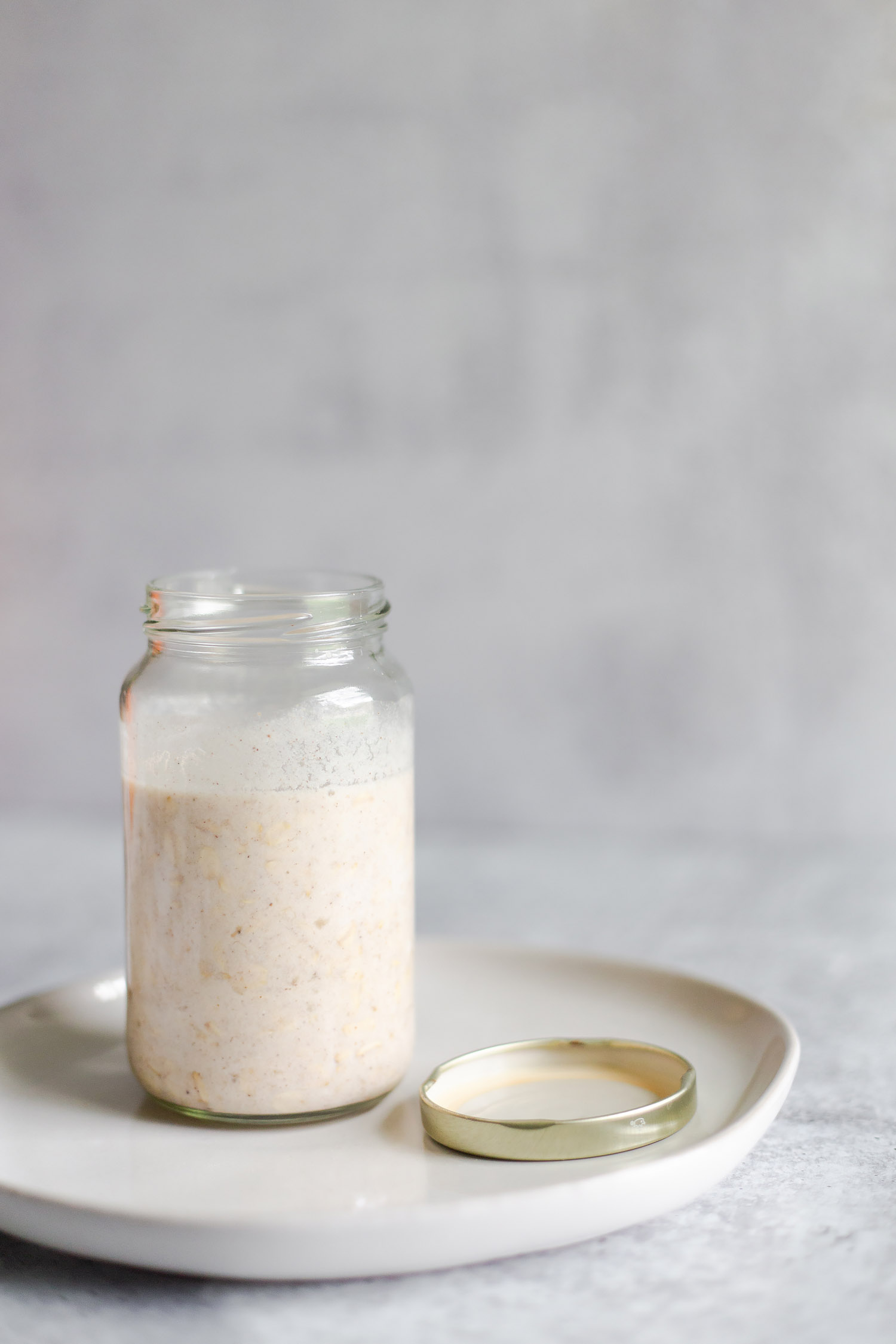 The next morning, I take the jar out, unscrew the lid, top with some sliced bananas and pecans, and dive in!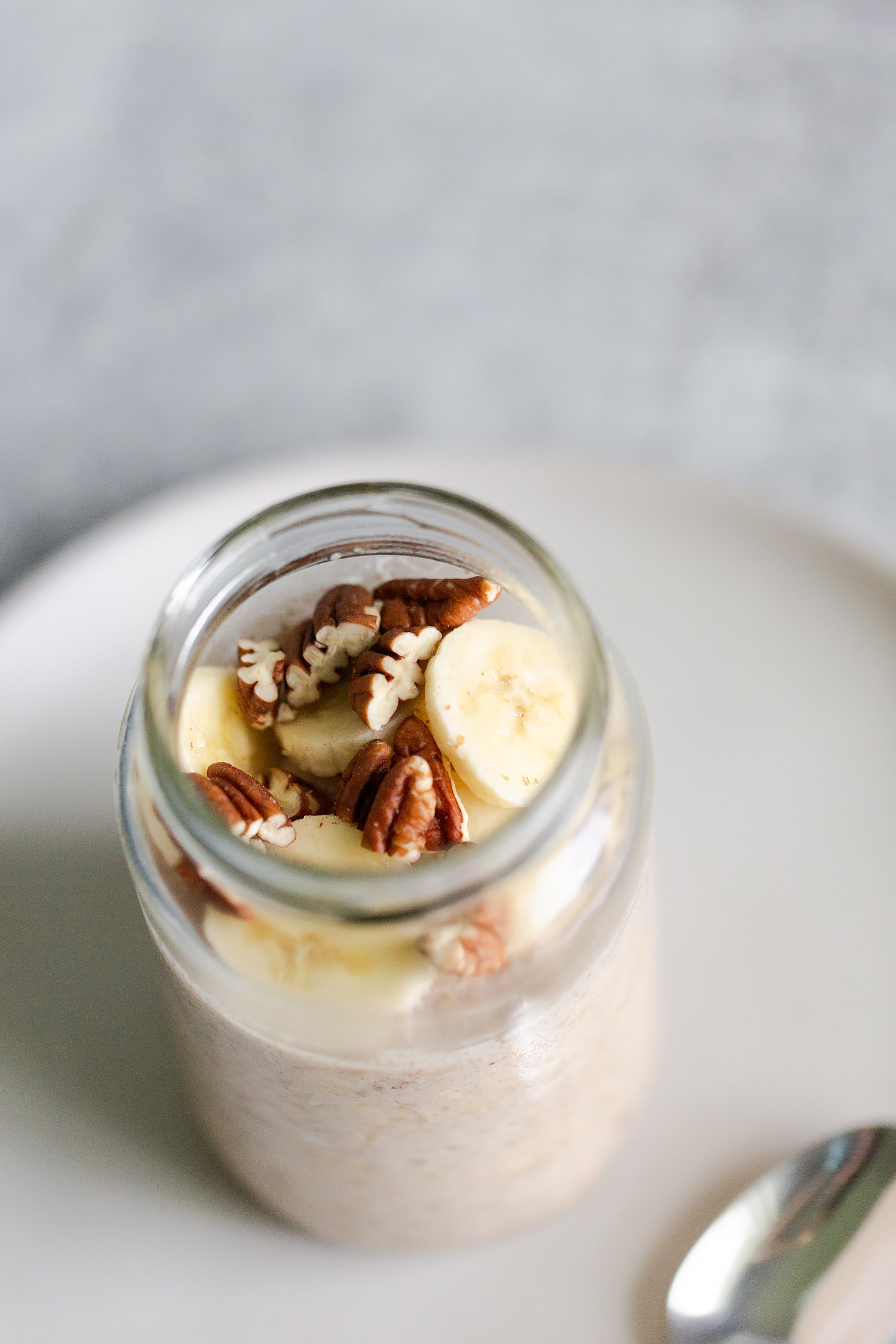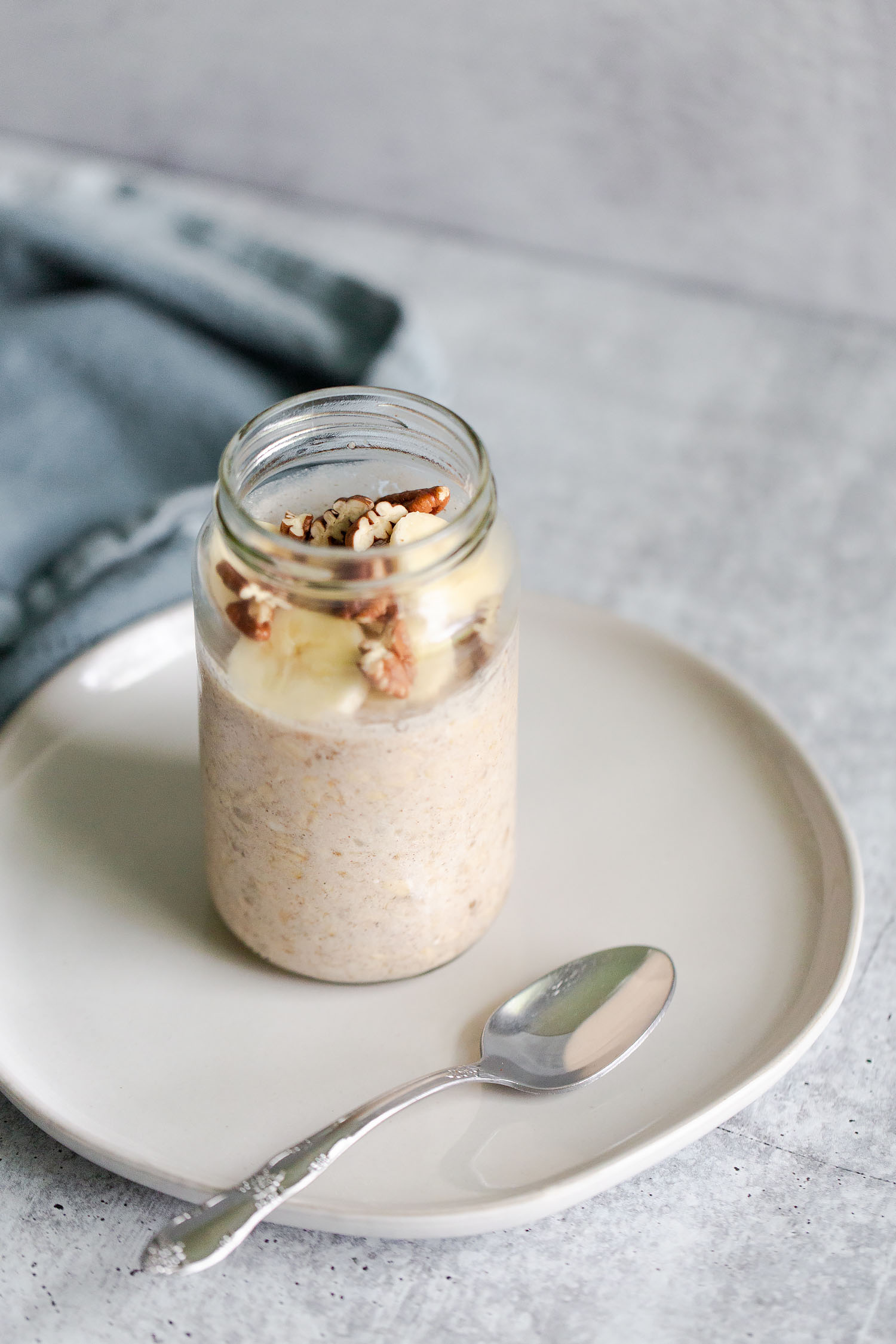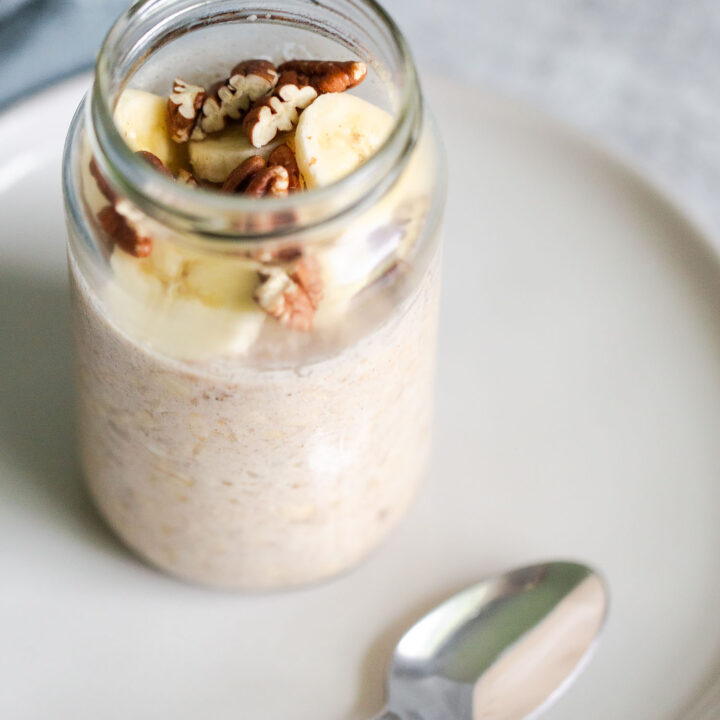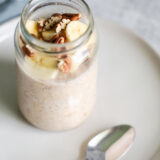 Print Recipe
Banana Bread Overnight Oats
These banana bread overnight oats are an easy and healthy breakfast.
Ingredients
½

cup

old-fashioned oats

½

cup

almond milk

¼

cup

plain or vanilla yogurt

½

banana

1

tsp

brown sugar

¼

tsp

vanilla

¼

tsp

cinnamon

⅛

tsp

nutmeg

pinch of salt

extra banana slices

for topping

whole or chopped pecans

for topping
Instructions
Take the oatmeal, almond milk, and yogurt and add it to a jar.

In a small bowl, mash the banana, vanilla, cinnamon, nutmeg, and brown sugar until banana is mashed and everything is combined.

Add the banana mixture to the jar and stir until everything is combined.

Place into the refrigerator overnight so the oats can soak up all the liquid and flavor.

In the morning, unscrew the jar and top with banana slices and pecans and enjoy.