This recipe for homemade magic shell is so quick and easy. It only uses two ingredients! Read on for learning several different ways to make it.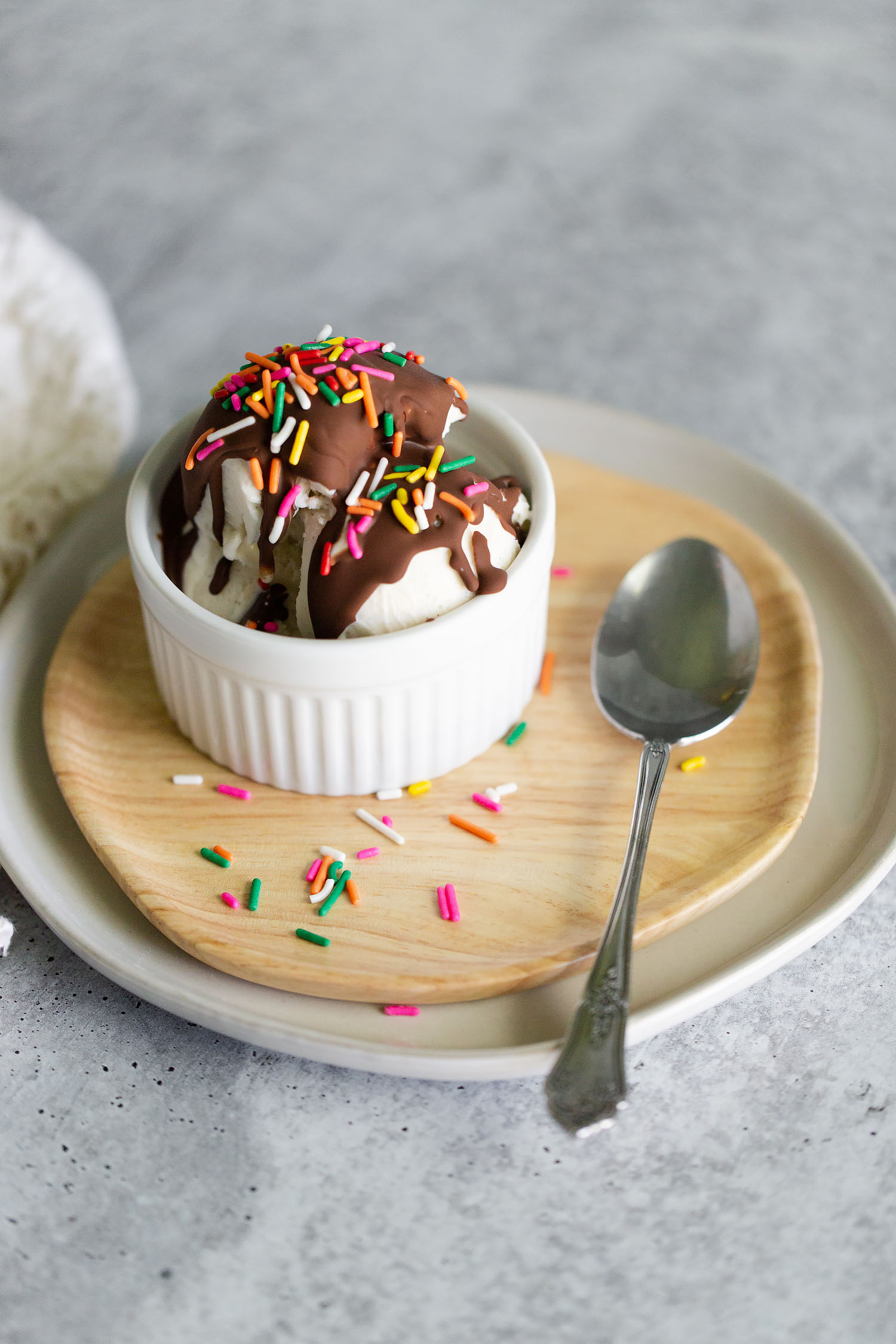 This post contains some affiliate links, which means that I make a small commission off items you purchase at no additional cost to you.
Do you love ice cream? Do you love Magic Shell? If so, this is the place to be to learn how to make Magic Shell at home. There's a SUPER easy way, and then a pretty easy way. And it only uses two ingredients. Which is kind of crazy. So it definitely feels like a healthier version! 
What is Magic Shell?
Magic Shell is a chocolate topping that you can put on ice cream and other desserts. It comes liquidy, much like regular chocolate syrup. But the magic part is that once you put it on something cold, like ice cream, it hardens into a thin shell. It creates a topping that is so delicious and fun to eat! You can get it in a bottle at the grocery store next to the chocolate syrup, but I'm here to show you how to easily make something similar at home!
Ingredients needed
Coconut oil - This is what makes the magic happen. Coconut oil is liquid in hot temperatures and hard in cold temperatures. So what happens is that coconut oil keeps this chocolate topping liquid until it touches the cold ice cream, then it turns hard and forms that shell topping.
Chocolate chips - I prefer to use semi-sweet, but you can use bittersweet or milk chocolate if you prefer. It's all about how much sweetness you want in your chocolate topping
That's the only two ingredients you need! However, if you want to customize it you can also add a touch of sea salt, some vanilla, or even a touch of ground cayenne for a bit of heat.
Making it in a microwave
To make the magic shell in a microwave, you'll simply add the ingredients to a microwave-safe bowl and microwave for 20-30 seconds. Take out, stir for a bit. Return to the microwave, cook for another 20-30 seconds, stir. Repeat until the chocolate is all melted and combined with the coconut oil. You want it to be completely smooth.
Remove from heat and let cool for about 20 minutes before using.
Why do you need to do it in 30 second intervals? If you were to use put it all in at once and cook for say 1 minute or 2 minutes, there's a chance it would burn. That's why you need to remove every 30 seconds and stir and combine before cooking longer.
Making it using a double boiler
A double boiler is so easy to use! And you probably have exactly what you need at home to do it. It's simply a heat-safe bowl on top of a pot of boiling water.
This is what it looks like! I just grabbed a large pot and a heat safe bowl and voila! If you're not sure if you have a heat-safe bowl, one like this works great!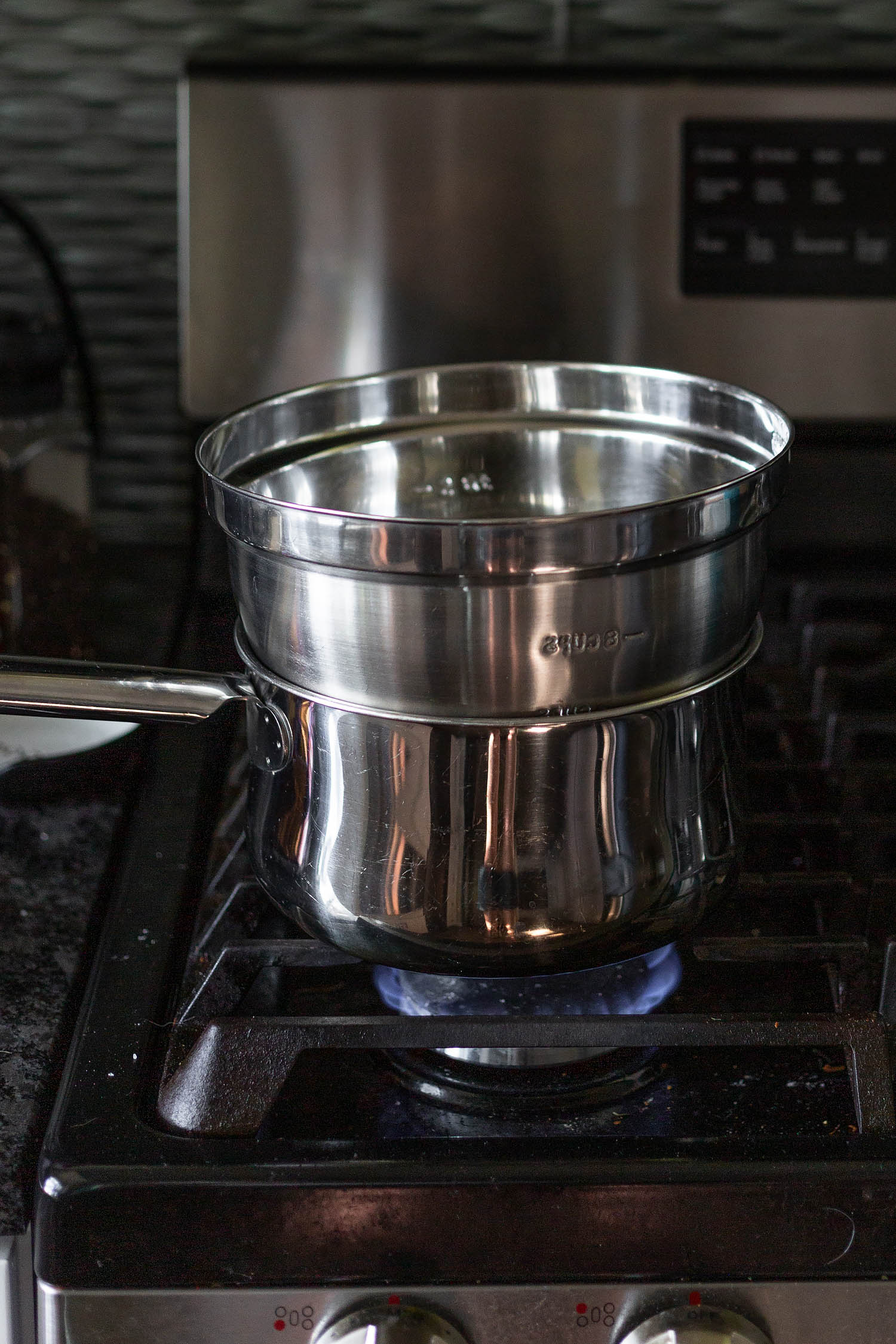 So what you do is add water to the pot, place the bowl on top, and start heating up the water in the pot. As the water heats up, it heats up the bowl gently and allows what is in the bowl to melt.
So set up your double boiler, turn on the stove over medium heat, and and add the chocolate chips and coconut oil to the bowl. Start stirring with a spatula, cooking until all lumps are gone and mixture is smooth. This happens pretty quickly, so don't step away from the stove! Once everything is melted, turn off the stove.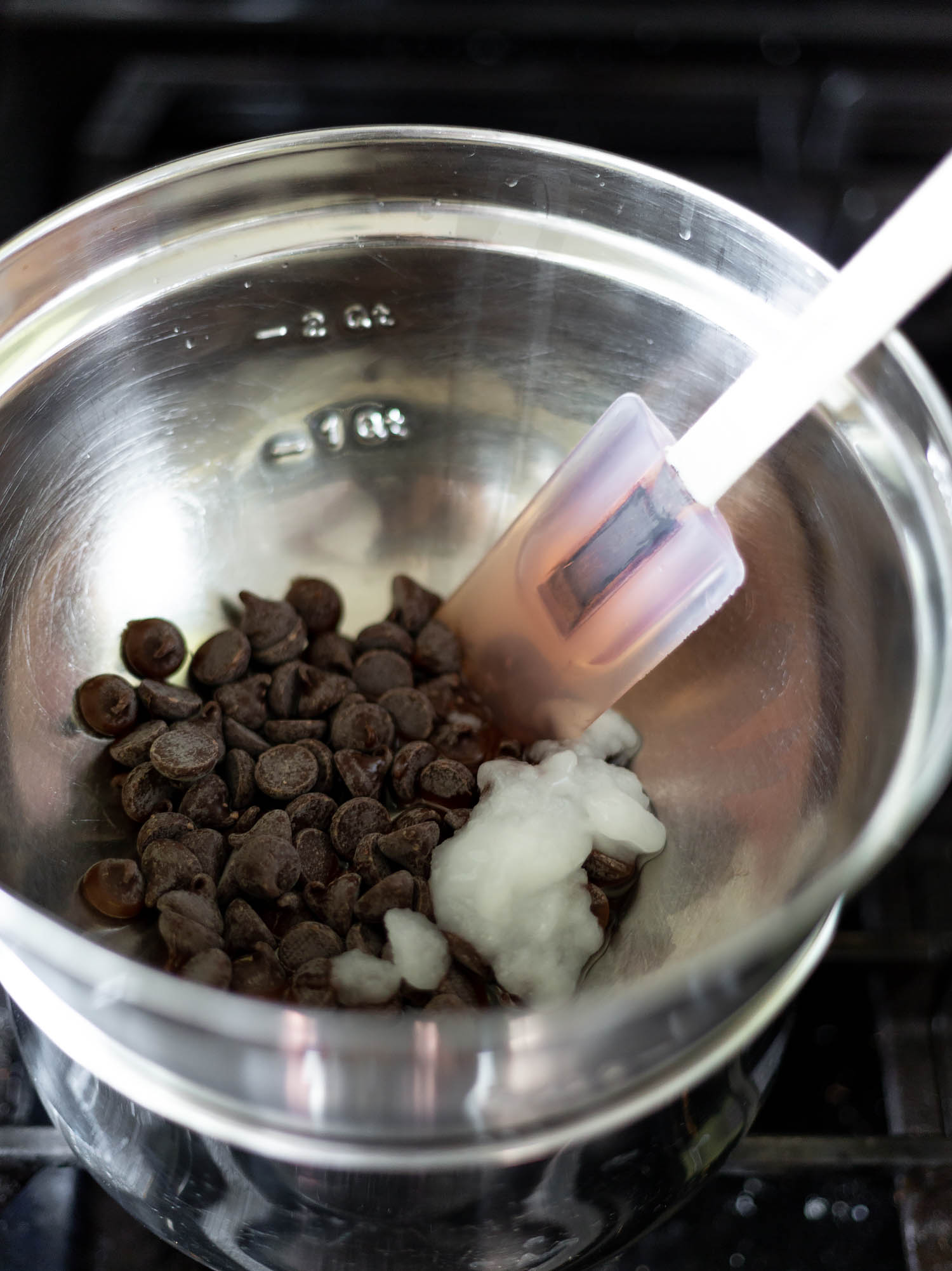 Remove the bowl from the heat and the pot and let cool for about 20 minutes before using.
Why do you need to use a double boiler and not just add it all to a pot and cook on the stove? Chocolate is notorious for burning easily. So a double boiler allows the chocolate to melt more slowly and gently. It minimizes the intense heat you would get if you placed it directly in a pot to cook.
How to store homemade Magic Shell
Store homemade Magic Shell at room temperature in an airtight container! If you store it in the fridge it will harden, and you don't want that.
How to use the chocolate topping
Homemade magic shell is decadent drizzled over ice cream. I like to top with sprinkles, too! If topping ice cream, try to do a thin layer. If you start piling it on, it will create a thick layer that is nice, but a little harder to break with a spoon and is not as Magic Shell-like.
You can also mix into ice cream to create something like a stracciatella ice cream.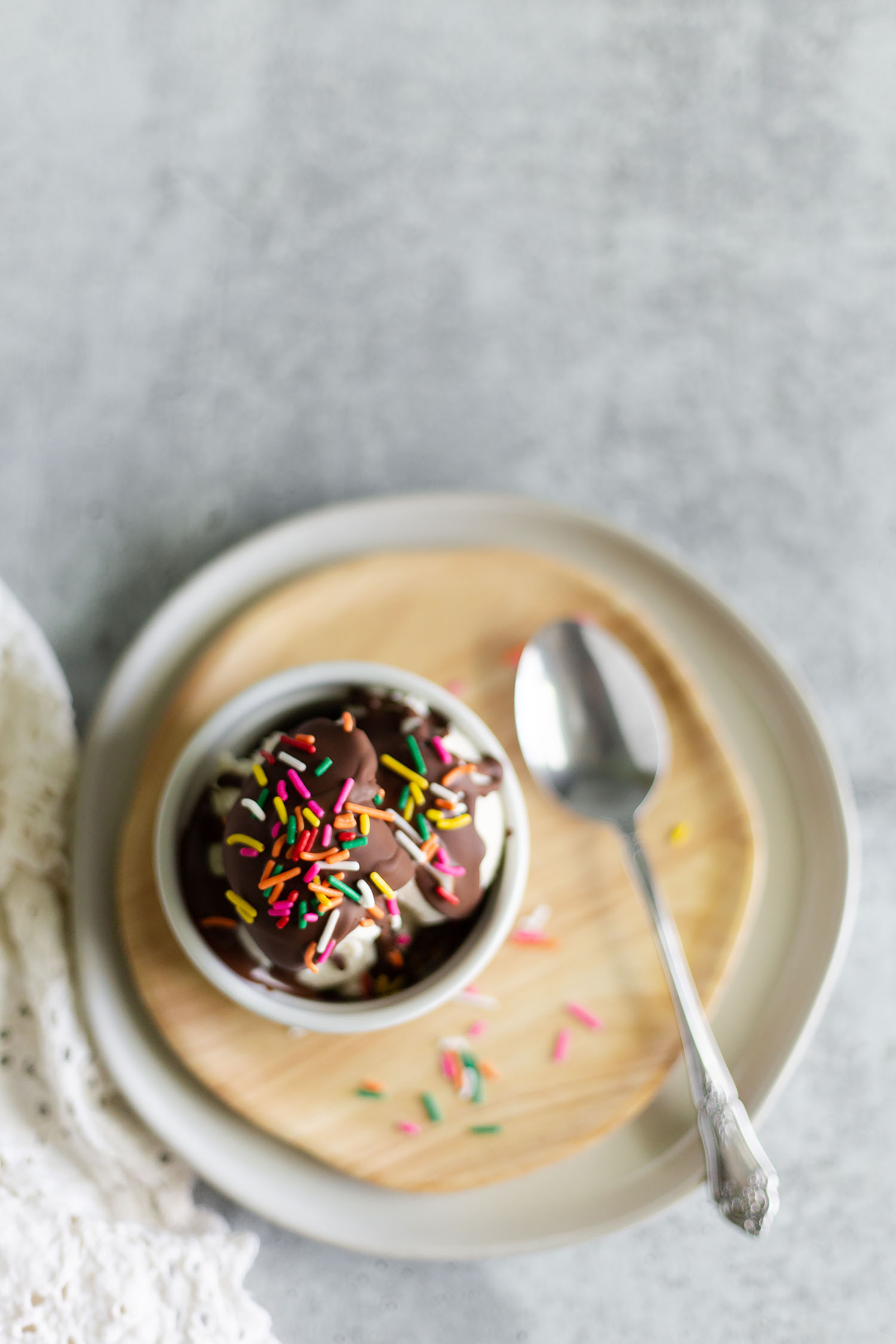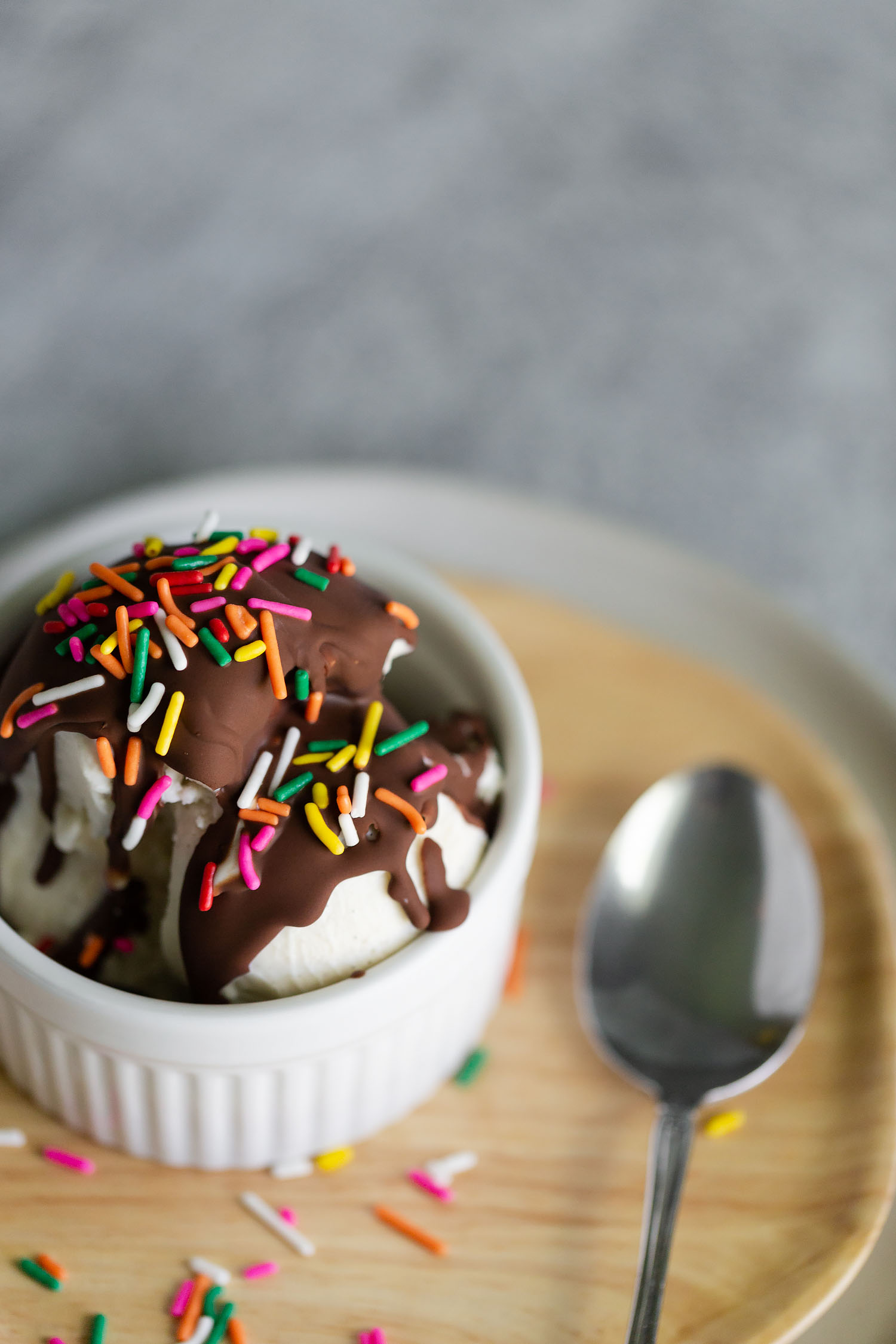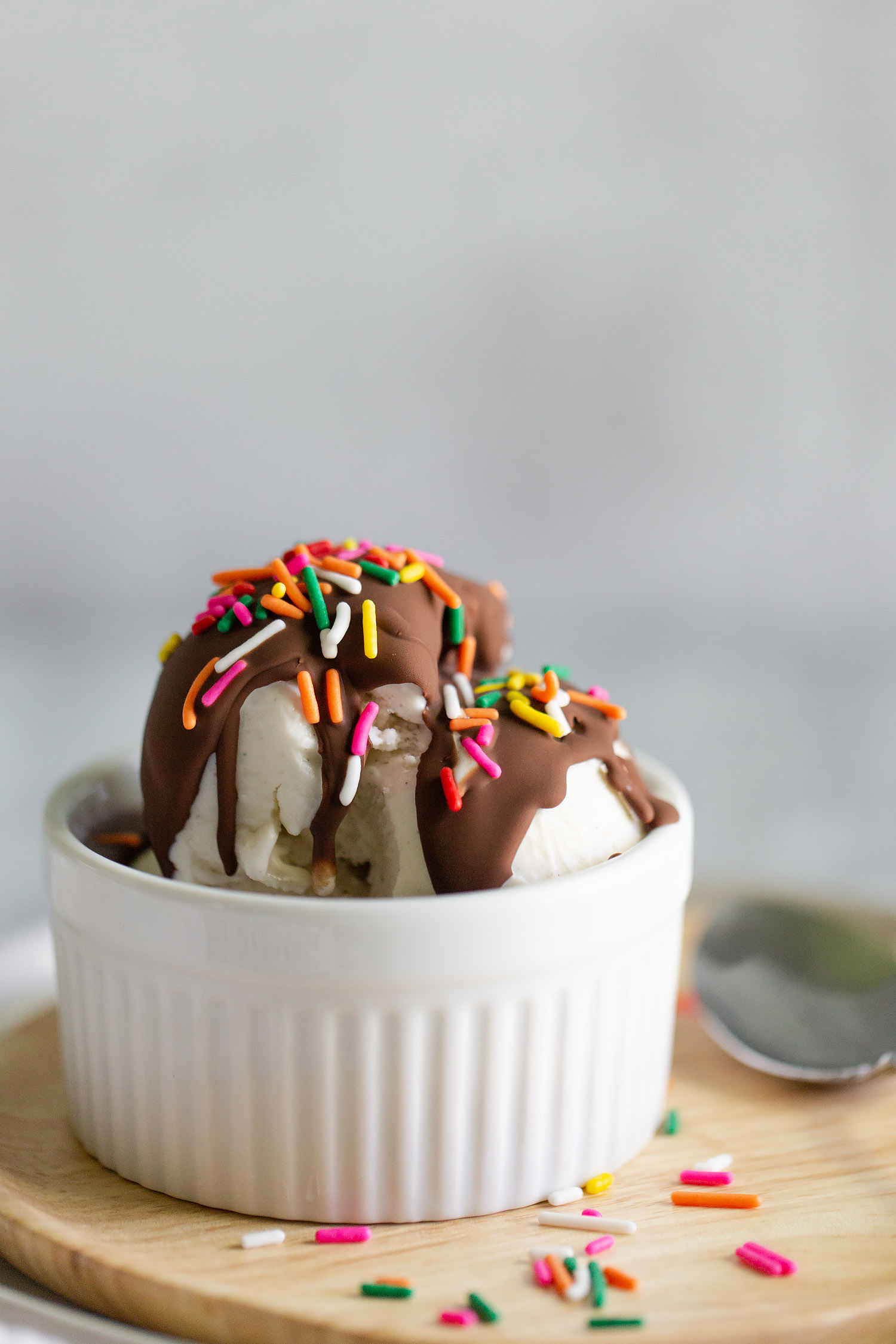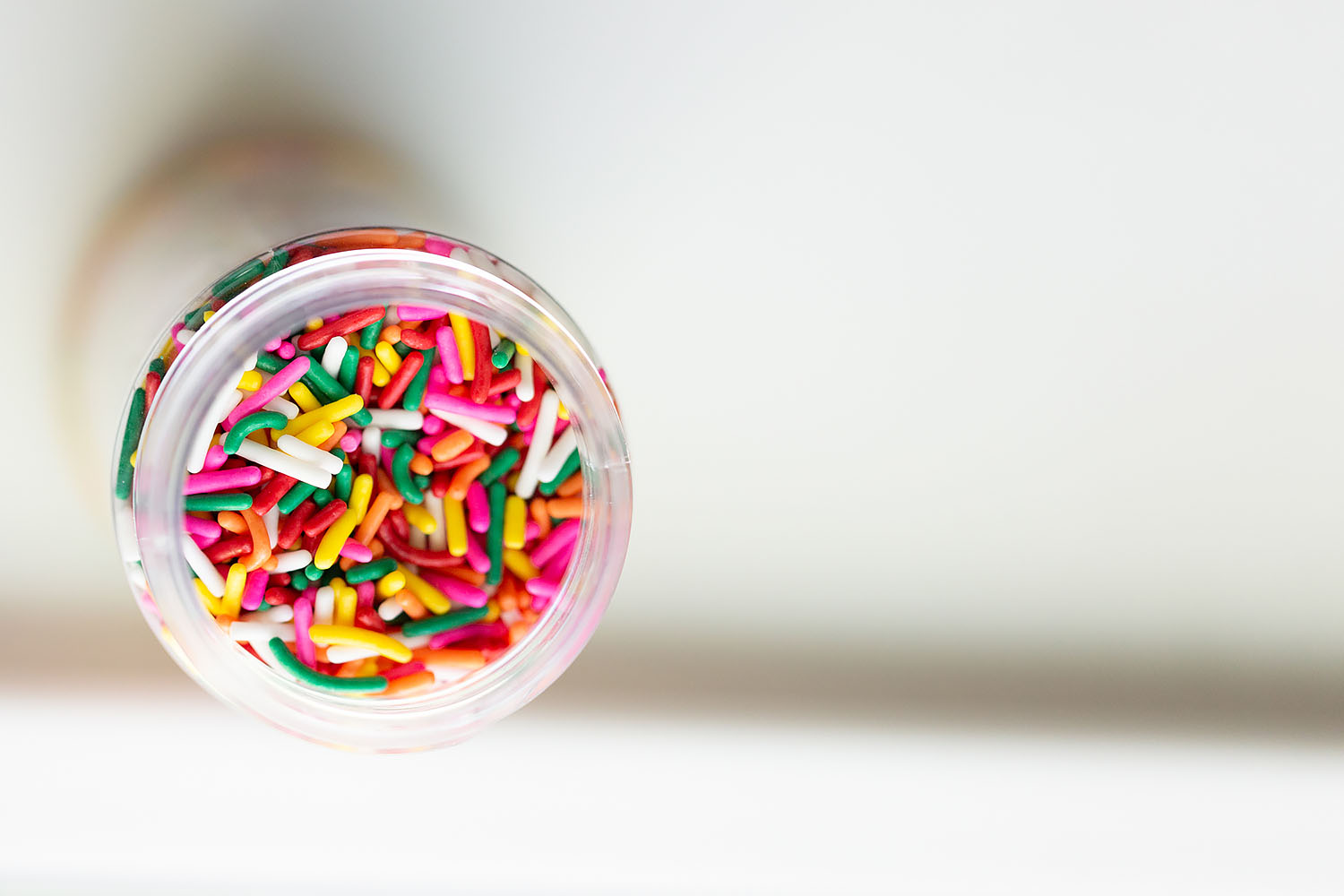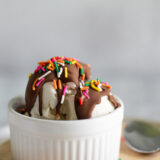 Print Recipe
Homemade Magic Shell
This recipe for homemade magic shell only uses 2 ingredients. It's so quick to whip up and is perfect served over ice cream!
Ingredients
½

cup

semi-sweet chocolate chips

1 ½

Tbsp

coconut oil
Instructions
Get out a large pot and fill with about 2 inches of water. Place on the stove over medium heat.

On top of the pot, add a heat-safe bowl to create a double boiler. Add the chocolate chips and coconut oil to the bowl.

Cook, stirring frequently with a spatula until chocolate is completely melted and combined with the coconut oil. Chocolate should be smooth and there should be no lumps remaining.

Turn off the heat and remove the bowl from the heat to cool. Let chocolate topping mixture cool for 20 minutes before using.
Notes
Chocolate Magic Shell topping can be used on top of ice cream, or even mixed into ice cream.
For microwave instructions, see the section of the blog post that walks through those steps.
Store Magic Shell in an airtight container at room temperature.
Love this recipe? Check out these other easy dessert recipes: