This homemade whipped strawberry butter is slightly sweetened. It's fluffy, creamy, and delicious on biscuits, toast, bagels, scones, and croissants!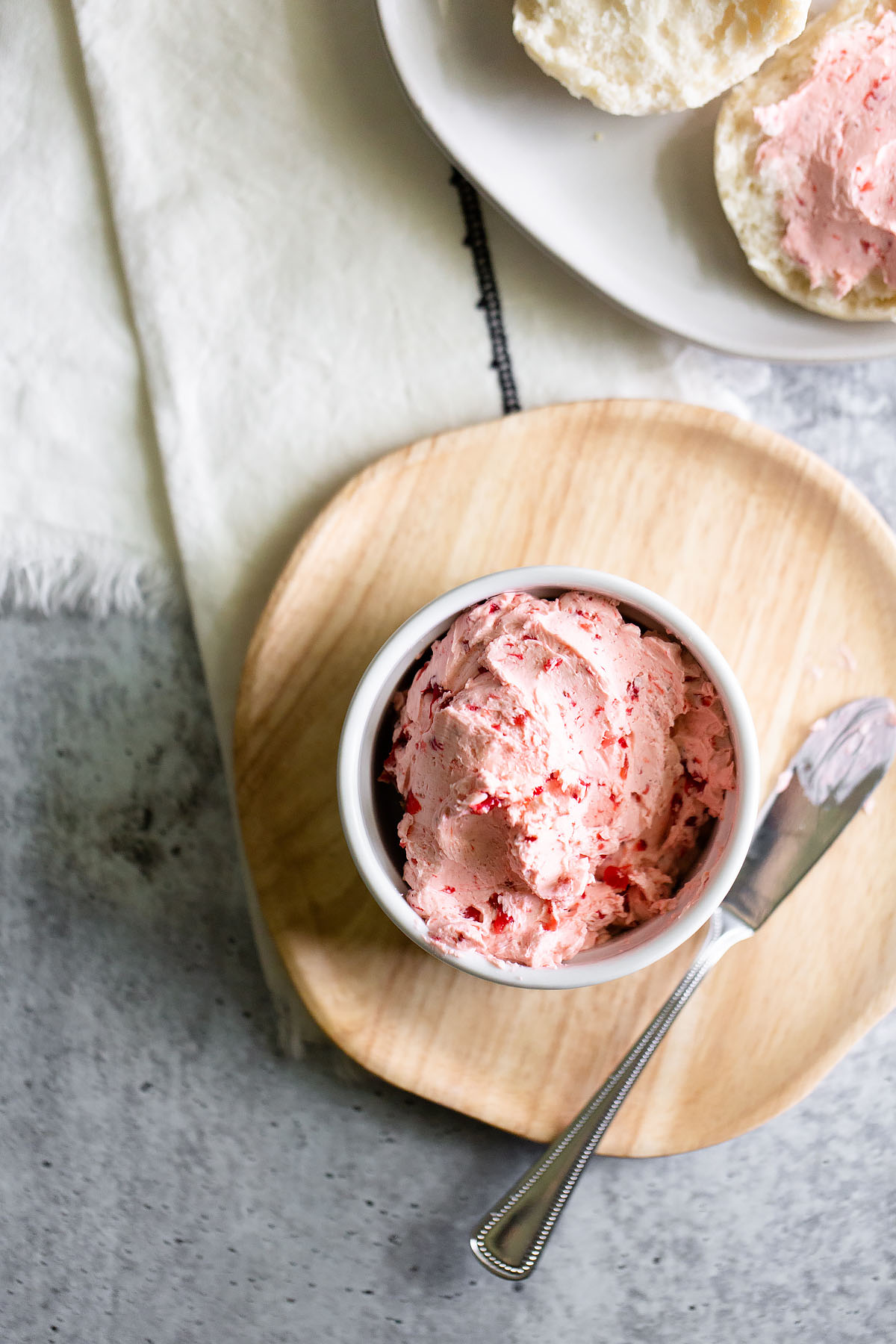 This post contains some affiliate links, which means that I make a small commission off items you purchase at no additional cost to you. As an Amazon Associate I earn from qualifying purchases.
Years ago, I had a flavored butter for the first time. It was at a fancy brunch at a restaurant here in Austin. The restaurant served strawberry butter alongside croissants. And I was hooked. I've heard places like Magnolia Table also make a strawberry butter. Fancy butters for life.
But I don't have the funds or the time to hit up a fancy restaurant every time I want strawberry butter. And Josh and I are all about creating the brunch experience at home these days. Especially with two very young kids who would not fare well in the fancy, slow brunch experience. So we are creating the best brunches at home.
So we're doing things like this strawberry butter. And even better? My two year old loves it. I guess she's jumping aboard the fancy brunch bandwagon.
What is strawberry butter?
Strawberry butter is simply butter whipped together with freshly pureed strawberries. I lightly sweeten mine for a touch of sweetness that pairs nicely with biscuits and toast.
What type of butter should you use to make strawberry butter?
Use salted butter to make strawberry butter. I use the sticks of butter, and you'll want to thaw them to room temperature before using.
Ingredients needed:
Salted butter - I use salted butter in sticks! If you use unsalted butter, make sure to throw a pinch of salt in to season the butter.
Fresh strawberries - You'll puree these to incorporate into the butter. I like to get them washed and to room temperature before I use them.
Confectioners Sugar - Also known as powdered sugar, this helps to add sweetness to the strawberry butter
Tools needed:
How long does strawberry butter keep?
Homemade strawberry butter should keep for a week in the fridge. This is why I don't make a ton of it. I like to use it throughout the week, and not worry about having leftovers going bad!
I store it either in a jar with a lid, or in a dish covered in plastic wrap to stay fresh.
Tips:
Make sure you blend the strawberries before adding them to the butter! One time I tried adding just sliced strawberries and it did not go well. The strawberries didn't get incorporated properly and just wound up being BIG chunks instead of small chunks. I even tried incorporating them with the whip attachment rather than the paddle attachment, but fail. On all fronts.
Your butter should be room temperature! This allows the strawberry puree to incorporate into the butter and also allows the butter to get nice and fluffy. Do not let your butter get TOO soft though. Then it gets sort of a curdled texture. You want your butter to be softened and easily to whip. Not ultra-soft.
How to use
My favorite ways to use strawberry butter are on croissants, toast, and biscuits. I love how melty it gets on biscuits, how fancy it makes croissants (which also just seem fancy), and how easy it is to make toast feel special.
You can also spread it on bagels and scones!
Other fruits to use!
Blackberries
Blueberries
Raspberries
How to make strawberry butter
When I make strawberry butter, the first thing I do is get my (washed) strawberries and butter to room temperature.
Next, I toss my butter in the stand mixer to start fluffing up!
While that's fluffing up, I cut the stems off the strawberries, and then puree using my immersion blender. It looks like this when I'm done pureeing.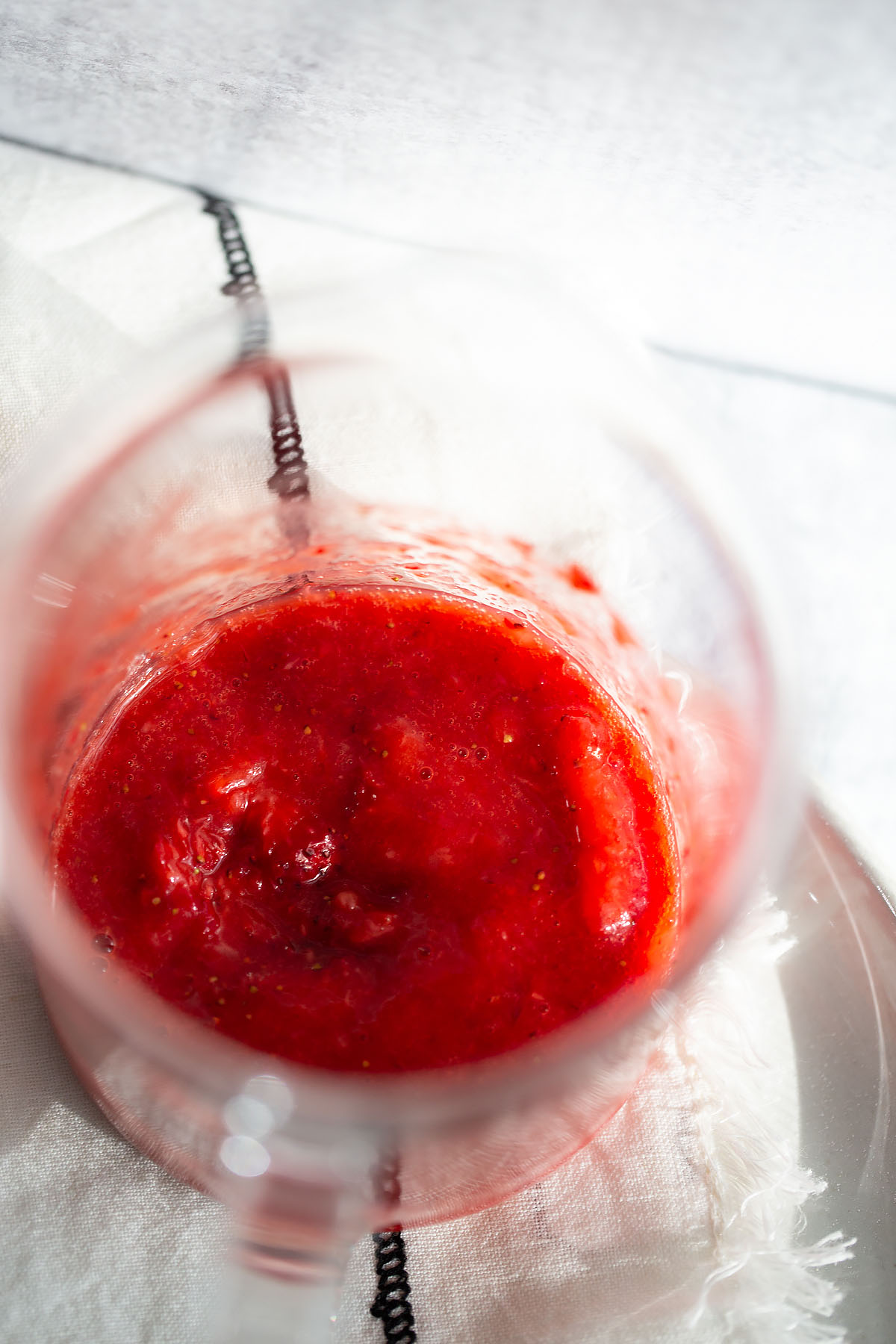 After that, I incorporate the strawberry puree and confectioners sugar into the butter and mix until smooth. I end up with a butter that looks like this. Pink, with some small strawberry pieces still in there!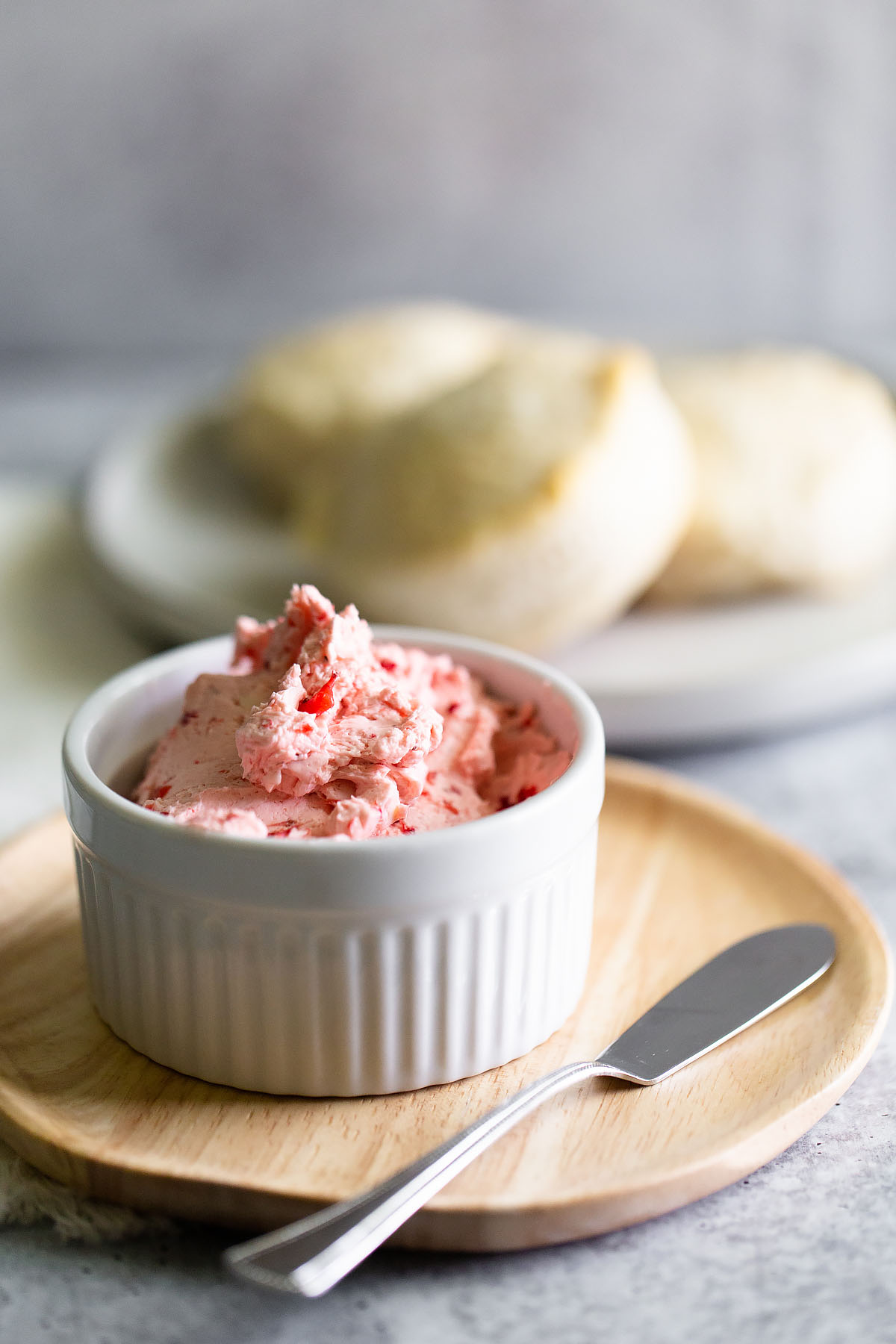 Love this strawberry recipe? Here's a few more!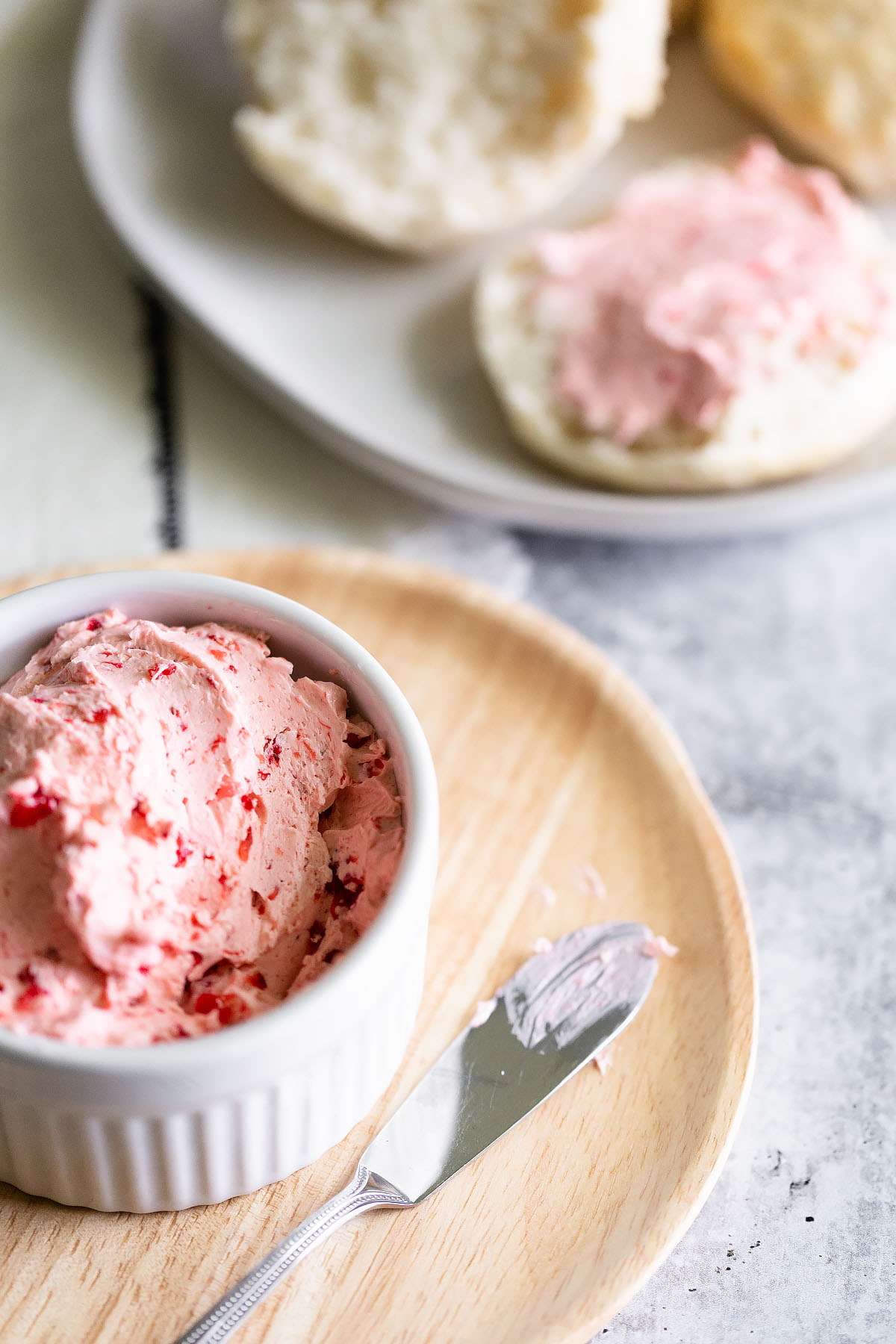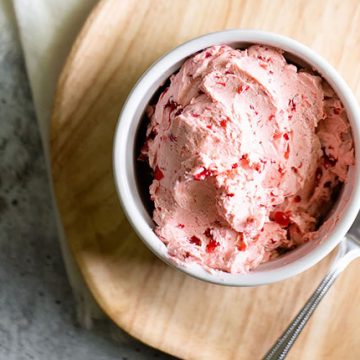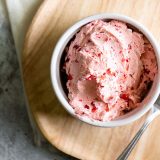 Print Recipe
Homemade Whipped Strawberry Butter
This strawberry butter is fluffy, creamy, and lightly sweetened! It's delicious served on toast, croissants, biscuits, and bagels.
Ingredients
½

cup

salted butter

softened to room temperature

¼

cup

mashed or pureed strawberries

room temperature

¼

cup

confectioners sugar
Instructions
Make sure the butter and (washed) strawberries are at room temperature.

Mash or puree the strawberries using a stand or immersion blender.

Take the butter and start whipping in a stand mixer using the paddle attachment, or in a handheld mixer until light and fluffy, about 5-7 minutes.

Add the confectioners sugar and mix for another 2 minutes.

Add the strawberry puree and mix for another 2 minutes.

Scoop the strawberry butter into a jar or another container. Store in the refrigerator for up to one week in a airtight container or covered with saran wrap.

When ready to use, remove from the refrigerator for at least 10 minutes to soften before using.
Notes
The recipe calls for ¼ cup of strawberry puree, which equates to about 5 medium strawberries. 
This recipe is a great way to use up strawberries that are starting to get mushy and need to be used before going bad.