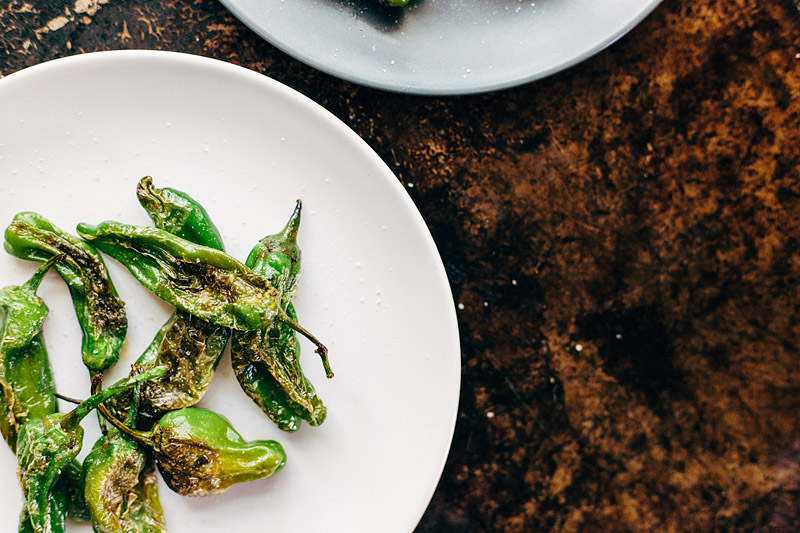 I think the first time I tried shishito peppers were at a restaurant. I can't remember which one, but I was blown away. Peppers that aren't really spicy? Peppers that are charred but retain such a fantastic flavor? Sign me up to eat these everyday.
I looked for them at the store. I think I found them at Whole Foods once, but never saw them again. Then one day, I saw them at Trader Joe's. They don't always have them, but if you pop in at the right time of the year, you're able to pick up a nice bag (or five) of these.

I made these for Josh one afternoon for us to snack on and he kept talking about how perfect they were. And to totally brag on myself.. they kinda were perfect. And I'm here to share the recipe with you!
They are so easy to make, and so flavorful. The key to this recipe is to use sesame oil. It imparts such a nice flavor that adds to the tastiness of the peppers.
Blistered Shishito Peppers
Ingredients:
6 oz shishito peppers
1 Tbsp sesame oil
salt
Instructions:
Heat 1 Tbsp sesame oil in a wok or large skillet over medium-high heat.
Add shishito peppers to the wok and reduce heat to medium.
Sear the peppers, stirring frequently until peppers are soft and blistered, about 10-15 minutes.
Plate, sprinkle liberally with salt.