A few years ago, I brought you a recipe for blistered shishito peppers that I LOVE, but I wanted to do something different this time and incorporate shishito peppers into a main dish. So hello steak and shishito peppers. Yum yum yum.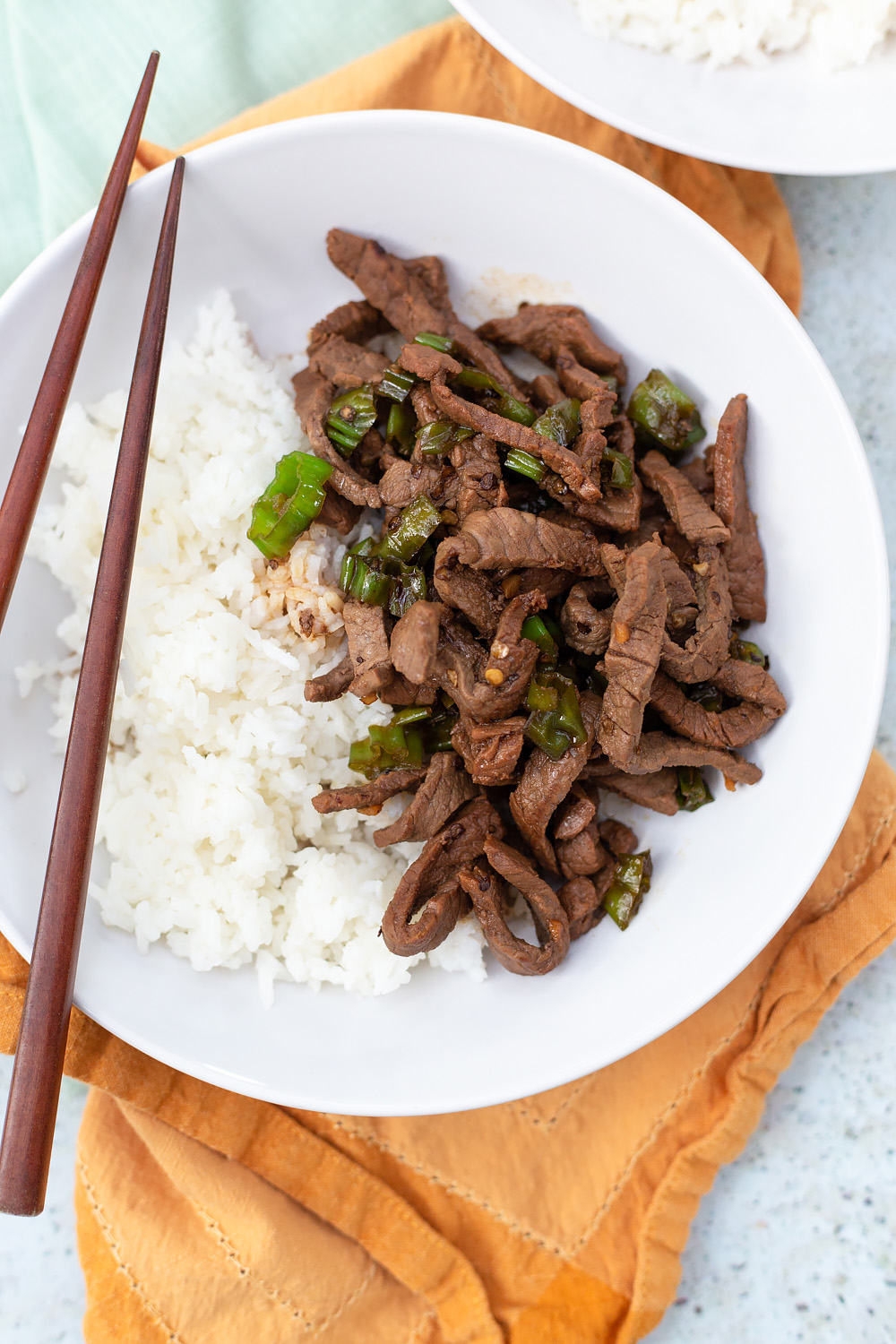 This steak and shishito pepper dish comes together so quickly. It's kinda like a version of pepper steak or beef and broccoli, but with a kick. The shishito peppers add a nice flavor, while the soy adds that umami flavor we all crave. It also has a touch of brown sugar for sweetness.
This can easily feed 4, and is great served over white rice, brown rice, or quinoa. I've made this twice in the last few weeks, and will probably make it again next week. It's SO good, and I love how Josh and I can eat it for dinner, then I have leftovers to bring to work for two days. I LOVE meals that have leftovers I can bring to work. Saves me money and time from having to go pick something up mid-workday.

What are shishito peppers?
But let's talk shishito peppers. I was first introduced to these when they started appearing all over menus here in Austin 7-8 years ago. But that was the first I had heard of them.
If you're unfamiliar with them, shishito peppers are used a lot in East Asian cooking and are pretty mild in terms of spiciness... most of the time. About 1 in every 10-20 peppers will have a bit of a kick to them. And that's part of the fun in eating them!
Of course, in a dish like this steak and shishito peppers, you cut up all the shishito peppers, so it should balance out the spicy ones, so you're not suddenly surprised with a mouthful of heat. Want to learn a little bit more about shishito peppers? Check out this article.
Where does one find shishito peppers?
I've seen them all around the farmer's markets here lately in Austin. You can also find them at Trader Joe's when they are in season (which is usually where I wind up getting them, thanks to my frequent Trader Joe's runs). I've also spotted them at Whole Foods.
So just check your local grocery store and/or farmer's market and see if you can find them! They are harder to find when they aren't in season, of course, so get some now while you can! Apparently their peak season is summer and early fall, so NOW IS THE TIME!
Ingredients needed for the steak and shishito peppers:
Steak (round, top round, or flank), sliced into thin strips
Shishito peppers
Canola oil (or other neutral oil)
Garlic
Soy sauce
Light brown sugar
Water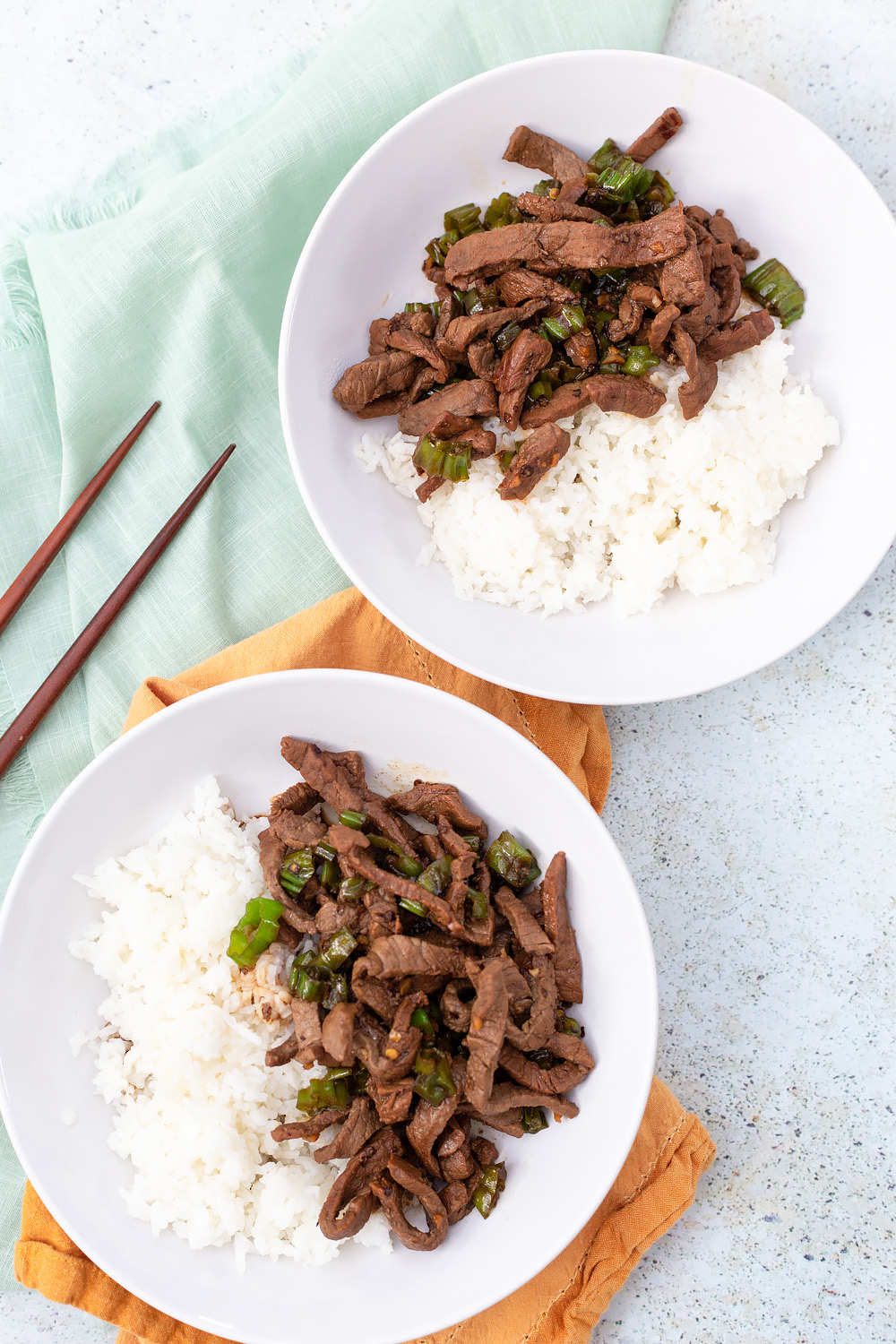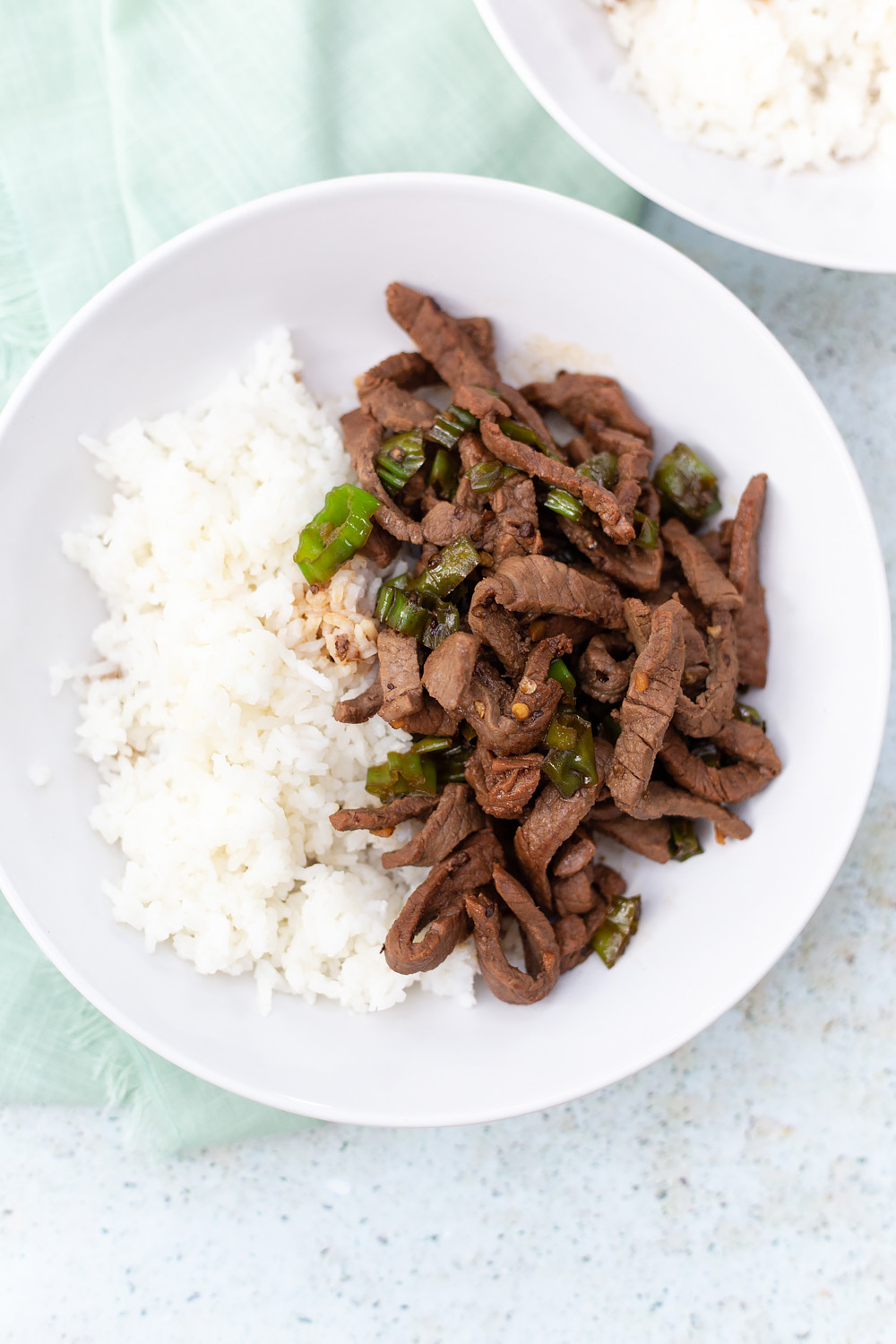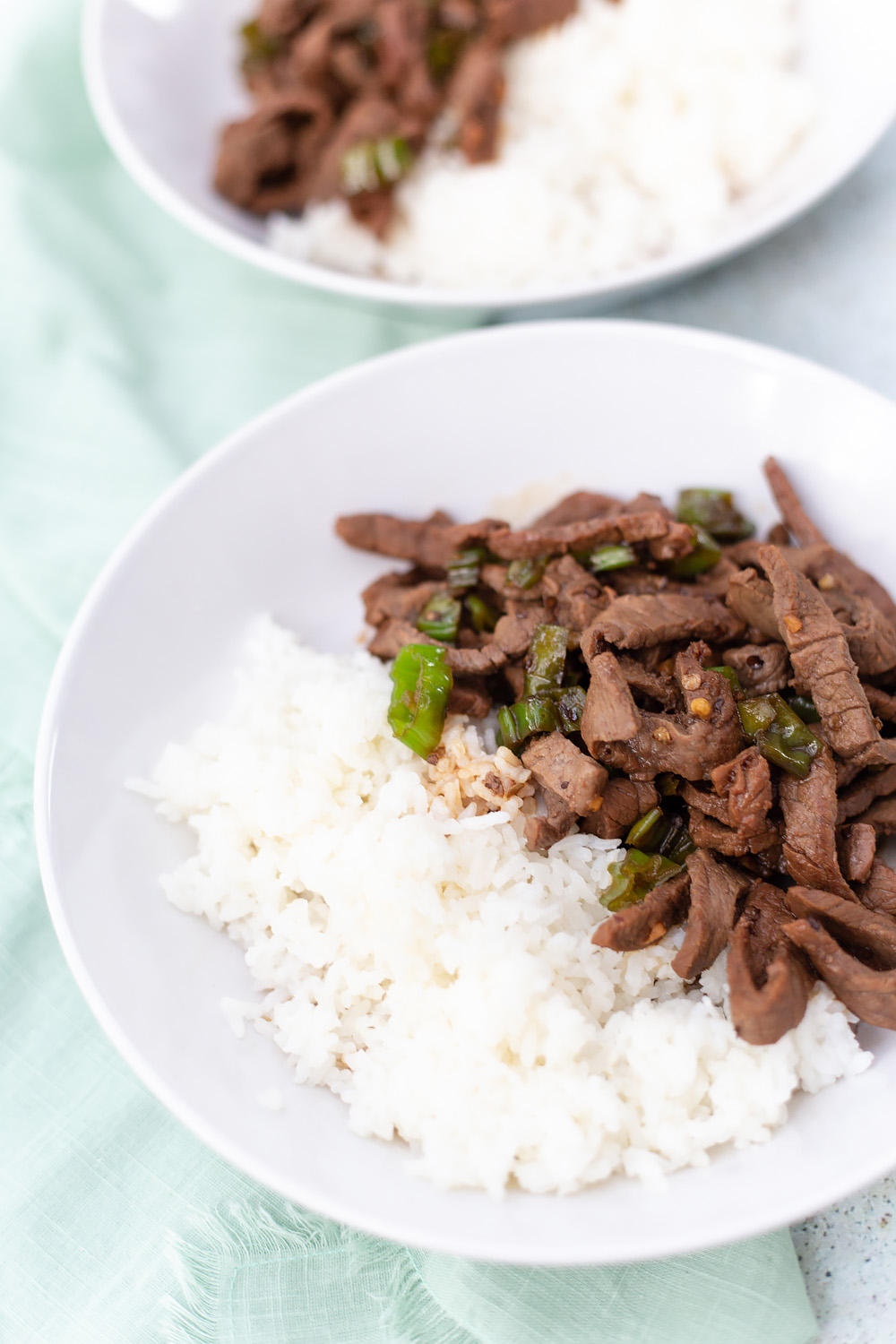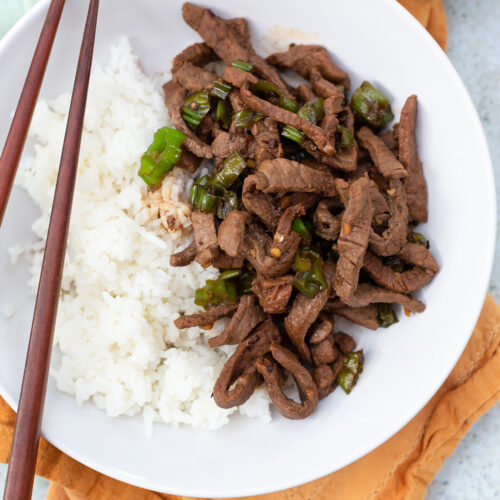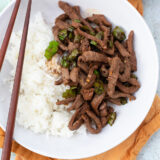 Print Recipe
Steak and Shishito Peppers
This steak and shishito peppers is a delicious meal that can be served over rice or quinoa.
Ingredients
1

pound

steak (round, top round, or flank steak)

sliced into thin strips

6

oz

shishito peppers

2

Tbsp

neutral oil (such as canola)

divided

3

cloves

garlic

minced

½

cup

soy sauce

¼

cup

water

2.5

Tbsp

light brown sugar
Instructions
Prep the steak by slicing into thin strips against the grain.

Slice the shishito peppers, discarding the top stems and mince the garlic cloves.

In a large skillet, heat 1 Tbsp oil over medium heat.

Add the steak to the pan and cook until browned. Remove the steak from the pan, and wipe the pan clean.

Add 1 Tbsp oil to the pan. Add the garlic and the shishito peppers. Saute for 1-2 minutes, stirring frequently.

Add the steak back to the pan. Cook everything for 3 minutes.

In a bowl, add the soy sauce, water and brown sugar. Stir to combine. Then pour into the skillet. Cook for an additional five minutes.

Serve over rice, cauliflower rice, or quinoa.
Notes
Use any neutral oil you wish, such as canola, vegetable, or sunflower. These won't introduce additional flavors to the dish that could affect how it tastes. Try to avoid using oils like olive oil that can impart their own flavor into the dish.